A Denmark travel guide – rolling hillsides, medieval castles and seaside villages
A Denmark travel guide – rolling hillsides, medieval castles and seaside villages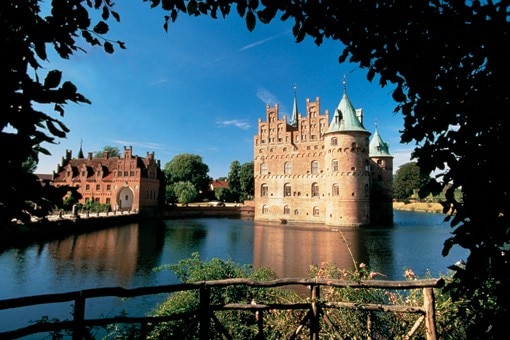 Holidays in Denmark mean gorgeous landscapes that sparkle with colour, excellent gastronomic experiences and plenty of creative buzz. There are plenty of great reasons why Danes have been proven to be the world's happiest people.
Get your bearings
Perched on the northern edge of Europe, Denmark is one of the continent's most pleasant surprises. The country's coast is lined with soft ochre beaches and its interior consists of rolling green hills and stretches of farmland. The buzzing capital of Copenhagen is located on Zealand, Denmark's largest island. South-east is the remote, sun-drenched island of Bornholm, while west lies Funen, an island whose village-like capital of Odense was birthplace to Hans Christian Andersen. An hour west of here is Jutland, a sprawling peninsula of blustery beaches with a cultural hot spot in Århus.


Culture and design
Denmark's best design begins in capital Copenhagen, where scores of inviting boutiques and museums show off the houseware and building designs of great Danes. Next stop is Egeskov Slot on Funen, a grand castle whose labyrinthine gardens were laid out by Danish philosopher-poet Piet Hein. In Esbjerg, the city's art museum is a giant concrete tomb designed by architect-to-the-stars Jørn Utzon. Finally, a walk around Århus is a virtual who's who of Danish architecture, with the thrilling ARoS museum at the city's cultural centre.


Fairy-tale castles
Denmark's collection of medieval castles, fortresses and manors have been used by knights, princes and kings over the centuries. Best known is Kronborg Slot in Helsingør, home to Shakespeare's Hamlet. Nearby Hillerød is site of Frederiksborg Slot, a veritable Danish Versailles. On the island of Funen is Egeskov Slot, a grand castle of counts and nobles with labyrinthine gardens. South of here, Langeland is home to the bright red Tranekær Slot manor, with original 13th-century ramparts, spire, moats and stables.
Danish gastronomy
Denmark is in the middle of a gastronomic renaissance, with a compelling mix of modern fusion and back-to-basics cooking. Copenhagen's restaurants have nearly two dozen Michelin stars – pride and joy Noma often finds itself towards the top of the list of best restaurants in the world. But it's not just haute cuisine. Recent immigrants are opening up Thai, Vietnamese and international restaurants all over the country. And Denmark is famous for its pølsevogn (hot dog stands) in cities and towns everywhere. Come wintertime, the julebord is brought out everywhere, a tempting spread of meats, fish, breads and delicious gløgg mulled wine


Beach
Denmark is really a collection of islands, with a warm, sandy coast that offers plenty of opportunity for sun and surf. Start north of Copenhagen in Tisvildeleje, a one-horse town whose windswept beach is a favourite among well-to-do Danish families. Next, traverse Zealand to reach the eastern shores of Falster, where the beach at Marielyst has been a bathing resort for Danes for over a century – some of them who come for its southern nudist section. Finally, head west to Jutland, where Grenå and Klitmøller are perfect for tanning or heading out for an afternoon of windsurfing.
Discover
Find your perfect holiday in Denmark
From 10 hotels.