Top 10 ways to enjoy the nightlife in Las Vegas
Top 10 ways to enjoy the nightlife in Las Vegas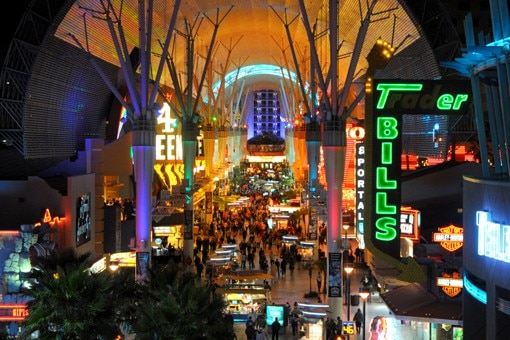 Las Vegas' hotels light up when the sun goes down. Water shows, thrill rides, dancing and gambling -- explore the best of Las Vegas nightlife with this handy guide.
Fountains show at the Bellagio
Let the water, lights and music of the free fountain show in front of the Bellagio entertain you. Every 15 to 30 minutes, the waters light up in a synchronized display, choreographed to classical, opera and Broadway tunes.

Bellagio, 3600 Las Vegas Blvd S., 89109


Cirque du Soleil's 'O'
In a custom-built theatre, Cirque du Soleil's O (a pun on the French word for water, eau) is an acrobatic spectacular with a moveable stage. Heart-stopping acrobatics, high diving, trapeze artists and clowns make for a memorable performance.

Bellagio, 3600 Las Vegas Blvd S., 89109


Late night dining at First Food and Bar
After a night of clubbing, relax at a table and tuck in to a row of mini burgers or catfish tacos into the small hours.

3325 Las Vegas Boulevard S., 89109


Fremont Street Experience
Running along Fremont Street from Main to Fourth Street, the vaulted canopy over this pedestrian mall lights up every hour from dusk. Experience the sensory overload of sounds and images as the 12 million dazzling LEDs of a TV screen light up above you.

425 Fremont Street, 89101


Dancing at Tao
The Asian décor and mood lighting make this a popular club for trendsetters wanting to party. The performers, spacious rooms and high- energy dance floor add to the vibe.

Venetian, 3355 Las Vegas Blvd S., 89109


Minus 5 Ice Lounge
This New Zealand transplant will make you feel cool — literally. Put on a thick coat, gloves and boots and enter a bar made completely of ice. You'll be surrounded by ice sculptures as you sit on ice drinking vodka from glasses made of (you guessed it) ice.

Mandalay Bay, 3930 Las Vegas Blvd S., 89119


Ride the Insanity on top of the Stratosphere
Strapped into what looks like a mechanical claw, the arm extends riders out over the edge of the tower 900 feet above the Strip, then propels them face down at a 70° angle. The brave few open their eyes and get a view of the city lights spinning below.

Stratosphere, 2000 Las Vegas Blvd S., 89104
Pinball Hall of Fame
Tucked away in a mini-mall off the Strip, entrance to this oddball museum is free. All you need is a pocketful of quarters to play one of the hundreds of pinball machines in this vintage collection. Old games include Q-Bert and Super Mario Bros. Open until 11 p.m. or midnight.

3330 E. Tropicana Ave, 89121


Showgirls of Jubilee!
For more than 25 years, this topless classic has featured over 100 feathered and bejeweled dancing women. Take a backstage tour, led by a showgirl.

Bally's, 3645 Las Vegas Blvd S., 89109


Gambling at the Wynn
Everything at the Wynn says luxury, including the casino floor. Deep red carpets, marble fittings and opulent lighting, you don't have to be a high roller to feel like one. Guests of the hotel get to enjoy the poolside blackjack tables but the regular tables are just as fun.

Wynn, 3131 Las Vegas Blvd S., 89109