Top 10 festivals in the world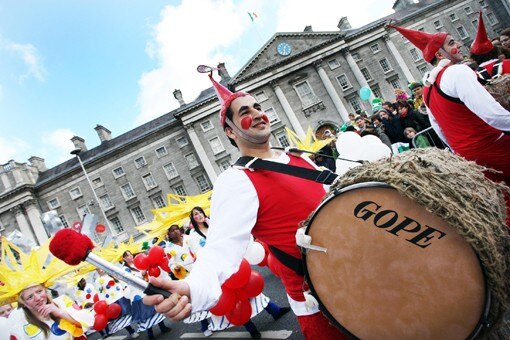 Get ready to party at the top 10 festivals in the world. Whether you want to raise a stein at Oktoberfest or sway to samba in Rio, this guide will help you pick the right hotel.
Oktoberfest, Munich
Slip into your lederhosen or dirndl and raise a toast to the world's biggest beer festival, Munich's Oktoberfest. Every September, some seven million revellers fill the Wiesn park for two weeks of oompah-pah bands and fairground rides as they work their way through six million litres of beer and 300,000 sausages.

See all hotels in Munich


Las Fallas, Valencia
Ear-splitting firecrackers are your wake-up call during Spain's fiery Las Fallas festival in March. Valencia's highly explosive five-day festival banishes winter with fireworks, bullfighting and a parade of around 400 ninots, gigantic papier-mâché effigies that go up in smoke a colossal bonfire on the final night.

See all hotels in Valencia


Rio Carnival
Without doubt one of the top 10 festivals in the world, the five-day Rio Carnival is a sexy, glittering, samba-infused extravaganza. Parties on Copacabana beach and throughout the city build up to the all-night Samba Parade, where dancers, flamboyant floats and transvestites take to the streets.

See all hotels in Rio de Janeiro


Elephant Festival and Holi, Jaipur
Spectacular parades of six-ton elephants in all their finery, elephant polo and tug-of-war matches draw crowds to Jaipur in spring. The traditional Elephant Festival ties in with Holi, the Indian festival of colours, where locals go crazy with multicoloured powders and water pistols.

See all hotels in Jaipur


Festival Douz
A sleepy Saharan oasis for much of the year, Douz in Tunisia leaps to life for the four-day Festival Douz in December. Camel races, Berbers performing gravity-defying stunts on horseback and entrancing belly-dancing performances play out against a backdrop of rolling sand dunes.

See all hotels in Douz


Boston Harborfest
The entire USA throws a party to celebrate its independence on 4 July, but nowhere does that star-spangled banner fly higher than in Boston. Some two million people flock to the waterfront Harborfest, six fun-packed days of marching bands, concerts, fireworks, whale-watching cruises and foodie events.

See all hotels in Boston


St Patrick's Day, Dublin
For the best craic ever, book a hotel in Dublin for St Patrick's Festival in March, five days of Guinness-guzzling, ceilidh-dancing and non-stop merrymaking in honour of Ireland's patron saint. Live music, theatre, fireworks, puppeteers and the Festival Parade entertain 1.5 million festival-goers.

See all hotels in Dublin
Calgary Stampede, Canada
Like a scene from a John Wayne Western, the Calgary Stampede is 10 action-packed days of professional rodeo, bucking broncos, steer-wrestling and death-defying chuckwagon races. Fireworks, fairground rides, live country music and comedians add to the festival fun every July.

See all hotels in Calgary


Night of the Witches, Mexico
On the first Friday in March, witches, healers and shamans descend on Catemaco, Mexico, for the spellbinding Night of the Witches. A must for Harry Potter fans, this hilltop festival combines dancing, feasting and music with sorcery from fortune-telling and tarot-reading to spiritual cleansing.

See all hotels in Catemaco


Chinese New Year, Hong Kong
Flamboyant dragon and lion dances, agile acrobats and marching bands fill the lantern-lit streets of Hong Kong for Chinese New Year in January or February. Devout locals flock to the city's temples for their fortune. The festivities climax in a dazzling firework display over Victoria Harbour.

See all hotels in Hong Kong
Discover
Find your perfect holiday in Munich
From 650 hotels.