Penang Food and Dining Guide - Restaurants, where to eat, and more
Penang Food and Dining Guide - Restaurants, where to eat, and more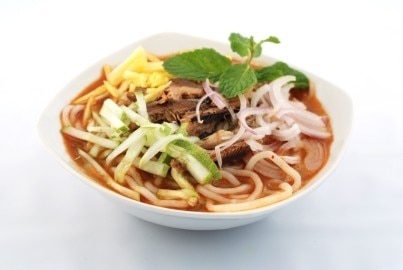 Penang is widely known for its flavorsome cuisine and massive street food scene. Chinese, Thai, Indian and Indonesian flavors fuse to produce a unique and palatable blend which reflects the multi-cultural nature of Penang.
The abundance of seafood adds to Penang's status as a leading dining destination. Restaurants serve up some of the country's finest fish and seafood dishes, created using the local catch of the day.

Aside from a thriving restaurant scene, Penang is home to a huge street food culture. On almost every street throughout Penang, smoke rises and aromas fill the air as hawkers concoct a variety of delicious dishes. Despite the modest mobile facilities, some of Malaysia's finest food is created at these street-side set-ups. Street food is intrinsic to Asian culture, and Penang is considered a food paradise by many Malaysians and Singaporeans.

In 2004, Penang was declared as the best street food destination in Asia by TIME magazine; the judges raved about the sensational taste of the food, and the unbeatable value for money.


Penang Road
This road and the streets leading off it is the heart of Penang's street food culture. Vendors cook up a variety of dishes, usually incorporating noodles and seafood; some sweet snacks are also sold. Diners are seated in neat rows of tables and stools by the roadside.


Chinatown/Little India
The diverse nature of Penang's population means a wide range of cuisines can be enjoyed here. Both Chinatown and Little India offer a highly respected restaurant scene. Little India is particularly popular with vegetarian diners, as a crop of establishments cater for the ever-growing number of herbivore tourists.


Georgetown
A crop of little café s and restaurants in Georgetown cook up street-food dishes for similarly cheap prices, allowing diners to enjoy their food in a more comfortable setting. Dining facilities in Georgetown strike a comfortable balance between hygiene and authenticity.
Penang restaurants
Hot Wok Café
3-H Jalan Pantai Molek, Tanjong Tokong
Phone: +60 4 890 7858
This is the top Peranaken restaurant in Penang, serving delicious local food in a relaxed setting. The beautiful wooden dé cor is enhanced by lanterns and tapestries, adding to the ambiance of the venue.

Ocean Green
48F Jalan Sultan Ahmad Shah
Phone: +60 4 226 2681
This fantastic establishment not only serves up sensational seafood, but diners can also enjoy beautiful sea views from the breezy terrace. Many types of seafood are available, steamed or fried, with your choice of sauce.

Nonya Secrets
32 Jalan Service, Georgetown.
Phone: +60 4 227 5289
Nonya cuisine is the result of Malay and Chinese culinary traditions. It is becoming increasingly difficult to find Nonya cuisine, so this intimate little eatery should be treasured. The menu is dominated by spicy fish and seafood dishes.

Find more information about Penang and hotels in the area:
Penang hotels | Malaysia hotels
Discover
Find your perfect holiday in George Town
From 610 hotels.