Where to eat in Brussels – a food and dining guide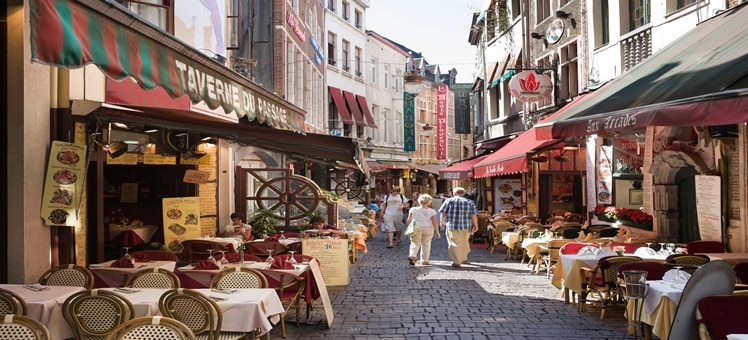 Eating out in Brussels is surely one of the most important activities that you should do in this capital city. Known for its traditional and tasty Belgian dishes influenced by French cuisine, you will not have far to walk far to find the best food to delight your taste buds. The locals here love delicious food, tasty beers and a relaxing atmosphere so you will certainly find a delightful eating establishment to make your stay worthwhile.
Belgium has over 400 types of beer on tap and Belgian food served in the quantity of German cuisine but the quality of French cuisine. Try out moules-frites, cooked mussels with fries, or paling in 't groen, eel in a green sauce. A must try are the infamous high-quality handmade Belgian chocolates. With outdoor restaurants becoming the firm favorite for locals, street food is now popping up over the capital city.
Grand Place Sablons
As Brussels is one of the best places in the world for fine chocolates, a visit to a chocolatier café is a must, especially for the chocoholics. Wittamer's lines the sides of Grand Ablon, head here for breakfast, brunch and sweet treats. Finely made intricate little cakes fill the glass stands. Sit outside on the care style tables for brunch or coffee and cake. Be prepared to pay for the luxury though.
•
Wittamer
, Place du Grand Sablon, 1000 Brussels. Tel:+32 2 512 37 42
City Center
In the bustle of the City Center, there are many mediocre places attracting tourists. Head to Auzx Armes de Bruxelles for something a little more up-market and worthwhile. Full of local cuisine and seafood this is a great place any time of the day, but you must make a reservation beforehand. The traditional décor represents the long standing period of the restaurant which dates back to 1921, making it one of the more exclusive restaurants. The mussels and oysters are highly recommended, as it the crêpe flambé. Be prepared to pay slightly more here, but it is well worth it.
•
Aux Armes de Bruxelles
, 13 rue des Bouchers, Brussels. 1000. Tel: +32 2511 55 50
European District
Apart from local cuisine, Chinese food is rather popular in the city too. One of the best in the European District is La Fontaine de Jade. Don't forget to book a table here as its gets pretty busy due to its popularity. Forget your classic Chinese takeaway restaurant, this is up-market and classy, full of well-prepared exciting food. Expect many dishes you have not tried before within an atmospheric restaurant with good reliable service.
•
La Fontaine de Jade
, Av Tervuren 5, European District, Brussels, 1040. Tel: +32 04246 4972
Ixelles - Place Stephanie
If you looking to escape from the buzzing crowds congregating in other districts, then head to Place Stephanie. Offering quiet dining experiences with first class service enjoy traditional Belgian dishes and multicultural fare. Explore the street of Chaussée de Charleroi and rue Berckman to find local and small restaurants that are worth visiting in this quaint neighborhood. Les Brassins offers traditional seasonal food at affordable prices. The steaks are something not to miss, along with Flemish beef stew and rabbit. Try something from the wide beer selection and relax in the cozy atmosphere.
•
Les Brassins
- Rue Keyenveld 36, 1050 Ixelles, Belgium. Phone: +32 2 512 69 99
Walloon Brabent
Walloon Brabent is known for its historic battle site in Waterloo. If you're visiting this area full of history and architecture, just half an hour south of the city center, dine in Nanoo's. This modern restaurant will bring you back to the present with its luxurious French haute cuisine and matching décor. This well hidden secret is decorated in greys, black and bright pink, making for a great atmosphere. French wines compliment the perfectly presented food too. Order the lamb shank for something as tasty as it is impressive.
•
Nanoo's
, rue des combattants 110, La Hulpe, 1310. Tel: +32 02653 1061