A city guide to Kusadasi: culture, climbing and carpets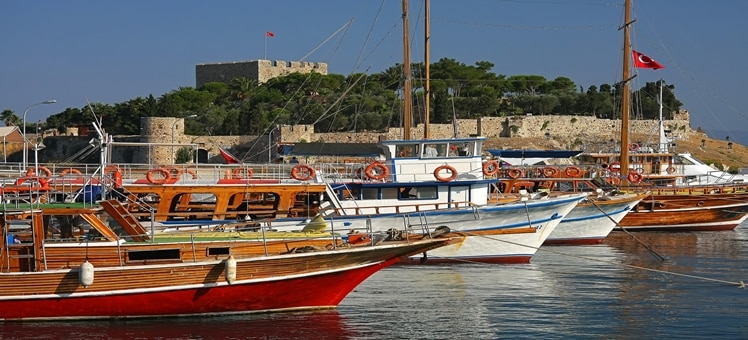 Kusadasi is a seaside district on the west coast of Turkey, lined by the turquoise waters of the Aegean Sea. The town of Kusadasi was originally a fishing village and although it has since embraced the modern cosmopolitan trends it has managed to maintain a trace of its traditional atmosphere.
Drawing in cruise liners of tourists for its idyllic beaches, historical sites and shop loads of treasure to purchase, it's become an ideal holiday hotspot. As well as the town centre, the region also has some great alternative tourist locations and remote holiday spots for those looking to get away from the crowds.
Kusadasi Town Centre
Kusadasi is a hive of tourist activity, with cruise ships laden with visitors pit stopping both day and night. The palm tree lined boulevard is choc full of restaurants and bars and lies adjacent to the beautiful sandy beach. With the fine sand and glossy waters, the coastline is particularly popular and in the hot weather, one of the best places to cool off and relax.
Make sure you also take in Guvercin Adasi, or 'Pigeon Island' as it's more commonly known. This island just off the mainland houses a castle and a number of migratory birds and makes the ideal place to wander and soak up the views. As well as this, the town is rich in cultural history and whether you fancy a browse round the Kaleici Mosque or a toe tapping evening watching Turkish dancing, you're bound to be entertained.
Akbuk
On the outskirts of Kusadasi, Akbuk is recommended by the locals, as their chosen holiday spot. With beaches to die for and historical sites it's the ideal place to get away from the pace of the big city. Forty minutes from Akbuk, you'll find the idyllic Lake Bafa- the perfect spot for a day of exploring and nature watching.
Didim
Larger than Akbuk and located just inland from Akbuk's sandy beaches Didum is a haven for those looking to get a slice of traditional Turkish life. Come here to enjoy some of the region's tastiest cuisine, browse the Saturday market or explore the ruined Temple of Apollo. There is also a waterpark for the little ones and a marina to wander around as well as Lake Bafa National Park nearby.
Selcuk
As the hub of civilisation for over eight thousand years, Selcuk is alive with wonderfully preserved ancient ruins. It's here you'll find the famous Ephesus, the traditional trading centre, bearing remains from Paganism, Christianity and now Islam. With so much to see, you could spend a day or even a week here and not run out of things to do. After the hectic atmosphere in Selcuk, why not head up the winding narrow mountain roads to Sirince, a traditional village famous for old stone houses, olive oil and lace made by local women, for a relaxing few days.
Ozdere & Pamucak
If all the hustle and bustle of the tourist attractions isn't your cup of tea, Ozdere is not your typical tourist resort. In fact, you're unlikely to see anyone with a bumbag and sunburn. Maintaining its original charm, the town is authentic and charming and only an hours drive from Kusadasi should you decide head further afield. With beautiful self-catering accommodation littered along the shore, grab a snorkel and explore the enthralling coastline at your own pace.
If you do fancy slightly more buzz Pamucak, found on the fringes of Selcuk isn't far away and is a popular place for those looking for a hotel stay and sandy beach. If you are staying in Kusadasi town centre this is a viable day trip.
Dilek National Park
As a protected area, Dilek is home to thousands of species of flora and fauna, an oasis just 28km from Kusadasi. Great for outdoor enthusiasts, the park encompasses opportunities for trekking, rock climbing, botanical tours, mountain biking, and bird watching. With wild animals aplenty, you may be lucky enough to spot wild boars or at the start of the year, even a flock of flamingos. The park is secluded and open at 9am every day, closing at 8pm with a small entrance fee.
So, with everything from tranquil beaches, cultural highlights and remote hiking trails, Kusadasi and its surrounding towns can be the ideal holiday location for families, lone travellers, couples or adventurers. Combined with glorious sun and some delightful cuisine, there's really nothing stopping you.