Where to stay in Saudi Arabia - an area guide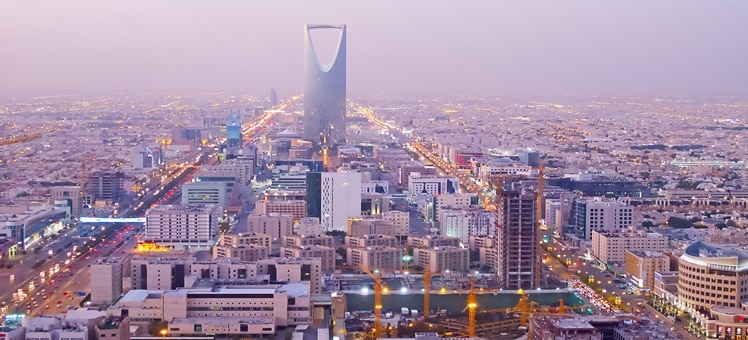 Saudi Arabia is at the heart of Islam but it also a very diverse land occupied by a landscape of deserts, green plains and mountains. Where you stay depends purely on what kind of experience you want - a vibrant city break or a relaxing retreat to enjoy the quiet life.
Riyadh
The vibrant capital, not to mention the largest city in Saudi Arabia, Riyadh is the geographic and cultural hub of the country. Once surrounded by ancient crumbling walls, modern Riyadh is a contemporary city with growing spread of modern roads, high rise buildings and residential suburbs. However, it also retains much of its traditional charm, with the Qasr Al-Hokm district carefully preserving the city's history. The historic Masmak fortress and Murabba' Palace are also found here, as well as the walled city of Diriyah, the ancestral home of the Al-Saud family.
Riyadh hotels
Four and five-star hotels dominate this part of Saudi Arabia, making it one of the most expensive spots to stay. Two and three-star hotels do exist but you may find their locations are further from the capital's main attractions.
Jeddah
A charismatic hub of activity, Jeddah is the second largest city in Saudi Arabia. Containing the main Red Sea port, Jeddah has more than 300 gardens sprinkled with some of the world's tallest fountains. The city has a number of beautifully restored historical buildings including the Naseef House and the Corniche, promenades that extend miles along the Red Sea. Jeddah is also the gateway to the holy cities of Makkah and Madina.
Jeddah hotels
From high-rise chains to modest and affordable accommodation, Jeddah caters to a wide range of audiences. A bundle of self-catered apartments can also be found here.
Najran
In the ancient trading city of Najran old and new are seamlessly intermixed. A particular highlight is the ancient ruins of the Al-Ukhdood settlement, a former commercial center that thrived from 500BC through the 10th century. The Al-An Palace is another remarkable example of Saudi Arabian architecture, with its iconic towers and snow-white ramparts. Najran's souk is a popular option for buying local crafts such as colorful baskets, leather bags and old Bedouin silver jewelry. In the Najran Provinc, you'll also find the Al-Madik Dam, the second largest dam in Saudi Arabia, which has become a popular tourist attraction with parks at either end.
Najran hotels
A great place to stay if you are looking for modern amenities amongst a traditional setting, Najran has a multitude of accommodation options. A city famed for its archaeological significance, you will also have plenty of sites to explore in the surrounding area.