What to see and do in Tasmania – a guide to notable attractions and landmarks
What to see and do in Tasmania – a guide to notable attractions and landmarks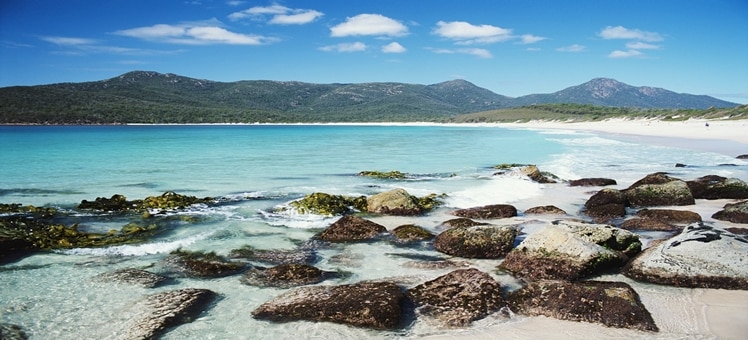 From bushwalking through hauntingly beautiful wilderness to exploring convict relics and visiting a groundbreaking museum, Tasmania's attractions have every thrill covered. With heart-thumping activities, such as hiking, rafting and kayaking, ranking among the best on the planet, Tassie is the country's adventure playground and a haven for adrenaline junkies. The island's fascinating aboriginal, colonial and penal heritage, however, means there're plenty historic sites to keep culture lovers occupied.
There's Australia's natural magnificence, and then there's Dazzlin' Tassie's World-Heritage listed wilderness, featuring some of the most pristine wilderness on Earth. From Cradle Mountain down to the southwest tip, the World Heritage area takes up one fifth of the island and is the essence of Tasmania. With unique wild bronze rivers, ancient rainforests, glaciated mountains, powder beaches, azure bays, bucolic river valleys or fern-filled gorges, the adventures in Treasure Island never end. Lose your breath hiking to Wineglass Bay, raft down rapids of the untamed Franklin River and discover shipwrecks and diamonds on Flinders Island.
Port Arthur Penitentiary
As Australia's most intact and evocative convict site, Port Arthur Historic Penitentiary is one Tasmania's top attractions and provides a thought-provoking insight to the infamous convict era. Steeped in grim penal history, these imposing sandstone ruins are haunted by stories of mischief, seclusion and despair, as Tasmania's bleak convict past remains captive between the sinister-looking cellblocks of what was once an inescapable prison. Contemplate the beautiful scenery of the idyllic Tasman Peninsula as you explore the penal relics, comprising more than 30 buildings, ruins and restored homes, dating from the prison's establishment in 1830. For paranormal fans, there are ghost tours on the site available.
Cradle Mountain
If Peter Jackson had chosen Australia instead of New Zealand to shoot his films based on Tolkien's books, the Cradle Mountain-Lake St Clair National Park would have made the perfect setting for Middle Earth. With its otherworldly glaciated landscapes and ancient alpine vegetation, Cradle Mountain is not only the most loved and accessible wilderness of the World Heritage Area, but also the start of Australia's most acclaimed bushwalk – The Overland Track, a must for trek-freaks. Be ready to get mud up to your knees as you relish in the scenery of Ferguson Falls, climb Mount Ossa and feel like a hobbit before two rocky towers nicknamed The Gates of Mordor.
MONA
Described as a 'subversive adult Disneyland' by owner David Walsh, the Museum of Old and New Art is fast becoming Hobart's biggest attraction. What might seem the cultural version of the Playboy Mansion is actually a groundbreaking and perhaps extravagant display of art. Showcasing some of the most confronting and controversial collections of art in the world, the subterranean fortress surprises visitors as it challenges the idea of conventional museums, proclaiming itself a piece of art on its own. Get ready to be shocked and entertained as you come across objects like a chocolate sculpture of the remains of a Chechen suicide bomber.
Freycinet National Park
A peninsula of pink granite mountains, pearl white beaches, azure bays, coastal dunes and eucalyptus forests, Freycinet National Park is a magnet for nature lovers on the island's east coast. Any activity in this area will prompt you to pinch yourself to make sure you're not dreaming, but they all come second to the park's best walk - the hike to exquisite Wineglass Bay. Rated among the world's 10 best beaches, the arc of the shore resembles an enormous goblet, its pristine white sands are patrolled by wallabies and its clear turquoise waters are perfect for kayaking, swimming and scuba diving.
Cataract Gorge
Cataract Gorge Reserve is a favorite excursion for both locals and tourists in Launceston. A unique natural phenomenon only a 15-minute walk from the city is Lonnie's heartbeat and central to the city's history, lifestyle and distinctive appeal. Take a stroll around one of Australia's most enticing urban parks, through dense bushland and get up close and personal with peacocks in the trees and wallabies at dusk. Visit the Victorian garden, covered with ferns and exotic plants. For a heart-thumping experience, abseiling or climbing in the gorge will surely blow you away.
Discover
Find your perfect holiday in Hobart
From 220 hotels.