What to see and do in York – a guide to notable attractions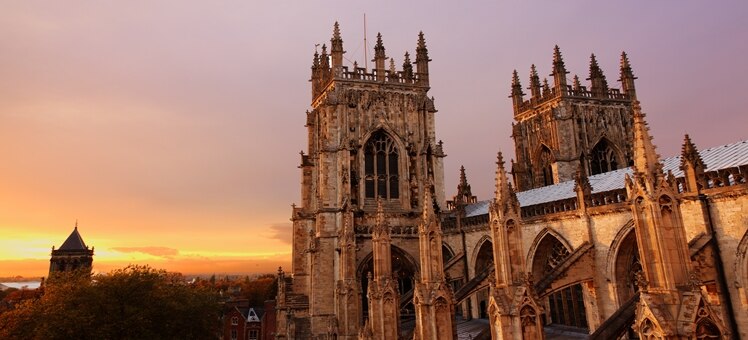 This beautiful city boasts historic architecture, stunning views and a variety of events for all ages. Outside of the city center you will find paintballing, go-karting and other adventure activities, but the main area is brimming with ghost tours, city-wall walks and a range of outstanding local eateries for you to relax in. Whether you're looking for culture, history or just a fun day out there's no end to what you can do in York.
York Minster
York Minster is one of Europe's largest gothic cathedrals, with foundations lying in the earliest part of our nation's history. York Minster boasts 14th century stained glass and stonework which make it an absolute must-see when visiting the city. Family passes are available, along with explorer backpacks for the younger visitors; York Minster is suitable for all ages, with combined entry tickets into The Orb, a house of treasures containing a mixture of religious, historical and artistic pieces. The Tower Tours, although not for children under 8, push you to climb 275 steps, resulting in a picturesque, panoramic view of the city.
JORVIK Viking Center
Let workshops, exhibits and objects of excavation reveal 1,000 years of history beneath your feet, whether you're coming alone or bringing the family along, see for yourself how the Vikings lived in Jorvik. Everything you see is based on archaeological evidence and the model workers are voiced by PhD students from York University. Jorvik DIG lets you discover what's been found under the streets of York and figure out what they would have been used for during the different time periods. You don't need to be a history buff to enjoy this journey through time.
Railway Museum
What better way to spend a few hours than discovering over 300 years of national railway history, wandering amongst rooms of legendary trains such as the King George V and the Japanese Bullet train. Children can run free in the outdoor playground, marvel at the interactive exhibits where admission is free for everyone, although certain activities may require a small fee. With the amount of talks and family activities available all year-round, there is plenty for the adults to be a part of as well, making it the perfect day out for families or couples.
York Castle Museum
In one of Britain's leading museums, you have the opportunity to discover how people used to live their everyday lives through staged rooms and thousands of household objects on display. A favourite of many visitors is The Sixties gallery, displaying fashion, music and the everyday life of the decade. Other galleries display historic toys and cooking utensils amongst other treasures. Time travel back to the life of a prisoner, captured for a variety of crimes and forced to suffer in brutal conditions of the overcrowded prisons, now recreated for your viewing.
Shambles
The Shambles is a collection of streets that run through the city center, made up of twisting lanes and over-hanging buildings which are divided by a small channel. In the center of these lanes is a street actually named Shambles, this was once a street of butchers shops and small houses, leaving plenty of history for its visitors to discover. Winner of Google's Most Picturesque Street in Britain and pit-stop for the Olympic Torch, the Shambles is not to be missed when in York and now hosts cafes, souvenir shops and local markets at the weekend.