48 hours in Sydney - see the beaches, the bays and the bridge in a weekend
48 hours in Sydney - see the beaches, the bays and the bridge in a weekend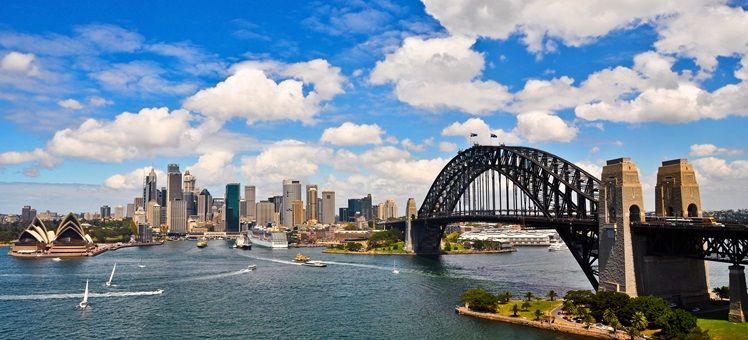 The cosmopolitan Australian city stretches for miles along the shores of countless bays and inlets, but its neatly laid-out and compact center lends itself to a short visit. Here's an itinerary which lays out the best way to see the main sights of Sydney in 48 hours.
Friday
5 p.m. – Sydney Airport is less than 10km from the city center and is well connected to many different parts of the city. Trains arrive every 7 minutes at both domestic and international terminals which will take you into the city for around $15. Even cheaper are buses, which cost less than $4, although luggage space onboard can be limited. Taxis into central Sydney will cost around $40, although destinations significantly further north than North Sydney will be considerably more.
7 p.m. – Almost without exception, travelers arriving in Sydney have had a long and tiring flight, and will probably want to take it easy on their first night. Ease your way into Australia with a walk through Hyde Park, stopping at St Mary's Cathedral. From here you can cross the road into the Royal Botanic Gardens, which has within its grounds the Art Gallery of New South Wales. This Sydney institution has a large collection of Australian and European art including Monets and Canalettos, housed within its gorgeous neoclassical exterior.
9 p.m. – Australia has a huge number of Asian immigrants in the city, and there's no better example of the benefits of this than the city's fantastic variety of cuisines. Try Mizuya for some fantastic Japanese food and, depending on how much you enjoyed the sake, perhaps some karaoke afterwards.
Saturday
9 a.m. – Make your way down to Sydney Harbour Bridge bright and early so that you can see Sydney's biggest attraction before the crowds arrive. Stroll across the spans, and then double back and explore the park beneath its southern spans before continuing into Circular Quay. This part of Sydney is very tourist friendly, with lots of walkways, shops, parks and cafés, so have a look around before catching the ferry to Manly.
1 p.m. – The route to Manly takes you out into the harbor, and gives a great view of Sydney Opera House on one side and the Harbour Bridge on the other. Once in Manly, you can spend the afternoon on stunning Manly beach before catching a return boat to Sydney. This day trip costs a fraction of the price of a commercial harbor tour, and gives you the chance to see Manly and other lesser-known parts of the coast.
5 p.m. – When you get back to Circular Quay, walk along the water for a closer look at the Opera House.
6 p.m. – Take an early dinner at Ester, a fantastically understated and reasonably priced restaurant in the Chippendale district. Oysters roasted in the wood-fired oven are a delight after a day in the sun.
9 p.m. – Reward yourself after a hard day with a cocktail at the glamorous Hollywood Hotel. If you want to dance, check out Chinese Laundry for good times and good music in a great location. If you're looking for a quieter night, the Golden Age Cinema shows new releases and classics in a fantastic old picture-house.
Sunday
9 a.m. – Head to the Pacific coast for a day enjoying Sydney's stunning parks and beaches. At Bondi beach load up on fuel at Porch and Parlour. Their special "porched eggs" – soft-boiled and rolled in herbs – are the perfect start to the day.
11 a.m. – After breakfast, join the Bondi to Bronte coastal walk, a 3.5km stroll along a beautiful stretch of coast. When you arrive at Bronte beach, take a moment out from enjoying the sun and sea to explore Bronte Baths,ocean filled swimming baths that warm up to bath-like temperatures on hot days.
1 p.m. – When you've had enough sun, cab your way to Vaucluse House, one of the last 19th century mansions in Sydney still surrounded by its original gardens. Enjoy a stroll around the grounds and a sandwich in the quaint tearoom before seeing what exhibition is on next.
3 p.m. – Now continue up the South Head peninsula to Sydney Harbour National Park, where you'll get a chance to tick koalas and kangaroos off your Australia to do list.
5 p.m. – End your Sydney trip with a visit to Doyles on the Beach, where you can get a fantastic fish and chips to take away. Resist the temptation to get stuck into your newspaper wrapped meal immediately and wander to Camp Cove, the next bay along, from where you can enjoy your dinner with a wonderful final view back over the harbor.
If you have more time…
There's nothing Australians love more than sport, and you're spoiled for choice in Sydney. Depending on the time of year, you can go and see a game of cricket at the Sydney Cricket Ground, or for a more uniquely Australian experience, go and see the Sydney Swans Aussie Rules team. The Swans play home fixtures at the cricket ground but host bigger fixtures at the ANZ Stadium, so ensure to check you're going to the right place.
If you want to explore Sydney outside of the centre, try a food tour of one of the suburbs like Cabramatta. The diverse immigrant populations make these tours as much a culinary tour as a physical one.
For those wanting to add more culture to their stay, the Belvoir Theater shows both classical and contemporary shows right in the center of town, while the Museum of Contemporary Art has impressive modern works from around the worldand is conveniently placed right next to Circular Quay.
For a closer look at the harbor, visit the Point Piper Kayak Centre to enjoy some watersports in the shadows of the city's most famous monuments.
If you want to get out of the city entirely, a trip to the Hunter Valley wineries makes a perfect day trip for visitors with a rented car, especially if you have someone to drive you home at the end of the day. For those relying on public transport, the Royal National Park is just to the south of the city and is easily reached by train.
Location/contact details:
Day one
St Mary's Cathedral
St Marys Rd, Sydney NSW 2000, Australia
(02) 9220 0400
Royal Botanic Gardens
Mrs Macquaries Road, Sydney NSW 2000, Australia
(02) 9231 8111
Art Gallery of New South Wales
Art Gallery Road, Sydney NSW 2000, Australia
(02) 9225 1700
Mizuya
Basement, 614 George St, Sydney NSW 2000, Australia
(02) 9266 0866
Day two
Sydney Harbour Bridge
Sydney Harbour Bridge, Sydney NSW, Australia
(02) 9903 2159
Sydney Opera House
Bennelong Point, Sydney NSW 2000, Australia
(02) 9250 7111
Ester Restaurant
46/52 Meagher Street, Chippendale NSW 2008, Australia
(02) 8068 8279
Hollywood Hotel
2 Foster St., Surry Hills NSW 2010, Australia
(02) 9281 2765
Golden Age Cinema & Bar
80 Commonwealth Street, Surry Hills NSW 2010, Australia
(02) 9211 1556
Chinese Laundry
111 Sussex Street, Sydney NSW 2000, Australia
(02) 8295 9999
Day three
Porch and Parlour
18/110 Ramsgate Avenue, Bondi Beach NSW 2026, Australia
(02) 9300 0111
Bondi to Bronte Coastal Walk
1 Notts Avenue, Bondi Beach NSW 2026, Australia
(02) 9386 7999
Vaucluse House
Wentworth Road, Vaucluse NSW 2030, Australia
(02) 9388 7922
Doyles on the Beach Restaurant
11 Marine Parade, Watsons Bay NSW 2030, Australia
(02) 9337 2007
Other trips
Sydney Cricket Ground
Driver Avenue, Moore Park NSW 2021, Australia
www.sydneycricketground.com.au
(02) 9360 6601
Point Piper Kayak Centre
New South Head Road, Australia
0418 400 080
Belvoir St Theatre
25 Belvoir Street, Surry Hills NSW 2010, Australia
(02) 9699 3444
Museum of Contemporary Art Australia
140 George Street, The Rocks NSW 2000, Australia
(02) 9245 2400