Paris Nightlife - Champagne, Clubs, and "Le Crazy"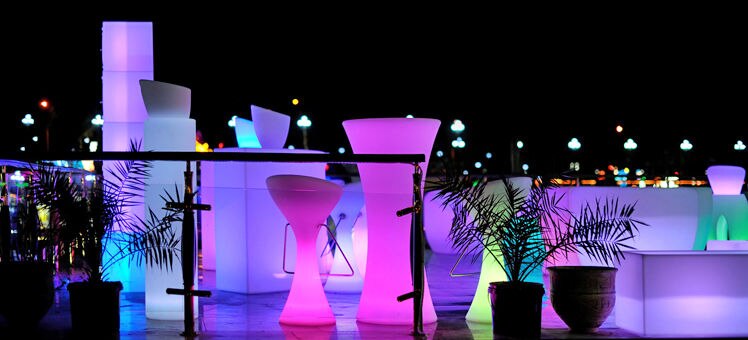 Not surprisingly, The City of Light comes to life at night. Cocktail bars, nightclubs, live music venues, and cabarets offer a plethora of after-dark activities at a variety of prices. You'll want to stay up until dawn just so you don't miss out on anything this city has to offer.
Cocktail bars
Considering how many cocktail bars Paris houses, it's no surprise it was a hot destination for the legendary artists and writers of the 1920s. You can rest assured even after all these decades, Paris still offers visitors a wide array of establishments. From upscale and pricey to super-cool and cheap, specialties include Champagne, wines, and spirits that speak to France's great grape heritage.
Bar Le Baudelaire at Le Burgundy Paris
A daytime bistro and tearoom, where cocktail service doesn't start until 4 PM. But when it does, be prepared to pore over the extensive Champagne and cognac list, as these are the bar's specialties.
6-8 rue Duphot, Paris, 75001. Tel: +33 1 42 60 34 12
Bar Le Baudelaire at Le Burgundy Paris website
Compagnie des Vins Surnaturels
Cozy and intimate, this is the perfect spot to enjoy a quiet if decadent night out. The wine list boasts more than 3,000 labels, which you can pair with upscale munchies like truffles, cheeses, and prosciutto.
7 rue Lobineau, Paris, 75006. Tel: +33 9 54 90 20 20
Compagnie des Vins Surnaturels website
La Perle
By day, this café serves typical French dishes - croque monsieur, charcuterie, pâté de campagne - at reasonable prices. By night, it transforms into a bar perpetually packed with hip locals.
78 rue Vieille du Temple, Paris, 75003. Tel: +33 1 42 72 69 93
La Perle website
Nightclubs
Want to party until dawn? Paris's nightclubs can help you with that. Typically open until the wee hours of the morning (around 5 AM), clubs are filled with thumping music and beautiful people. In fact, their reputation for attracting the best DJs lures some of Hollywood's biggest names when they're in town. Just keep the gawking to a minimum.
Le Baron
If you're looking to rub shoulders with the rich and famous in an exclusive venue, try Le Baron. It's tough to get past the doorman, so dress in your finest casual-cool and act like you belong there.
6 Avenue Marceau, Paris, 75008. Tel: +33 1 47 20 04 01
Le Baron website
VIP Room Theater
This is the place to be after-hours for the hottest stars and coolest DJs. There's a fairly strict door policy, so dress to impress.
188 bis rue de Rivoli, Paris, 75001 . Tel: +33 1 58 36 46 00
VIP Room Theater website
Live music
From vintage crooners like Serge Gainsbourg and Françoise Hardy to modern electro masters Daft Punk and David Guetta, Paris has long been a hotbed of musical activity. Live music venues abound throughout the city, and an evening among enthusiastic, music-loving Parisians is second to none. Don't be surprised when the indie bands you see in Paris skyrocket to the top of the charts.
L'International
Decorated in a shabby-chic style, L'International offers the largely local crowd inexpensive drinks and free live music entertainment.
5/7 rue Moret, Paris, 75011. Tel: +33 1 42 02 02 05
L'International website
Cabarets
Ever since Toulouse-Lautrec painted can-can girls at the Moulin Rouge, Parisian entertainment has been perceived as somewhat shocking. Today, cabaret shows still feature risqué costumes and seductive choreography, but they are lauded for reinventing what was once a scandalous show in a supremely creative and artistic celebration of dance, fashion, and the female form.
Crazy Horse Paris
Blending an appreciation for dance with the world of design, shows at this legendary venue are known for exciting choreography, famous guest stars, and couture collaborations with Christian Louboutin and Roberto Cavalli.
12 Avenue George V, Paris, 75008. Tel: +33 1 47 23 32 32
Crazy Horse Paris website
Discover
Find your perfect holiday in Paris
From 4920 hotels.