Shopping in Crete - from Traditional Markets to Contemporary Styles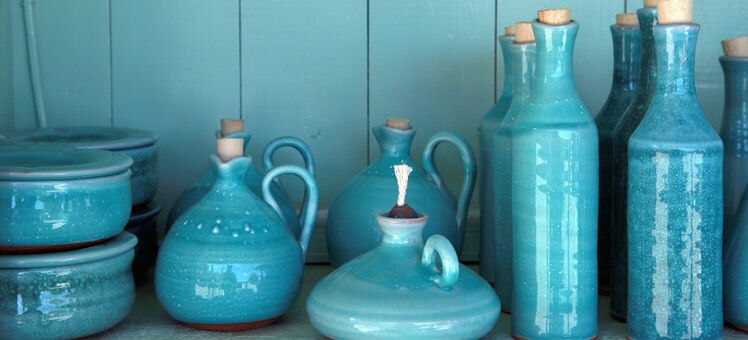 Looking for colorful beachwear, cool cottons and linens, handcrafted leather goods, Ottoman-era antiques, or gold and silver jewelry inspired by finds from Crete's great archaeological sites? You'll find temptation everywhere in Crete. In local produce markets, browse for herbs from Cretan hillsides, marvel at fresh fish piled on beds of ice, and discover more olive varieties than you knew existed.
Downtown Heraklion
Heraklion's old-world market street, Odos 1866, is lined with small stores and stalls displaying all kinds of fresh produce and household goods. Good take-home buys include herbal tisanes that are claimed to cure all manner of aches, pains, and ailments. Look out too for copper coffee pots, olive wood bowls, and painted ceramics. Odos Daedalos, which meets Odos 1866 at Plateia Venizelou, has more modern stores selling lightweight summerwear, jewelry and accessories.
Chania handicrafts
Shoemakers, leatherworkers and metalworkers have been plying their trade along Odos Skridlof in Chania's old quarter for centuries. If you fancy a pair of made-to-measure Cretan-style riding boots, sandals, or an ivory-handled antique dagger, this is the place to come. There are plenty of modern jewelry and clothing stores, as well as antique dealers, nearby on Odos Halidon. Don't miss the big covered market, filled with the scents of herbs and spices.
Rethymnon street markets
Early on a Saturday, head for Porta Guora, the old Venetian gateway on the southern edge of Rethymnon's historic center, to encounter one of Crete's liveliest market areas in full swing. You can buy just about anything in the stores along Odos Ethnikis Antistasis. Copies of antique ivory or amber "worry beads" make good presents or souvenirs, and you'll find ceramics and antique icons too. Open-air stalls spill out across Plateia Martyron, a few steps from Porta Guora.
Splash out in Elounda
As you'd expect from Crete's costliest enclave, Elounda has stores that pander to a well-heeled clientele. Browse in air-conditioned comfort in arcades, art galleries, and shopping plazas within the resort's hotels, where you'll find jewelry created by Greek silversmiths as well as finely tailored clothing and accessories for men and women.
Casual shopping in Agios Nikolaos
Stores along Odos 28 Oktovriou and Odos Koundourou Roussou, Agios Nikolaos's town center shopping streets, cater for visitors seeking souvenirs, accessories, swimwear, and beach toys. Alongside these outlets, you'll find a scattering of individual and quirky retailers selling handmade pottery, jewelry, and textiles.