Eating like a Cretan - The Best Greek Food on the Island of Crete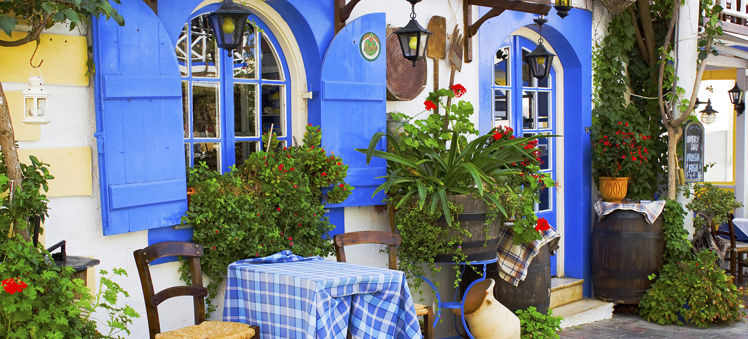 The best food in Crete is often the simplest - a fresh salad of tomatoes, cucumber, onions, olives, and feta cheese, or a plate of chargrilled sardines and a glass of chilled white wine. For the best seafood, seek out a psarotaverna, or fish restaurant. For spit-roasted chicken, lamb, and pork, look for a psistaria grill.
Typical dishes
All the Greek favorites - souvlaki, moussaka, pastitsio, and seafood such as red mullet, squid, and octopus - can be found in Crete. You'll also find meze dishes, including wild snails and foraged mountain greens.
Heraklion
Heraklion offers some of the most authentically Greek food in Crete. Locals like tavernas such as Kiriakos, just outside the Venetian walls and a block south of the Public Gardens. This offers a smart take on old-school Cretan cooking, where you can taste dishes such as snail porridge, oil-cooked casseroles, and rooster in red wine. You'll find fine dining that combines locally sourced produce with French and Italian influences at places like Loukoulos. For seafood, head for the waterfront west of the Venetian Harbor.  
Rethymnon
Many vacationers visiting Rethymnon can't resist the lure of a table by the sea. Sadly, too many harborside restaurants in this part of town rely on location, and lunch often comes straight from the freezer by way of the microwave. But don't despair. Wander a block or 2 from the sea, into the old quarter, to discover innovative, modern Greek food in restored Venetian and Turkish mansions. Examples include Avli - which also has possibly the best wine cellar in Crete - or Veneto, where the 13th-century courtyard is perfect for a romantic dinner.
Chania
Come to Chania to discover a new style of "creative Cretan" cooking that blends local produce with influences from all over the Mediterranean. You'll find seafood stalwarts such as spaghetti with lobster, but some happy surprises too - think squid in fennel and green olive sauce, sautéed stingray, moray eel, sea urchin roes, and cuttlefish stewed in its own ink. In the old quarter, you'll come across Tamam, which serves great vegetarian food and imaginative meat and fish dishes. Or head west to Halepa, a waterfront area that's slowly being rejuvenated. Here, Thalassino Ageri serves seafood with a modern twist in a restored 19th-century tobacco warehouse.    
Elounda
You'll find some of the finest dining establishments in Crete within the Elounda peninsula's top hotels. Dress to impress, or you may feel a little out of place here. The overall vibe is modern Mediterranean, with Pacific and Asian influences and an emphasis on locally sourced ingredients. Wine lists nudge you in the direction of the new breed of varietal wines from Crete and other Greek mainland and island vineyards. Beyond the big hotels, there are affordable and pleasant places to eat by the sea at Plaka Elounda, overlooking the Gulf of Mirabello.