Travel Tips - Getting the Most Out of Your Hamilton Island Vacation
Travel Tips - Getting the Most Out of Your Hamilton Island Vacation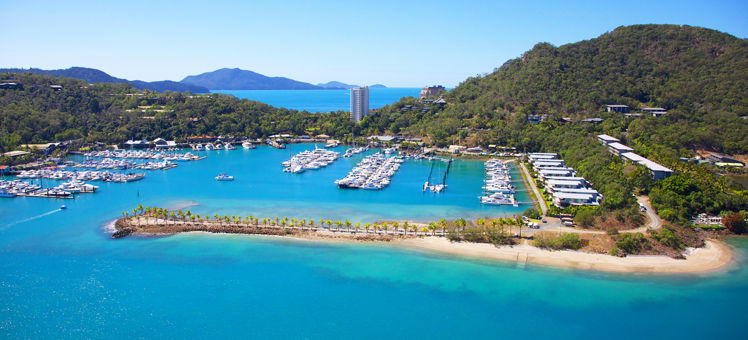 Hamilton Island offers fine sand, clear aquamarine waters, and lush green foliage - just like most of the 74 Whitsunday Archipelago's islands. Hamilton, however, is the only one with a wide choice of hotels and restaurants, and a sophisticated yet laid-back vibe. It's easily reached by plane and boat, and is a perfect casting-off point for the Great Barrier Reef.
Best time to travel
Hamilton Island has a tropical climate that makes it ideal for sun-drenched vacations all year round. Average maximum temperatures range from 23 degrees C (73 F) in June to 31 degrees C (88 F) from November to January. Minimum temperatures seldom go below 18 degrees C (64 F). Tropical showers are frequent from January to March, but most days turn out sunny and hot. Mild water temperatures make swimming pleasant the whole year. School vacations in July, and December and January, see the most family visitors.
Not to miss
Hamilton Island's beaches are ideal for water sports, or simply soaking up the sun. Luxury spas offer plenty of opportunities to pamper yourself. Only one-third of the island is developed, and there's an array of walking tracks where you can relish the sublime scenery. It's also an ideal base for exploring the Whitsunday Islands and the Great Barrier Reef. Yachting enthusiasts flock to the island in August for Hamilton Island Race Week, accompanied by a line-up of onshore events.
Getting around
Hamilton Island is the only Whitsundays island with its own airport (HTI). It welcomes direct flights from Sydney, Melbourne, Brisbane, and Cairns. Ferries cruise to Hamilton Island several times daily from Shute Harbour on the Queensland coast. Yachties can berth at Hamilton Island Marina. Most hotels provide free transfers from the airport and marina. Cars are not permitted on Hamilton Island, making for a quiet, relaxed feel. Golf buggies are the main mode of transport; many hotels provide them free, or you can hire one. Free buses travel on 3 routes.
Cuisine
Hamilton Island offers an abundance of dining options, from contemporary Australian to Italian, Asian, or Mediterranean fare. You'll find enough variety to dine somewhere new every day of the week. The emphasis is on fresh fish and seafood, and restaurants use local and sustainable produce wherever possible. There's an array of bars, most of them on the water with great Whitsunday views, as well as casual cafés and a general store. Many hotel restaurants have a "kids stay and eat free" offer in combination with accommodation.
Customs and etiquette
Australians are renowned for their lack of formality and easy-going attitude, and social etiquette amounts to common good manners. Hamilton Island is a family destination, and caters to kids. However some restaurants and resorts don't accept guests under 18. Smart casual dress is usually fine, though the golf and sailing clubs have their own dress codes. Tipping is not mandatory in Australia, although rounding up the bill by 10 to 15 percent is customary in restaurants. Australia has extremely strict tobacco laws, with smoking banned in restaurants and pubs, as well as most public places, including those outdoors.
Fast facts
Population: 2000

Spoken languages: English

Electrical: 230 volts, 50 Hz, plug type I

Phone calling code: +61 7

Emergency number: 000; 112 on cell phone