Where to Eat in Branson - From Barbecue to Fine Dining
Where to Eat in Branson - From Barbecue to Fine Dining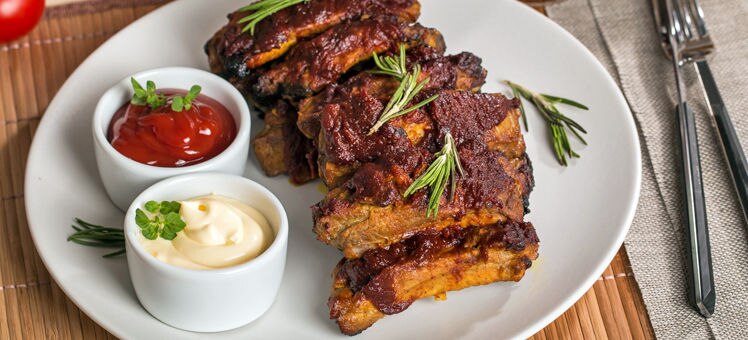 For a small city, Branson has more than its fair share of restaurants. Dining choices abound, ranging from well-known national chains to family-run favorites that specialize in local dishes. Visitors can expect to find many casual eateries that cater to large groups, as well as fancier fare, with prices to match, in romantic locales.
Typical dishes
Many Ozark specialties are closely linked to the area's natural bounty, such as smoked trout cakes and other lake fish recipes. You can also find desserts featuring native Missouri fruit like double-crusted gooseberry pie.
Lake Taneycomo
Lake Taneycomo offers sumptuous views at lakeside tables, or in the case of the White River Fish House, on the water itself. Built atop a floating barge, this timbered eatery serves classic American favorites and regional seafood like fried catfish and trout almondine, which is prepared with an almond crust and topped with almond butter. The Dobyns Dining Room, located 3 miles south, uses a farm-to-table philosophy. Located in the Keeter centre at College of the Ozarks, the student staff farms tomatoes and green beans in the campus garden, and raises the ham used in the pork pomodoro.
Branson theatre District
Located in the thick of the city's main strip, Billy Bob's Dairyland is a modest building that stands alongside a gas station. In spite of its unpretentious setting, this kitschy spot featuring 1950s-style decor is a famous destination for half-pound burgers on grilled buns, and delectable shakes with unusual flavors like peanut butter and banana. If you're looking for more international fare, you can visit Thai Thai Cuisine, which is credited for bringing a new taste profile to the city's dining landscape. Spicy curries, stir-fried noodles, and seafood dishes dominate the creative menu.
Branson West
Located in Branson West, less than a 30-minute drive from the city centre, Pizza By The Chef puts an upmarket spin on pizza parlor standbys with gourmet pies. Specialties like the Greek pie feature garlic infused olive oil and artichoke hearts, while the Olé and Fajita pizzas incorporate Mexican ingredients like refried beans and salsa. Just 1 mile south, meat lovers can indulge at Danna's Bar-B-Que & Burger Shop where ribs, pulled pork, chicken, and even the beans on the nachos get the barbecue-flavored treatment. The family-run eatery offers freshly made, and impressively sized, burgers, too.
Table Rock Lake
Chateau Grille's spacious dining room overlooks the Ozark Mountains and Table Rock Lake. Its decidedly high-end menu includes Faroe Island salmon and South African lobster tail, and locally sourced choices like smoked trout and pork belly. The Devil's Pool Restaurant sits 12 miles south in the wooded Big Cedar Lodge resort, and uses a stone fireplace, mounted trophies, and exposed beams to create a hunter's lodge vibe. For the full hunter's experience, start with cracked pepper butter and house smoked bacon cornbread, then try the bison meatloaf, and finish with a piece of Ozark mud puddle cake.