Miami Arts and Culture - Galleries, Theaters, Films, and More
Miami Arts and Culture - Galleries, Theaters, Films, and More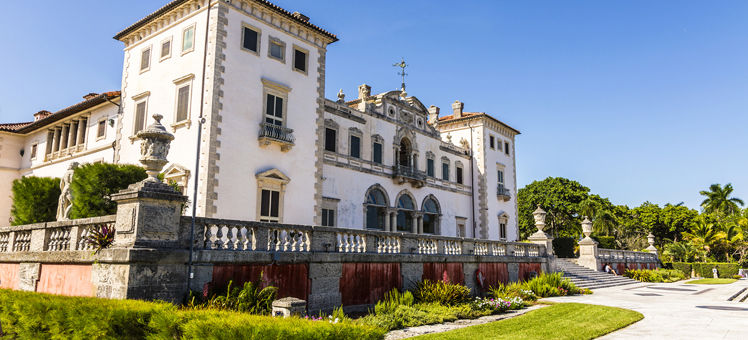 Miami is painted with the brushstrokes of multiculturalism, making it a melting pot of influences, flavors, and vibrant art. From creative street artists to world-renowned dance and theatre companies, this city offers an abundance of options that celebrate diverse cultures and perspectives.
Art galleries and shows
Miami's art scene is as dazzling as its beaches, with dozens of galleries, mainly in the Wynwood Arts District and the Design District, showcasing emerging and established artists. Each winter, the city hosts the international contemporary Art Basel Miami fair, featuring more than 250 of the world's leading galleries. Plus, there are monthly art walks in various neighbourhoods, including Coral Gables and Little Havana.
Wynwood Walls
Why not take in a spectacular display of street art while also enjoying Miami's famous sunshine? Wynwood's many warehouse buildings serve as giant canvases for colourful graffiti by international artists, making the neighbourhood one of the world's biggest street-art scenes.
Wynwood Arts District
Wynwood Walls website
Spinello Projects
A self-described contemporary art venture, this gallery blends art, design, and multimedia projects from experimental and groundbreaking artists.
2930 NW 7th Ave., Miami 33127. Tel: +1 786 271 4223
Spinello Projects website
Classic and contemporary dance
Various cultural influences converge on Miami to create a dance scene that's diverse and celebrated. At the Miami City Ballet, traditional Balanchine is performed alongside contemporary arrangements by Twyla Tharp. The annual IFE-ILE Afro-Cuban Dance Festival celebrates multiculturalism with dance parties and performances of salsa, Afro-modern, and rumba, among others.
Miami City Ballet
Founded by a former New York City Ballet principal dancer, the company has strong roots in classic Balanchine, as well as modern productions that fuse dance with visual art.
2200 Liberty Ave., Miami Beach 33139. Tel: +1 305 929 7000
Miami City Ballet website
Momentum Dance Company
A contemporary dance company, Momentum produces works created mainly by Florida choreographers and shown in locations around the Southeast. The company also produces the annual multi-genre Miami Dance Festival.
Tel: +1 305 858 7002
Momentum Dance Company website
Live theatre
The International Hispanic Theatre Festival brings together companies from around the world every summer to celebrate Latin culture. Companies like GableStage opt for edgy and experimental productions, while the Adrienne Arsht centre for the Performing Arts stages large-scale Broadway shows, along with classical and pops concerts.
Adrienne Arsht centre for the Performing Arts of Miami-Dade County
The city's most significant cultural venue and a leader in promoting local artists, the Arsht centre hosts one of the largest jazz series in South Florida and one of the biggest flamenco festivals on the East Coast.
1300 Biscayne Blvd., Miami 33132. Tel: +1 305 949 6722
Adrienne Arsht centre for the Performing Arts of Miami-Dade County website
GableStage at the Biltmore
Located in the historic Biltmore Hotel, GableStage is renowned for producing innovative plays that address current issues and ideas.
1200 Anastasia Ave., Coral Gables 33134. Tel: +1 305 445 1119
GableStage at the Biltmore website
Film festivals
Did you know that Miami is a film lover's paradise? The city hosts countless film festivals throughout the year, including ones dedicated to Brazilian, Italian, Jewish, and female-driven films, as well as documentaries. The Gay & Lesbian Film Festival aims to entertain and educate the public on gay and transgender issues, while various art-house cinemas around town screen international films, as well as ballet, opera, and symphony performances.
O Cinema - Wynwood
With a focus on independent films and documentaries, the non-profit O Cinema also acts as a gallery space for local artists.
90 NW 29th St., Miami 33127. Tel: +1 305 571 9970
O Cinema - Wynwood website
Women's International Film & Arts Festival
Blending film, visual, and performing arts, this annual festival celebrates the artistic accomplishments of women from around the world. In particular, it aims to promote opportunities for women in the film industry.
Tel: +1 305 653 9700
Women's International Film & Arts Festival website
Discover
Find your perfect holiday in Miami
From 1840 hotels.