Arts and Culture in Torquay, Home of the Mystery Novel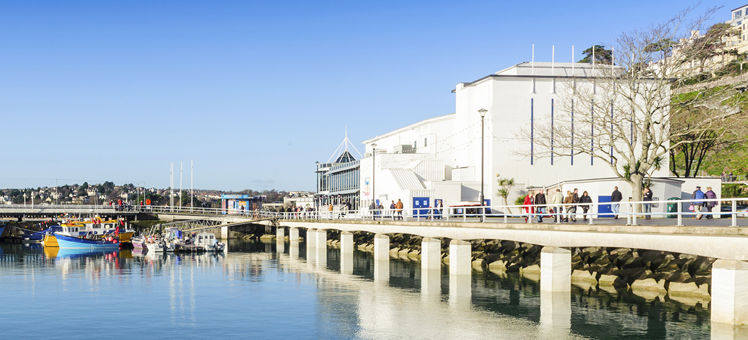 Torquay has a cultural life that extends far beyond seaside entertainment, with innovative art projects happening throughout the year. There is one name that dominates the cultural scene here, however. The reason is not a mystery, when you consider that the town's native daughter, Agatha Christie, is one of the best-selling novelists of all time.
Agatha, queen of mystery
Agatha Christie was born in Torquay and spent much of her life in the area, making this the spiritual home of the mystery novel. Dedicated fans of Poirot and Miss Marple will want to arrive in September for the annual Agatha Christie festival, and there's a year-round commemoration of her life and work along the Agatha Christie Trail. Her former summer home is also an outstanding attraction in itself.
Agatha Christie Mile
The Agatha Christie Mile in Torquay, and the larger trail through Devon, commemorates the most important events in Christie's life. You can also visit some of the locations she wrote about - Torquay featured in 20 of her novels.
Tel: +44 844 474 22 33
Agatha Christie Mile website
The Greenway Estate
A 20-minute drive from Torquay, Christie's former summer home is now open for everyone to enjoy. You can walk in the great writer's footsteps as you explore the manor and its sprawling gardens.
Greenway Road, Galmpton, near Brixham, Devon TQ5 0ES. Tel: +44 1803 842382
The Greenway Estate website
History comes to life
You might expect that a town with such a strong sense of history would have a number of museums, and you would be correct. There are several in the area, covering natural history, maritime history, and the cultural history of the region. There are also some charming private collections, such as the popular Bygones.
Torquay Museum
There's a lot to see in this regional museum, with mummies, fossils, and Roman relics complemented by regular exhibitions. It also has an entire wing dedicated to Agatha Christie.
529 Babbacombe Rd, Torquay TQ1 1HG. Tel: +44 1803 293975
Torquay Museum website
Bygones
What started as a quirky private collection has grown into an immersive historical experience. Walk through life-sized streets, climb aboard old trains, and come face to face with the horror of World War I.
Fore Street, St Marychurch, Torquay TQ1 4PR. Tel: +44 1803 326108
Bygones website
Torquay's theatres
Torquay's theatres have a long tradition of offering cabaret and variety shows, but there is also plenty on offer for drama lovers. If you're looking for serious works, your best bet is to check if the Agatha Christie Company is playing at the Princess theatre, or to find a show staged by one of the smaller local companies.
The Little Theatre
In a converted church, this small venue is home to a local amateur dramatic company which runs an ambitious year-round program of plays. After the show, you can hang out with the cast at the bar.
St. Marks Road, Meadfoot, Torquay TQ1 2EL. Tel: +44 1803 299330
The Little Theatre website
Big screens and small
If you feel like putting your feet up and enjoying a movie, you've got several options in Torquay. You can grab a bucket of popcorn and catch the new releases at the local multiplex, or you can check out the Blue Walnut Café, which claims to be one of Britain's smallest cinemas.
Blue Walnut Café
This 23-seater cinema shows regular arthouse movies, and hosts the Manhattan Short Film Festival. The café is also home to poetry and spoken word evenings.
Walnut Road, Torquay, Devon TQ2 6HS. Tel: +44 1803 394113
Blue Walnut Café website
Central Cinema
This charming building often hosts live broadcasts of major West End plays and operas, plus big Hollywood movies on the 3D screen.
29 Abbery Road, Torquay TQ2 5NQ. Tel: +44 1803 380001
Central Cinema website