Arts and Culture in Hyderabad - Forts, Palaces, and Museums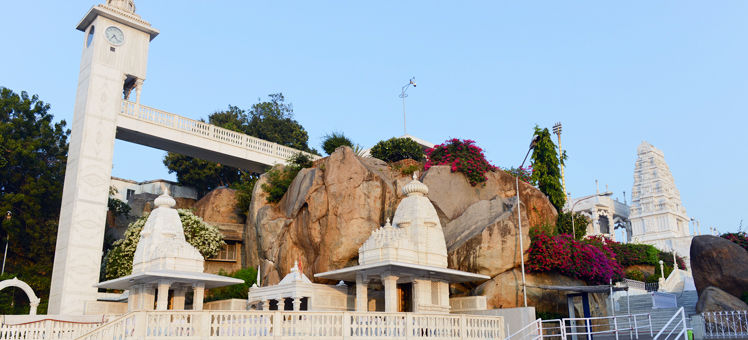 Under the Qutb Shahi and Asaf Jahi (also known as the "Nizams") dynasties, Hyderabad claimed cultural supremacy in the region. From the 16th century onwards, the city welcomed artists, who built architectural landmarks and specialized in exquisite handicrafts. Many of these still exist and, although Hyderabad has since evolved into a technology hub, you'll find that its artistic heritage remains the star attraction.
Hyderabad's architectural highlights
Situated on the banks of the Musi River, the Qutb Shahis and Nizams (the rulers of the Asaf Jahi dynasty) spent lavishly on the beautification of their capital. Old Hyderabad is studded with palaces, mosques, and bazaars from the royal era. As you roam the crowded streets, you'll walk by fine examples of Indo-Islamic architecture. Scenes filled with flute-shaped minarets, elegant archways, and fountain-filled gardens make for pleasurable sightseeing.
Charminar monument
The city's most recognizable structure, Charminar's arches face out onto a busy intersection, and have slender, dome-topped minarets at each corner. The intricate stucco details, along with the city views from Charminar's many balconies, make the monument a must-visit.
Laad Bazaar Road, Hyderabad 500095, Telangana
Chowmahalla Palace
Home to the Nizams, Chowmahalla Palace showcases a mix of architectural styles, from neoclassical to Persian. The grandiosity of the Durbar Hall, with its patterned walls and ornate, drooping chandeliers, is breathtaking.
Khilwat, Hyderabad 500002, Telangana. Tel: +91 40 24522032
Chowmahalla Palace website
Museums in Hyderabad
Hyderabad's museums paint a picture of the city's past, along with the cultural evolution of mankind. A couple were founded by the royals themselves, who sourced artefacts and curios from across the globe. At Salar Jung, you can gaze at murals from Japan, porcelain creations from China, and the Veiled Rebecca - a marble sculpture of the biblical character by G.B. Bezoni. The Nizam Museum captures the splendor of the royals. On display is a 176-foot long, Burma-teak wardrobe, wine goblets studded with pearls, and a golden imperial throne.
Salar Jung Museum
Nawab Salar Jung III, Prime Minister to the seventh Nizam, emptied his pockets into building India's third largest museum. You'll need a whole day and a pair of comfortable shoes to view paintings, textiles, ceramics, and artefacts from various continents.
Darul Shifa Road, Hyderabad 500002, Telangana . Tel: +91 40 24576443
Salar Jung Museum website
The Nizam Museum
Also known as the "City Museum," this collection is housed at Purani Haveli, a palatial Nizam residence. Drop by for a peek into how Hyderabad's trade, economy, scientific research, culture, and cuisine have progressed from the beginning of time.
Purani Haveli, Hyderabad 500002, Telangana. Tel: +91 40 24521029
The Nizam Museum website
Mosques and temples
Cosmopolitan Hyderabad has its fair share of religious sites. You'll see ancient mosques constructed in Indo-Islamic style, as well as Dravidian-style temples with intricate towers perched on top of the main structure. It's not just about architecture though, celebrations and rituals at these holy places give you a true sense of Hyderabadi culture.
Mecca Masjid
As you walk towards Mecca Masjid, legions of pigeons peck at grains on its steps. A formidable grey structure, the Masjid's giant facade is supported on both sides by tall minarets crowned by large domes and sharp spires.
Hyderabad, Telangana 500002.
Birla Mandir
Take a bus drive up the Naubat Pahad hill to see the serene Birla Mandir. Constructed in 1976, the air at this white-marble temple is filled with chants and birdsongs, as devotees gather to catch a glimpse of Lord Venkateshwara.
Hill Fort Road, Hyderabad 500004, Telangana . Tel: +91 40 23450165
Discover
Find your perfect holiday in Hyderabad
From 710 hotels.