Nightlife in Hyderabad - Pubs, Dancing, and Live Bands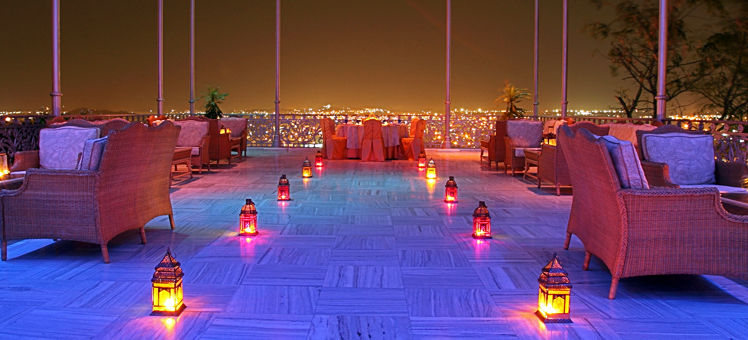 As night falls on Hyderabad the Charminar, the city's beloved monument, glows with golden lights. Bazaars buzz with energy and chatter, while street vendors call out to you to buy their wares. Elsewhere in the city, you can join a hip crowd for a night of cocktails, dancing, and music. If you like things more low-key, drop by a cinema to catch the latest blockbuster.
Hyderabad's bar scene
Most of Hyderabad's bars are concentrated around the central zone. They offer a variety of experiences, and you can pick what suits your mood. When you want your night to be about cold beers and conversation, a quiet Belgian alehouse is the place to be. If loud and noisy is more your speed, follow the crowds and jostle your way to a buzzy bar. At most places, cocktails and beers rule the roost, and you'll be able to find a good mix of international and homegrown spirits.
10 Downing Street
One of the oldest joints in the city, 10 Downing Street recreates a classic English pub in Hyderabad. The music's loud but it's often drowned out by the babble. Karaoke Nights on Thursdays are hugely popular.
Begumpet, Hyderabad 500016, TelanganaTel: +91 40 66629323
10 Downing Street website
Aqua
Aqua, at the Park Hotel, is a picture of serenity. Candles flicker as you sink into chaise lounges by the infinity pool and sip on your favorite drink. Saturday pool parties, accompanied by a DJ, are a huge hit.
Somajiguda, Hyderabad 500082, Telangana. Tel: +91 40 23456789
Aqua website
Clubbing in Hyderabad
Hyderabad's glitzy party district sits right at the centre of the city, around Banjara and Jubilee Hills. Here, you'll notice dapper men and glamorous women making a beeline for happening spots. Many places host theme nights, where you can groove to retro music one night and sway along to Bollywood on another. Clubbing in Hyderabad is infused with an infectious energy that might tempt you on to the dance floor.
Kismet
Glamorous Kismet is a favorite with party animals in Hyderabad. It has a giant dance floor surrounded by spacious booths, where you can put your feet up after a jig. Electronic dance beats and Bollywood tunes make up the playlist.
Somajiguda, Hyderabad 500082, Telangana. Tel: +91 40 23456789
Kismet website
Bottles & Chimney
You'll have all the space you want to show off your dance moves at Bottles & Chimney - it's that big. A circle of fire runs along the bar countertop, adding a dash of drama while you sway about.
Begumpet, Hyderabad 500003, Telangana. Tel: +91 97 03520000
Bottles & Chimney website
Live bands and concerts
The rise of local bands has given birth to performance venues in the city. From rock to jazz, artists are taking centre stage and showing their fans a good time. Most places offer live music and a well-stocked bar.
Hard Rock Café
The stage at Hard Rock Café regularly sees performances from international acts and Indian musicians. Surrounded by memorabilia of the greatest rock stars, Hard Rock Café is a good place to discover new talent.
Banjara Hills, Hyderabad 500034, Telangana. Tel: +91 40 64636375
Hard Rock Café website
Air Café Lounge
A rooftop cafe-lounge, Air is popular for its stellar view of the city's skyline. It also rolls out the red carpet for emerging musical talent. Head over every Tuesday for live performances from fusion, rock, and jazz artists.
Jubilee Hills, Hyderabad 500033, Telangana. Tel: +91 40 65885000
Air Café Lounge website
Discover
Find your perfect holiday in Hyderabad
From 730 hotels.