Victoria Shopping Guide - From Independent Boutiques and Bookstores to Produce Markets and Fashion Malls
Victoria Shopping Guide - From Independent Boutiques and Bookstores to Produce Markets and Fashion Malls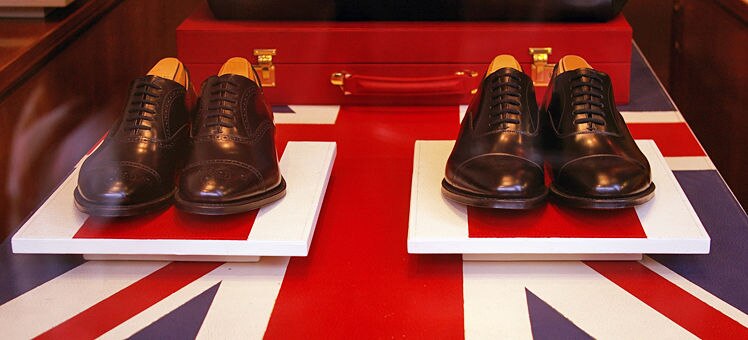 Shopping in Victoria can mean popping in and out of indie boutiques or visiting a market and stocking up on juicy blueberries, sweet peaches, and crusty bread for a beach picnic. You can browse big-name clothing stores in the malls, or head beyond downtown to discover favorite neighbourhood shops and choose books for your vacation reading.
Downtown Victoria
It's easy to explore Victoria's compact downtown shopping area on foot. Government Street is lined with souvenir and gift shops, outdoor equipment stores, and major clothing brands. If you turn onto Lower Johnson Street, or LoJo, brightly painted heritage buildings house a tempting mix of independent boutiques. Stationery addicts love browsing The Regional Assembly of Text's original assortment of journals, writing paper, and buttons. Over on Fort Street, nicknamed Antique Row thanks to its clutch of antiques shops, you can find one-of-a-kind outfits in locally owned stores or sample Cowichan Valley-produced Youbou blue at The Little Cheese Shop.
Oak Bay Village
A 10-minute drive or bus ride east of downtown, Oak Bay Avenue is a lively neighbourhood shopping street. Here you can take a peek in upmarket clothing boutiques, browse an independent bookstore, and spend pocket money in toy shops packed to the rafters with goodies. Oak Bay locals head to Nicholas Randall for chic women's wear and stylish housewares, and dress their kids in colourful outfits from its second store, Finn & Izzy. Opposite the latter, Ottavio is an Italian bakery and deli where you can fill your bags with cured meats and olives, then sip coffee on the patio.
Victoria markets
Spring and summer see an explosion of open-air daytime and night markets popping up across Victoria. Moss Street Market in Fairfield buzzes with stalls stacked with handcrafted wood, homemade salsa, and seasonal fruits. A smaller, indoor version of the market runs in winter. If a downtown downpour has you running for cover, the Victoria Public Market inside the converted Hudson building on Douglas Street is a year-round home to artisan butchers, fishmongers, and bakers. Wednesdays and weekends from March through November bring a farmers' market, when local producers set up tables piled with fresh fruits and vegetables, cheese, and chocolate.
Shopping malls
For an all-out shopping blitz, Victoria has a handful of malls housing just about every popular fashion name, from American Eagle Outfitters to Banana Republic to H&M. One of the busiest indoor malls is the Mayfair Shopping Centre, sandwiched between Blanshard and Douglas streets about a 10-minute drive north of downtown. You can choose a colourful hoodie from Canadian label Roots or pick out jewelry and electronics from Hudson's Bay department store. A little farther north along Douglas, Uptown is an open-air mall packed with leading clothing brands, plus Victoria chocolatier Roger's Chocolates.
Sidney bookstores
Bookworms can rummage through towers of new and used books in the seaside town of Sidney, a half-hour drive north of Victoria. Sidney's eclectic array of bookstores carry everything from Canadian contemporary fiction to military history. Beacon Books is a cavernous treasure trove of secondhand books, while The Haunted Bookshop is the place to seek out-of-print works.