Norwich - A Medieval City of Winding Alleyways and Tall Spires, with a Thriving Cultural Scene
Norwich - A Medieval City of Winding Alleyways and Tall Spires, with a Thriving Cultural Scene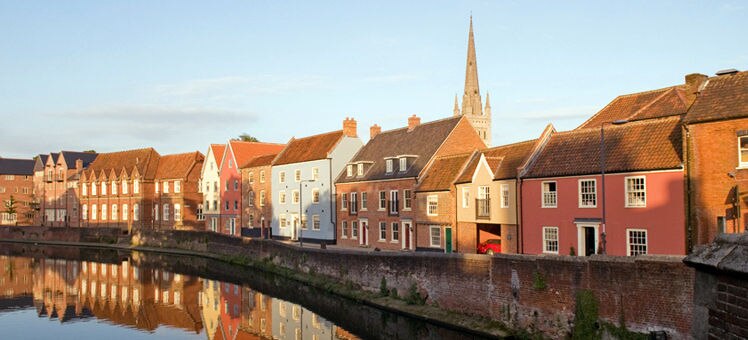 Norwich is Britain's most easterly city, and it features a wealth of historical buildings as well as a web of ancient streets that still trace their medieval plan. Architectural delights include the majestic Cathedral, the imposing Norman castle, and the Art Deco City Hall. Norwich also has a vibrant cultural scene, with annual festivals and some notable modern architecture, and it's been recognized as a UNESCO City of Literature.
City of churches
Of the 57 medieval churches that once stood within the Norwich city walls, 31 remain, more than in any other city in western Europe. Several have been converted into music, arts, or performance venues, but many are still active places of worship. Step inside to marvel at medieval carvings, stained-glass windows, and decorative hammer-beamed timber roofs.
Church of St. Peter Mancroft, Chantry Road, Norwich, Norfolk NR2 1QZ; Tel: +44 1603 610443; Website: Church of St. Peter Mancroft

St. Andrew's, St. Andrew's Street, Norwich, Norfolk NR2 4AD; Tel: +44 1603 498821; Website: St. Andrew's
Shoppers' paradise
One of the UK's top retail destinations, Norwich attracts shoppers from far and wide. Norwich Market, surrounded by pedestrianized streets and notable for its colourful striped awnings, occupies a prime spot in the centre of the city, and has been active for over 900 years. The Lanes area is buzzing with independent stores and boutiques, and several large department stores in the centre cover all other bases. The Royal Arcade, a Victorian-era covered passageway, is a great place to window-shop. And Elm Hill and Upper St. Giles are gorgeous old streets with some period shop fronts.
Medieval streets and buildings
Throughout the city centre are networks of narrow alleyways lined by buildings that date back to the Middle Ages, giving Norwich a distinctive character. Dragon Hall, a 15th-century trading hall, features an eye-catching beamed ceiling that's been beautifully restored. Other medieval buildings include the elaborate Guildhall, with its checkered-flint façade, and St Andrew's and Blackfriars' Halls, which date from 1470. The cloistered Halls formed part of a medieval priory, but are now used for concerts, fairs, and festivals.
Cultural hub and festivals galore
Since 1772, when Norwich organized the country's first arts festival, the city has been a hive of cultural activity. In May, the annual Norfolk and Norwich Festival offers classical and contemporary music, visual arts, and free outdoor programs. There are several theatres, the largest of which is the Theatre Royal, which shows everything from Shakespeare to puppetry. There's also a strong literary tradition, upheld by the University of East Anglia and the Norwich Writers' Centre. And the city is teeming with museums and galleries, as well as traditional pubs where you can often catch a poetry reading or live music.
Exploring nearby Norfolk
Surrounded by verdant countryside and quaint villages, Norwich is renowned its rural surroundings, but it's also close to magnificent golden beaches. The quintessentially British seaside towns of Cromer and Sheringham are both just over half an hour away by car, while gorgeous Wells-Next-the-Sea offers a secluded beach reachable only on foot. You can also rent a boat or stroll along the Norfolk Broads, a manmade waterway network of rivers, lakes, and marshlands crowned by expansive skies. The 12th-century grandeur of Wymondham Abbey and the exceptional gardens at East Ruston's Old Vicarage are also less than 30 minutes' drive.