A City Guide to Leicester - Cultural Quarter, New Walk Promenade, and Golden Mile
A City Guide to Leicester - Cultural Quarter, New Walk Promenade, and Golden Mile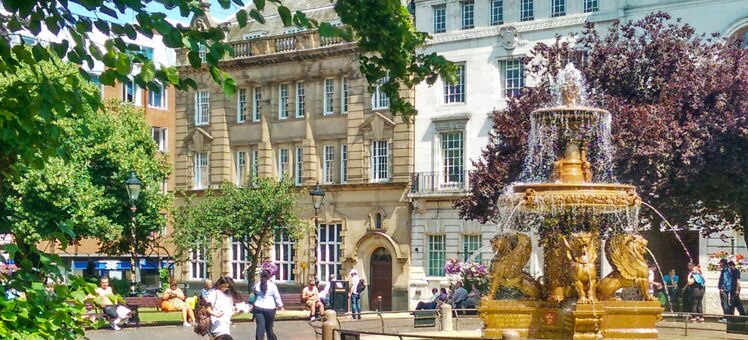 Leicester is a culturally diverse city known for its thriving universities and for being the burial place of King Richard III, whose tomb rests in Leicester Cathedral. The Cultural Quarter is the place to enjoy world-class theatre, live music, and art, while The Golden Mile is a haven for foodies. Along the city's Victorian promenade, New Walk, you'll discover Parisian lampposts and tree-lined avenues leading to boho-chic Clarendon Park.
Cultural Quarter
A short walk from Leicester's city centre is the Cultural Quarter, a place with a rich legacy of pre-Victorian and Victorian warehouses and factories that are transformed into bustling venues, like Curve Theatre. Designed by architect Rafael Viñoly, Curve hosts contemporary productions for audiences of all ages. There's no backstage, so you'll get to observe the theatre experience firsthand. The nearby Phoenix Cinema and Arts Centre is the city's hub for independent movies, art, and culture. The Phoenix also has Café Bar serving dishes that range from fresh burgers on brioche buns to cajun crusted halloumi salad.
Curve, 1 Rutland Street, Leicester LE1 1SB; Tel: +44 116 242 3560; Website: Curve

Phoenix Cinema and Arts Centre, 4 Midland Street, Leicester LE1 1TG; Tel: +44 116 242 2800; Website: Phoenix Cinema and Arts Centre
City centre
King Richard III's bones were discovered buried beneath a parking lot in the heart of Leicester's city centre, on the site of the former Greyfriars Church, where the King Richard III Visitor Centre now stands. Inside the Visitor Centre, you'll be able to learn all about the king's life and death, as well as explore details of the archaeological dig which uncovered King Richard's remains. A few steps away is Leicester Cathedral, a medieval church built on the site of a Roman temple, where Richard III was reinterred in a stone tomb, in 2015.
New Walk
A Victorian promenade lined with trees connects Leicester city centre to Victoria Park. The park offers 69 acres of open space to explore and has a proud memorial arch dedicated to fallen WWI soldiers, which was designed by Sir Edwin Lutyens who crafted The Cenotaph in London. Victoria Park is bordered by Clarendon Park, known for attracting the artistic community. Here you'll find a number of independent businesses, cafés, boutiques, and vintage stores. Head to the popular Fingerprints Delicafé for a latte or chai tea and slices of cake. Or visit Vintage Utopia for interesting furniture and curios.
Fingerprints Delicafé, 65 Queens Road, Clarendon Park, Leicester LE2 1TT; Tel: +44 116 270 1902; Website: Fingerprints Delicafé

Vintage Utopia, 50 Montague Road, Leicester LE2 1TH; Tel: +44 773 168 5514; Website: Vintage Utopia
The Golden Mile
The Golden Mile is a vibrant stretch of Leicester known for its shops, restaurants, and community events. Located along Belgrave Road and Melton Road, the Mile hosts huge Diwali and Christmas celebrations, when the street is decorated with bright lights. There's sari shops, authentic Indian cuisine, a bevy of jewelers, and sweet shops to enjoy year round. At Bobby's, you can sample Gujarati-style vegetarian food, like comforting channa bhatura, a dish of rich chickpea curry with thick fried bread. Nearby is the National Space Centre, with hands-on exhibitions and one of the UK's biggest planetariums.
Bobby's Restaurant, 154 Belgrave Road, Leicester LE4 5AT; Tel: +44 116 266 0106; Website: Bobby's Restaurant

National Space Centre, Exploration Drive, Leicester LE4 5NS; Tel: +44 116 261 0261; Website: National Space Centre