Where to Stay in Eastbourne - Edwardian Hotels, Comfortable Apartments, and Cozy B&Bs
Where to Stay in Eastbourne - Edwardian Hotels, Comfortable Apartments, and Cozy B&Bs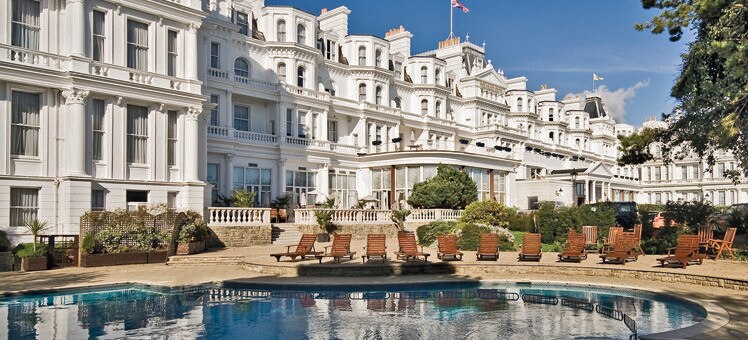 Most accommodation in Eastbourne places you close to the beach. Whether you choose an upscale suite in an Edwardian hotel or a simple room in a homey B&B, you will almost certainly have the option of sea views. Staying in an apartment offers families and couples the chance to feel at home while away from home.
Hotels
From luxurious to budget friendly, Eastbourne has excellent hotels, most of which offer scenic views over the water. The high-end hotels hug the shoreline either side of Eastbourne Pier, on Marine Parade and King Edward's Parade. Many of them date back to the Edwardian era of the early 20th century.
You can stay in opulent surroundings that'll bring to mind the late Victorian and Edwardian eras, when this seaside resort town was a magnet for the rich and famous. Many hotels offer rejuvenating spa treatments, and you can lay your head down in a modern room equipped with flat-screen TVs and WiFi.
Bed and Breakfasts
The city is dotted with bed and breakfasts, ranging from quaint to upscale, so finding somewhere to stay where you'll feel both pampered and comfortable is straightforward. Depending on your priorities, you can choose to stay in a property right on the seafront or one closer to the city centre.
You can expect a traditional vibe and a warm welcome at an Eastbourne bed and breakfast. In addition to a made-to-order full English breakfast, most places offer complimentary WiFi, a cozy living room (often with fireplace), and a stash of brochures detailing local attractions.
Apartments
Apartments are an ideal choice for those who want independence and home comforts while travelling, and Eastbourne has great options to choose from. The most popular properties are on the seafront and within walking distance of Eastbourne Pier. More budget-friendly establishments can be found farther inland, close to the city centre.
Amenities include a full kitchen, an ensuite bathroom, and space for several people to sleep in comfort. Many aparthotels offer free WiFi, 24-hour customer service, and daily housekeeping. Plus, you can stay close to the water, so trips to the beach will be a breeze.
Search for Apartments hotels
Hostels
If affordability is your top priority, consider booking a room or dorm bed in an Eastbourne hostel. As with all accommodation in the city, the most popular and expensive places are on or near the seafront, offering easy access to the beach, entertainment venues, and the Victorian-era boardwalk on Eastbourne Pier.
You can expect amenities like free parking, self-service laundry, and a kitchen where you can prepare your own snacks and meals. Many hostels also have an onsite bar and restaurant. Choose between a bed in a shared dormitory and a simple room with ensuite bathroom. The communal area is a great place to meet fellow travellers.