The Best Hotels in Turin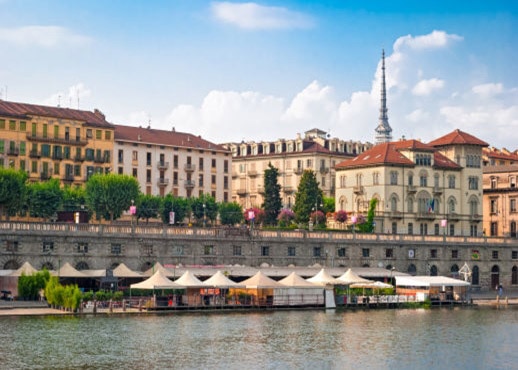 Search our Top Turin Hotels
Find out more about Turin
Best Hotels in Turin
How to find the best Turin hotels with Hotels.com
Whether you're looking for a short break, a romantic getaway or travel for business, Hotels.com offers a wide selection of Turin hotels to suit everyone's budget and expectations. Turin is a cultured and elegant city, offering opportunities to take in world-famous art and architecture as well as being perfect for leisurely exploration, and it's easy to make the right choice of accommodation to suit your needs from the range of Turin hotel rooms that Hotels.com has to offer.
Where to stay in Turin
As the main railroad terminal in Turin, Porta Nuova Station is one of the city's accommodation hotspots. It offers numerous restaurants, stores, and spas where you can go to shop, relax, and experience a unique variety of Italian culture and hospitality. Many sights and tourist-friendly venues are within walking distance of the
hotels near Turin's Porta Nuova Station
, so if you choose to stay in this area you'll find plenty to do close to your hotel room. Porta Nuova itself is a modern transport hub, offering visitors free WiFi and a range of shops and restaurants, and is a great jumping-off point for explorations further afield. It also plays host to events such as the Open Air Dance Lab, held around Christmastime. Whether you're waiting for a train or visiting one of the restaurants or stores in the station, you can connect to the Internet for free. We likewise enjoy that people can find gifts, clothing, eyewear, shoes, and much more within a close proximity to the
hotels near Turin's Porta Nuova Station
. This convenience makes it easy for you to shop, explore, relax, and have fun without having to travel very far into the city. However, if you do want to travel farther into Turin, you can rent a car, exchange currency, and take care of other traveling needs at the Porta Nuova Station. This unique tourist location in Turin offers many of the conveniences that tourists look for during their time in this part of Italy.
Visiting Turin
Turin, or Torino, is an industrial and cultural centre in northern Italy. The capital of the Piedmont (Piemonte) region of Italy, it's located on the left bank of the River Po with the Alps providing a stunning backdrop. The city was the seat of the Savoy royals and the first capital of Italy. Turin boasts many art galleries and museums, as well as numerous churches. The city is also famed for its opera houses, and is known for its wonderful array of architecture including Renaissance, baroque and Art Nouveau buildings. The ingenious Torinese sold the world its first hard chocolate, kept alive the great mystery of the Turin Shroud and started one of the world's great football teams, Juventus. Turin is also famous as the headquarters of the car manufacturer FIAT, leading to it sometimes being call the "Detroit of Italy", and it's the home of the Italian national museum of automobiles.
Top Tips for Turin
Turin is a great city for wandering through and exploring. Don't miss the view from the Mole Antonelliana, a 167-metre-tall tower which was built as a synagogue in the 1860s. It was once one of the tallest buildings in the world and is still the highest brick building in Europe. It now houses an excellent cinema museum. A panoramic lift takes you to the top of the tower for some expansive views of the city. Turin is famous for its cafe society. Try a bicerin, a local drink made with coffee, chocolate and cream in one of the elegant baroque cafes, or take a leisurely stroll through the ornate shopping arcades. Piazza San Carlo, sometimes called the "drawing room of Turin", is a beautiful baroque square with the twin churches of San Carlo and Santa Cristina. Also located on Piazza San Carlo is the Museo Egizio, an important Egyptian museum with a varied collection of artefacts. The Shroud of Turin, or the Holy Shroud, is housed in the Turin Cathedral, but it's only put on display at certain times. If something more up-to-date is to your taste, then Turin offers cutting-edge contemporary art across the city at places such as the GAM museum. Take a tip from the locals and lose the crowds in Il Quadrilatero Romano, a maze of backstreets with sprawling markets and impressive churches. Another local favourite is the Borgo Medievale, a reproduction of a medieval village complete with streets, fountains and a fortress surrounded by the lawns of Valentino Park. In the early evening, pick up the local habit of l'aperitivo, where free tapas snacks are available in many of the city's bars, offering a feast for the price of a cocktail.