The Best Hotels in Bormio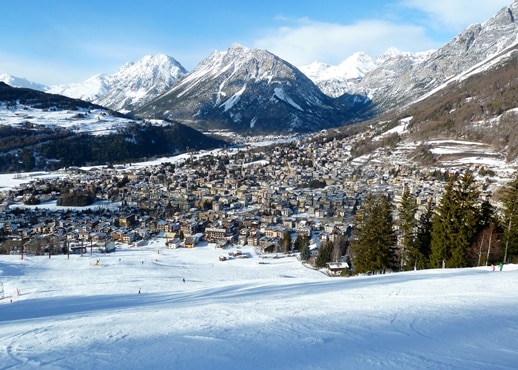 Search our Top Bormio Hotels
Find out more about Bormio
Best Hotels in Bormio
Bormio Hotels

Whether you're a ski supremo or prefer a good hike across epic landscapes, Bormio is one of the jewels of Italy's Lombardy region. To say the area has historic charm is a bit of an understatement – thousands of years ago, the elite of Rome would come here to bask in its warm thermal springs. Today, everyone can have a dip in those refreshing waters, while skiers will relish the perfect snows of the winter season.

Things to see

The town centre retains the allure of bygone eras, thanks to its winding, cobbled streets and ornate stone facades. Visitors should definitely take time out from the outdoor sports to immerse themselves in its almost medieval charm and see the picturesque fountains and age-old frescoes. Meanwhile, there's the sprawl of Stelvio National Park, which in the spring and summer months is a haven for explorers – see it on your own two feet, or pedal across the dramatic terrain on a mountain bike. There are clearly signposted trails and tracks to suit all abilities. As for winter sports, the Stelvio slope is known to connoisseurs as one of the most challenging and breathtaking ski runs in the world. It's ideal for experienced skiers, while there are plenty of open pistes for intermediates and beginners to enjoy. There is also a terrain park for those wanting to show off their snowboarding skills.

Hotels in Bormio

Thanks to the ancient springs that put this part of Lombardy on the map so many generations ago, some of the hotels in Bormio are tourist attractions in themselves. An example is Hotel Bagni Vecchi, which features atmospheric underground cave grottos and authentic Roman baths where you can relax in waters warmed by the Earth. A number of other hotels also house wellness centres and spa facilities which will soothe your muscles after a day on the slopes and hillsides, while other perks you can seek out include free WiFi access in guestrooms along with luxuries such as Egyptian cotton sheets.

Where to stay

As you might expect from such a popular resort area, there are Bormio hotels scattered across the ravishing landscape. Many are clustered around the quaint central area, while other dwellings can be found higher up on the very edge of sweeping parkland. Wherever you decide to stay, you're almost guaranteed exceptional views and easy access to the countless outdoor activities.

How to get to Bormio

One of the easiest ways to get to Bormio is to fly into one of Milan's airports. During busy seasons there are frequent bus services from Milano Malpensa, Milano Bergamo and Milano Linate. Alternatively, you can catch a train to Tirano station, where you can then hop on a bus to Bormio. The journey, while taking several hours, is incredibly scenic and pleasurable, and you can also take in the eye candy by hiring a car. Having your own vehicle will certainly make it very easy to explore the thermal springs and historic sights of the region, allowing you to really make the most of your time in Bormio.