The Best Hotels in Livigno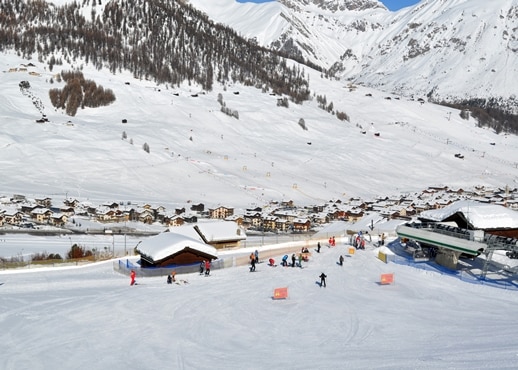 Search our Top Livigno Hotels
Find out more about Livigno
Best Hotels in Livigno
Livigno Hotels

An Italian Alpine resort right on the Swiss border, Livigno is a picture-postcard getaway for lovers of winter sports. Dotted with wooden "baita" cottages which give the area its unique look, it has a warm and buzzing atmosphere which makes it a pleasure to simply mingle with locals and tourists, while there's a range of slopes to suit skiers of all skill sets. The historic charm of the ancient architecture, coupled with the state of the art facilities for lovers of the great outdoors, makes this a hit with Italians and global visitors alike.

Things to see

Livigno has sights to tempt those looking for more than a regular ski resort. These include the local churches, some of which date right back to the 15th Century. These cosy, atmospheric nooks are like portals to the past, and also offer spectacular views of the surrounding landscape. Works by artists such as Caravaggio can also be found in these churches. Of course, the slopes will be the main attraction for many visitors. There are fairly challenging runs suited to intermediate skiers, while the gentle nursery slopes are idea if you've never braved the mountains before. There's also a pedestrianized central area where you can unwind in one of the lively bars and restaurants. Not forgetting the shops, because taking advantage of the big discounts offered by duty free retail is one of the big perks of a holiday in Livigno. Come spring and summer, the region is celebrated for its hiking and mountain biking trails. Check out the Mottolino Bike Park, where gondolas will take you to the panoramic peaks of zig-zagging trails. Larix Park, with its treetop activities, is perfect for adventurers of all ages.

Hotels in Livigno

There are hotels in Livigno to fit with just about any budget, whether you're after the added perks of 4-star pads or are happy to bed down in a cosy and convenient 2-star hotel. The views from your guestroom window are likely to be spellbinding whichever part of the price range you opt for. Many hotels feature indoor swimming pools and relaxing spa tubs where you can unwind after an exhausting day of skiing, cycling or hiking. There is also ski-in/ski-out access to be had at many locations, while the après-ski gets underway on winter evenings in the buzzing hotel bars.

Where to stay

Reflecting the popularity of this part of Italy, there is a huge wealth of hotels in Livigno in close proximity to each other. Most are within walking or indeed skiing distance of the slopes, and they are clustered on either side of the Spol River which ripples through the region. As the majority of the hotels are smartly turned out and conveniently located, it's a doddle to find the perfect pad for your holiday.

How to get to Livigno

The qualities that make Livigno such an appealing destination, such as its rich snowfall and dramatically craggy surroundings, also made it rather isolated in times gone by. Luckily, it's a lot easier to get there these days. If you fly into Zurich you can get the train to Zernez, where buses will take you on to Livigno. There are also bus services available from the various airports of Milan and Innsbruck.