Rio de Janeiro Travel Essentials
Useful Information to Help You Start Your Trip to Rio de Janeiro
Our Rio de Janeiro Travel Essentials lays out the essential information you need to help planning your trip to one of the most popular destinations in Brazil. No matter how frequently you travel, some questions will always need answers: What's the weather like? How can I get from the airport to my hotel? What currency and type of plug do I need? We have all these answers plus other basic info about the best time to go, getting there, getting around, and a few useful travel tips.
It's all compiled in this Rio de Janeiro Travel Essentials. After reading this short and easy-to-read guide, you will be a little more prepared to start your trip in Rio de Janeiro.
1
When is the best time to travel to Rio de Janeiro?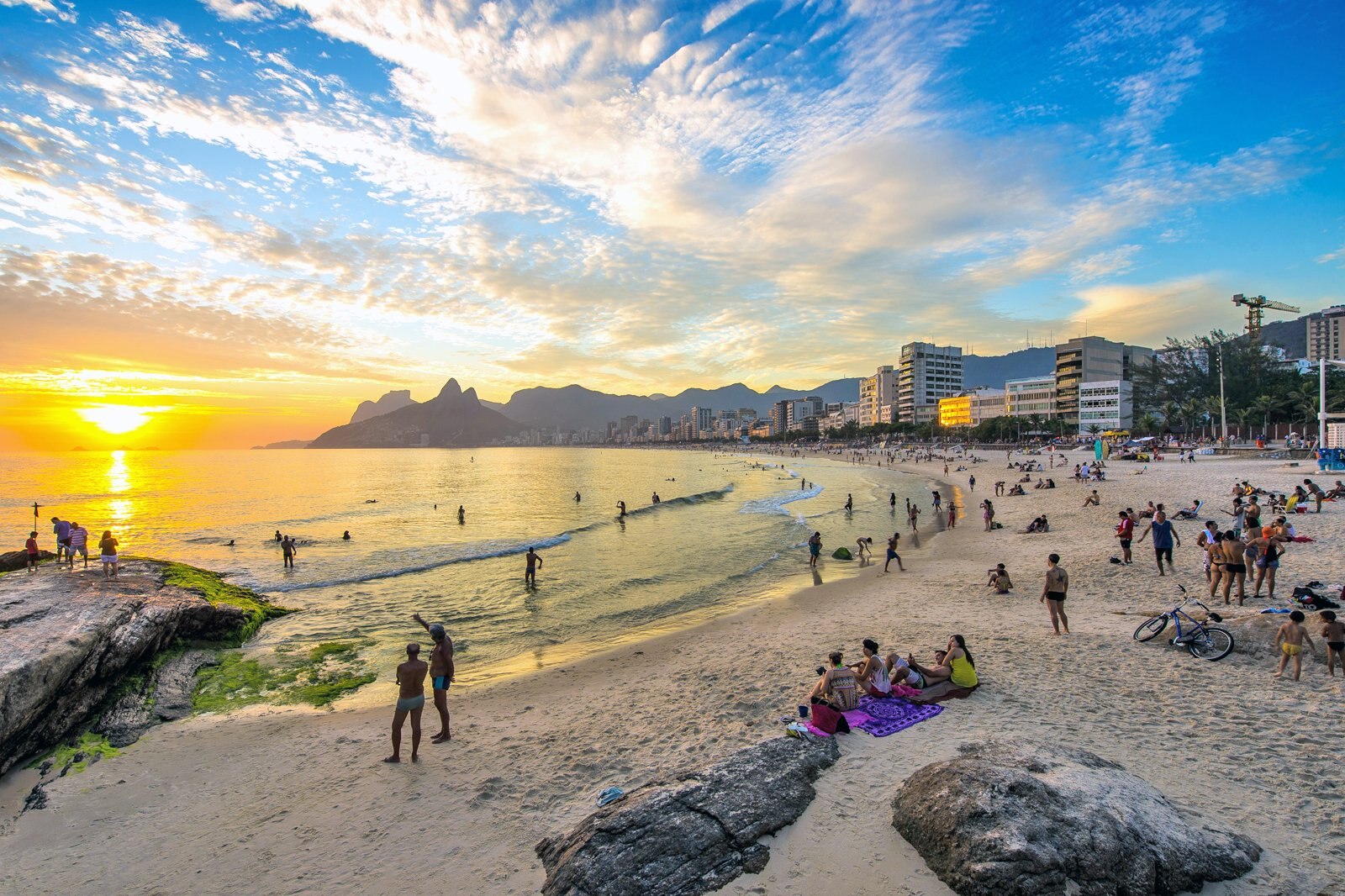 Rio de Janeiro has a tropical savanna climate, with average temperatures ranging from 21°C in summer (June-August) to 27°C in winter (November-March).
The rainiest time of the year is between October and January, with an average of 10 rainy days per month. Note that even during the driest time of the year, between June and August, you can expect 4-5 rainy days per month.
December-March is the best time to visit Rio de Janeiro, and is the peak tourist season, with hotel and flight prices rising accordingly.
April-May and October-November are also great times to visit, with warm and pleasant weather. You'll avoid the peak season's crowds, and flight and hotel prices are more affordable.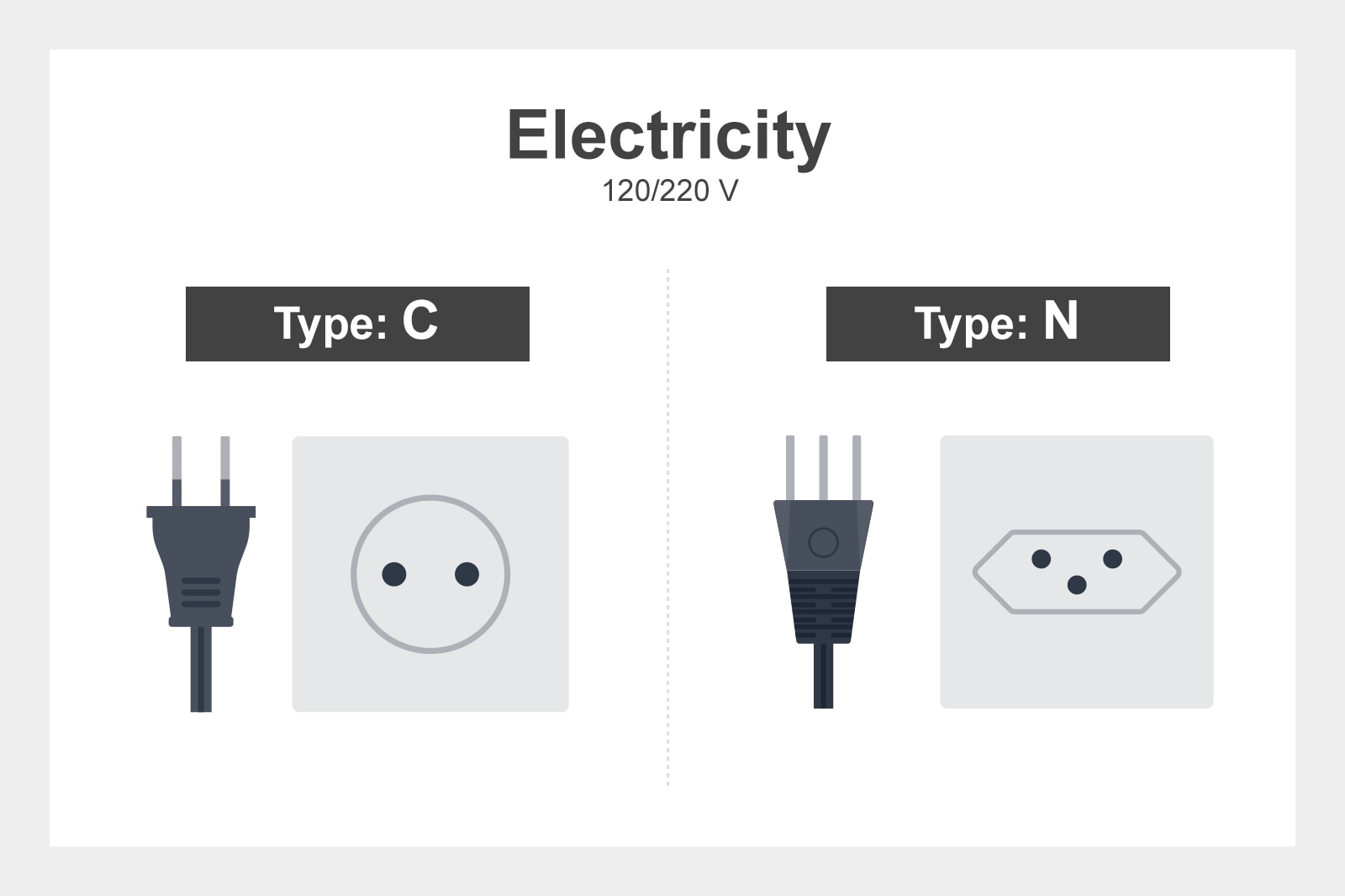 Primary languages: Portuguese
Plug types: C and N
Electricity: 120/220 V
Currency: Brazilian real (R$)
International dialling codes: +55 21
Emergency telephone number: 192 for ambulance, 190 for police
3
How to get to my hotel in Rio de Janeiro?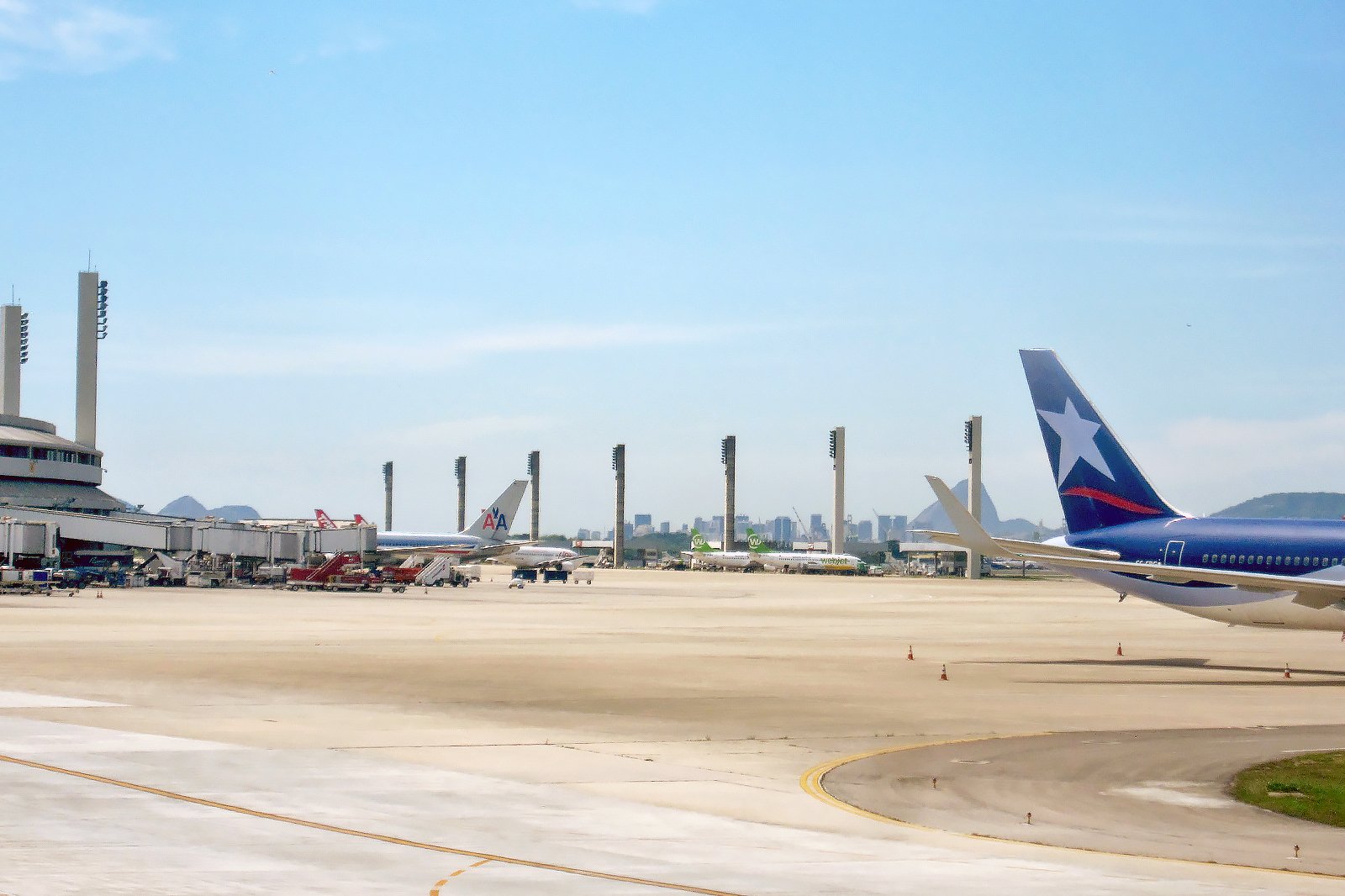 Rio de Janeiro–Antonio Carlos Jobim International Airport
Named after a famous Brazilian music composer – Tom Jobim – but more commonly known as Rio-Galeão Airport, Rio de Janeiro–Antonio Carlos Jobim International Airport is the primary airport serving Rio de Janeiro. One of the busiest airports in Brazil, it's located 14 km north of the city centre. Rio-Galeão Airport features 2 passenger terminals, where, you'll find a great range of dining and shopping options, as well as facilities including free Wi-Fi, banking and currency exchange services. There are several transfer options to reach central Rio de Janeiro:
A taxicab takes around 30-40 minutes to the city centre. It takes around 50-60 minutes to reach Copacabana. Taxi ranks can be found on the ground floor of each terminal.
You can also use Uber in Rio de Janeiro Airport. It's cheaper than standard taxis. The pick-up areas are between gates B and C outside Terminal 2, gate B outside Terminal 1, and in front of Hotel Linx.
Shared shuttle buses take around 30-40 minutes to reach the city centre.
The Bus Rapid Transit (BRT) takes around 35-45 minutes. The TransCarioca expressway gets you downtown or to Vicente de Carvalho, the closest metro station. The bus stop is at gate D, outside Terminal 2. It's the cheapest way to reach any destination in Rio de Janeiro.
Car rental agencies can be found in the Arrivals hall of Terminal 2.
photo by FRED (CC BY-SA 3.0) modified
4
How to get around Rio de Janeiro?
Travel tips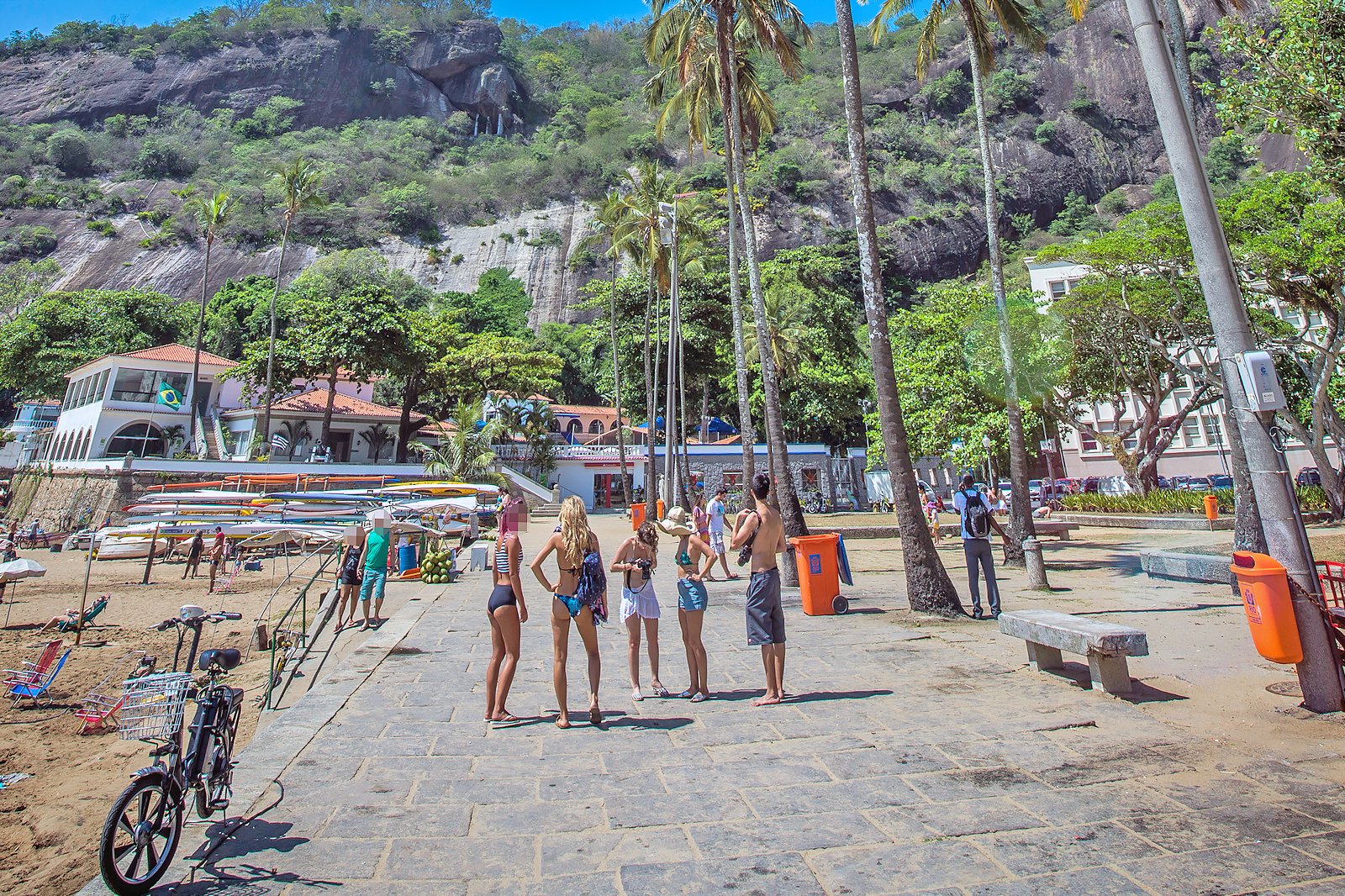 The city centre and Zona Sul are the main tourist areas in Rio de Janeiro, and both compact enough to be easily explored on foot. The city centre is home to attractions such as the National History Museum and the Rio de Janeiro Cathedral, while Zona Sul is the area where you find world-famous beaches, including Copacabana and Ipanema. Both districts also host a great choice of dining, shopping and nightlife entertainment options. For longer journeys, a good choice of public and private transport services is available.
5
BRT – Bus Rapid Transit in Rio de Janeiro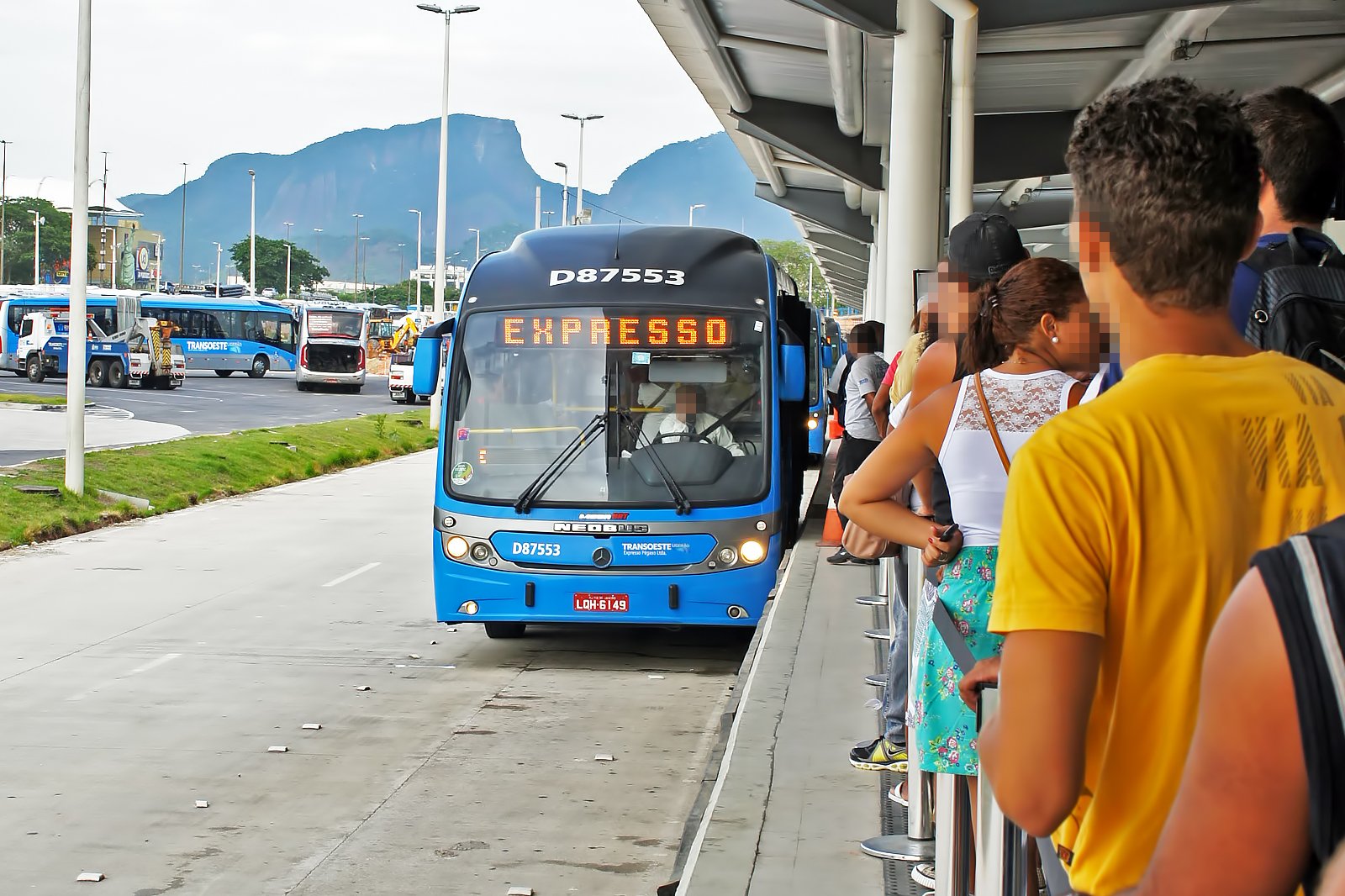 BRT runs a fleet of over 400 buses that cover the entire city. The fact they use an exclusive road corridor permits them to not get stuck in the congested traffic of the city. Nevertheless, taking the bus is not a too recommended option for visitors as the system is rather confusing, most bus drivers do not speak English, and buses are often crowded.
The best option is to purchase a rechargeable Bilhete Único Carioca card.
Tickets and cards can be purchased/recharged in BRT Rio stations.
photo by Mariordo (CC BY-SA 3.0) modified
6
MetrôRio – Rio subway network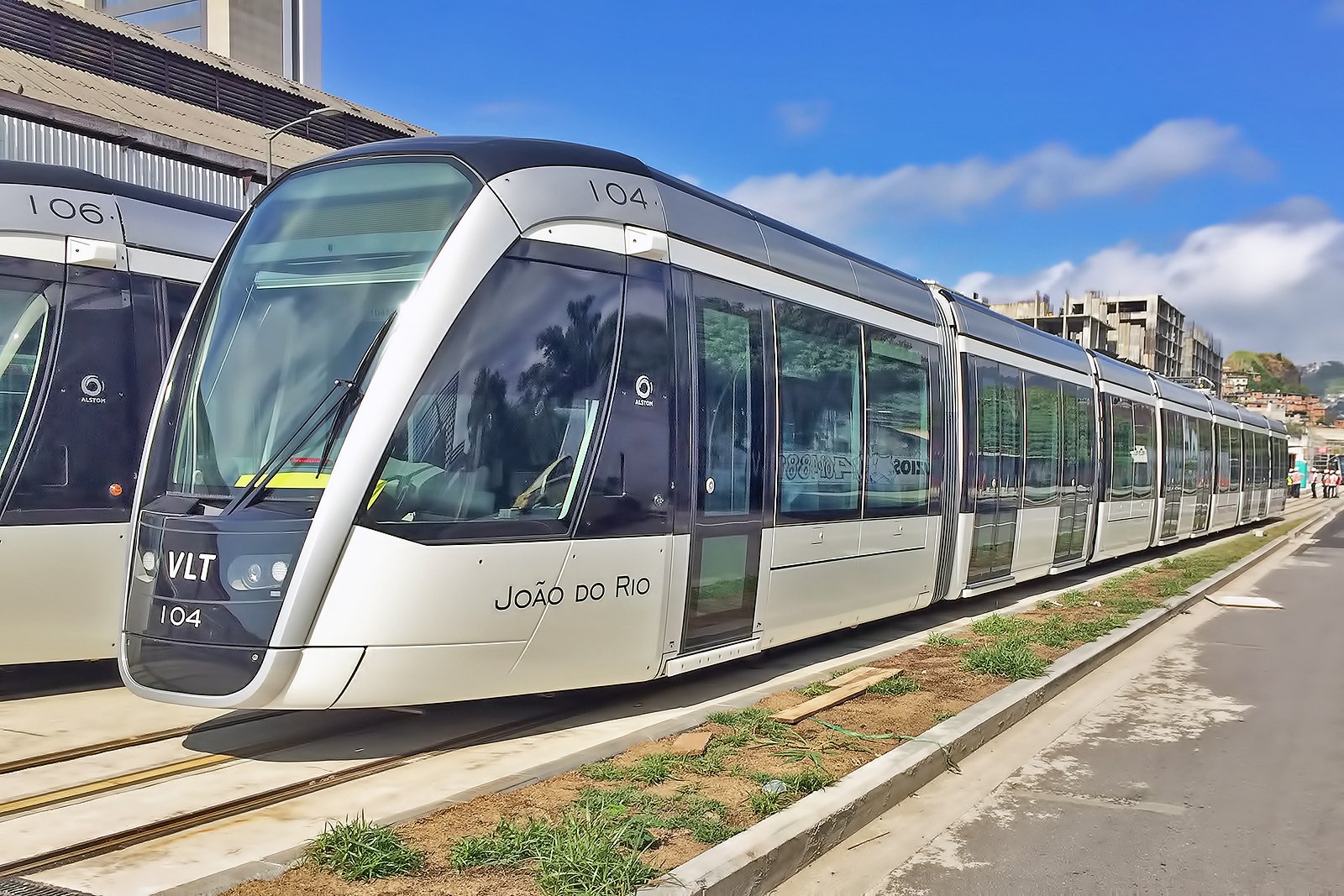 Modern and clean, MetrôRio is a convenient and affordable way to cover distances such as a journey between Copacabana and the city centre.
The rechargeable MetrôRio Card is a good option.
As some destinations require metro plus bus transportation, you can purchase integrated cards, which combine subway and BRT.
Tickets and cards can be purchased at ticket vending machines and counter desks in MetrôRio stations.
photo by mariordo59 (CC BY-SA 2.0) modified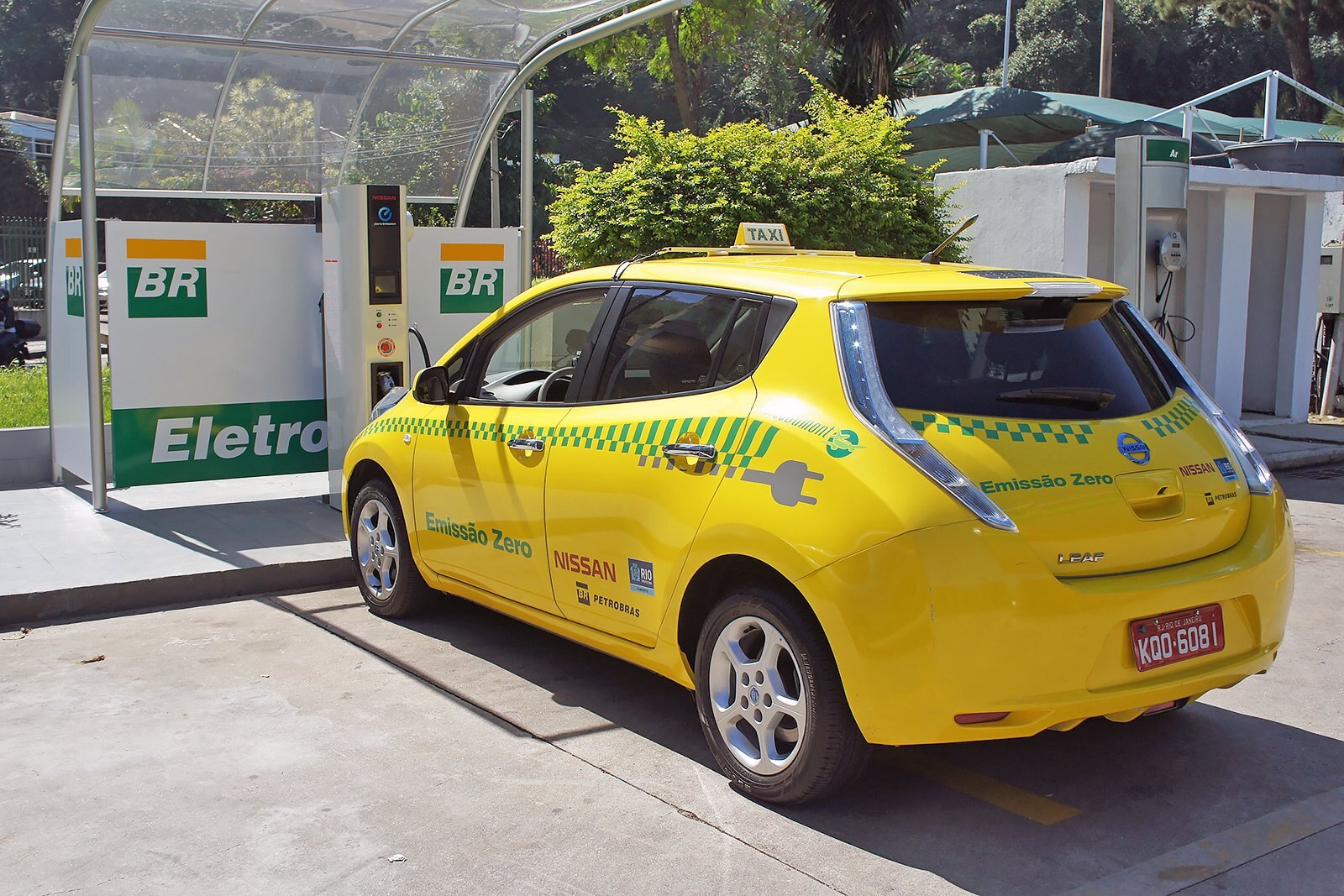 It's recommended to travel by taxi at night in Rio de Janeiro. Taxis can be hailed down on the street and you can easily find cab stands outside hotels and near the main attractions and shopping areas.
You can directly call popular companies such as Central Coop Rio de Janeiro (21-3878-8880), Barca Taxi (21-2224-5713) or Transportes Santa Barbara (21-3867-5337), just to name a few.
Taxi prices are regulated. They are more expensive at night and on weekends.
Some taxis accept the payment of the fare by credit card, but it's better to ask the driver before you get in.
If you don't speak Portuguese, have your address written down ready to show the driver.
Always make sure that the meter is on before starting the journey.
Uber, Cabify and some local apps can be used to hail a taxi in Rio de Janeiro.
photo by mariordo59 (CC BY-SA 2.0) modified
8
Cycling around Rio de Janeiro with Bike Itaú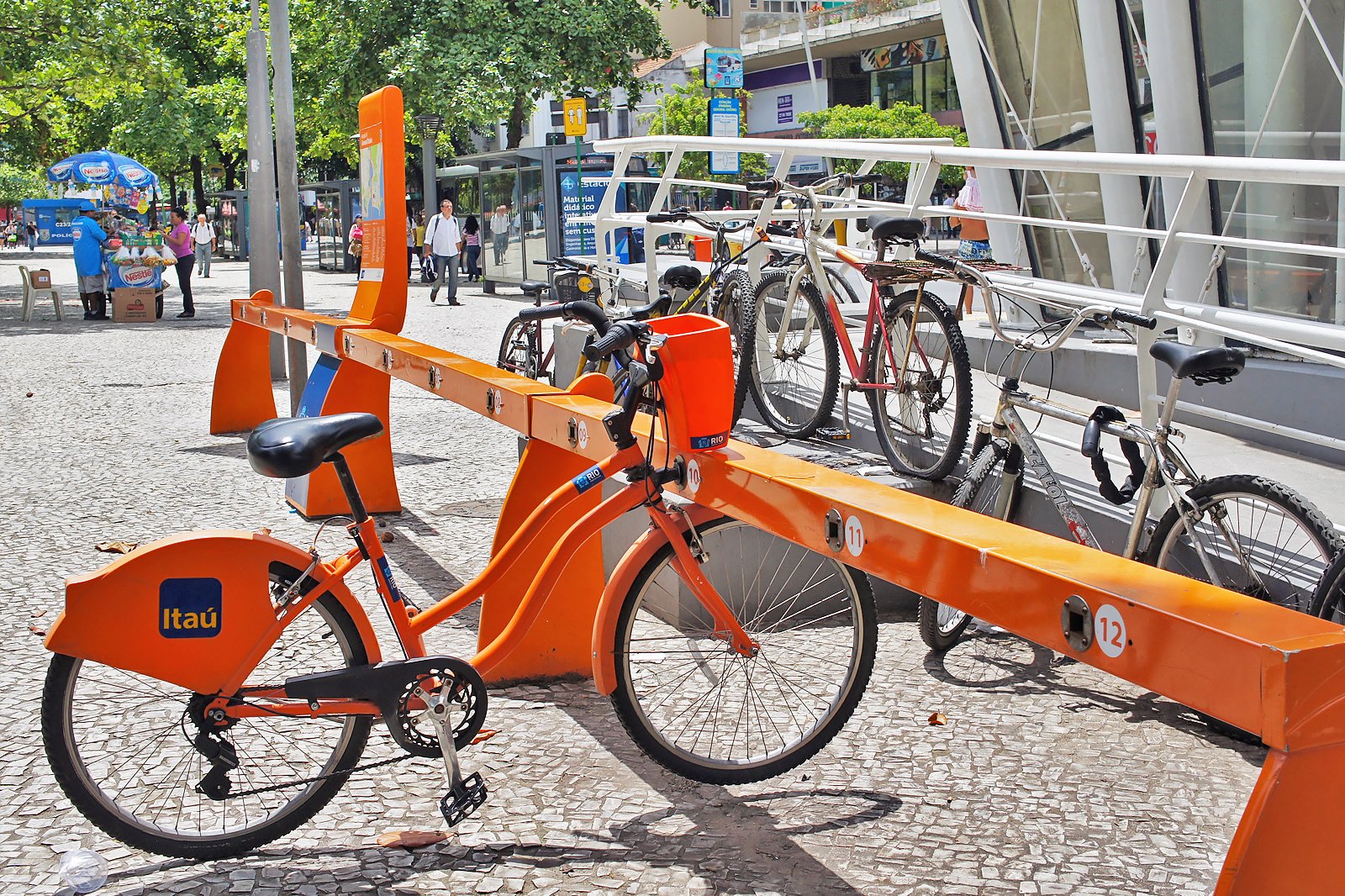 Bike Itaú is the bike sharing scheme in Rio de Janeiro. It's run by PBSC Urban Solutions. The warm climate of Rio makes it a very pleasant city to cycle around. You'll find over 250 docking stations throughout the city. You just need to register – with a credit card – and install an app on your phone.
photo by Mariordo (CC BY-SA 3.0) modified
9
What are the main annual events in Rio de Janeiro?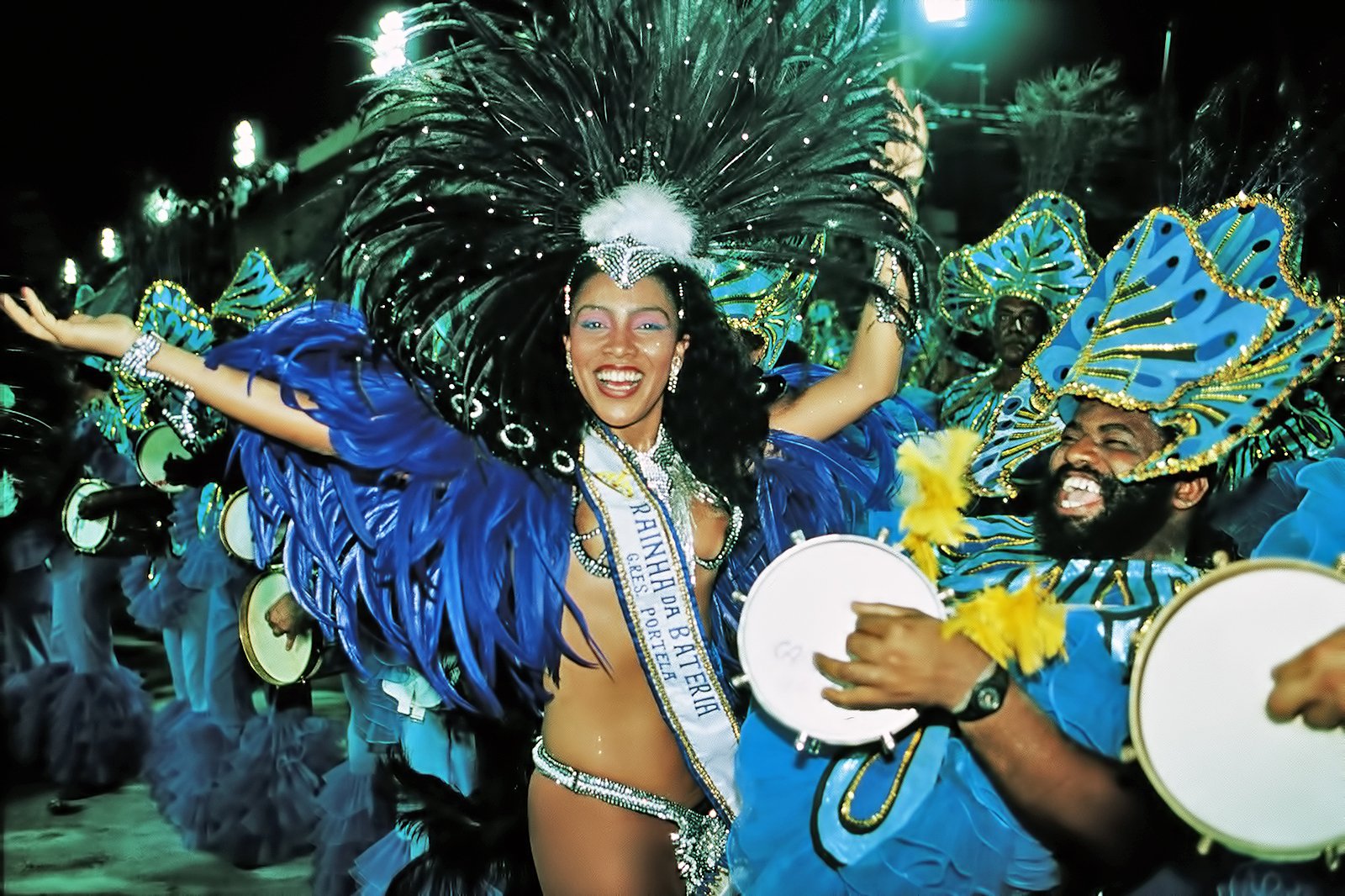 Rio Carnival
What: Rio de Janeiro Carnival is the most popular event in the city. One of the biggest carnivals in the world, it's a competition between the city's most famous samba schools. Expect glitzy costumes, festive music and sexy dance moves in bright and colourful parades.
When: The carnival starts on the Friday before Ash Wednesday and ends on Ash Wednesday (the first day of Lent)
Where: Sambadrome Marquês de Sapucaí
Brazil's Independence Day
What: The celebration of Brazil's Independence Day is a festive event in Rio de Janeiro. The streets are strewn with flowers, balloons and flags, school children parade through the streets and fireworks are launched from the public squares in the evening.
When: 7th September
Where: Throughout the city
Rio de Janeiro LGBT Pride Parade
What: Dancers and musicians of the Rio de Janeiro LGBT Parade swing along Copacabana Beach to the rhythms of samba. The festive event takes partygoers through to the end of the night.
When: September or October
Where: Copacabana Beach
Back to top