8 Cool Bars on Siem Reap Pub Street
Siem Reap Nightlife
Pub Street Siem Reap is the nightlife hub of the town, featuring rows of backpacker-friendly bars and pubs, packed nightclubs and international restaurants. The street opens throughout the day and late into dawn. The main road – Street 08 – is where you can find the iconic bars and clubs and the liveliest atmosphere – they're well-known for their US$0.50 draft beer offers.
Running parallel is Alley West and The Lane, each hosting cocktail bars, cafés, art galleries, and souvenir shops. A 5-minute stroll from Angkor Night Market, Pub Street is great for enjoying a night of bar-hopping in Siem Reap. The whole street is blocked to motorised vehicles from 5pm, making it safe to explore on foot at your own leisure.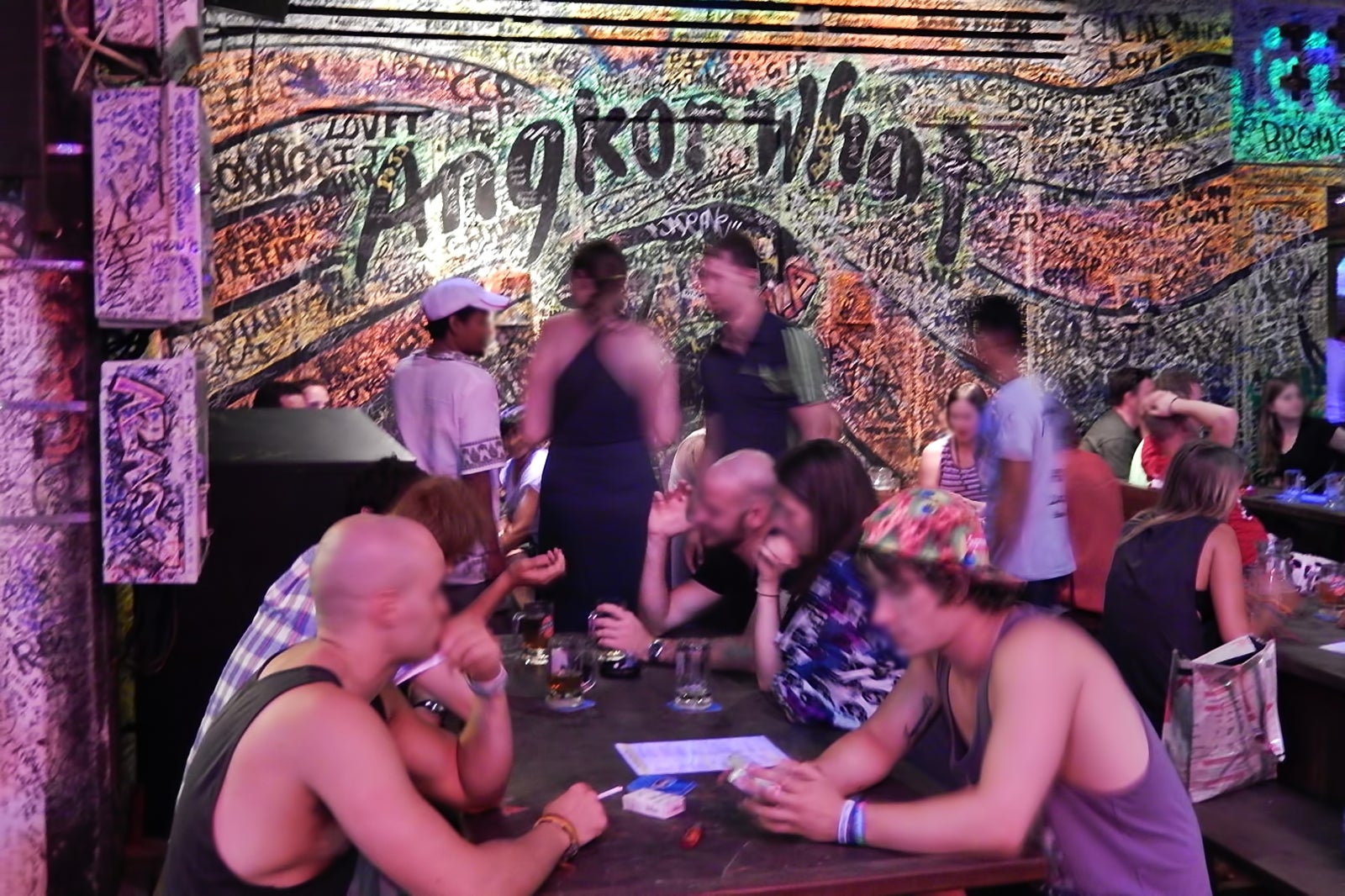 Opened in 1998, Angkor What? was one of the first bars on Pub Street. It's still a very lively nightspot, with graffiti all over the walls. Thanks to its reputation, it's now frequented mostly by tourists who want to party at Angkor What? at least once after a day at the temples.
It gets loud and a bit raucous, but still a good place to meet people. The bar offers a comprehensive drinks menu and pool tables, and the prices are reasonable. You can find Angkor What? opposite the popular Temple Club.
Location: Pub Street, Siem Reap, Cambodia
Open: Sunday–Thursday from 2pm to 3am, Friday–Saturday from 2pm to 4am
Phone: +855 96 641 9002
photo by Michael Coghlan (CC BY-SA 2.0) modified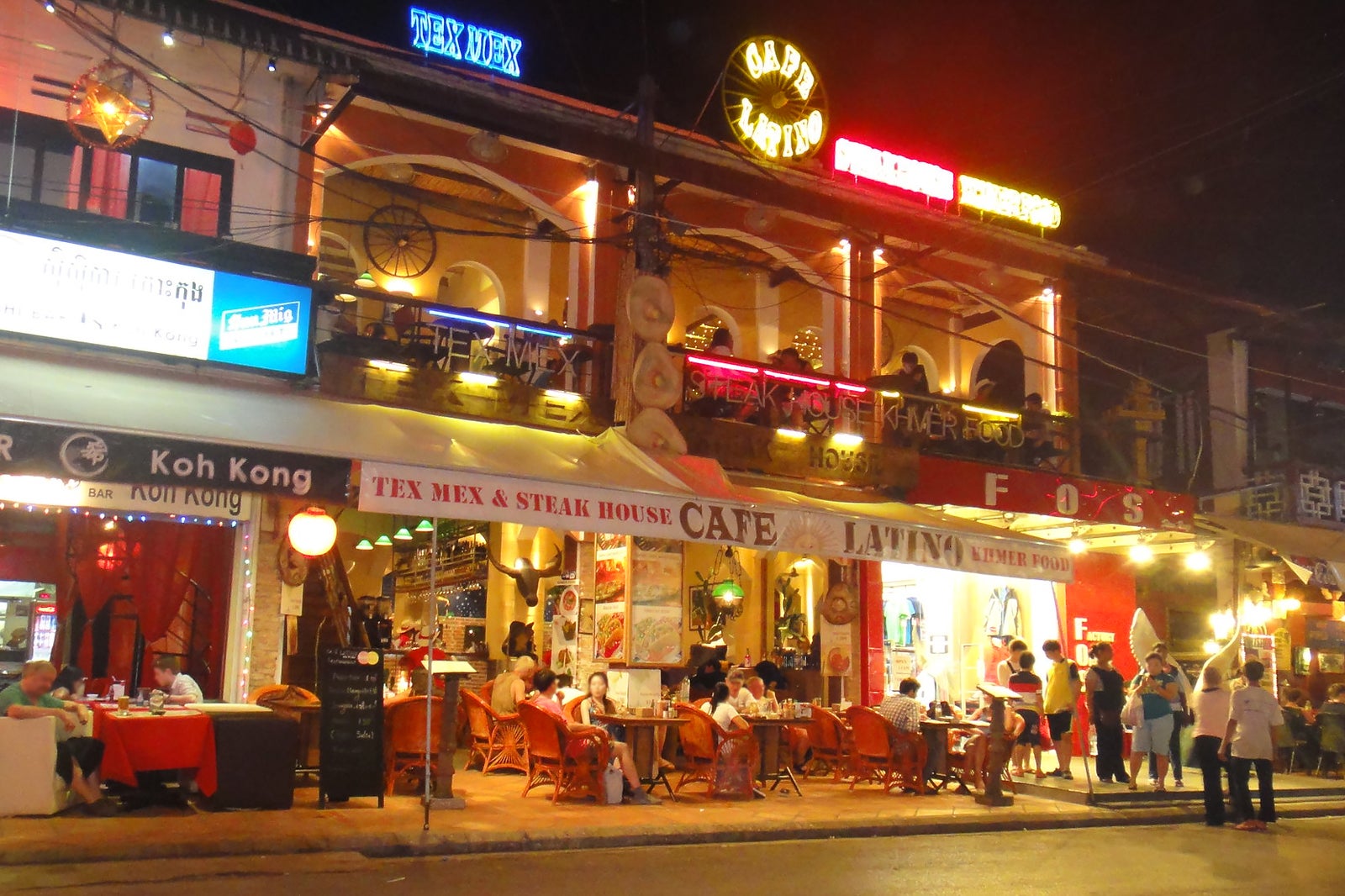 Café Latino is one of the larger restaurants on Pub Street in Siem Reap. It serves a wide range of international dishes, mostly focused on Tex-Mex while also serving some local Khmer dishes. The restaurant has a cool and relaxing vibe, friendly staff, reasonable prices and very good pizzas.
In keeping up with the good Pub Street tradition, Café Latino also serves 'fifty-cent' beers, so it's a good place to hit and have a good time with a group of friends while in Siem Reap. You can head up to the balcony on the 2nd floor for cool gentle breezes during hot summer nights. It's open 24 hours for most of the year.
Location: Pub Street, Siem Reap, Cambodia
Phone: +855 95 393 450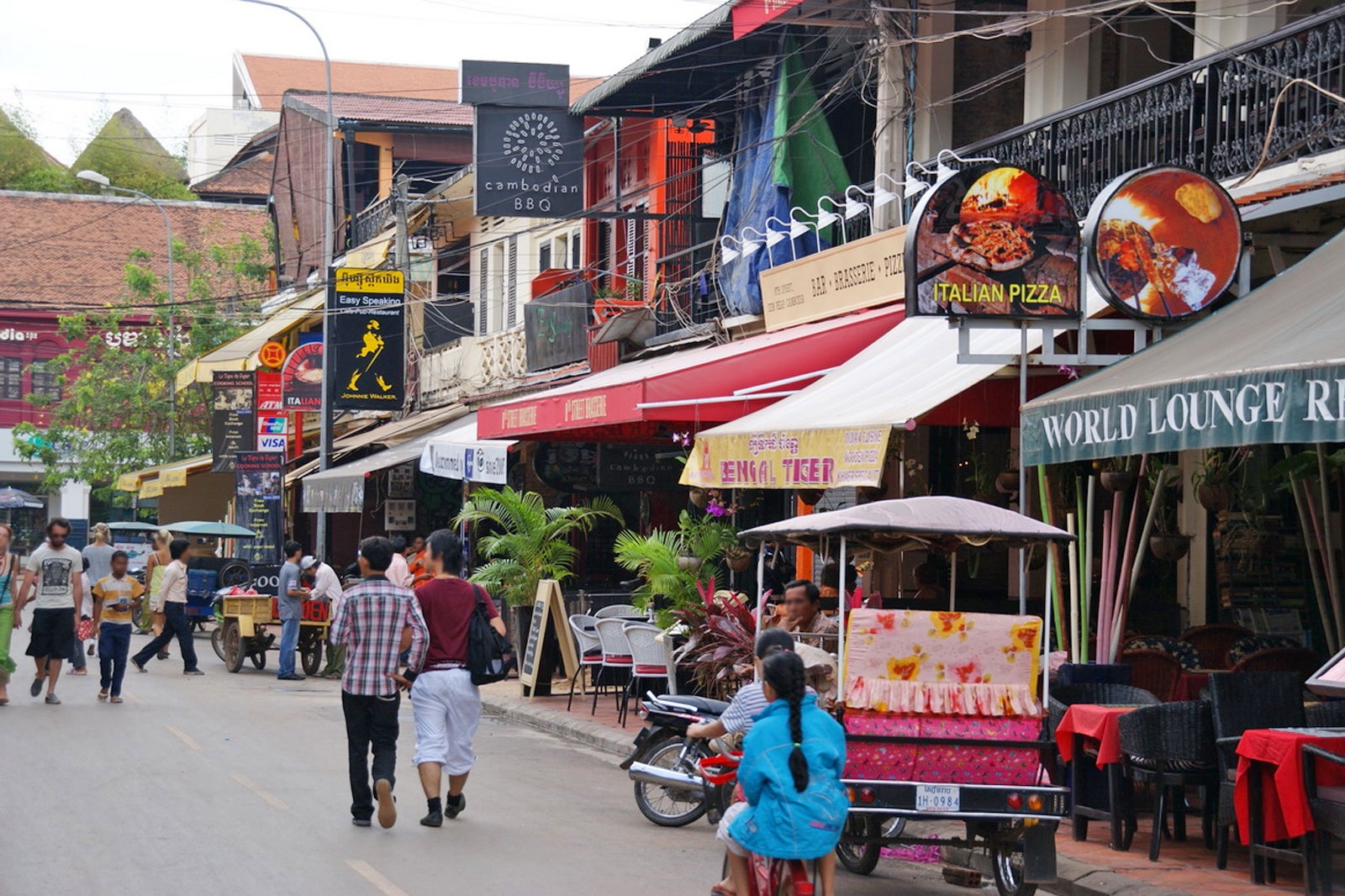 Cambodian BBQ lives up to its name serving great Cambodian barbecues, and then some. They have a great selection of exotic meats available, including crocodile, snake, ostrich, and even kangaroo! Cooked over hot coals, the food has that real smoky barbecue flavour, served with some tasty sauces, as well as free refills of rice, noodles and vegetables.
Dining at the restaurant might be a highlight of your trip to Siem Reap – it might be the first and fun time you've ever tasted such unusual meats. The prices are reasonable, and the service and food quality are highly maintained. You can go for an endless grab of greens and veggies with a steady supply of broth served with your meaty meals.
Location: Pub Street, Siem Reap, Cambodia
Open: Daily from 3pm to 11pm
Phone: +855 (0)63 966 052
photo by Jensre (CC BY-SA 3.0) modified
Le Tigre De Papier was one of the original restaurants on Pub Street in Siem Reap. Le Tigre De Papier serves western and Khmer dishes. Well-known for their wood-fired oven pizza, they also have 24-hour delivery.
Le Tigre De Papier offers Khmer cooking classes, great if you're looking for a place to learn how to make the dishes on the menu, and dive deeper into the flavours of traditional Cambodian cuisine, like amok and green mango salad. Late night revellers along Pub Street also drop by to enjoy a great selection of refreshing cocktails.
Location: Street 08, Siem Reap 17252, Cambodia
Open: 24 hours a day
Phone: +855 85 657 465
photo by Xiquinho Silva (CC BY 2.0) modified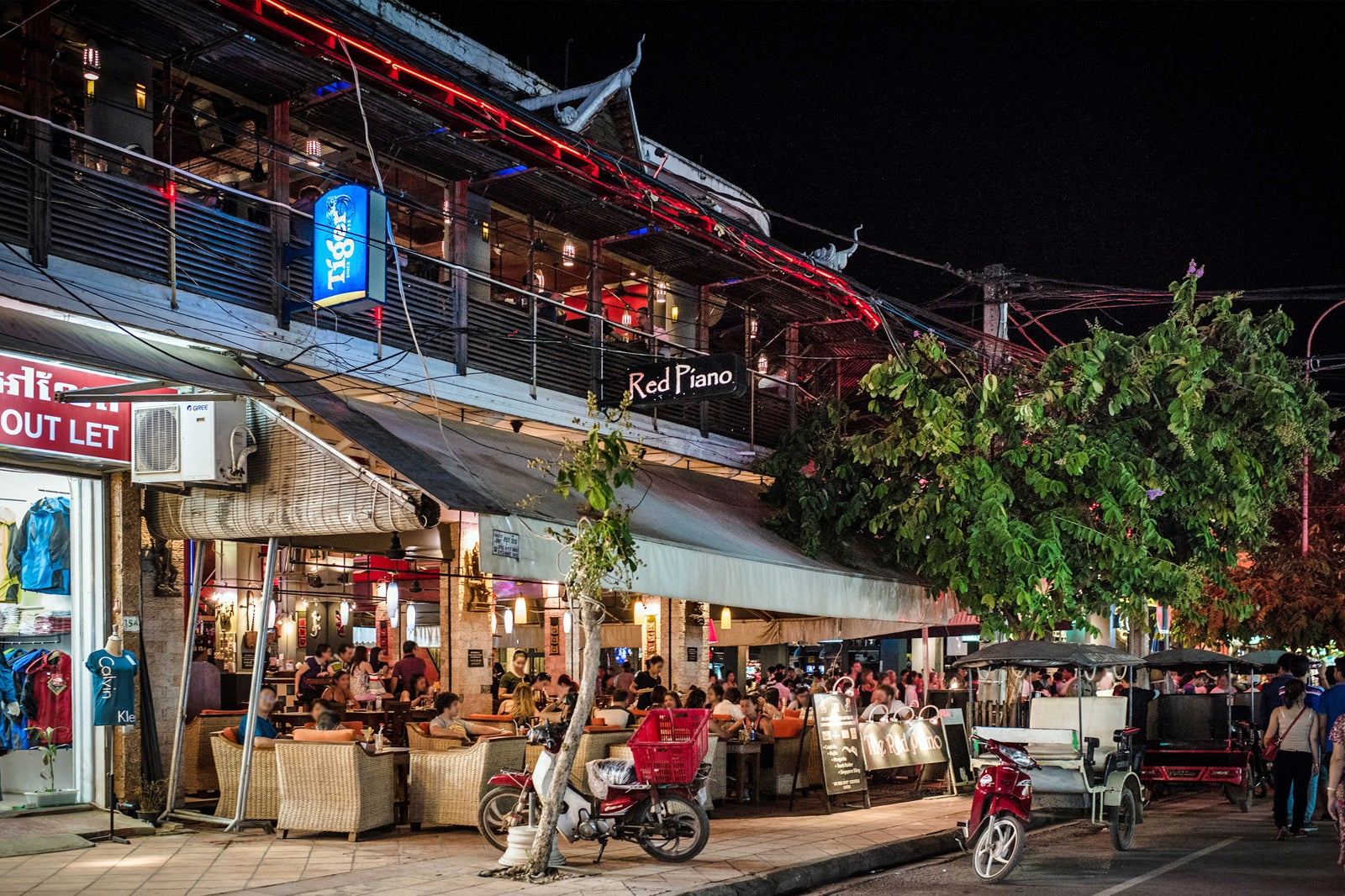 The Red Piano features a Belgian menu with Flemish beef stew, fish and risotto main dishes. For lunch, tasty sandwiches are served on a baguette. They serve dishes with Belgian flair and the drinks menu also sports Belgian beer, alongside cognacs, liquors, cocktails and wine.

The Red Piano is one of the most popular places to chill out on Siem Reap's Pub Street, where you can relax and enjoy a snack as well as a refreshing drink. It's proudly home to the Tomb Raider cocktail. Red Piano frequently has special offers of free additional cocktails when you spend a certain amount, together with T-shirt giveaways and even cash prizes.
Location: 341 Street 08, Siem Reap, Cambodia
Open: Daily from 7am to 12.30am
Phone: +855 92 477 730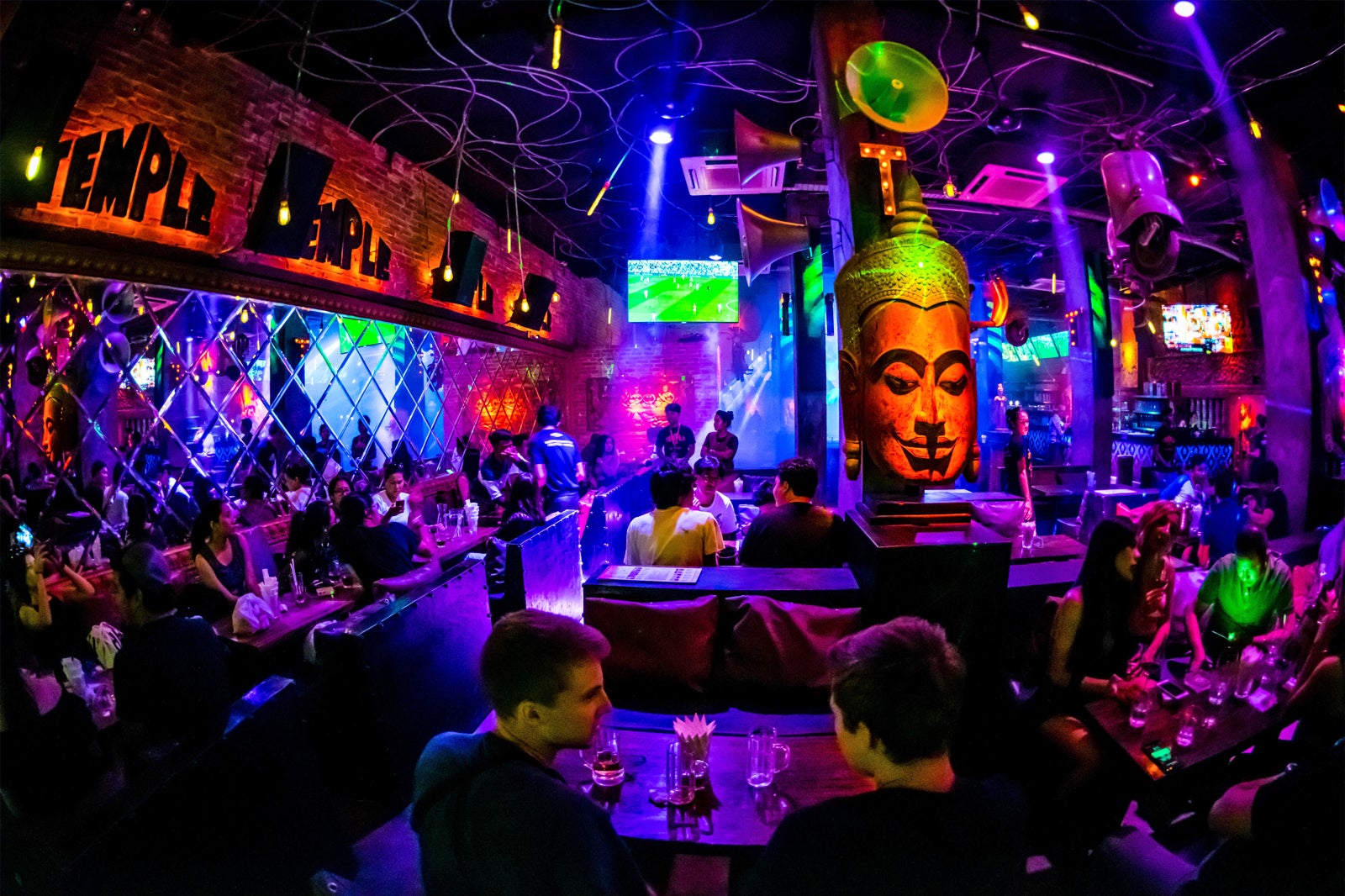 Temple Club is one of the most popular and liveliest places on Pub Street, crowded with tourists every night. They offer a free Apsara Dance Show upstairs, but hardly anybody is watching because everybody is busy eating, drinking, and talking. The bar is downstairs along with 3 pool tables, and a space for dancing. They really get busy after 11pm. Drinks and food are reasonably priced.
Location: 59 Street 08, Siem Reap, Cambodia
Open: Daily from 8am to 3.45am
Phone: +855 15 999 922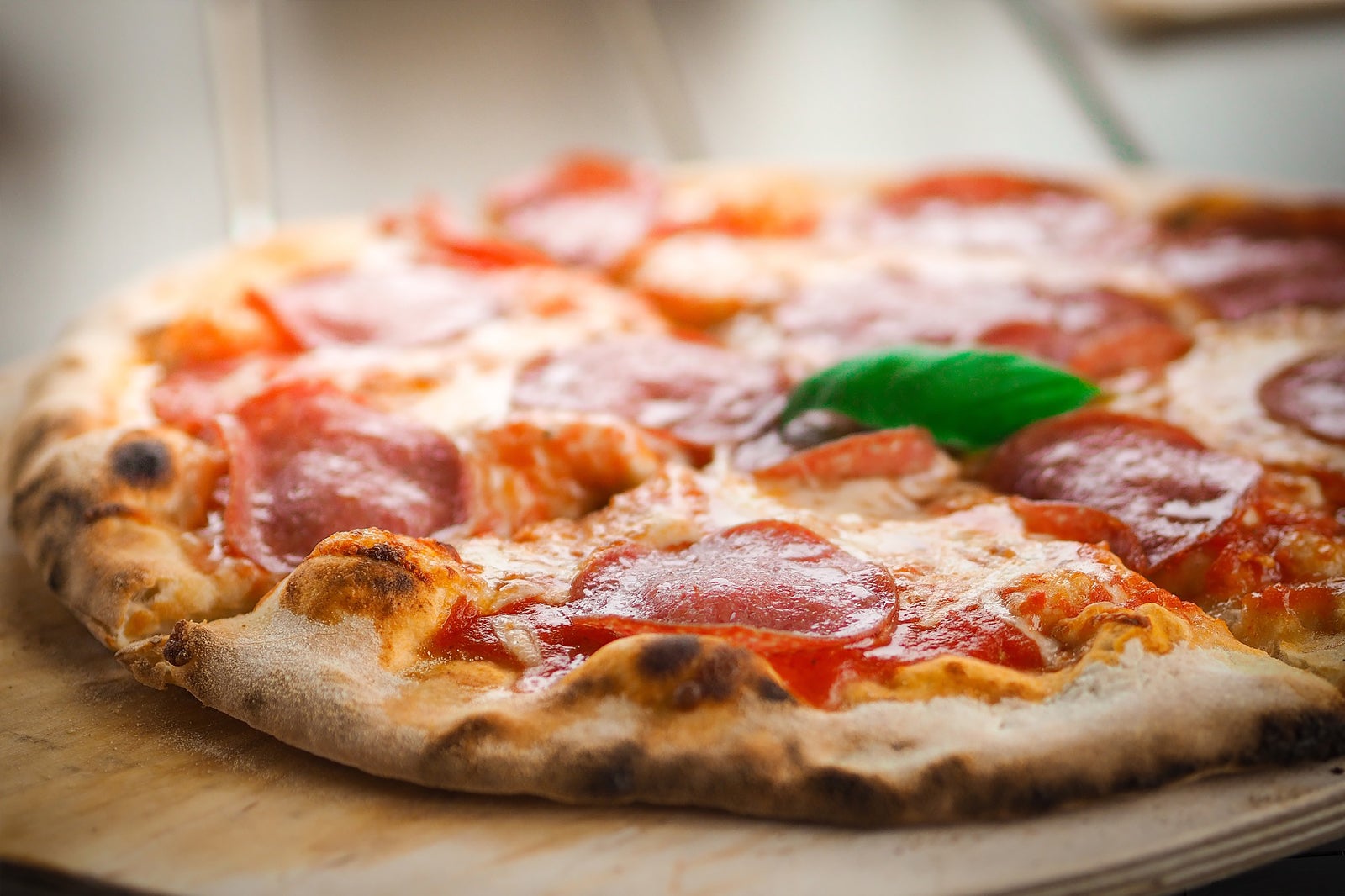 While its name would suggest a globe-spanning menu, World Lounge Restaurant on Siem Reap's Pub Street mostly specialises in pizzas and burgers. To be fair, they are widely regarded as the best pizzas in Siem Reap. There are a few oddballs to choose from, such as the crocodile burger and freshwater fish and chips, which uses fish fresh from Tonle Sap Lake.
The food quality and service at World Lounge are generally above average, though the prices sometimes are, too. The lounge mostly attracts visitors exploring Pub Street to its nice setting, with outside seating and smoking areas, as well as offering a playlist of western and Cambodian music.
Location: 184 Pub Street, Mondul 1 Village, Sangkat Svay Dangkum, Siem Reap, Cambodia
Open: Daily from 7.30am to 12.30pm
Phone: +855 96 595 2445
Easy Speaking is a long-established name on Siem Reap's Pub Street, which calls itself a café, pub and restaurant. They serve a mix of Cambodian, Thai and western food (burgers, pasta, pizza), meaning you'll have plenty of choice. Do try their traditional Khmer hotpot though, with amok, fish curry and pan-fried crocodile included among the selections.
The restaurant is a very popular place with a steady flow of visitors – it's a popular place for having a drink and grabbing something to eat, all while watching the Pub Street crowds stroll by. The food and drinks here are moderately priced, including draught beers for only 50 cents.
Location: Pub Street, Siem Reap, Cambodia
Open: Daily from 7am to midnight
Phone: +855 85 656 529