Sisowath Quay in Phnom Penh
Riverside Dining and Shopping Street in Phnom Penh
Sisowath Quay is a striking 3-km-long boulevard located along the intersection of the Tonle Sap and Mekong rivers. This is perhaps the most bustling area in the city, with a row of boutiques, bars, cafes, restaurants and luxury hotels.
Even though this street is considered downtown Phnom Penh, Sisowath Quay has a cool, relaxing atmosphere allowing both Cambodians and tourists to enjoy a relaxing stroll. This esplanade enjoys a strategic location, being the meeting point of almost all roads that lead to the city's key highlights.
Sisowath Quay in Phnom Penh - one of the highlights of 18 Best Things to Do in Phnom Penh (Read all about Phnom Penh here)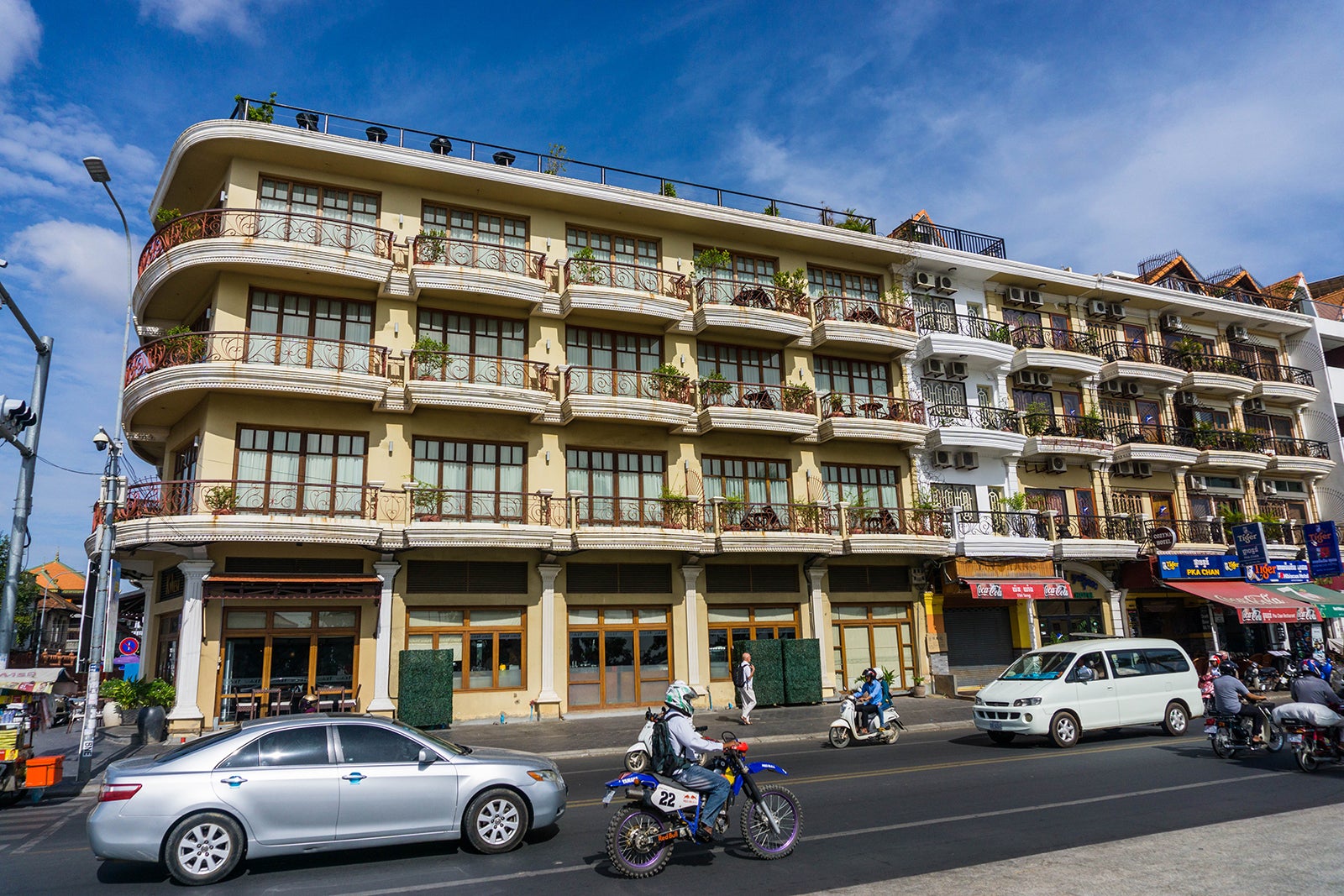 For art lovers, Sisowath Quay presents an array of options. You'll find several stores stocked with handicraft items and several painting workshops. It's also a good place to pick up silk items. One of the best places to buy this material as well as linen is Kravan House.
There are ample restaurants, cafes and bars to serve almost anything you wish to take a bite of or sip, whether it's authentic Khmer, Mexican, French Indian or Italian dishes. A highly favoured place for both foreigners and locals is the Foreign Correspondents Club or the FCC. It offers Khmer and western cuisines, in addition to a variety of signature cocktails in its horseshoe-shaped bar.
There's plenty to see along the riverside walk, including people releasing live birds from cages and fortune tellers looking for business.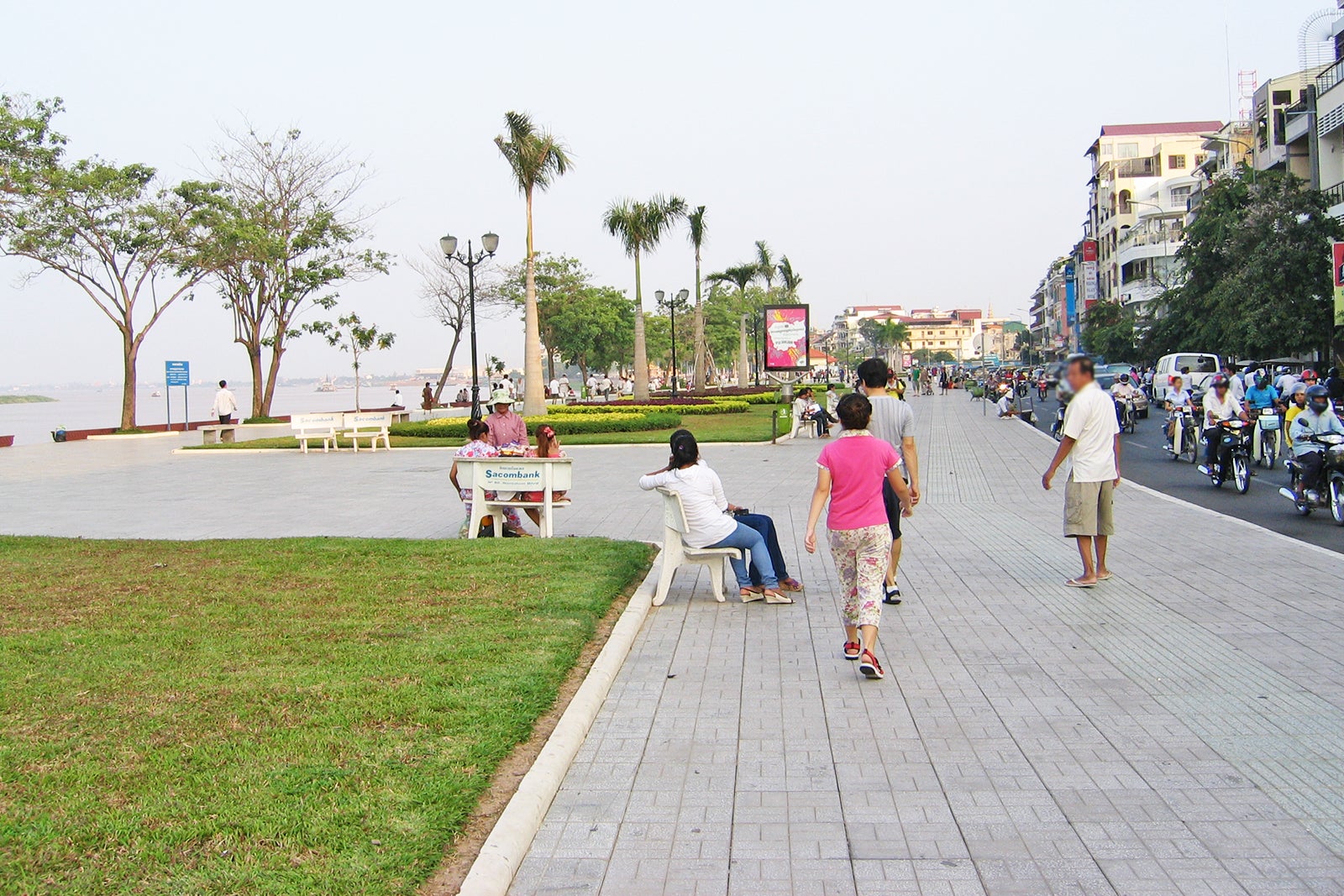 Good to Know about Sisowath Quay
Stretching from the Street 104 area to Street 178, Sisowath Quay is about 10 km from Phnom Penh International Airport. Tuk-tuks and taxis are widely available.
Located close to Street 104 is Phnom Penh Port, from where ferries depart to Siem Reap on a daily basis. Bus companies such as Mekong Express operate here to major destinations across the country.
What attractions are close to Sisowath Quay?
The area buzzes with locals, joggers and ramblers in the early morning and Sisowath Quay also becomes lively after the sun goes down during when it takes on an almost carnival atmosphere. The promenade is almost deserted during the daytime, especially in the afternoon.
On the western side of Sisowath Quay is the Royal Palace that's still the residence of the Cambodian king. Built in 1866, the Royal Palace holds such attractions as the Throne Hall, with its Khmer architecture and the Silver Pagoda, also referred to as the Temple of Emerald Buddha.
Another major landmark that's easily accessible from Sisowath Quay is the National Museum – a great place to explore one of the world's largest collections of Khmer cultural and historical artefacts. Likewise, a short walk from the promenade takes you to the acclaimed Wat Ounalom temple.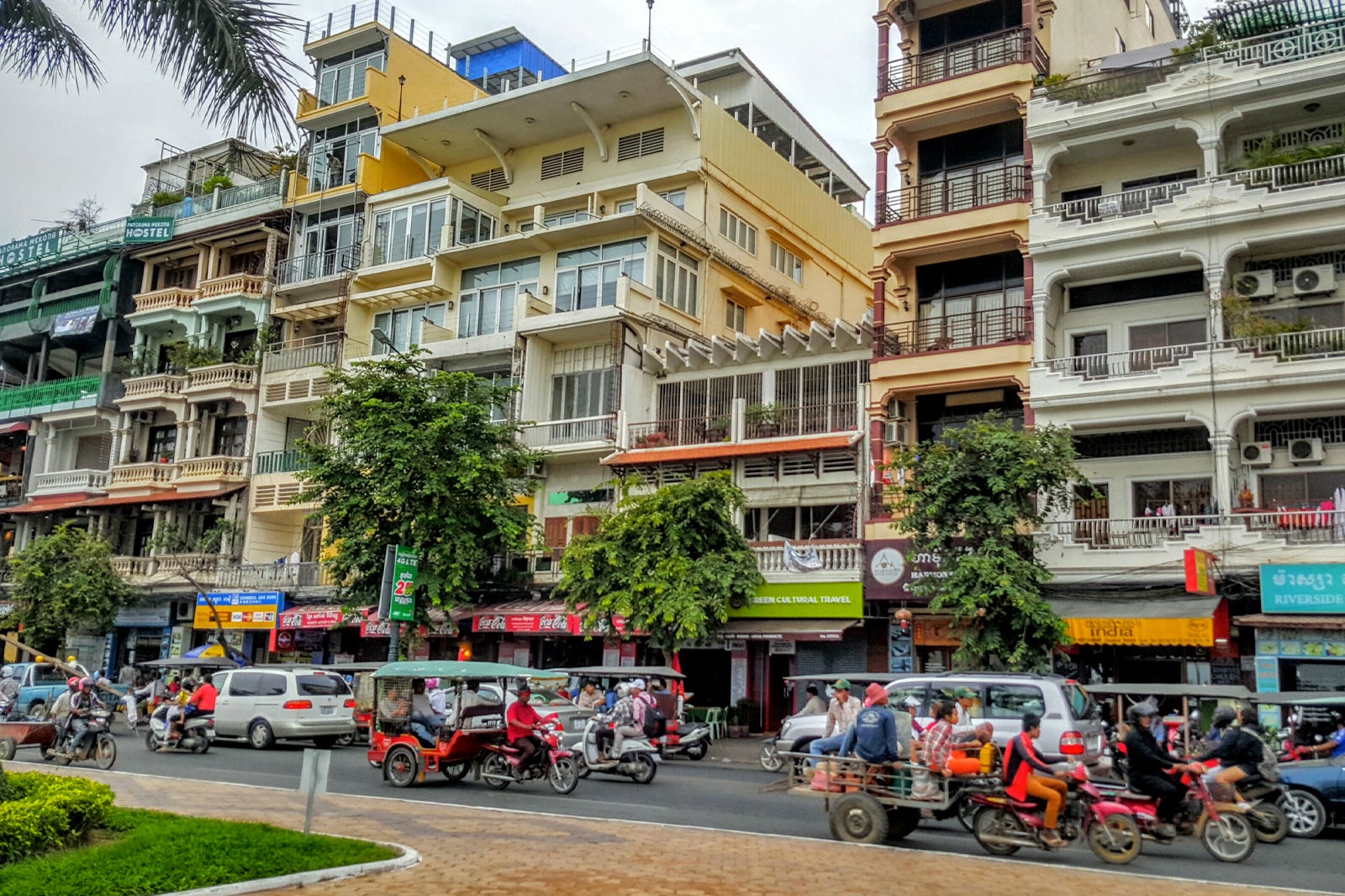 Sisowath Quay in Phnom Penh
Location: Phnom Penh, Cambodia
Back to top