10 Best Things to Do in Zagreb
What is Zagreb Most Famous For?
Zagreb is the northern, inland Croatian capital city that often gets short shrift from many travellers compared to the now enormous popularity of the country's stunning coastline. But if you skip Zagreb you'll be missing out yourself – this relatively small city has eye-catching architecture, several bold and quirky museums and other attractions, together with a café culture that's almost unmatched elsewhere in Europe.
While Zagreb is easily walkable, an extensive public transport network also means getting around the city – and beyond – is painless. This includes a surprisingly high number of tram lines for such a small city. There are also more than 100 bus routes, some of which run around the clock and even connect to neighbouring cities.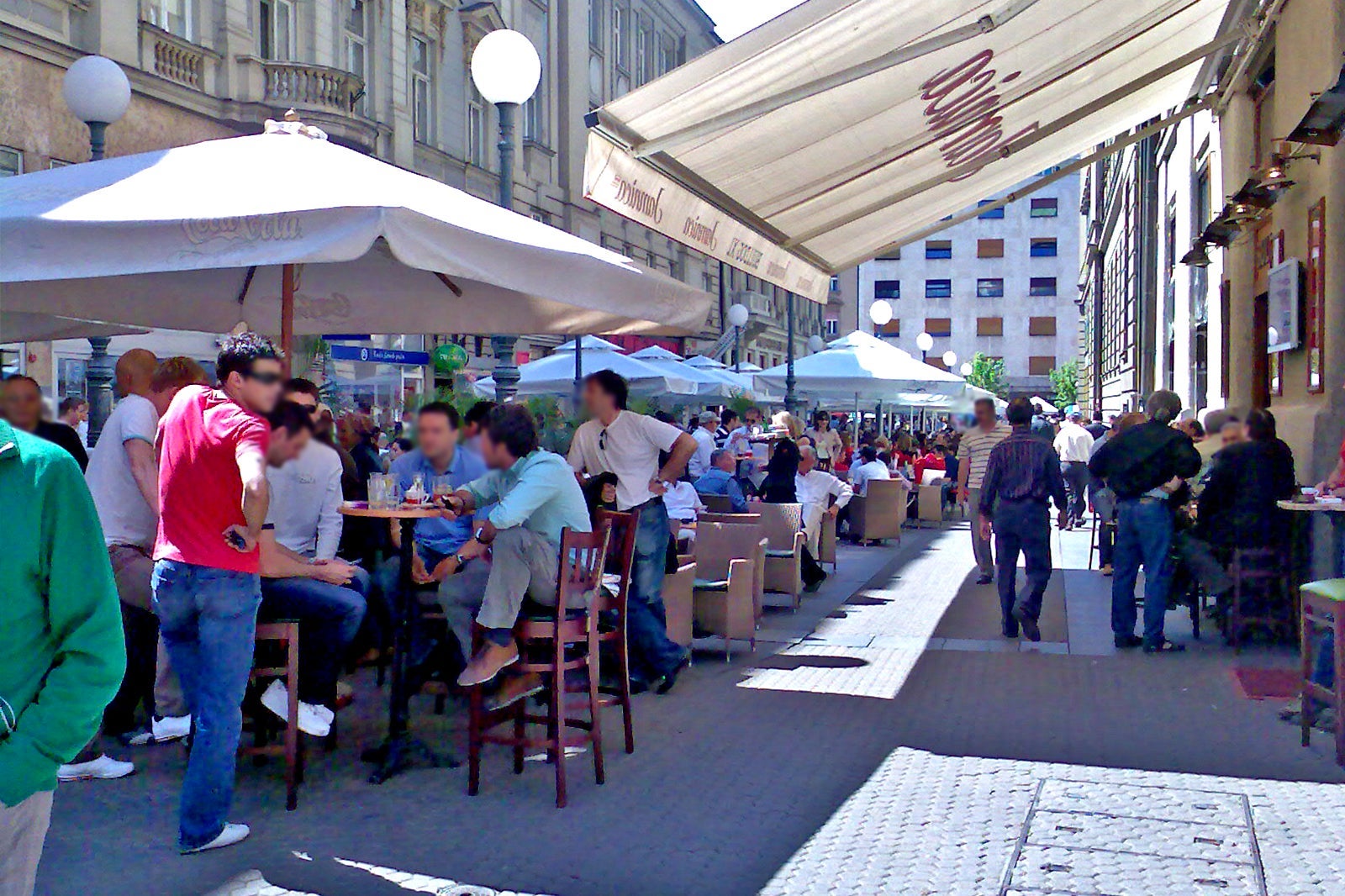 Start the day with coffee and people-watching on Bogovićeva Street
Don't be surprised if morning coffee stretches to lunchtime
Café culture is unmissable in Croatia, and especially in Zagreb – the sheer number of coffee shops on every corner will likely take you by surprise. Many are partly al fresco, extending onto the pavements outside, making them a very pleasant way to while away some time when the weather is decent enough.
Local Croatians love little more than spending literally hours on end perched outside one of their cafés, sipping on a coffee, munching on some of the city's fabulous cakes, and observing the lives of passers-by. Some of the best spots you can find here are the many cafés on Zagreb's pedestrianised Bogovićeva Street.
Location: Bogovićeva ulica, 10000, Zagreb, Croatia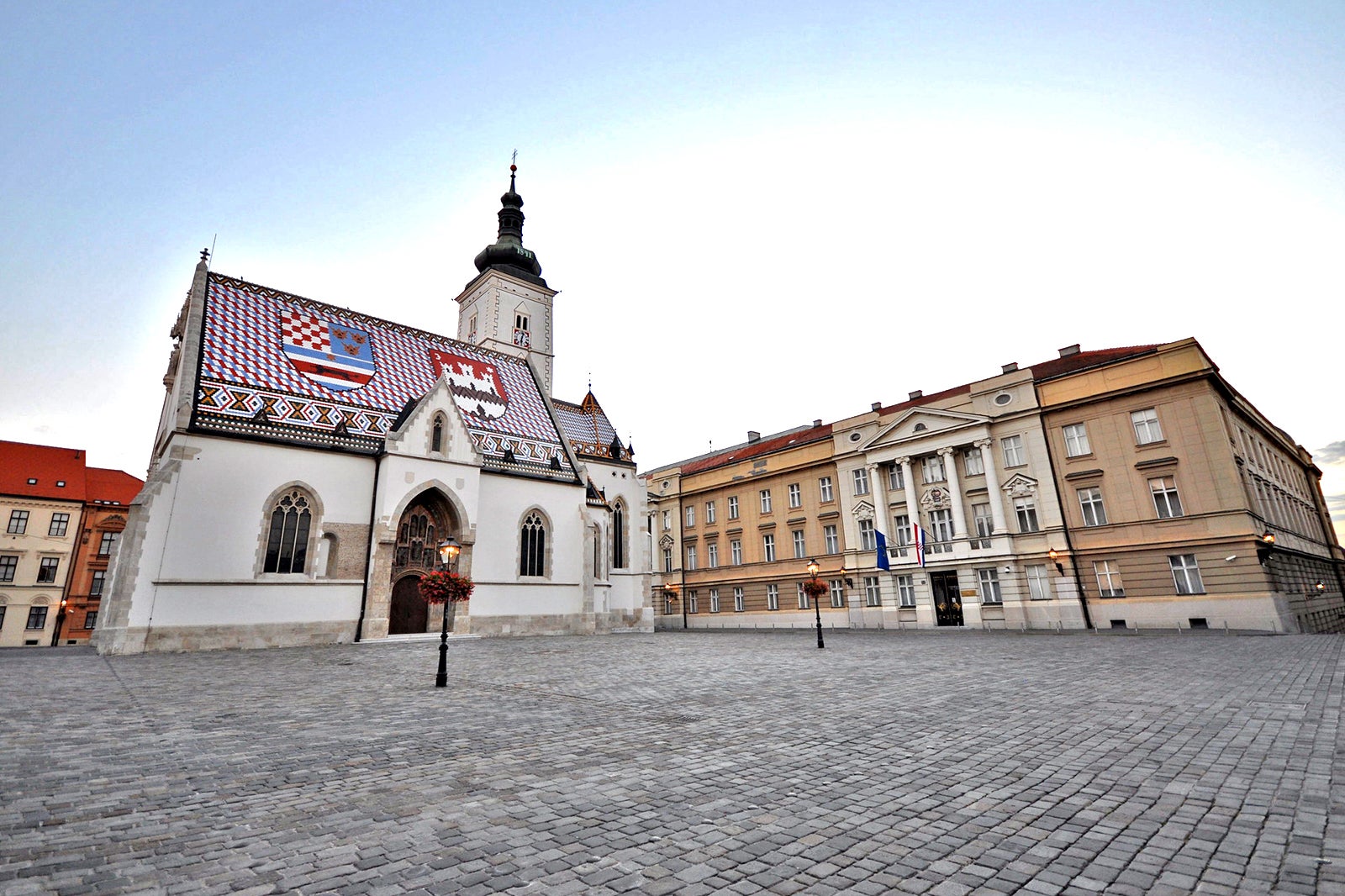 Must-See: St. Mark's Church
For the must-have photo of its truly unique roof
Old-town Gradec's St. Mark's Church is well worth a look around inside, but to fully appreciate it and for the best photos you need to approach from some distance. The church structure dates back to the 13th century, but the distinctive, brightly tiled roof was only added on in 1880.
The church sports Croatia's medieval coat of arms and the emblem of Zagreb, making it an iconic and memorable sight. The eponymous square on which it sits is also worth a wander, being home to a number of Zagreb's other important and historical buildings such as the Croatian Parliament and the Old City Hall.
Location: Trg Sv. Marka 5, 10000, Zagreb, Croatia
Phone: +385 1 485 16 11
photo by Jorge Láscar (CC BY 2.0) modified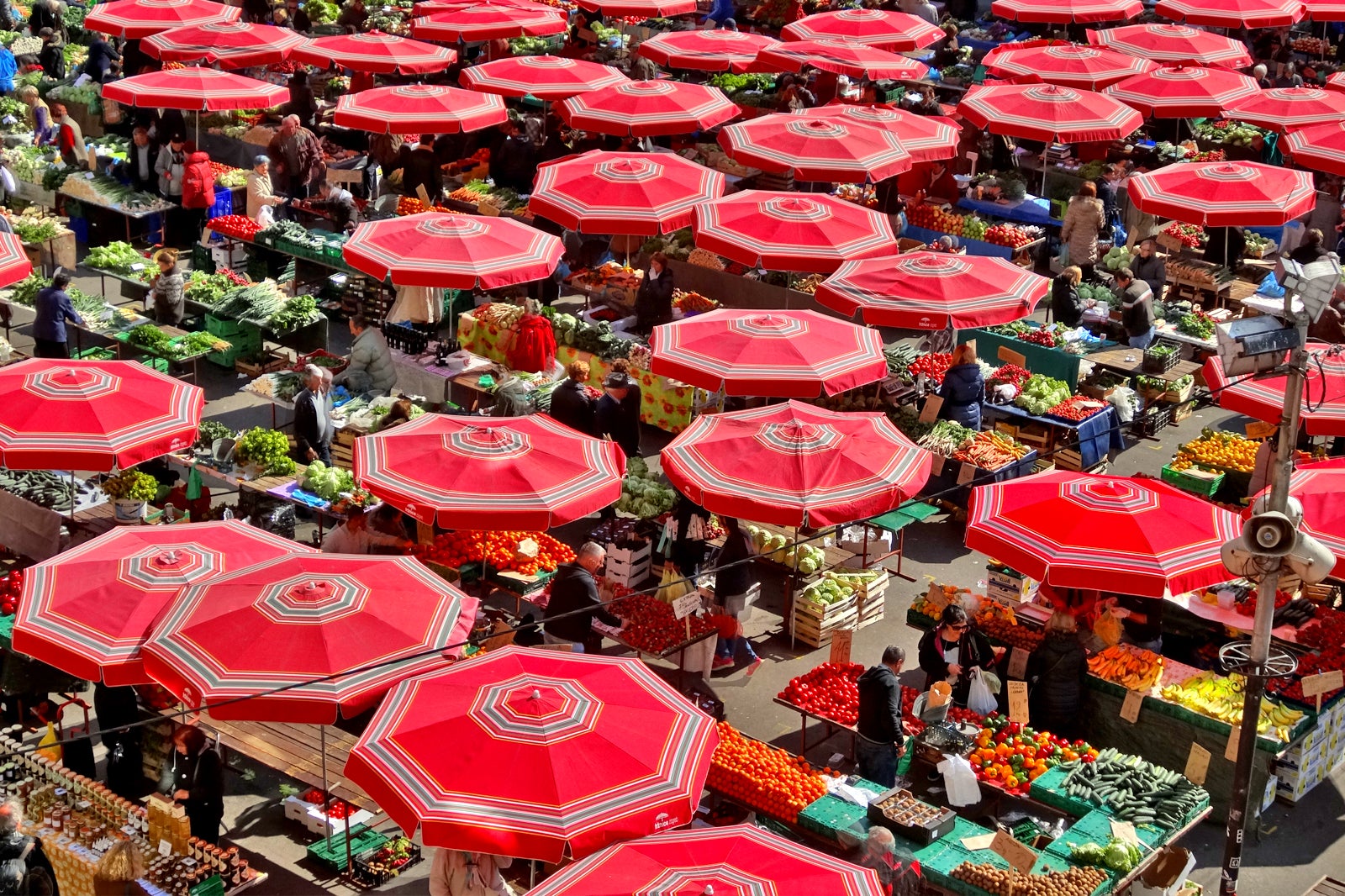 Sample local delicacies at Dolac market
Fresh produce from Croatia's surf and turf
Dolac Market has been Zagreb's main market for close to a century. The market is a bustling space where you'll find vendors touting everything from fresh fruit and vegetables to meat and plenty of seafood.
This is an especially colourful market, not least for the tinge of red that everything has from the umbrellas which shield vendors from the searing Croatian sun. Come as early as you can for the best choice, whether you're purchasing or just perusing and photographing.
Location: Dolac 9, 10000, Zagreb, Croatia
Open: Daily from 7am to 3pm (Sundays until 1pm)
Phone: +385 1 642 25 01
photo by Rilegator (CC BY-SA 4.0) modified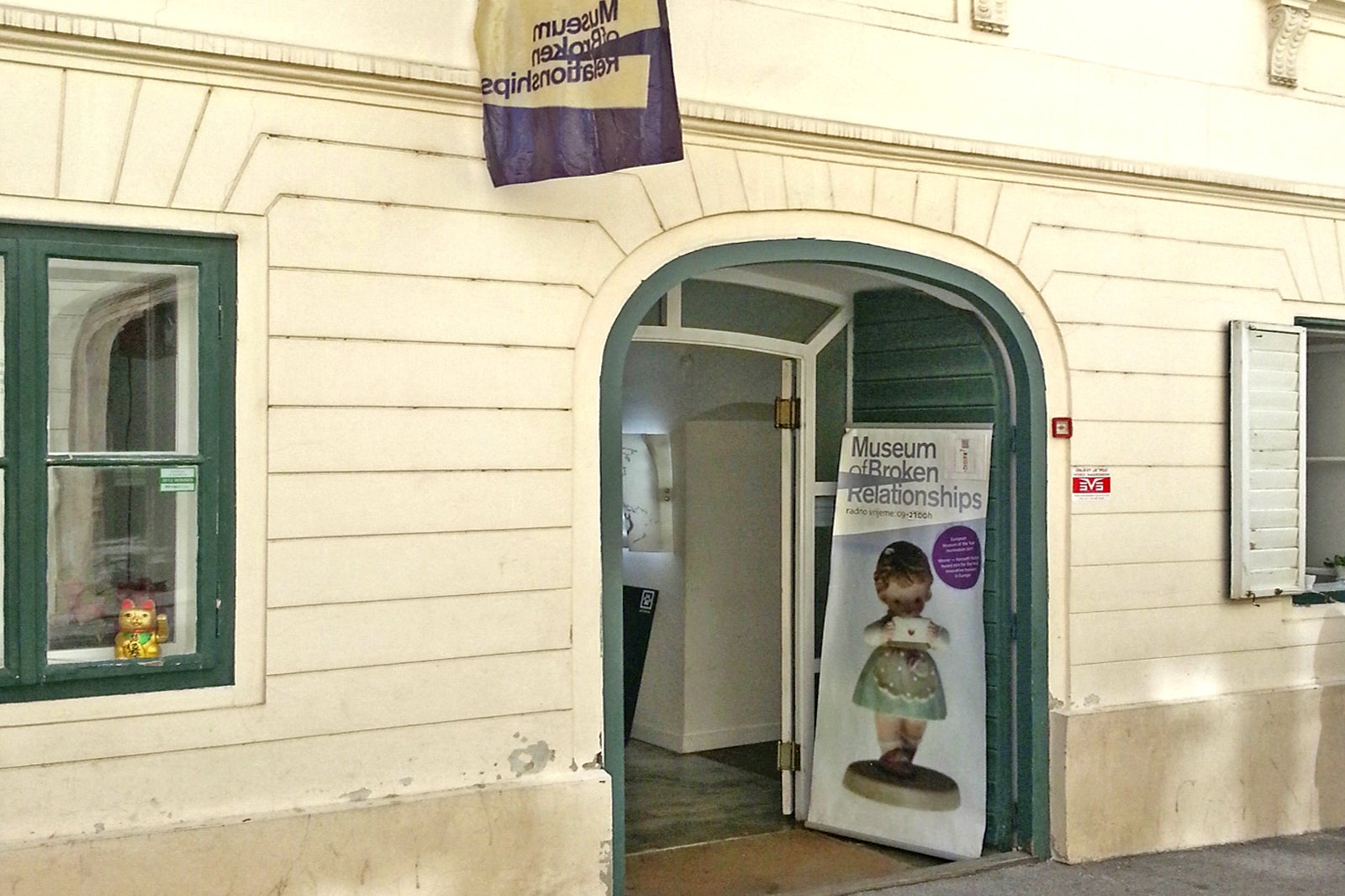 Must-See: Museum of Broken Relationships
Appreciate a reflection on love turned sour
Zagreb's Museum of Broken Relationships isn't exactly the kind of museum you find in every city you visit. That's exactly what makes it pique your interest. As the name implies, the museum is dedicated to portraying the stories of love affairs turned sour.
It's a crowdsourced project and there's an additional venue in Los Angeles (as well as plenty of popup museums around the world), but the original here in Zagreb is housed in a beautiful upper town baroque palace, which is worth a visit. Expect humorous yet thought-provoking exhibitions that use personal objects left over from real-life failed relationships – and to explore why they go wrong.
Location: Ćirilometodska ul. 2, 10000, Zagreb, Croatia
Open: Daily from 9am to 9pm (until 10.30pm in the summer months)
Phone: +385 1 485 10 21
photo by Prosopee (CC BY-SA 3.0) modified
Stop for a gablec 'working man's lunch' at Marenda
Get your fix of hearty Croatian fare
Gablec or 'working man's lunch' is a big deal for Croatians. Croatia is a country where lunch is the main meal of the day, and dinner, by comparison, is a relatively light, modest affair. Of course, the demands of work in modern life mean not everyone has the luxury of taking a long, leisurely lunch break.
Think of gablec as the kind of express business lunch you'll find elsewhere. At spots like Marenda, these menus will only set you back the equivalent of a few euros, but you can taste a daily rotating selection of authentically old-school Croatian dishes.
Location: Kuniščak ul. 24, 10000, Zagreb, Croatia
Open: Monday–Friday from 11am to 11pm. Saturday–Sunday from 11am to 5pm
Phone: +385 1 375 11 83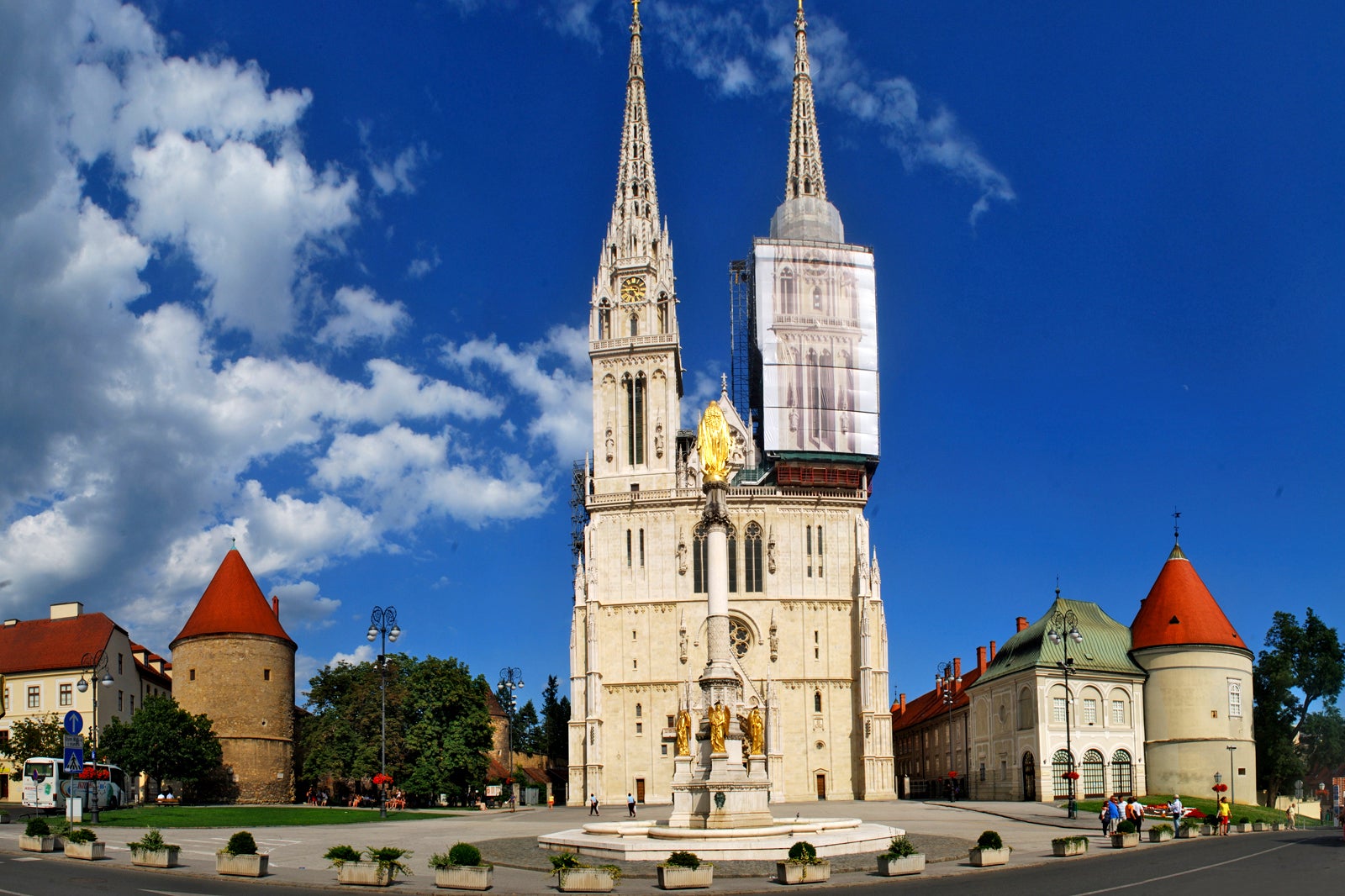 Must-See: Cathedral of Zagreb
Gothic beauty that's visible from all over the city
Zagreb Cathedral is the tallest and most spiritually important building in Croatia. As one of Zagreb's most iconic and well-visited attractions, the cathedral is prized for its Gothic architecture, with impressive spires that can be spotted from afar almost no matter where you are in Zagreb.
The structure dates back to the 11th century, but it was partially reconstructed after suffering damage in the Zagreb earthquake of 1880 – that's when those famous spires were added on. The cathedral also houses the grave of Archbishop of Zagreb Kardinal Stepinac, in memory of his instrumental role in Croatia achieving independence.
Location: Kaptol ul. 3110000, Zagreb, Croatia
Open: Monday–Saturday from 10am to 5pm. Sunday from 1pm to 5pm.
Phone: +385 1 481 47 27
photo by Rangan Datta Wiki (CC BY-SA 4.0) modified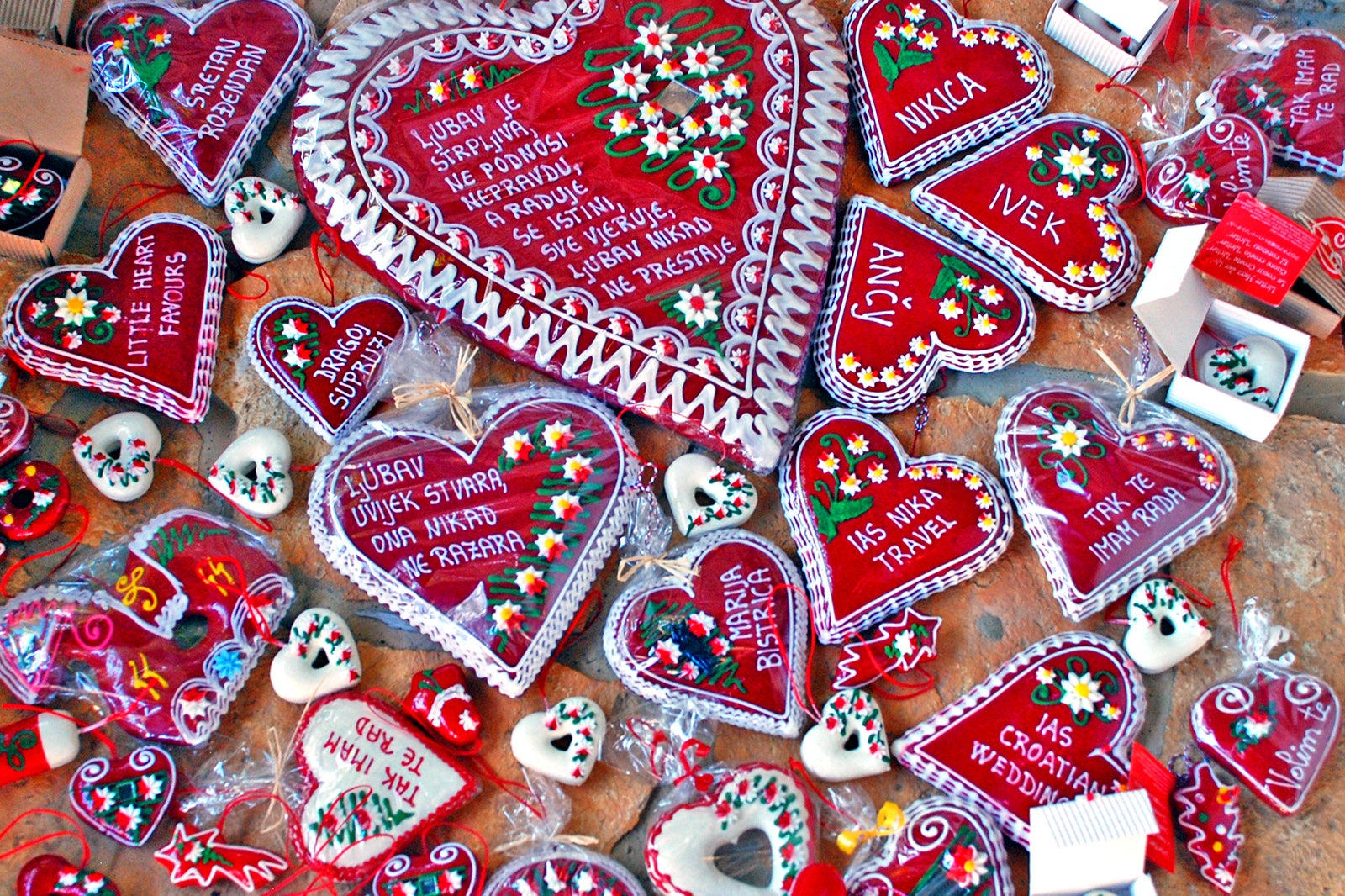 Try a licitar – and take a few home
This gingerbread-like snack is a Croatian cultural icon
If there's a snack that represents Croatia perfectly, it's probably the licitar. These sweet gingerbread-like honey dough biscuits are shaped into hearts and decorated in bright colours, and they are particularly representative of Zagreb – that makes your visit to the capital the perfect opportunity to chow down on several and then pack even more into your suitcase to take back home with you.
Popularly given as declarations of love at weddings and on Valentine's Day, licitars date back to the 16th century. The eponymous Licitar workshop and exhibition area is a good spot at which to not only pick up some licitar but also watch it being made.
Location: Gvozdanska 13D, 10000, Zagreb, Croatia
Open: Monday–Friday from 7am to 3pm (closed on Saturdays and Sundays)
Phone: +385 1 301 43 70
photo by Seanpu1 (CC BY-SA 3.0) modified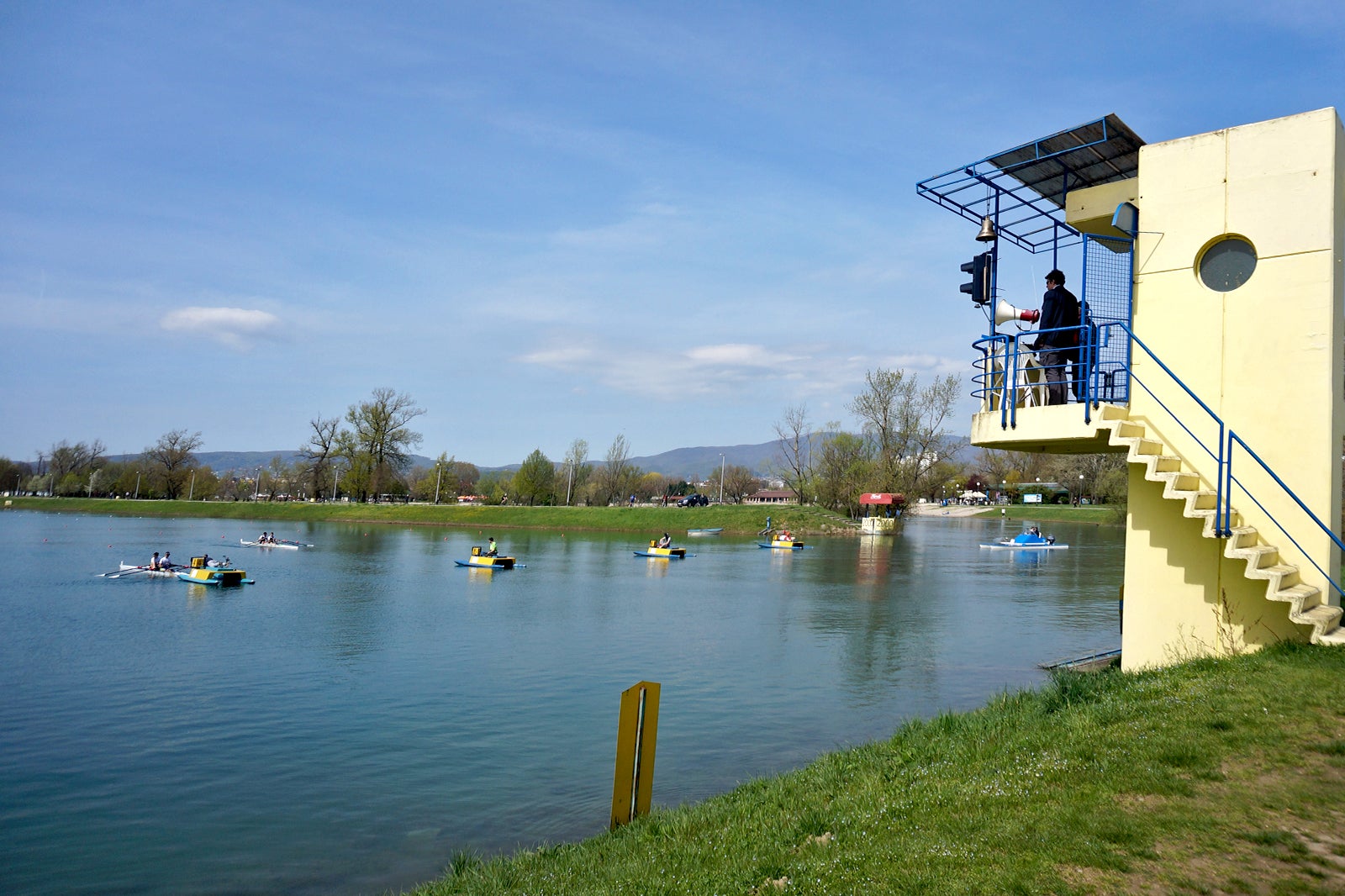 Take a breather beside Jarun Lake
Join locals as you watch the sunset
Even in a city as relatively small, pleasant and hassle-free as Zagreb, from time to time it's nice to take a break from the hustle and bustle and get back to being at one with nature. It's easy enough to at least come close to that at Jarun Lake, within easy reach of Zagreb city centre, where this man-made lake is surrounded by green open spaces that are perfect for a breather.
There are cycle lanes, areas for jogging and walking, and plenty of space for you to pitch up with a picnic – the surrounding neighbourhood is also a popular destination for night owls out clubbing into the wee hours. While many locals like to head to Jarun Lake for an early morning swim, it's just as attractive in the late afternoon to watch the sun go down.
Location: Jarun, 10110, Zagreb, Croatia
photo by Jung won Chung (CC BY 2.0) modified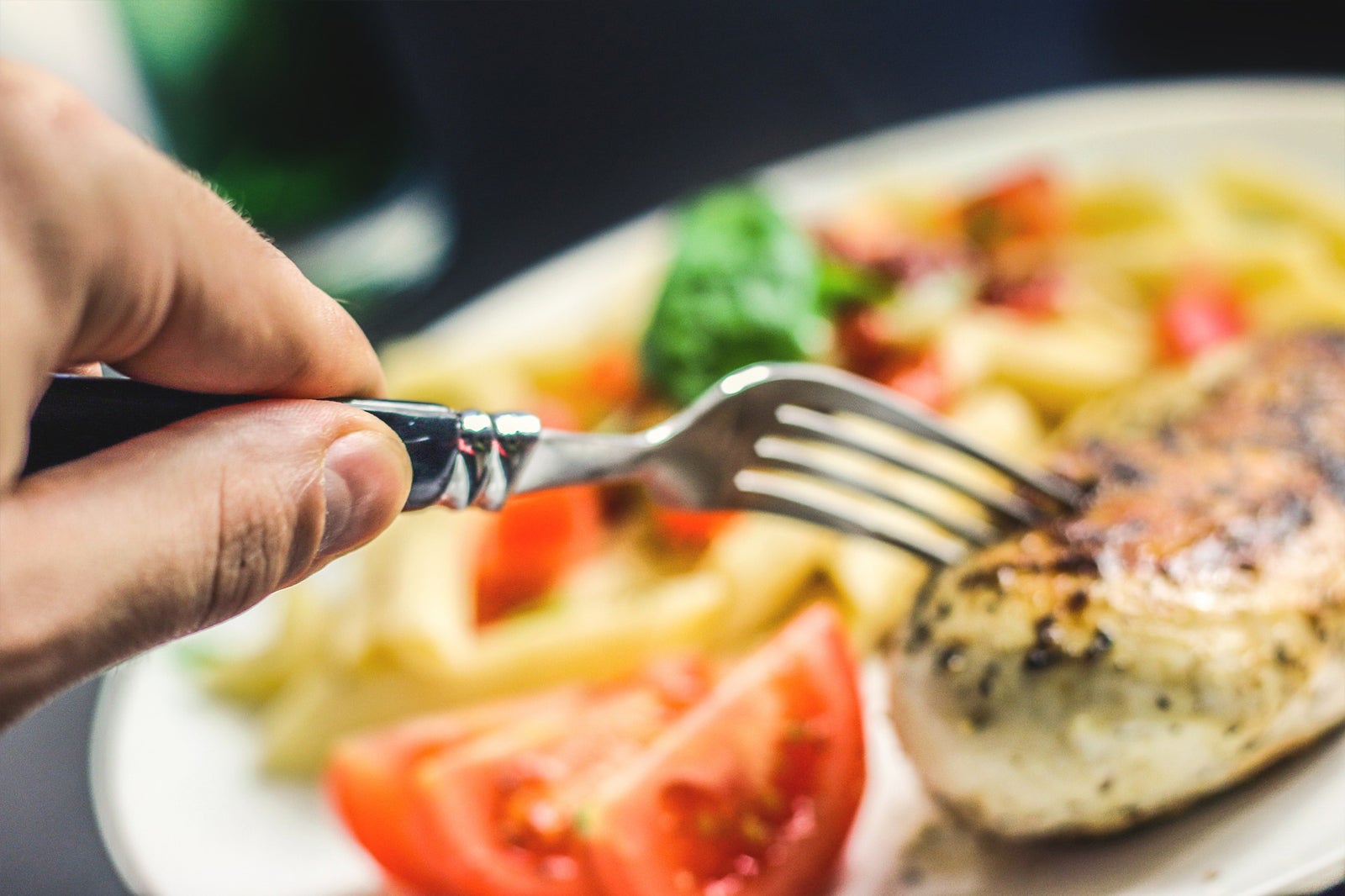 Dinner at Mali Bar
Stylish Croatian-Asian fusion dishes and a friendly welcome
Mali Bar is a reliable option for stylish yet satisfying Croatian-Mediterranean and Asian fusion dishes in Zagreb. Zagreb has been experiencing something of a foodie revival for several years now, and there's a constant flurry of new restaurant openings – Mali is one that has been around for long.
The bar is set inside one of Zagreb's attractive hidden courtyards that unknowing first-time visitors could easily walk right past. There's a warm and friendly feel to Mali Bar, making it a great spot for a memorable and sociable meal before heading on elsewhere later in the evening.
Location: Vlaška ul. 63, 10000, Zagreb, Croatia
Open: Monday–Saturday from 12pm to midnight (closed on Sundays)
Phone: +385 1 5531 014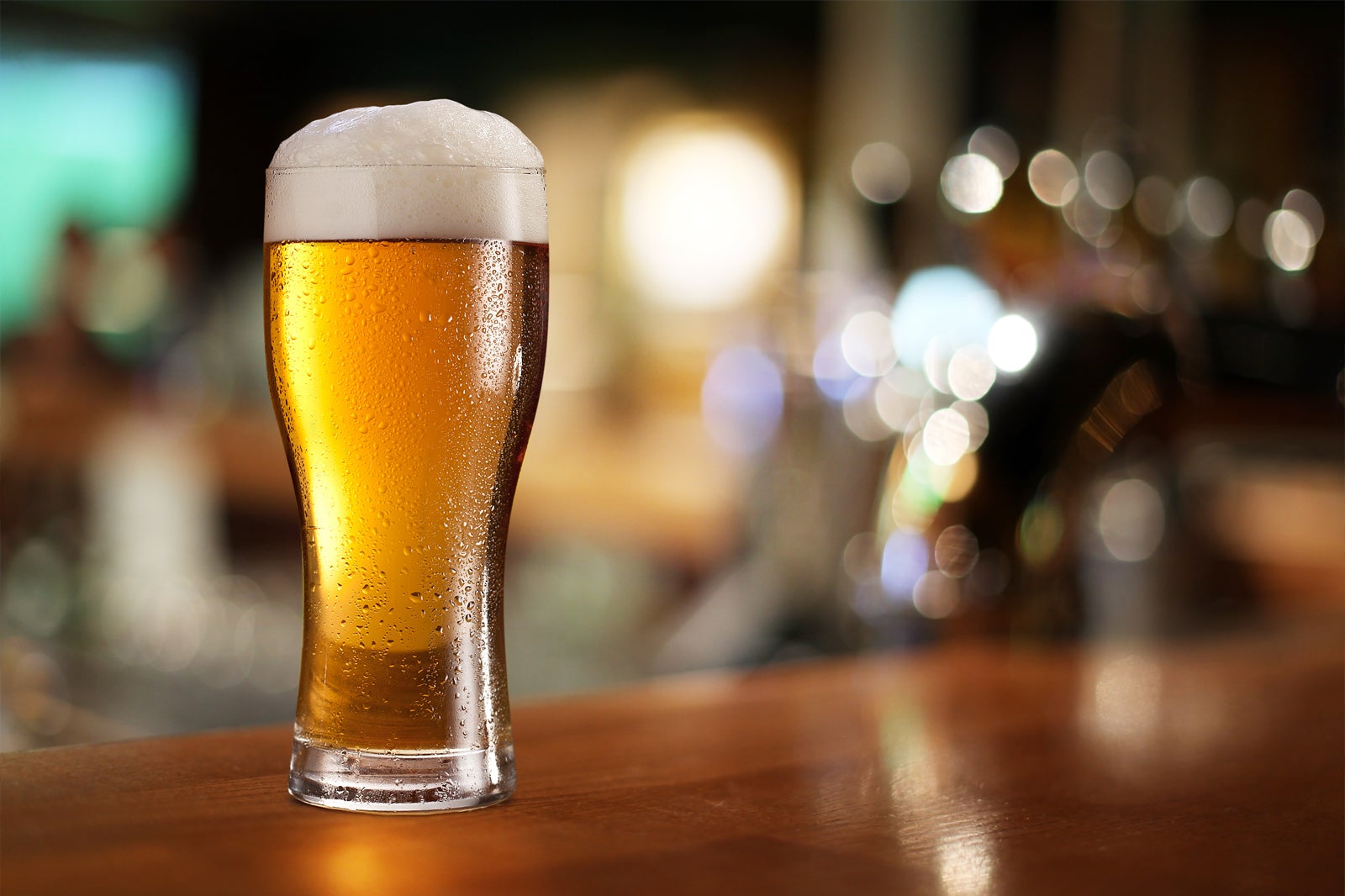 End the day sampling local beers at Mali Medo
Sample Zagreb's al-fresco drinking culture
Mali Medo is an indoor-outdoor bar right in the middle of Zagreb's central, pedestrian-friendly Tkalciceva Street. The street itself is famous for being a hotbed of cafés, restaurants and bars.
This is where you can sample Croatia's fabulous wines and beers. The vibe at Mali Medo is always buzzing, and a few of their beers are brewed right on site.
Location: Tkalčićeva 36, 10000, Zagreb, Croatia
Open: Monday–Wednesday from 10am to midnight. Thursday–Saturday from 10am to 1am. Sunday from 12pm to midnight
Phone: +385 1 4929 613