Nottingham Travel Essentials
Useful Information to Help You Start Your Trip to Nottingham
Our Nottingham Travel Essentials lays out the essential information you need to help you plan your trip to one of the most popular destinations in England. No matter how often you travel, some questions will always need answers: What's the weather like? How can I get from East Midlands Airport to my hotel? What currency and type of plug do I need?
We have all these answers plus other basic info about the best time to go, getting there, getting around, and a few useful travel tips. You'll also learn about the most popular landmarks in Nottingham such as Castle Quarter, Wayne Manor at Wollaton Hall, and City of Caves. It's all compiled in this Nottingham Travel Essentials. After going through this short and easy-to-read guide, you'll be a little more prepared to start your trip to Nottingham.
1
When is the best time to travel to Nottingham?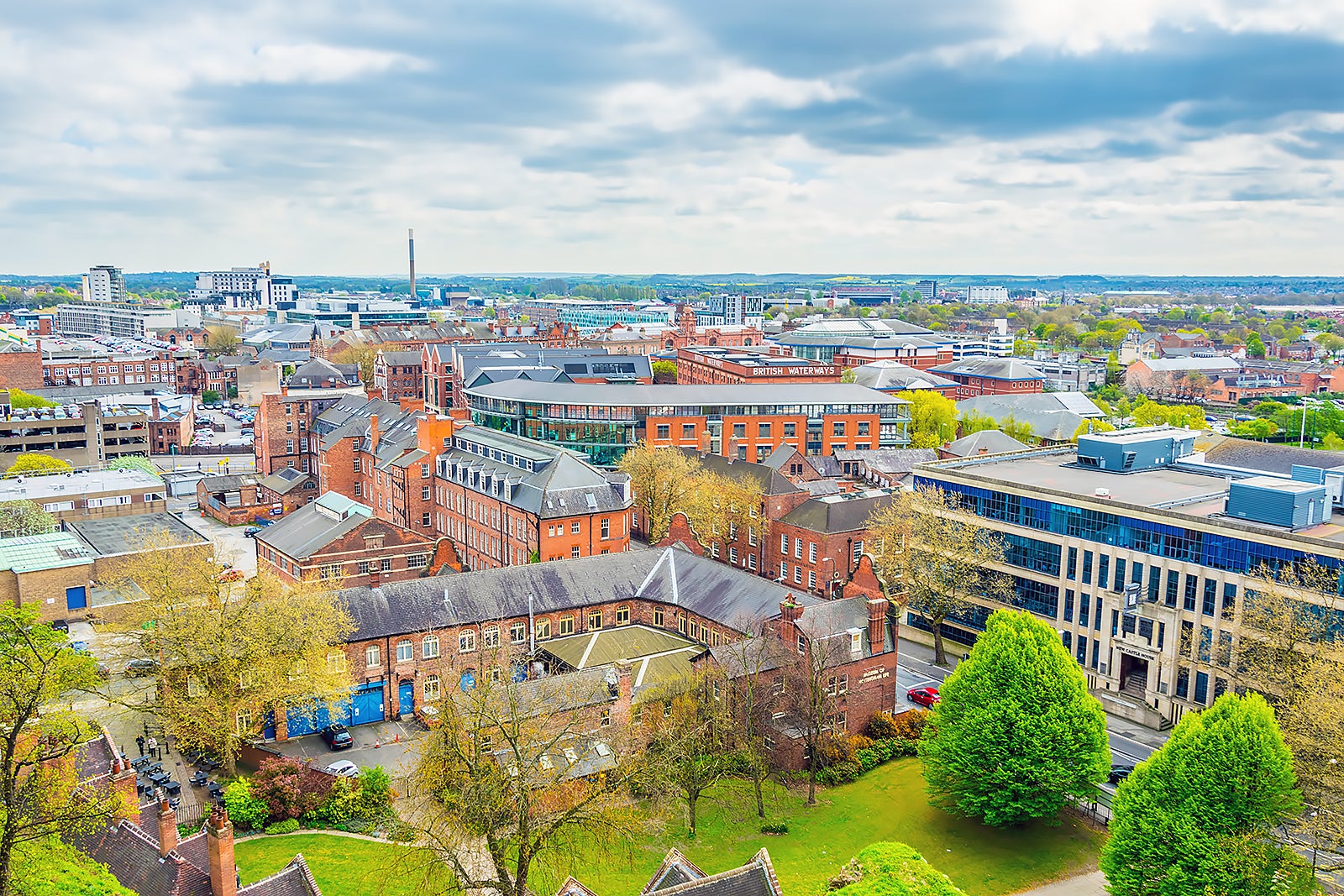 Nottingham has a temperate oceanic climate with mild summers and clement to chilly winters. Average temperatures range between 4°C in winter and 17°C in summer.
Nottingham is a wet city with rainy days equally spread throughout the year. On average, it rains around 10 days per month.
The warmest time of the year is from mid-June to mid-September. The peak tourist season is during the July-August school holidays. The warm weather is perfect for exploring outdoor attractions and attending the many festivals held during summer.
The best times to visit Nottingham are in spring (May–mid-June) and autumn (late September–October). Hotels usually have lower rates, and the weather is mostly mild and pleasant. You'll also avoid the summer crowds.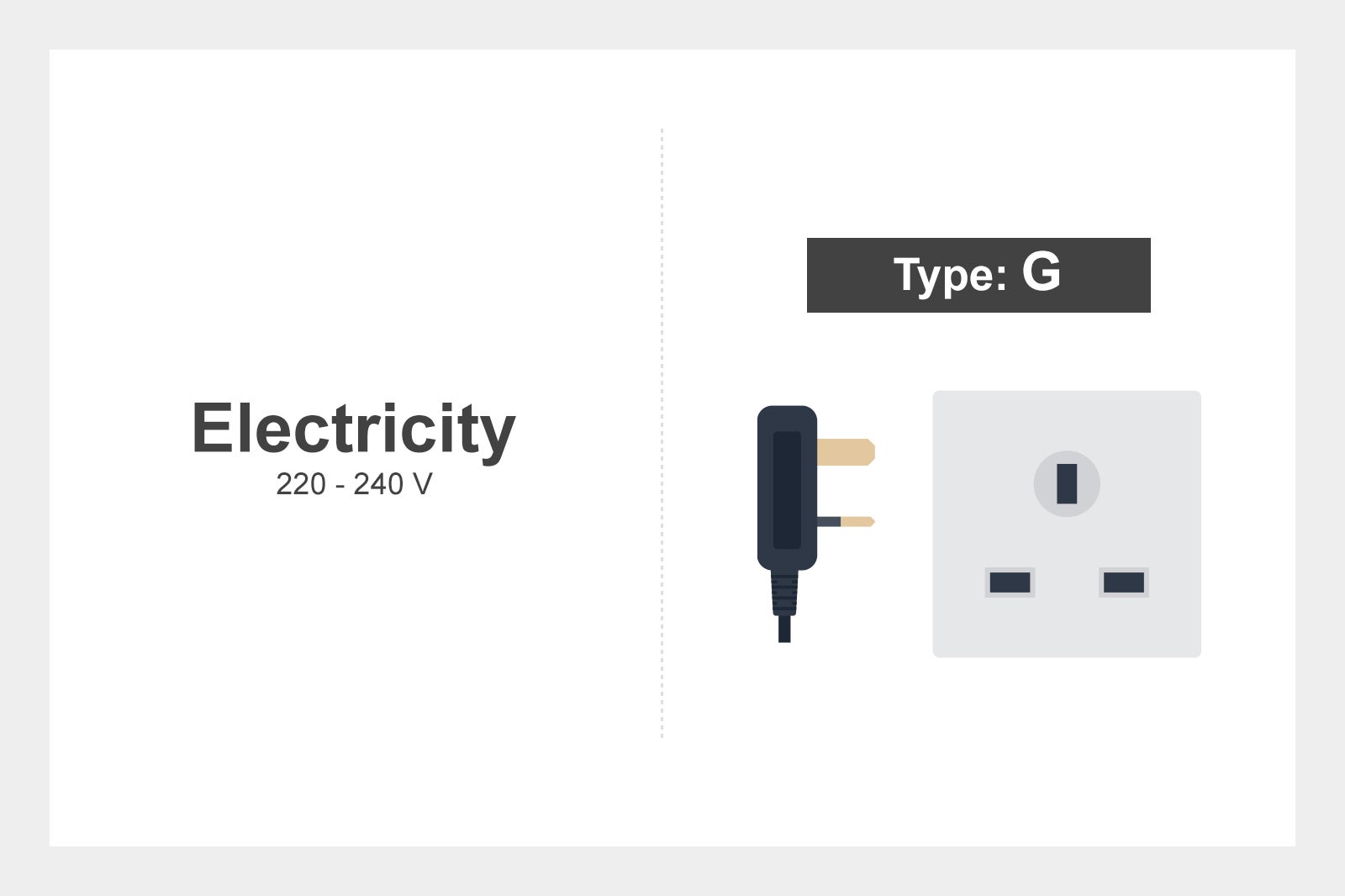 Plug type: G
Electricity: 220 - 240 V
Currency: Pound Sterling (£)
International dialling code: +44 (0)115
Emergency telephone number: 999
3
How to get to my hotel in Nottingham?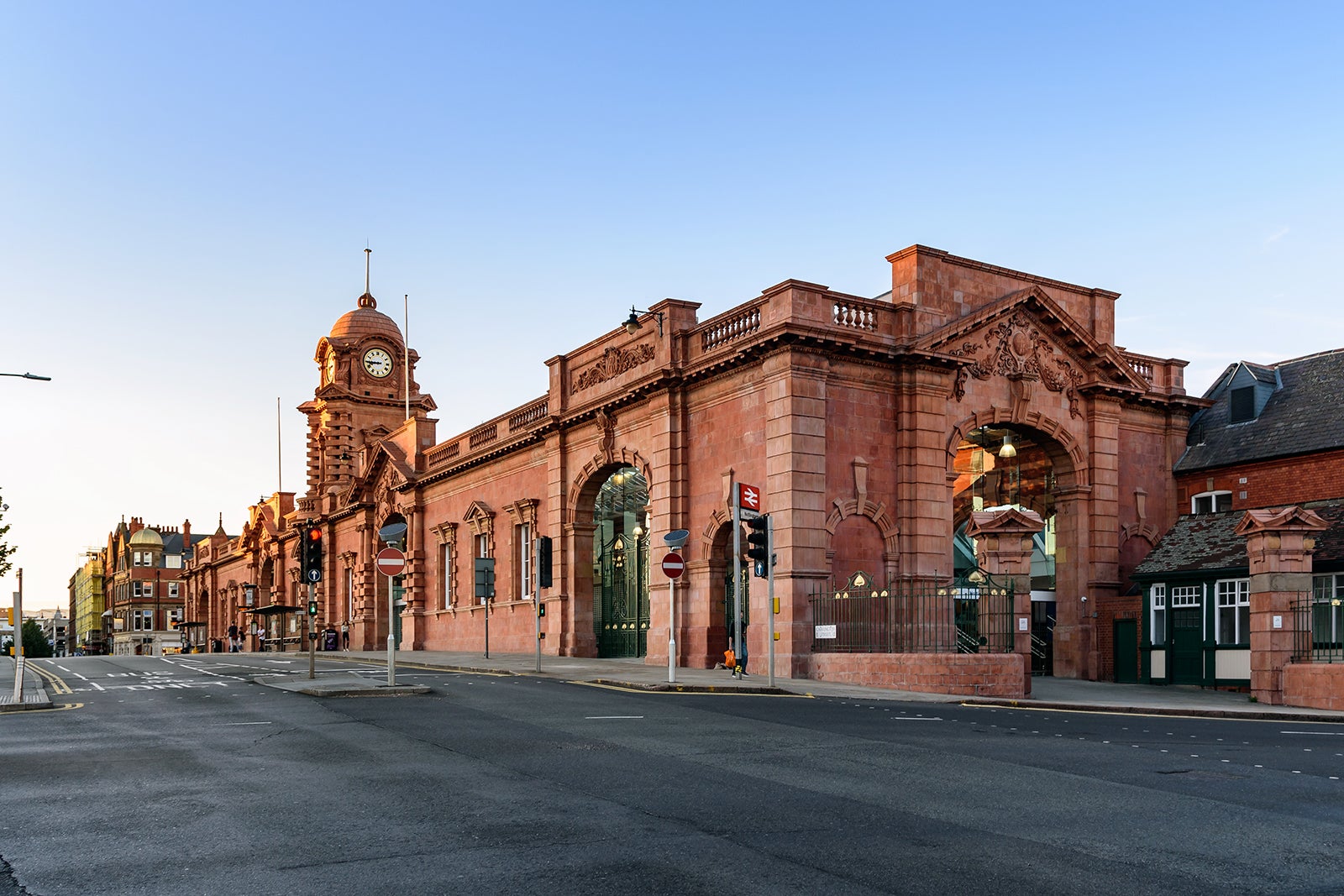 The closest international airport to Nottingham is East Midlands Airport (EMA) in Leicestershire, between Loughborough, Derby, and Nottingham. The airport is 15 miles from the city centre, and it takes 25 minutes to get there.
If you're already in England, you can also get to Nottingham by train. It takes about 2 and a half hours to get to Nottingham from St Pancras station in London, and the ride through the English countryside is pleasant.
If you're on a budget, you can also get to Nottingham by coach from anywhere on the UK mainland.
East Midlands Airport (EMA)
East Midlands Airport serves low-cost domestic and European flights. The airport has 1 runway and 1 terminal – home to convenient dining and shopping options.
Free Wi-Fi is available for up to 4 hours throughout the terminal, as well as currency exchange booths. Ground transportation options available are as follows:
Arrow Car is the exclusive taxi company serving East Midlands Airport. From standard cars to limos to minibuses, they have the right vehicle for your needs. Your transfer can be pre-booked online and paid by credit card.
Uber is also available at EMA.
Skylink buses to Nottingham and many other destinations in the East Midlands leave every 20 minutes, 24/7, from EMA. The journey to Nottingham city centre takes around 45 minutes. It's the cheapest transfer choice available.
Major car rental agencies such as Avis, Hertz, and Sixt have a desk in the EMA terminal. It's advisable to pre-book your vehicle online before getting there.
Nottingham Midland station
First built in 1848, then revamped in 1904, Nottingham Midland station is a beautiful Edwardian-Baroque-Revival-style building on Carrington Street, a short walk away from the city centre. Despite its age, the station features Wi-Fi and refreshment facilities.
As the main train station, Nottingham Midland is also a junction point on the city's tram network. From here, besides the tram, other ways for reaching your hotel include bus, taxi, and rideshare.
Nottingham coach stations
National Express and Megabus are the 2 main coach companies serving Nottingham. Travelling by intercity bus is the most affordable way to get to Nottingham from London. The journey takes 3 hours, depending on the traffic.
The primary coach station is on the aptly named Station Street, a short distance from Nottingham Midlands railway station. Tram, bus, taxi, and rideshare are the transportation options available to transfer you to your hotel.
4
How to get around Nottingham?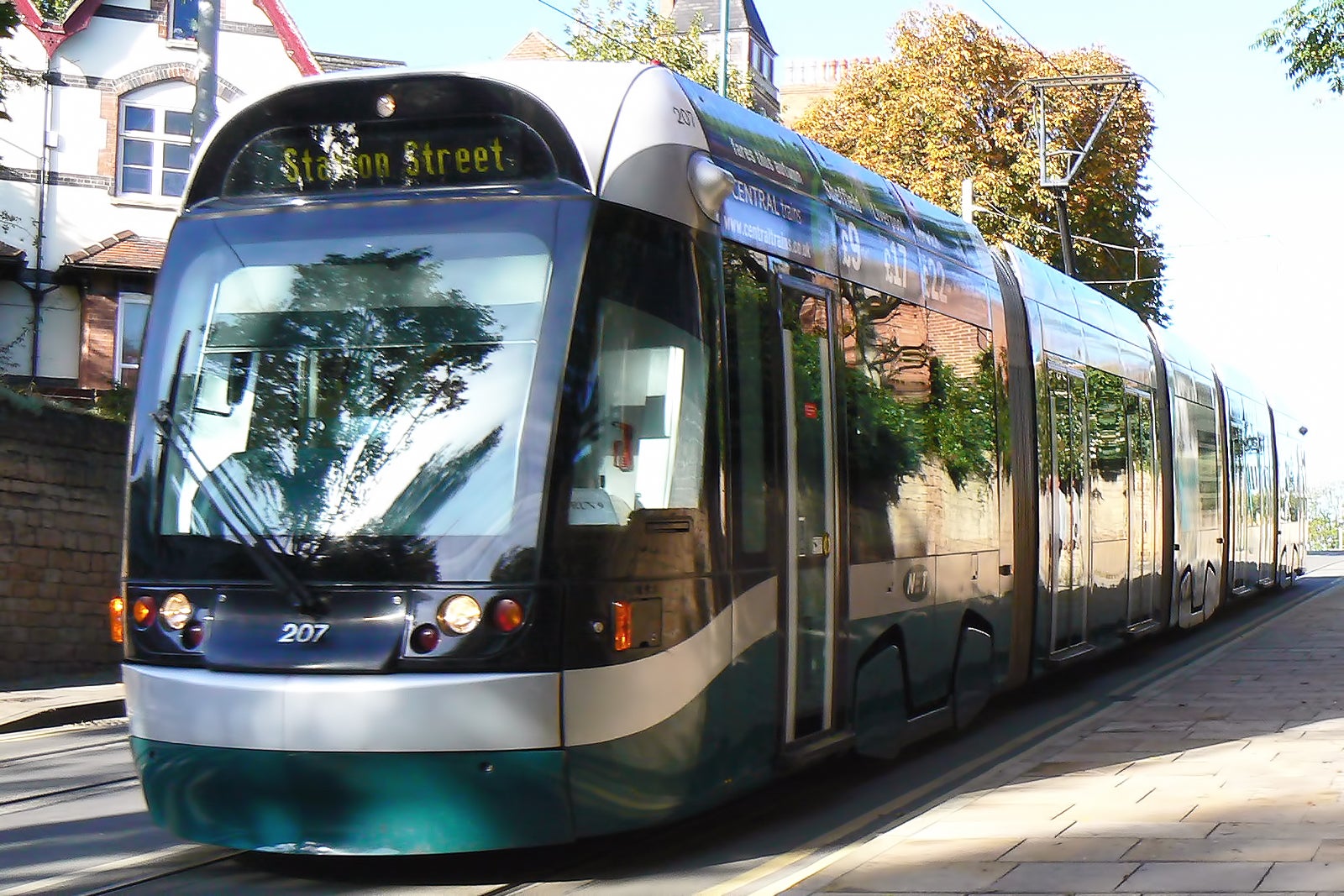 Travel tips
Nottingham city centre covers an area of less than a square mile and is easily walkable. It's filled with landmarks and iconic buildings such as Nottingham Castle, Old Market Square, and the City of Caves, just to name a few. Downtown Nottingham is also home to a fantastic range of dining and shopping options, as well as cool bars for enjoying a nightcap.
Cycling is also a pleasant way to explore the city on brighter days. For longer distances, Nottingham Express Transit (NET) runs an extensive network of trams and Nottingham City Transport (NCT) runs bus services that cover the entire county.
How does the tram work?
Nottingham Express Transit (NET) runs 2 tram lines featuring 50 stops across the city. There's one line that links Phoenix Park to Clifton via the City Centre while the other links Hucknall to Chilwell via the City Centre, QMC, and Beeston. Many stops connect with the NCT bus network. Trams usually run from 6 am to midnight.
Ticket machines are available at every tram stop. Single, day, and week tickets are available. If you plan to travel by tram a lot, you can also buy a Robin Hood Smartcard on the NET website. Note that the NET trams are wheelchair accessible.
Taking a taxi in Nottingham
DG Taxis (+44 (0)115 960 7607), Trent Cars Nottingham (+44 (0)115 950 5050), and Arrow Cars Nottingham (+44 (0)115 956 5757) are just a few of the taxi companies you'll find in Nottingham. You can hail a taxi on the street in Nottingham, and you can often find them lined in front of hotels, major attractions, and the train station.
Tipping isn't expected in the UK, though you can give a tip of 10-15% of the fare if you're happy with your driver's service. DG, Arrow, and other major taxi companies have apps you can download on your phone with which you can pay for the fare.
Uber is available in Nottingham.
Travelling by bus
Run by the municipality, Nottingham City Transport (NCT) runs an extensive bus system that covers the entire city and a few neighbouring towns.
You can buy a ticket on the bus with cash or contactless card. Even so, it's recommended to pay for your trips in advance with an Easyrider Smartcard or to install the NCTX Buses app to help you save money. Buying a Robin Hood Smartcard is also a desirable choice as it allows you to use both the tram and bus networks without needing separate payment methods.
Renting a car in Nottingham
Renting a car is preferable if you plan to go outside the city and explore Nottinghamshire. Car rental companies are available at the airport and throughout Nottingham. Foreigners can use their country driving license for up to 12 months in the UK.
As for parking spaces, there are plenty across Nottingham with various price bands.
Cycling around Nottingham with CityCard Cycles
Nottingham aims at becoming a bike-friendly city. It hosts over 600 miles of countryside and urban cycle routes. You have different options to hire a bike in Nottingham, as follows:
CityCard Cycles is the bike-sharing scheme run by the municipality. You can join the system by registering on their website. Once done, you'll receive login and PIN details. You'll then have to get to one of the 7 stations throughout the city and get yourself a bicycle.
Russell's Bicycle Shed (+44 (0)115 986 2917), U-cycle (+44 (0)754 641 2573), and Rutland Cycling Nottingham (+44 (0)115 978 3876) are just a few of the shops at which you can hire bicycles in Nottingham.
5
What are the main annual events in Nottingham?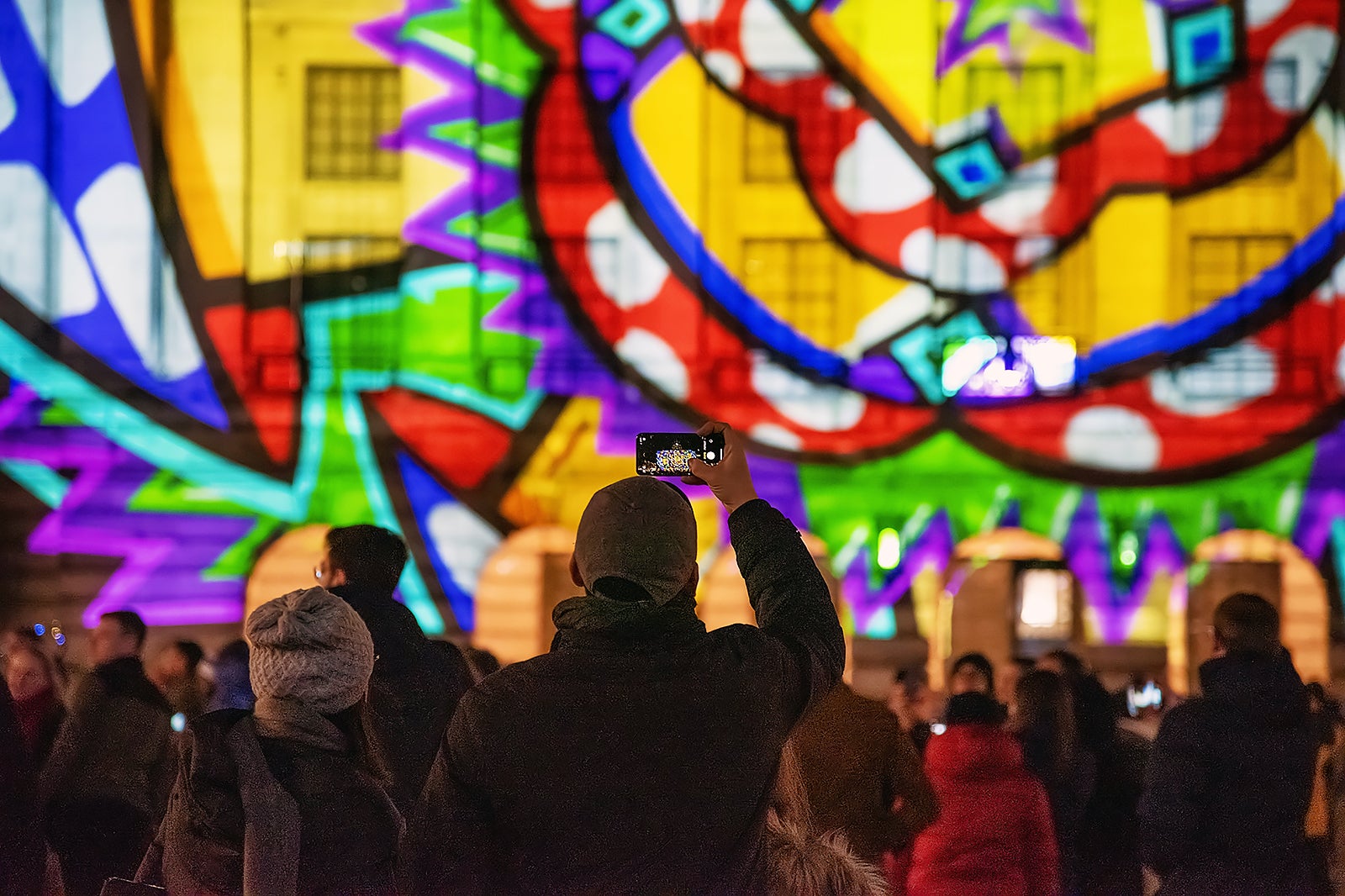 Robin Hood Festival
August
Held since 1984, the Robin Hood Festival is a week-long celebration of the memory of a world-famous outlaw. It features live reenactments in costume, archery contest, swordfighting, storytelling, and more.
Where: Sherwood Forest Country Park
Splendour Festival
July
One of the biggest live music events held in Nottingham since 2008, with over 40 performances on 5 stages in a day. The Pogues, Bananarama, UB40, and many other world-famous bands have performed.
Where: Wollaton Hall and Deer Park
Heritage Open Days
September
One of England's largest festivals of architecture, history, and culture. Visit historical landmarks for free and join guided tours of hidden places, and attend cultural events organised by volunteers.
Where: Throughout Nottingham
6
What are the main landmarks in Nottingham?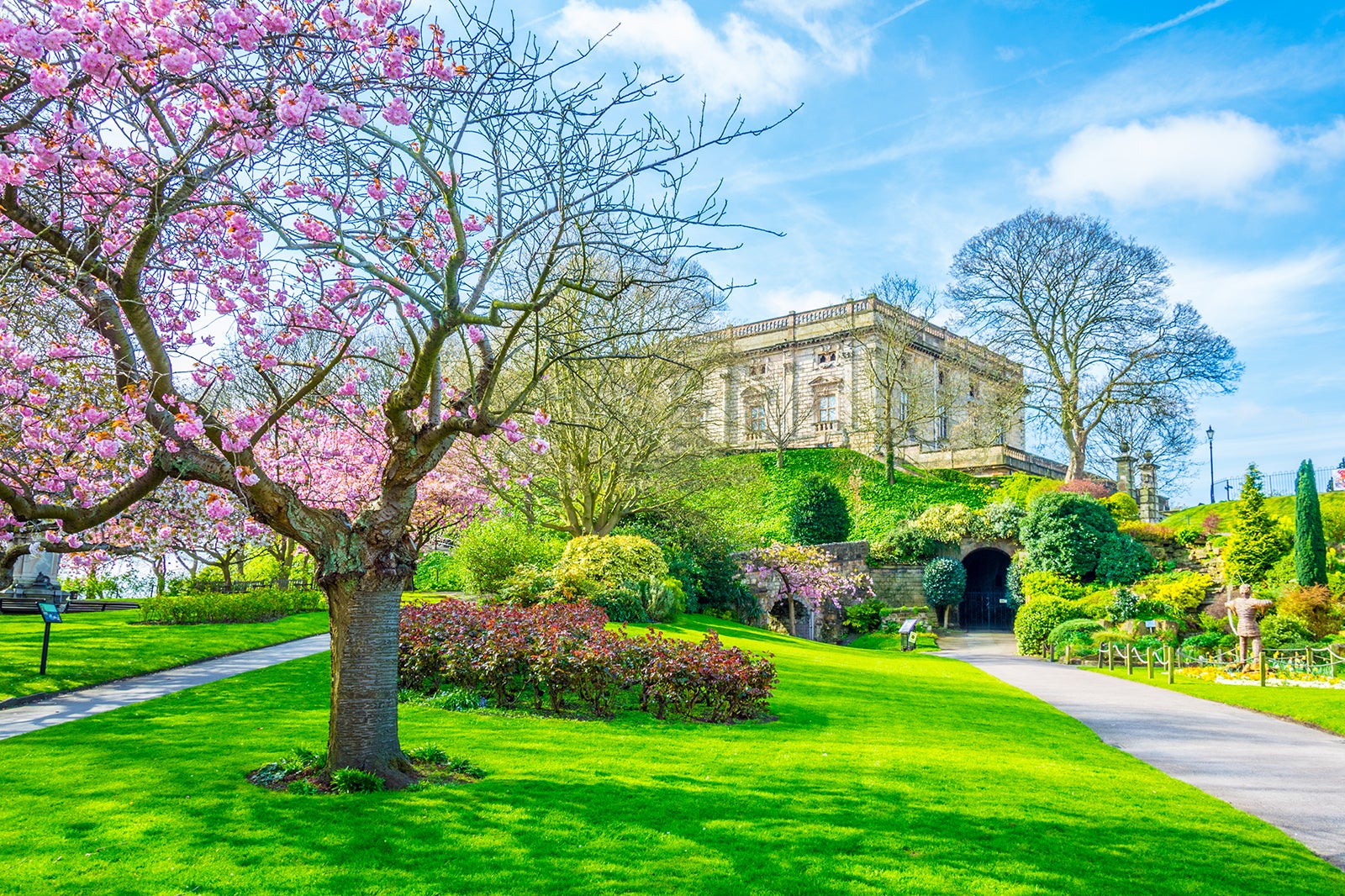 Nottingham Castle
The building still known as Nottingham Castle is a ducal manor house instead of a strategic fortification. Demolished and rebuilt several times throughout its long history, it is now a museum and art gallery.
Wayne Manor at Wollaton Hall
A natural history and industrial museum that stood in as Wayne Manor in The Dark Knight Rises (2012). The Elizabethan manor is west of Nottingham city centre.
Newstead Abbey
The late home of Lord Byron and a former Augustinian priory found 9 miles from Nottingham city centre. Explore the 12th-century monastic abbey and visit the poet's apartment and the well-preserved rooms and cloisters.
Sherwood Forest
Famously the hideout of Robin Hood and home to dozens of walking and cycling routes between the ancient oak, silver birch, and rowan trees. The forest is about 25 miles north of Nottingham.
Back to top