Corsica Travel Essentials
Useful Information to Help You Start Your Trip to Corsica
Corsica resembles a miniature continent in the southeastern Mediterranean coast of France, and one that earns its nickname of the 'Isle of Beauty'. With glittering bays, dense forests, stunning coastlines and pink cliffs, Corsica is an excellent holiday opportunity. From snorkelling to hiking, you can't run out of adventures on this vibrant island.
Experience traditions that span centuries, explore cobbled streets and participate in the thriving art and music scene. The locals are proud of their history, which you'll see in the island's ancient architecture and cultural performances. Ride horseback through scenic villages or jump on a boat to explore the coasts. With Corsica's warm climate, you're in for an excellent summer getaway.
1
Best time to visit to Corsica (weather-wise)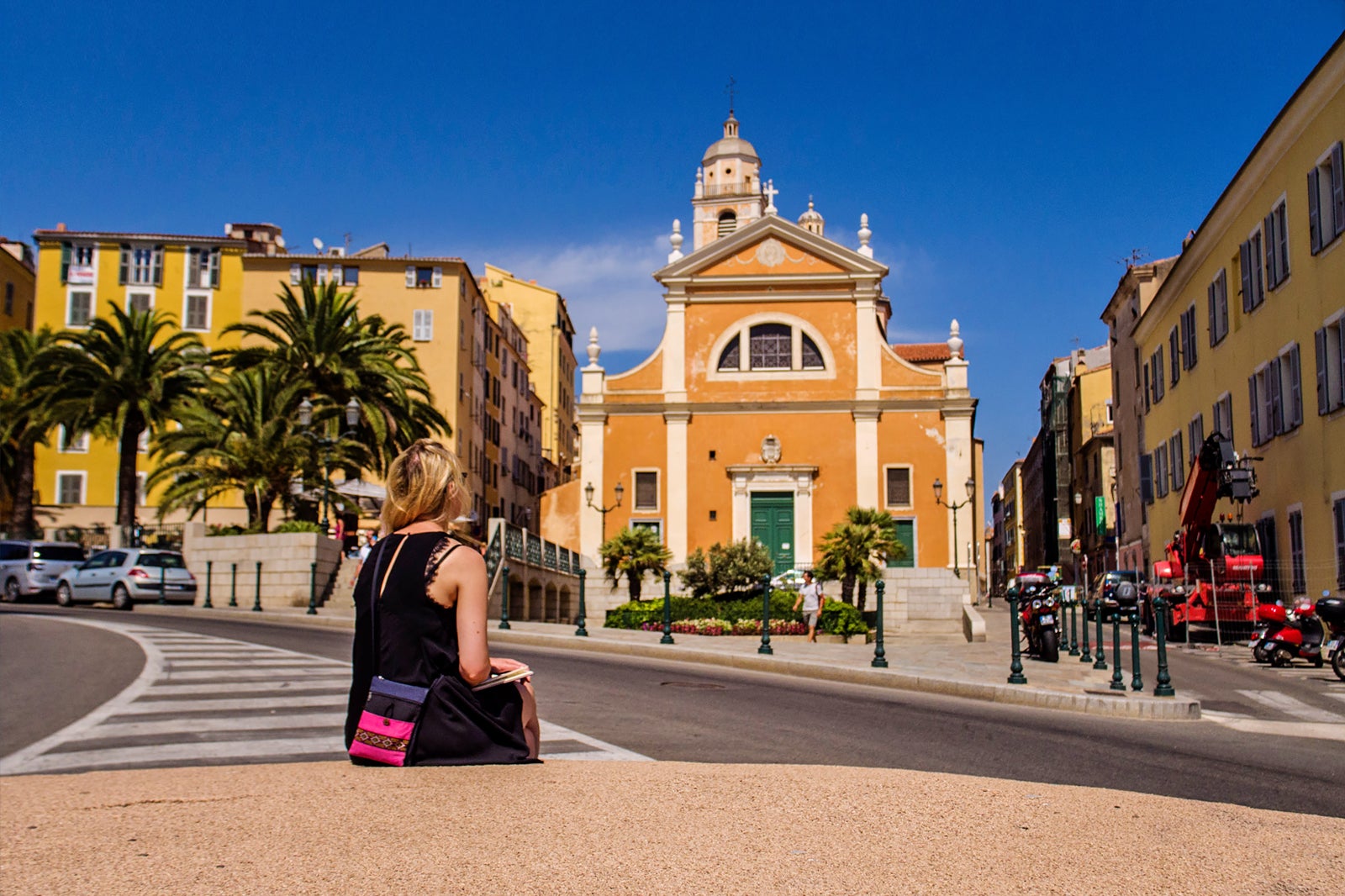 Corsica typically enjoys a mild Mediterranean climate with warm summers and rainy winters.
Average temperatures are generally around 13°C in winter and 27°C in summer.
The rainiest months of the year are October and November, with an average of 8 rainy days per month. December to April have a similar number of rainy days, but significantly less actual rainfall.
The best time to go to Corisca is between April and September, when the sunny weather is best suited to leisurely activities like touring, hiking and even diving.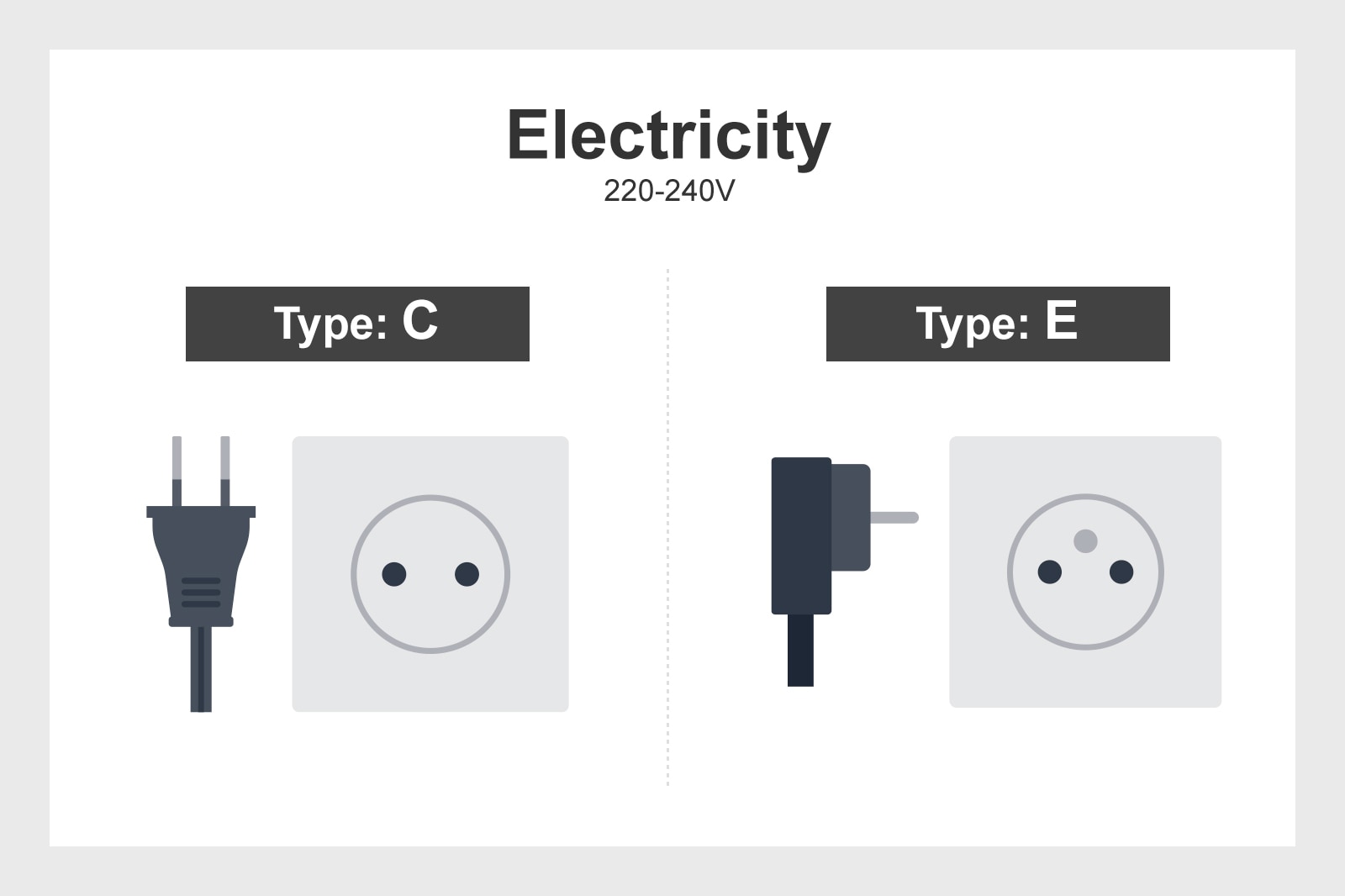 Primary languages: French, Corsu
Plug types: C, and E
Electricity: 220-240 V
Currency: Euro (€)
International dialling code: +33
Emergency telephone number: 112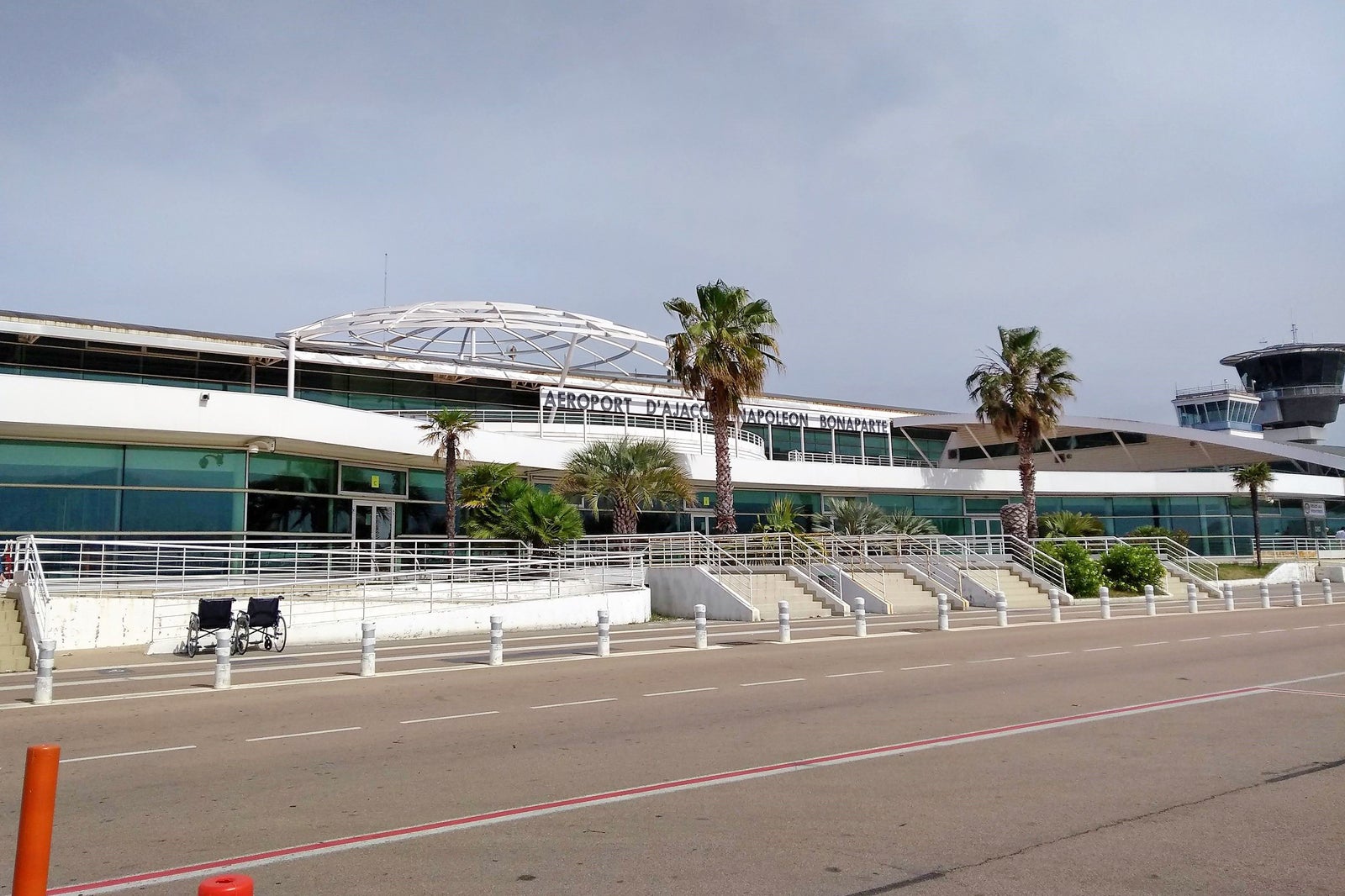 Ajaccio Napoleon Bonaparte Airport
Ajaccio Napoleon Bonaparte Airport (AJA) serves the city of Ajaccio – the capital of Corsica – and the southern end of the island. It's located right on the coast, about 5 km east of the city centre.
Getting to Ajaccio: You can take the bus from the airport to the bus station in Ajaccio. Buses operate every hour and take about 30 minutes to complete a trip. Taxis and car hire services are available at the arrivals hall. It takes about 15 minutes to drive into the city and should cost about €15 by taxi.
Bastia-Poretta Airport
Bastia-Poretta Airport (BIA) is the main airport serving the Upper Corsica department. It's located about 17 km south-south-east of Bastia, near Lucciana.
Getting to Bastia: There's a shuttle bus that runs from the airport to Bastia train station in the city centre. It costs €9 and takes around 25 minutes. There are also taxis available from in front of the arrival terminal. Expect to pay about €35 or €45 if you're travelling in the evening or at night. The journey should take about 30 to 35 minutes. Car rental agencies are also available.
Calvi Sainte-Catherine Airport
Calvi Sainte-Catherine Airport (CLY) is a small airport in the province of Calvi. It's located 6 km southeast of Calvi, in the Haute-Corse department.
Getting to Calvi: There's no public transportation available between the airport and the city of Calvi. The best way to transfer to and from the airport is by hiring a car from one of the companies at the airport. It would also be easy to find taxis in front of the airport's arrival hall. Fares to the city centre usually cost €15 to €20.
Figari Sud Corse Airport
Figari Sud Corse Airport (FSC) is located 3 km from the village of Figari, 25 km from Porto-Vecchio and 21 km from Bonifacio.
Getting to Bonifacio: Taxis are available at the airport for €52 to €65. However, you can also get to the city much cheaper with Uber, which usually costs €26 to €43. While the bus service from the airport to Bonifacio no longer exists, you can still get to Bonifacio from a bus in Porto-Vecchio. The trip between the 2 points costs €4. Buses operate year-round from Monday to Saturday, with 2 to 4 round trips a day.
photo by patrick janicek (CC BY 2.0) modified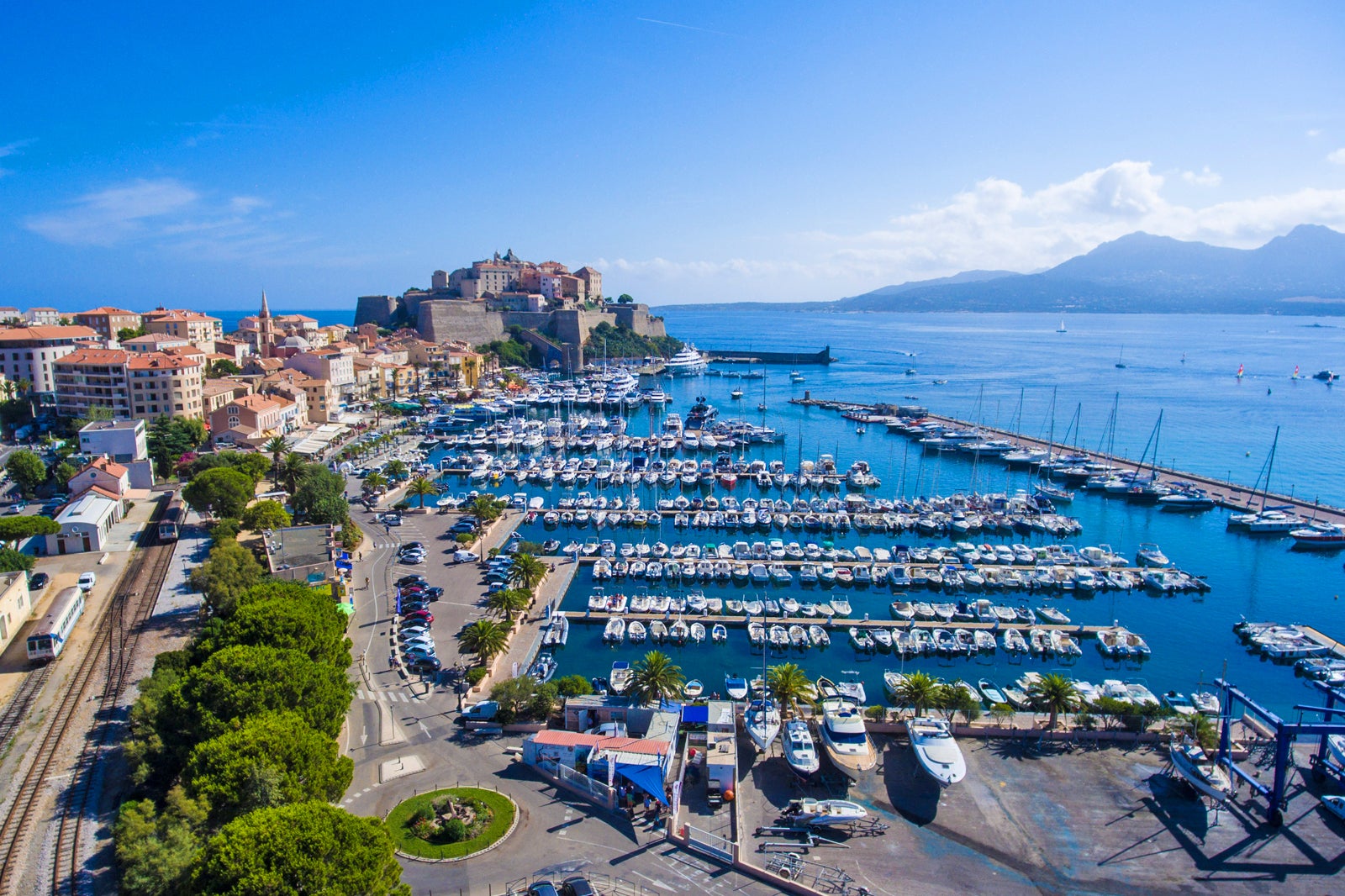 Corsica has many sights that you simply can't miss. Fortunately, there is more than 1 way to see them all. Public transport only connects larger towns and cities, so many visitors choose to rent a bike or scooter to visit the island's more remote destinations. Some also prefer exploring the island on foot.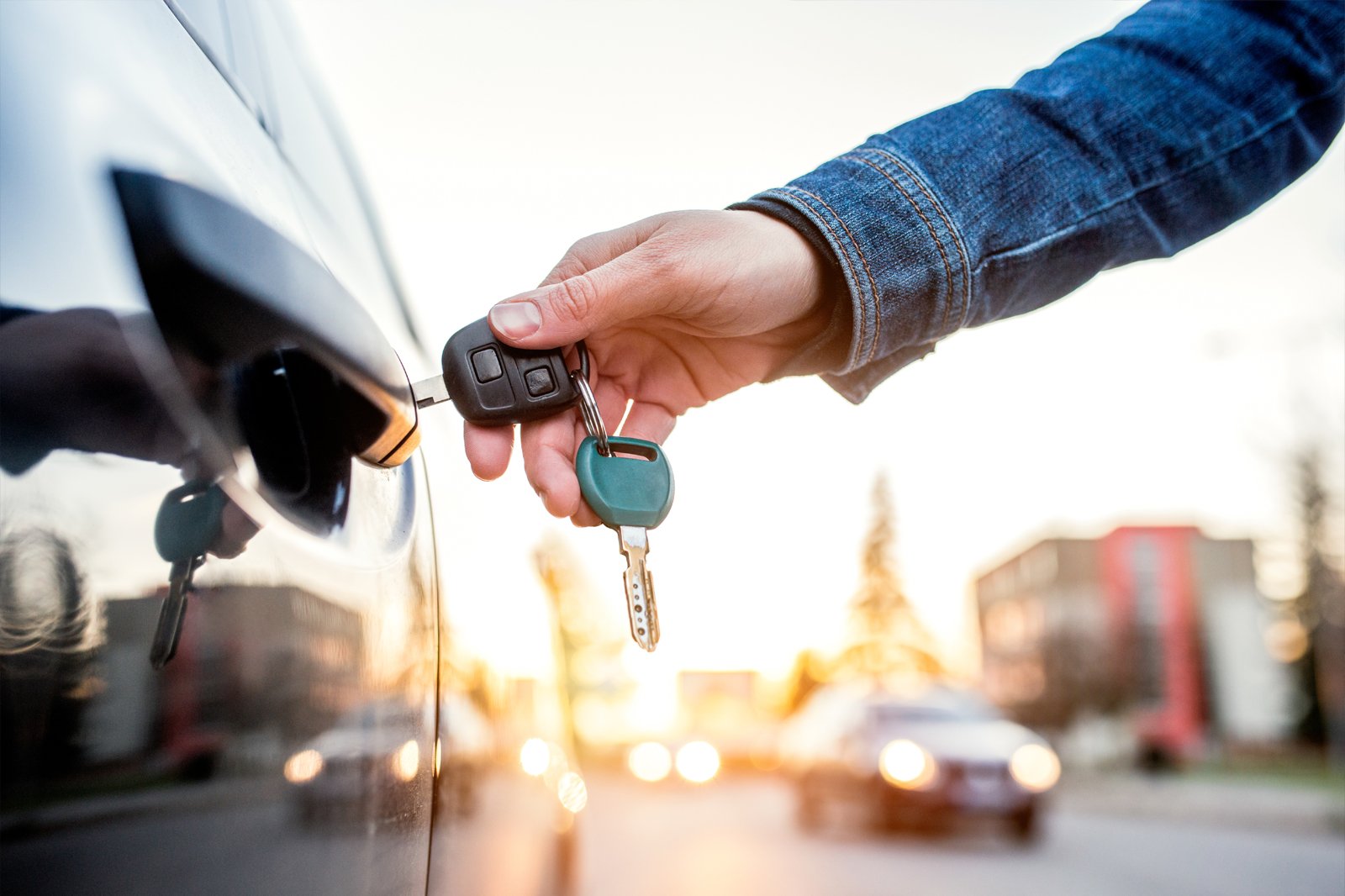 A rented car is one of the best ways to get around Corsica. Just note that roads are narrow and winding.
You can rent a car at the airport, town centres, and even ferry wharves.
Drive on the right-hand side of the road.
An International Driving Permit will suffice, but Europeans need a license from their own country.
Road signs and locations are written in French and Corsu.
There are many speed bumps in the villages, with a 30 km/h speed limit.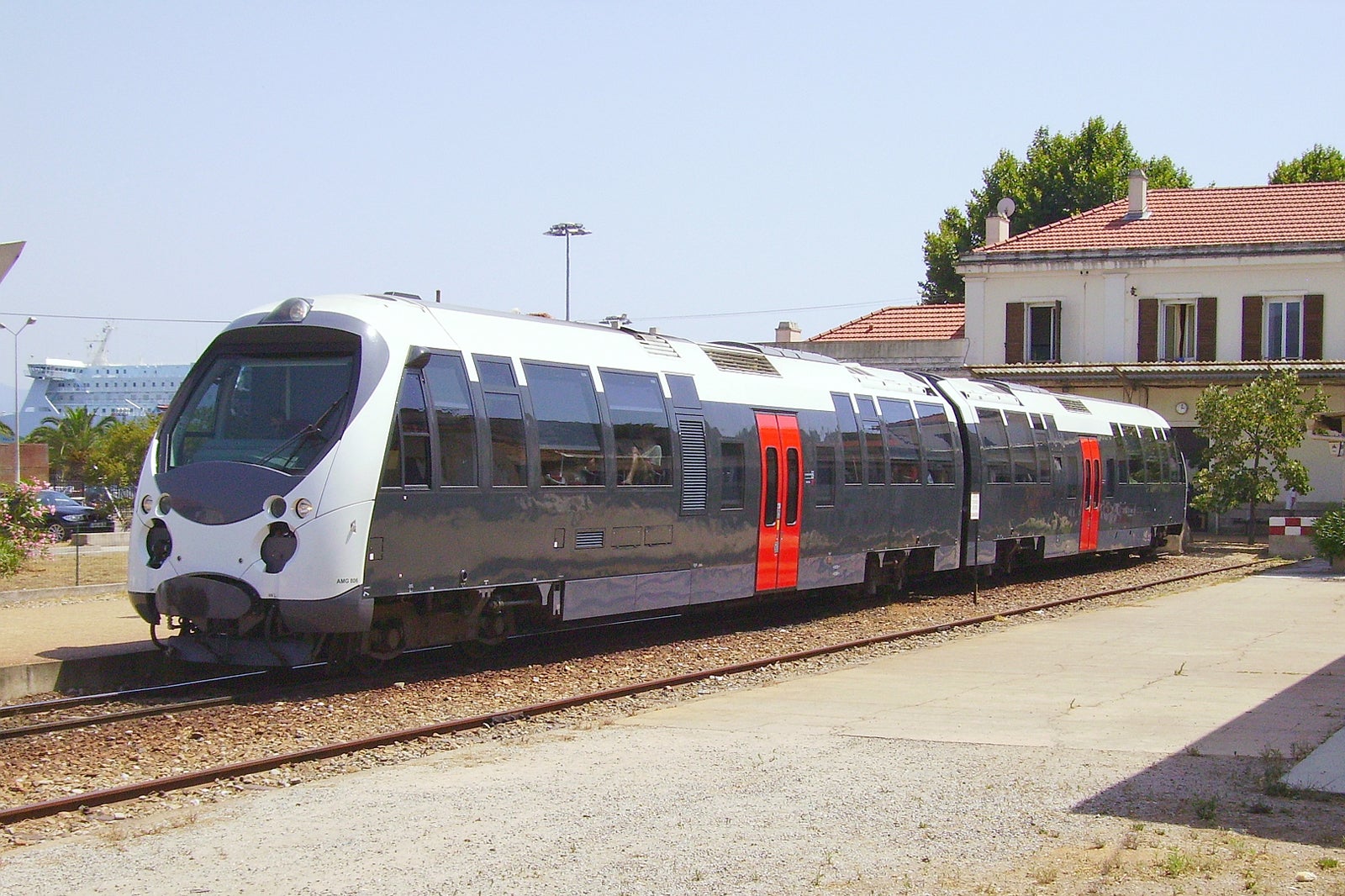 The Chemins de Fer de la Corse is the only rail network on the island. While taking the train offers limited options, it's still worth the ride as it runs across the saw-toothed mountains between Bastia and Ajaccio.
The rail network comprises 16 stations overall.
There are 6 trips between Bastia and Ajaccio from Monday to Friday. Each takes almost 4 hours and costs €21.60.
There are 2 trains every day for trips between Bastia and Calvi, which takes about 3 hours and costs €16.40.
Similarly, there are 2 available trains between Ajaccio and Calvi, which takes 4.5 hours and costs €25.10.
No advanced booking required. Just buy your ticket at the station and board the train.
Purchase a Pass Libertà for unlimited train trips for 7 days.
photo by Didier Duforest (CC BY-SA 2.0) modified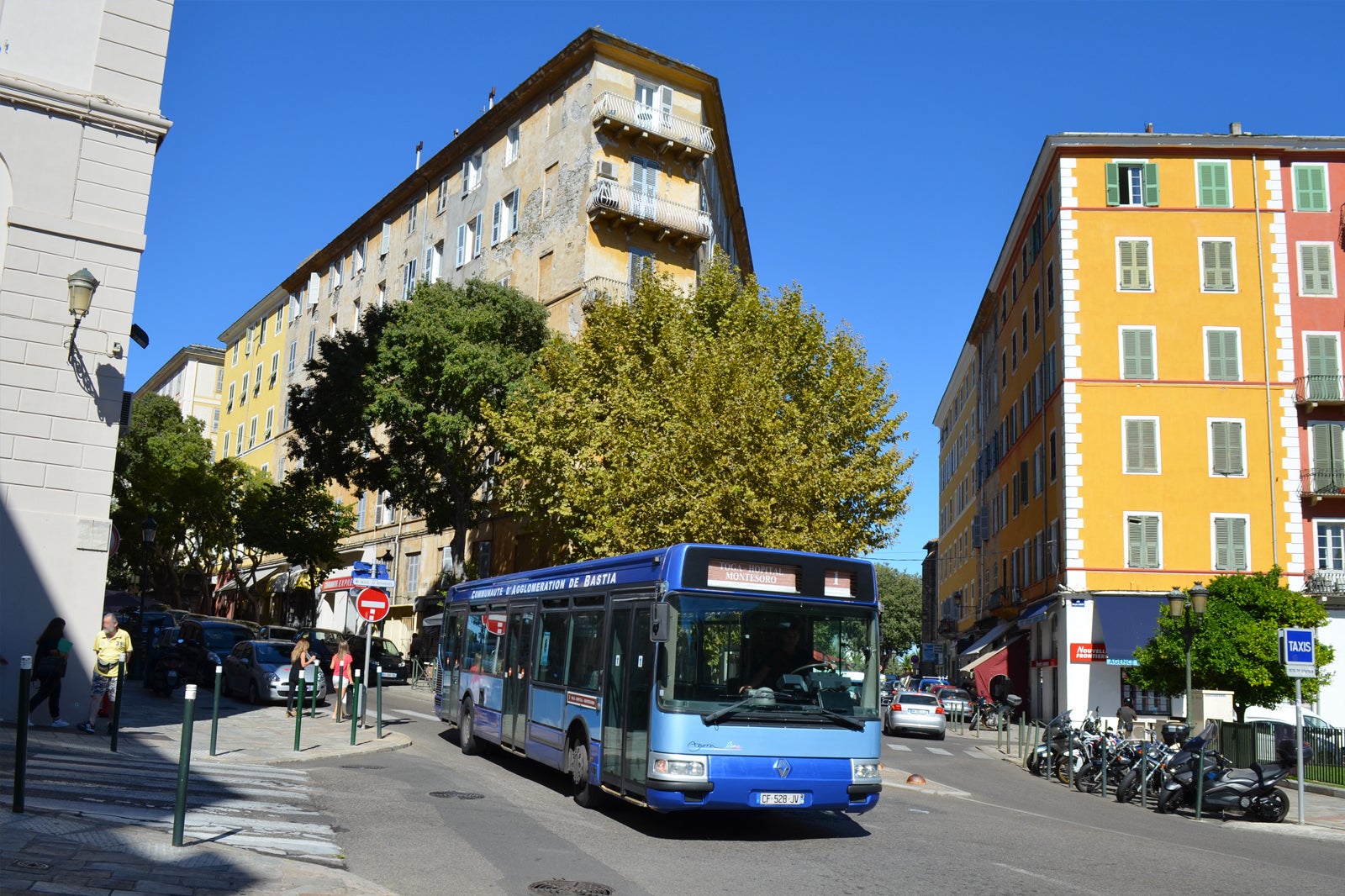 Corsica has a comprehensive bus network, formed by a few different companies, but there's only 1 bus per day for most routes. There are no buses on Sundays.
There are 5 main bus routes, with each trip lasting 1 to 3 hours.
Bus timetables are difficult to find. Ask for them from the local tourist office and bus companies or check websites on Corsica's bus routes.
Minibuses cover mountain villages, while large coaches travel between the major cities along main roads.
Bus fares are similar to the equivalent train fares.
photo by Snoopy 31 (CC BY-SA 4.0) modified
8
Annual events in Corsica to look out for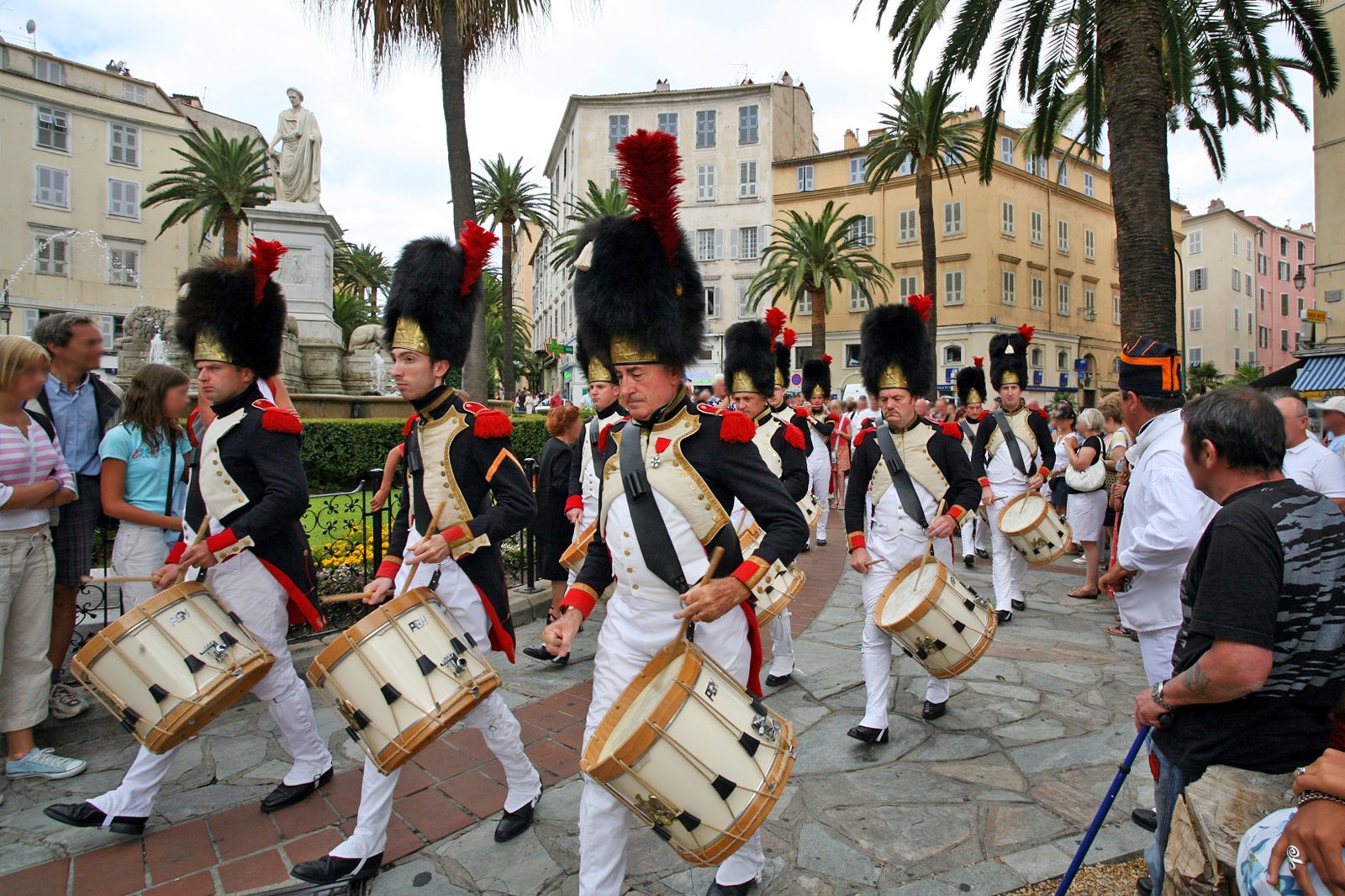 Calvi on the Rocks
What: An eclectic summer music festival, Calvi on the Rocks is popular for its showcase of electronic music talent.
When: Early July
Where: Various venues in Calvi, but especially Calvi Beach
Ajaccio Fête le Printemps
What: Experience an array of activities, made specifically to showcase the history and heritage of Ajaccio. Take the opportunity to explore ancient architecture and meet local artisans.
When: Late April
Where: Ajaccio
Fêtes Napoléoniennes
What: Corsica pays homage to Napoleon with Fêtes Napoléoniennes. Locals celebrate the French statesman's birthday with a display of fireworks, military-themed parades, and street performances and attractions.
When: 15th August
Where: Ajaccio
Festival de Musique d'Erbalunga
What: 3 nights of open-air pop music concerts in a centuries-old village.
When: August
Where: Erbalunga
photo by Steve Hedin (CC BY-SA 3.0) modified
Back to top