Oberkampf is a young and hip neighbourhood in Paris nestled between the more popular districts of Bastille and Republique. The former artisan's quartier is part of the Faubourgs, which were the narrow streets critical to the French Revolution in the 18th to 19th centuries.
Working-class Parisians, particularly artisans and traders specialising in ceramics and metallurgy, used to reside in this neighbourhood. Now, it's home to a wide variety of trendy bars, nightclubs, restaurants, basement dives, and concert halls. It's the place to be if you're interested in a fun and entertaining night out in Paris that won't break the bank. Unlike the better-known districts of the French capital, Oberkampf doesn't see swarms of tourists. Most of the people who come here are locals.
The highlights of Oberkampf district
This Parisian neighbourhood is best explored on foot, starting from its main street – Rue Oberkampf. Along this narrow road, you'll find bistros and bars that won't charge an arm and a leg. Although it has a laid-back and peaceful atmosphere during the day, it transforms into a lively party scene at night.
Like many other neighbourhoods in Paris, it has several passageways and narrow streets that will take you to hidden gems. In Rue Denoyez, for example, you'll find entire buildings decorated in street art.
Marche des Enfants Rouges is the oldest covered market in Paris, which is situated on Rue de Bretagne. If you're in the neighbourhood, it's one of the areas that you should check out. It has a wide array of locally made foods and international cuisines. From Japanese to Lebanese specialities, it's a melting pot of flavours from all over the world. It's open from Tuesdays to Saturdays.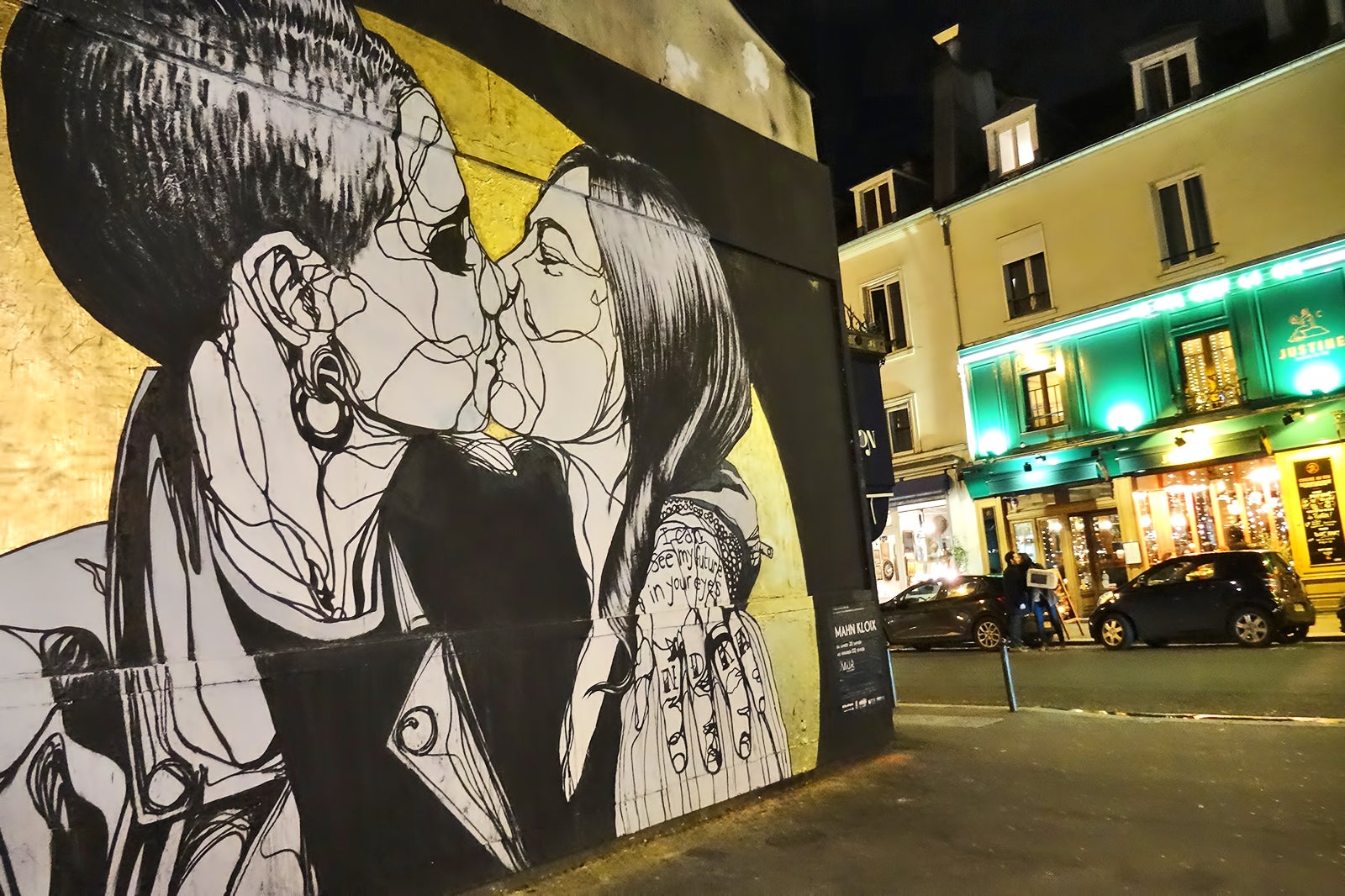 What are the best bars and restaurants in Oberkampf?
Barbeque might be the last thing on your mind in Paris. However, an American Steakhouse called Melt might just change that. You can get brisket, spareribs, and other slow-smoked meats with a side dish of your choice. They have fries, potato salad, cauliflower puffs, and more.
Whether you're looking for brunch or a late-night drink, Charbon Café can accommodate you. It's a famous restaurant in the area, dating back to the 1900s. Inside, you'll find high ceilings, large mirrors, red banquettes, and woodwork. During the weekends, a DJ comes in and plays electro and pop music. If you're looking for a chill evening, however, avoid the weekends because they're always packed.
Another vibrant bar that's very well-known is Ave Maria. Everything from its décor to its cocktails is quirky and fun. Its laid-back atmosphere makes it a great place to grab a drink after a tiring day out.
How to reach the Oberkampf district?
The fastest way to reach Oberkampf is on the Metro, using lines 5 or 9. You can get off at the station of the same name. You can also get on lines 2, 3 and 8 to reach this district. Depending on what line you're on, you might stop at other stations, including Paramentier, Rue Saint-Maue, Voltaire and Menilmontant.
You can get to the district using other modes of transport, such as bikes and scooters. Just keep in mind that the traffic in the city can be quite hectic.
From Oberkampf, you'll find a few buses that can take you anywhere in the city. Bus line 69, for instance, operates from Place Gambetta to Champ de Mars. It passes tourist hotspots like the Louvre, Musee d'Orsay, Eiffel Tower, and more.
Oberkampf in Paris
Back to top