10 Best Things to Do in Munich
What is Munich Most Famous For?
Munich is one of the world's great beer and brewing capitals of Europe. This is best seen in its vibrant beer halls during the annual Oktoberfest or at a beer garden during the summer. You can visit Baroque and Renaissance cathedrals and opulent royal palaces dating back between the 12th and 18th centuries. Many of these structures are set in the city centre, with plenty of walking and cycling paths for your convenience.
Public squares and gardens can be found all over central Munich, where you can sit back and enjoy delicious German delicacies, pastries, and coffee after a day of sightseeing. Giving you plenty of opportunities to take beautiful photos, check out our guide of the best things to see, do and try in Munich.
What are the best things to do in Munich?
1
Marienplatz Square
See the Rathaus-Glockenspiel clock tower performance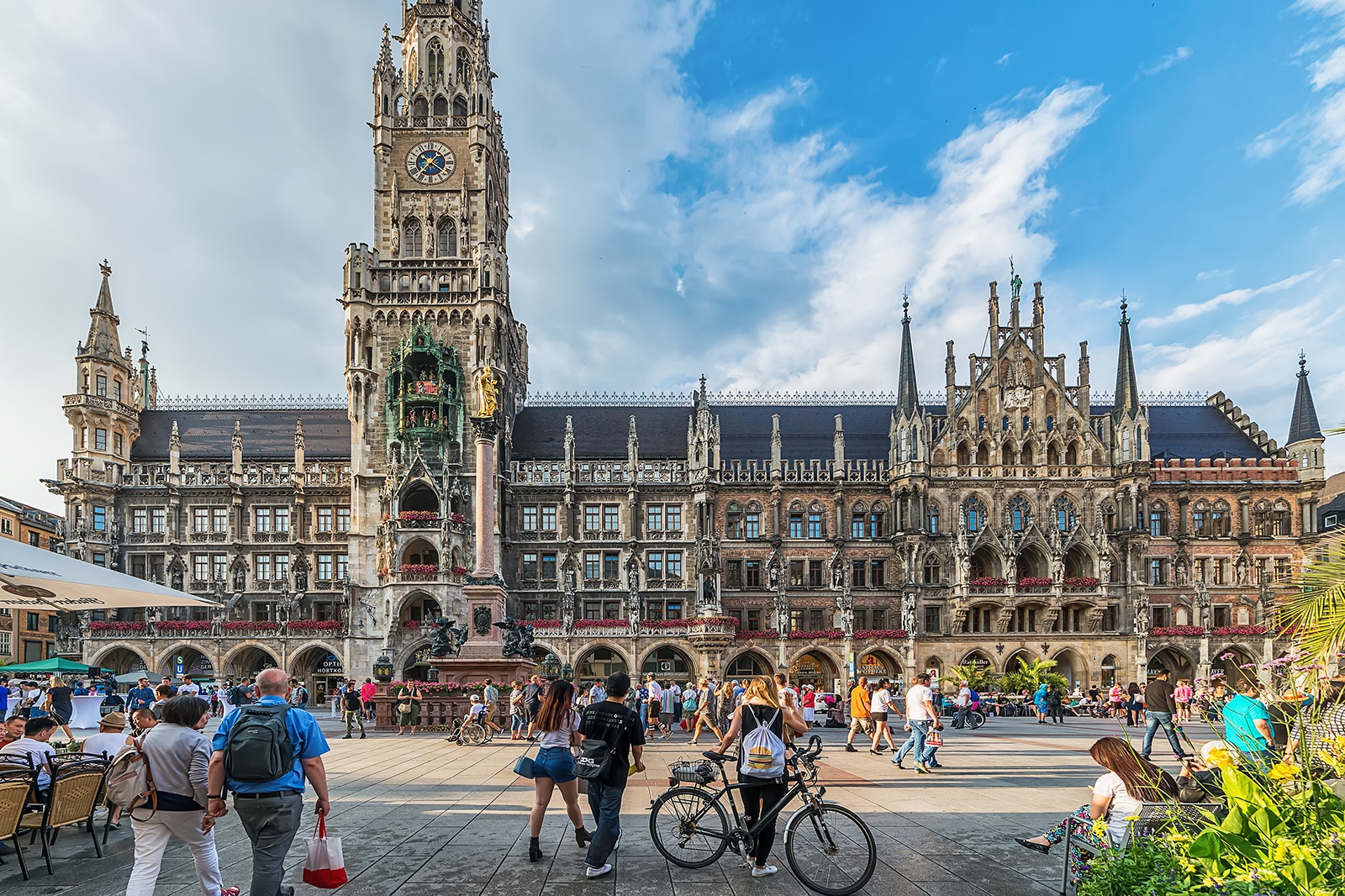 Marienplatz Square dates back to the early 12th century and is now one of the busiest landmarks in central Munich. This mediaeval square gives you plenty of photo opportunities thanks to its gothic buildings, stone gargoyles, and a centrepiece column topped with a statue of the Virgin Mary. If you're here at 11 am, 12 pm or 5 pm, make your way to the north side of Marienplatz Square to see the Rathaus-Glockenspiel clock tower. Here, you get to enjoy a performance of motorized figurines dancing and jousting inside of the tower. During the winter, a vibrant Christkindlmarkt (Christmas market) is held in the middle of the square, which typically starts 3 weeks before Christmas.
Location: Marienplatz 1, 80331 Munich, Bavaria, Germany
2
Munich Residenz
See original Renaissance and Baroque paintings, pottery, tapestries, and religious items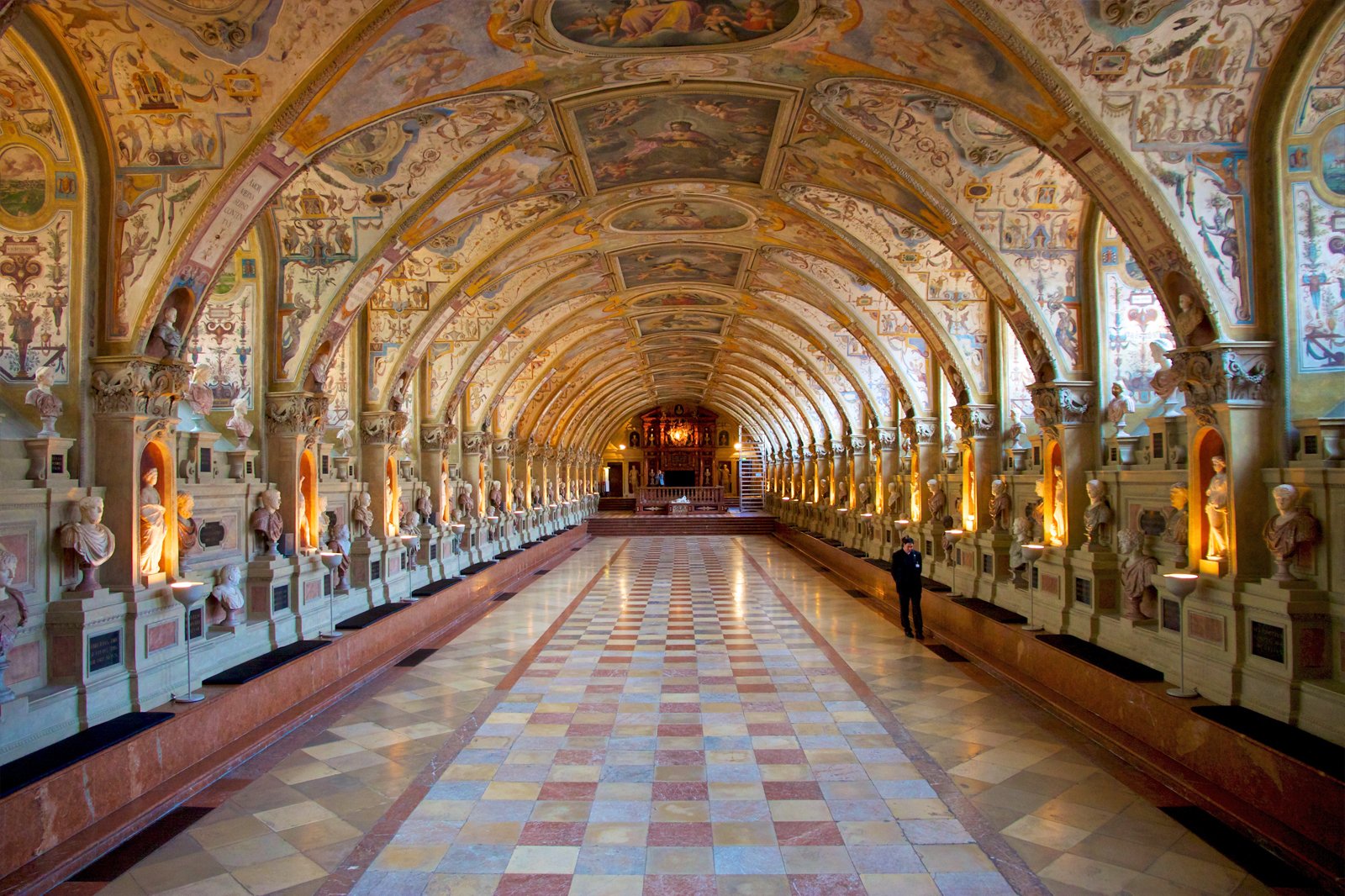 The grand palace of Munich Residenz is one of Bavaria's most impressive structures. You can spend hours exploring its many 14th century buildings, courtyards and gardens. There are 130 rooms inside the palace, including a museum, two-storey court chapel, an ancestral gallery, a treasury, and a banquet hall. Many of these rooms are gloriously furnished with antique furniture, frescoes, and tapestries dating back to the Renaissance, Neoclassical, and Baroque eras. From Marienplatz Square, you can easily walk the 1 km to Munich Residenz.
Location: Residenzstraße 1, 80333 Munich, Bavaria, Germany
Open: Daily from 9 am to 6 pm
Phone: +49 (0)89 290 671
photo by Jiuguang Wang (CC BY-SA 2.0) modified
3
Maximilianstrasse
Shop at designer stores in this upmarket neighbourhood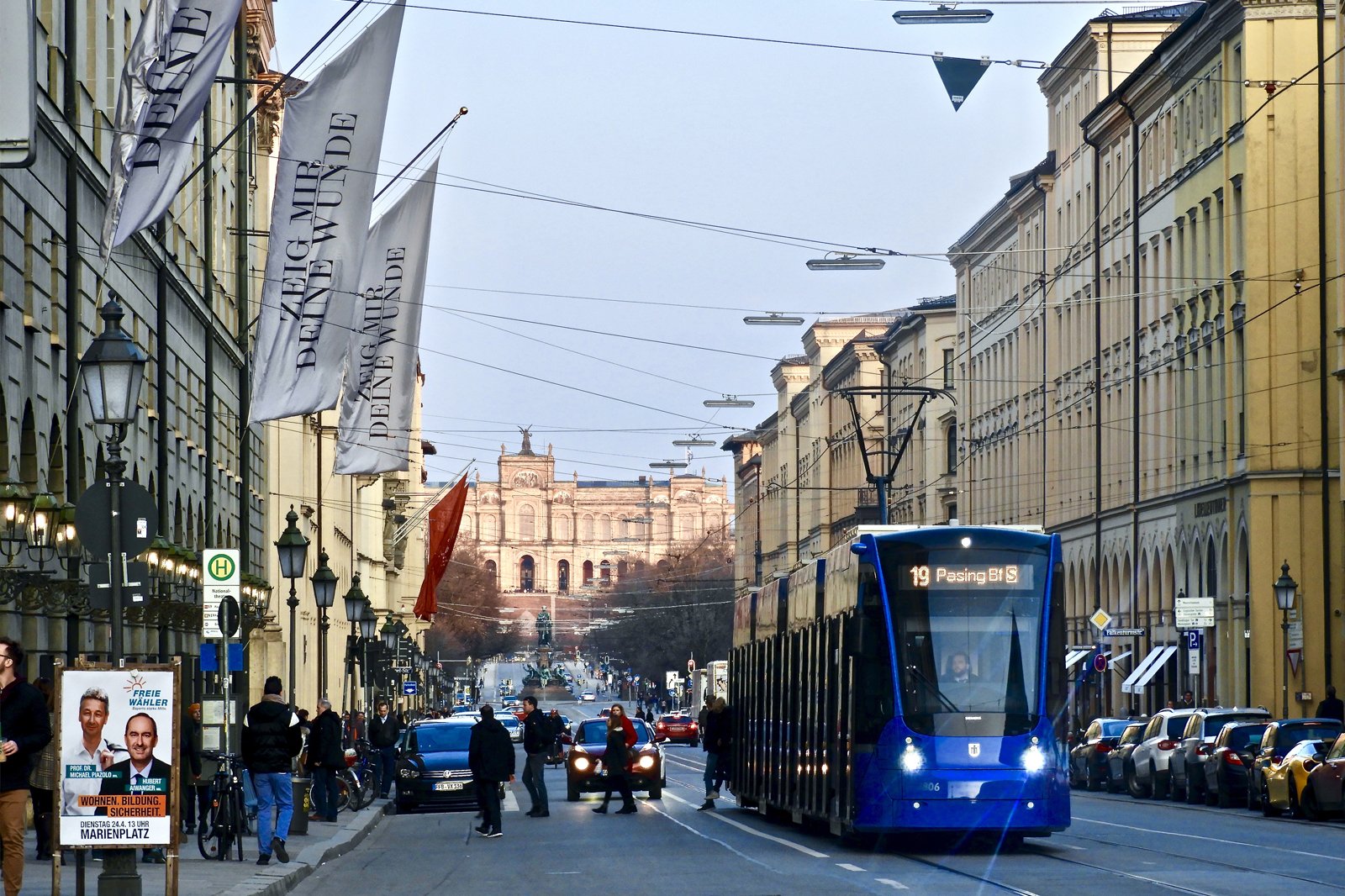 Maximilianstrasse is an elegant promenade that's home to Munich's affluent community. A 5-minute walk from Marienplatz Square, it was constructed in 1850 by King Maximilian II of Bavaria. Today, it's where you can find an upmarket shopping street lined with jewellery stores, 5-star hotels, and art galleries. There are also decent restaurants and cafes in the area, many of which offer views of Maximilianstrasse's neo-Gothic buildings. If you're not fan of designer goods, you could do a bit of sightseeing at the Upper Bavarian Parliament and the State Museum of Ethnology.
Location: Maximilianstrasse, 80331 Munich, Bavaria, Germany
4
Deutsches Museum
Get your DNA extracted and tested at the DNA Visitors' Laboratory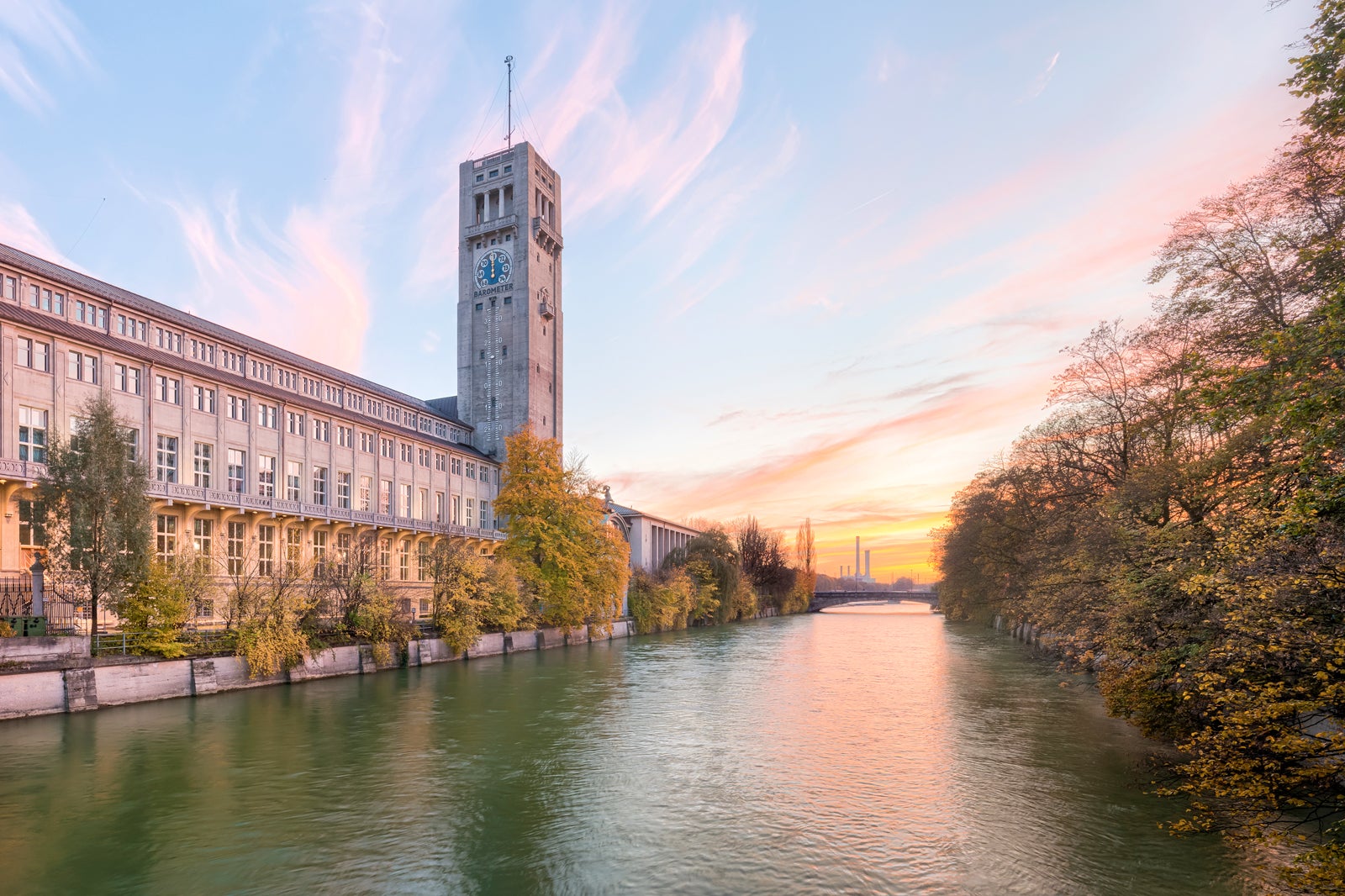 Deutsches Museum on the Isar River gives you hours of exploration thanks to its impressive science and technology exhibits. The six-storey museum covers an area of over 70,000 square meters, where you can find interactive displays, laboratories, and live demonstrations. There's a Hall of Fame that commemorates renowned scientists and Nobel prize-winners, such as Albert Einstein, Werner Heisenberg, Wilhelm Conrad Röntgen, Max Planck, and Otto Hahn. Among the many activities you can enjoy at Deutsches Museum is the DNA isolation course, which is offered every Saturday at 3pm.
Location: Museumsinsel 1, 80538 Munich, Bavaria, Germany
Open: Daily from 9 am to 6 pm
Phone: +49 (0)89 217 9333
photo by Julian Herzog (CC BY 4.0) modified
5
Englischer Garten
Grab a Hofbräu beer at one of Munich's largest beer gardens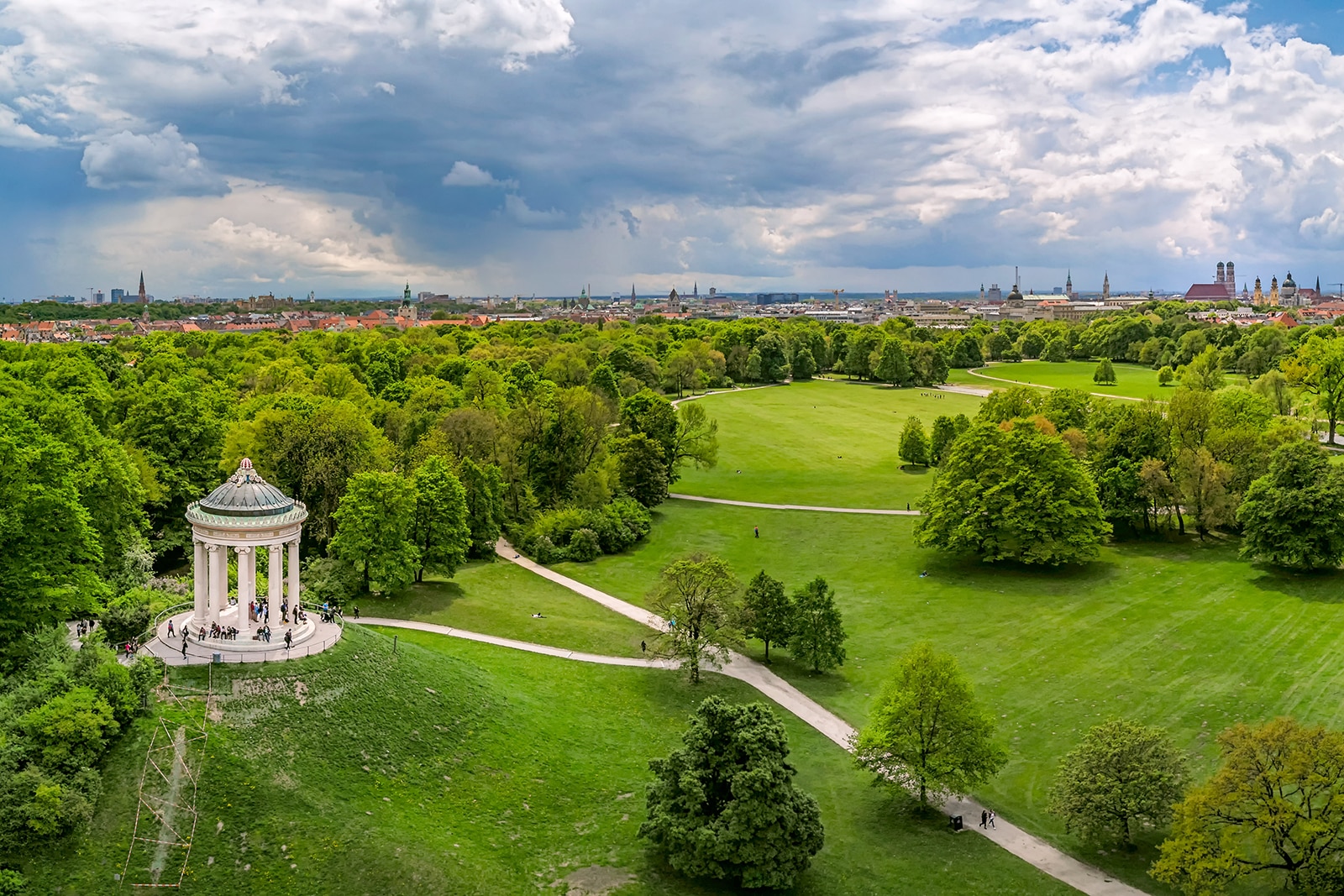 The Englischer Garten is an 18th-century city park in central Munich. Covering an area of 50,000 square metres, it's a popular spot for relaxation and activities such as jogging and cycling. One of its most significant attractions is a 25-metre-tall Chinese tower called Chinesischen Turm. To enjoy the view, Munich's 2nd largest beer garden is nearby, which has almost 7,000 garden benches facing the tower. An authentic Japanese teahouse is set on an island located at the southern end of Englischer Garten, where you can enjoy traditional tea ceremonies.
On warm days, you may stumble upon a crowd of nude sunbathers in Schönfeldwiese, a green expanse beside the Japanese teahouse. This is a common sight during summertime, so give it a try if you're feeling adventurous.
Location: Verwaltung des Englischen Gartens München, 80538 Munich, Bavaria, Germany
Open: Daily from 7 am to 8 pm
Phone: +49 (0)89 217 9333
6
BMW Museum
See vintage models from this iconic German brand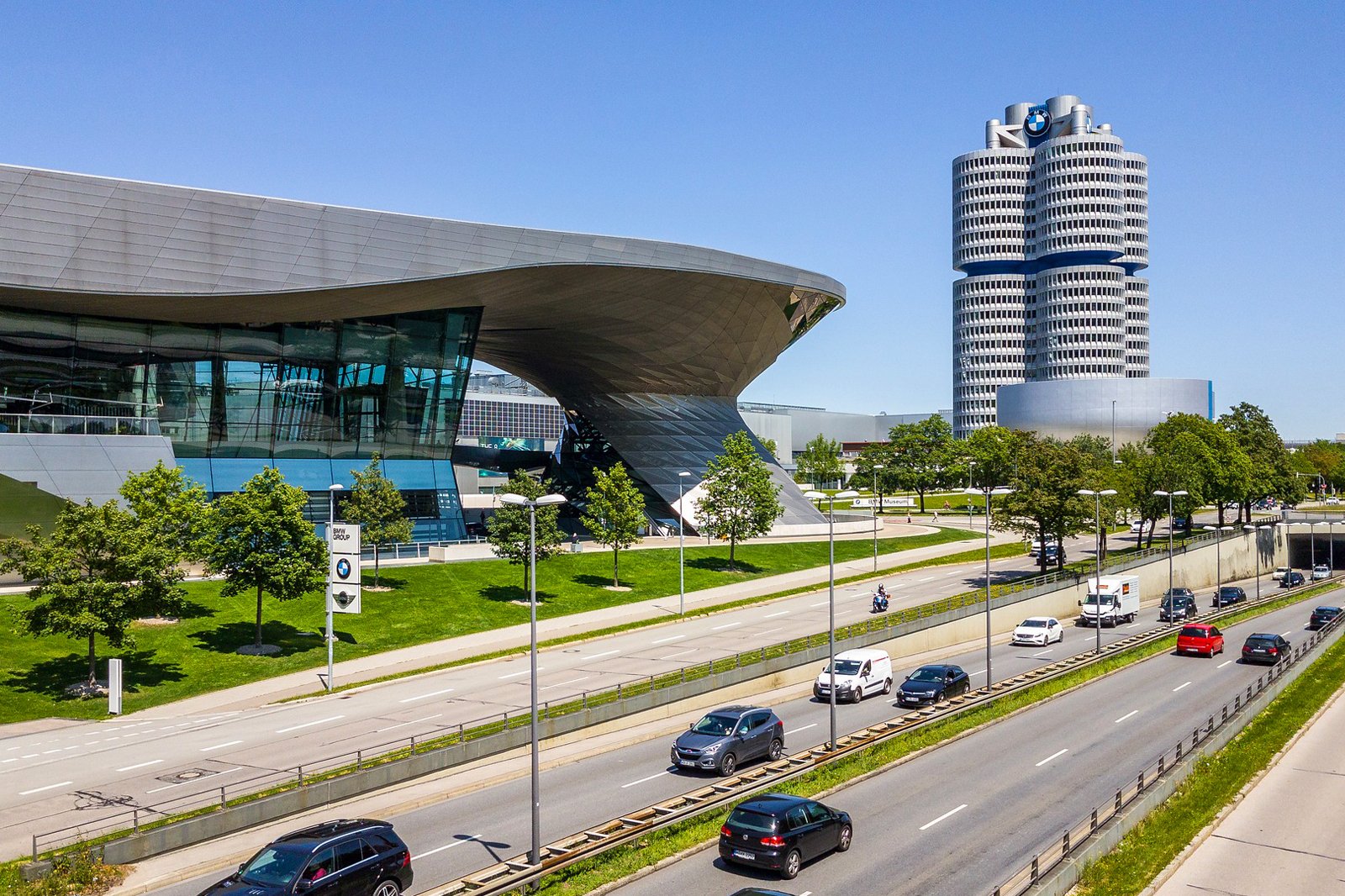 BMW Museum displays over 100 models by the renowned automobile company, including motorcycles, sports cars, and commercial vehicles. The museum itself features a futuristic concept, resembling a gigantic, silvery bowl and its iconic logo is visible from any high-rise building in Munich. The museum is also directly connected to the BMW Welt, a futuristic-themed showroom displaying the latest vehicle models. Guided tours are available in English and German from 10.15am to 4.30pm.
Location: Am Olympiapark 1 & 2, 80809 Munich, Bavaria, Germany
Open: Tuesday–Sunday 10 am to 6 pm (closed on Mondays)
Phone: +49 (0)89 125 016 001
7
Asamkirche (Asam Church)
See the ceiling fresco "Life of Saint Nepomuk" by painter Cosmas Damian Asam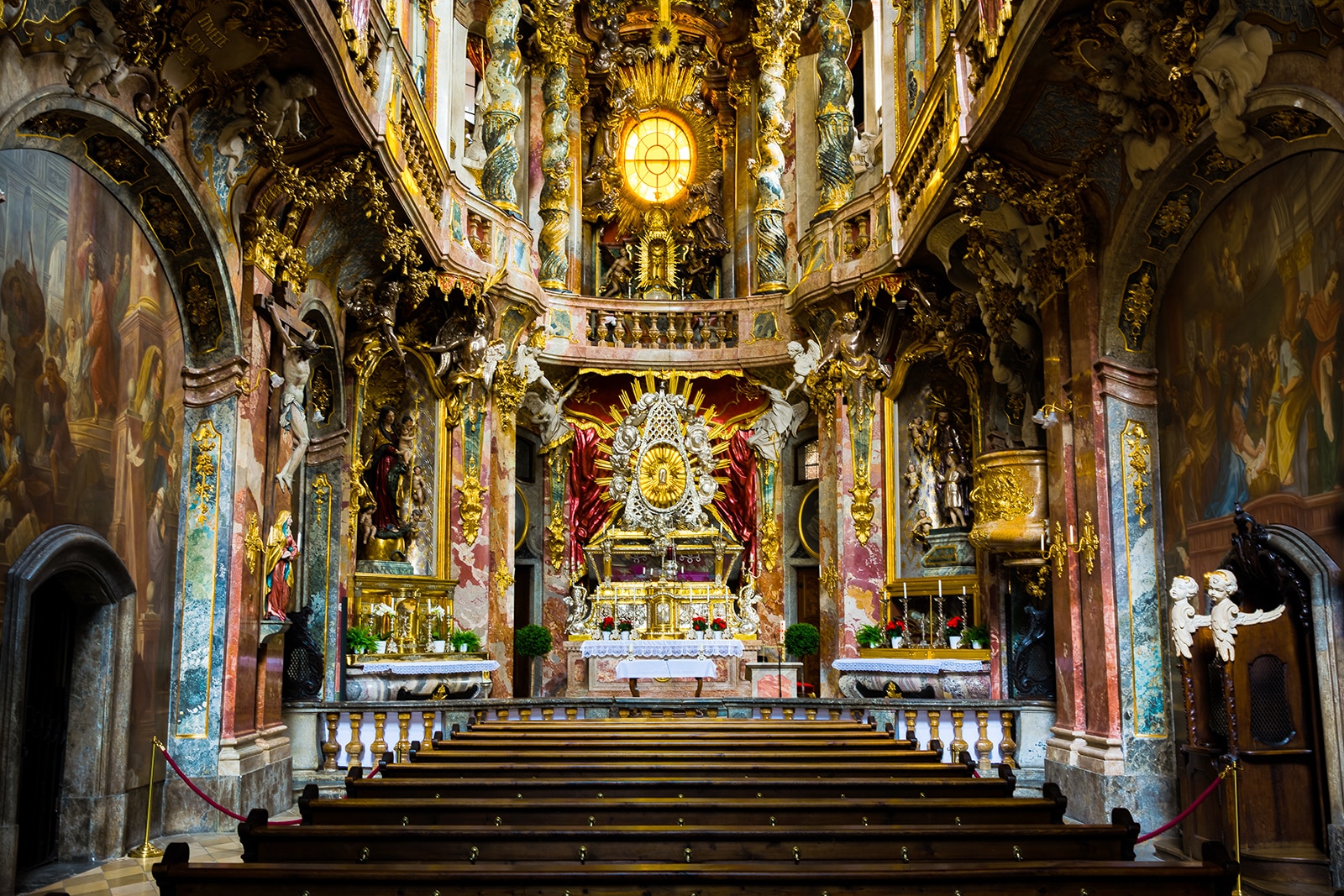 Couples
Families
Budget
History
Asamkirche is an 18th century church designed and constructed by 2 brothers, sculptor Egid Quirin Asam, and painter Cosmas Damian Asam. Located in Sendlinger Strasse, it's one of the most well-preserved examples of Baroque architecture in Germany, where you can see carvings of cherubs and angels, gold-plated columns and fixtures, as well as religious relics displayed behind wrought iron gates. A standout feature here is a massive ceiling fresco depicting the life of Saint John Nepomuk. Asamkirche is open to the public for sightseeing and mass, but we highly recommend visiting in the early morning to avoid the crowds.
Location: Sendlinger Strasse 32, 80331, Munich, Bavaria, Germany
Open: Daily from 8 am to 6 pm
Phone: +49 (0)89 236 87 989
8
Munich beer halls and gardens
Watch an authentic oompah band performance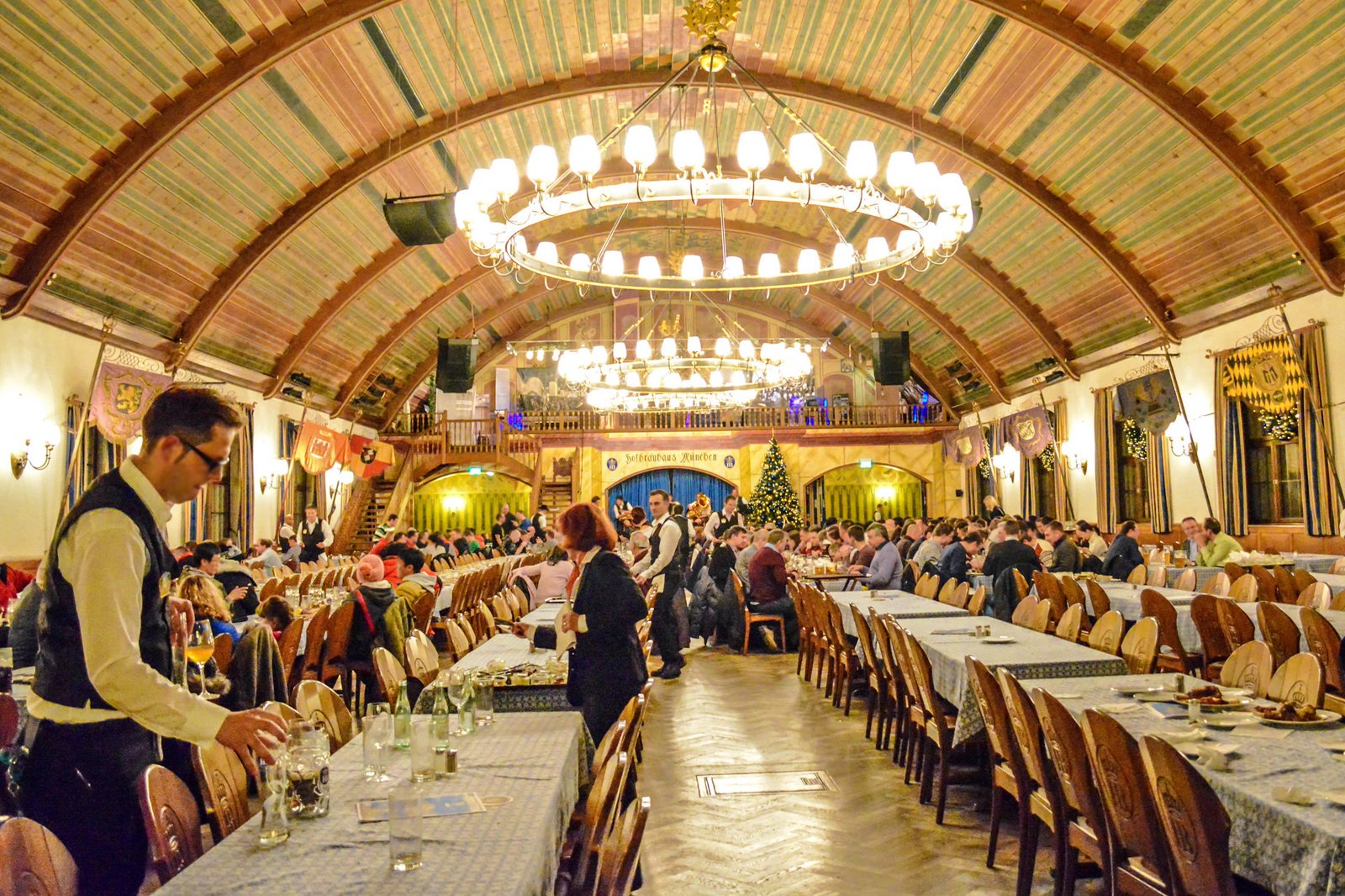 Munich's iconic beer halls are arguably the best places to sit back and enjoy a few drinks. Many of these indoor venues brew their own beer and serve local bites such as bratwursts and pretzels. A popular beer hall in Munich is Hofbräuhaus, which was founded in 1589 as the Royal Brewery of the Kingdom of Bavaria. During the summer, you'll see huge crowds seated along communal tables at biergartens (beer gardens), which can be found in just about any neighbourhood in Munich.
Location: Hofbräuhaus, Platzl 9, 80331 Munich, Bavaria, Germany
Open: Daily from 9 am to midnight
Phone: +49 (0)89 29 0136 100
photo by Carla Wosniak (CC BY 2.0) modified
9
Viktualienmarkt
Shop for fresh produce, cheese and meat at this historical farmer's market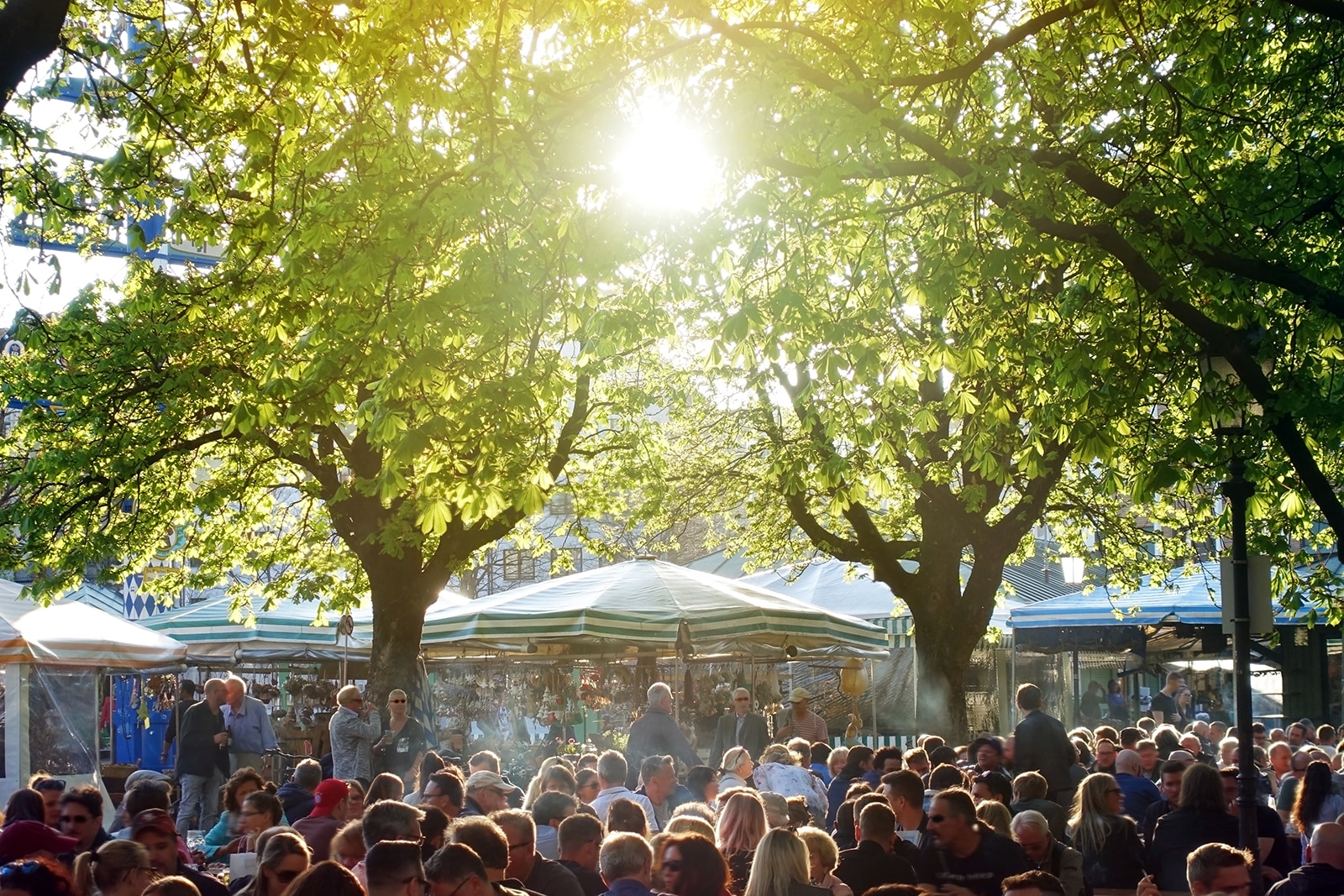 Viktualienmarkt is a historical marketplace that dates back to 1823, making it one of the oldest shopping spots in Munich. The centre of the market has a colourful maypole, which carries various figurines dressed in traditional costumes. Inside, there are about 140 stalls selling just about everything, from fresh meat, seafood and fruit, to artisanal cheese, wines, and sausages. A bright and airy beer garden is attached to the market, where you can enjoy a mug or two of cold beer with some traditional German snacks.
Unlike most markets, most stalls in Viktualienmarkt closes at 6pm on weekdays and 3pm on Saturday, so visit in the morning to experience the vibrant atmosphere.
Location: Viktualienmarkt 3, 80331 Munich, Bavaria, Germany
Open: Monday–Friday from 10 am to 6 pm, Saturday from 10 am to 3 pm (closed on Sundays)
10
Apple strudel
Visit this Bavarian coffeehouse for some of the best strudels in Munich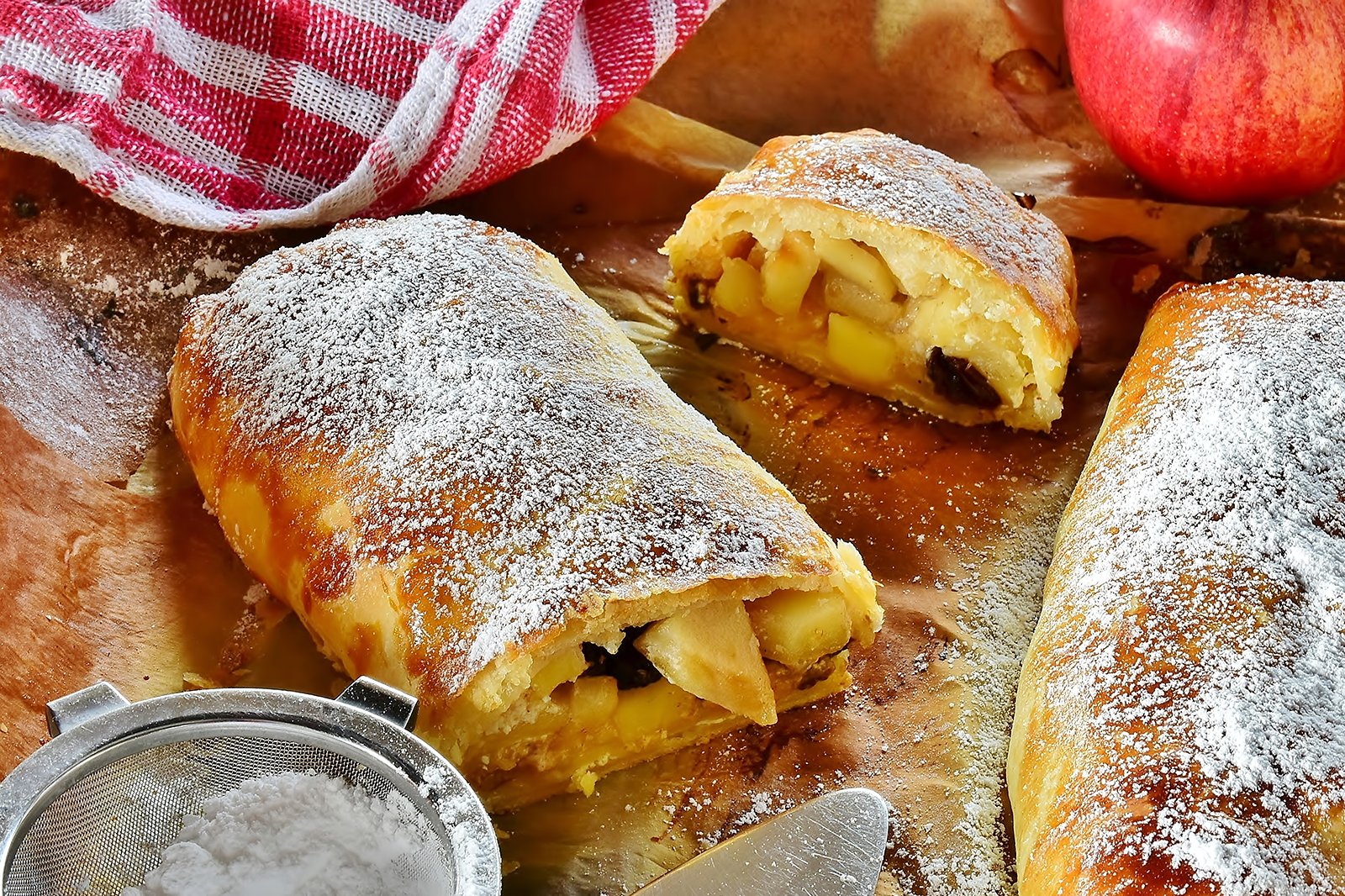 Couples
Families
Budget
Food
Apple strudel (apfelstrudel) consists of a flaky, crispy pastry and a spiced apple filling, served warm with a sprinkling of powdered sugar. This dessert may originate from Austria, but you can find many coffeehouses and markets in Munich serving it with a variety of toppings, including ice cream, vanilla sauce, and custard. Located below Theatinerkirche (Theatine Church of St. Cajetan), Cafe Arzmiller has been a local favourite for apfelstrudel and coffee since 1948.
Location: Theatinerhof–Salvatorstr. 2 80333 Munich, Bavaria, Germany
Open: Monday–Saturday from 8.30 am to 6.30 pm, Sundays from 10 am to 6 pm
Phone: +49 (0)89 294 273
Back to top