9 Things to Do for Couples in Berlin
Romantic Ideas in Berlin for Couples
The best romantic spots in Berlin combine the buzz and energy of a modern metropolis with the raw history and grand relics of the Prussian state to create a place that's enthralling for couples to explore together. One moment, you'll be sipping frothy beers in the boho bars, the next checking off bucket-list landmarks.
Adventures for 2 take place on the ground, in the air and on 2 wheels, helping you move beyond the guide-book draws and really unravel the capital like a local. Blending spa visits with Baroque palaces, this list should help get your itinerary started…
1
Schloss Charlottenburg gardens
Admire centuries of history and grand Neo-Classical architecture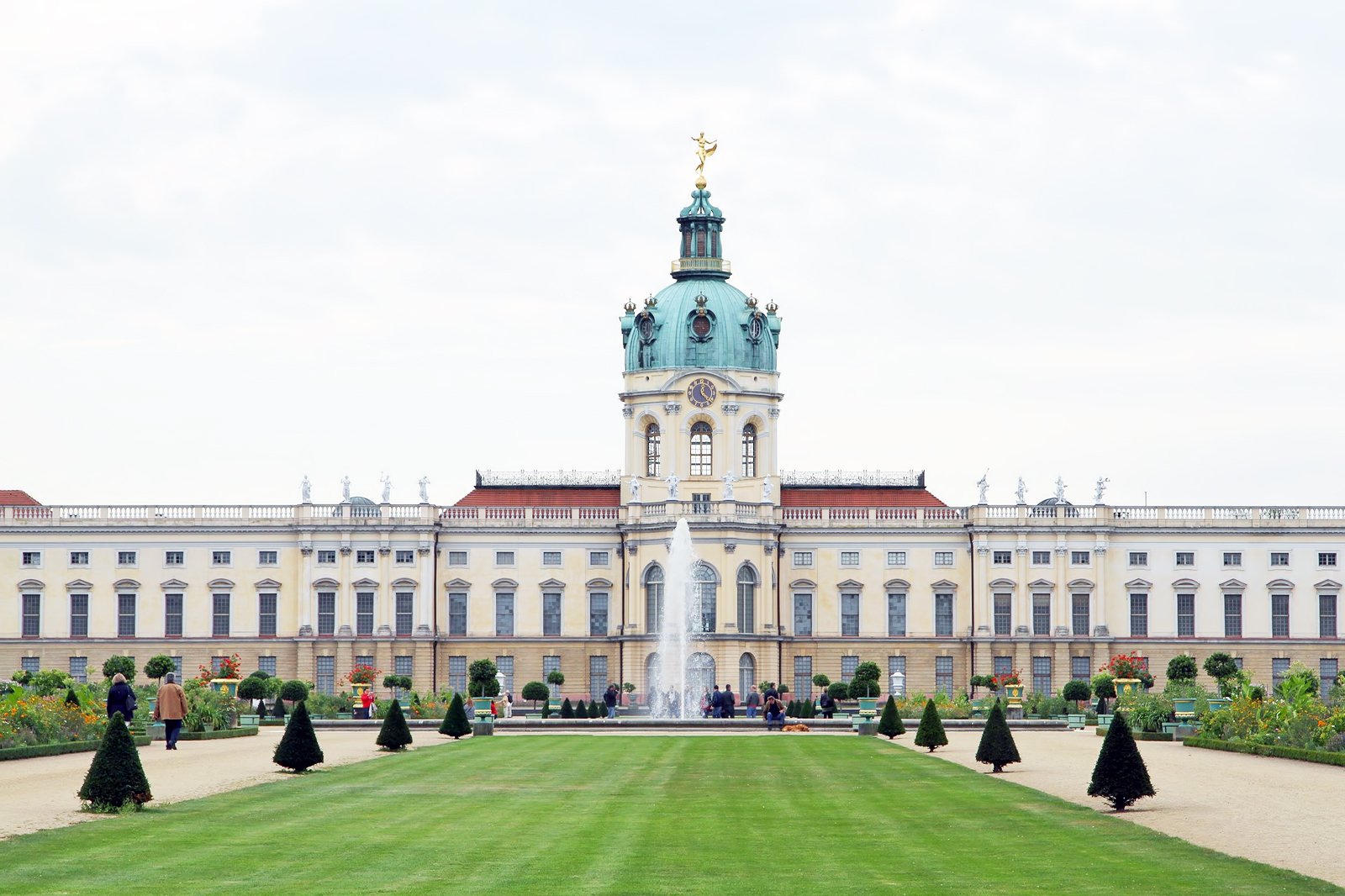 Nothing says "I love you" like one of Europe's grandest Rococo and Baroque palaces, right? That's precisely what's on offer at the glorious Schloss Charlottenburg gardens. A few hops on the U-Bahn or S-Bahn to Jungfernheide can whisk you away to this world of gorgeous vestibules and stately statues.
You don't even have to get caught up in the great halls and court rooms within to enjoy the beauty of it all. Simply sticking to the gardens is enough, where you can wander 17th-century lawns and encounter heroic Neo-Classical sculptures.
Location: Spandauer Damm 20-24, 14059 Berlin, Germany
2
Explore Berlin's Little Venice by bicycle
Neu-Venedig offers the perfect romantic escape from buzzing Berlin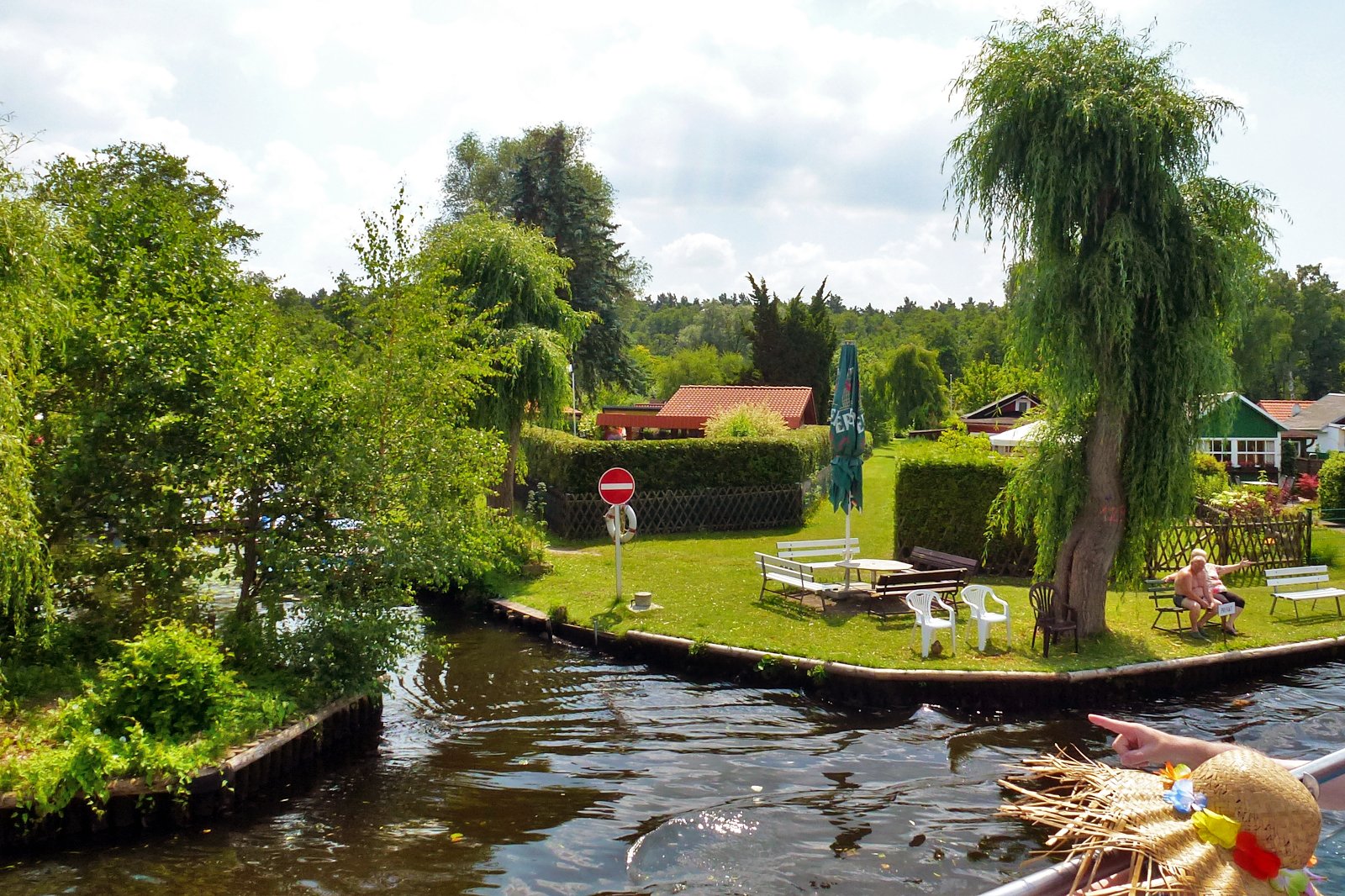 Couples
Budget
Photo
Adventure
Neu-Venedig, or Little Venice, is an enchanting area of wooded riverways and creeks that spreads out from the banks of the Müggelsee on the south-eastern edge of Berlin. You can ride there on the S-Bahn trains via Wilhelmshagen.
You should switch to 2 wheels to really make the most of the rustic surroundings. You'll ride through charming little brooks, where the old dachas of East German luminaries hide in the forests. Lily-topped ponds make for a great picnicking backdrop, too, while the resident swans are always there to offer a welcome.
photo by Fridolin freudenfett (CC BY-SA 3.0) modified
Couples
Families
History
Unusual
Discover your inner James Bond at the German Spy Museum, an all-in-one exhibit that chronicles the years of espionage that went on right where the Berlin Wall once stood. It's easy to access, with an entrance that comes straight off Potsdamer Platz. Then, it's all about deciphering codes and navigating body-contorting laser rooms.
Some of the collections even take you back to the times of the ancients, to reveal how old the practice of spying actually is. You'll also see Enigma machines, vintage Trabant cars and all sorts of Cold War relics.
Location: Leipziger Pl. 9, 10117 Berlin, Germany
Open: Daily from 10 am to 8 pm
photo by Joyofmuseums (CC BY-SA 3.0) modified
4
Dinner and a classical music at Charlottenburg Palace
Dine like royalty in what was once the centre of the Prussian Court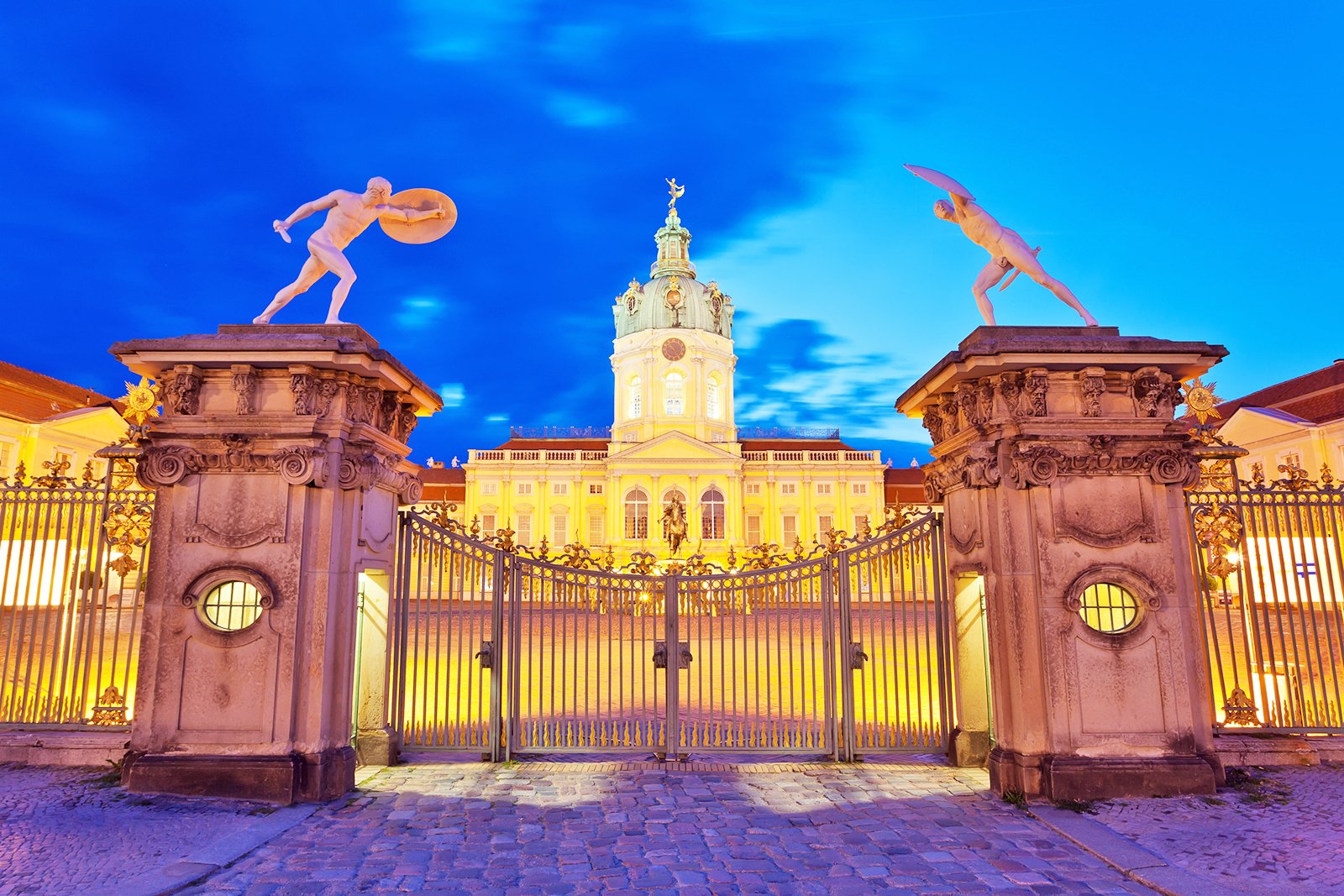 Couples
History
Photo
Food
Luxury
Forget bratwursts and beers, because date nights in Berlin are all about class and elegance, at least over in the grand Charlottenburg Palace, the greatest Baroque building in the city. Evening packages there will let you tour the art-filled court rooms of King Frederick II, before settling in for a whirlwind of creative German fine-dining.
Meals are hosted in the beautiful Great Orangery and set to the accomplished classical tunes of Bach and Mozart, played masterfully by the Berlin Residence Orchestra. Vegetarian meals are available on request.
Location: Spandauer Damm 20-24, 14059 Berlin, Germany
5
Mauerpark Flea Market on a Sunday morning
Practice your haggling skills and pick up some Berlin merchandise
Couples
Budget
Shoppers
Food
Exploring the Mauerpark Flea Market has long been a favourite pastime for Berlin's bargain hunters. It erupts every Sunday on Eberswalder, creating a ramshackle patchwork of second-hand clothes stalls, retro crockery and furnishings, old vinyl records and cool, quirky antiques. Locals can often be seen indulging in a little rocking karaoke on the lawns nearby. Thera are also clusters of food stalls that serve sizzling sausages to fuel those haggling sessions and cold beers – the hair of the dog from the Saturday before, perhaps?
Location: Bernauer Str. 63-64, 13355 Berlin, Germany
Open: Sunday from 9 am to 6 pm
6
Learn to dance at Clärchen's Ballhaus
This vintage Berlin ballroom with grand interiors hosts regular dance lessons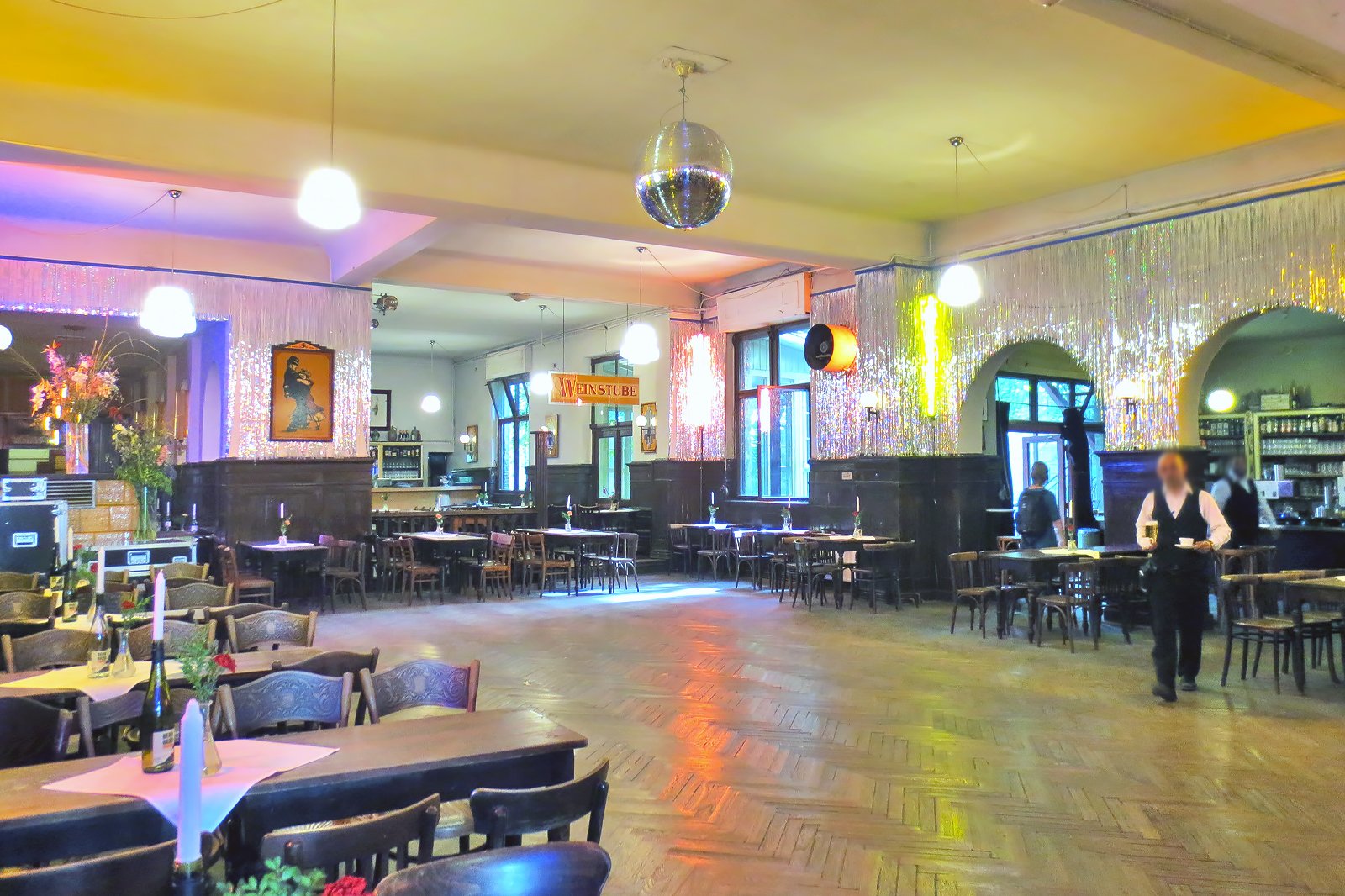 You can twist the tango and stamp the bolero in the vintage dancehall of Clärchen's Ballhaus. Dating all the way back to 1913, it's one of the most venerable showbiz staples in the capital, with a prime location just around the corner from the Oranienburger Straße S-Bahn and tram station. With your travel compadre in your arms, you'll learn to do the waltz and step the cha-cha, all with some of the best choreographers Berlin has to offer. And if you'd prefer not take to the stage? A visit to see the mirrored ballroom and outdoor beer garden promises to be fun regardless.
Location: Auguststraße 24, 10117 Berlin, Germany
Open: Daily from 11 am to late
photo by Herta (CC BY-SA 3.0) modified
7
Couples' spa at Liquidrom
Liquidrom spa lets couples free themselves from the stresses of life and the confines of clothes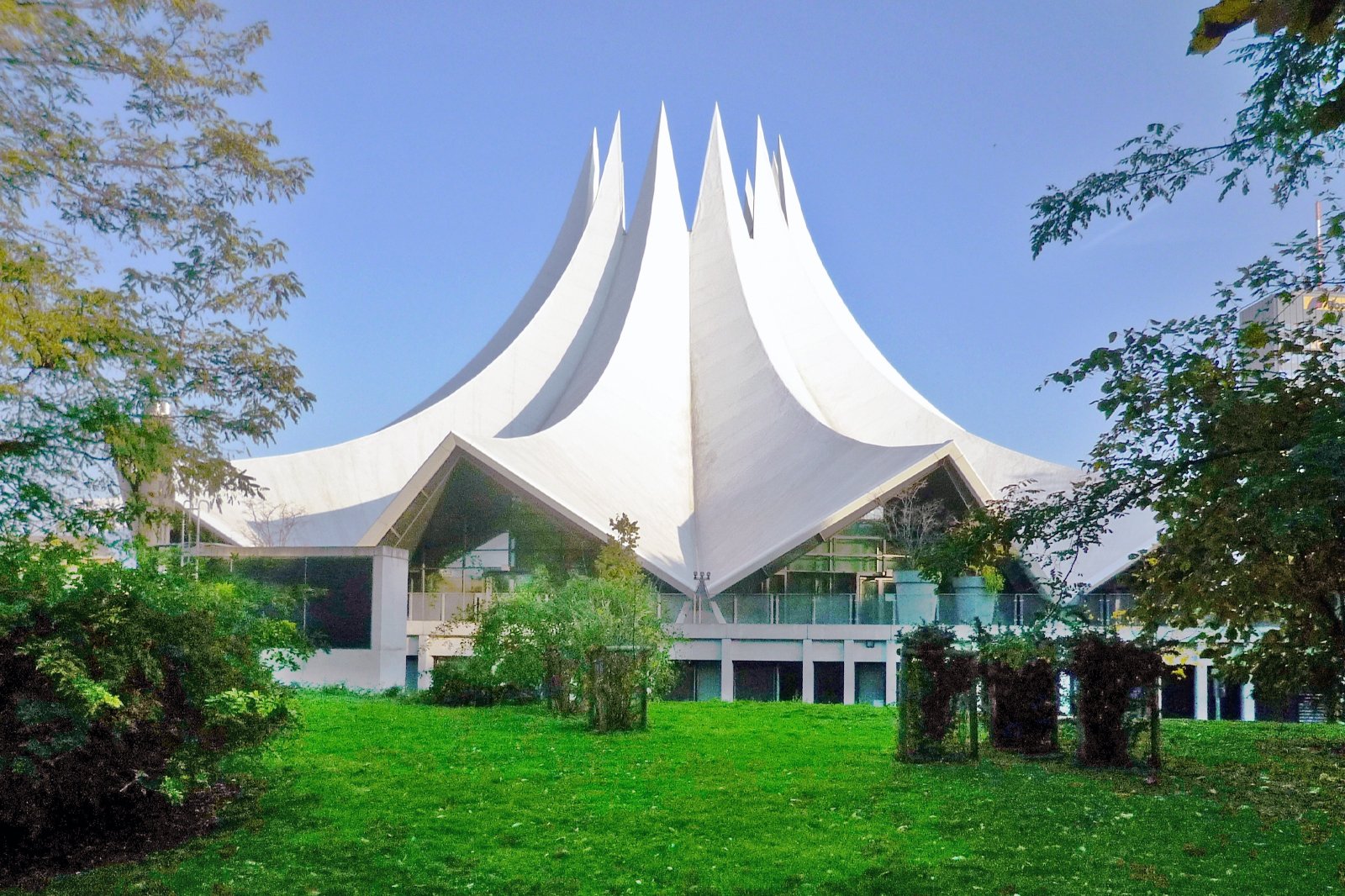 Liquidrom is a unique spa and health facility that beckons any travellers keen to embrace the German penchant for Freikörperkultur – Free Body Culture. Looming high above Anhalter Bahnhof right by the Landwehr Canal, its UFO-like architectural shell helps to create interesting spaces within, filled with nooks and crannies where you can find private moments to soak in the thermal baths.
The all-nude policy is said to add to the feeling of weightlessness and relaxation that's created by the ambient DJ tunes and lighting effects throughout.
Location: Möckernstraße 10, 10963 Berlin, Germany
Open: Sunday–Thursday from 9 am to midnight. Friday–Saturday from 9 am to 1 am
photo by Manfred Brückels (CC BY-SA 3.0) modified
8
Bar hopping in Prenzlauer Berg
Explore Berlin's wilder side after dark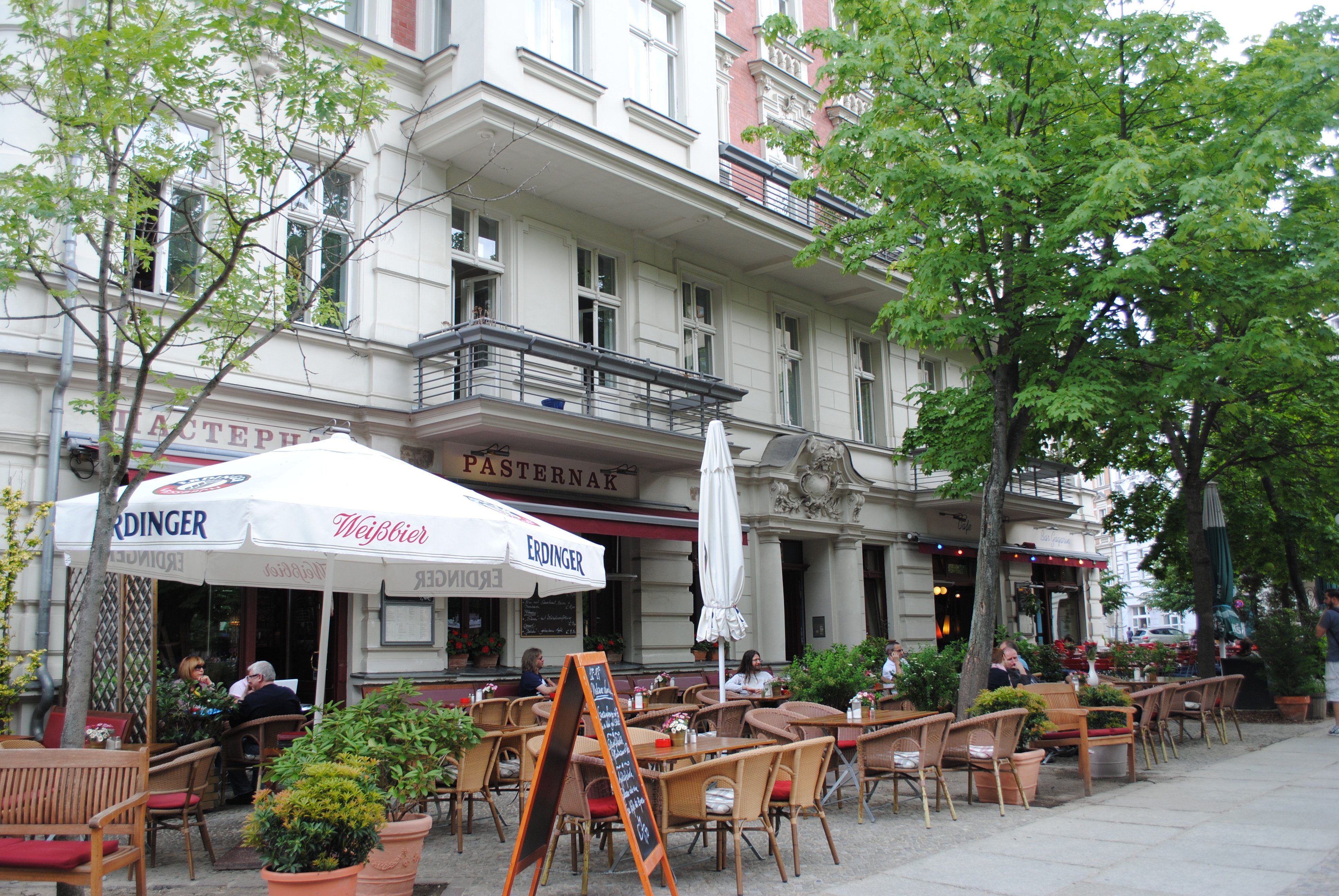 Ever since the reunification of the capital in 1990, the area of Prenzlauer Berg has filled the role of the gritty nightlife hub. It spreads roughly northwards from Rosa-Luxemburg-Platz, with blocks that are filled with Communist-era tenements and post-industrial relics.
The whole lot has been gentrified and now pulses with beating EDM clubs, smoky jazz bars and lively beer halls. Start your night in the boho cocktail joints of Winsviertel before moving north, where there are oodles more drinking holes.
Location: Prenzlauer Berg in Berlin
photo by Oh-Berlin.com (CC BY 2.0) modified
9
Enjoy the view from a captive air balloon ride
Take in the landmarks of Berlin with a captive air balloon experience.
Whoever said you have to keep your wandering in Berlin on the ground? A captive air balloon ride can whisk you right up to enjoy sweeping views of this grand and historic city. From your perch in the air, you'll be able to survey the German metropolis unfolding before your eyes.
Landmarks like the Brandenburg Gate and the futuristic Sony Center should all be visible, and you might even make out the sweeping lakes and woodlands of Müggelspree-Löcknitzer in the distance. Couples with kids should remember that little ones get discounted prices.
Location: Zimmerstraße 95, 10117 Berlin, Germany
Open: Daily from 10 am
Back to top