10 Best Things to Do in Rhodes
What is Rhodes Most Famous For?
Rhodes is one of Greece's most multifaceted islands, with medieval architecture, wineries, beaches, and a stirring nightlife scene. Located near Turkey, it's also a gateway for those looking to explore many areas in the Mediterranean Sea. The island is around 1,400 sq km wide and is surrounded by many other Greek islands.
From Rhodes Town in the north, you'll be able to reach must-sees like the Kallithea Thermal Springs and Tsambika Beach with ease. We've selected some of the best things to do in Rhodes as a guide for you to enjoy an interesting and exciting journey across this popular island destination.
What are the best things to do in Rhodes?
1
Rhodes Stand Up Paddleboarding
Watch the sun ascend from the Mediterranean Sea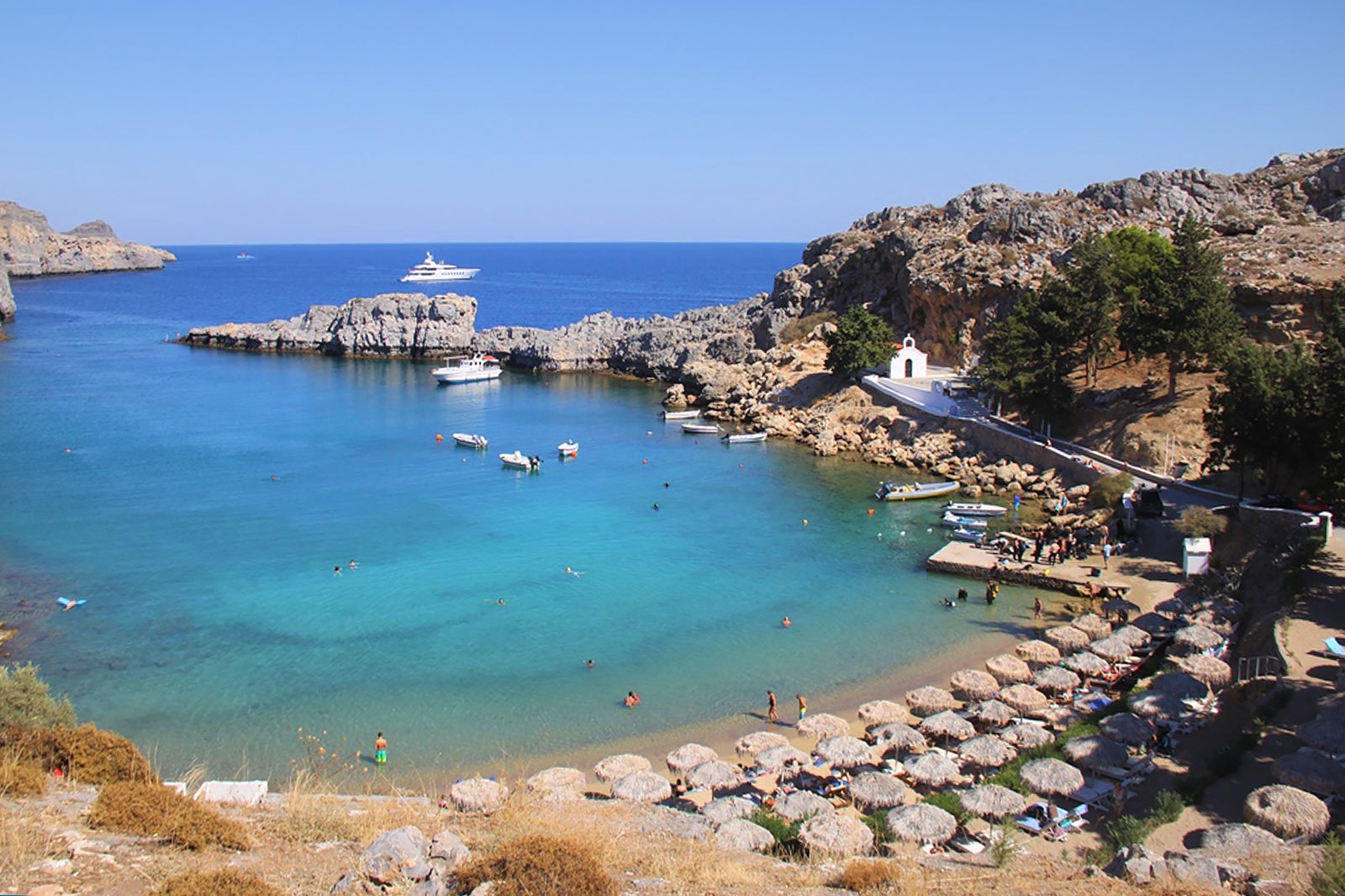 Standup paddleboarding at sunrise makes for an active yet relaxing way to kickstart your day in Rhodes. Explore the translucent sea around Anthony Quinn Bay or Traganou Beach on the east coast, or join a tour that combines paddleboarding and yoga in the early morning. You'll be paddling with views of unique rock formations, beaches and coves of Rhodes.
photo by Andrey Filippov 安德烈 (CC BY 2.0) modified
2
Prasonisi Beach
Unwind or learn how to surf on this southern beach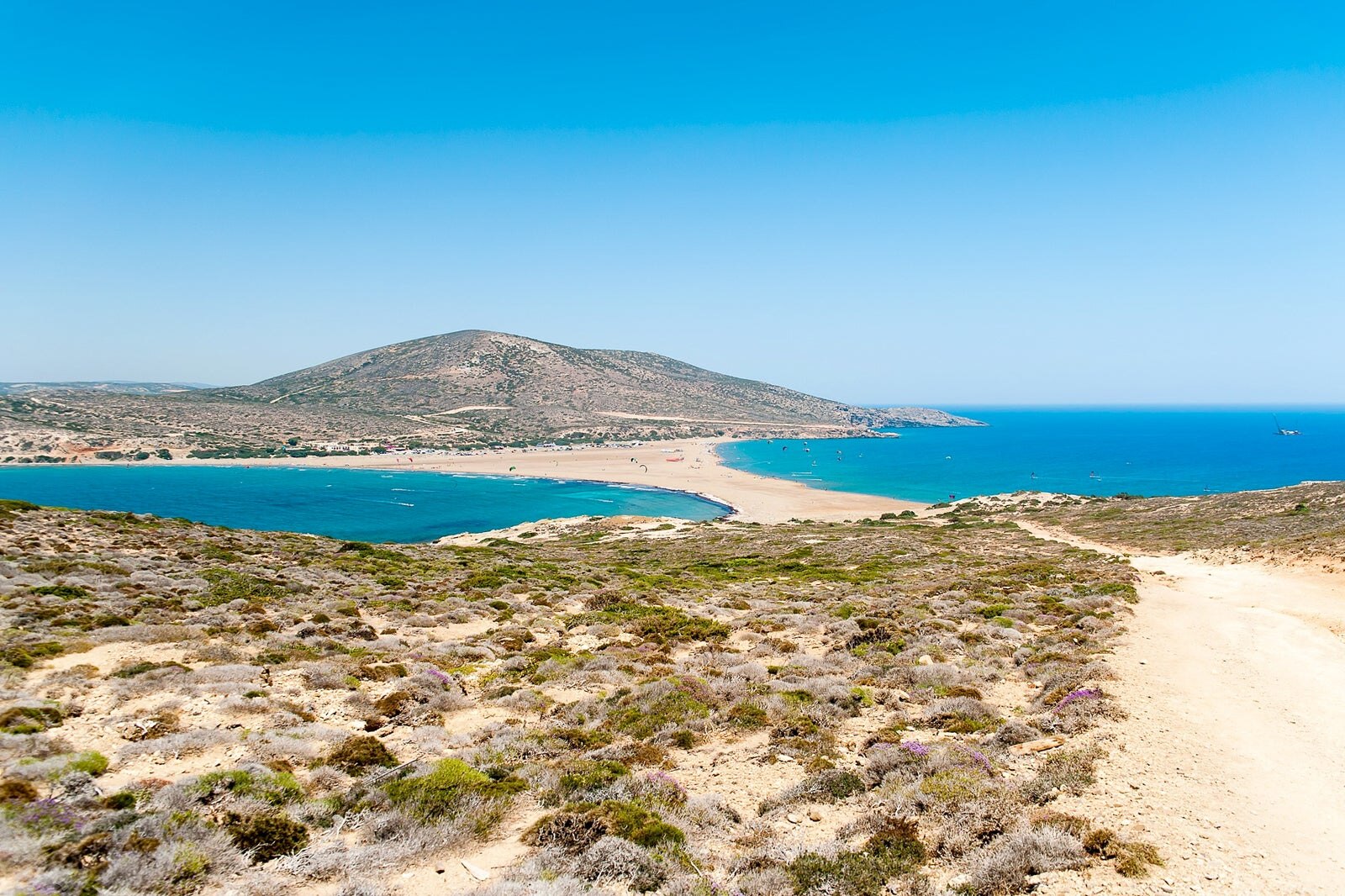 Prasonisi is separated from Rhodes during high tide, but when the sea level drops, it becomes a tiny peninsula with plenty of water sports to engage in. With the windy conditions and waves coming from the west, this is a most inviting place to enjoy proper surfing and kitesurfing. If you're a beginner, several surf schools are there to guide you on your first steps to ride the waves.
Prasonisi isn't exclusively for sport-minded travellers though. Children can play in the sand and swim in the shallow waters around this beach. You can also make yourself comfortable with parasols and deckchairs available for rent.
Location: Prasonisi Beach, Rodos 851 09, Greece
3
Acropolis of Lindos
Take in the historical highlight of Rhodes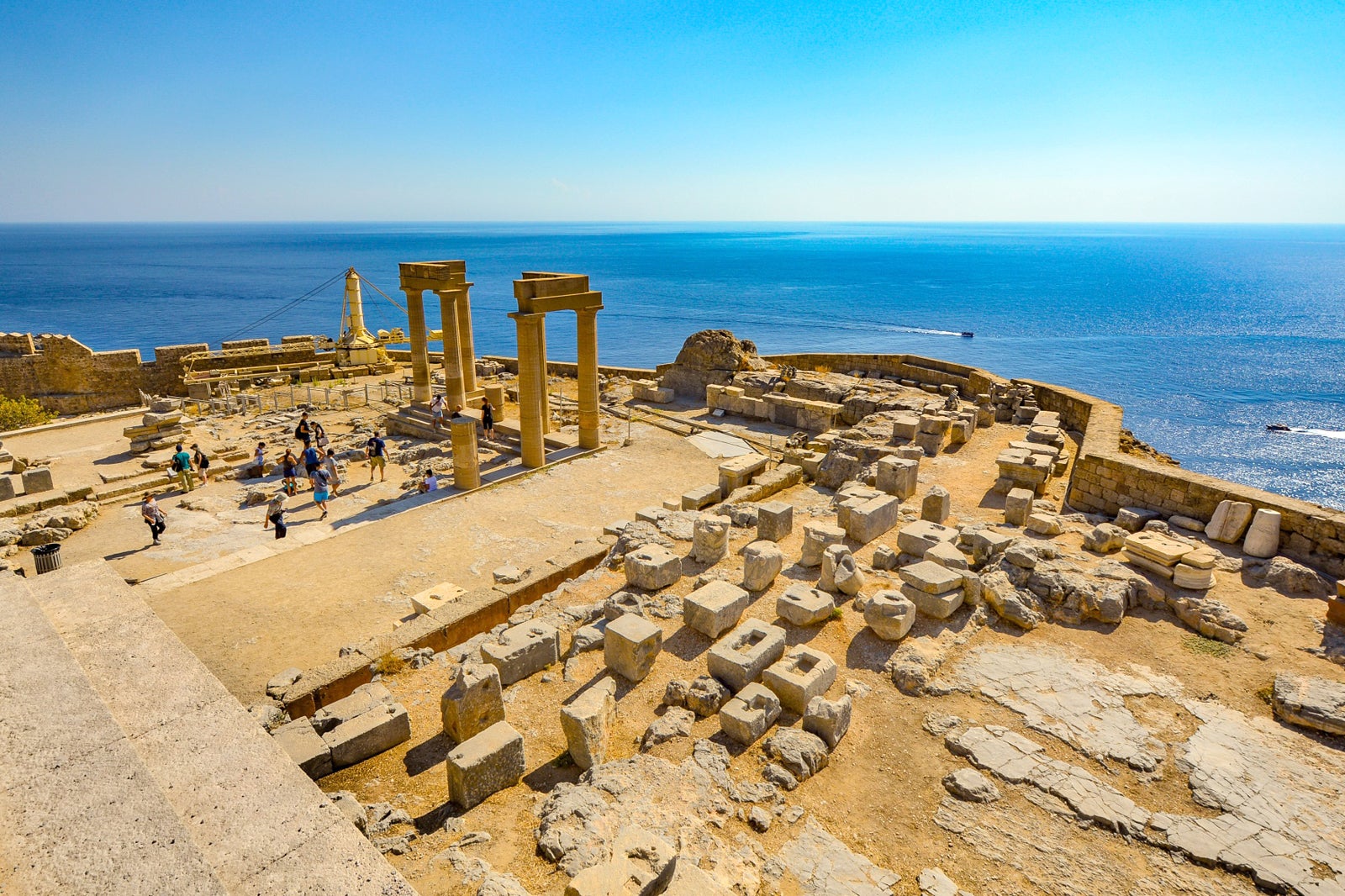 The Acropolis of Lindos towers above the namesake, humble village of Lindos, situated 50 km south of Rhodes town. Climb the hilltop for views of ancient Greek temples and the Hellenistic columns. Some of the structures date back to the 6th century BC, such as the Temple of Athena Lindia.
The Acropolis of Lindos is one of the most impressive architectonic remnants from the old Greek civilisation. Not only is the historical value of the Acropolis of Lindos highly significant, but the views of Rhodes' east coast as seen from this ancient temple are also mesmerizing.
Location: Lindos, Rodos 851 07, Greece
4
Kallithea Thermal Springs
Enjoy the extravagant design of this bathing complex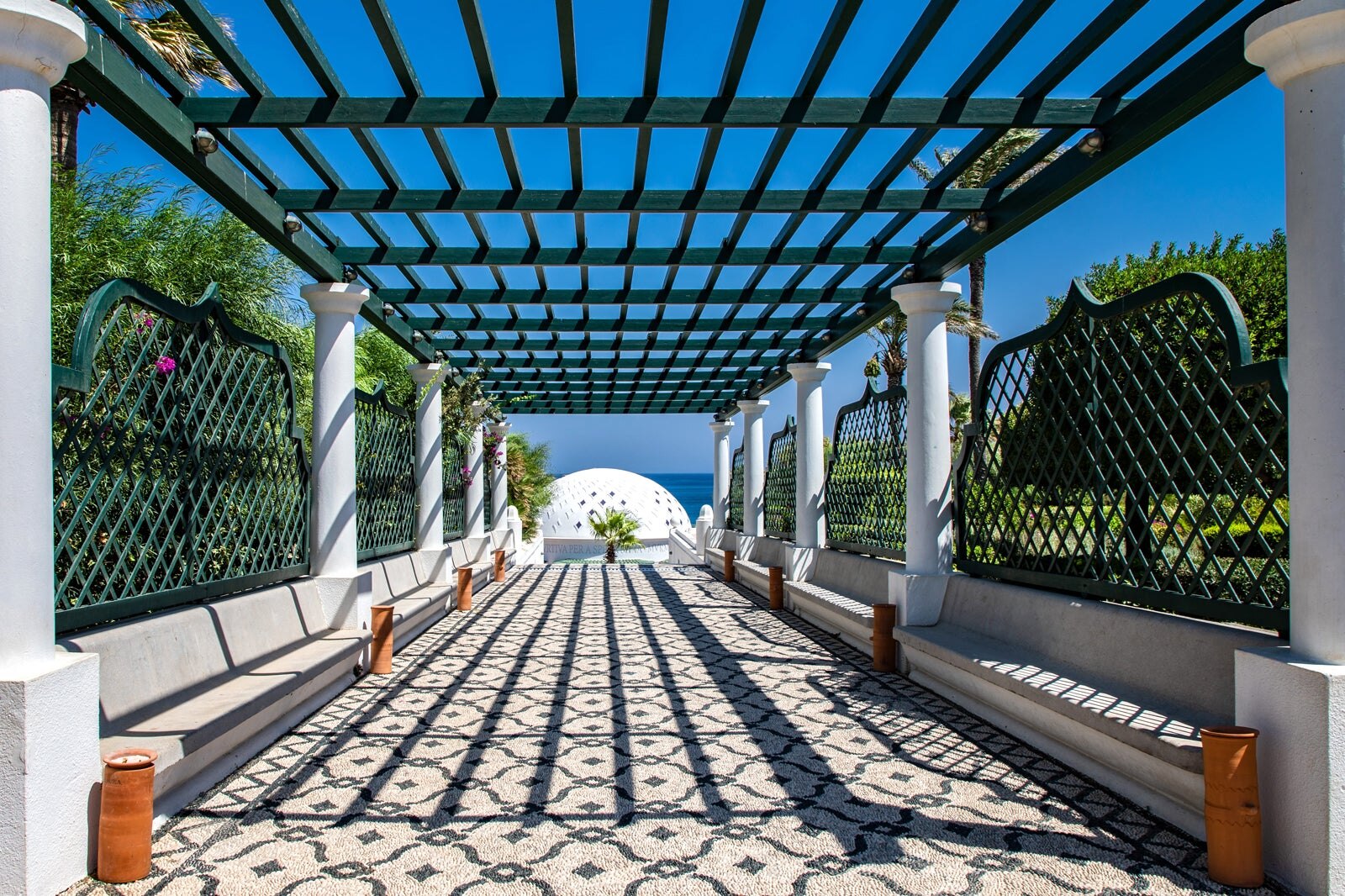 Kallithea Thermal Springs is a celebration of modern, early 20th-century designs, much in contrast to the ancient architecture found elsewhere on Rhodes. Most people come here for a refreshing dip in the sea, but a stroll around the premises offers plenty of photo opportunities.
Italian designer Pietro Lombardi mapped out his architectural fantasies on the project, resulting in beautiful mosaic floors, fountains, arches and a gorgeous white dome. You'll also find an onsite cafe with outdoor seating overlooking the bay. The entrance fee to Kallithea Thermal Springs is from around €3.
Location: Leof. Kallitheas 80, Rodos 851 00, Greece
5
Apolloniatises Agrotourism Shop
Shop for authentic souvenirs in Rhodes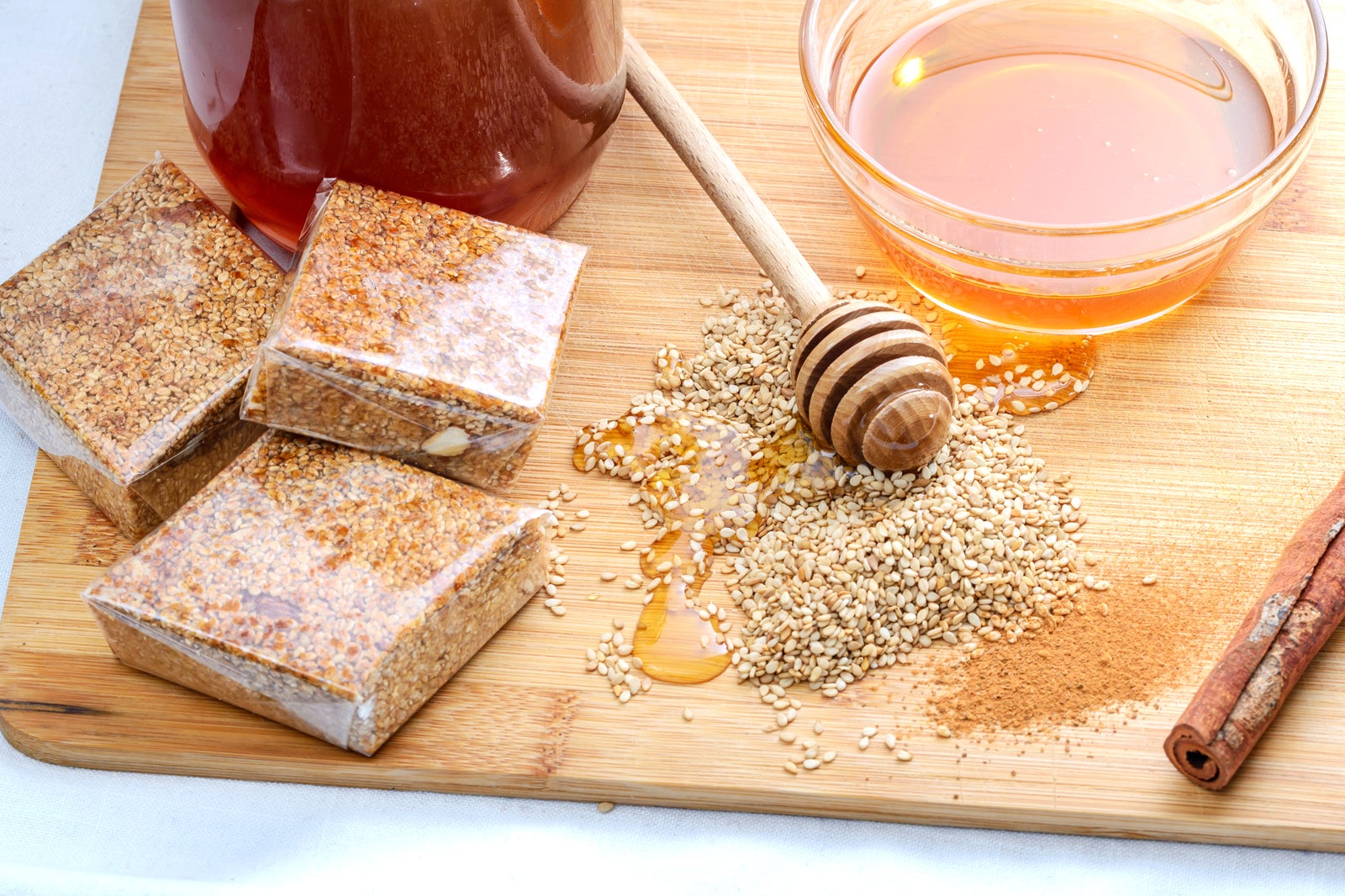 The Apolloniatises Agrotourism Shop is an essential stop for original gifts in Rhodes. This deli sits in the southwestern part of Rhodes town and specialises in local food items such as wines, oil, and fresh herbs.
This is an excellent place to pick up melekouni, a sweet that originates from Rhodes. The main ingredients are thyme honey, sesame seeds, spices and almonds, as well as lemon and orange peel. Melekouni is a must-try when visiting Rhodes, and a lovely item to bring home.
Location: 68 Apostolou Pavlou, Rodos, 851 00, Greece
6
Tsambika Beach
Hang out on one of Rhodes' prettiest beaches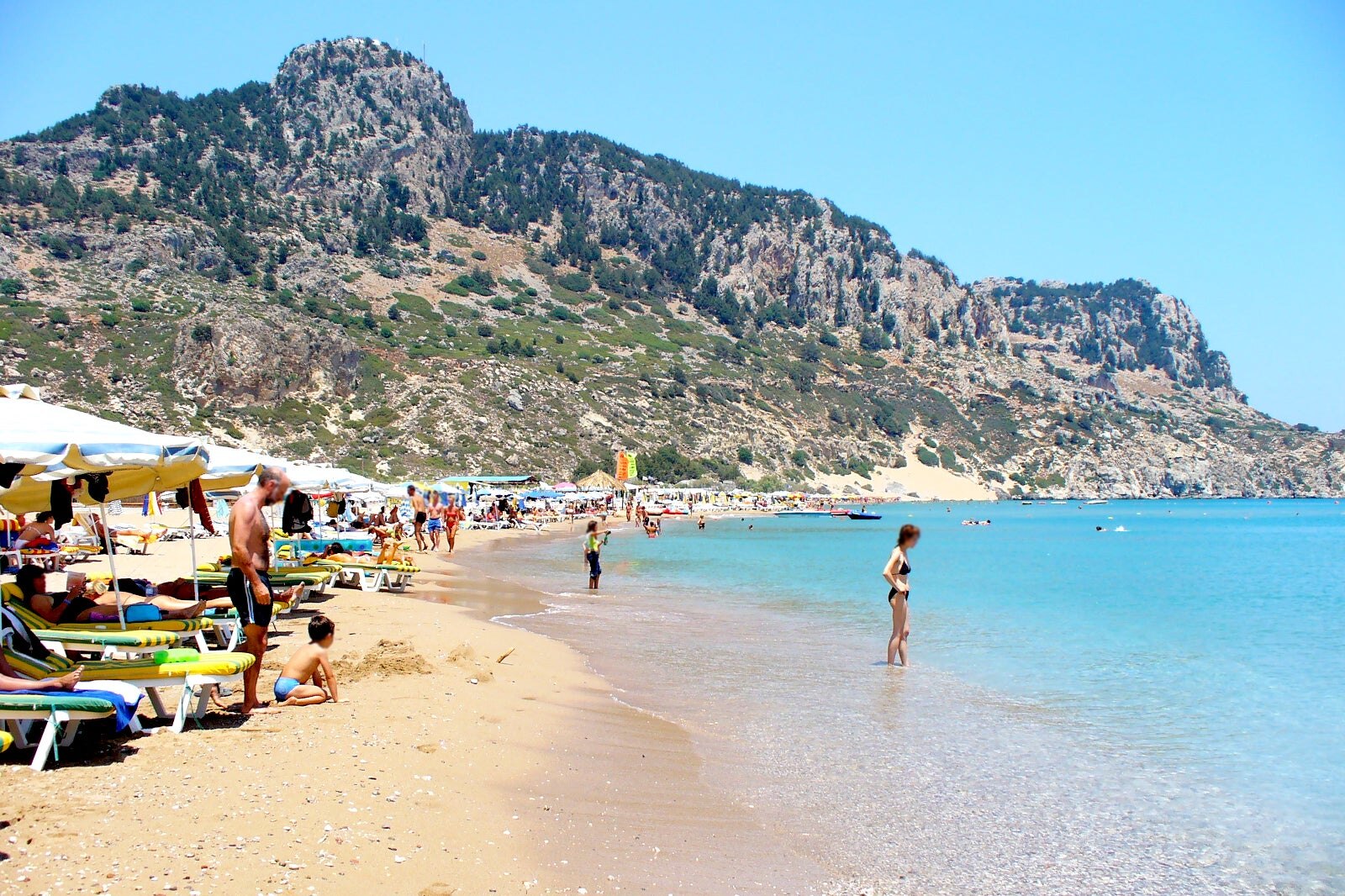 Tsambika Beach, a gorgeous shoreline on the east coast of Rhodes, has many components for a fun time under the sun. As soon as you set foot on this golden beach, you can choose from playing a game of beach volleyball, sipping on a refreshing drink at a beachfront bar, or simply unwinding on a sunbed. Of course, you can enjoy everything in a single day if you want to.
Tsambika Beach in Rhodes is surrounded by towering cliffs and picturesque sand dunes. It also receives fewer sunbathers than many of the island's more popular shores like Anthony Quinn Beach and Ladiko Beach.
Location: Tsambika Beach, Archaggelos 851 02, Greece
photo by Stefan Krause (CC BY-SA 3.0) modified
7
Tsambika Monastery
Soak up incredible views of the east coast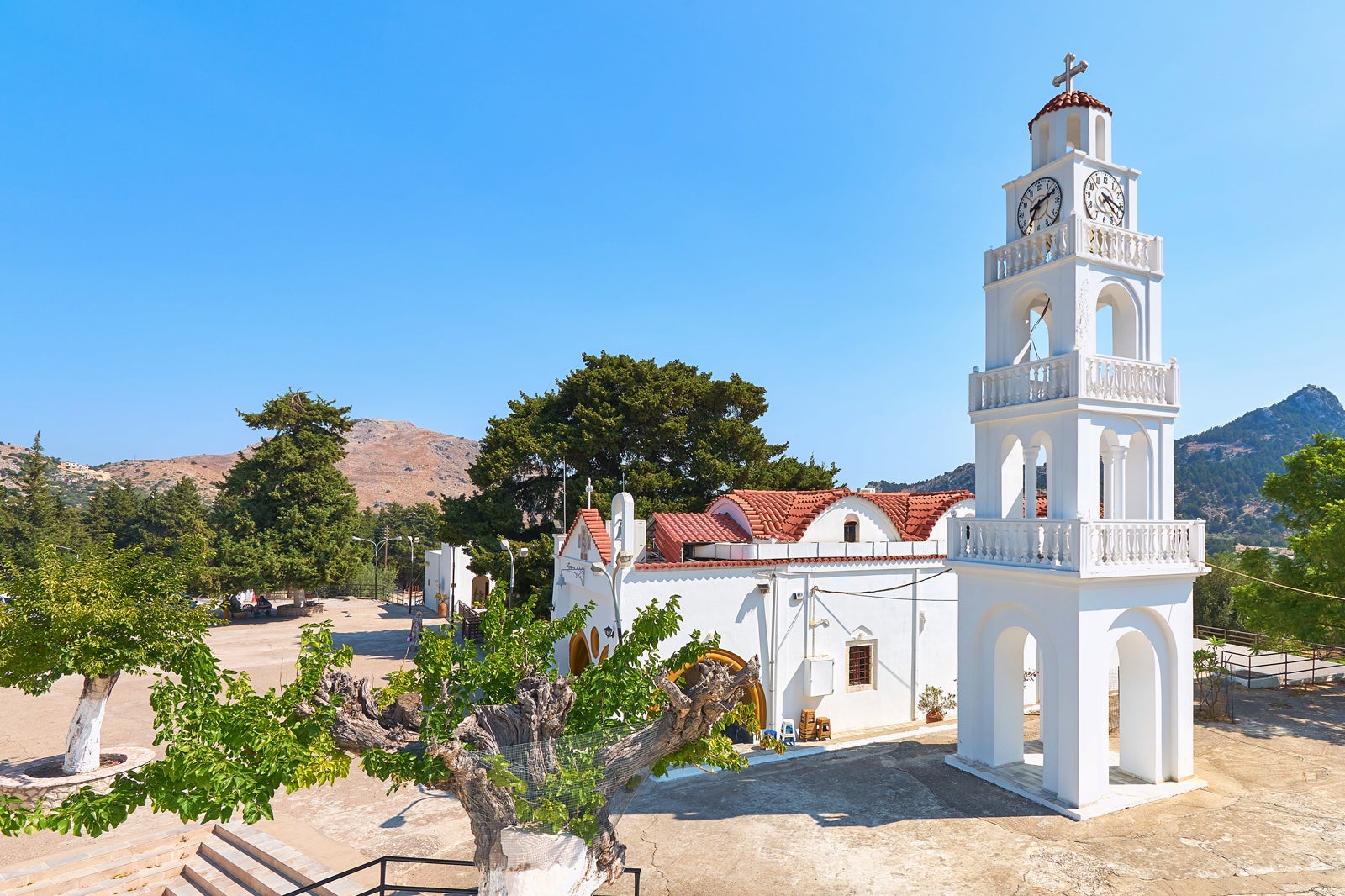 Tsambika Monastery is a Byzantine structure which sits on a hilltop of the same name. The architecture of the monastery and its clocktower is brilliant, though most people come here for its awe-inspiring views.
To the west, you can see Rhodes' mountainous interior, while the east has several glistening beaches. On a clear day, the Acropolis of Lindos even appears on the horizon. Tsambika Monastery is between Kolymbia and Archangelos, about 25 km south of Rhodes Town.
Location: Tsambika Monastery, Archaggelos 851 02, Greece
8
Nightlife in Rhodes Town
Go bar hopping in the island's major hub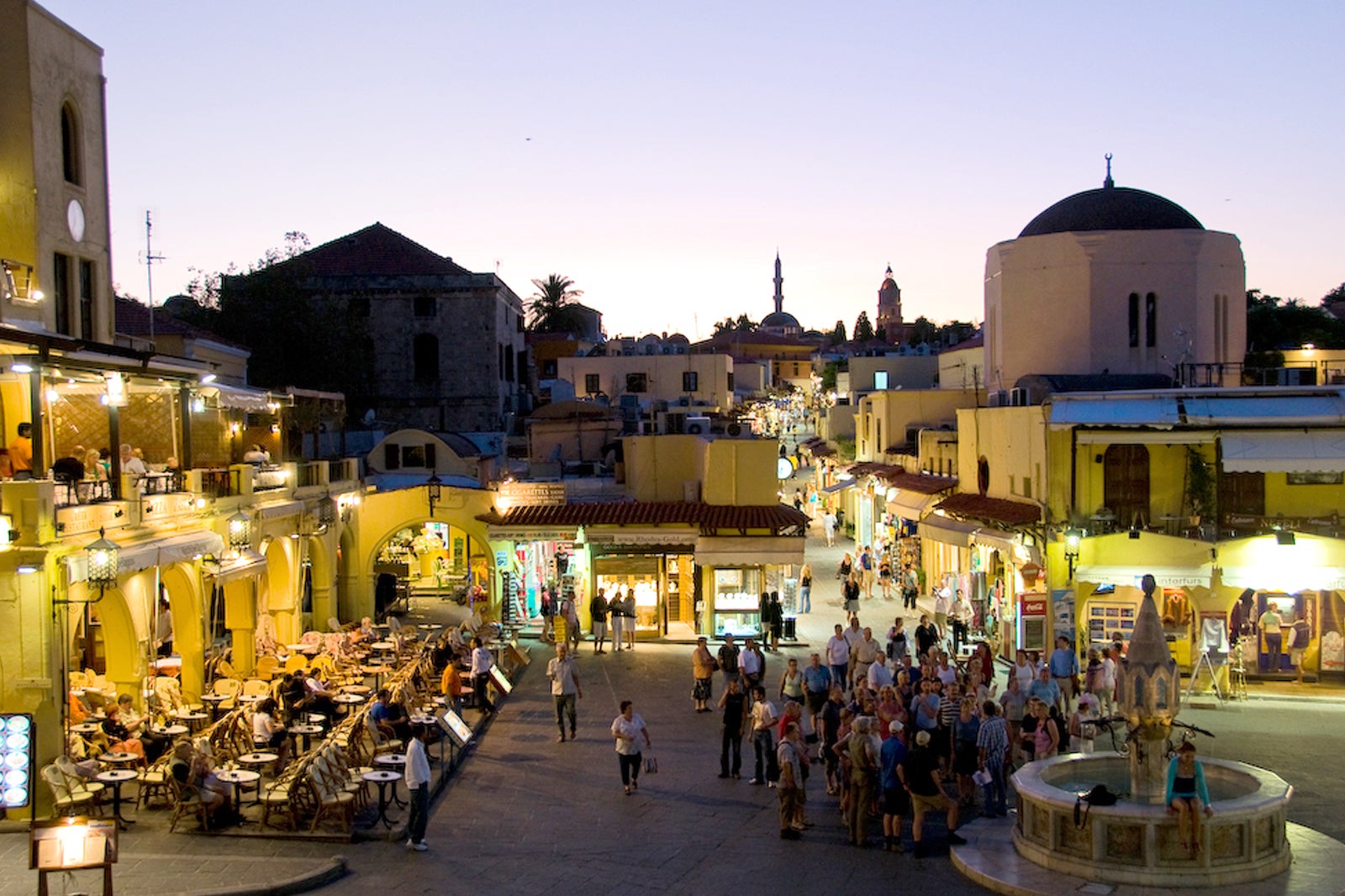 Rhodes Town is one of the best places for bar-hopping and clubbing on the island. While the nightlife scene in Rhodes doesn't come close to Greece's party-centric islands like Crete and Mykonos, there are plenty of bars where you can get your feet moving and have a drink with like-minded locals and travellers.
Flaws All Day Bar is a lively joint where you can satisfy your snack and cocktail cravings in a casual setting. Or head for the pub-style Legends Rock Bar for delightful live music in Rhodes Town.
Location: Rhodes Town, Rhodes, Greece
9
Kounaki Wines
Sample some locally produced Greek wines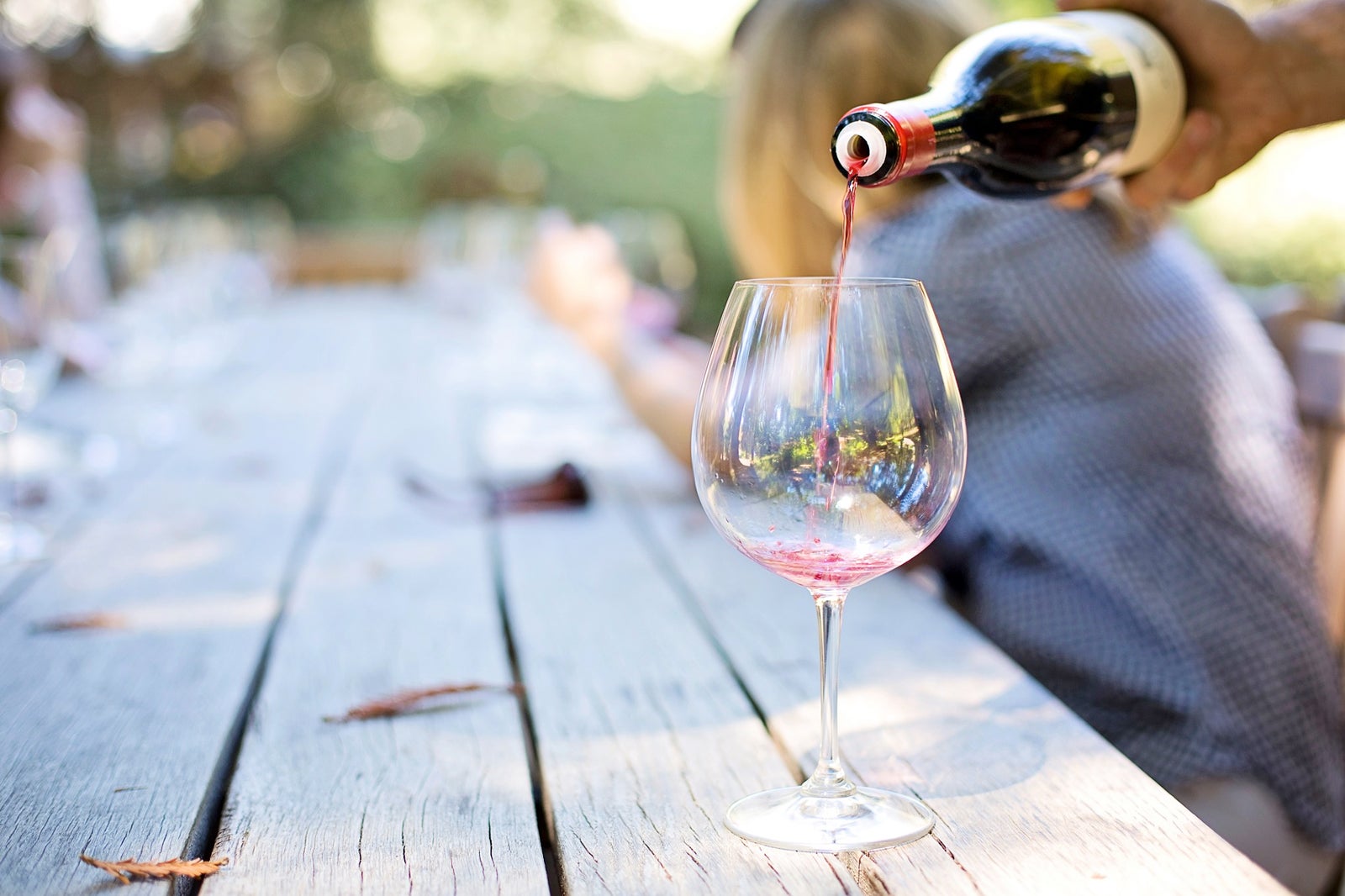 Kounaki Wines in the village of Emponas is a 4-hectare vineyard that was founded in 1928. It's known for cultivating traditional Greek grapes like Assyrtiko and Malagouzia. Wine is interwoven in Greek heritage, and a trip to Rhodes wouldn't be complete without sampling the local vino.
From April to October, the winery opens its doors for those who are interested in a tour and tasting sessions. There's a large outdoor lounge area with a bar and wine barrels for chairs. The small scale of the vineyard and oenologists as tour guides makes for a very personal and informative experience.
Location: Epar.Od. Kalavardas-Empona, Emponas 851 08, Greece
10
Pitaroudia
Enjoy local delicacies of the island
Greek cuisine is different from one region to another, and Rhodes takes pride in its own signature dishes. If you want to try a dish that's rooted in Rhodes, pitaroudia is a must-try. Chickpeas are the main ingredient for these patties, which also contain tomatoes, onions, pepper, mint, and flour.
Pitaroudia fritters are vegan and vegetarian-friendly, making it an enjoyable treat for those with specific dietary needs. An excellent spot to enjoy this speciality is Paraga, a well-established and authentic Greek taverna in Apollona Village.
Location: Epar.Od. Apollona 13, Apollona 851 06, Greece
photo by latinsoapsfever (CC BY-SA 3.0) modified
Back to top