9 Best Milos Towns and Resorts
Where to Stay in Milos
The best Milos towns and resorts are mostly clustered around the eastern side of the U-shaped Greek island. The western side has many charms and attractions, but the rugged, mountainous terrain means there are few villages and fewer still that contain any facilities for visitors.
The towns and villages in the east, by contrast, are mostly extremely charming and peaceful. Some feature the delightful and iconic syrmata (sometimes spelt 'sirmata') – traditional 2-storey fishermen's huts fronted by vibrantly coloured doors. As with many settlements in Greece, most of the best towns and villages in Milos can be known by other spellings and variations of their name, so don't be too pedantic when looking for road signs.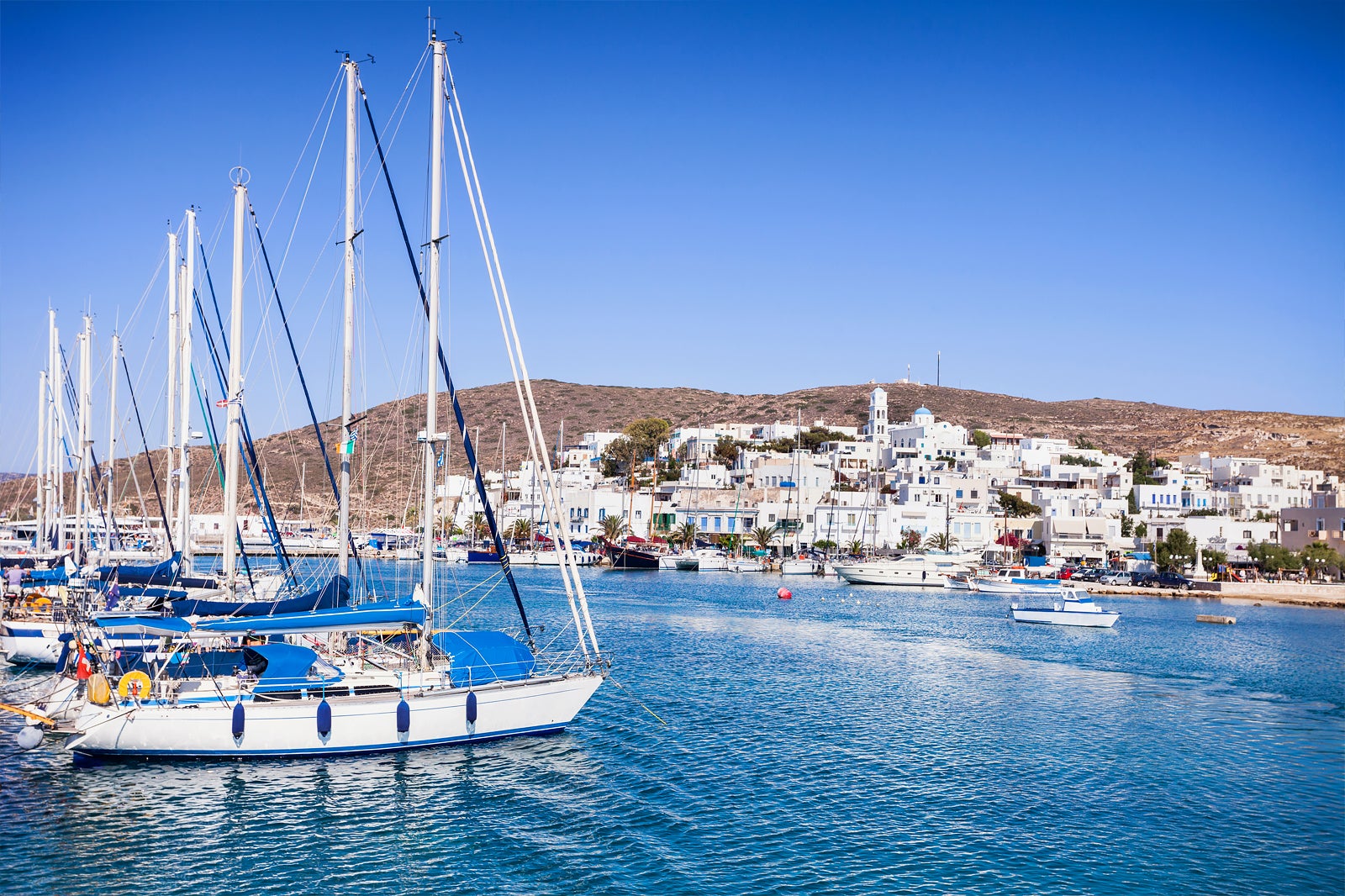 The coastal village of Adamas is one of the main points of entry to Milos (after the tiny airport) as it's home to the island's biggest ferry terminal. Behind that, you'll find Milos' main nightlife hub. A diverse range of venues lines the seafront, from clubs to cosy cocktail bars. Expect anything from traditional rebetiko folk music to the latest dance tracks.
During the day, Adamas (sometimes written as 'Adamantas') has a great selection of cafés, restaurants, shops, markets and hotels. During the summer, it's the main departure point for tours both by land and sea. As you might imagine, road traffic can be a bit extreme at that time of year.
2
Plaka
The capital of Milos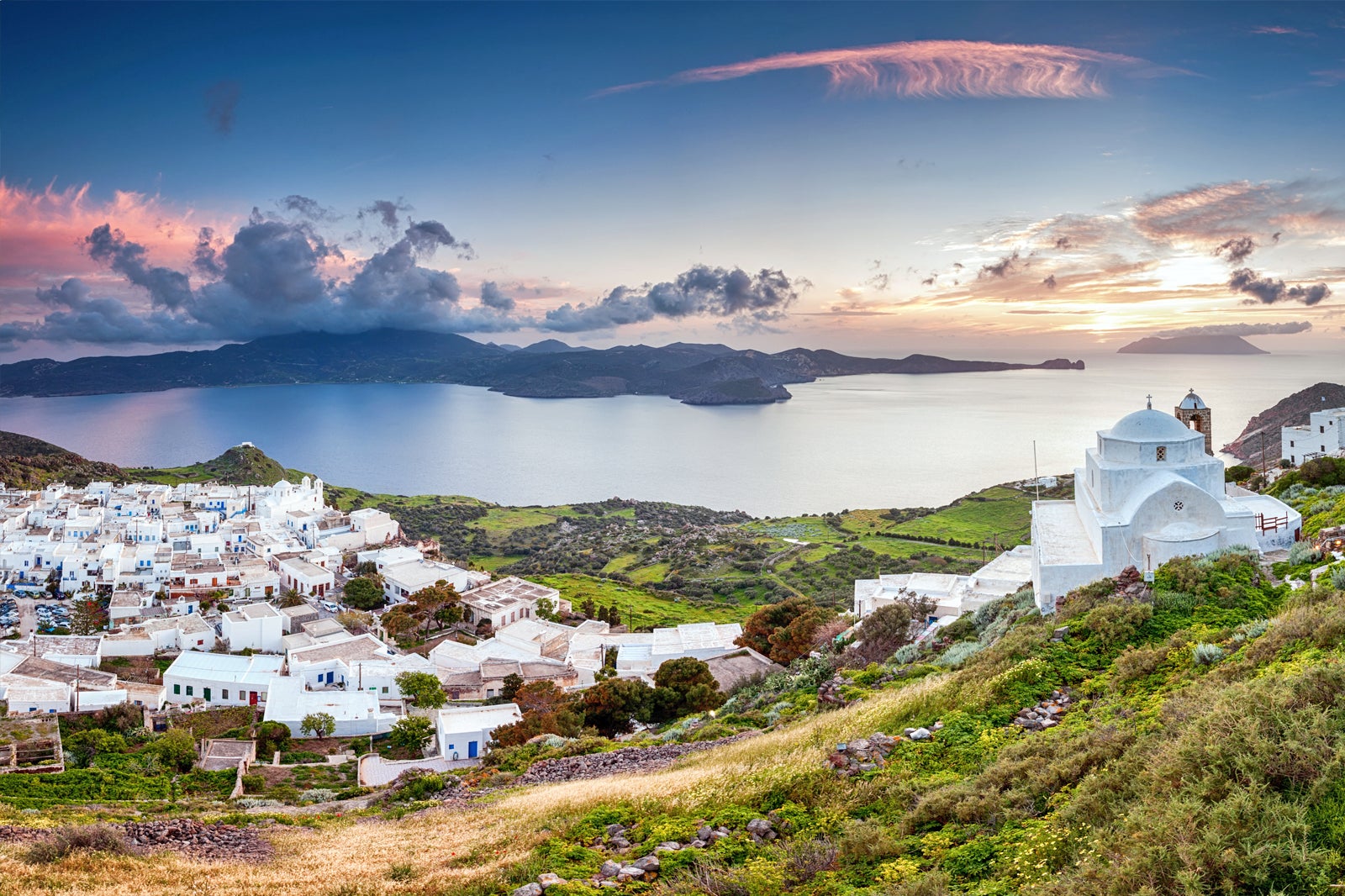 Photo
Couples
Shoppers
History
Plaka is the capital of Milos, and naturally has a bit more of an uptempo vibe as a result. Its narrow, maze-like streets are often barely wide enough for a motorbike to pass through, so you'll be doing most of your exploring on foot. However, in doing so, you'll be able to see whitewashed buildings with colourful doors and windows and flowers spilling from balconies.
In some places, the narrow lanes open out onto bustling squares. In other cases, they'll lead you to old churches, museums, souvenir shops, tavernas and little guesthouses. Standing sentinel above it all is the Venetian Castle – one of Milos' star attractions.
3
Pollonia
The best beach resort in Milos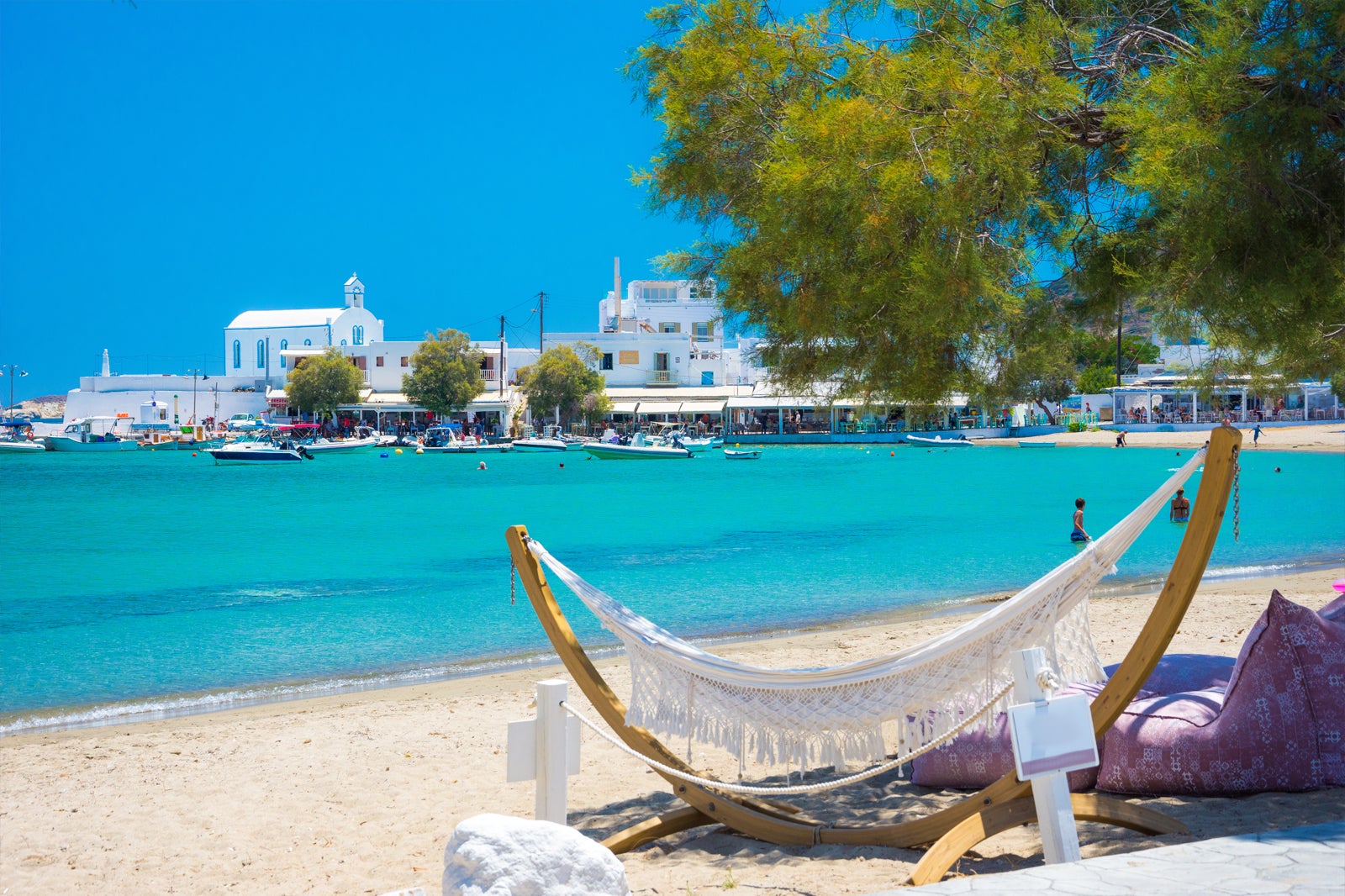 Families
Shoppers
Food
Nightlife
Pollonia was once a small fishing village on the northeast corner of Milos which, because of its beautiful location, has been developed into something of a tourist town. Sometimes spelt as 'Apollonia' (adding the risk of it being confused for about 15 other towns in Greece), the town has a beautiful beach, at the southern end of which is a small ferry port running 30-minute services to neighbouring Kimolos Island.
The town itself is relatively modern, with broad, straight streets lined with a lot of hotels and guesthouses. There's a pretty good selection of eateries and shops and even a few lounge bars, especially around the ferry terminal, with the strikingly blue and white Church of St Nicholas on the opposite headland.
4
Tripití
See Milos' best sunsets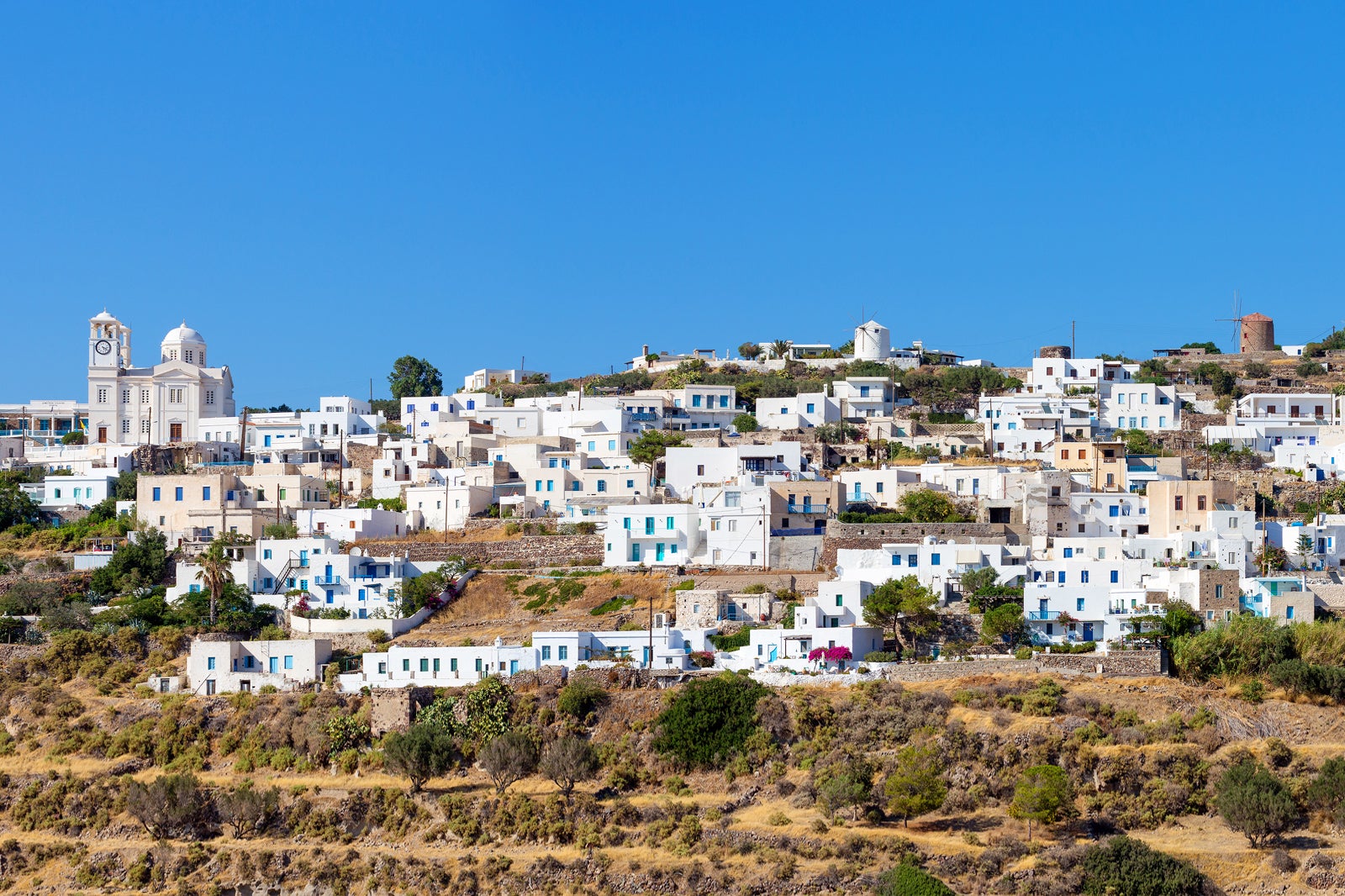 The hilltop village of Tripiti is a historical gem, being home to the Ancient Theatre of Milos, the Catacombs and the place where the famous Venus de Milo was discovered. Located just south of Plaka, Tripiti (sometimes spelt as Trypiti) is basically a suburb of the larger town, yet has a distinctly different atmosphere, providing a quiet, peaceful getaway that's great for couples.
The village's hilltop location, close to the coast and facing west, makes it a fantastic spot to enjoy a beautiful sunset. The Prophet Elias Chapel, while a bit of a hike to get to, offers some of the best views.
5
Klima
The most picturesque fishing village in Milos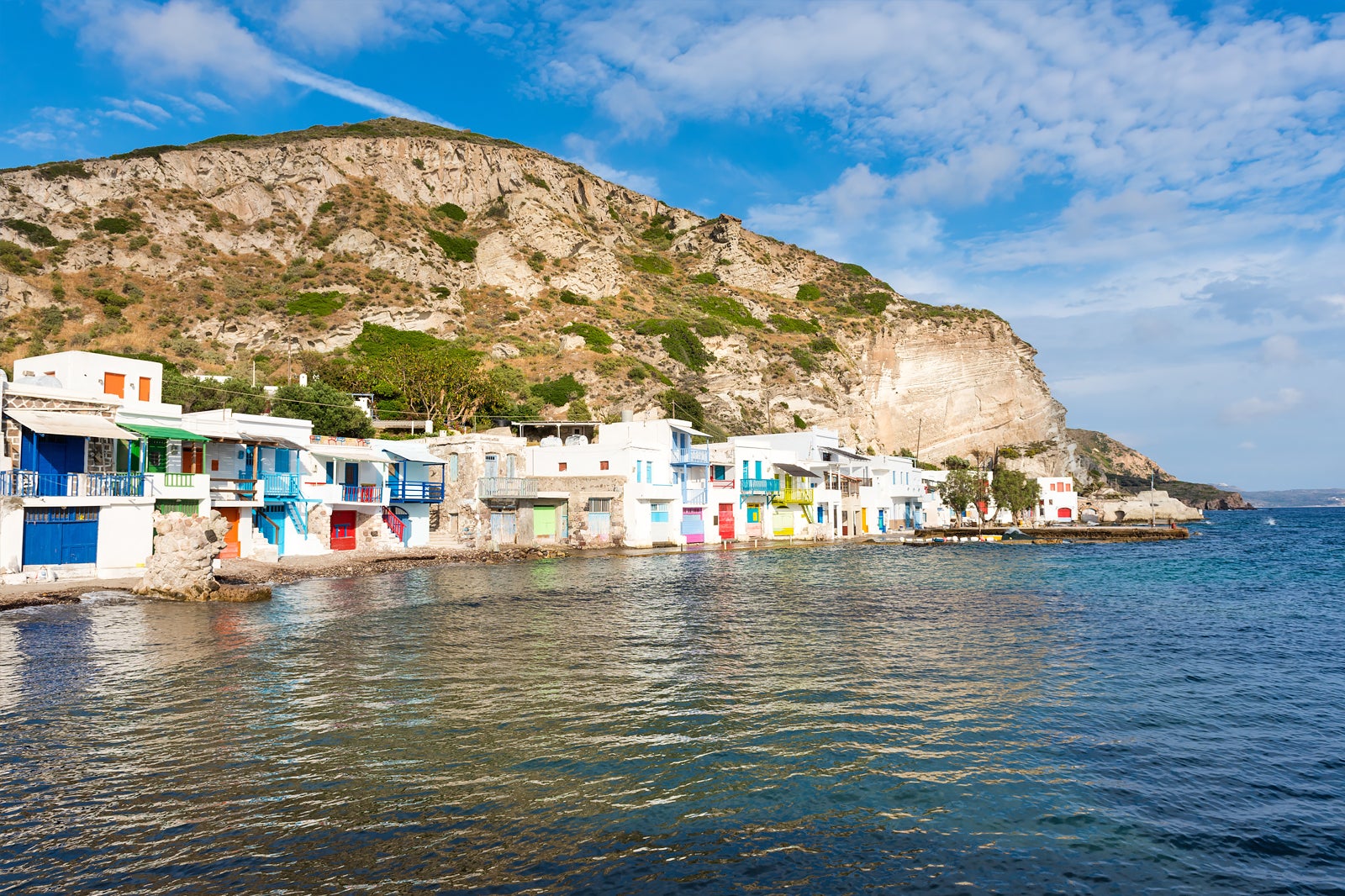 Klima is undoubtedly the most picturesque fishing village in Milos. Located further down the hill from Tripiti, west of Plaka, it consists of very little more than a row of syrmata along the coast. While some of the whitewashed fishermen's houses with their colourful doors are still in use as family homes, others have been converted into shops and guesthouses.
While the traditional huts are certainly not to be missed, there's not much else to Klima. It has no nightlife, only a couple of places to eat and the beach is unremarkable. If you want peace and quiet, however, you'll find it in spades here.
6
Mandrakia
Get a taste of Milos village life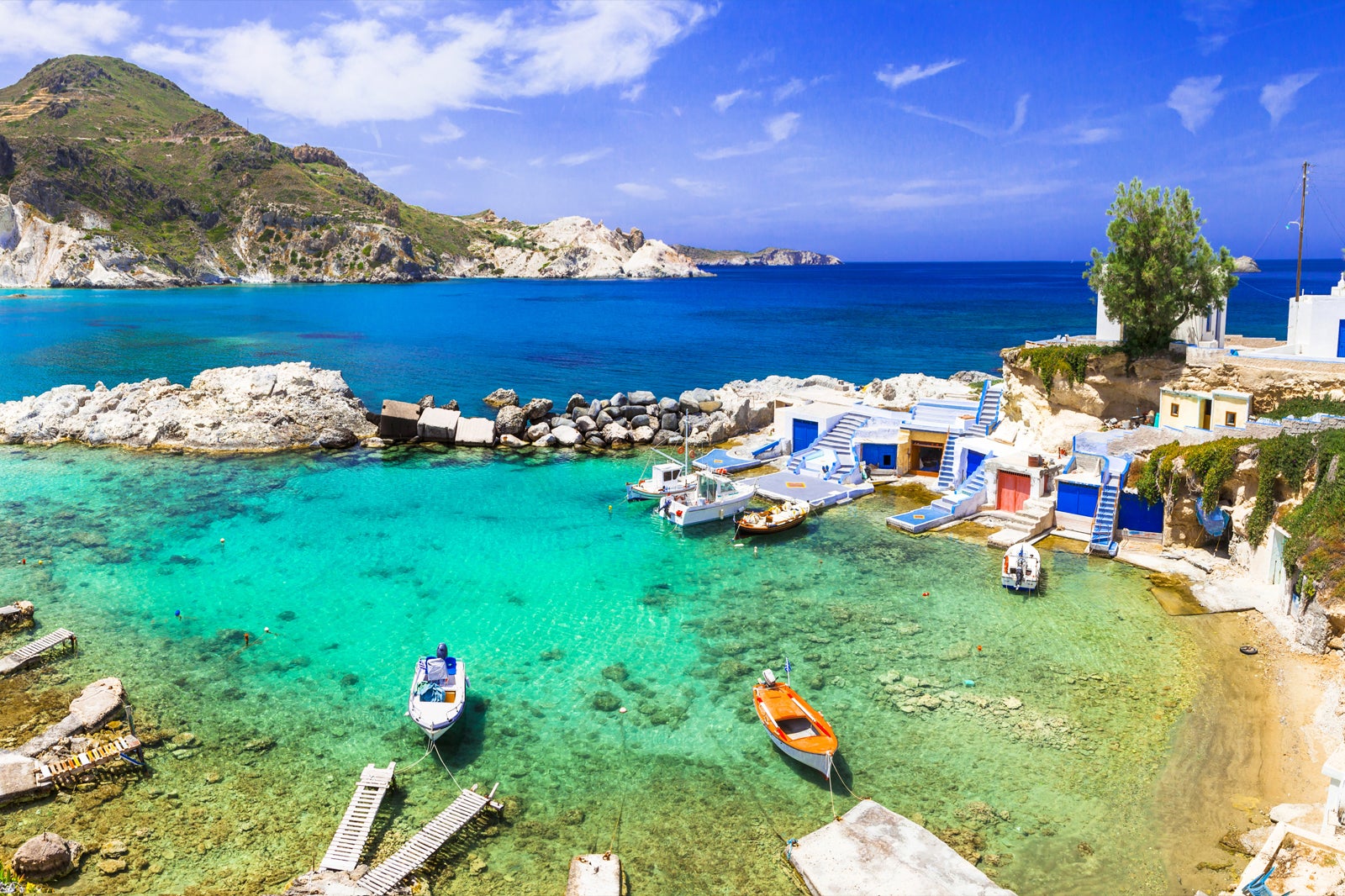 Mandrakia is a tiny village on the north coast of Milos, consisting of just a few dozen houses. Its clustered around a tiny natural harbour that's packed with fishing boats. There's a little beach here and another about 200 metres south – Tourkothalassa Beach. A short drive (or a long walk) to the east is the Sarakinko cliffs and beach, with the shipwreck of the same name a short distance further east.
Also going by 'Mantrakia', the village lacks much in the way of facilities unless you consider an extraordinary atmosphere of localness and charm to be facility. However, its location just a short distance to the west of Triovasalos means you don't have to go without the essential comforts and conveniences.
7
Triovasálos
A central place to stay in Milos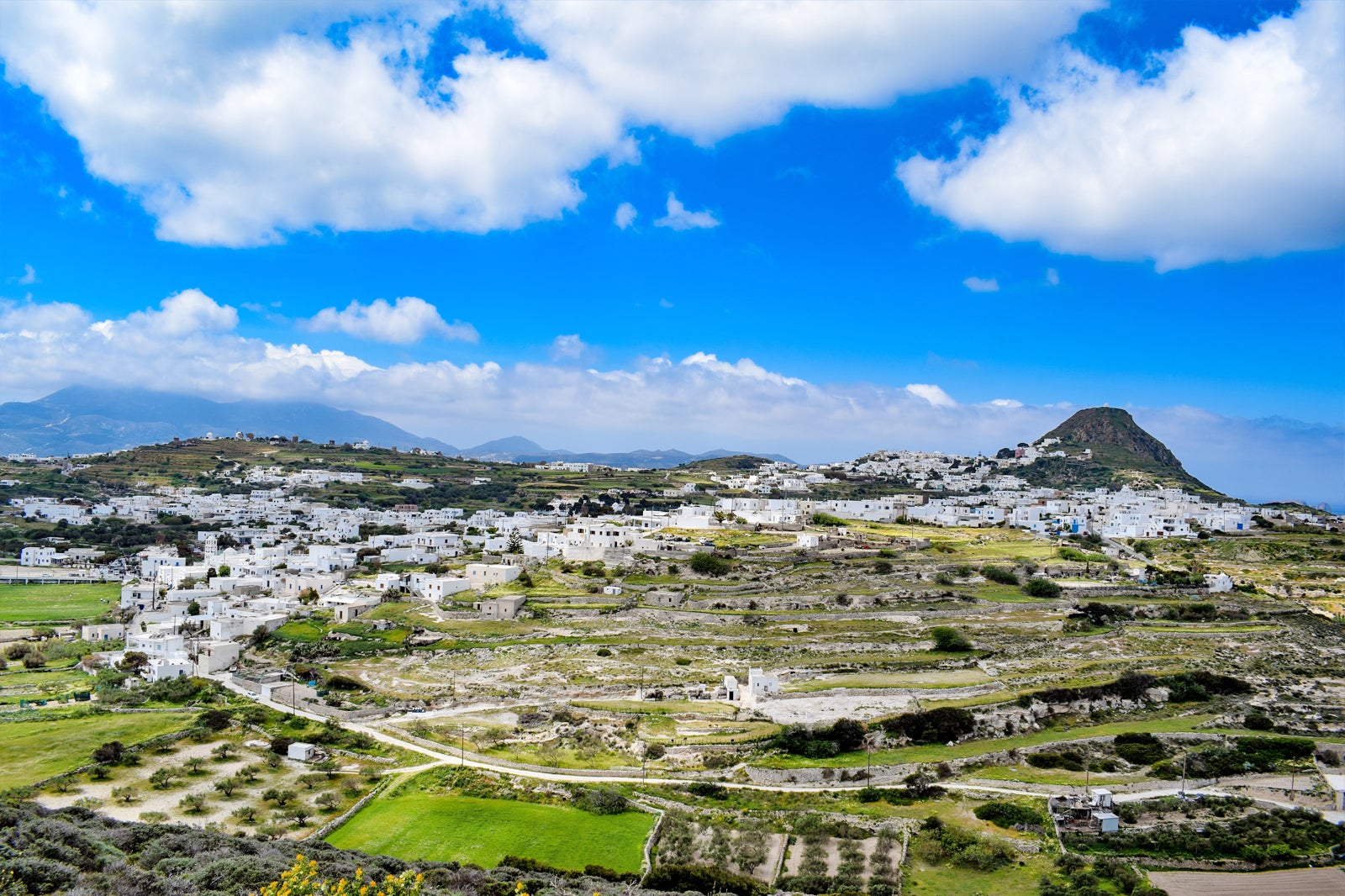 Triovasalos, coupled with neighbouring Pera Triovasalos, forms one of the largest towns in Milos. It's right on the outskirts of Plaka, making it arguably just a suburb of the capital. Even so, its natural surroundings of rolling green hills and terraces make it worth the visit. Unlike the sleepy fishing villages further away, Triovasalos has a lively atmosphere, along with a modest selection of markets and restaurants.
The selection of hotels and holiday rentals in Triovasalos is good and its fairly central location between Plaka, Adamas, Tripiti and Mandrakia makes it a convenient place to stay. However, it lacks the attractions of its neighbours, meaning you will have to travel if you want to see the sights each day.
8
Paliochori
A beautiful beach resort
Paliochori, on the south coast of Milos, is technically more of a resort than a village. Also spelt as 'Paleochori', the area is home to a selection of hotels gathered around a beach, with some restaurants and bars nearby and a church in the middle of it all. There are few local houses, meaning that it has virtually no village atmosphere.
Still, Paliochori Beach more than makes up for this shortfall. The pebbly sand is as colourful as the surrounding cliffs, which wander along the spectrum between pure white, soft yellow, ruddy brown, rusty red and volcanic black. If you're looking for a remote getaway in beautiful natural surroundings then congratulations – you just found it.
9
Fourkovouni
A quaint and convenient fishing village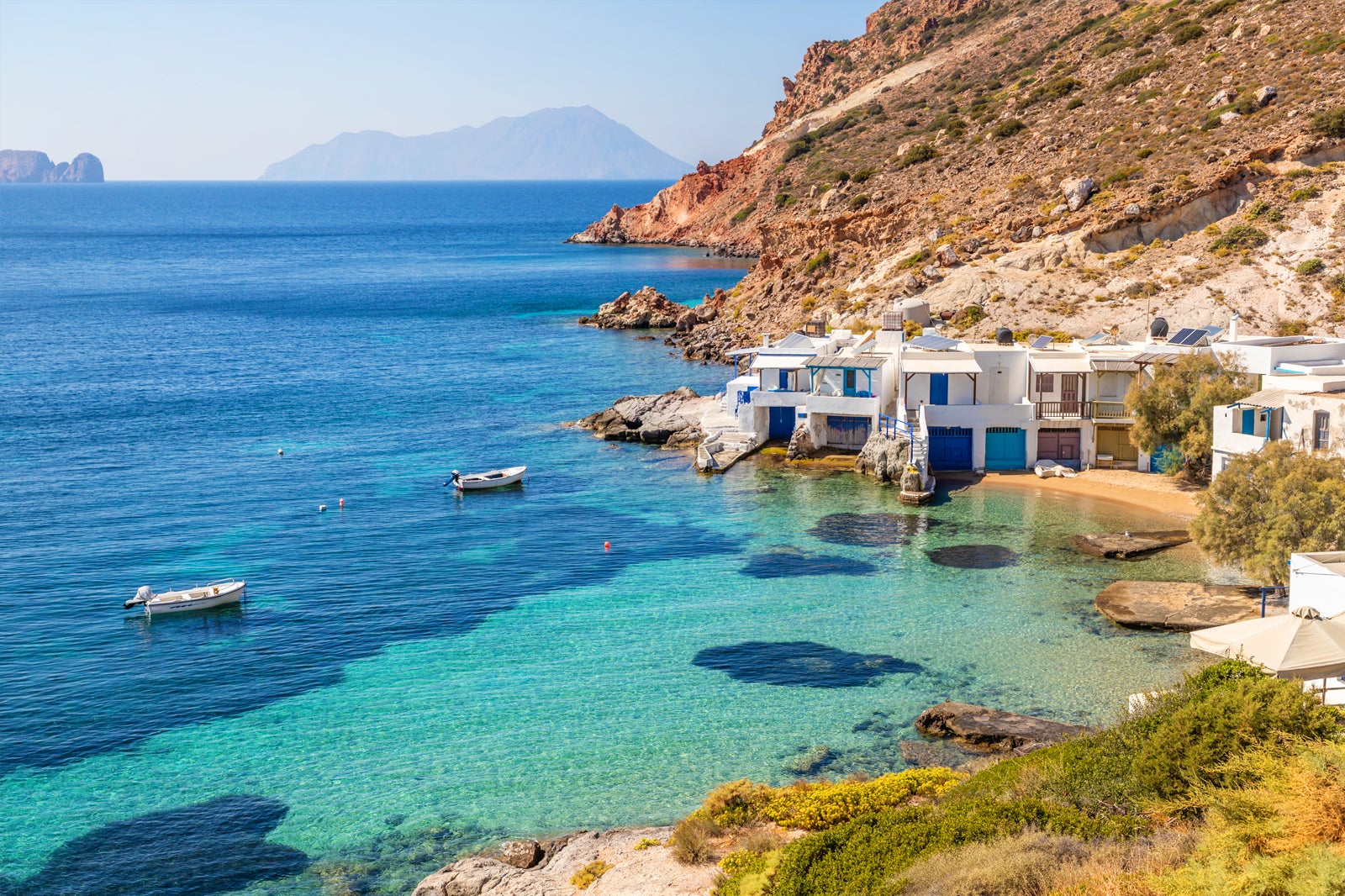 Fourkovouni is a charming fishing village on Milos' north coast and is the closest to Plaka. If you want to visit one of Milos' famous fishing villages but don't want to travel too far to get there, this is the choice for you. It's also not a bad pick just for itself, boasting crystal-clear waters, the iconic 2-storey syrmata (fishermen's houses) and… well, not much else, actually. Unusually, most of the doors of the houses are the same bold blue colour that Greece is so famous for.
With no tourist facilities to speak of, Fourkovouni is a good place for a day trip to snap a few photos, walk around for a bit and absorb the atmosphere. If you're visiting Milos for just a weekend, the convenient location – just 3 km north of Plaka – makes this a convenient destination.
Back to top