10 Things to Do in Santorini When it Rains
What to Do When Rain Spoils Plans in Santorini
Santorini offers an interesting and varied cultural insight when the weather is less than perfect. While this Greek island is a hotspot for holiday-makers looking for their 'Euro Summer', there's still plenty to do when the sun decides to hide behind a grey veil and the rain sets in.
From museums filled with ancient and post-modern treasures and quirky histories of the island's farming production to galleries brimming with quality arts and crafts and unusual theatrical experiences, you'll hardly have a lot of free time on overcast days. You can also sample local delicacies of seafood and wine or learn how to create your own at home with cooking classes. Island life isn't just about the beach and sunshine – check out our guide to popular things to do in Santorini when it rains.
1
Wine tasting
Sample some of Santorini's finest drops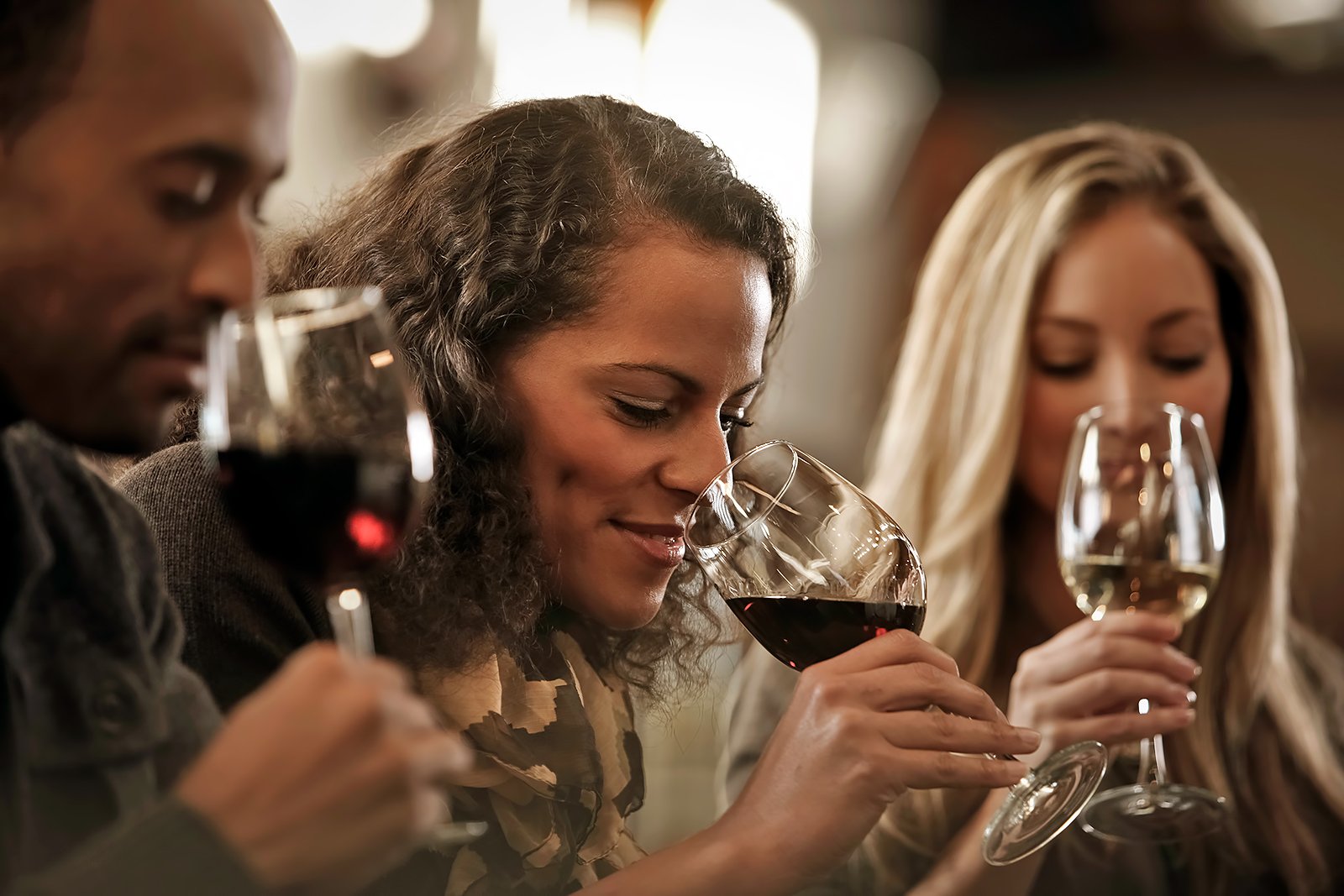 Sampling fine wine in Santorini should be on every traveller's list, no matter the weather. While it wasn't particularly known for its wine some 40 years ago, the island has stepped onto the scene by producing an excellent selection of white varieties – Assyrtiko in particular. Despite the arid climate and dry landscape, the nutrient-rich volcanic soil of Santorini has nurtured the development of the now-booming wine scene on the island.
Even if the weather isn't ideal for wandering among the vines, you can still sample some of the finest drops on offer at the island's best vineyards. Santo Wines in Pyrgos offers a comprehensive wine tour, where you can sample a selection of their wines. They also have a large store on-site offering a range of local produce. Complemented by brilliant views of the cliffs and caldera, this is an ideal place to while away a rainy day.
Location: Pyrgos Kallistis 847 00, Greece
Open: Daily from 10 am to 6 pm
Phone: +30 2286 028058
2
Museum of Prehistoric Thira
Discover the past of this idyllic Greek destination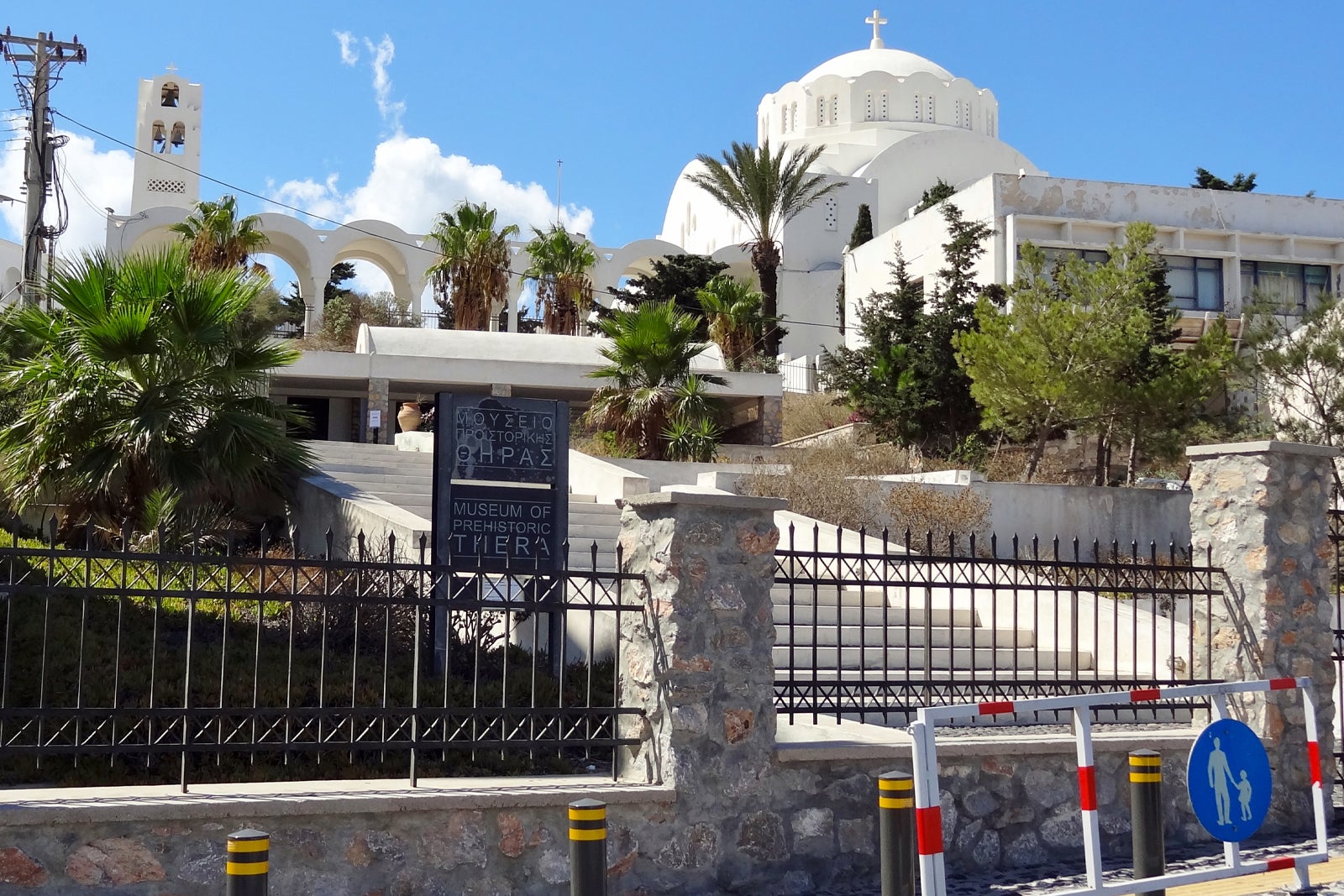 The Museum of Prehistoric Thira will give you a glimpse into Santorini's past if the weather prevents you from visiting the island's archaeological ruins. It houses artefacts obtained from excavations in Akrotiri, Potamos, and a series of smaller sites across the Cyclades and Samos. Many of the exhibits are in excellent condition, with numerous examples on show from the Minoan Bronze Age.
The 2-storey building displays exemplary artefacts for visitors to gain a deeper understanding of life from the Late Neolithic Era through to the Cycladic Periods. It's considered an extension of the Akrotiri archaeological site due to the vast number of pieces within the collection. You can find the Museum of Prehistoric Thira near the main bus station of Santorini's capital, Fira.
Location: Thera 847 00, Greece
Open: Wednesday–Monday from 8.30 am to 3.30 pm (closed on Tuesdays)
Phone: +30 2286 023217
photo by Olaf Tausch (CC BY 3.0) modified
3
Tomato Museum
An unexpected delight exploring the island's tomato history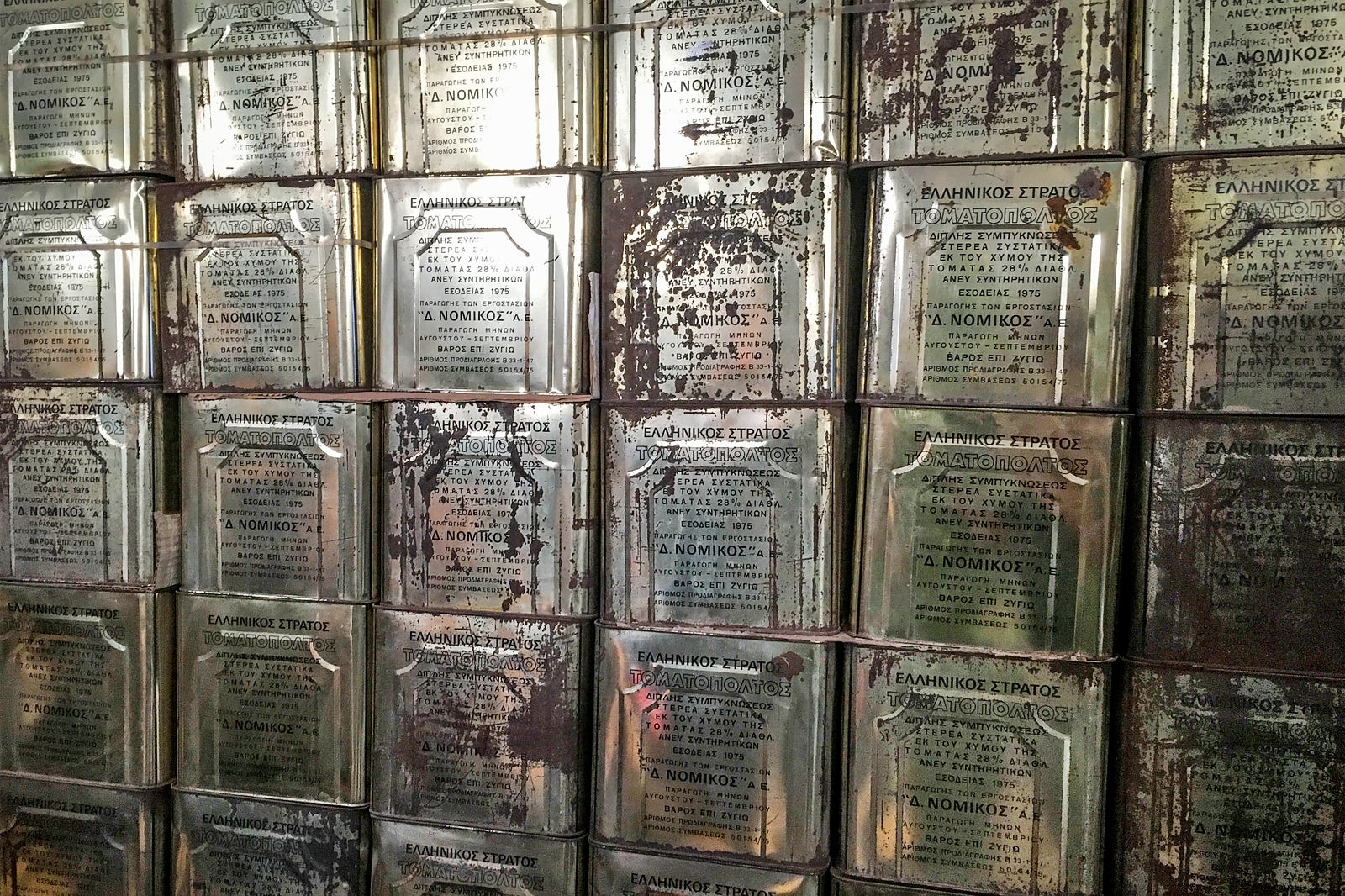 The Tomato Museum is dedicated to the history of this humble fruit, which is essential in Mediterranean cuisine. Set by the moonscape-like Vlychada Beach, the museum delves into the prosperous tomato processing industry on the island before the 1952 earthquake. Interviews with former workers, along with detailed displays of the plant's machinery and facilities are on show for an insightful visit.
The Tomato Museum was restored some 30 years ago, and stands as a historical reminder of the island's cultural identity. It also doubles as the Santorini Arts Factory, adding to the intrigue of this unique institution. The site host a variety of artistic and cultural events year-round.
Location: Vlychada 847 00, Greece
Open: Daily from 10 am to 6 pm
Phone: +30 2286 085141
photo by Dafydd Vaughan (CC BY-SA 2.0) modified
4
Atlantis Books
Uncover this booklover's heaven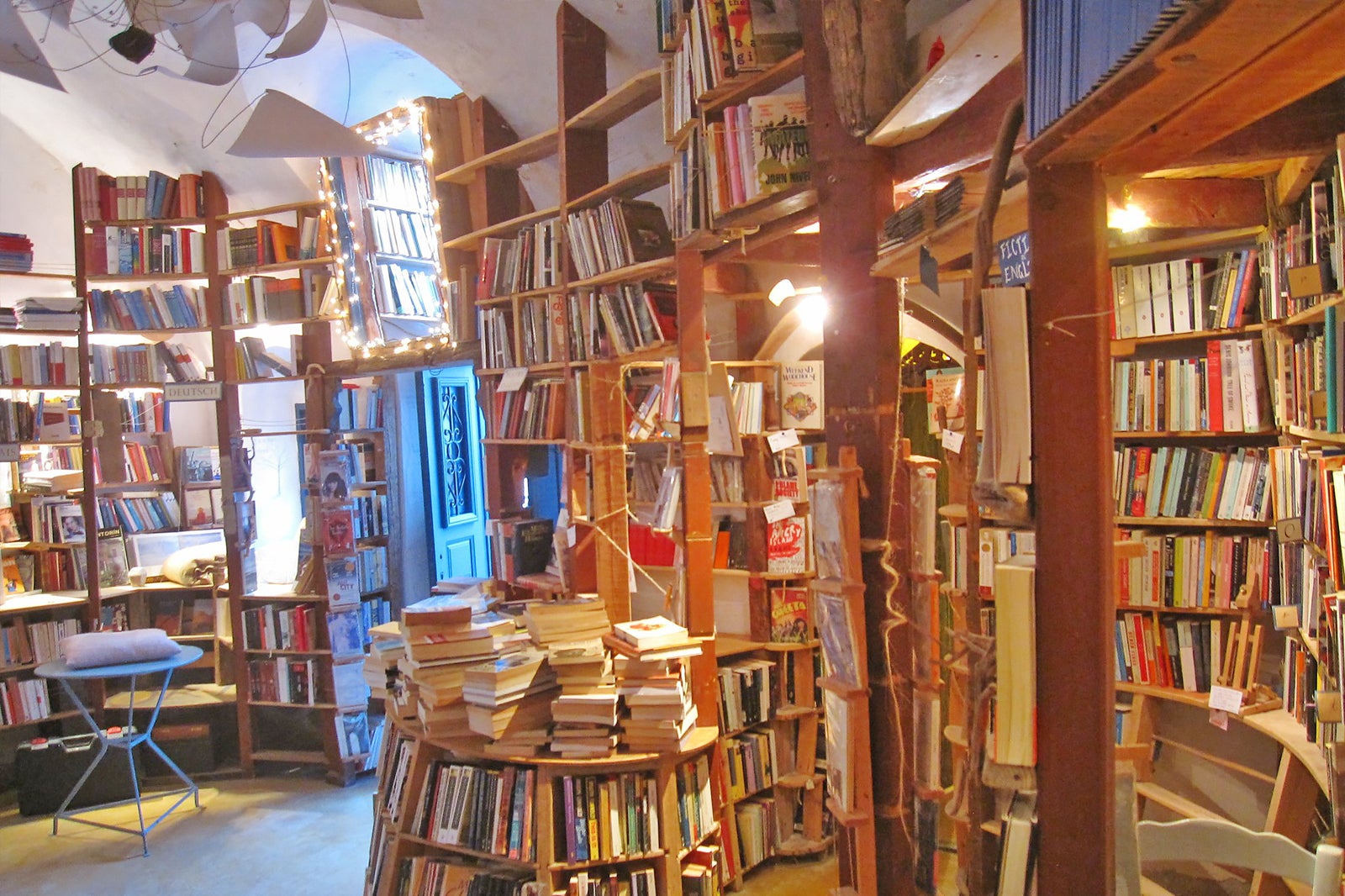 Atlantis Books, earning its reputation as a Santorini must-visit its own right, is one of the best bookstores in the world. Owing to its idyllic location overlooking Santorini's caldera, even when the skies are grey, the store offers stiff competition for a better place to discover your newest read.
Whether you're looking for pre-loved books, rare first editions, or simply browsing the book-laden shelves, this alluring store is sure to reel you in. The cosy terraces are adorned with signs welcoming pets and crates of second-hand books looking for a new home. Throughout the year, Atlantis hosts a range of events, from food and film festivals to their own Caldera Arts and Literature Festival.
Location: Nomikos Street, Oía 847 02, Greece
Open: Daily from 2 pm to 8 pm
Phone: +30 2286 072346
5
Greek cooking class
Learn the skills to recreate those brilliant flavours at home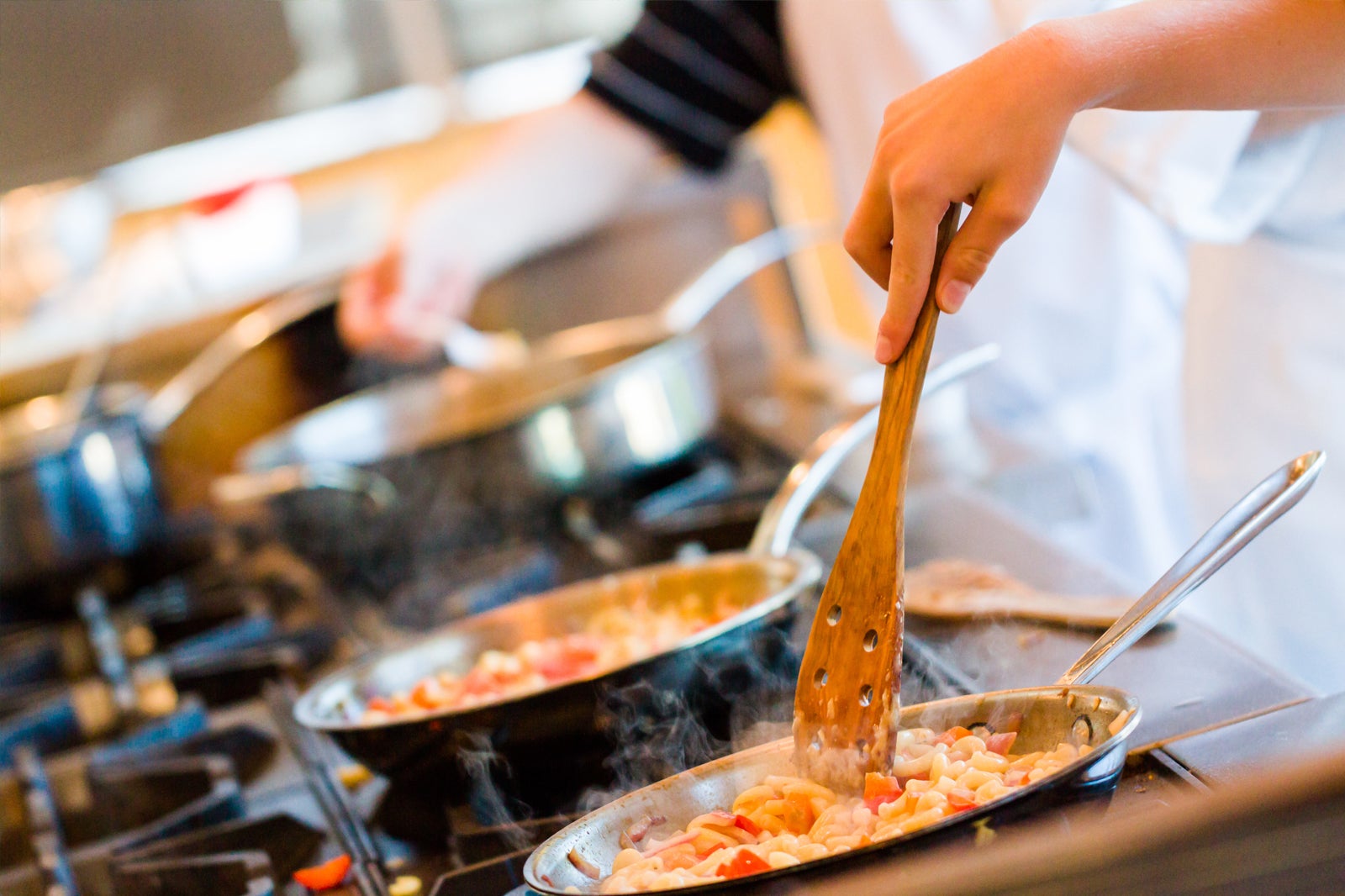 Cooking is one of the best things to do when the weather is grey. While much of the Mediterranean diet involves light, fresh dishes and seafood, there are plenty of hearty dishes that will warm you on a cold day. Taking home a new skill of Greek cooking will be invaluable as you can recreate cuisine that ignites a sense of nostalgia of your travels.
Petra Kouzina is one of the best places to try your hand at preparing local dishes. Hosted within a traditional home, the informal classes let you learn more about local life and culture. From learning about local produce to creating your own dishes with the help of expert chefs and enjoying your culinary delights together, the entire experience is an excellent way to embed a local infusion to your getaway.
Location: Megalochori, Thira 847 00, Greece
Open: Daily from 11 am to 9 pm
Phone: +30 69810 76655
6
Seafood dining at Ammoudi Bay
Taste the freshest catches by the sea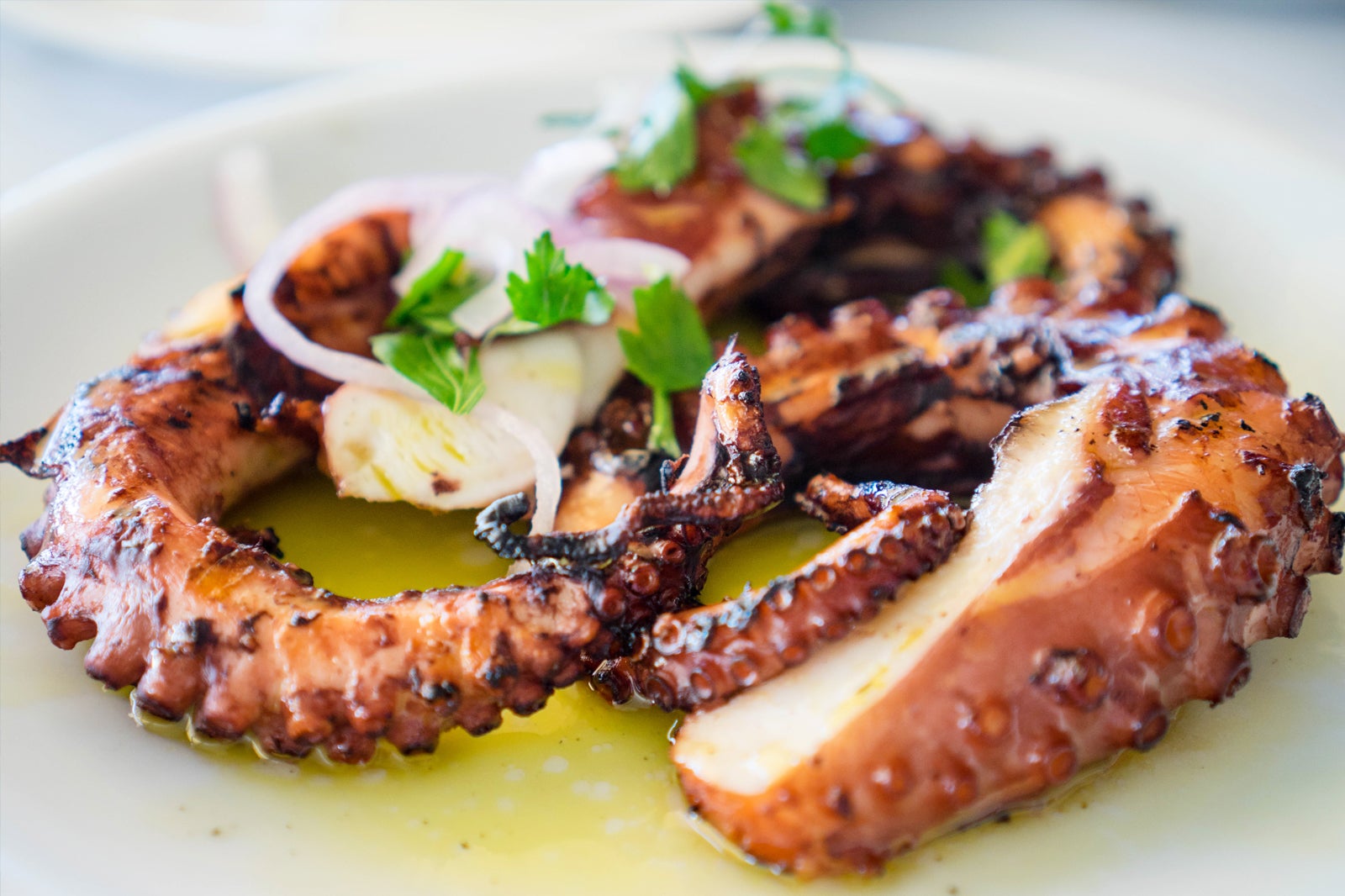 The peaceful, crystalline Ammoudi Bay is set at the base of the cliffs where the whitewashed village of Oia sits lies. Normally home to cliff jumpers, boats collecting guests for day trips, and sunhat-laden tourists, it's still an ideal destination when the weather is less than favourable for a day on the water. With its string of seafood restaurants along the waterfront, it has become a must-visit for foodies in Santorini.
Ammoudi Fish Tavern has graced many Instagram feeds with its display of fresh octopus strung up surrounded by a wood frame, but its dishes are also considered some of the best. From lightly smoked salmon salads to seafood risottos, you're sure to sample some of the most delicious seafood on Santorini here.
Location: Ammoudi Bay, Santorini, Oia, Ammoudi 847 02, Greece
Open: March–November: daily from 11 am to 11 pm
Phone: +30 2286 072298
7
Explore Santorini's churches
Go church-hopping with buildings dotted across the island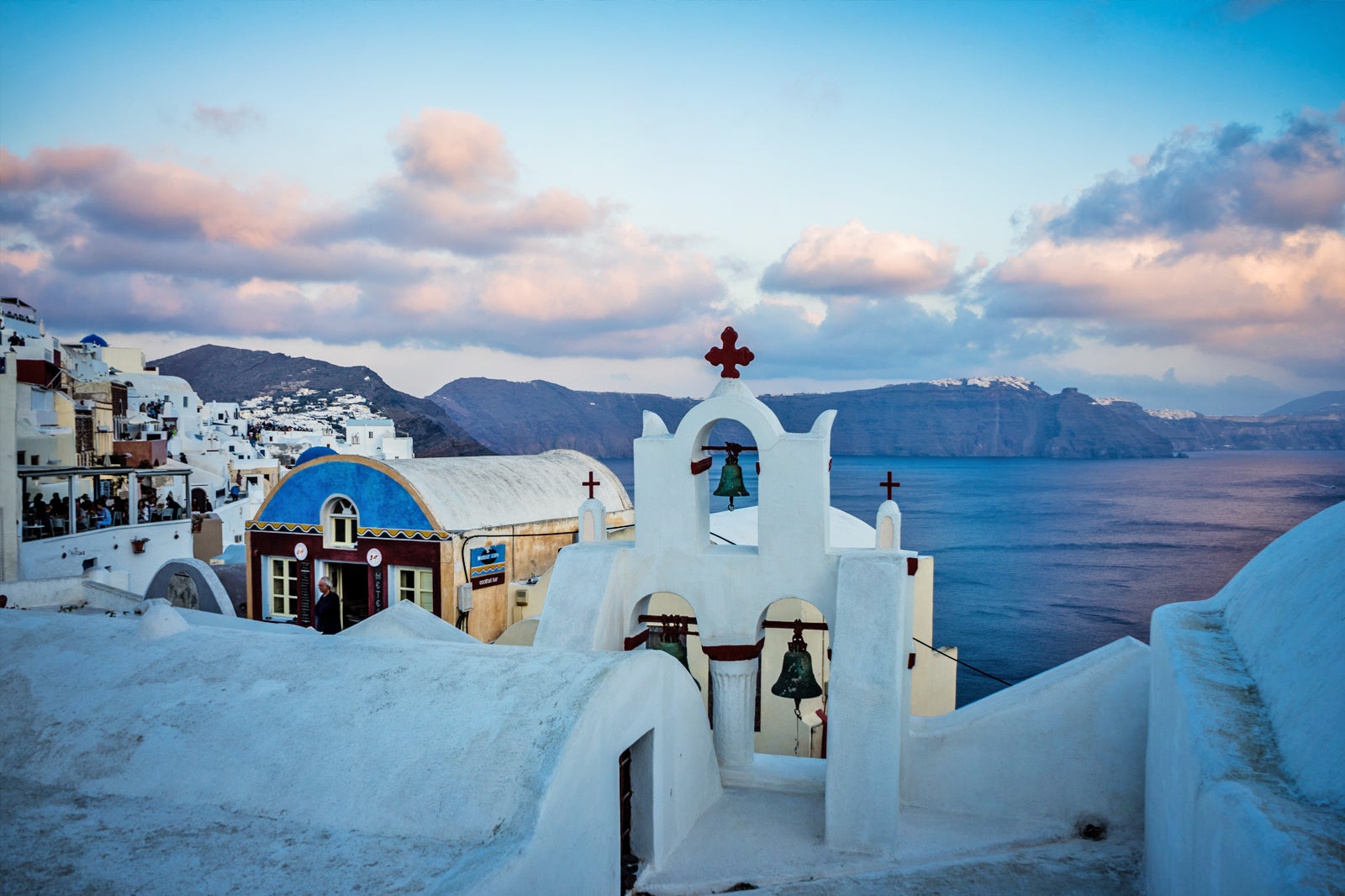 Santorini is an island littered with churches, monasteries and chapels. From remarkable structures with bright blue domes on the cliffside of Oia to small chapels built into the stony hills, this Aegean locale has it all. With villages centred around these sacred buildings, when the weather isn't welcoming outside, head indoors to tour some of the island's best churches.
Featuring a collection of Catholic and Orthodox churches, as well as Byzantine-style buildings, there are more than 600 sites across Santorini. Must-visits include Profitis Ilias Monastery (atop the highest point on the island), the Orthodox Metropolitan Cathedral (overlooking the caldera from Fira), the famous blue domes of Anastasi Church in Oia, and the beautiful Agios Charalambos Church.
8
Browse for art
An abundance of galleries and art stores will inspire your creative side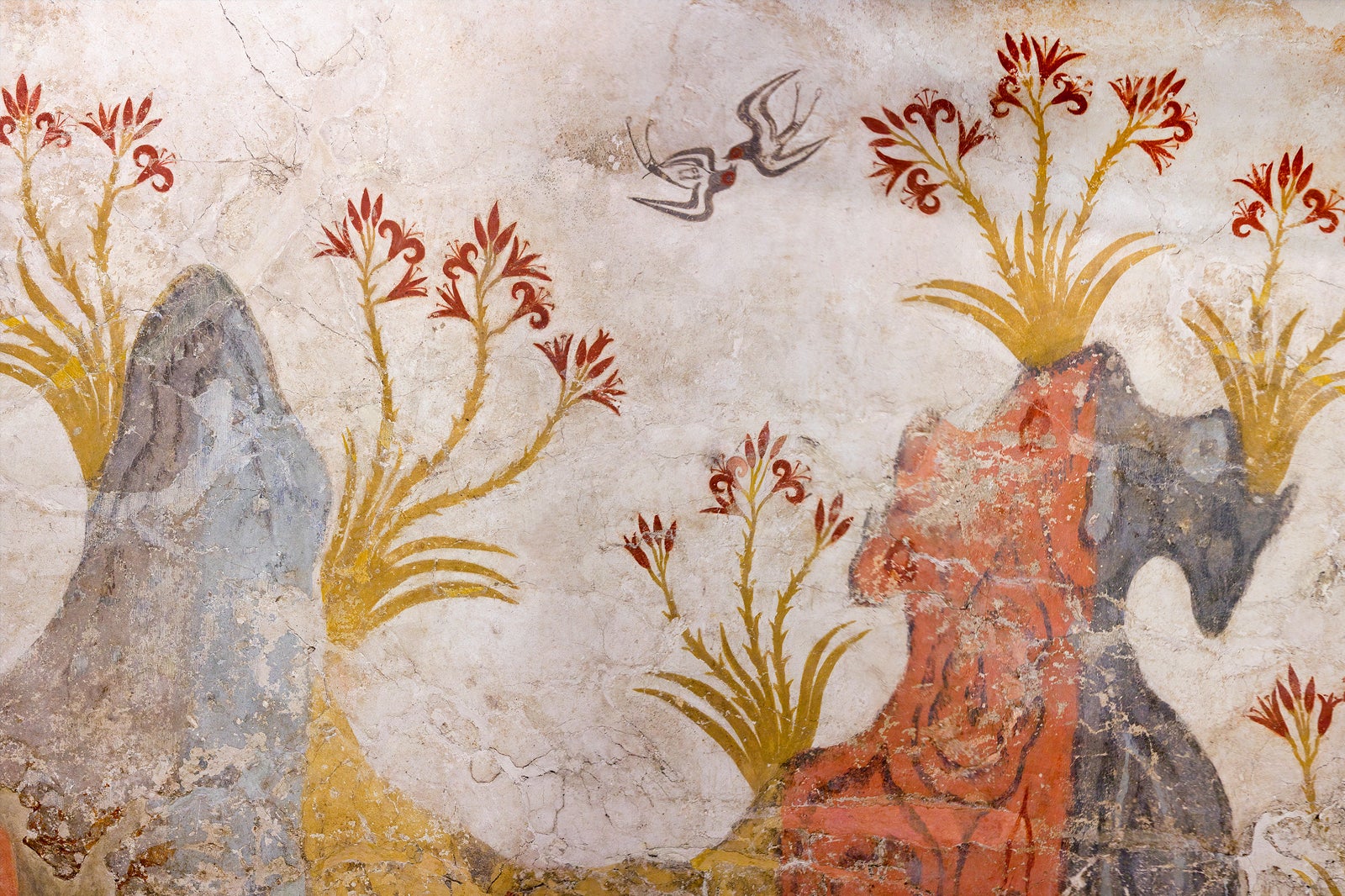 If grey skies have you in search of some colour, there's plenty to be found hidden within the whitewashed facades of Santorini. From galleries to stores selling one-of-a-kind pieces, there's an abundance of excellent creative spaces across the island.
For a unique setting, head to Art Space in Exo Gonia, an art centre built into pumice stone of an old winery or pop into the pottery workshop at 1260oC Ceramic for contemporary Greek ceramic works. AK Art Gallery in Fira is the oldest on the island, opened by 2 leading Greek artists. While in Fira, discover the treasures tucked away at Tzamia-Krystalla Gallery, just down by the old port.
9
Enjoy a spa day
Escape the wet weather with a day of relaxation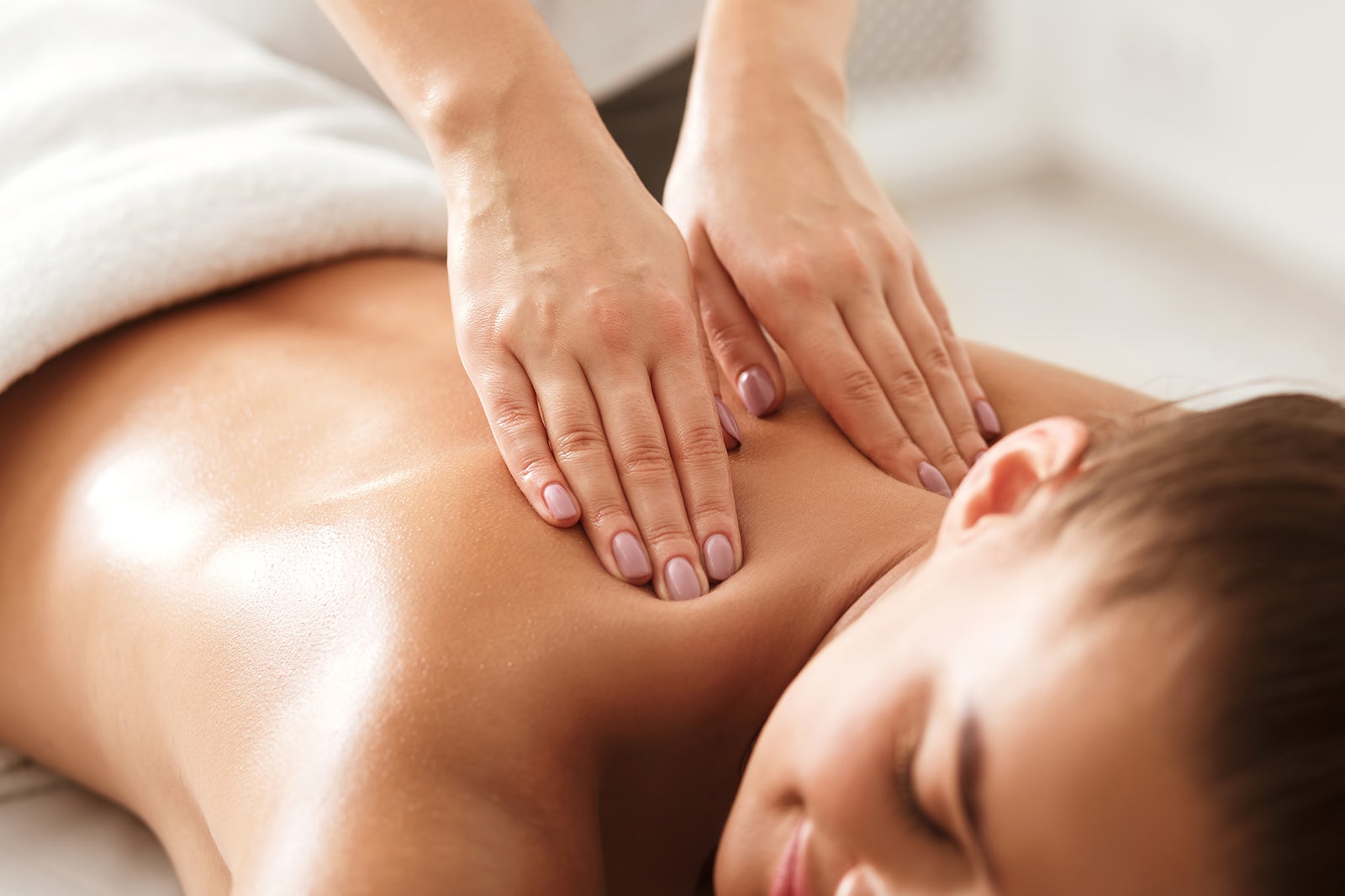 Santorini is a place that has never been short on indulgence, which is why spending a day at the spa is an excellent way to avoid the wild and wet weather outside. Greece is known for being a leader in the spa and wellness zone, excellent if you're looking to bliss out or just want to treat yourself to a day of unwinding in peace.
Head to one of Santorini's top spa hotels, Santo Maris in Oia, for a luxurious range of treatments and facilities for pure relaxation. The in-house Anassa Spa is fitted with high-end amenities, including an indoor pool, steam bath, sauna and cryotherapy facilities. Slip into Zen-like bliss with a Cretan massage, revive your skin with a red clay treatment, or add a little romance with a couples massage.
Location: Oia 847 00, Greece
Phone: +30 21 1234 0692
10
The White Door Theatro
Catch a brilliant Greek-comedy stage show
For something more unusual from Santorini's capital, a night at The White Door Theatro is a world away from a night in the West End. The fan-favourite wedding comedy is a uniquely interactive stage show based around a Greek wedding. An ensemble of performers, musicians, singers and dancers all entertain the audience tying in elements of Greek culture through music and dance, even encouraging audience participation.
Set among the whitewashed buildings that are so iconic to Greece, a series of tapas-style Greek appetisers is served alongside unlimited wine to keep you satisfied throughout the evening. The theatre does not offer full-sized meals, so it's best to stop somewhere nearby before or after the show if you're feeling particularly peckish.
Location: Erithrou Stavrou, Santorini 847 00, Greece
Open: Tuesday–Sunday from 5 pm to 11 pm (closed on Mondays)
Back to top