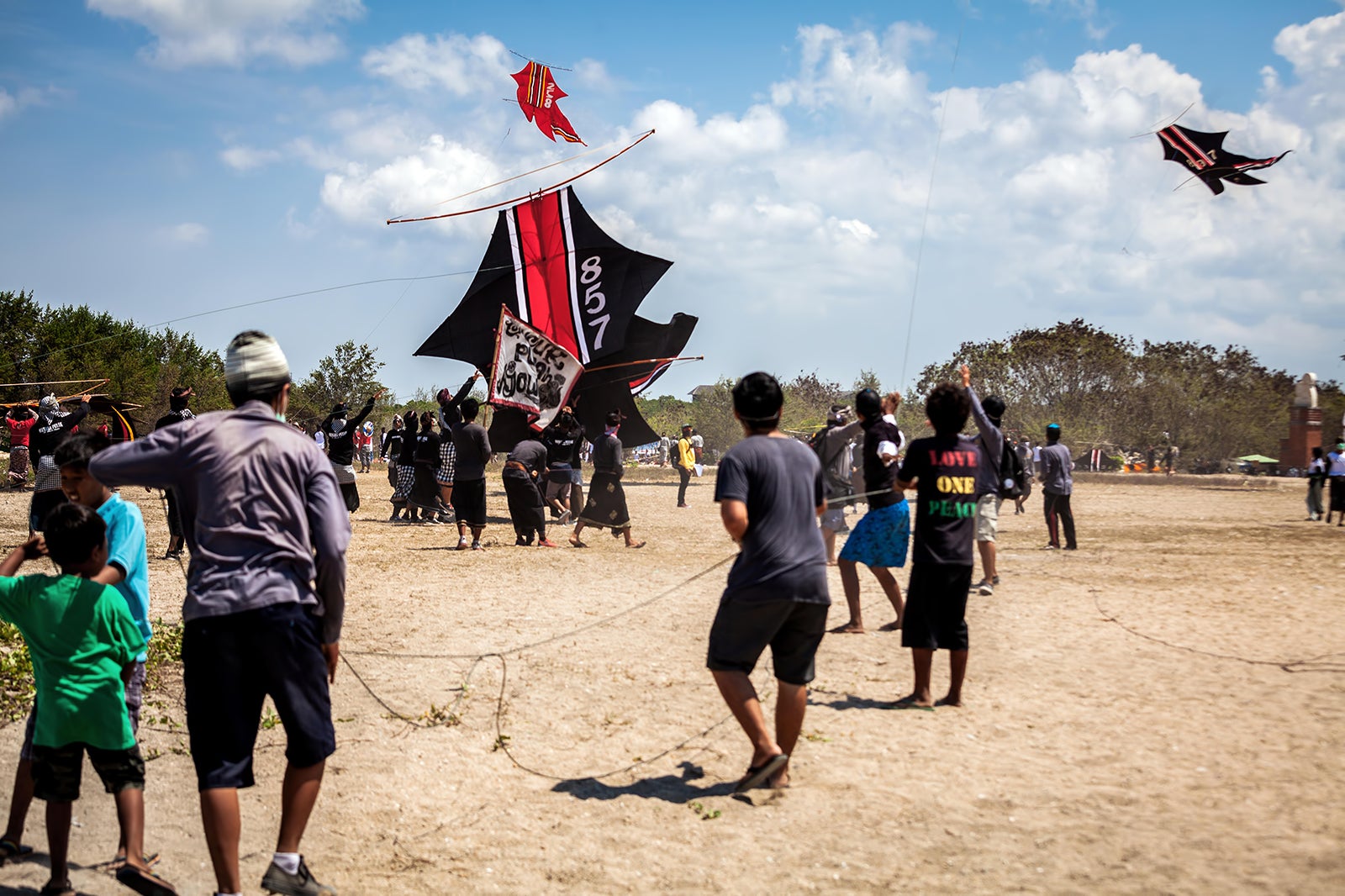 10 Weird Sports and Wacky Games in Bali
Odd Pastimes and Sights You'll Only See in Bali
These weird sports and wacky games in Bali show that there's more than meets the eye to the island's widely known cultural sights. You can witness these 'only in Bali' scenes as part of annual festivities – some can be full of competition with whole villages cheering on, while others are outright peculiar pastimes that locals have enjoyed for generations.
Some pastimes are seasonal highlights that bring societies together, from groups as small as a village to the whole island. The annual Bali Kites Festival is a fine example, which sees a month-long competition of giant kites created by troupes all over Bali. Below is a collection of odd sights that are great cultural experiences to encounter on your visit.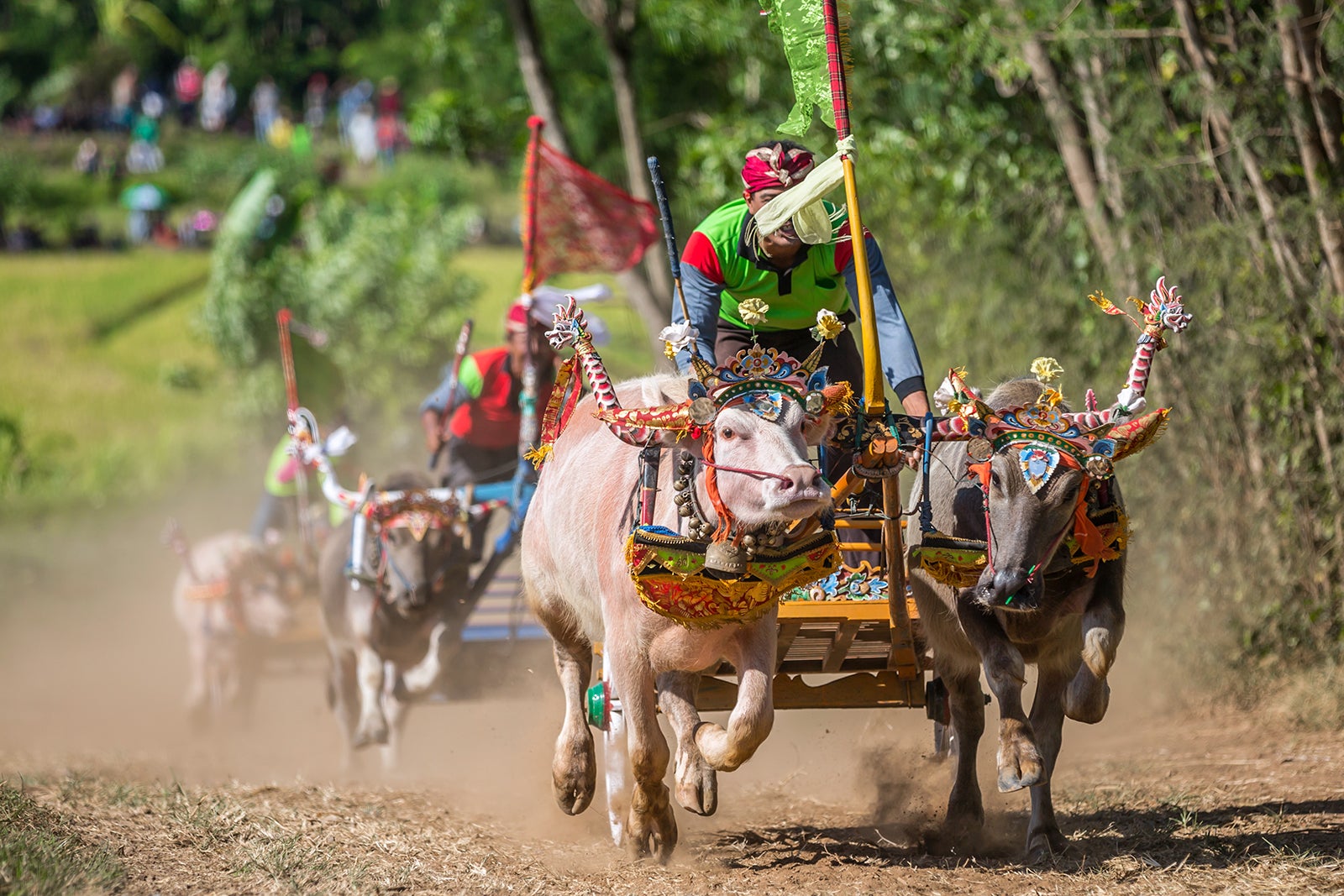 Head out to the West Bali region between the months of July and November for this annual local festivity, which features racing water buffaloes in a major Grand Prix.
Makepung is a principal highlight in the regency of Jembrana and involves farmers in the region entering their hundreds of pairs of buffaloes into scheduled races in different harvested rice field circuits, teamed up together with jockeys who mount race-modified wooden ploughs. There will be mud!
Location: Negara, Jembrana, Bali, Indonesia
2
Perang Pandan war dances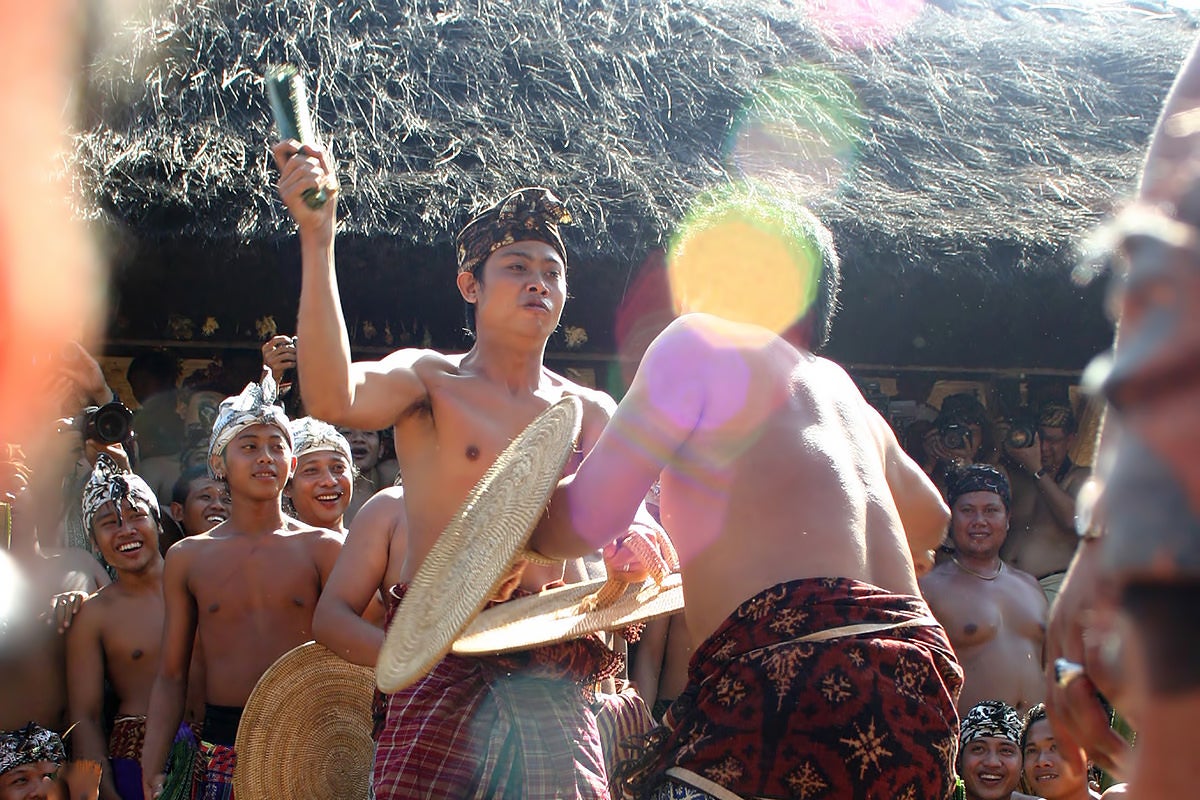 Perang Pandan is a major highlight in East Bali that's part of a ceremony held around June and July each year. The event takes place in Tenganan, a well-preserved old Balinese village just north from the popular resort of Candidasa. The age-old tradition is unique only to this village and is also referred to locally as mekare-kare and megeret pandan.
The coming-of-age ritual sees friendly duels between all male villagers, who bout each other armed with a tied packet of thorny 'pandan' leaves in one hand and a small rattan shield in one hand and the other. There will be blood! Even so, all are friendly matches, with participants smiling and cheering on.
Location: Tenganan, Manggis, Karangasem, Bali 80871, Indonesia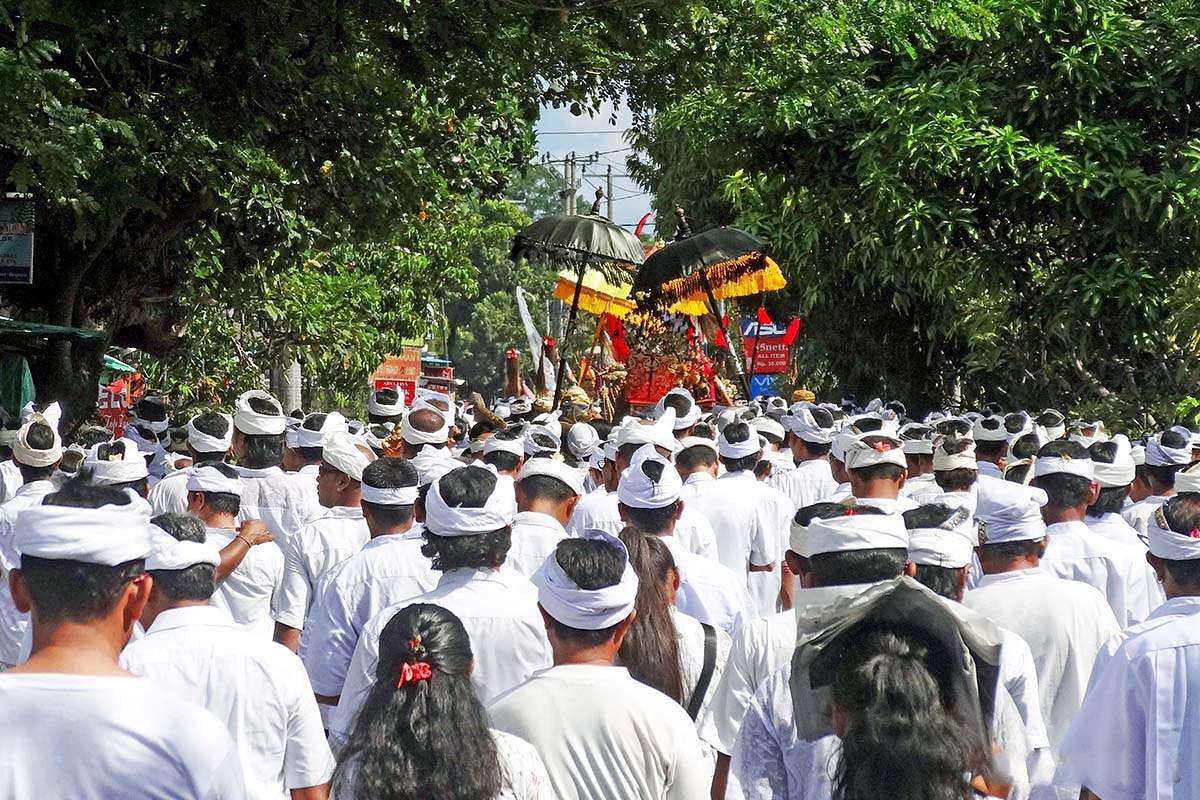 Every Saka New Year Eve, or the day before the Nyepi day of silence in Bali, village communities island-wide engage in festive street parades featuring bamboo torches and papier-mâché effigies called ogoh-ogoh. These are built throughout the weeks leading up to the Saka New Year, and showcase the creativity of youth groups, mostly depicting mythical figures out of bamboo frameworks.
Creations have become bigger and more intricate throughout the years, and competitions are held by the provincial government to foster creativity and preserve this unique tradition.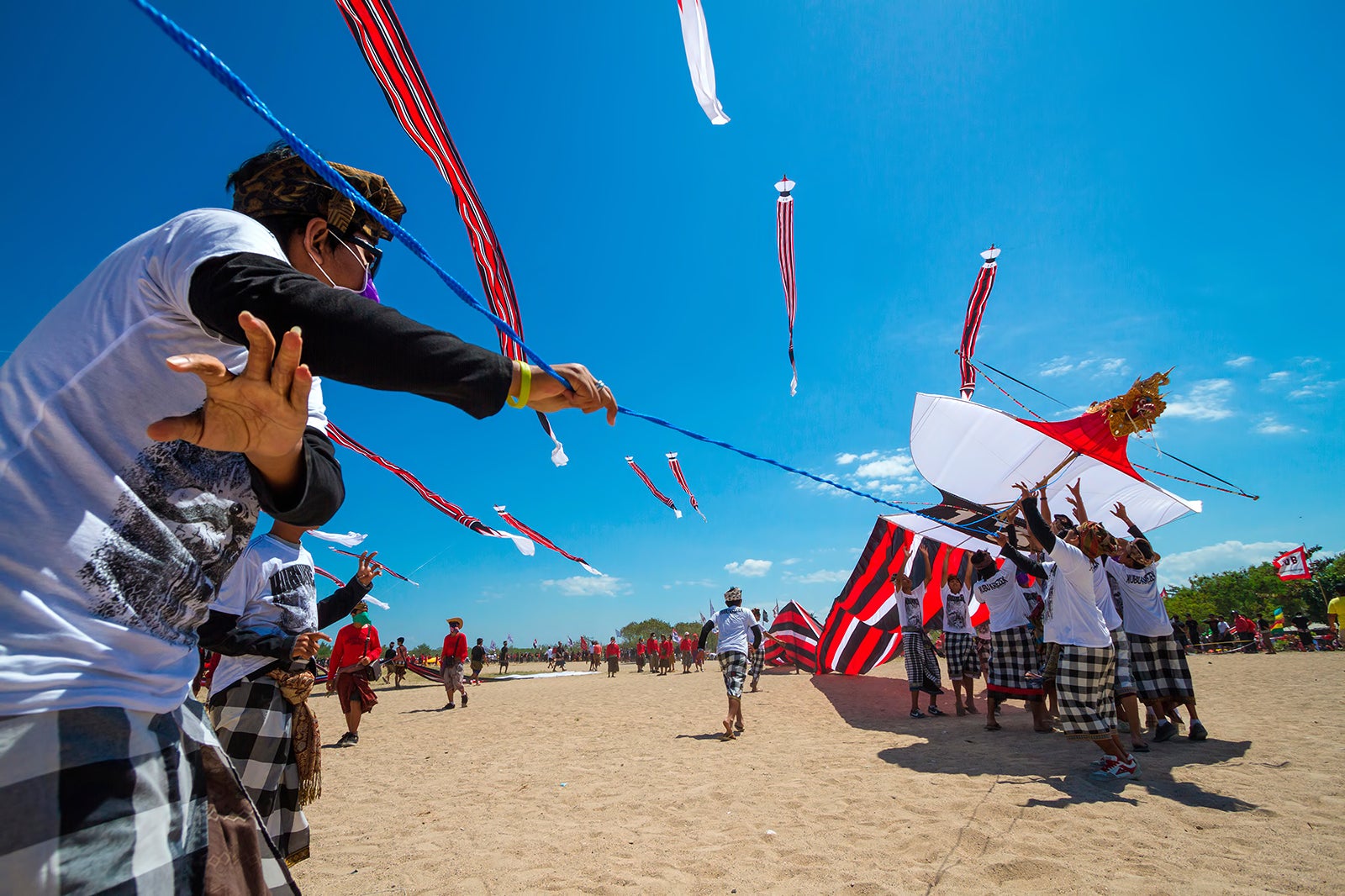 A series of kiting events take place over the windy season in Bali, between the months of July and August, and sometimes through October, each year. The festival runs through various dates and locations, but the main island event that features competitions amongst kite troupes from all over the island is held along the eastern coast of Padanggalak in Sanur.
Balinese kites are gigantic, with frames measuring up to eight meters in length (not counting the tails of some models). Hundreds of these colourful giants will take to the skies for this unique spectacle.
Location: Padanggalak Beach, Jalan Padanggalak, Kesiman, Denpasar, Bali, Indonesia
Open: June–August
5
Omed-omedan 'smooching festival'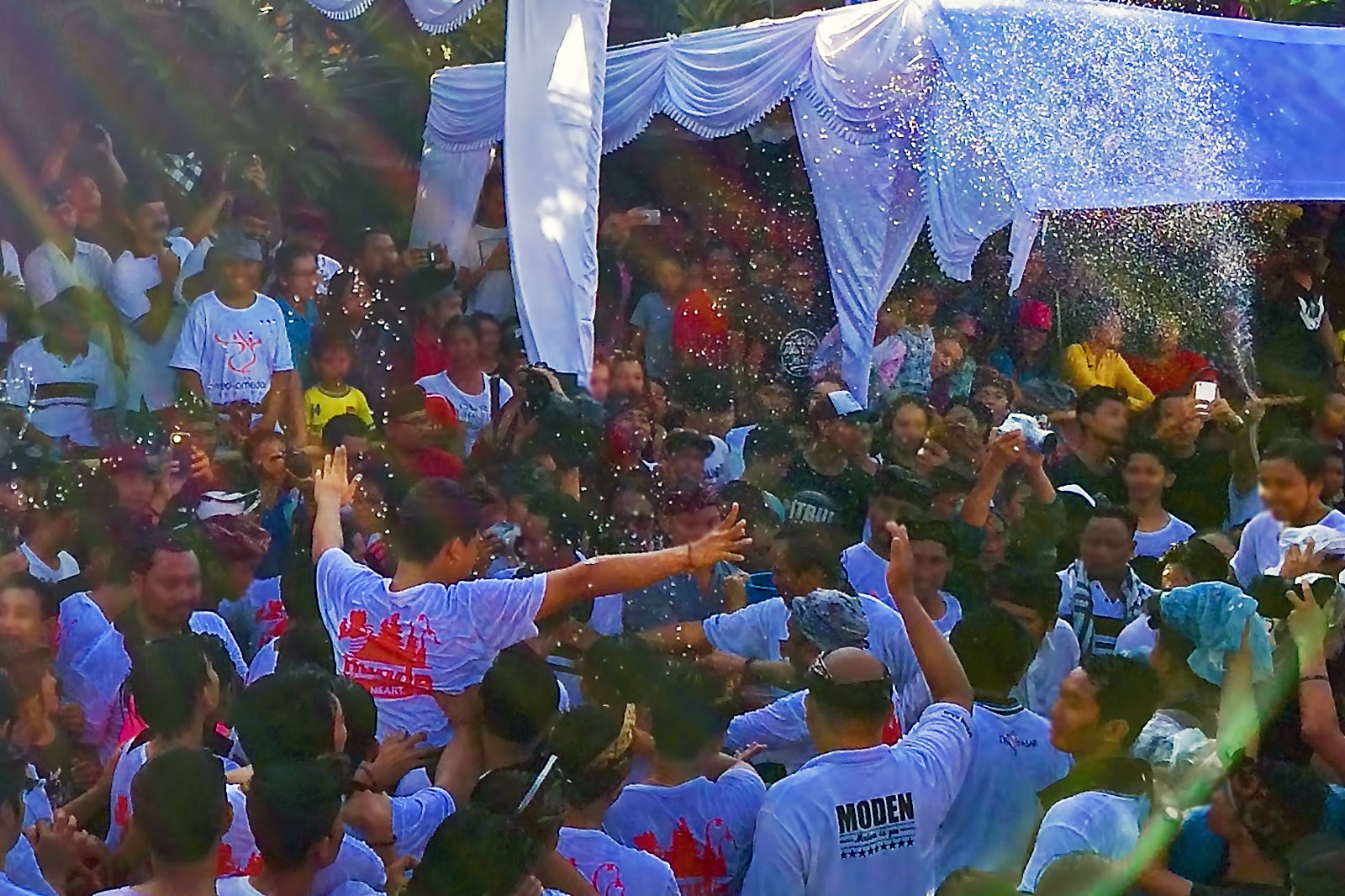 Head down to the village of Sesetan in Denpasar on the day following the Saka New Year celebration, and get ready to witness one of the island's most peculiar festivals. The whole village descends to cheer on participating youths who get in line for the omed-omedan – roughly translated as 'pull and tugs', or even loosely, the 'kissing festival'.
This is a localised event that sees boys get in one line and girls in another, and elders armed with buckets and hoses dousing them with water as both ends heave and push each other, with successively chosen couples in the middle.
Location: Jalan Raya Sesetan No.54, Sesetan, Denpasar, Bali 80114, Indonesia
photo by Yohana Afrita (CC BY-SA 4.0) modified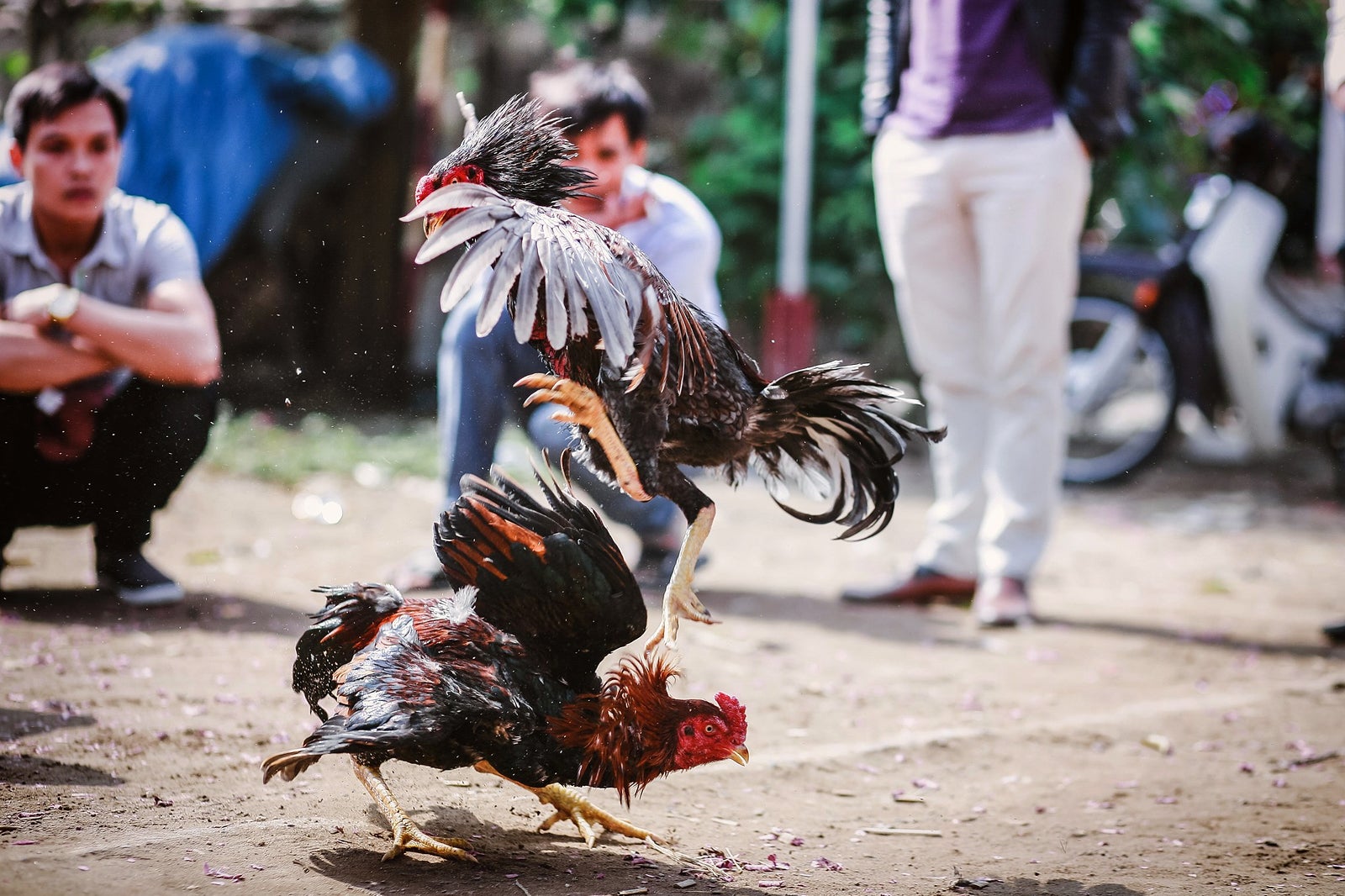 Despite the controversy concerning animal welfare, cockfighting remains pretty much at large in Bali. The tajen rituals, otherwise known as tabuh rah or blood sacrifice, usually precedes temple rituals, and you can possibly witness one at ceremonies throughout Bali.
Even so, the pastime of raising cocks for 'friendly matches' is also prevalent in villages. Cockfighting is widespread throughout Southeast Asia, and much of the history of the sport in Bali dates back to the Majapahit kingdom via the neighbouring island of Java.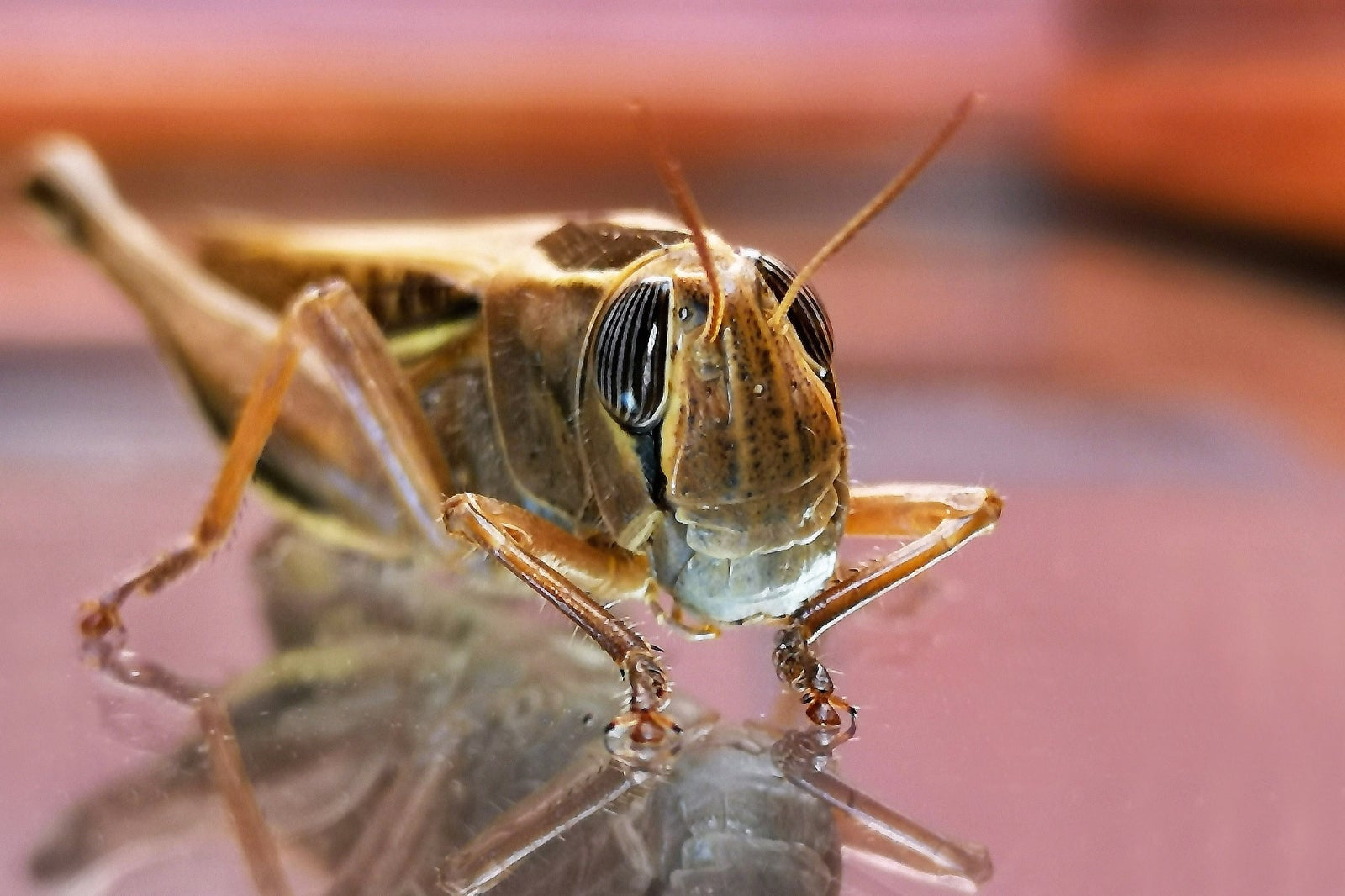 Cricket fighting, or mepalu jangkrik as it's known in the local tongue, involves crickets that were traditionally caught in the rice fields by young boys, who put them in special bamboo tube cages to be kept as pets for their chirping or occasionally entered into a ring for battle.
Some crickets were also selected, and 'trained' specifically for fights. These include a special diet, physical training, and even baths and massages!
8
Megangsingan spinning top contests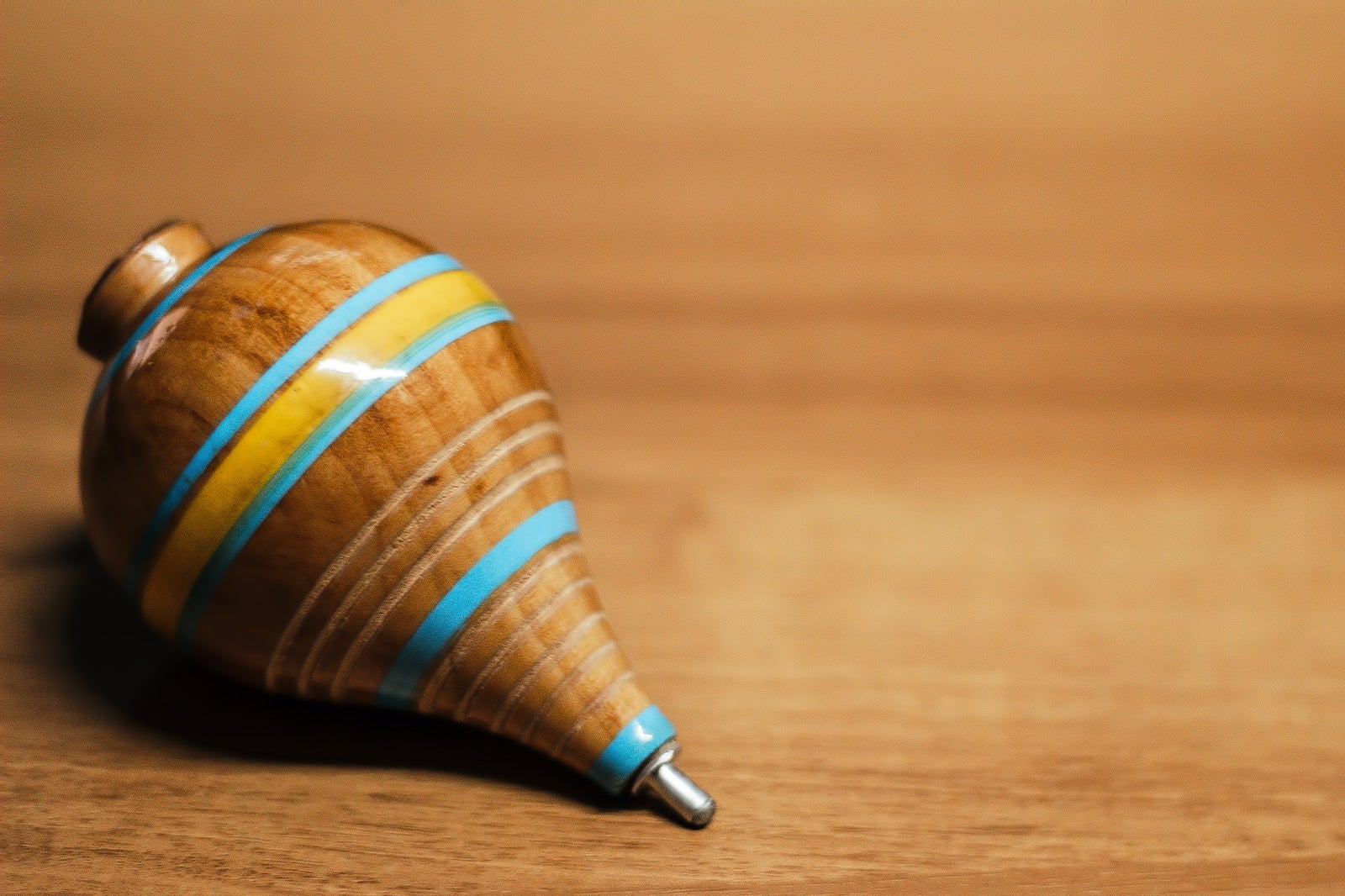 Visit the village of Pujungan in the regency of Tabanan in West Bali and you might stand the chance to witness this favourite local pastime, involving wooden spinning tops.
Pujungan villagers have preserved this age-old tradition, enjoyed by young and old. Oftentimes when played by adults, gambling is involved. And just like the tradition of Balinese kites, megangsingan usually takes place after harvest times.
9
Panjat Pinang pole climbing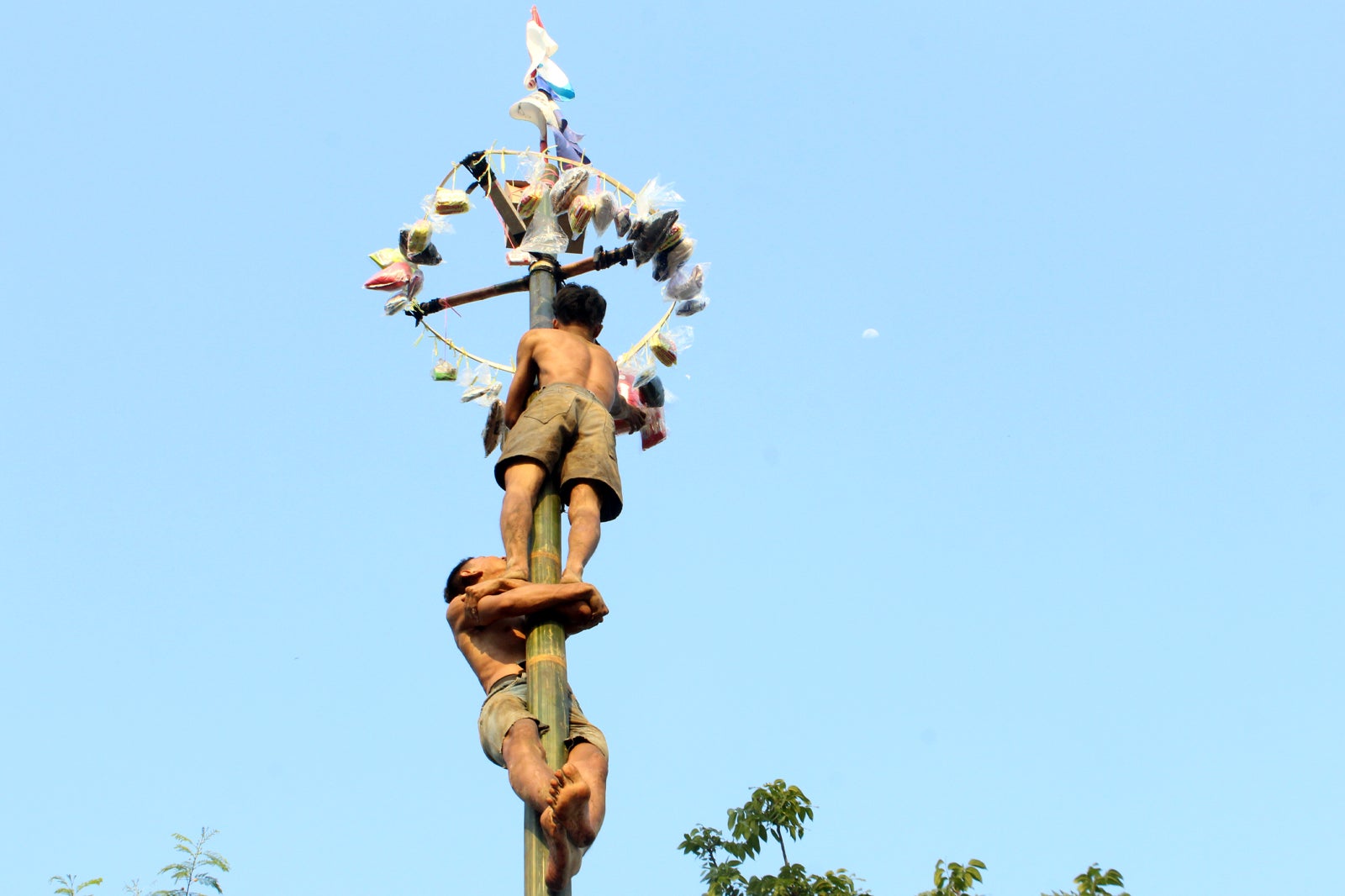 Panjat Pinang, or pole climbing, is a fun and cheerful activity that's usually among the most anticipated games played during the Indonesian Independence Day celebrations, every 17th of August. A well-selected palm log is smothered in motor oil, and at the top end hang various items to be won by successful climbers who can reach the top.
Prizes range from umbrellas, shirts, and even unthinkable things such as bicycles and surfboards! The scuffle of human ladders collaborating to grab the best prizes at the very top is a big part of the spectacle.
photo by Pandi Ahmad Gunawan (CC BY-SA 4.0) modified
10
Mepantigan mud wrestling
Mepantigan is a sport that was revived from what was a nearly extinct pastime. Balinese martial artist, Putu Witsen, set out to preserve the art of mud wrestling and created Mepantigan Bali, an integrated multi-sensory performance featuring Balinese martial arts combined with fire dances, traditional drama and gamelan – in empty and muddy rice fields.
If you're not watching the dance which depicts the drama about Kebo Iwa, a legendary giant warrior in Bali, you could join in on the fun of getting down dirty and learning some wrestling moves with the troupe yourself!
Location: Jalan Pasekan Pondok Batu Alam No.30, Banjar Tubuh, Batubulan, Sukawati, Gianyar, Bali 80582, Indonesia
Open: Daily from 8am to 6pm
Phone: +62 (0)818 352 471
Back to top