10 Best Things to Do in Praiano, Italy
What is Praiano Most Famous For?
Praiano is a small town perched on the rocky cliffs of the celebrated Amalfi Coast that offers vistas of unparalleled beauty and a leisurely pace of life. Most travellers make their way to the small beaches dotting the shoreline to sunbathe with a dramatic backdrop of steep cliffs and sparkling sea.
The views are incredible whether you hike the ancient Path of the Gods trail or wander the streets and (many!) staircases of the village to find centuries-old churches and cliffside restaurants. Praiano is also a great base to explore magnificent islands, grottoes, hidden coves, and pristine beaches of the area by boat.
What are the best things to do in Praiano?
1
Church of San Gennaro
A 15th-century church in the centre of town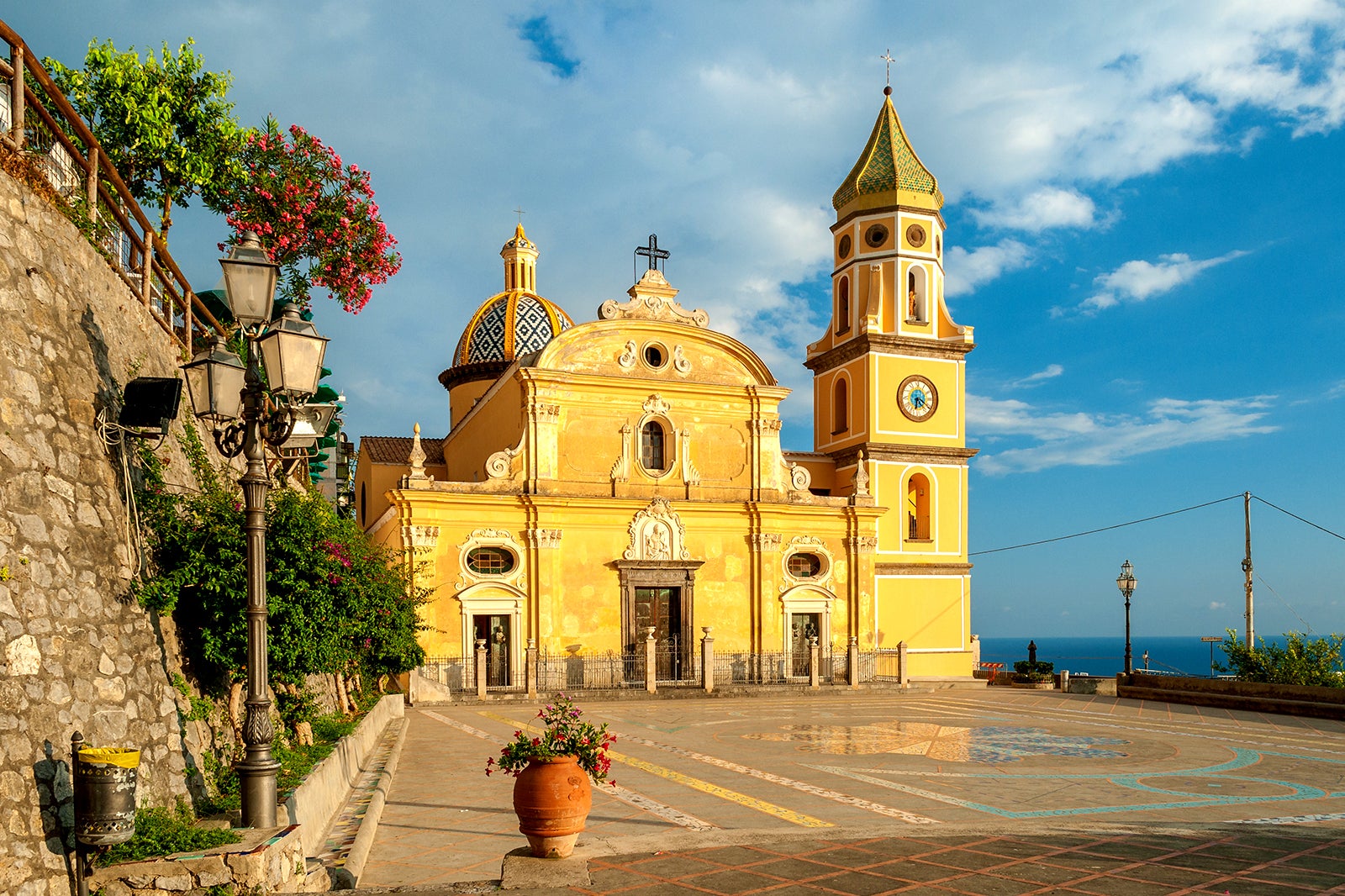 The Church of St. Gennaro stands grandly as the only building of baroque architecture along the Amalfi Coast. The cathedral has survived several rebuilds and renovations over the centuries. Its splendour is fully revealed inside, with intricate hand-painted majolica tiles covering its dome and terracotta floors.
The piazza next to the 15th-century church hosts several concerts, sports events and festivals throughout the year. It's an especially awe-inspiring place during the Luminaria di San Domenico festival, which takes place in late July or early August. During this annual event, the piazza's lit up by thousands of candles in the evenings.
Location: Via S. Gennaro, 1, 84010 Praiano SA, Italy
photo by Mihael Grmek (CC BY-SA 4.0) modified
2
Marina di Praia beach
Tiny beach with a fisherman's soul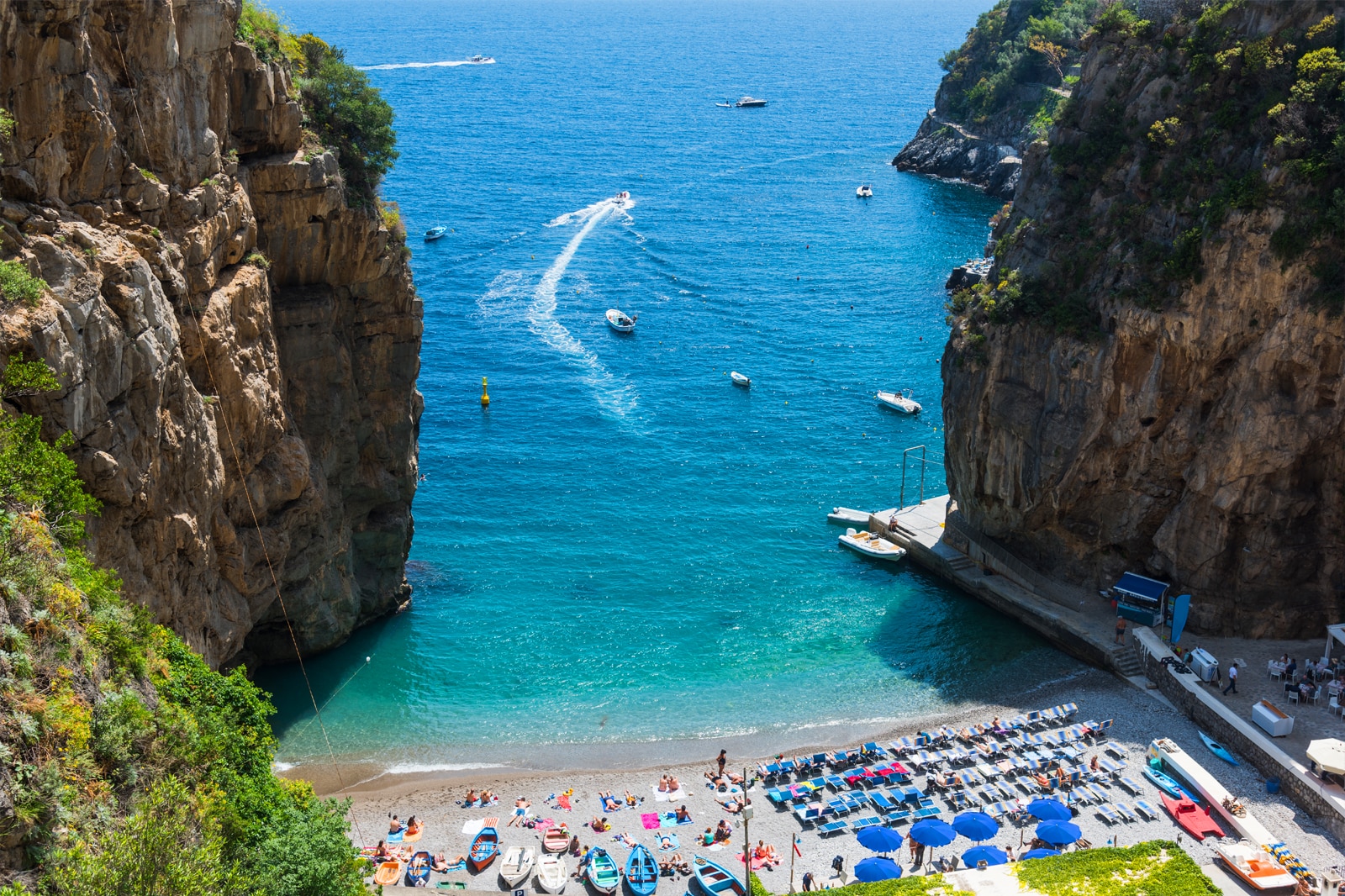 Families
Food
Couples
Budget
Marina di Praia beach might be small, but its setting is very dramatic with steep rocky cliffs hugging its pebbled shore. Enjoy endless sea views while cooling off in the shallow bay or relaxing on a rental sunbed, or escape the heat to enjoy a meal at the beachfront Da Armandino restaurant. It's open for lunch and dinner.
The beach has been a busy place since medieval times, serving a spot where local fishermen built and repaired their boats. Today, much of the tiny pebbled beach is dotted with colourful boats and fishing nets jostling for space among the sunbathers.
Location: Via Praia, 84010 Praiano SA, Italy
3
Capri Island
Jet-setters' island escape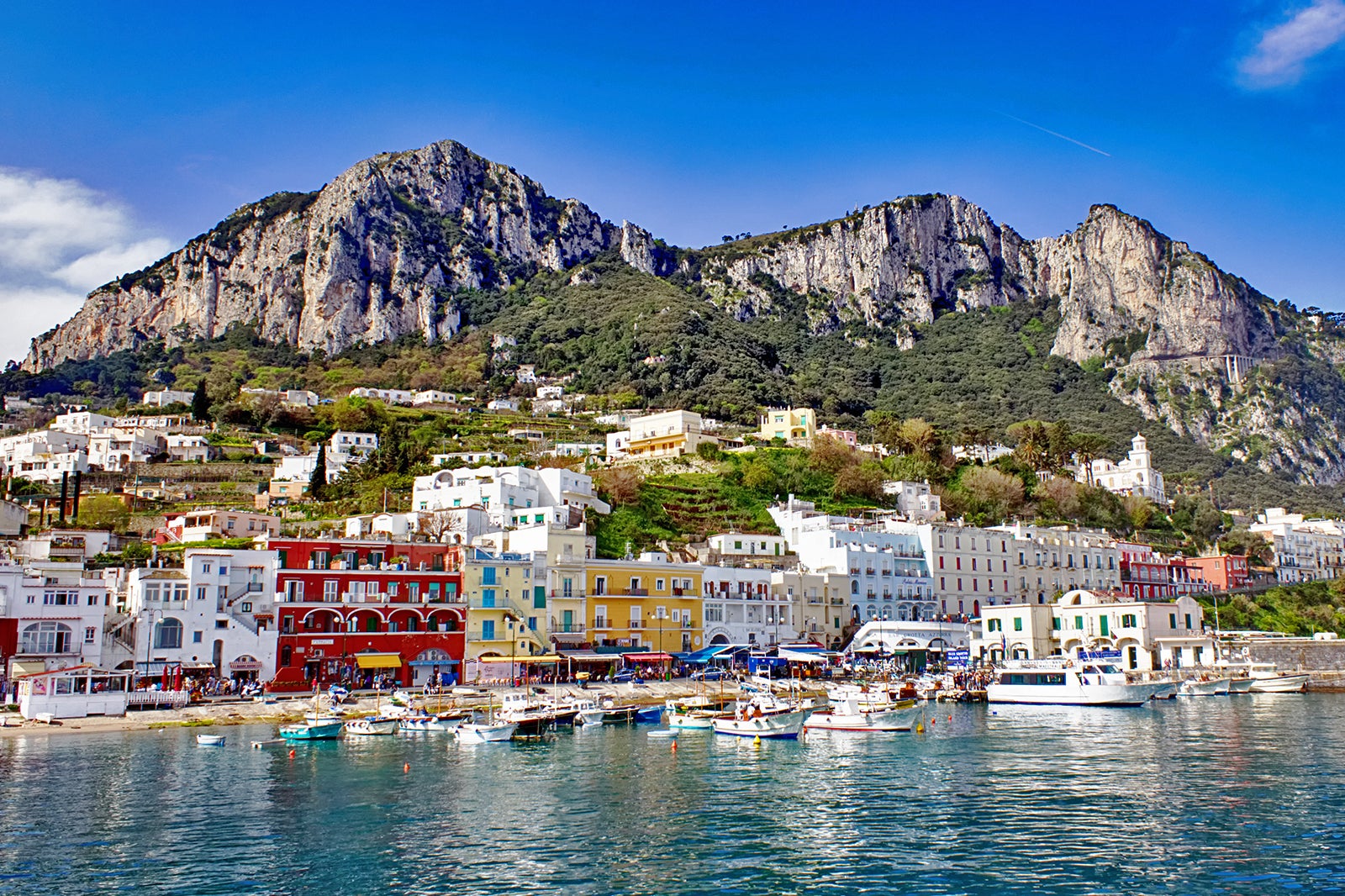 Capri Island, just offshore from Praiano, is known for its yacht-studded marinas, stunning natural beauty and reputation as a glamourous celebrity retreat. There are several boat operators happy to take you over there for a few hours or a full day.
Spend the day exploring the island's hiking trails or simply relaxing in idle bliss on a sun lounger at one of the ritzy beach clubs. Stay aboard the boat to cruise around Capri's scenic coves, take in views of the towering Faraglioni di Capri rock formations, and stop by the brilliant Blue Grotto.
4
Furore Fiord
Host to the Marmeeting High Diving World Championship
If you managed to climb the long staircase leading down to the sea in the village of Furore, you'll be rewarded with the sight of a hidden beach tucked way inside a huge fjord.
Found a few km away from Praiano, Furore's setting is something of an artist's dream – a lovely stone bridge connecting the fjord cliffs arching over a glittering blue bay, cliff-clinging dwellings, and old fishing village homes restored and transformed into an open-air museum splashed with murals. The beach is teeny-tiny, so get there early if you want to find a spot to lay your towel.
5
Footpath of the Gods
Walking trail with panoramic views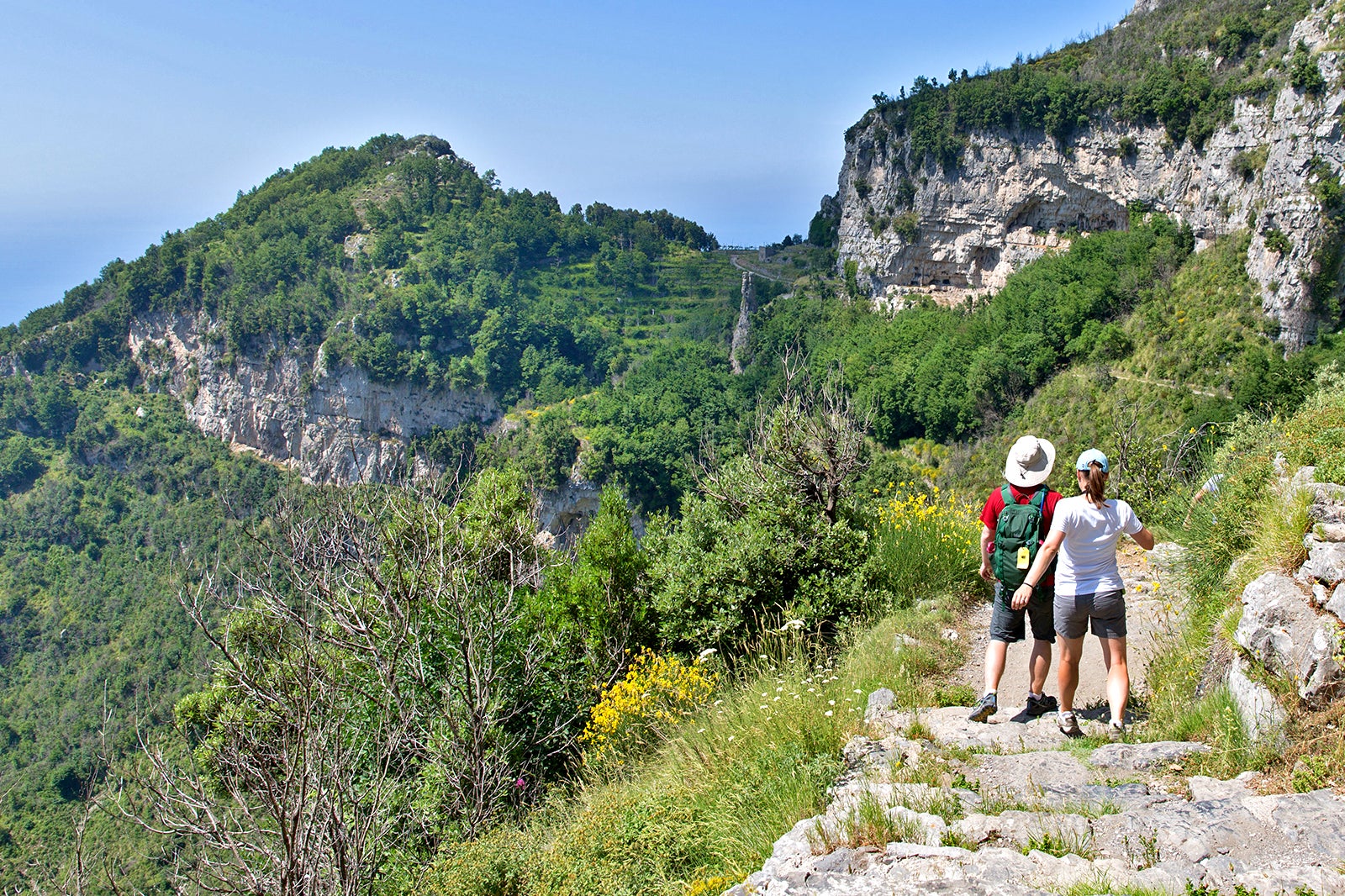 A fine way to see the grandeur and beauty of the Amalfi Coast is to follow the Footpath of the Gods or Sentiero degli Dei – a 7-km trail that winds through the Lattari mountains between the villages of the Bomerano hamlet and Nocelle near Positano city.
Getting to the Praiano section of the trail first requires a challenging climb up 1,900 steps, so be prepared to get the heart racing right away (or catch a ride to one of the trailheads). The trail is well marked and leads past centuries-old Saracen structures.
photo by Andy Rusch (CC BY 2.0) modified
6
Torre a Mare
Medieval guard tower turned artist studio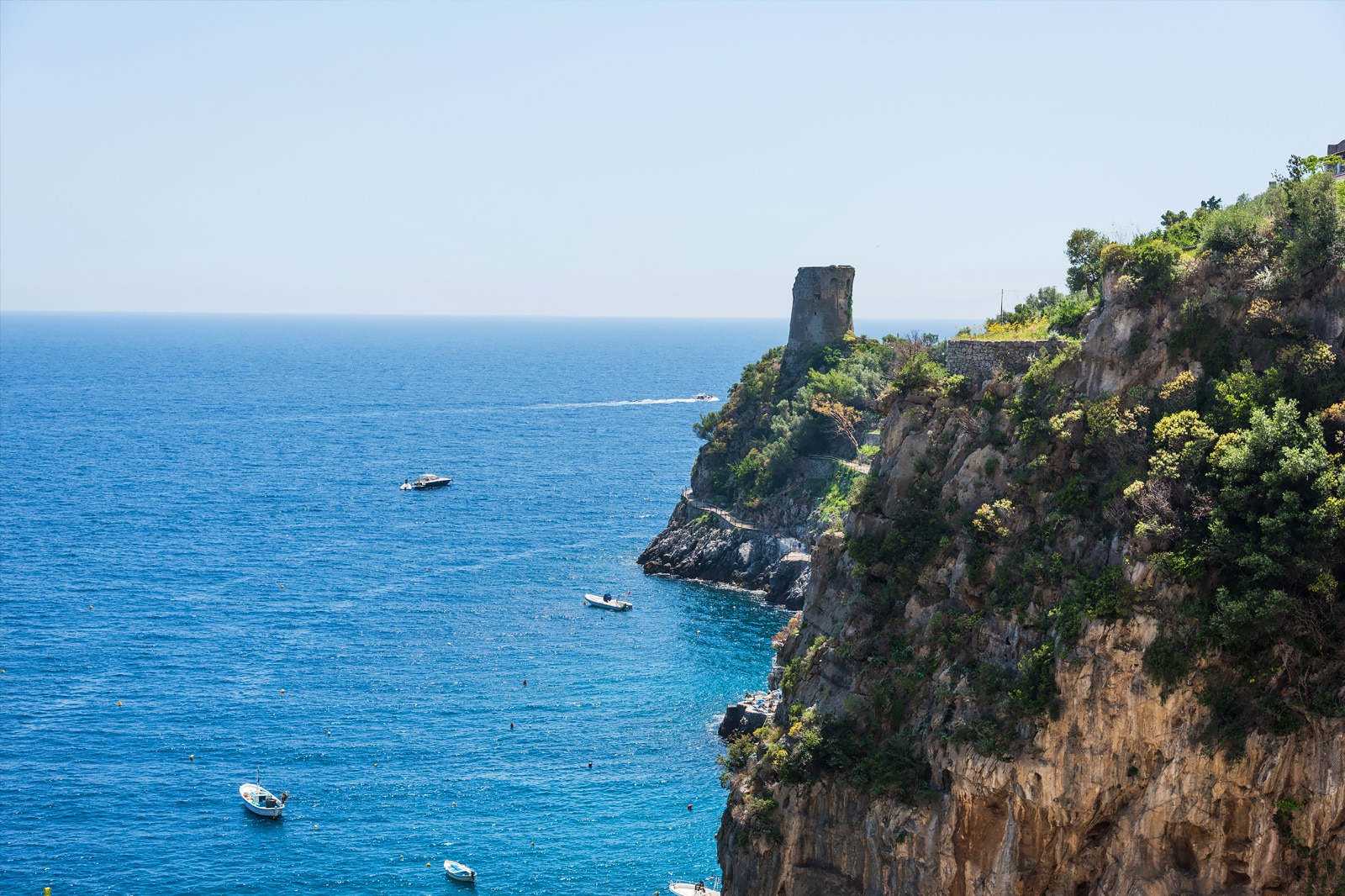 Couples
History
Photo
Budget
Torre a Mare is an ancient guard tower set high on a headland near Marina di Praia beach. Once used as a lookout to keep Saracen invaders away, the tower now serves as a vivid introduction to the area's local art and culture.
Beyond offering spectacular views over the sea, Torre a Mare is a studio for artist Paolo Sandulli, whose paintings and terracotta sculptures fill the tower's interior walls, nooks and crannies. Most eye-catching are his busts of elegant women with sea-sponge hairdos inspired by royal ladies of the 15th-century Kingdom of Aragon. All are welcome to stop by for a chat and a look around.
Location: Torre Asciola, Via Terramare, Praiano, Italy
Phone: +39 339440 1008
7
Amalfi Coast
Find idyllic islets and hidden coves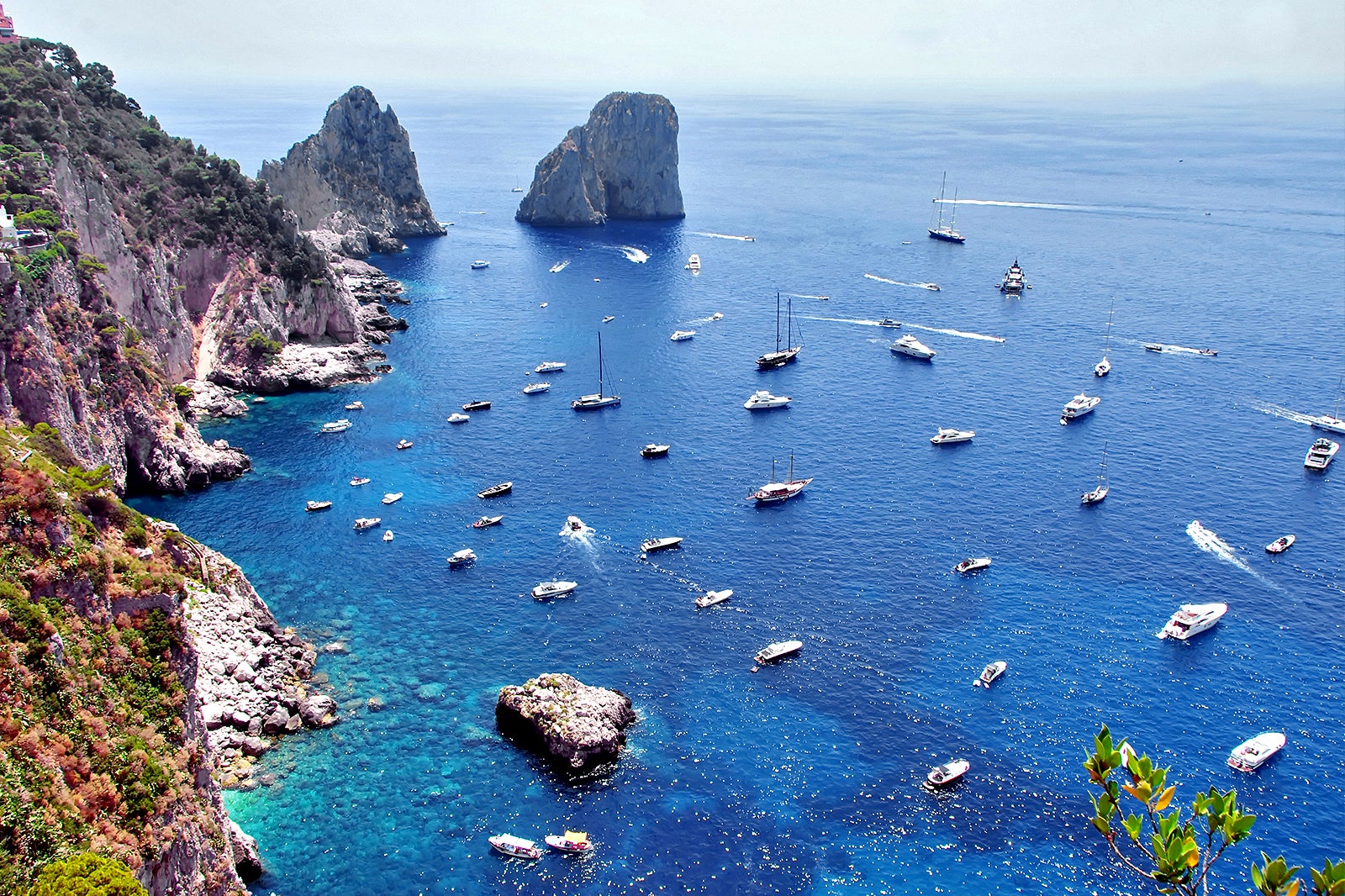 Discovering the Amalfi Coast by boat is a must when visiting Praiano. Families or groups might want to splurge on a private yacht charter to enjoy island hopping at their own pace. You can stop at swimming coves and cruise past colourful seaside villages like Minori and Conca dei Marini.
Joining a shared tour aboard a gozzo (traditional wooden boat) offers a more budget-friendly way to travel to iconic sights, such as Furore Fjord and the Punta Campanella marine reserve. Speedboat charters and sunset cruises are also available.
8
Eat seafood with a sea view
Fresh pastas and dreamy panoramas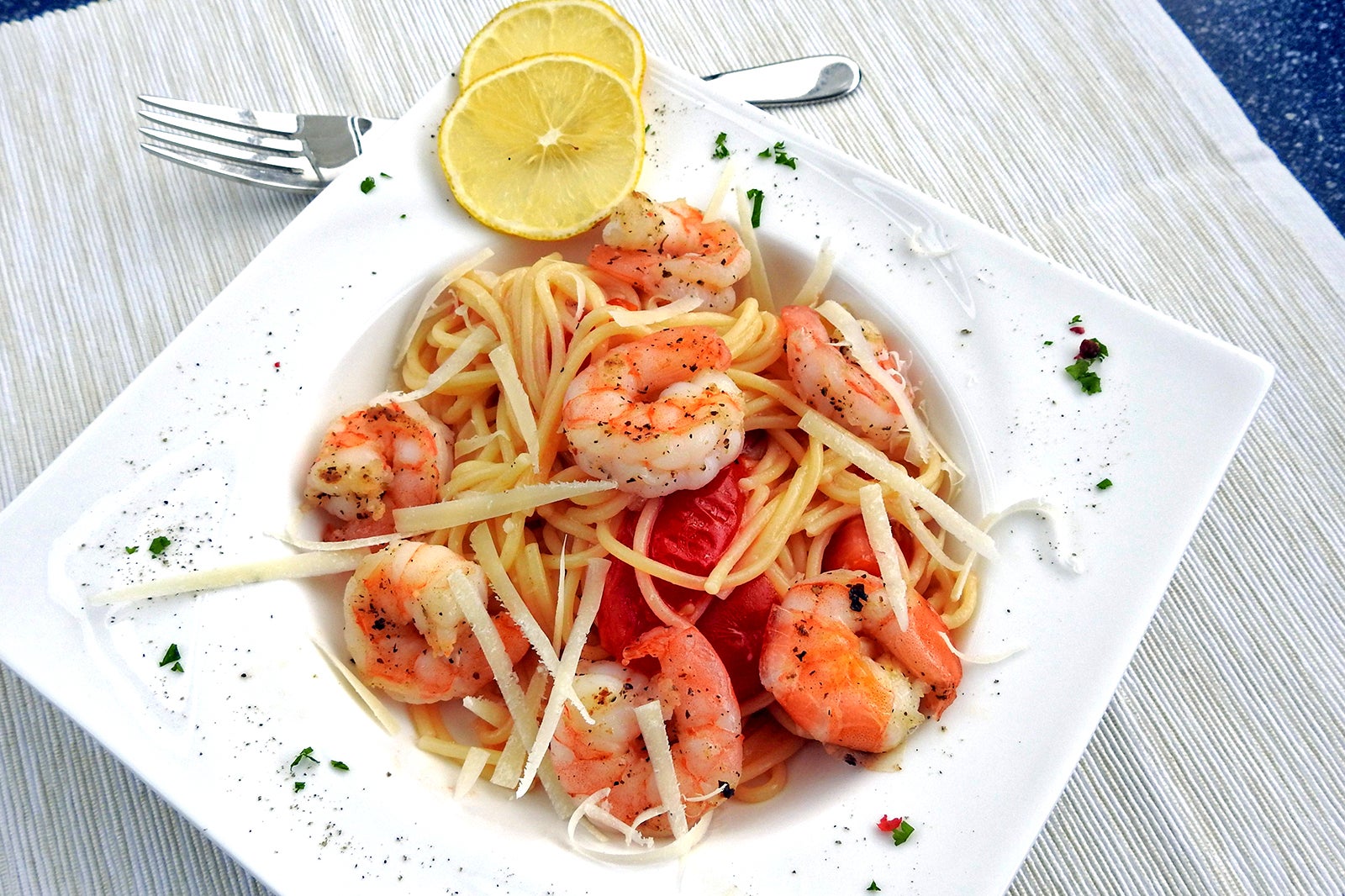 A fishing village hanging onto high cliffs overlooking the Mediterranean, Praiano is an excellent place to dine with its inspiring sea views and enticingly fresh seafood like squid, anchovies, octopus and red shrimp. Look for dishes showcase Praiano's delicious local ingredients and culinary traditions, like totani e patate alla praianese (red calamari and potato dish).
Da Armandino is a favourite for its friendly service and an unbeatable location on Marina di Praia beach. Il Pirata restaurant, a family-run trattoria set on a seafront patio, is a great place to linger for a leisurely afternoon of alfresco wining and dining, as well as dips in the sea.
9
Gavitella
Get the camera ready for the sun's dive into the Mediterranean
Gavitella is known as one of the best beaches along the Amalfi Coast to watch the sunset, though it's a lovely place to relax any time of day. Enjoy refreshing dips in the sea and beautiful views of Positano, Punta Campanella and the Li Galli islands.
To reach the beach, take the long staircase down from near the piazza of San Gennaro or catch a boat from the nearby Marina di Praia beach – the shuttle service is free if you book a sunbed and umbrella at Gavitella.
10
Africana Famous Club
Seaside cave turned celebrity nightclub
You can get away with keeping a casual beachy style when visiting Praiano, but you'll need to glam things up if planning a night out at Africana Famous Club. Occupying a cave with a big terrace stretching out over the Amalfi Coast, the nightclub is open through the summer months when it hosts a series of glitzy DJ parties and shows.
Since opening in 1962, Africana Famous Club has hosted prominent figures like Jacqueline Kennedy and Gianni Agnelli. It even has mooring buoys for guests who want to make a splashy entrance by pulling up to the club on their yacht.
Location: Via Terramare, 2, 84010 Praiano, Italy
Phone: +39 351 811 2728
photo by Nick Amoscato (CC BY 2.0) modified
Back to top