10 Best Things to Do in Jamaica
What is Jamaica Famous For?
The best things to do in Jamaica will take you all around the island of this vibrant nation, from the capital city of Kingston to the top of stunning waterfalls. Jamaica combines world class beaches with a truck load of action and adventure activities. This combination means you can be as active or loungey as you like. While enjoying the natural landscape of Jamaica, don't forget to soak up a bit of culture, food and music – each of which makes Jamaica the special place it is today.
What are the best things to do in Jamaica?
1
YS Falls
Take a plunge in the natural pools at these stunning falls.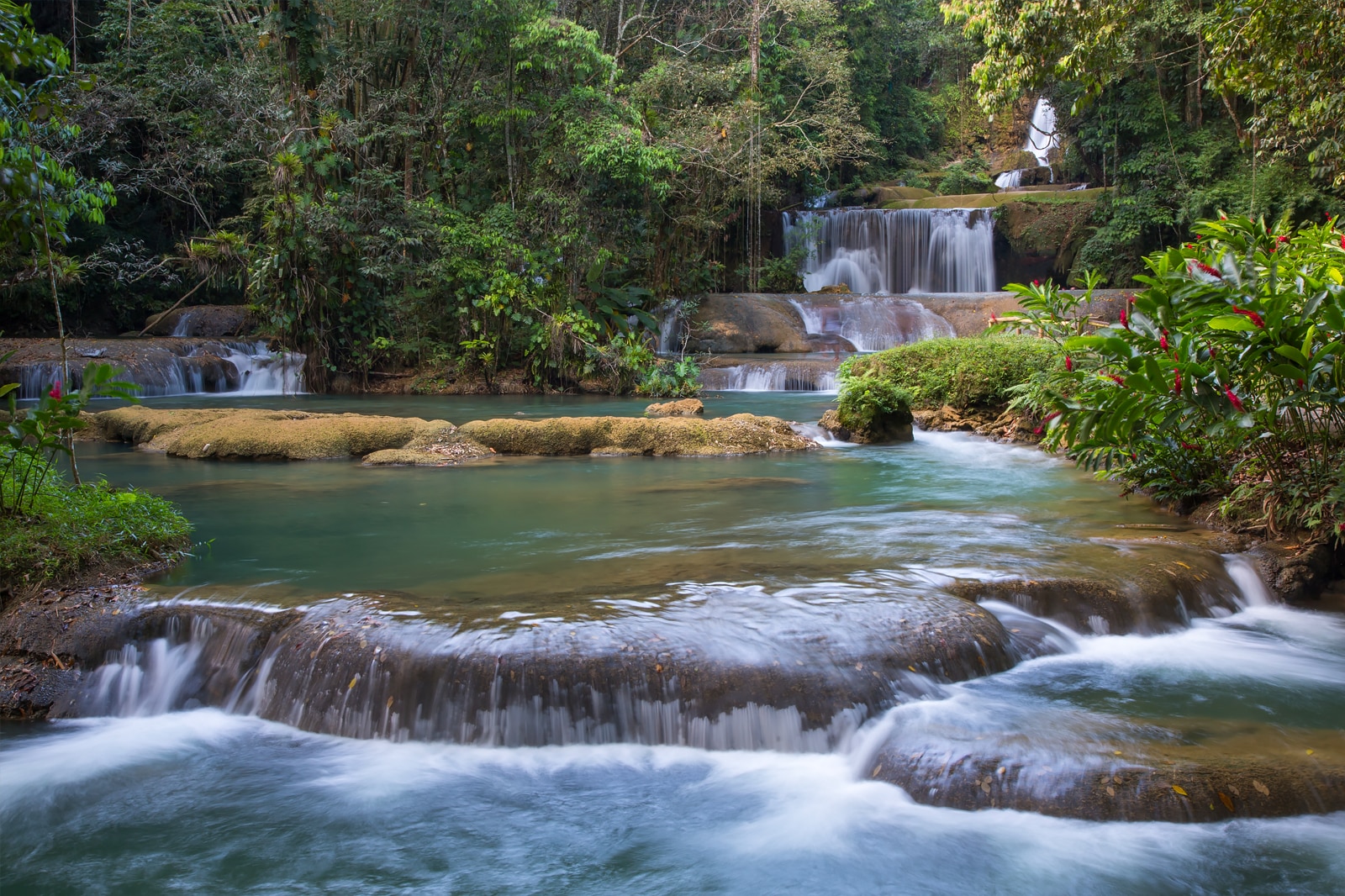 Couples
Families
Budget
Adventure
Y.S. Falls is a popular natural attraction that offers more than just the 7 stunning waterfalls for which it is named. Several of the falls here tumble into natural pools that offer opportunities for swimming. The pools come in various levels, but there are lifeguards on hand too. Canopy rides with experienced guides are also available from the top of the falls, all the way back to their base.
YS Falls is located about 50 miles southwest of Montego Bay in a private estate in the parish of St. Elizabeth. Many visitors make their way on tours from Negril about 50 miles to the west. Avoid coming here in May and October if you want to swim, as rains are usually heavy then. Be prepared to get a little muddy at other times of the year too.
Location: YS Falls, Saint Elizabeth Parish, Jamaica
Open: Daily from 9 am to 3.30 pm
2
Bob Marley Museum
Visit the former home of Jamaica's most famous son.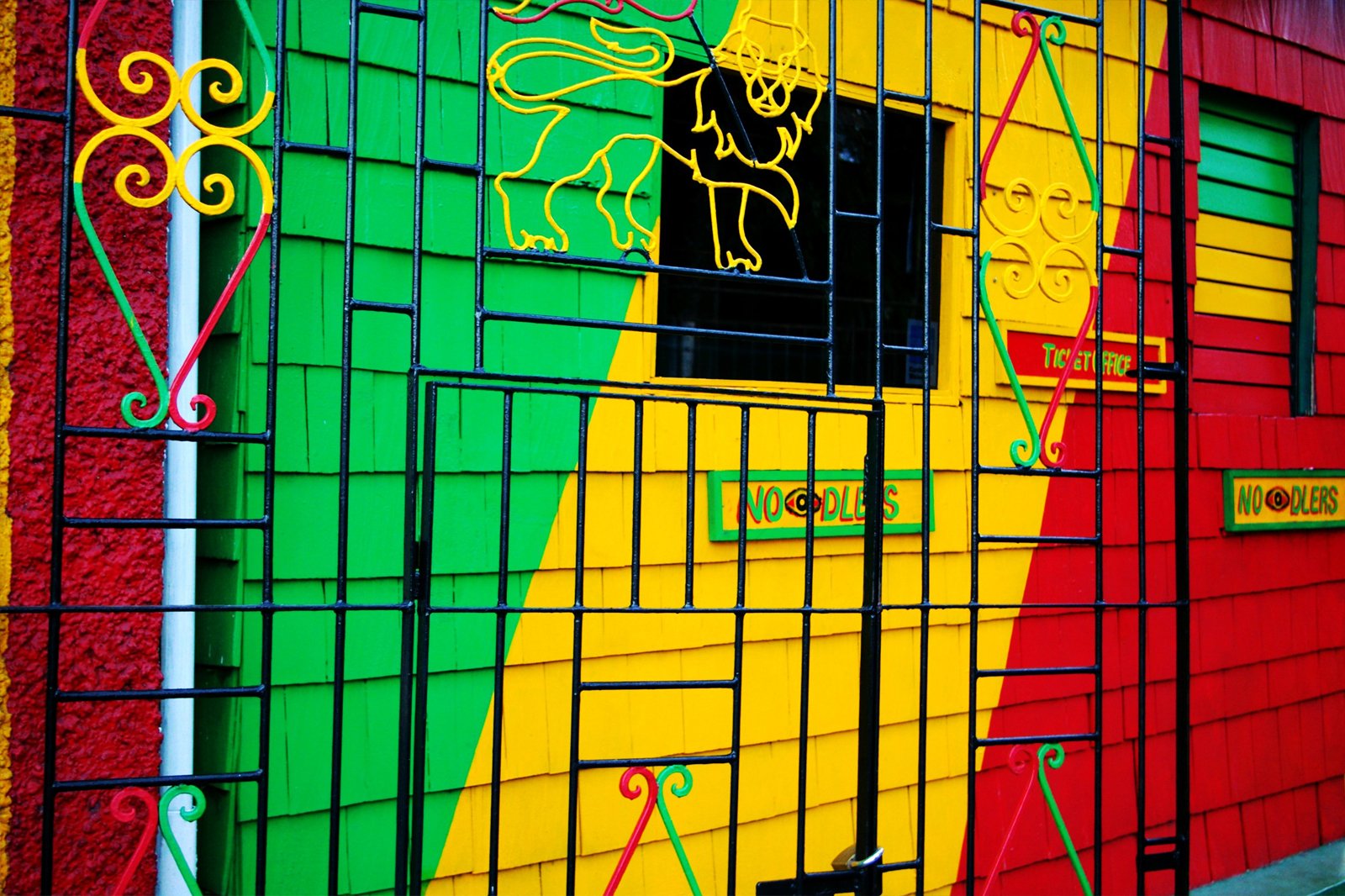 The Bob Marley Museum is situated in the former home of Jamaica's favourite son. The museum also hosts a photographic gallery, an 80-seat theatre, a record shop, and a gift shop where you will find a wide range of Marley-related memorabilia. There is also the One Love Cafe onsite where you can enjoy a bite to eat after your tour of the museum and grounds while listening to some reggae.
Located in a colonial era wooden house on Hope Road,the museum is Kingston's most-visited site. It was home to Bob Marley from 1975 until his death in 1981. During that period it was also the site of an unsuccessful assassination attempt on the singer's life.
Location: 6, 56 Hope Rd, Kingston, Jamaica
Open: Monday to Saturday from 9.30 am to 4 pm (closed on Sundays)
Phone: +1 876 630 1588
photo by Christina Xu (CC BY-SA 2.0) modified
3
Bamboo rafting down the Martha Brae River
All aboard a bamboo raft for a nature-filled trip downriver.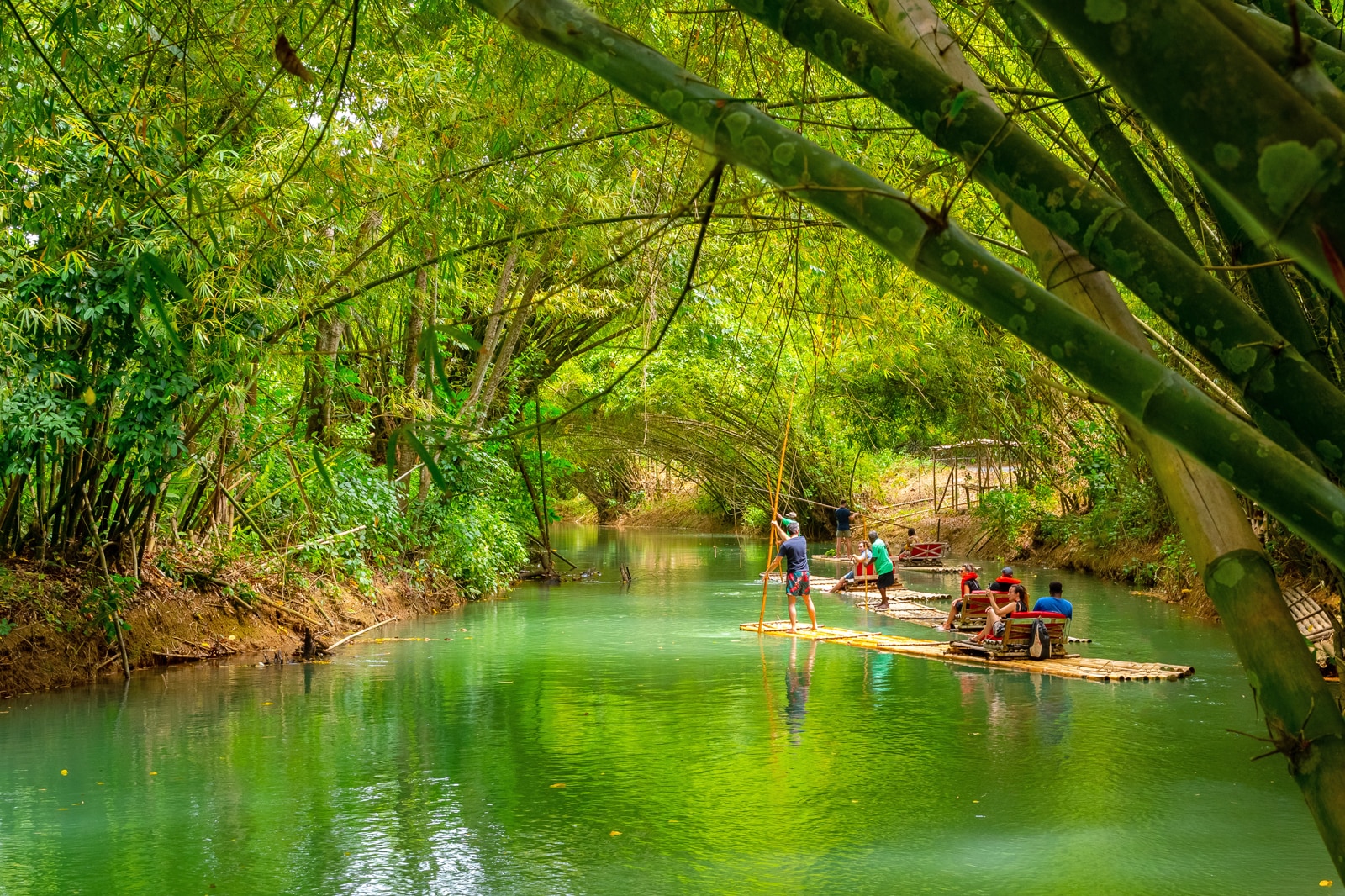 Couples
Families
Budget
Adventure
Bamboo rafting is not something you're likely to do every day, and certainly not amid scenery as beautiful as that on the Martha Brae River. Though the rafts are handmade, they are surprising stable and the seats onboard are padded for your comfort. Your 3 mile trip downriver will take you through the lush Jamaican rainforest and afford you opportunities to catch glimpses of local wildlife – none of which poses any threat you'll be relieved to hear! You'll also get a chance to see local fruits, and your knowledgeable guide will be on hand to steer your craft and answer any of your questions about the local area.
The Martha Brae River is located in Falmouth, around 30 minutes drive from Montego Bay and around 1 hour 30 minutes from Negril Bay. Don't forget to take your swimwear if you want to take a dip.
Location: A1 Highway, Falmouth Jamaica
Open: Daily
4
Ahhh...Ras Natango Gallery and Garden
Admire the creative work of local artists and visit the abundant gardens.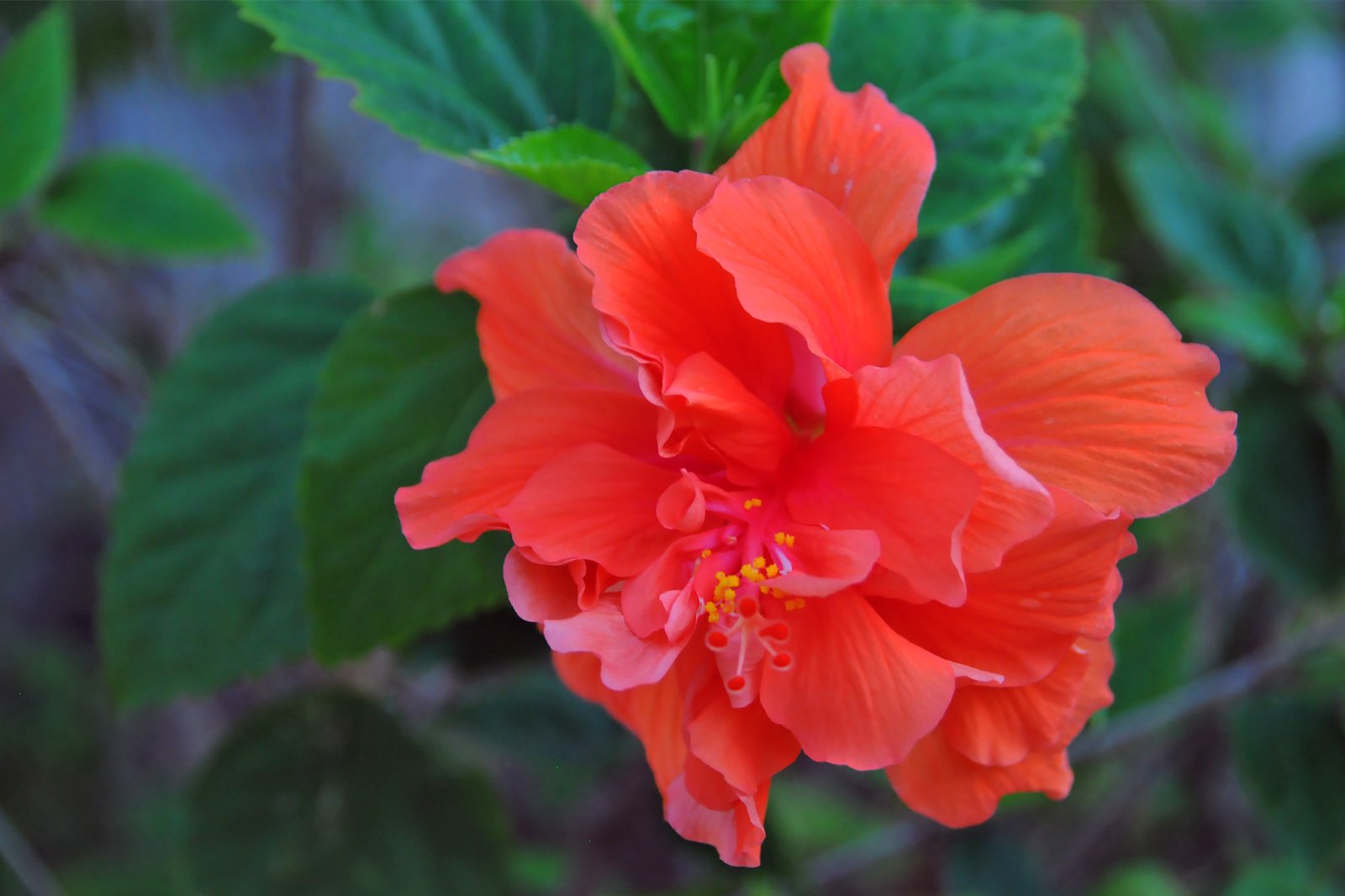 Ahhh...Ras Natango Gallery and Garden sits atop a hill overlooking Montego Bay. The gallery here features paintings by the owner of the retreat, Ras Natango (aka Ian Williams), as well as work by several other artists. In the gift shop, you'll find hand-painted bags and cushion covers, as well as a range of sea creatures assembled from local seashells. The botanical gardens here play host to a wide array of plants, flowers, and trees, as well as some beautiful bird species too.
You can reach Ras Natango via a free shuttle bus that will pick you up from any hotel in the Montego Bay area. You'll need to wear suitable footwear for walking the gardens, but don't worry about taking a packed lunch, as food and drinks are available onsite.
Location: 1 Ras Natango Way, Camrose District, Granville, St James
Open: Monday to Friday from 9 am to 5 pm (closed Saturday and Sunday)
Phone: +1 876 578 2582
photo by pshanson (CC BY-SA 2.0) modified
5
Horseback riding on Heritage Beach
Play the lead in your own romantic movie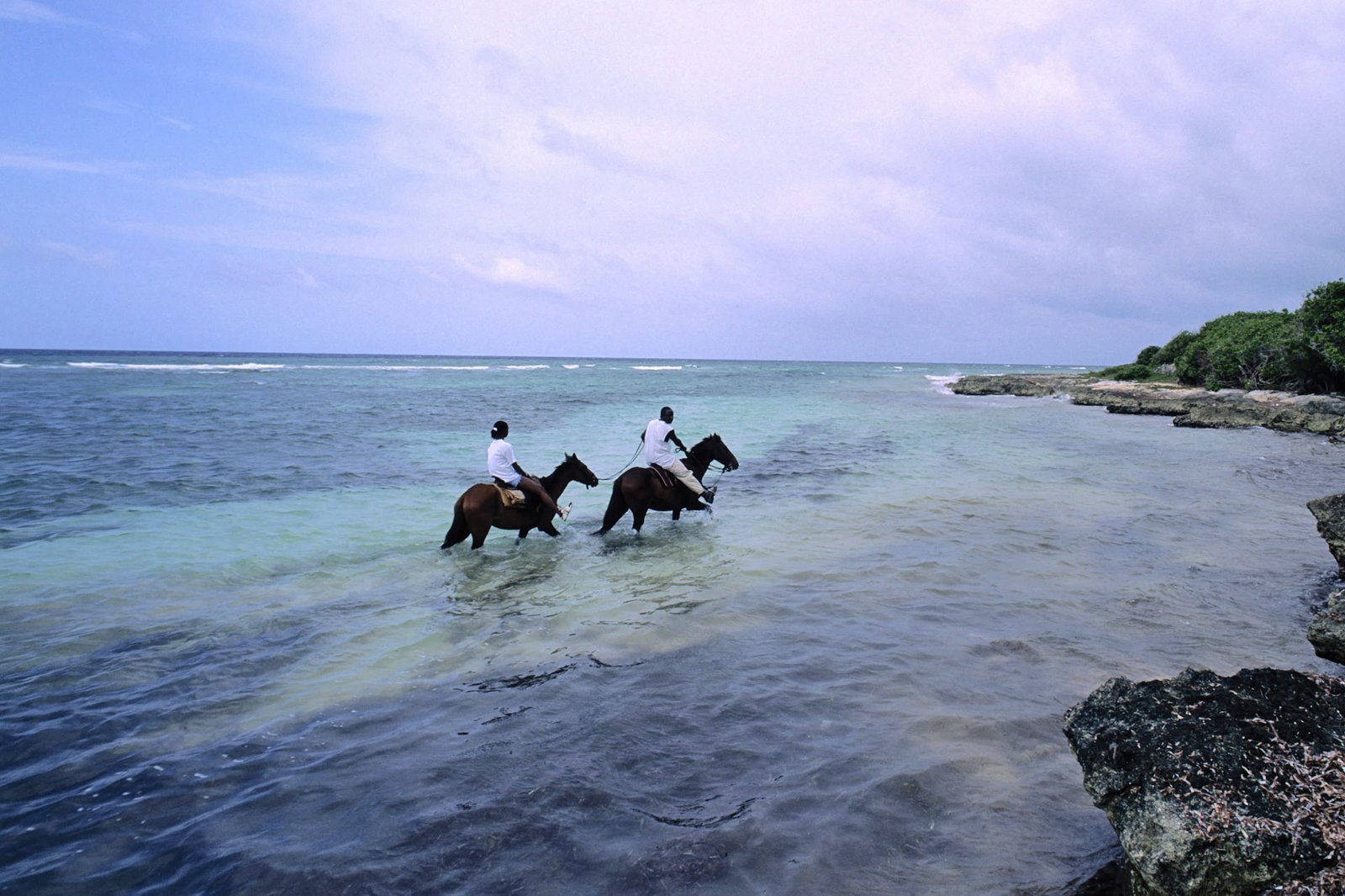 Horseback riding through the waves of a sun-kissed tropical shore is perhaps one of the more iconic romantic images that springs to mind. At Heritage Beach you can indulge the fantasy. There's history here too, not surprising given the name. On your ride from the stables you'll pass 500-year-old sugar factories and castle ruins. You'll also ride through wooded areas that were once home to the island's original inhabitants, the Taino Indians, before reaching the beach where refreshments will be served.
Horseback riding tours can be booked through most hotels in the nearby resort town of Ochos Rios, or from Runaway Bay. Swimming is also usually part of the itinerary, so bring your swimming clothes too if you fancy a dip.
Location: Ocho Rios, Jamaica
6
Zip-Lining
Fly through lush jungle canopy
Couples
Families
Budget
Adventure
Zip-lining in Jamaica offers you a chance to gain stunning aerial views over the lush Jamaican jungle. High up in the rainforest canopy, you will be afforded impressive views over a variety of landscapes, depending on the specific location you choose. Some hiking is usually involved to get to the ziplines though, so be sure to wear suitable footwear and bring a bottle of water. There will be guides onsite to walk you safely through the process too.
There are zip-lining locations all over the island, including around the popular locations of Ocho Rios, Montego Bay, and Negril. Your hotel can usually help you book your trip through the trees. Many of the locations offer other activities to keep you entertained on your visit too such as rock climbing, tubing, and paintball.
7
Luminous Lagoon night cruise
See the stunning, glowing waters
The famous Luminous Lagoon draws its luminosity from the tiny microorganisms that give the water its glimmering, blue-green glow. The microorganisms themselves are harmless, so you can take a swim in the waters if you fancy. This is a unique natural nighttime adventure that is suitable for the whole family, though the complimentary glass of rum is strictly adults only!
The Luminous Lagoon is located about 1.6 km east of Falmouth, where the Martha Brae River meets the Caribbean. It is here, where saltwater and freshwater combine, that our microscopic bioluminescent friends shine the brightest in the shallow, warm waters. Most hotels from Ocho Rios to Montego Bay will be able to arrange transportation for you out to the popular lagoon.
Location: near Falmouth, Jamaica
Open: Daily
8
Pelican Bar, St. Elizabeth
Visit this Waterworld-esque outpost that serves more than water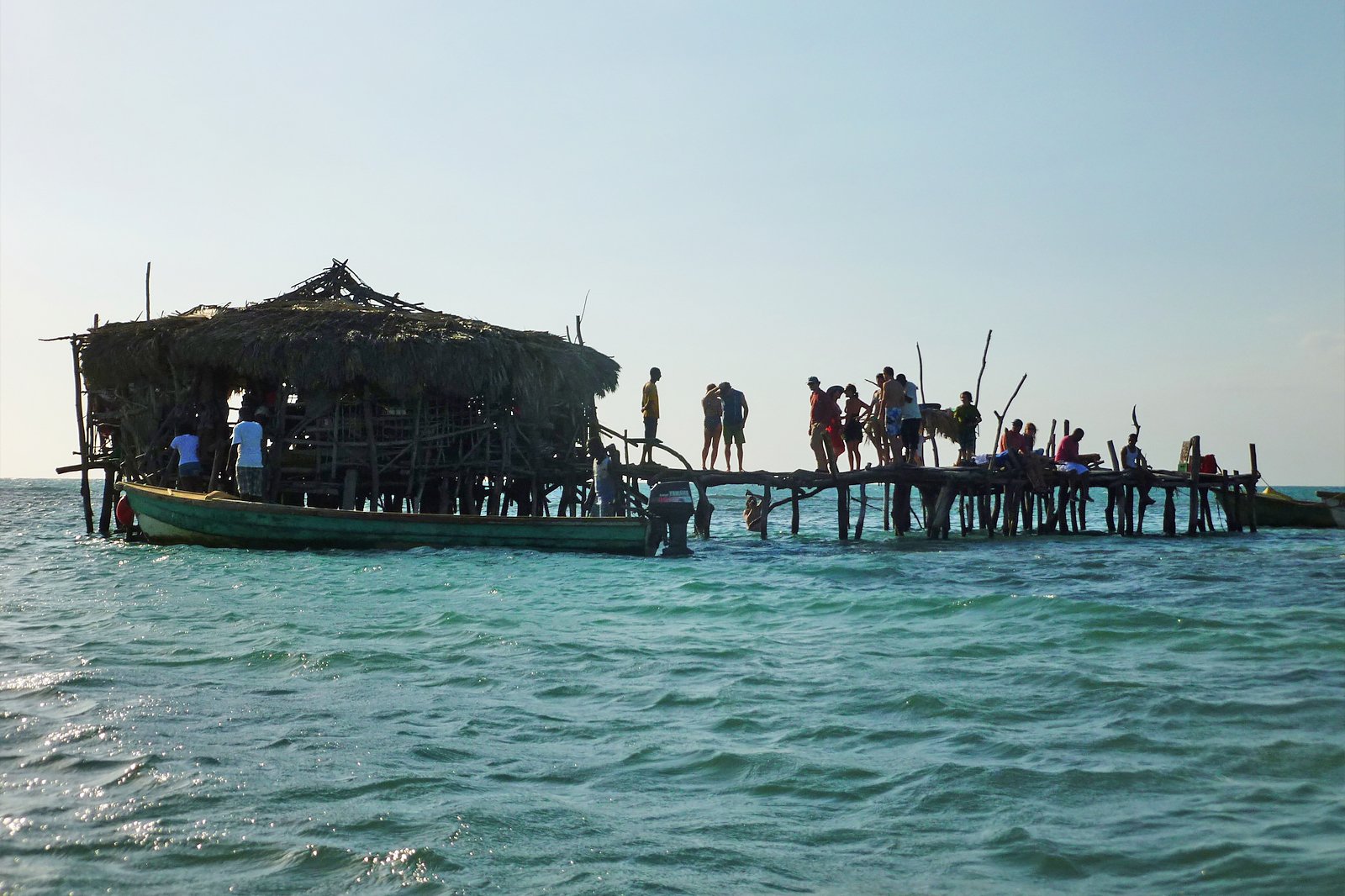 Couples
Budget
Adventure
Single
Pelican Bar is certainly unique among bars, standing as it does on stilts in the ocean. Named for the pelicans who fish from the nearby rocky sandbar, this bar was originally established as a hangout for owner Floyd and his fishermen pals. Though the bar has on occasion been damaged during hurricane season, locals have quickly rebuilt the iconic drinking spot. The menu here is simple: cold beers, rum punch, and fish. Be sure to bring cash too, as credit cards are not accepted, and there isn't an ATM out on the water.
Located about 1 mile from shore, the nearest town is Black River, which is around 7 miles away. The bar is only reachable via boats which regularly leave Black River, Treasure Beach, and Parotee Point. Some nearby resorts and hotels also run tours out here.
Location: near Black River, Jamaica
Open: Daily from 9 am to 6 pm
photo by mararie (CC BY-SA 2.0) modified
9
Appleton Estate rum tour
Sip a sample or 2 of Jamaica's most famous tipple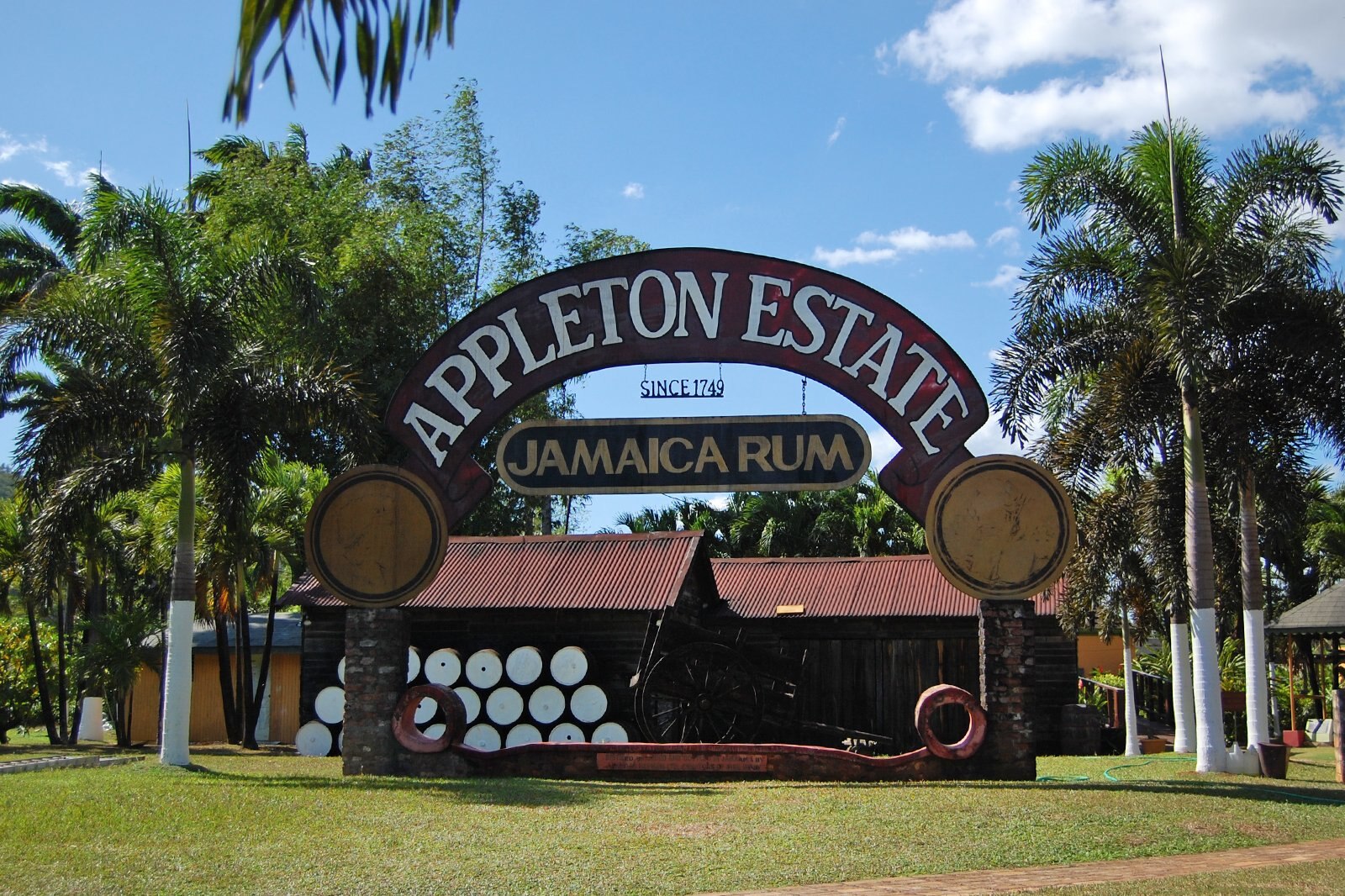 If you drink alcohol, a visit to Jamaica would be incomplete without at least sampling the drink that is almost synonymous with this island country. Appleton Estate Rum Tour gives you an opportunity to see the craft that goes into making this world-renowned tipple. Tours give you a chance to see the whole process from 'cane to cup' and to get acquainted with some of the fascinating history associated with the drink. You'll also get an opportunity to sample some of Appleton Estate's world-class takes on the beverage.
Appleton Estate is located in Nassau Valley and surrounded by the Santa Cruz Mountains. It is a popular day trip from both Montego Bay and Negril, and most hotels can help arrange the tour for you.
Location: Santa Cruz, Jamaica
Open: Monday to Saturday 9 am to 3.30 pm (closed Sundays)
Phone: +1 876 963 9215
photo by Jeremy T. Hetzel (CC BY 2.0) modified
10
Eat ackee and saltfish
Sample a true taste of Jamaican cuisine.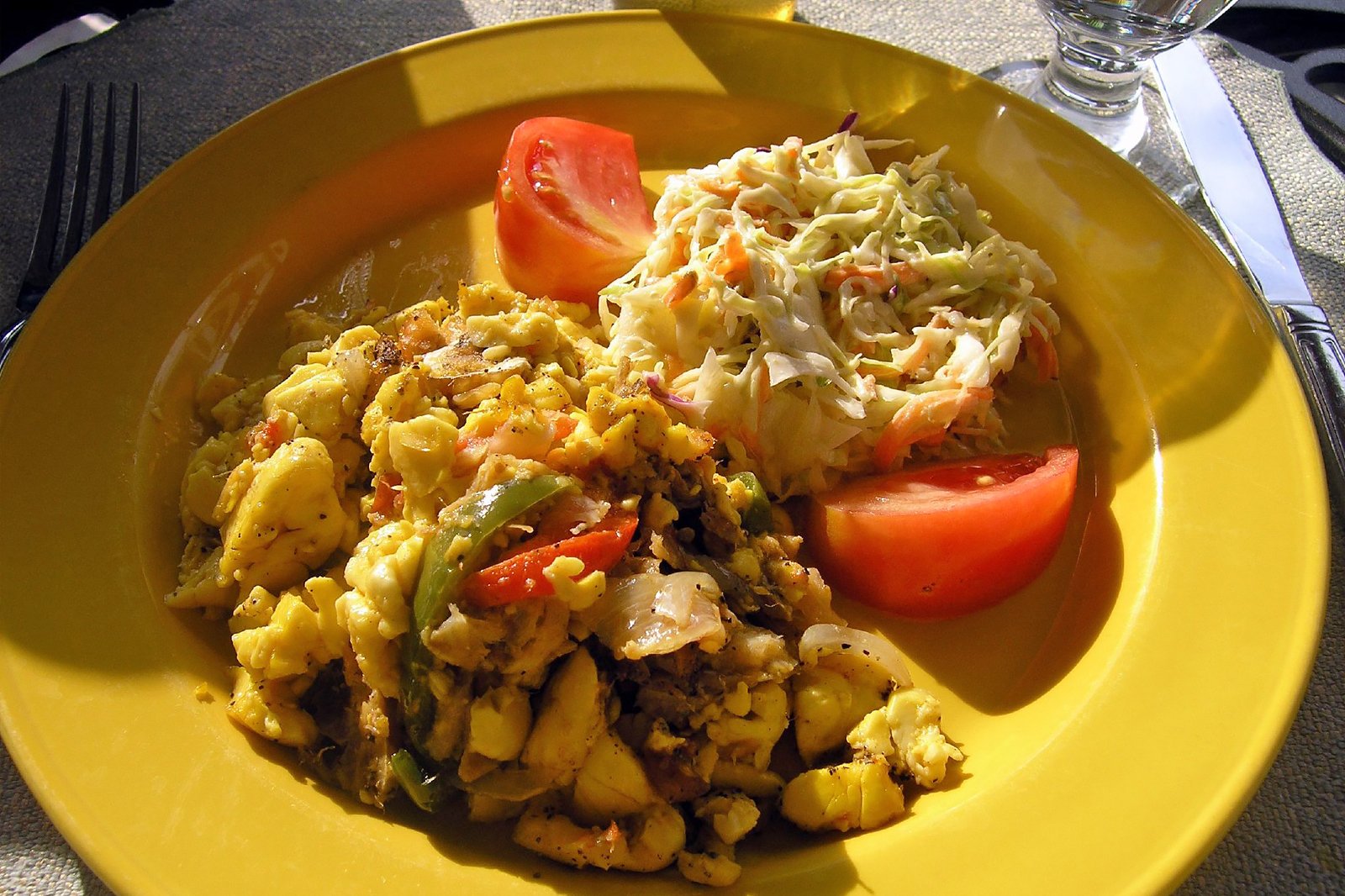 While on the island, you'll likely want to sample the sumptuous Jamaican staple of ackee and saltfish. At first glance it might seem an unlikely pairing. Ackee is a somewhat savoury-tasting fruit related to the lychee and longan and it grows widely on the island. The fish in question here is cod that has been flaked and deboned.
Ackee and saltfish can be eaten at any time of the day, but it is most commonly eaten for breakfast or brunch. For what amounts to Jamaica's National Dish, surprisingly, neither of the main ingredients is native to the island. Ackee arrived from West Africa, while saltfish was originally imported as a cheap source of protein. Mixed together, the salty tang of the fish complements perfectly the buttery texture of the fruit. It's certainly worth trying this dish for that real taste of Jamaica.
photo by Gail Frederick (CC BY 2.0) modified
Back to top