24 Best Shopping Experiences in Kyoto
Where to Shop in Kyoto
Kyoto is a great place to visit because of its significant history, charming people and huge number of shopping options. If your Kyoto shopping list includes traditional handicrafts and antiques, you'll not be disappointed. The most popular souvenirs to find in Kyoto include beautiful folding fans, traditional dolls, kimonos, porcelain and pottery as well as green tea and sake. Head downtown, around Kawaramachi subway station, to find the best shopping malls and modern boutiques.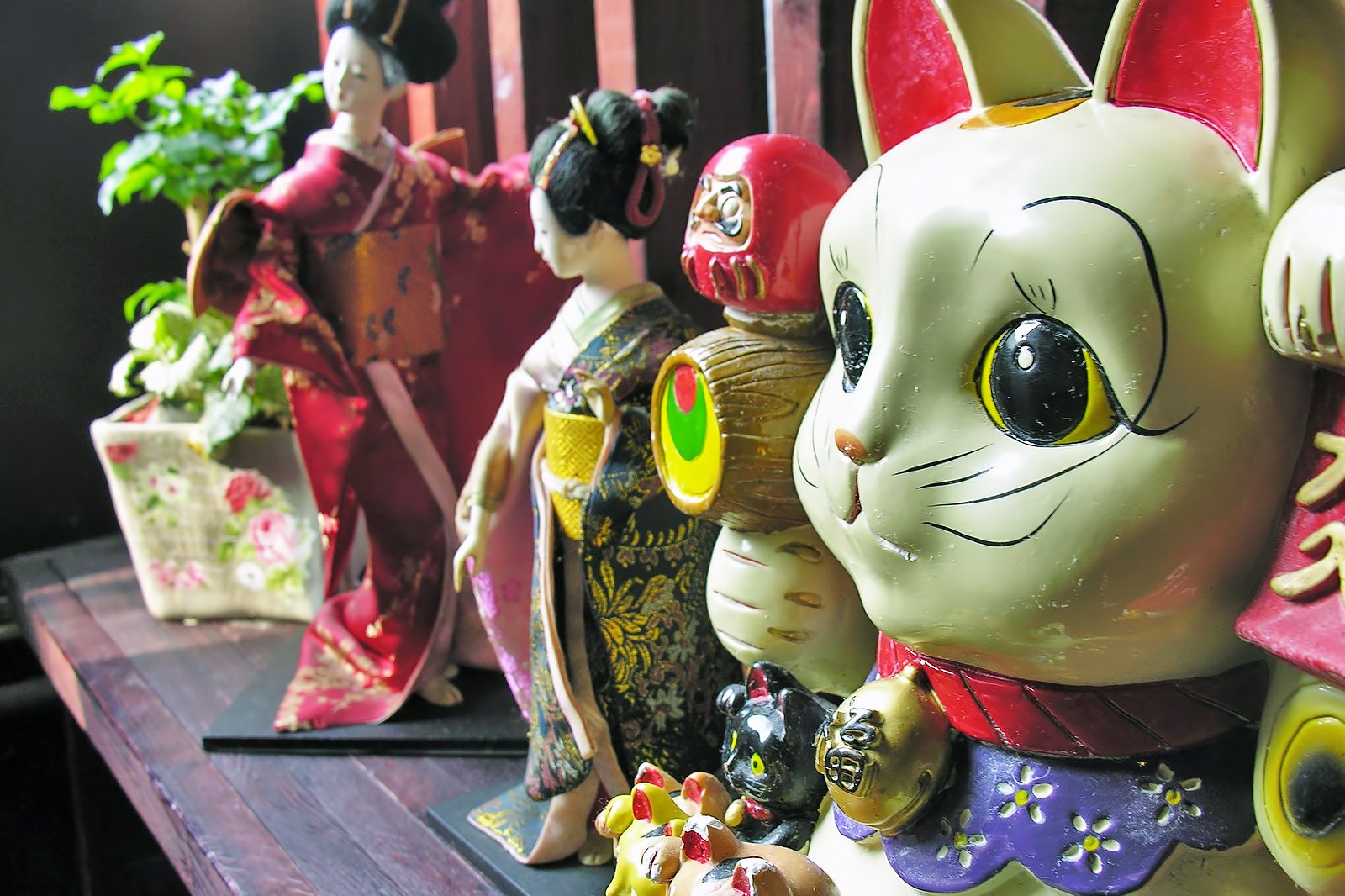 Kimura Oshido is a shop that specialises in traditional Japanese dolls – especially dolls from Kyoto – and their various accessories. To find the shop, just go to the magnificent Kiyomizu Temple. It's just next door. Each of the dolls have their own meaning. For example, hinaningyo dolls are placed in the house to pray that daughters will grow up joyfully. Baby dolls are for wishing the recipient to have many more healthy children. Lucky cat dolls are commonly known as a traditional Japanese symbol and each nuance means something different. Make sure you visit this shop to learn more about traditional Japanese dolls.
Location: 1-263 Kiyomizu, Higashiyama-Ku, Kyoto, 605-0862, Japan
Open: Daily from 9am to 5pm
Phone: +81 (0)75 541 7326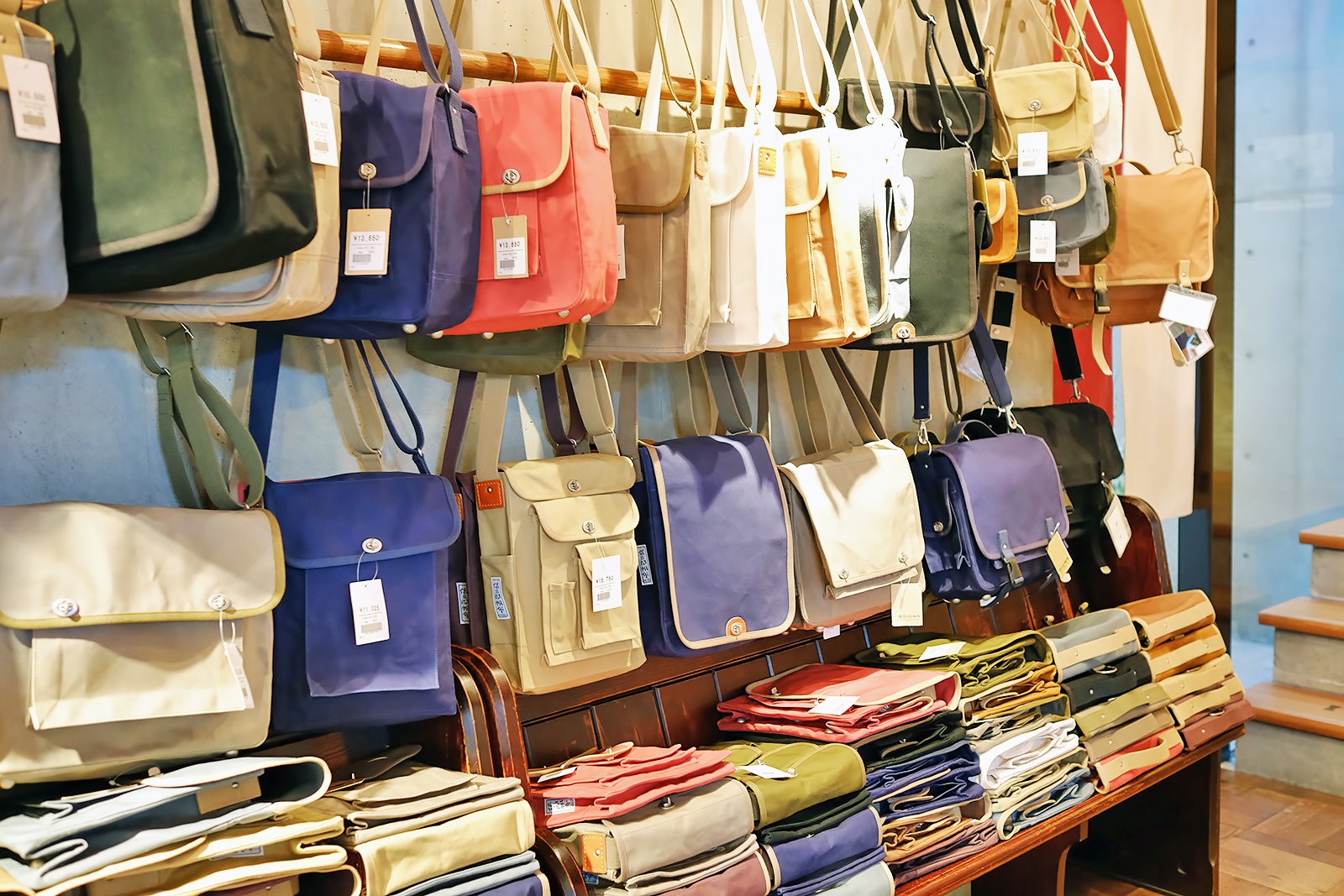 Ichizawa Shinzaburo Hanpu (Handmade cotton bags)
Ichizawa Shinzaburo Hanpu is a local Kyoto brand featuring mainly handmade cotton bags in various styles and colours. Other popular items include aprons, hats, writing utensils, bags and letter organizers. The shop has a repair section, too. The products from Ichizawa Shinzaburo Hanpu are functional, everyday items and highly regarded by locals. In fact, several Kyoto hotels use these products. Find this boutique shop just south of Higashiyama subway station.
Location: 602 Takabatake-cho, Higashiyama-ku Kyoto, Japan 605-0017
Open: Wednesday–Monday from 9am to 6pm (closed on Tuesdays)
Phone: +81 (0)75-541-0436
photo by choo chin nian (CC BY-SA 2.0) modified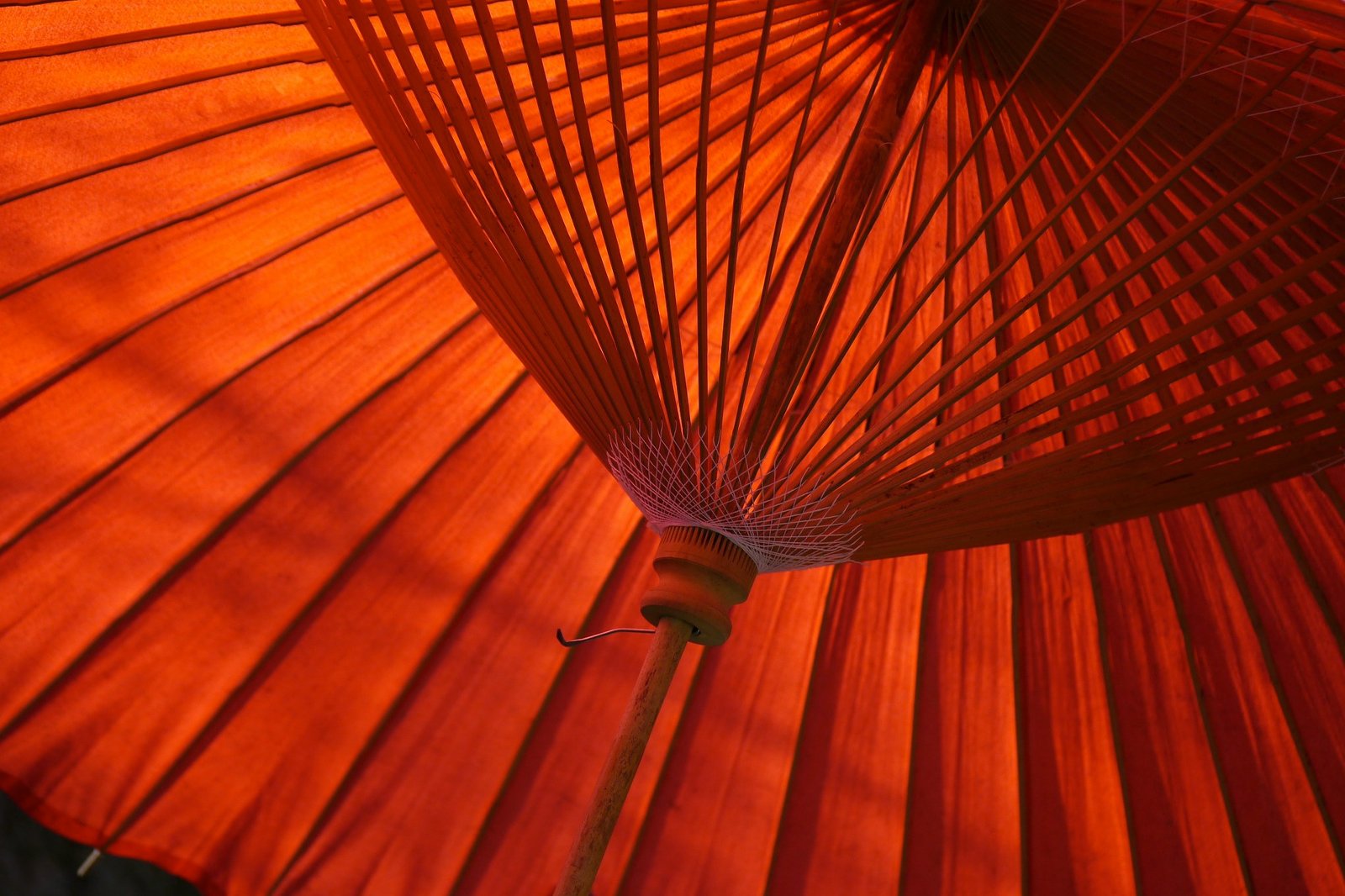 With a beautiful range of stunning oiled-paper umbrellas, Kasagen is a good place to pick up an authentic memento of Kyoto. All throughout the city's famous Gion district, the majestic geisha protect their priceless kimono with these umbrellas, and they also provide portable shade from the sun. In business for more than 140 years, Kasagen stands by the durability of its umbrellas offering a guarantee your products will last for years. Kasagen also makes umbrellas on behlaf of the Imperial Household Agency – an incredibly high honour.
Location: 284 Gion-machi, Kita-gawa, Higashiyama-ku, Kyoto, Japan
Open: Thursday–Tuesday from 10am to 7pm (closed on Wednesdays)
Phone: +81 (0)75-561-2832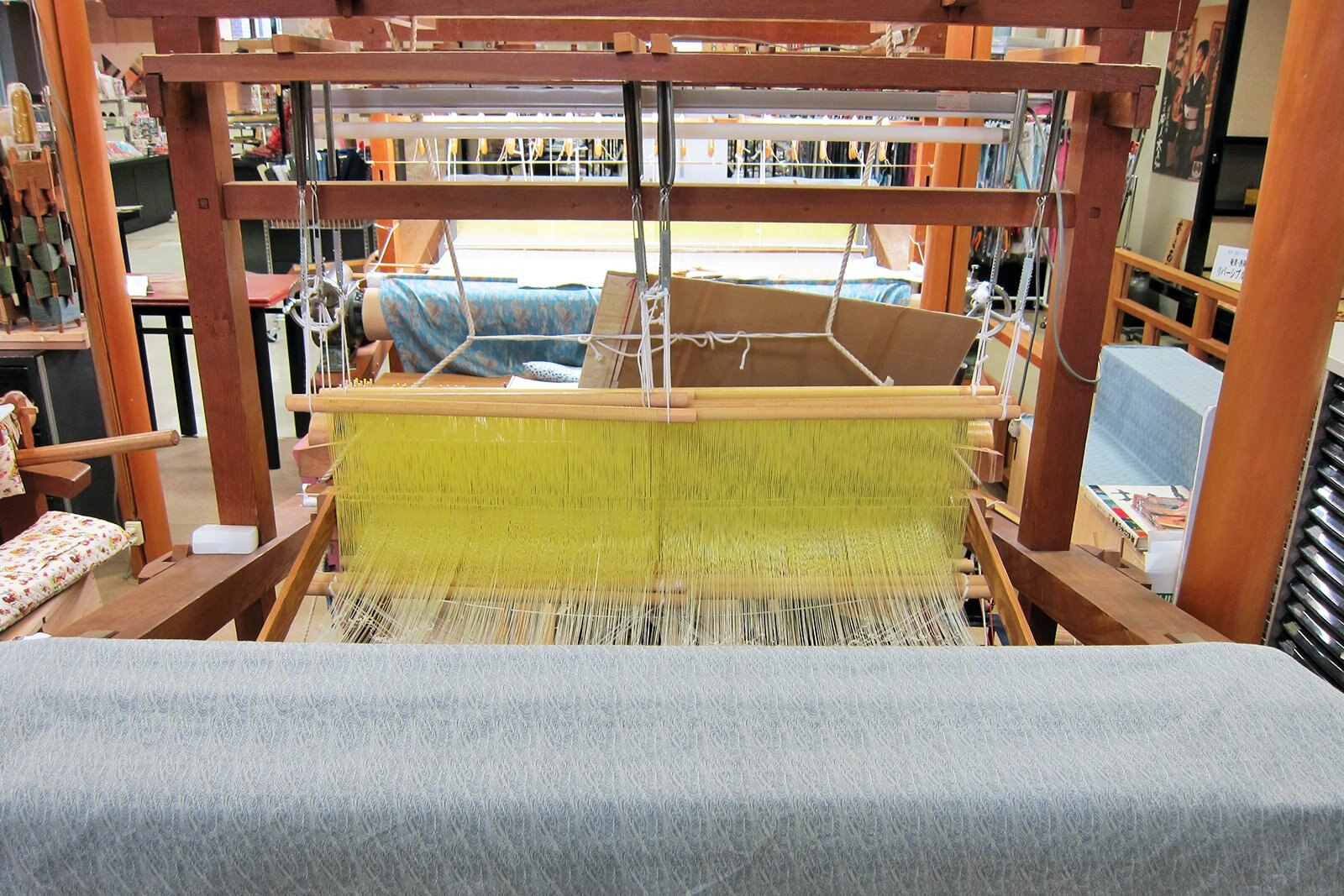 This famous textiles centre is the pride of Kyoto. With its long history of surviving many setbacks, including wars, the centre has a reputation of being a 'tough guy' and has a good name all over the country. When visiting Nishijin, visitors will have the chance to try on kimonos and experience weaving by traditional methods. There's also a kimono fashion show several times a day. Call the centre for more information beforehand as certain activities need advance booking. Before leaving the centre, don't forget to check out the shop which features a good variety of beautiful items such as kimonos, obi, ties, gold brocade, fabrics, woven small goods and household goods.
Location: Horikawa- Imadegawa Minami-iru, Kamigyo-ku, Kyoto, 602-8216 Japan
Open: Daily from 9am to 5pm
Phone: +81 (0)75 451 9231
photo by hslo (CC BY-SA 2.0) modified
Entering Aizen Kobo is like walking into a family home. The Utsuki family have been in the weaving business for generations and their hand-woven and hand-dyed indigo textiles are the finest in Kyoto, perhaps all of Japan. The owner Utsuki-san, is considered a master at his craft and his dyed textile is guaranteed never to fade. Utsuki-san will be happy to show you many samples of the dyed and woven goods including the articles of clothing designed by his wife Hisako.
Location: Nakasuji Omiya Nishi Iru, Kamigyo, Kyoto 602-8449, Japan
Open: Daily from 10am to 4pm. Open until 5.30pm on weekdays.
Phone: +81 (0)75 441 0355
Surprise your loved ones at home with a box of colourful Japanese sweets from Shioyoshi-ken. They have been in the Japanese confectionery business for more than a century, producing fine products to accompany traditional tea ceremonies. The products on offer change according to the season, but revolve around authentic flavours like glutinous rice mochi, sweet beans, and sugar. There's usually a sample plate available for you to try some of the sweets before buying. You can find this charming sweet shop by taking the Karasuma line to Imadegawa station.
Location: 180 Hidadonocho, Kuromon-dori Nakadachiuri-agaru, Kamigyo, Kyoto, 602-8235, Japan
Open: Daily from 9am to 6pm
Phone: +81 (0)75 441 0803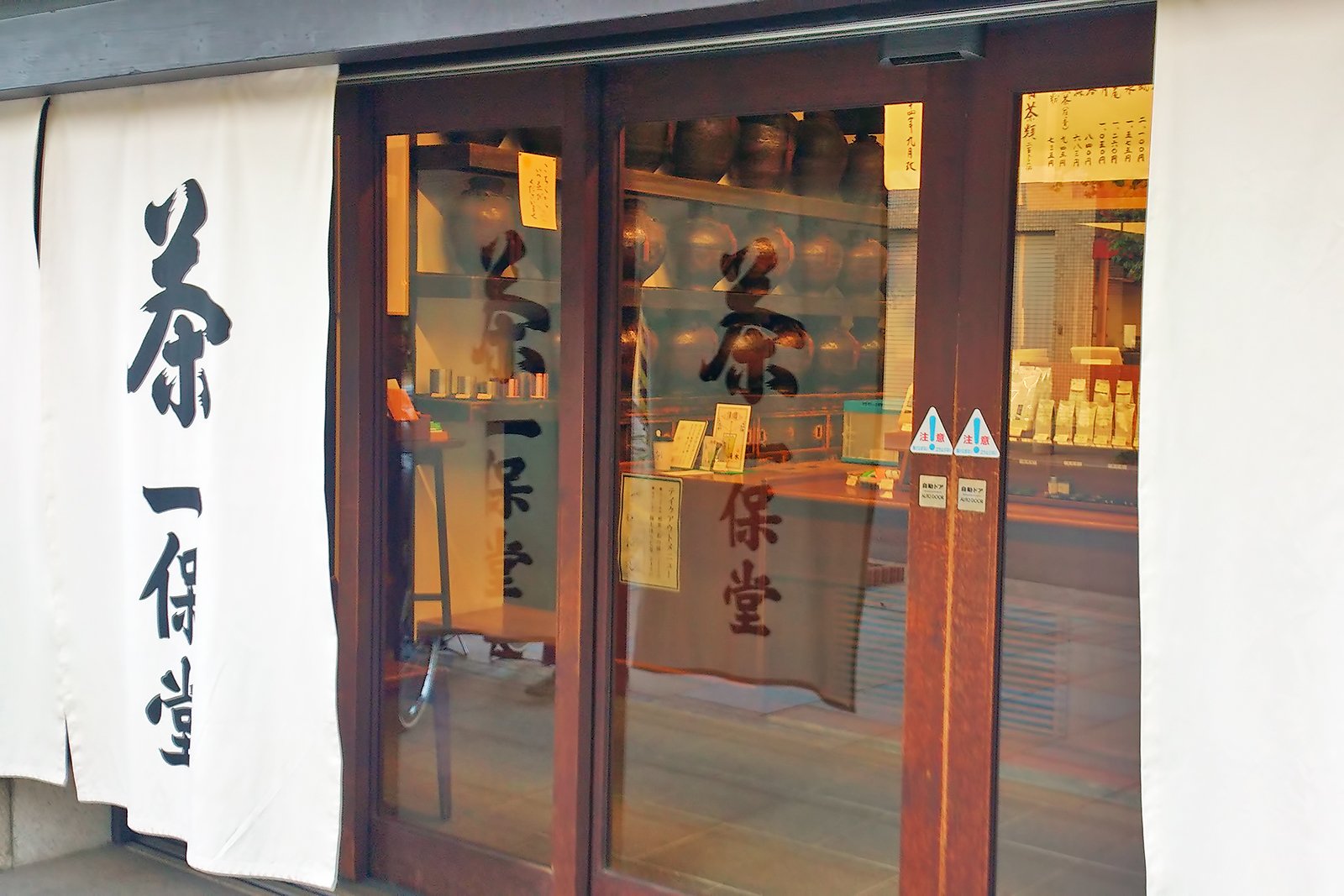 Ippodo is a Kyoto institution; a nearly 300-year-old tea shop famous for its top-quality teas. Far more than just merchants, they are directly involved in the procurement and blending of carefully selected tea leaves.
Besides being able to shop for top-grade Japanese green tea such as matcha, gyokuro, sencha and bancha, visitors can select many interesting tea utensils such as bamboo whisks (chasen), bamboo tea ladles and traditional teapots. A trip to Ippodo would not be complete without visiting its impressive 'Kaboku' tearoom. Here, guests learn to brew tea for themselves.This esteemed shop has expanded from its Kyoto main store on Teramachi-dori and now has branches in Tokyo and New York.
Location: Teramachi-dori Nijo, Nakagyo-ku, Kyoto, 604-0915, Japan
Open: Daily from 9am to 6pm
Phone: +81 (0)75-211-3421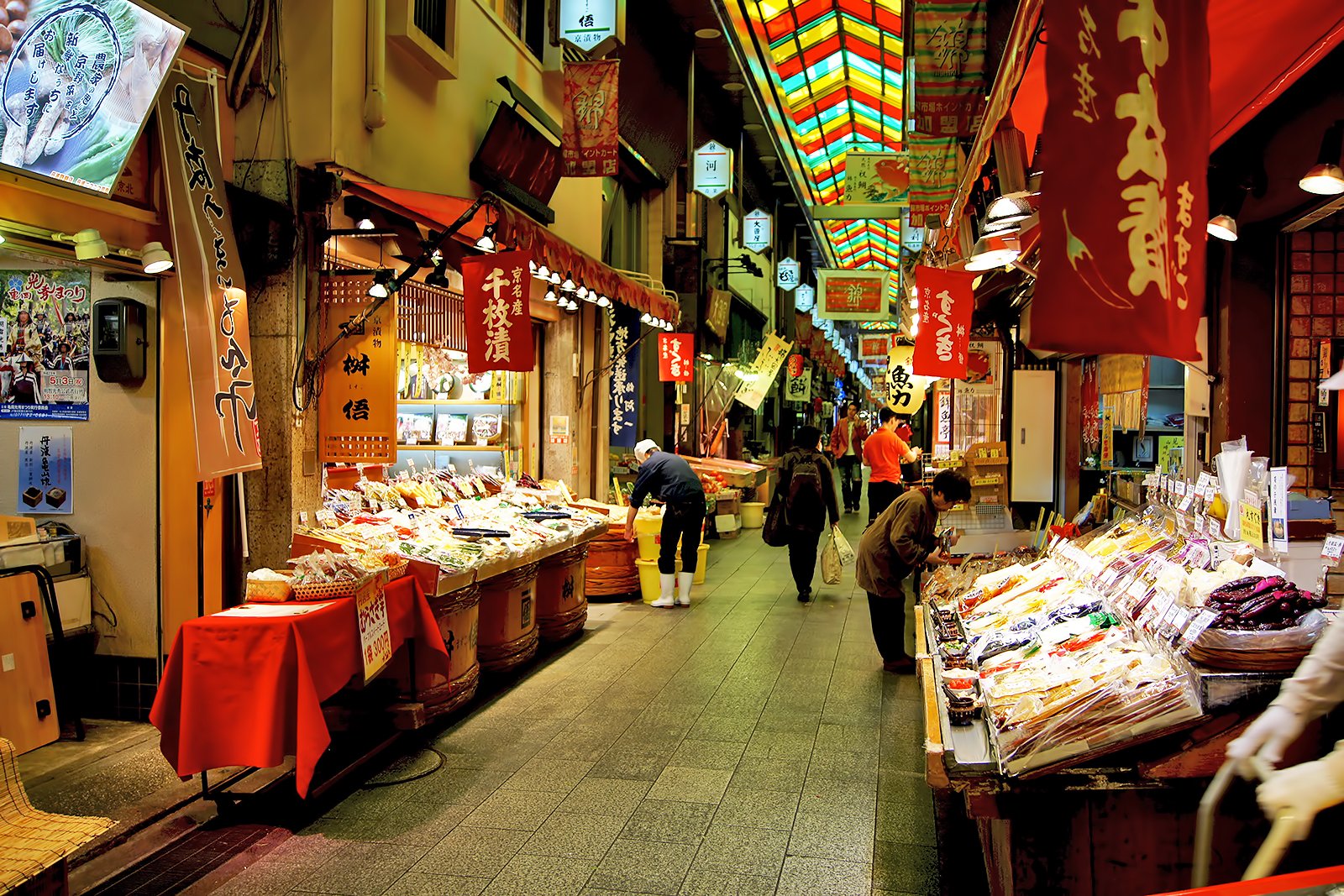 Nishiki Market is a must-visit destination for out-of-town visitors because it's a real eye opener when it comes to local daily life. Many locals nickname it 'the kitchen of Kyoto'. It's where you can find many local delicatessens such as saké, tofu, fish, Japanese pickles, vegetables, seaweed, traditional sweets, cooked food, kitchenware, knives and more.
The market features more than 100 vending stalls and most shops are old establishments that have been run by the same family for generation after generation. Products for sale are said to be of better quality than those at average supermarkets in town and prices are accordingly a little higher.
Location: Nishiki Market, Nakagyo, Kyoto, 604-8054, Japan
Open: Daily from 9am to 6pm
photo by Luca Mascaro (CC BY-SA 2.0) modified
New, antique and decorative swords have been the Hashimoto family's business for over 50 years. The katana swords sold here have been painstakingly hand-crafted to make genuine replicas of the actual swords that were once brandished by samurai warriors. The collection displayed in store at any one time contains a variety of authentic antiques and some more budget-friendly replicas. Flying home with a samurai sword might be a problem, os the owner, Mr Kuraya Hashimoto, is pleased to offer safe, secure shipment to most countries.
Location: 373-1 Kitagumi, Inokuma-cho, Sanbo, Oikesagaru, Inokuma Dori, Nakagyo-ku, Kyoto, Japan
Open: Monday, Thursday, Saturday–Sunday from 10am to 5.30pm. Closed on Tuesdays, Wednesdays and Fridays.
Phone: +81 (0)75 821 2791
photo by Marie-Lan Nguyen (CC BY-SA 2.5) modified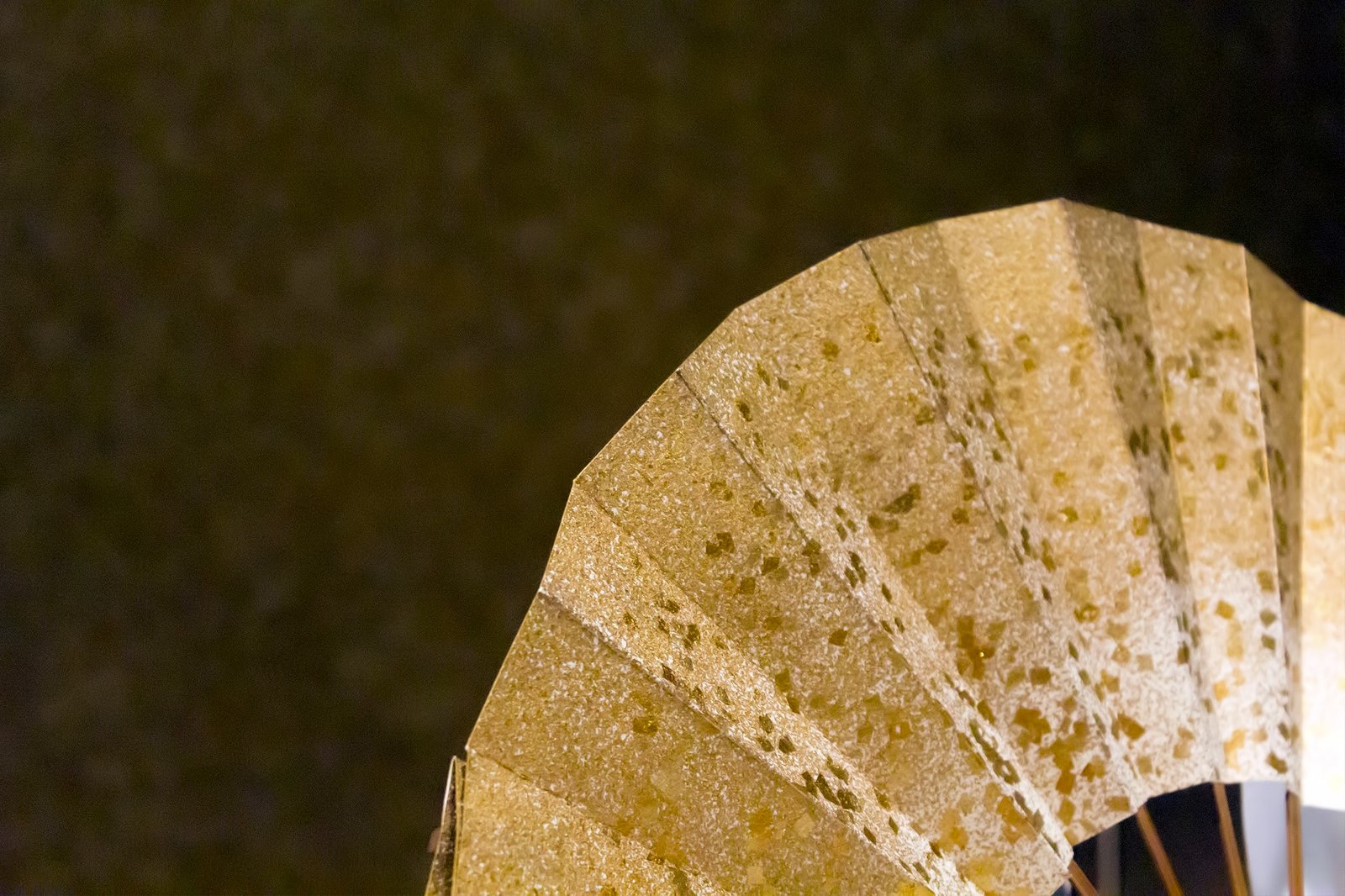 Housed in a vintage building dating back to 1823, Miyawaki Baisen-an presents a gorgeous array of fans and is probably the most famous fan shop in Kyoto. A cultural icon as much as a practical tool, these decorative fans are lacquered, painted, folded or scented into an amazing number of shapes, designs, and sizes. Visit the boutique store on Tominokoji-dori to browse these lovely accessories and pick up a special souvenir of Kyoto.
Location: Tominokoji-dori, Kyoto, 604-8073, Japan
Open: Daily 09:00 – 18:00
Phone: +81 (0)75-221-0181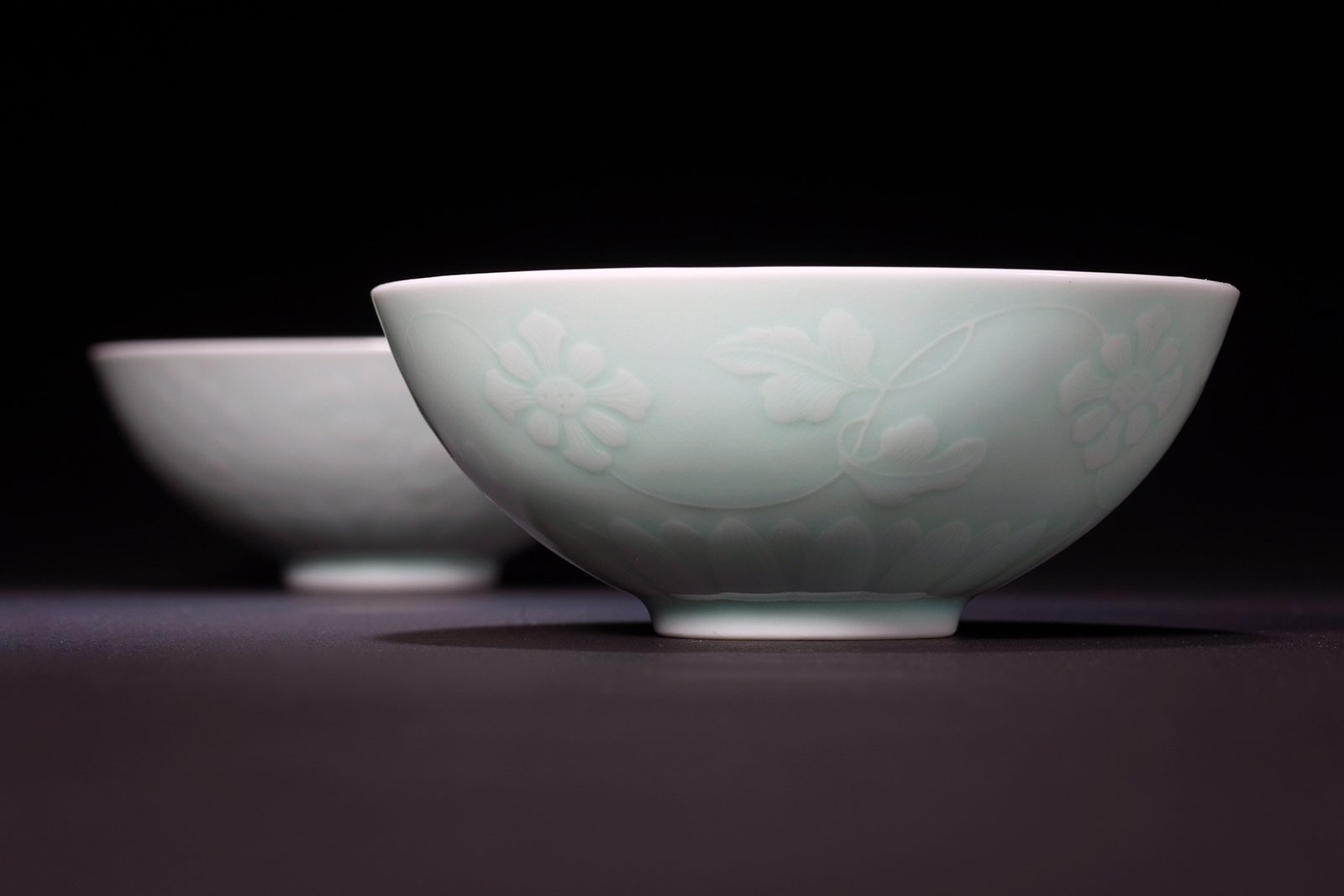 Whether you decide to buy some of the exquisite ceramics for sale at Tachikichi or not, it is well worth a visit just to see the regular exhibitions of international and Japanese ceramic artists or simply experience the scope of 5 floors of contemporary and antique ceramics. Highlights at Tachikichi include dinner sets and sake cups, with styles ranging from traditional to more modern designs, suchas their anime series. The store has been a leader in the ceramics industry in Kyoto since 1752 so the're expertise is assured.
Location: Shijo-dori, Tominokoji, Nakagyo-ku, Kyoto
Open: Thursday – Tuesday from 10.30am to 7pm (closed on Wednesdays)
Phone: +81 (0)75 211 3143
Preserving the best of yesterday, Bon Kyoto takes old kimono and obi and transforms them into contemporary kimono-style creations. Many of the kimono are hand made from silk dating back to the Taisho and Showa periods of Japanese history. The creative designers also produce some great one-off novelties and souvenirs such as decorative bedroom items and small bags and pouches made from the antique kimonos.
Location: 1-38 Donomae-cho, Kitashirakawa, Sakyo-ku, Kyoto, 606-8277, Japan
Open: Wednesday–Monday 10am to 6pm (closed on Tuesdays)
Phone: +81 (0)75-711-7095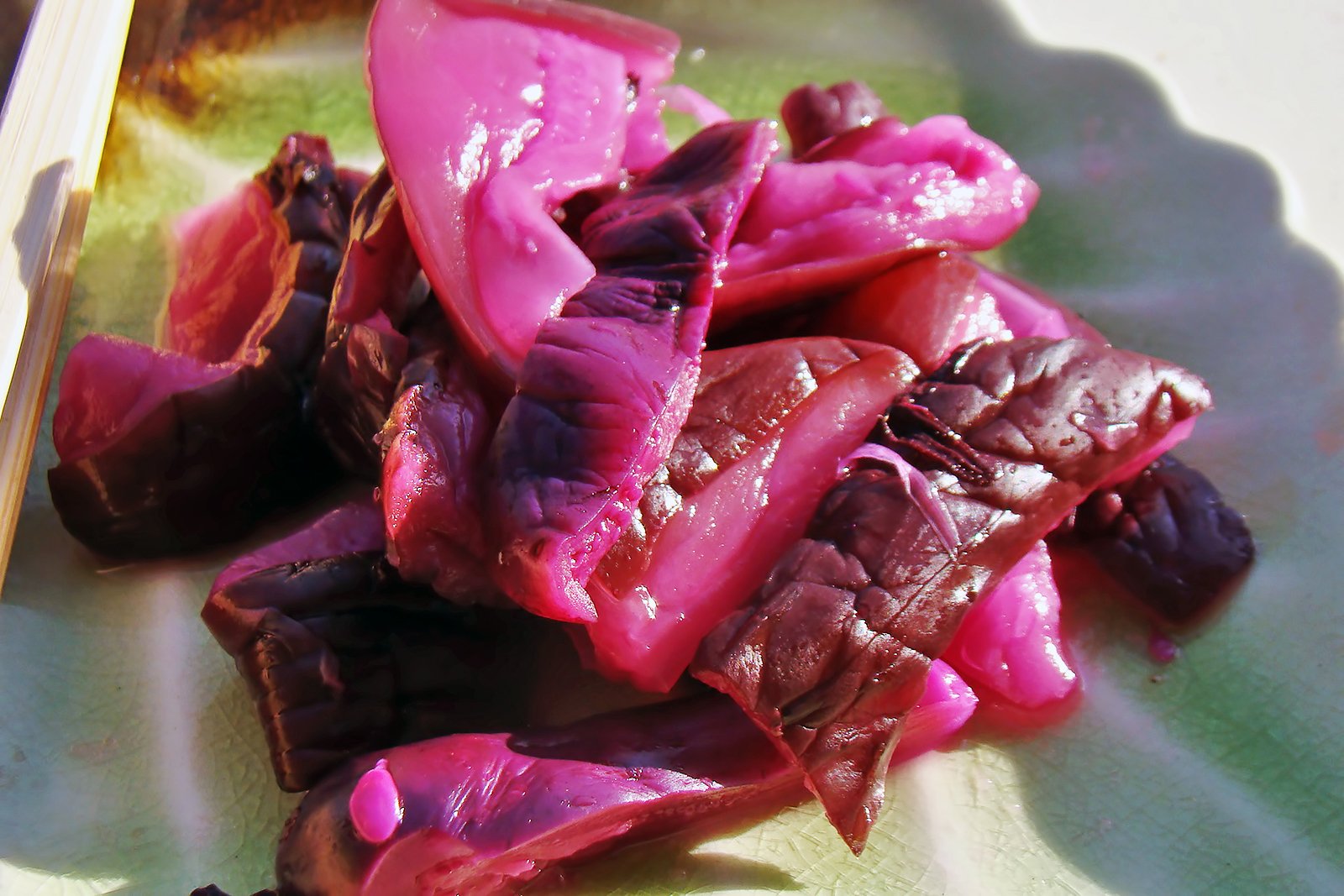 If you plan to take some uniquely Japanese snacks back home with you, don't forget the Japanese pickles to go with it. Tsuji Shibazuke uses only homegrown vegetables, pure salt and traditional pickling processes to create outstanding tsukemono pickles, reputed to be among the best in Kyoto. Selections vary according to the seasons, but expect to find pickled eggplant, ginger, cucumbers and red peppers among other delicious pickled vegetables.
Location: 483 Oharauenocho, Sakyo Ward, Kyoto, Kyoto Prefecture 601-1244, Japan
Open: Daily from 8.30am to 5pm
Phone: +81 (0)75-744-2839
photo by Janet Hudson (CC BY 2.0) modified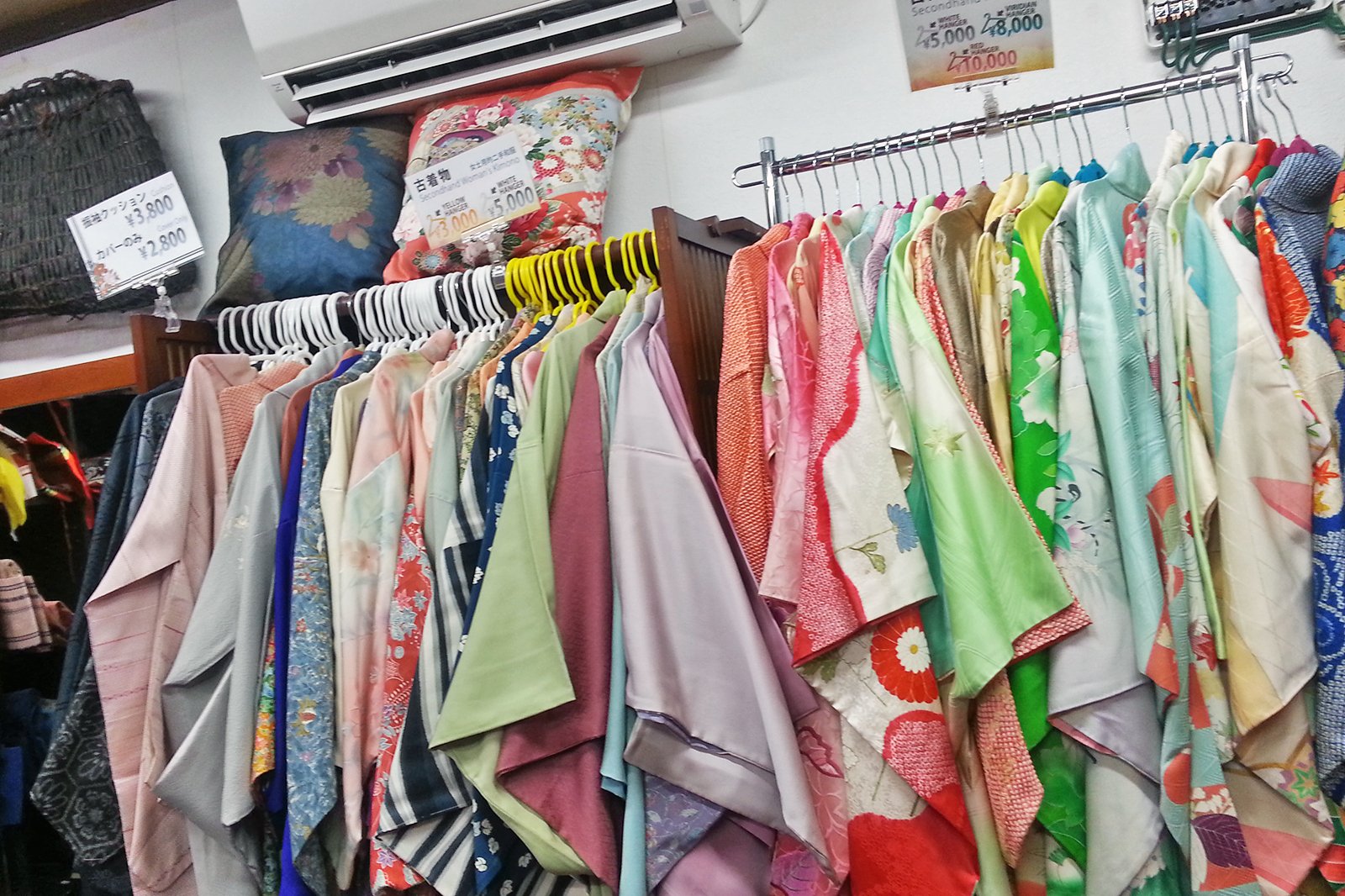 Kimono Shops in Central Kyoto
A popular downtown location for out-of-town visitors to get traditional goods is along Shijo Dori Street and Kawaramachi Dori Street. Here, there are many shops that specialise in kimonos and clothing accessories. Look out for unique items such as red lanterns, tea-ceremony utensils, and lacquerware. These areas are well known for lively bars, clubs, and coffee shops, too.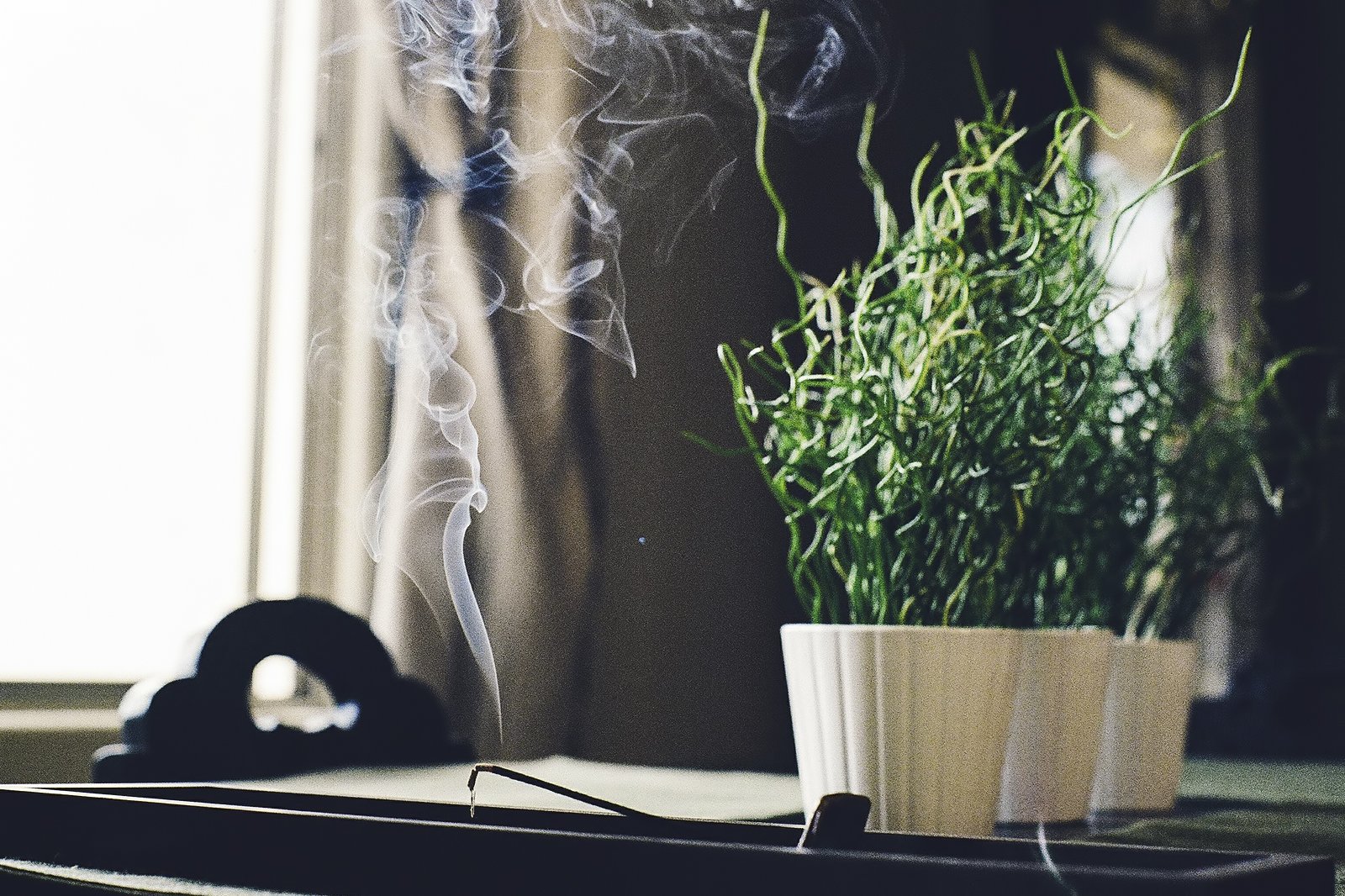 Take home the scent of Kyoto with some aromatic incense from Kungyoku-do. In Japan, kodo or 'the way of incense' is considered an austere art form; the smoke rising from the incense is said to show the way to heaven. Kungyoku-do imports materials from throughout Asia to craft these beautifully fragrant tokens of Kyoto. You will find this boutique store next to Nishi Hongan-ji temple. The company has been trading from the same location since its inception in 1594.
Location: Horikawa-dori, Nishihonganji-mae, Shimogyo, Kyoto, 600-8349, Japan
Open: Daily from 9am to 5.30pm (closed on the 1st and 3rd Sunday of the month)
Phone: +81 (0)75-371-0162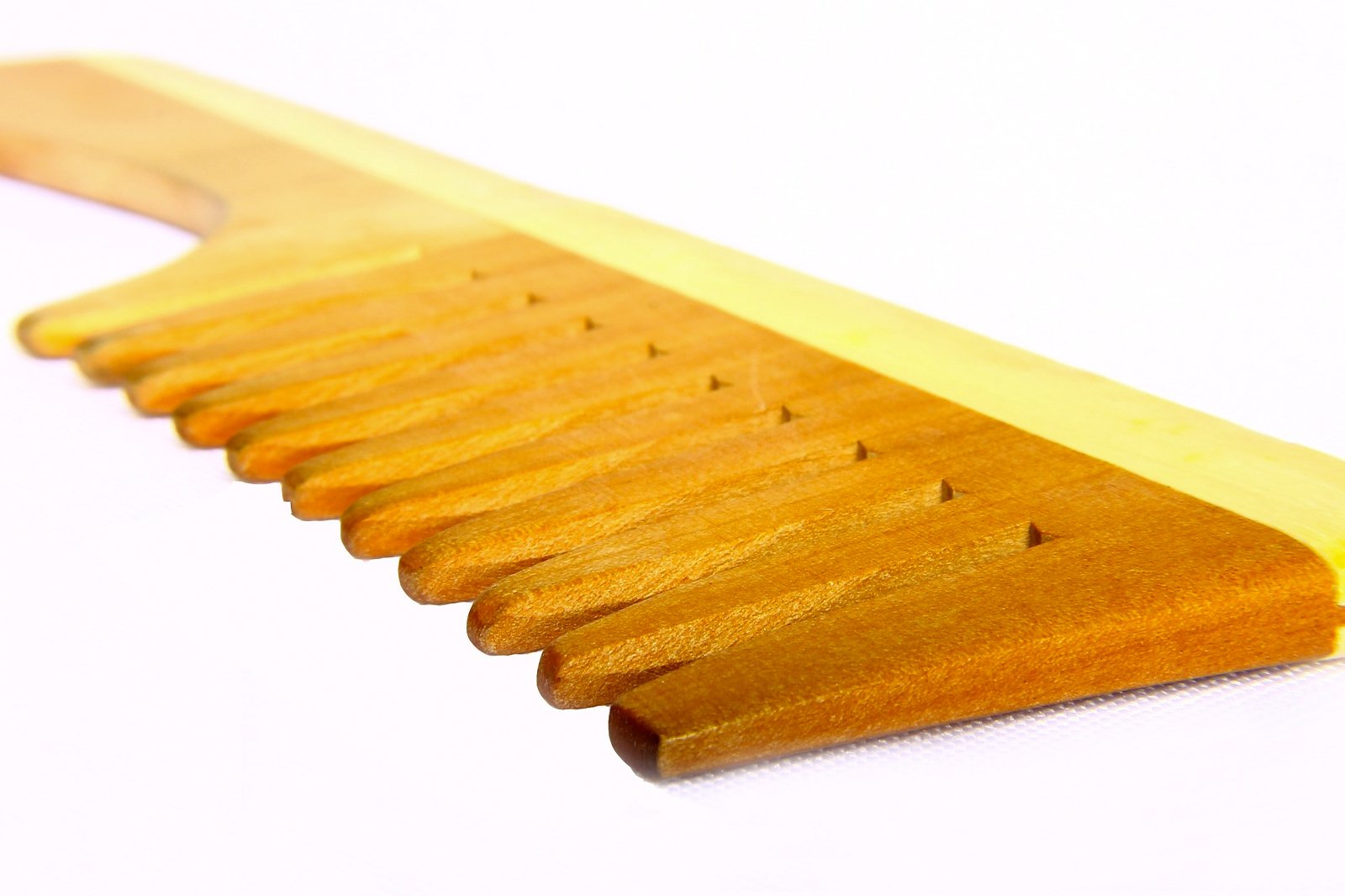 A vital part of a geisha's impeccable ensemble is her wooden hair comb, called kanzashi. The use of hair ornaments is deeply symbolic and offer geisha an avenue for a little individuality. For more than 60 years Jusan-ya has been crafting exquisite boxwood combs and hair accessories for Kyoto's geiko and maiko. Although you may not have the kimono to fulfill the look, these fragile ornaments are a great gift for any woman.
Location: Shinkyogoku Higashi-Iru, Shijo-dori, Shimogyo-ku, Kyoto, Japan
Open: Daily from 10am to 6pm
Phone: +81 (0)75 221 2008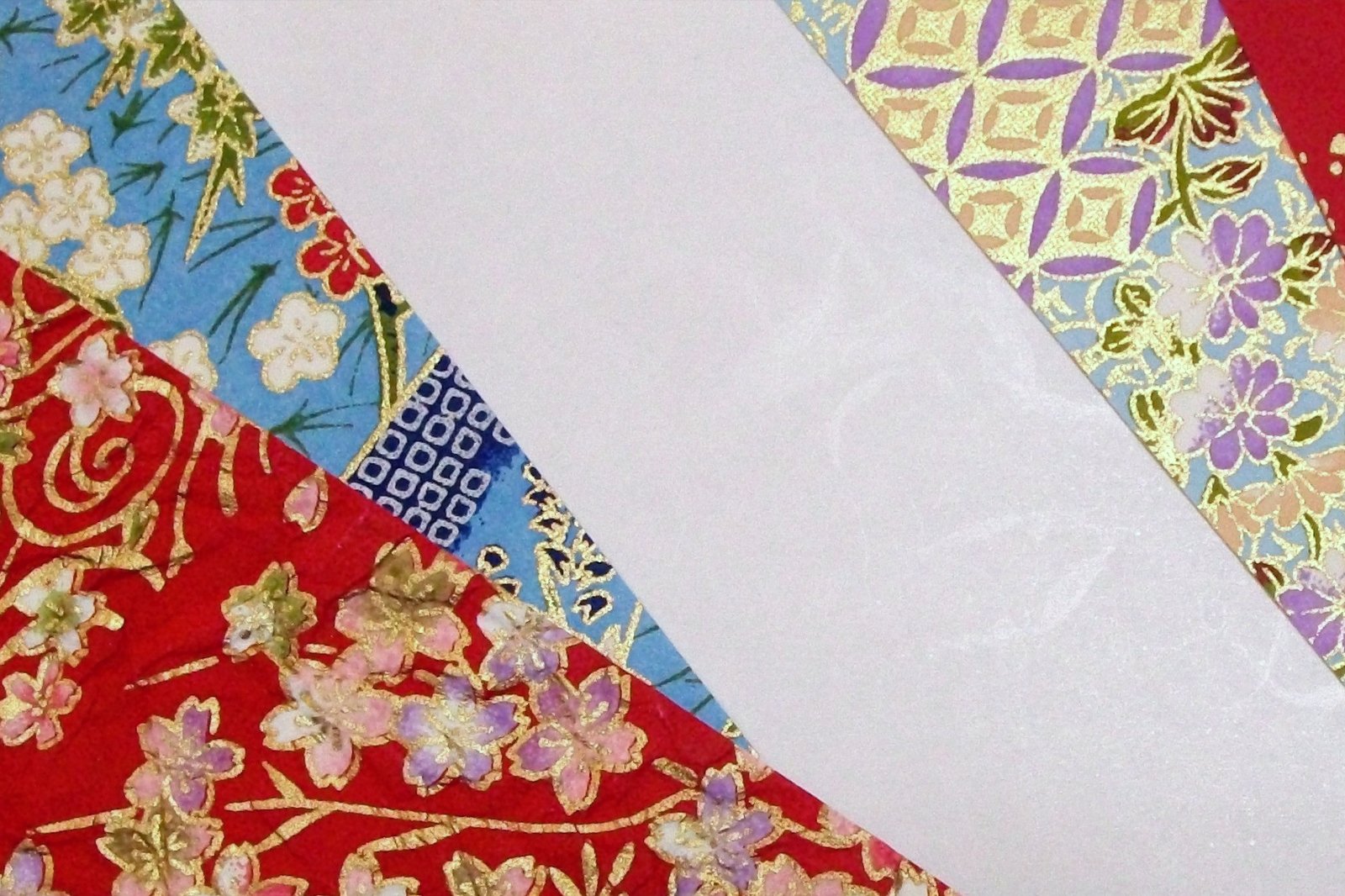 Paper is very important in Japan, an essential element in traditional doors, windows, fans, lamps and umbrellas. Morita Wagami's quality handmade paper is highly sought-after in many parts of the world and its huge selection will fill a few hours of browsing. Craftspeople, calligraphers, artists, even scrap-bookers will be amazed at the number of different colours, textures, grains and especially the gorgeous chiyogami, decorated paper.
Location: Bukko-ji Agaru Higashinotoin Dori, Shimyogo, Kyoto, 600-8095, Japan
Open: Monday–Saturday from 9.30am to 5.30pm
Phone: +81 (0)75 341 0123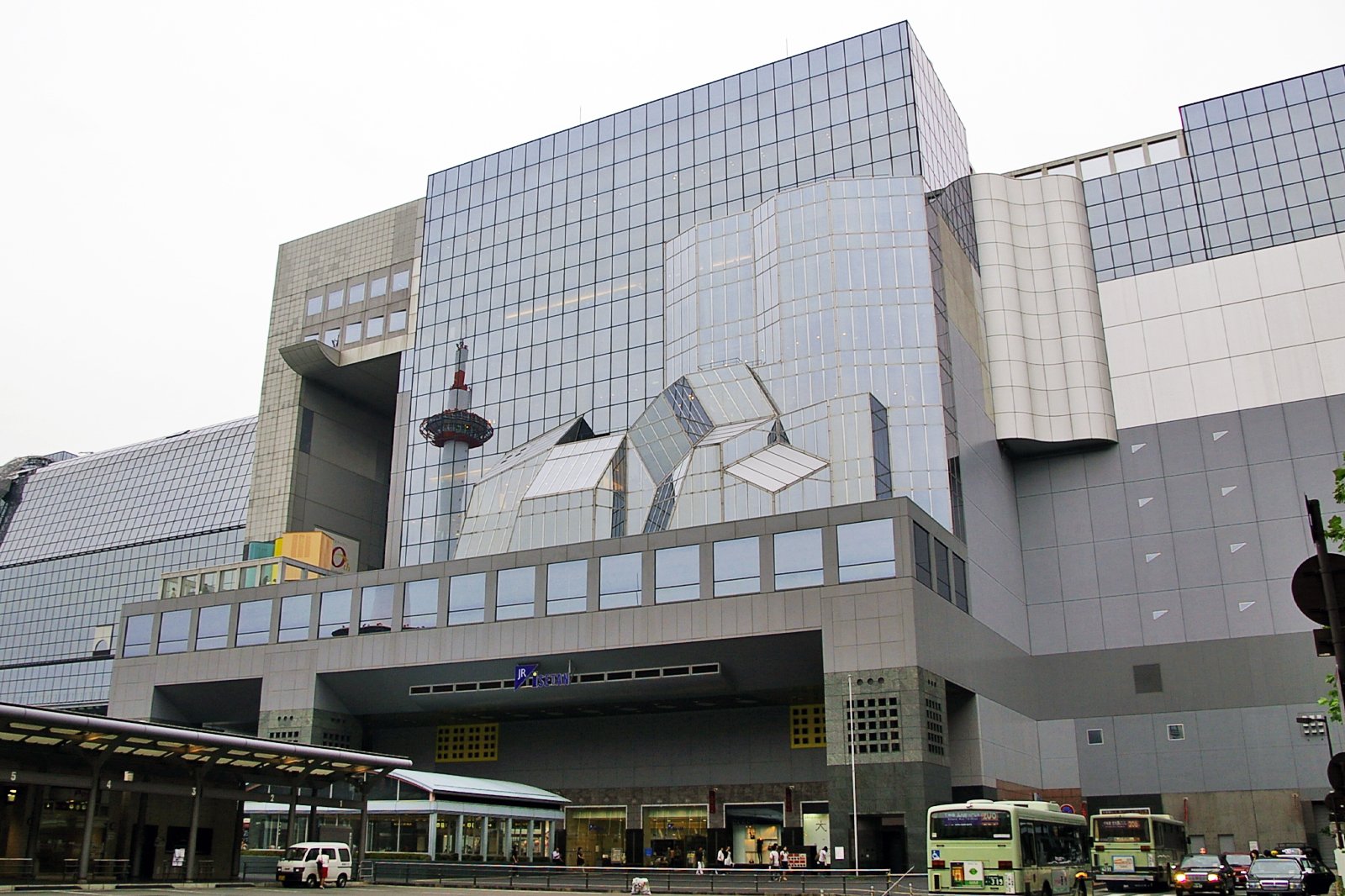 If you need last-minute shopping before leaving town, try the huge department store called Isetan located inside JR Kyoto Station. Isetan features modern and fashionable imported and local-produced clothing, bags, cosmetics and more.
The top floor has countless beautiful kimonos in many patterns and styles. Down on the food floor in the basement, you won't believe the variety of displays of delicious Japanese cuisine. If you have children, a cruise through the kids' section will unearth some excellent toys and dolls. Japan is well known for 'cute' characters like Hello Kittie and you'll find a whole range of branded items here.
Location: JR Kyoto Station, Higashi Shijokoji-cho, Karasuma Shijokoji, Shimogyo-ku, Kyoto
Open: Daily from 10am to 8pm
Phone: +81 (0)75-352-1111
photo by J o (CC BY-SA 3.0) modified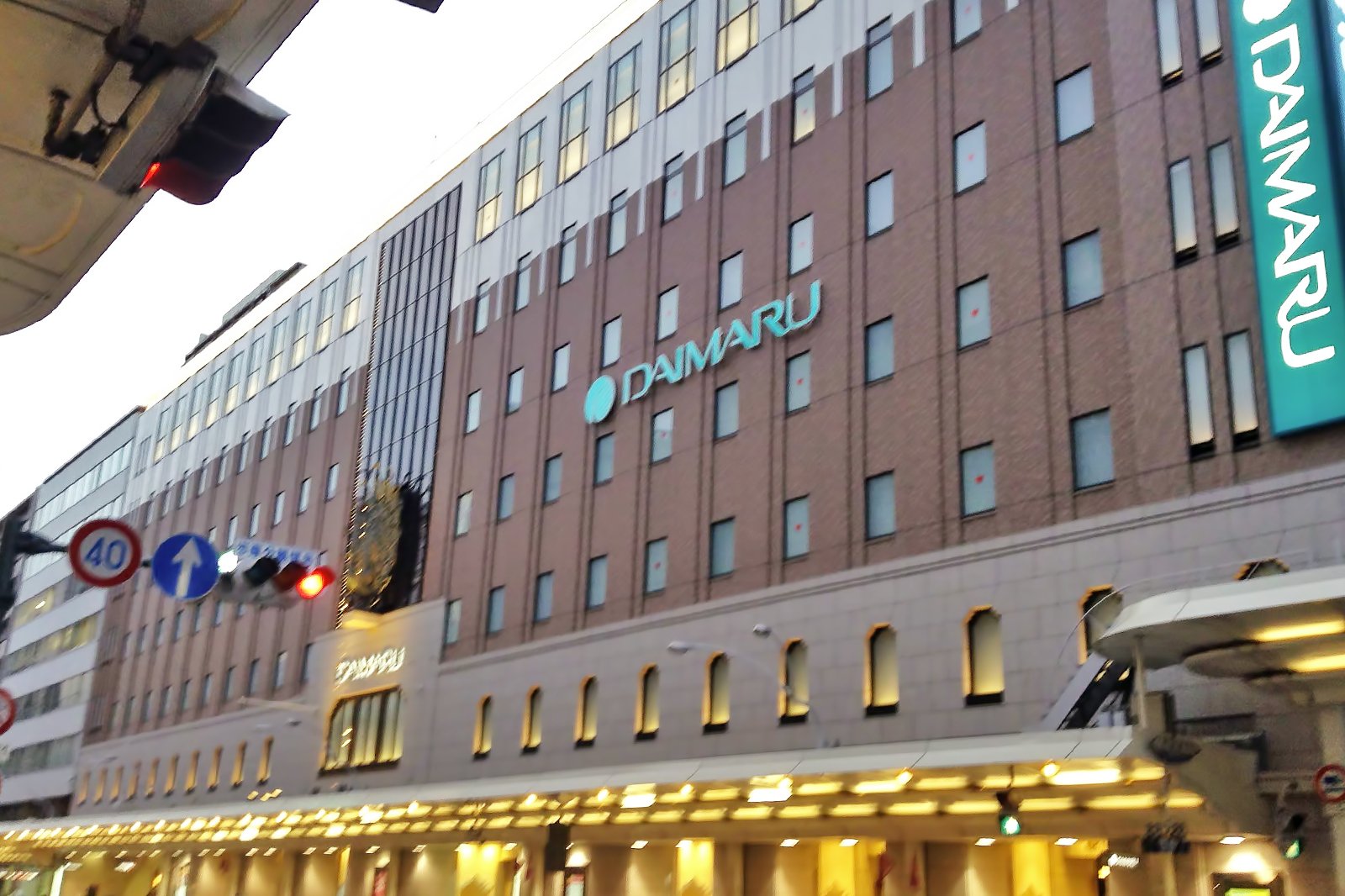 Daimaru is a large chain store with many branches in Japan and even a few overseas, but it's first branch was actually here in Kyoto. There are currently 3 Daimaru stores in Kyoto. The biggest one is on Shijo Dori, west of Takakura, and has 9 floors with a good range of products such as men's and women's wear, bedding, local souvenirs, electronic goods, and household goods, including Japanese kitchenware.
Location: 79 Tachiurinishimachi, Shijo Takakura, Simogyo, Kyoto, 600-8511, Japan
Open: Daily from 10am to 8pm
Phone: +81 (0)75-211-8111
photo by 三菱善次郎 (CC BY-SA 4.0) modified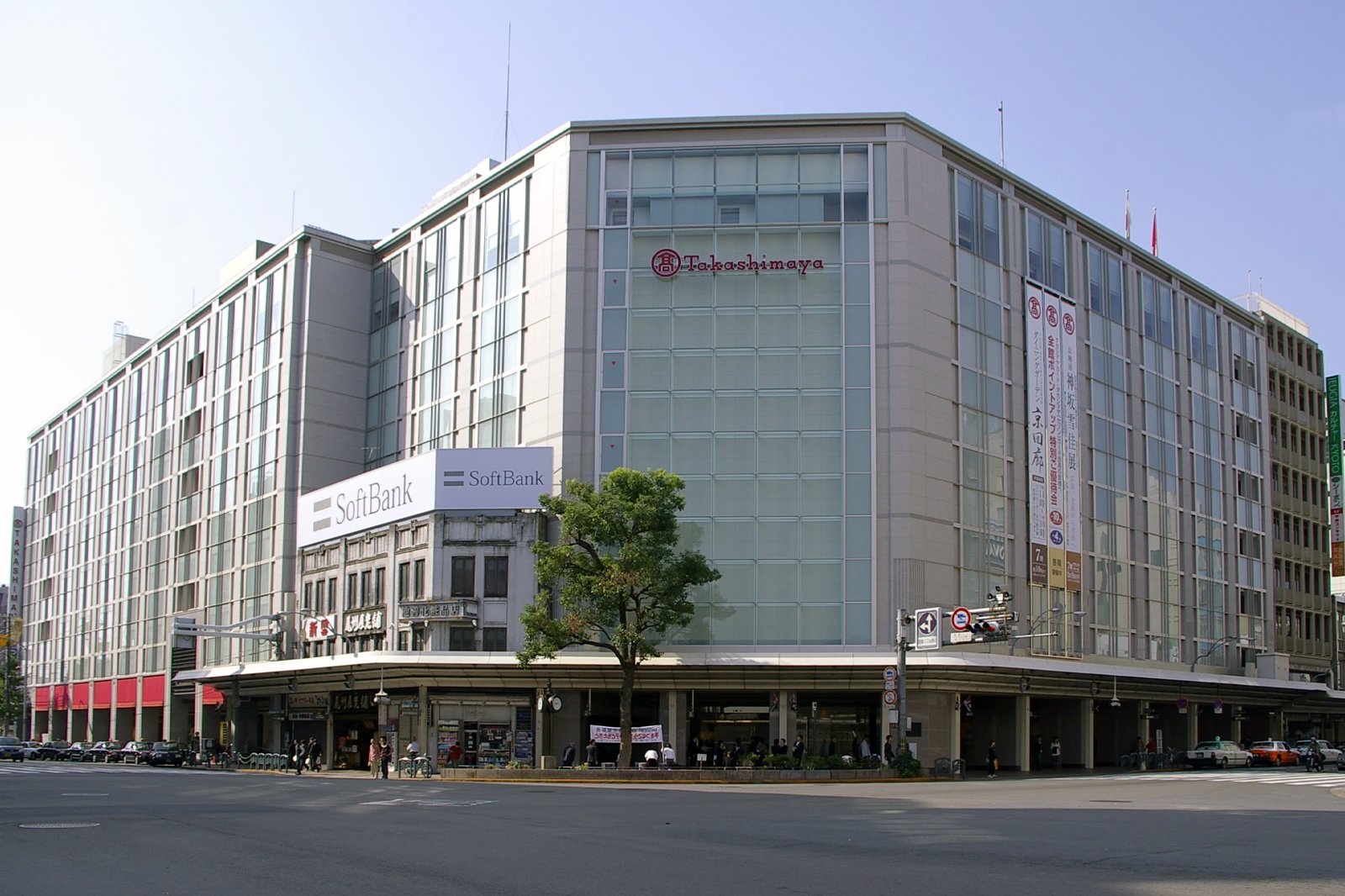 Takashimaya Department Store
With many years of experience in retailing, Takashimaya is one of the major department store brands in Japan with 20 stores under its belt, including branches in New York, Singapore, Taiwan and Bangkok. It was actually founded in Kyoto as a kimono shop back in 1831, but Takashimaya later grew into a bigger store with more selections and moved its headquarters to Osaka where it remains to this day. You'll find a huge selection of clothing here, including some of Japan's most in trend fashion and brands. The Kyoto store holds regular cultural and art exhibitions. It's easy to find Takashimaya above Hankyu Kawaramachi Station.
Open: Daily from 10am to 8pm
Phone: +81 (0)75-221-8811
photo by J o (CC BY-SA 3.0) modified
Fujii Daimaru Department Store
Fujii Daimaru is one of Kyoto's smaller department stores but is still packed with interesting, trendy shops selling unique fashion for young men and women. Rather than rows of restaurants, Fujii buzzes with intimate cafés and bistros – although there is a food court which serves a great variety of dishes. If you're looking for men's fashion, head to the excellent Beams outlet on the first floor – it stocks some limited-edition T-shirts you can only find here. It's easy to find Fuji Daimaru as it's just a couple of minutes' walk from Kawaramachi Station on the Hankyu Line.
Location: 605 Teramachi-dori, Shimogyo, Kyoto, 600-8031, Japan
Open: Daily from 10.30am to 8pm
Phone: +81 (0)75-221-8181
photo by Kirakirameister (CC BY-SA 3.0) modified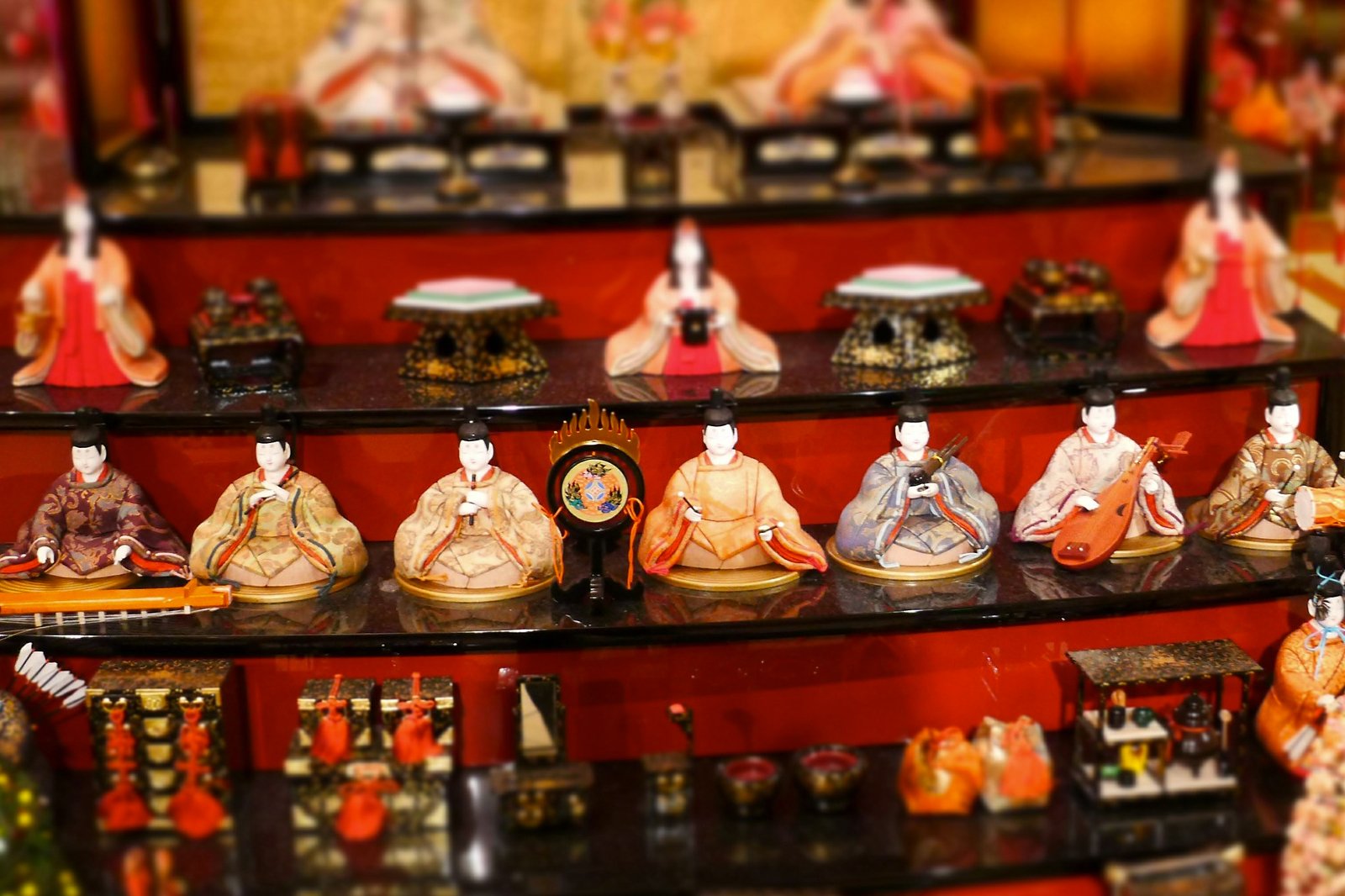 Pick up a token of business prosperity at Fukunoya gift store after a visit to Inari Fushimi Shrine, where the god of good business resides. Fukunoya sells a colourful selection of Japanese altar ornaments and good luck charms which make great souvenirs for work colleagues or loved ones at home. The most popular items for foreign visitors include key rings and cute maneki-neko (beckoning cats).
Location: 58 Fukakusa Yabunochicho, Fushimi-ku, Kyoto, 612-0882, Japan
Open: Saturday–Thursday from 8.30am to 4.30pm
Phone: +81 (0)75-641-1253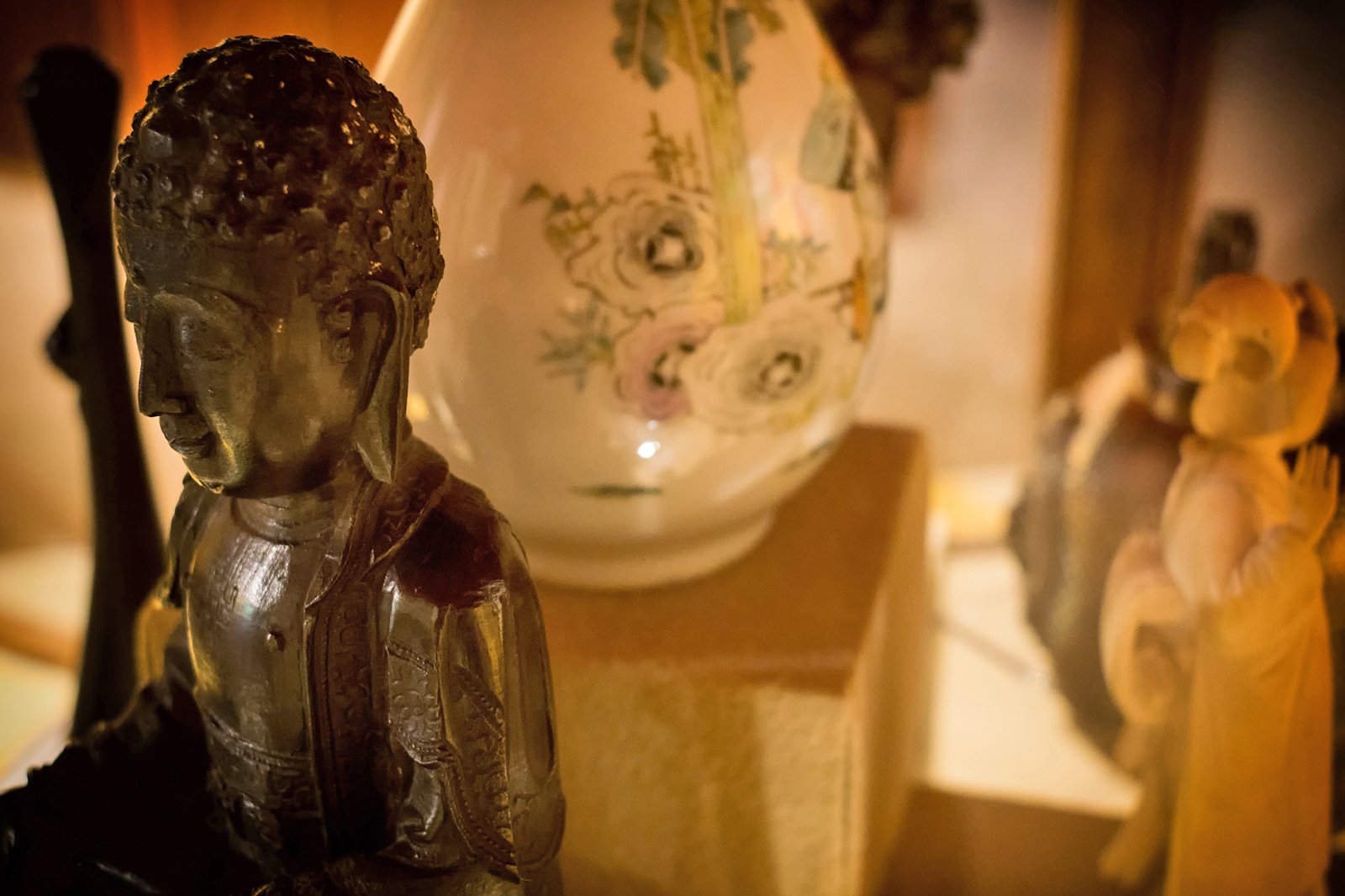 Antiques Grand Fair at Pulse Plaza
This is the largest antiques fair in Japan and takes place 3 times a year. It's a grand affair, attracting over 300 dealers from across the globe to sell their exquisite and unique antique items.
As admission is free, it is almost as good as visiting a museum for the wealth of historically significant items on display. Even if you don't have the cash to purchase anything, it's well worth a visit for the experience of being in a room with so many significant antiques.Pulse Plaza is in Takeda, around 10 minutes south of Kyoto station. There's a free shuttle bus from Takeda station on the Karasuma line.
Location: 5 Takeda Tobadonocho, Fushimi-ku, Kyoto, 612-8450, Japan
Open: Held 3 times a year for 3 days at a time
Phone: +81 (0)77 522 2307
photo by Jerry (CC BY-SA 2.0) modified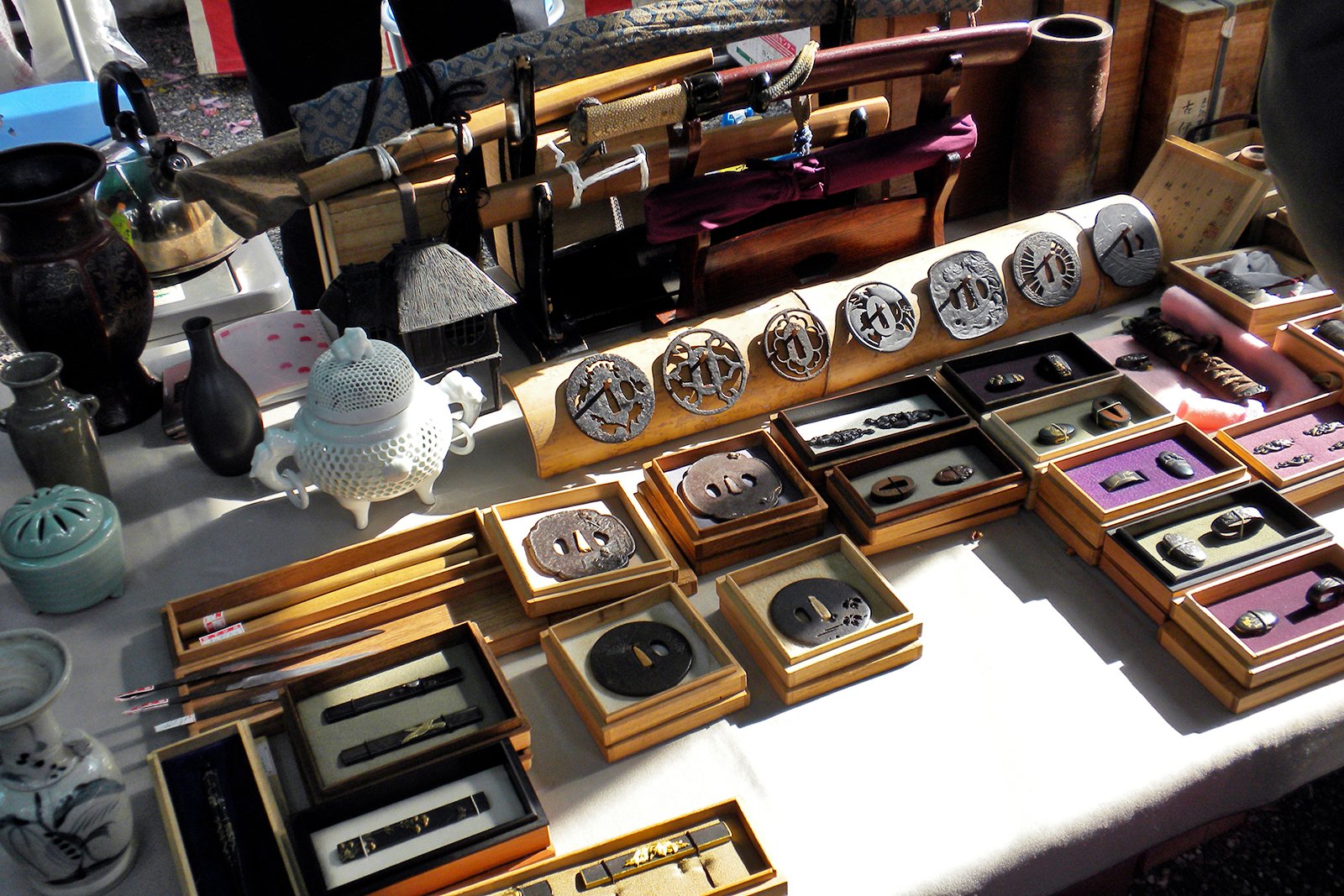 On the 21st of every month, Toji Temple hosts one of Japan's oldest and biggest flea markets, known as Kobo-san. The market appeals to bargain hunters and collectors from all over the country, as it is a good place to buy authentic Japanese antique furniture and textiles, jewellery, art, kimonos and unique decorative household items. It's best to get there early as the best items tend to sell quickly. The environment is relaxed and friendly, although you may resort to a lot of pointing and gesturing to communicate.
Location: 1 Kujocho, Minami Ward, Kyoto, 601-8473, Japan
Open: 21st of each month from 7am to 4pm
photo by np&djjewell (CC BY 2.0) modified