12 Best Places to Go Shopping in Luang Prabang
Where to Shop and What to Buy in Luang Prabang
Some of the best places to go shopping in Luang Prabang are located in the town centre, where you can purchase authentic handicrafts, art, textiles and jewellery. Many of these items are handmade by Laos' ethnic groups, whose handicraft skills continue to be practised through the generations.
There are plenty of fair trade shops where you get to contribute towards sustaining local families in rural areas throughout Laos. Luang Prabang's traditional markets offer fresh produce like meat, vegetables and herbs. From silk scarves and skirts to coffee beans and Lao herbs, check out our list of where to shop and what to buy in Luang Prabang.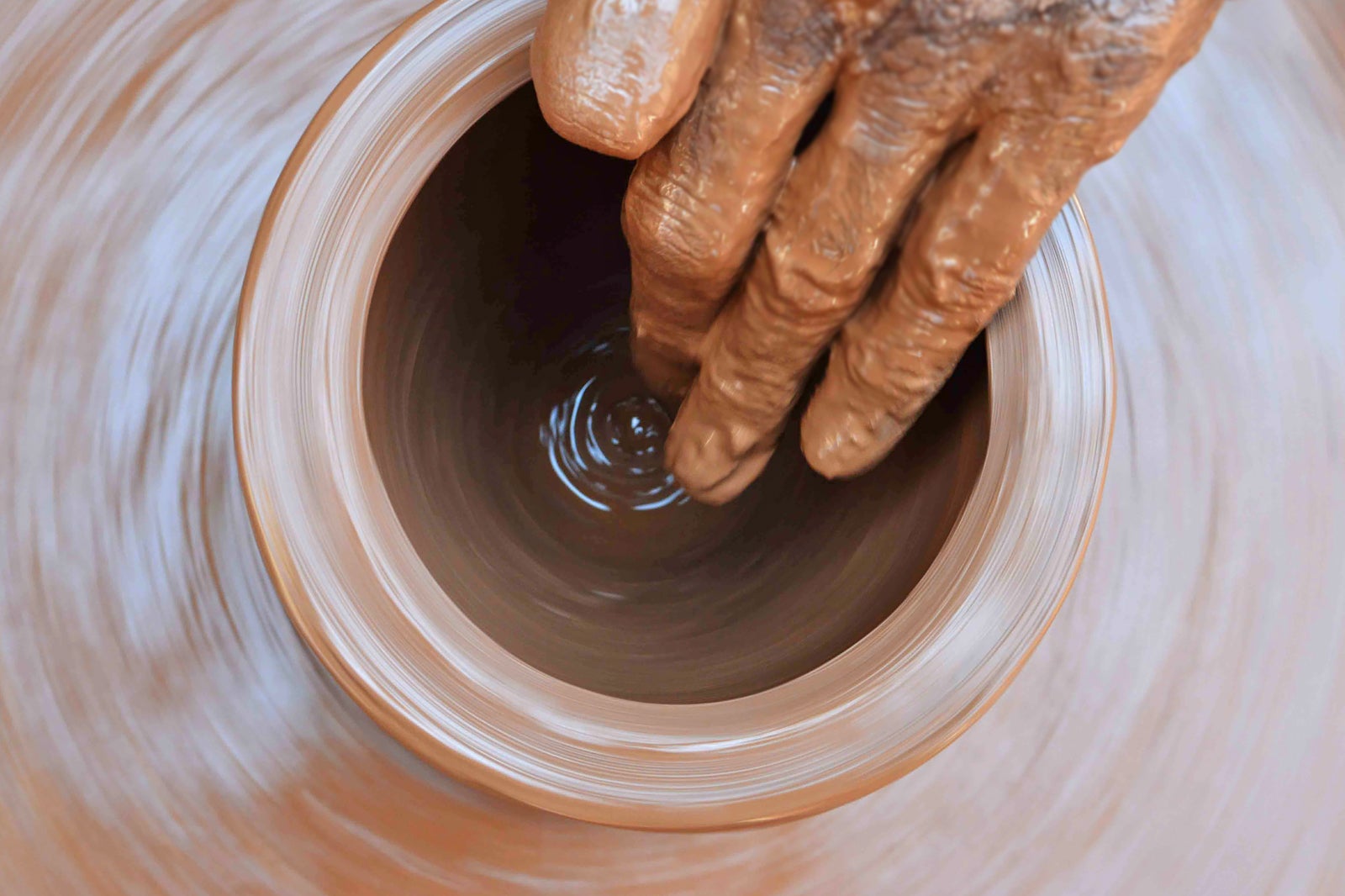 Caruso Lao offers high quality and handcrafted souvenirs in downtown Luang Prabang. Everything is designed and fashioned together by hand, with products crafted from natural materials such as wood and silk. Caruso Lao's impressive range includes wooden bowls, decorative Buddha heads, cushions, natural silk shawls, bedspreads, and table runners.
Location: 60 Sakarine Road, Luang Prabang 0600, Laos
Open: Daily from 9 am to 9 pm
Phone: +856 71 254 574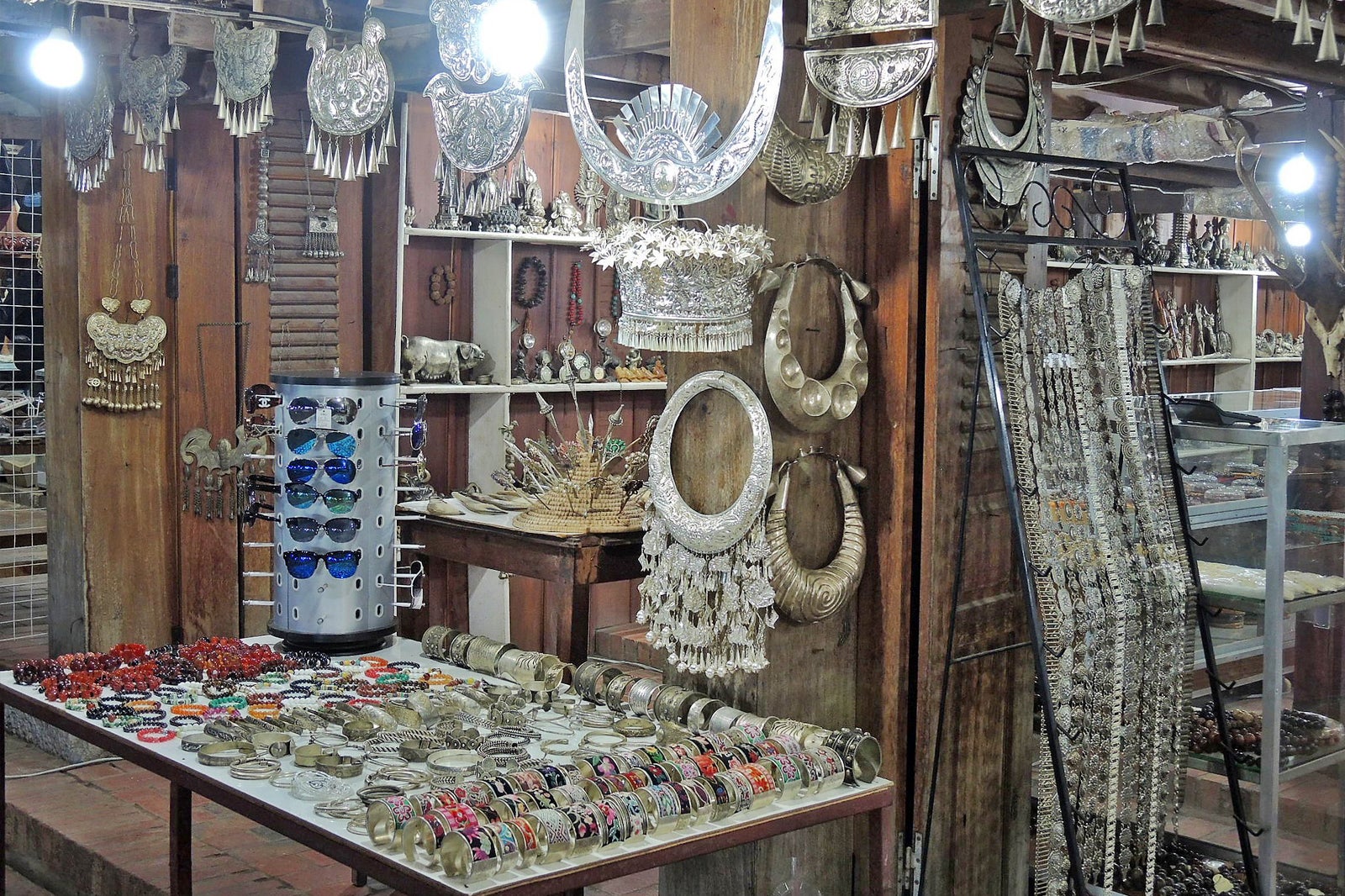 Handicraft Night Market is an outdoor bazaar in central Luang Prabang. You can shop for ethnic embroidered crafts and handmade clothes from 5pm until 10pm. The market has labyrinths of stalls selling all things embroidered, from weaved bags, hill-tribe pants, and hats to Hmong blankets, coin purses and silk scarves.
Location: Sisavangvong Road, Luang Prabang, Laos
Open: Daily from 5 pm to 10 pm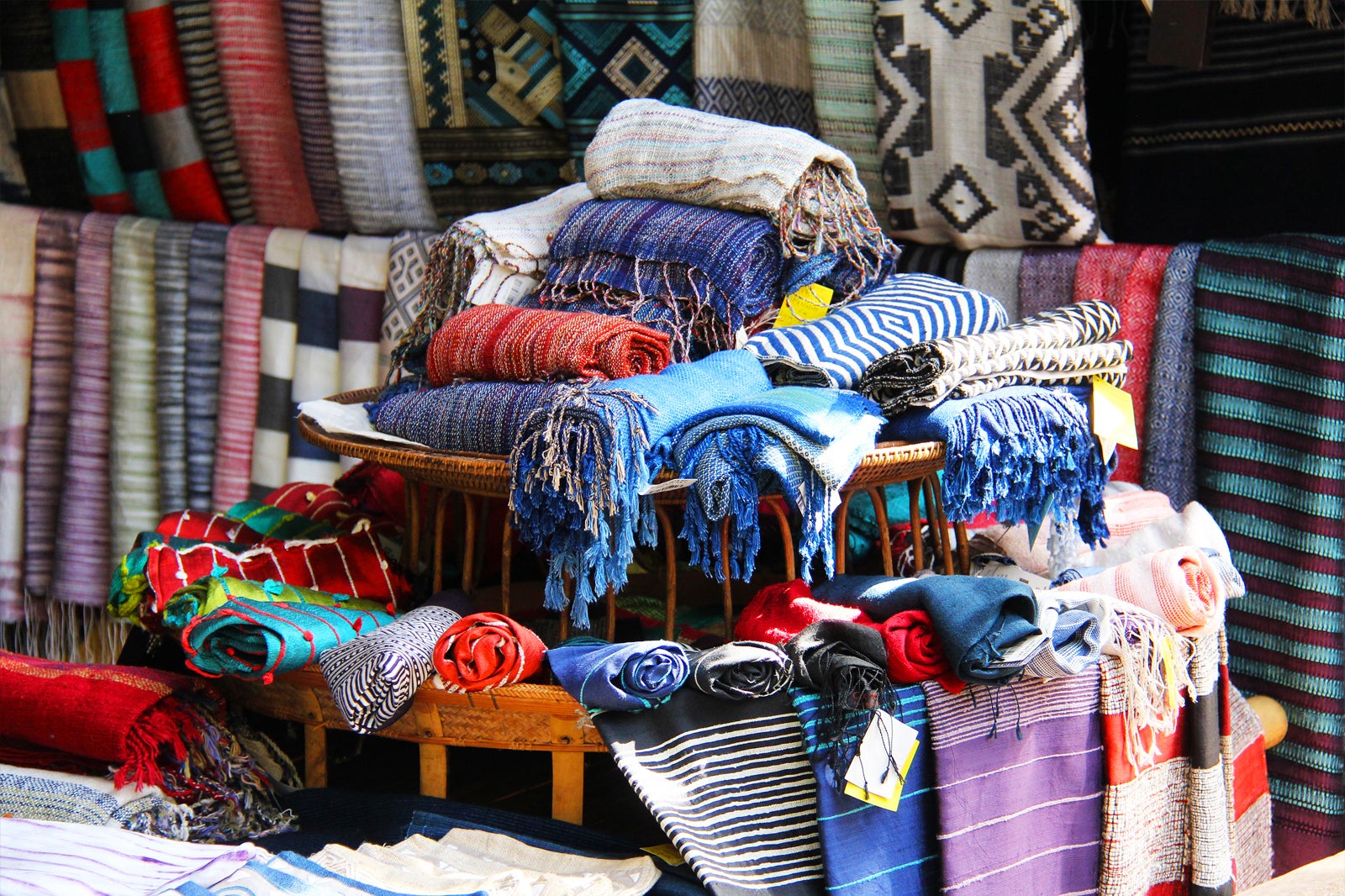 Kopnoi Gallery promotes fair trade in Luang Prabang by selling handmade fabrics by local artisans. You'll also find cotton clothes, silk scarfs, local rice whiskeys, bamboo straws, and Lao coffee beans. One of the best things about shopping in Kopnoi Gallery is that you'll be able to purchase authentic products while supporting the local economy.
Location: 3 Kingkitsarat Road Luang Phrabang, Laos
Open: Monday–Saturday from 7 am to 10 pm, Sunday from 10 am to 10 pm
Phone: +856 71 260 248
4
L'Etranger Books and Tea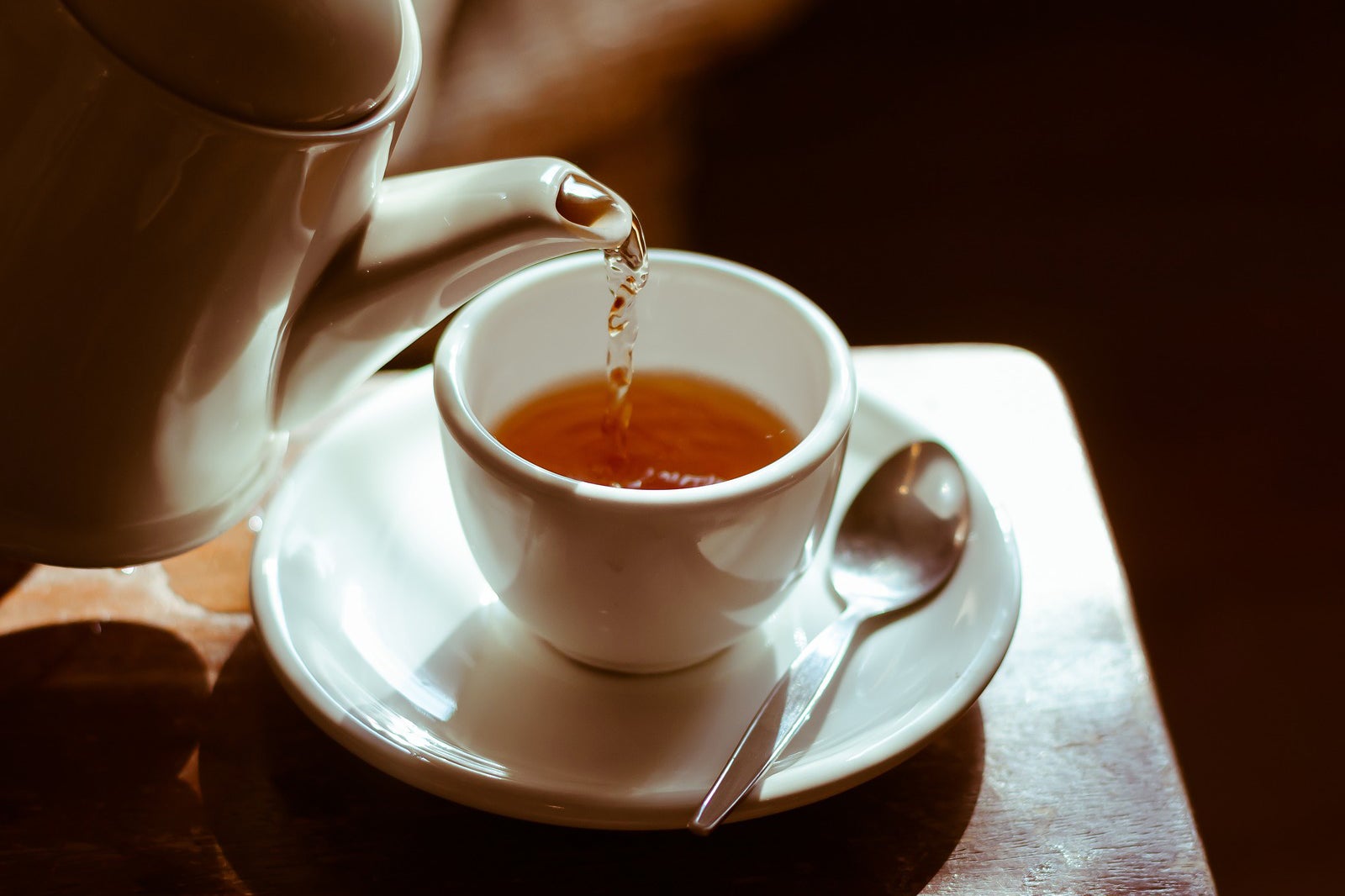 L'Etranger Books and Tea is a 2-storey wooden café that sells and trades second-hand books in Luang Prabang. Located close to Nam Khan River, the cafe's extensive collection spans many languages and subjects, including travel, art, culture, novels, Southeast Asia, and Luang Prabang.
The upper level is a café offering around 70 types of drinks, including tea, coffee, and fruit shakes. The casual setup – low tables, floor cushions, paper lamps – makes for a good spot for relaxing after a day of sightseeing. L'Etranger Books and Tea also hosts free movie nights at 7pm, so head there early as seats are limited.
Location: 3 Th Kingkitsarat, Luang Prabang, Laos
Open: Monday–Saturday from 7 am to 10 pm, Sunday from 10 am to 10 pm
Phone: +856 71 212 880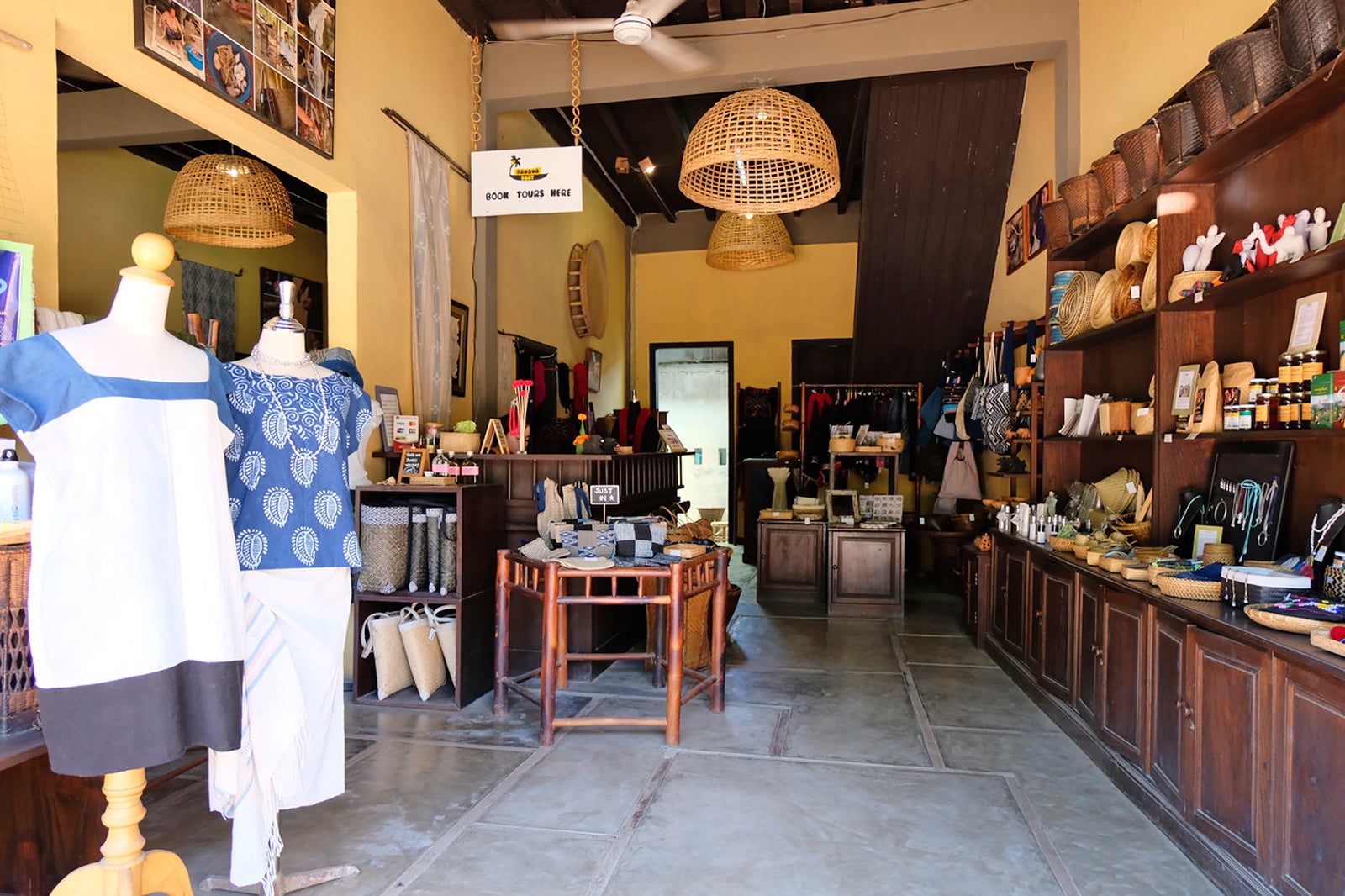 Ma Te Sai is a fair-trade shop on the main road, close to the Royal Pavilion in Luang Prabang. It sells ethnic handicrafts, clothes, and souvenirs sourced from rural areas. Most of these items are fashioned out of natural fabric, bamboo, and recycled paper.
There are also herbal teas, coffees, locally made whiskeys, and rice. Ma Te Sai aims to help promote help improve the locals' quality of life through their crafts – the boutique works with 15 artisan villages and 8 non-profit organisations across the country.
Location: Ban Aphai Luang Prabang, 06000 Laos
Open: Daily from 8.30 am to 8 pm
Phone: +856 71 260 654
6
Luang Prabang Night Market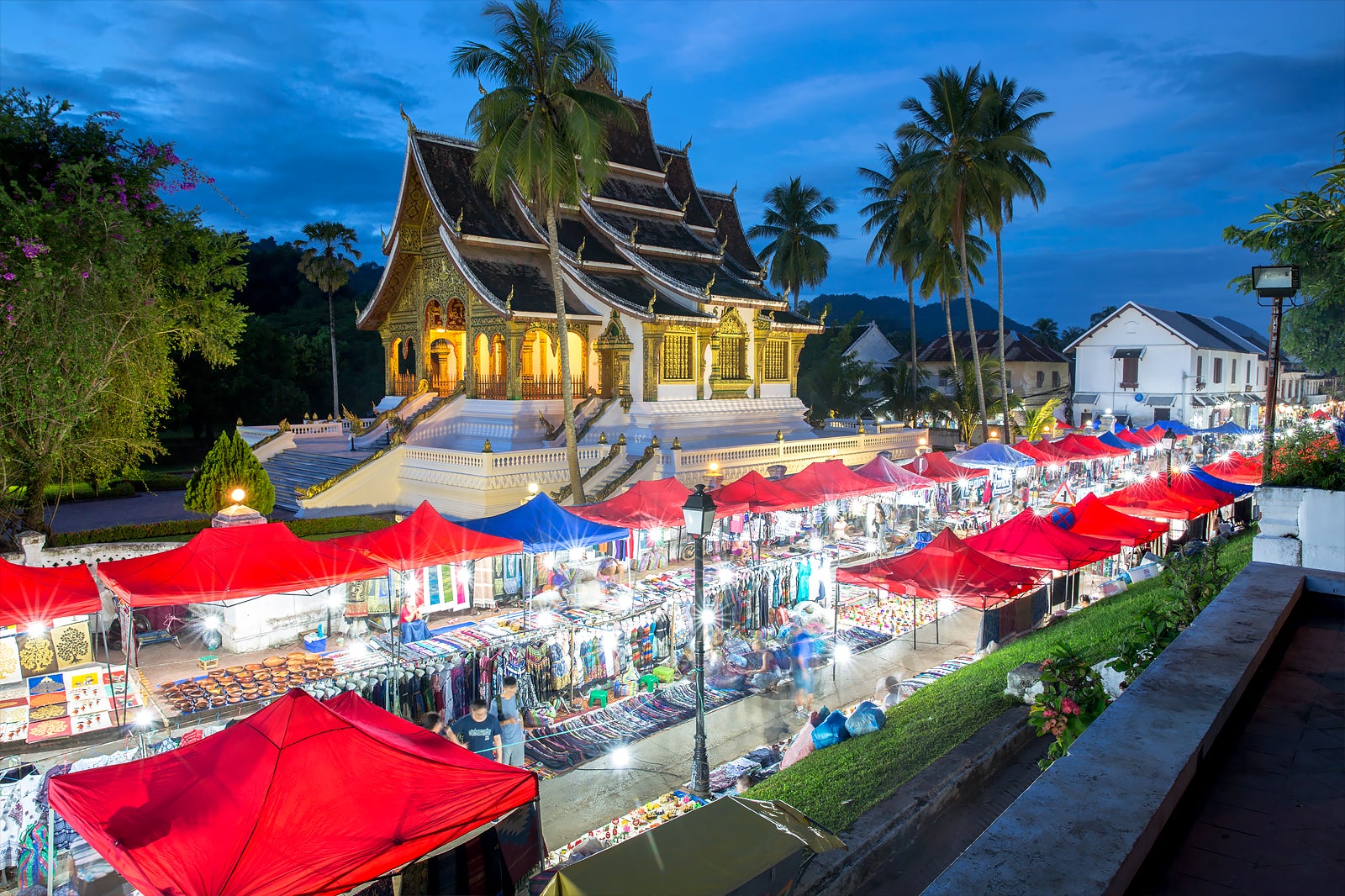 The Luang Prabang Night Market is one of the town's largest marketplace. Every evening, you'll find rows of stalls running from Wat Mai along Sisavangvong Road towards Settathilat Road.
You can explore this market on foot as the streets are closed to motorised vehicles. Hill-tribe traders sell handmade clothes, ceramics, bamboo, lamps, blankets, bed covers, handicrafts and silk scarves.
Location: Sisavangvong Road, Luang Prabang, Laos
Open: Daily from 5 pm to 11 pm
7
Luang Prabang Morning Market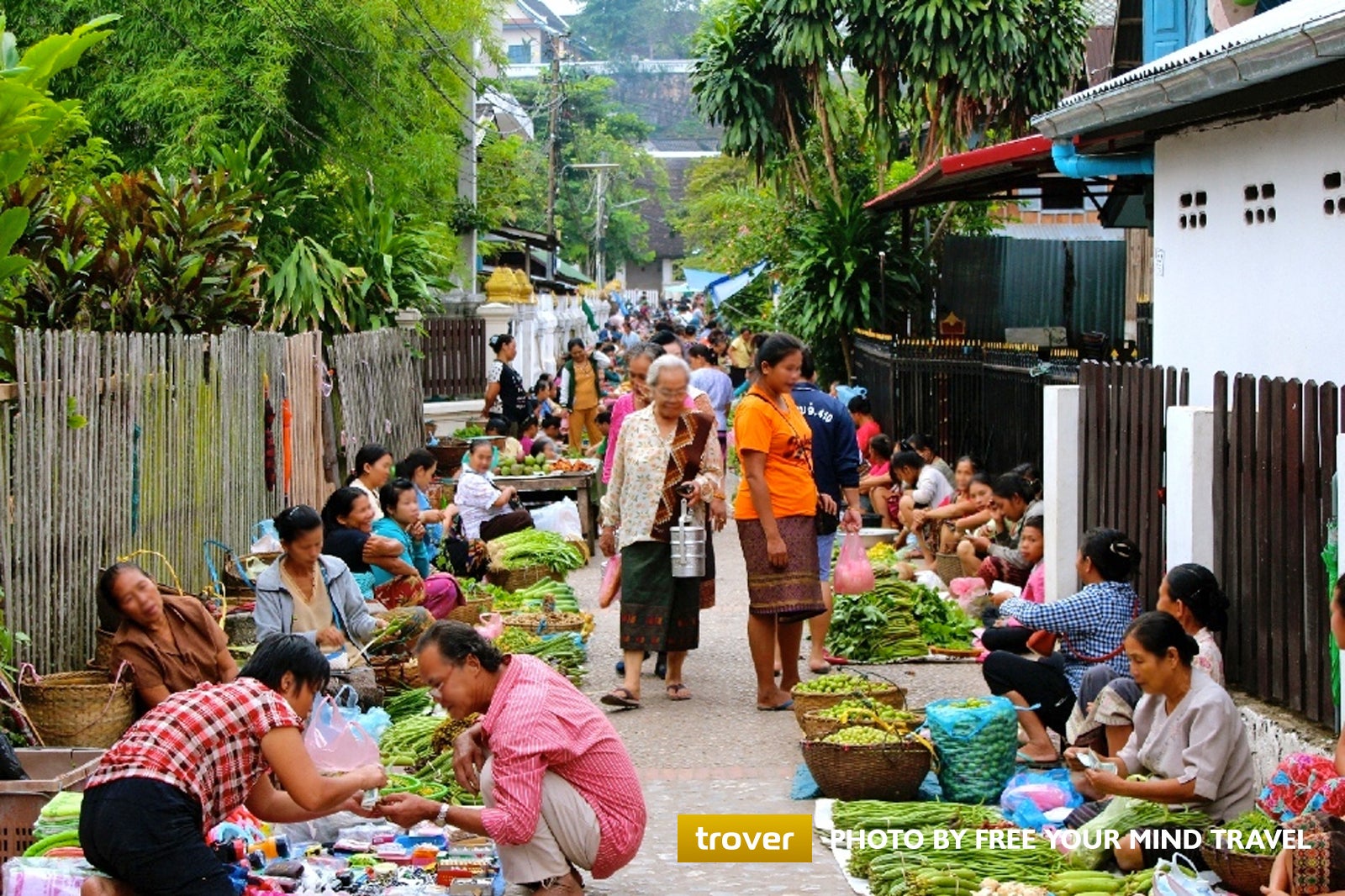 The Luang Prabang Morning Market is a fascinating place to catch a glimpse of what goes on behind the town's culinary scenes. Here, you will see it all in the open – blood and gore and all, in fact.
Vendors sit on the street, with their vegetables, fruits, meat, spices and other fresh produce laid out on banana leaves. Some of the more exotic items, such as forest rats, silkworms, insects, and snakes, are either chopped up and placed on the ground or caged up, still alive.
Location: Off Sisavangvong Road, Luang Prabang, Laos
Open: Daily from 5 am to 10 am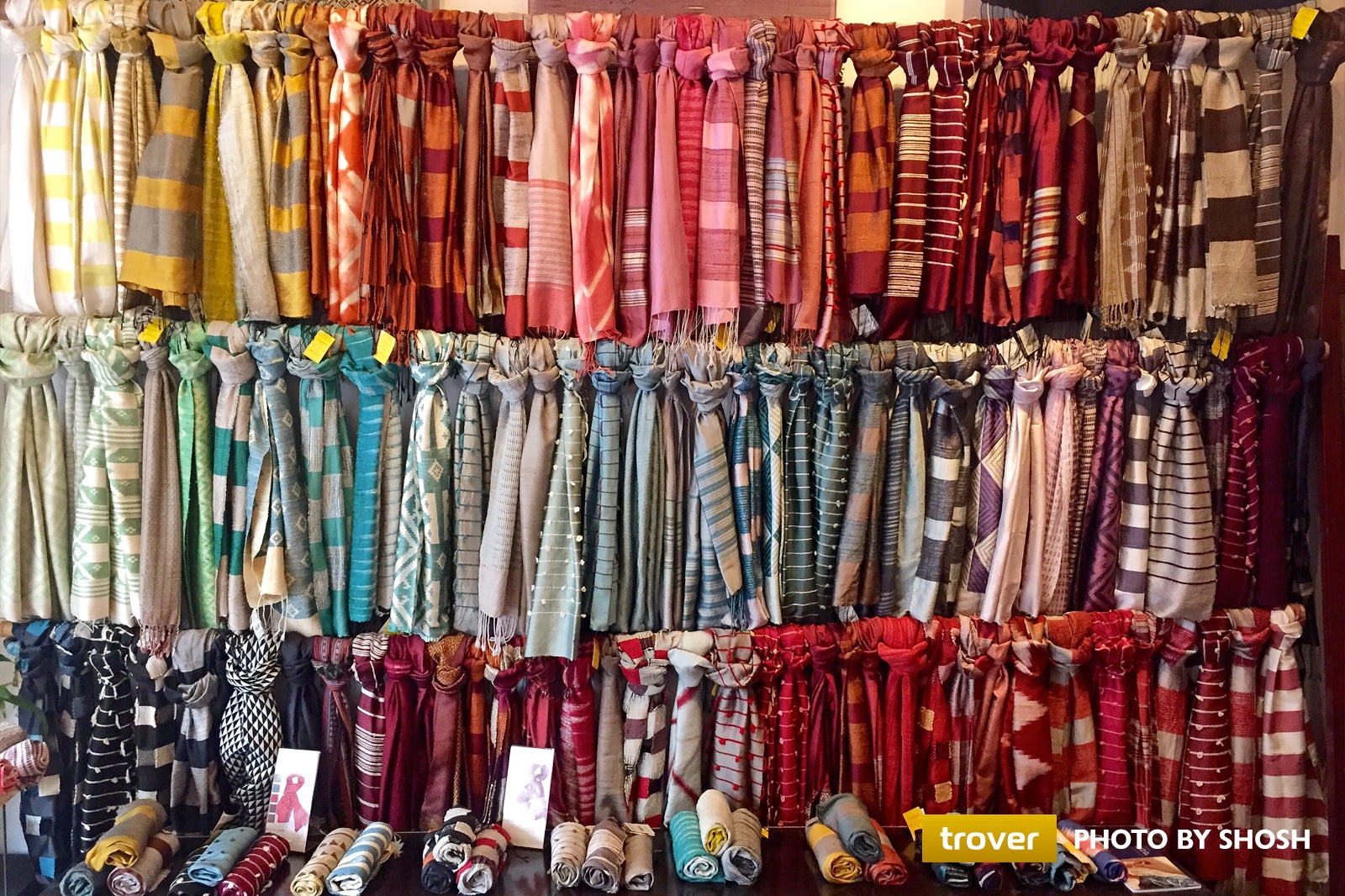 Ock Pop Tok (meaning 'East meets West') is a store selling hand-woven home textiles, cloth bags and scarves. It promotes fair trade and aims to empower local women through their crafts and the development of artistic skills.
In doing so, the store offers various textile workshops and classes, as well as a crafts centre for visitors who'd like to watch the artisans at work. There's also a café overlooking the Mekong River, and 4 theme villas surrounded by a garden.
Location: 125/10 Ban Saylom, Luang Prabang, Laos
Open: Sunday–Friday from 8 am to 8 pm, Saturday from 8 am to 6.30 pm
Phone: +856 71 212 597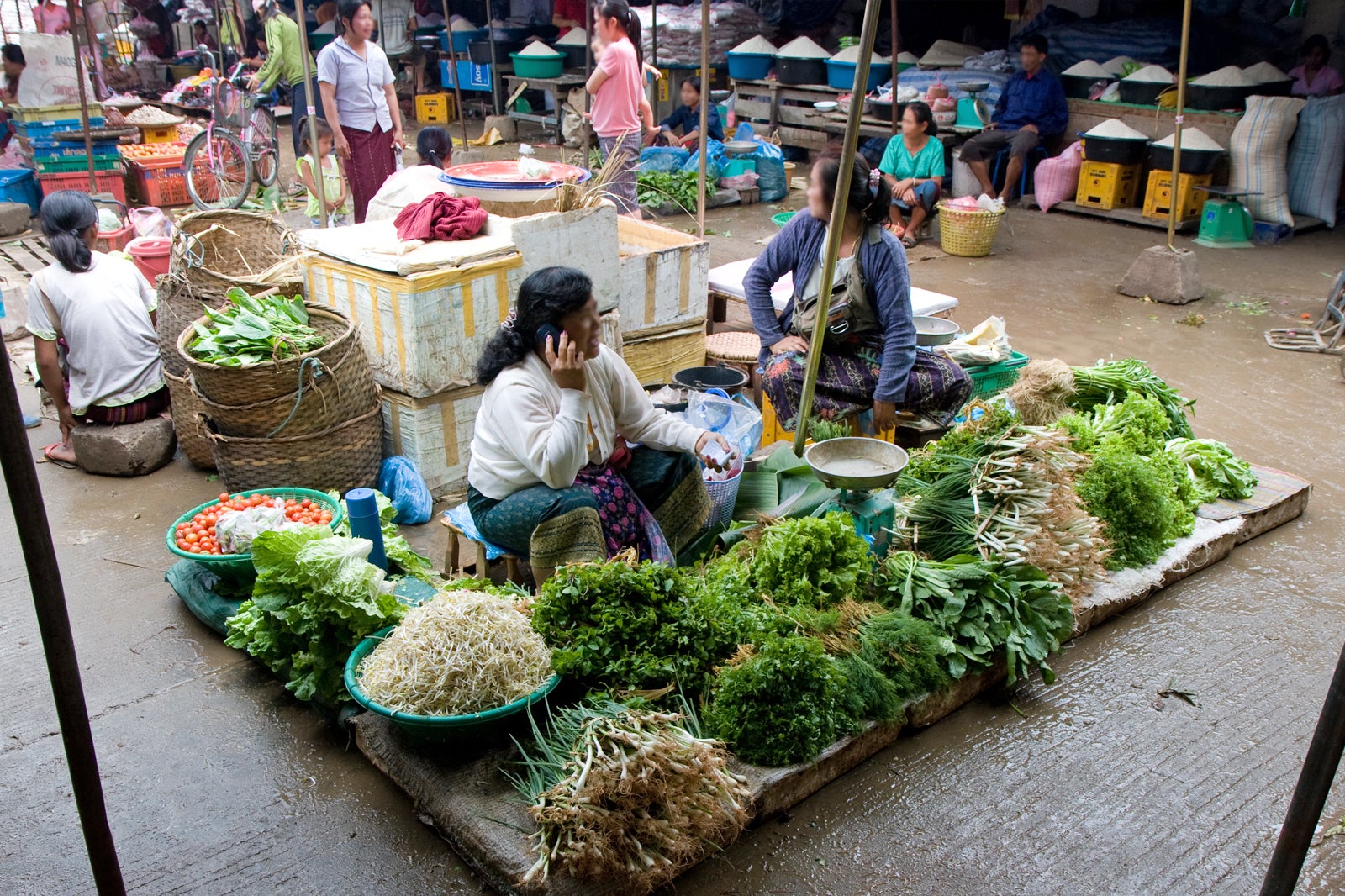 For a pleasant immersion in the local way of life, head over to Phosy Market on the outskirts of town. The semi-outdoor market has just about everything imaginable, from bags of ground spices, animal parts, and fermented fish paste, to enamelware, backpacks, and kitchen knives.
The fresh market section is similar to the morning market in downtown Luang Prabang but is much larger in scale and variety. The sights, the smells, and colours are simply fascinating – you'll find that going once is not enough.
Location: Photisalath Road, Luang Prabang, Laos
Open: Daily from 7 am to 5 pm
10
Traditional Arts and Ethnology Centre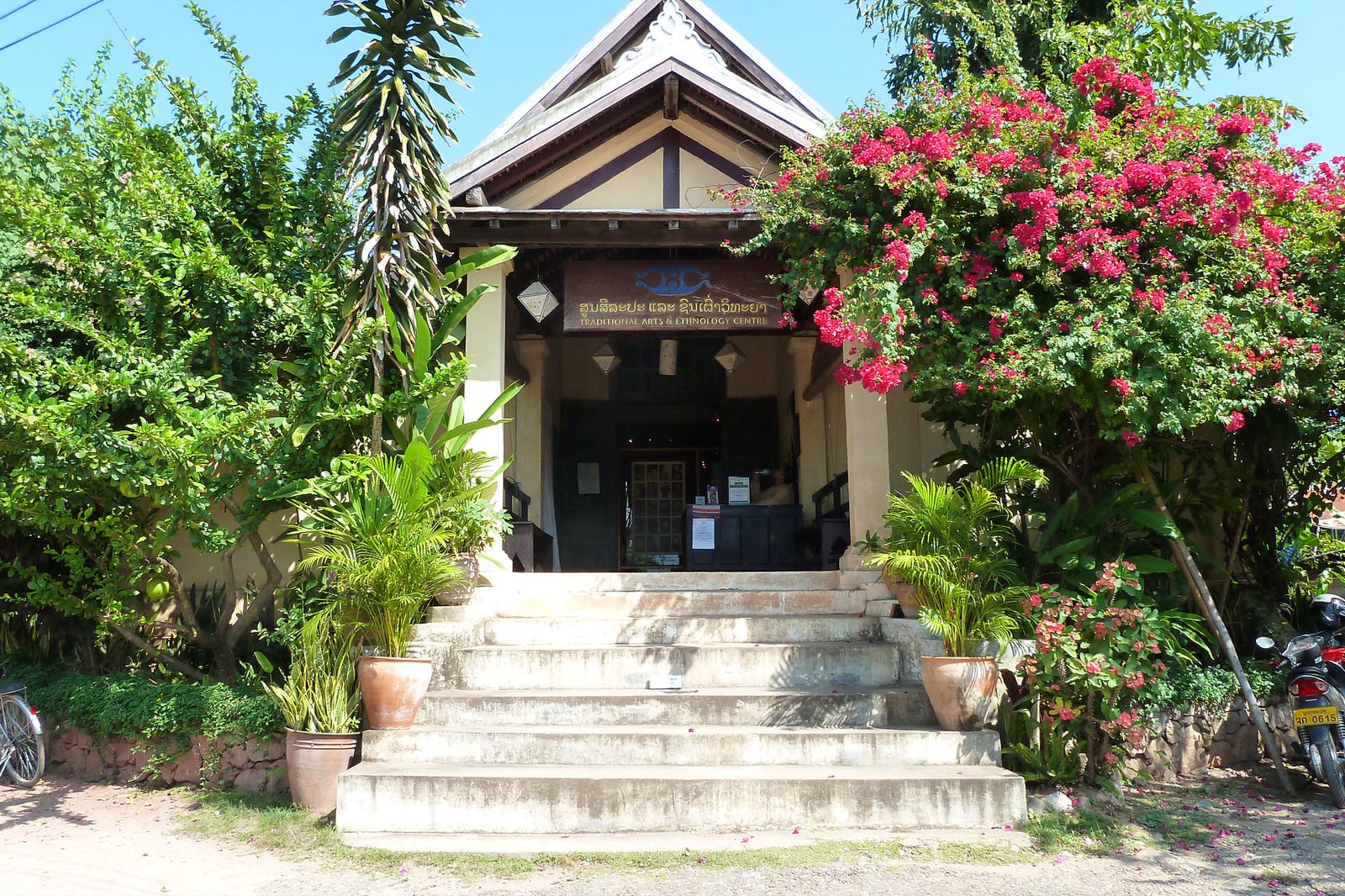 The Traditional Arts and Ethnology Centre of Luang Prabang is a museum and resource centre promoting Lao ethnic diversity. The 2-storey heritage building has a number of cultural exhibitions, showcasing traditional arts and lifestyles of Lao ethnic groups.
Adopting fair trade and sustainability principles, the museum shop supports over 500 handicrafts producers and their families, with a selection of beaded necklaces, jewellery, embroidered belts, backpacks and children's accessories.
Location: Kingkitsarath Rd, Ban Khamyong Luang Prabang, Luang Prabang 06000, Laos
Open: Tuesday–Sunday from 9 am to 6 pm (closed on Mondays)
Phone: +856 71 253 364
11
Ban Lao Natural Products
Ban Lao is a fair trade shop selling handicrafts, textiles and fashion accessories. The design is a fusion of traditional and modern styles – all handmade from natural materials or natural dye. There's also a small exhibition space for ikat textiles and other crafts by select local and international artists. The shop is located on the Mekong riverbank.
Location: Ban Vat Nong, along the Mekong
Phone: +856 30 514 0555
Naga Creations is an inviting shophouse on the main road, just south of Luang Prabang's Old Chinese Quarter. You can shop for handmade jewellery made by the ethnic Hmong people.
Most of these items are made from silver with precious and semi-precious gemstones. Pieces range from necklaces, bracelets, and earrings to pendants, and hair clips.
Location: Sisavangvong Road, Luang Prabang, Laos
Open: Daily from 10 am to 10 pm
Phone: +856 71 212 775