10 Best Things to Do in Riga
What is Riga Most Famous For?
Riga, the Latvian capital is a young-feeling city with a wealth of culture to explore. It's a must-visit for architecture buffs, famed as it is for its numerous photogenic Art Nouveau buildings. This makes the city's streets perfect for casual, slow-paced and self-guided walking tours.
Riga's lively bar and restaurant scene in its UNESCO-recognised old centre is also worth checking out, and for beach lovers there's a vast expanse of stunning coast within easy reach of the city.
What are the best things to do in Riga?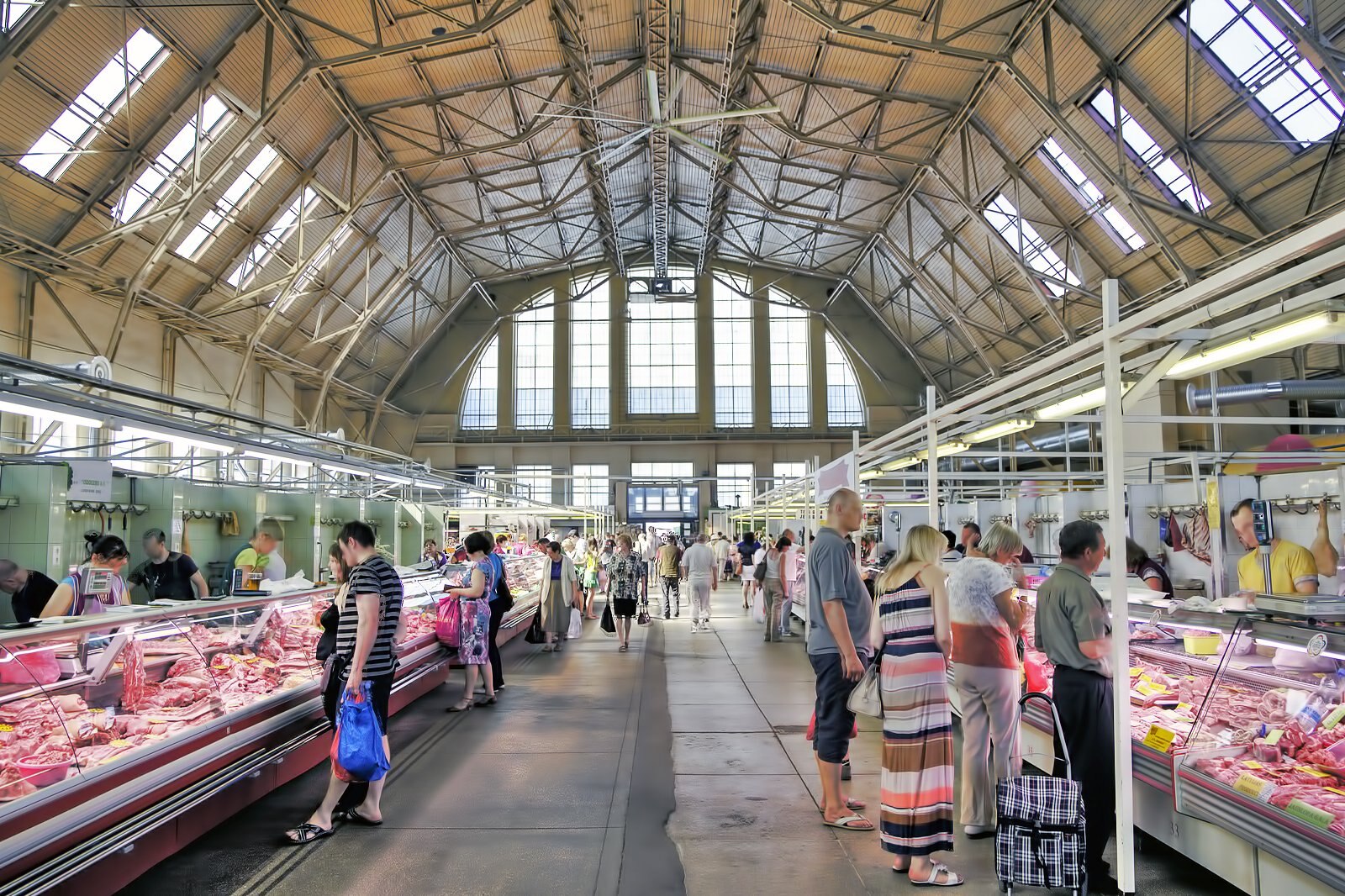 There can be few better places to start off your day with a bang than at Rīgas Centrāltirgus (Riga Central Market). It's worth visiting just as much for a glimpse of its iconic 20th-century structure – one of the finest examples Riga has to offer – as it is for the wide variety of fresh produce and ready-to-eat goods you'll find inside.
This is one of Europe's biggest markets, open for close to 100 years and now declared a UNESCO World Heritage Site. Pick up a coffee and a bite at one of the cafés in and around the market – adventurous eaters can try local breakfast delicacies like smoked fish, but there are also countless pastries on offer if you're looking for something easier to stomach.
Location: Nēģu iela 7, Latgales priekšpilsēta, Riga, LV-1050, Latvia
Open: Daily from 7 am to 5.30 pm (Sundays until 4.30 pm)
Phone: +371 67 229 985
2
Art Nouveau architecture on Albert Street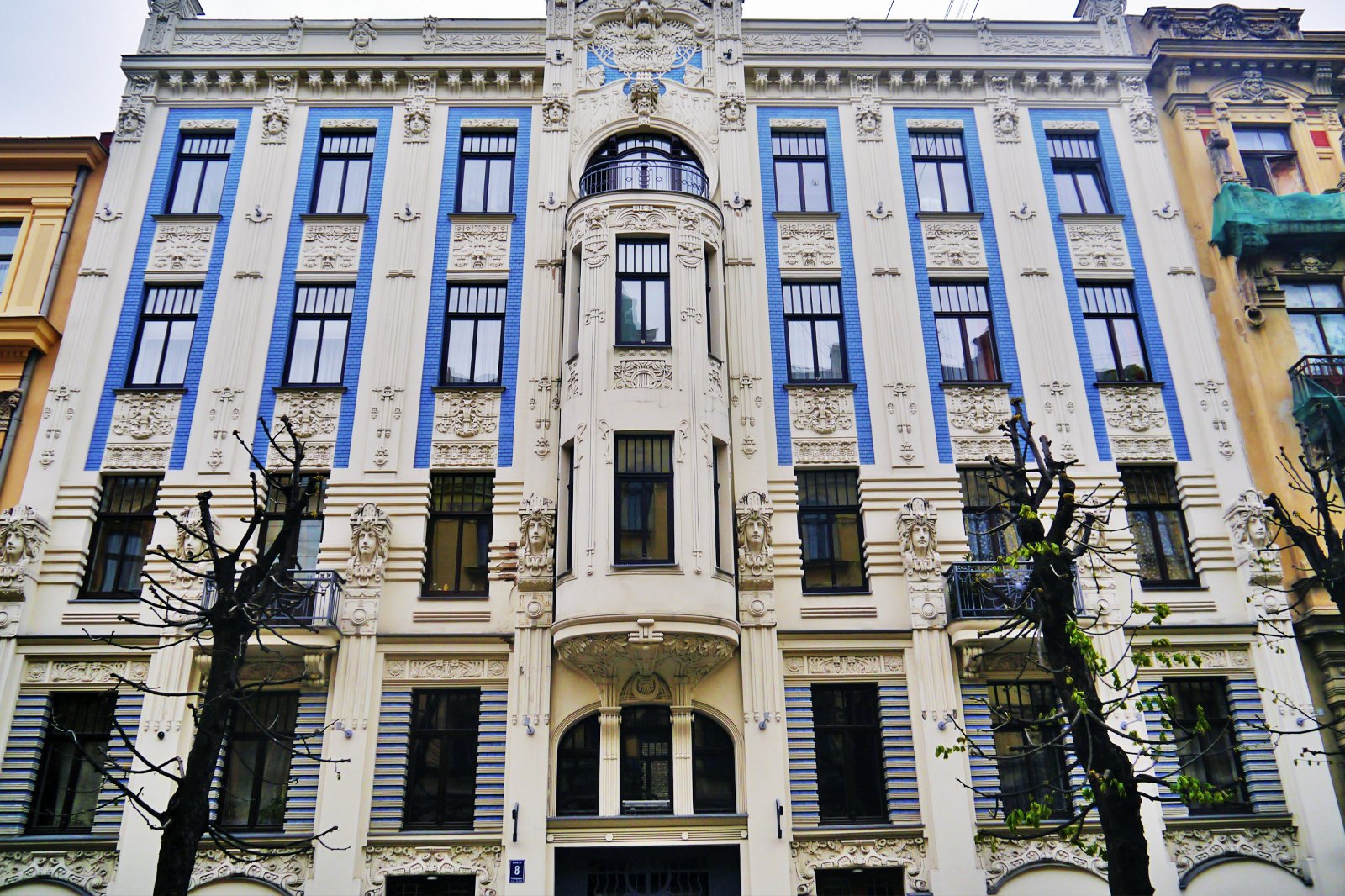 Riga is famed for its beautiful Art Nouveau architecture. In fact, as many as a third of all the buildings in the city's centre sport this architectural style, meaning Latvia's capital reportedly boasts one of the world's highest concentration's of Art Nouveau structures. Why? Simply lucky timing: Riga was enjoying a financial boom when Art Nouveau was in favour.
One of the finest spots to soak up all this magnificent beauty is Alberta Iela (Albert Street), where strolling from one end to the other will give you ample opportunity to take in an array of splendid, ornately decorated houses. For an extra fix, make a stop at the Riga Jugendstila Centrs (Riga Art Nouveau Museum) at number 12.
photo by Zairon (CC BY-SA 4.0) modified
3
The Corner House
Visit the former Latvian KGB headquarters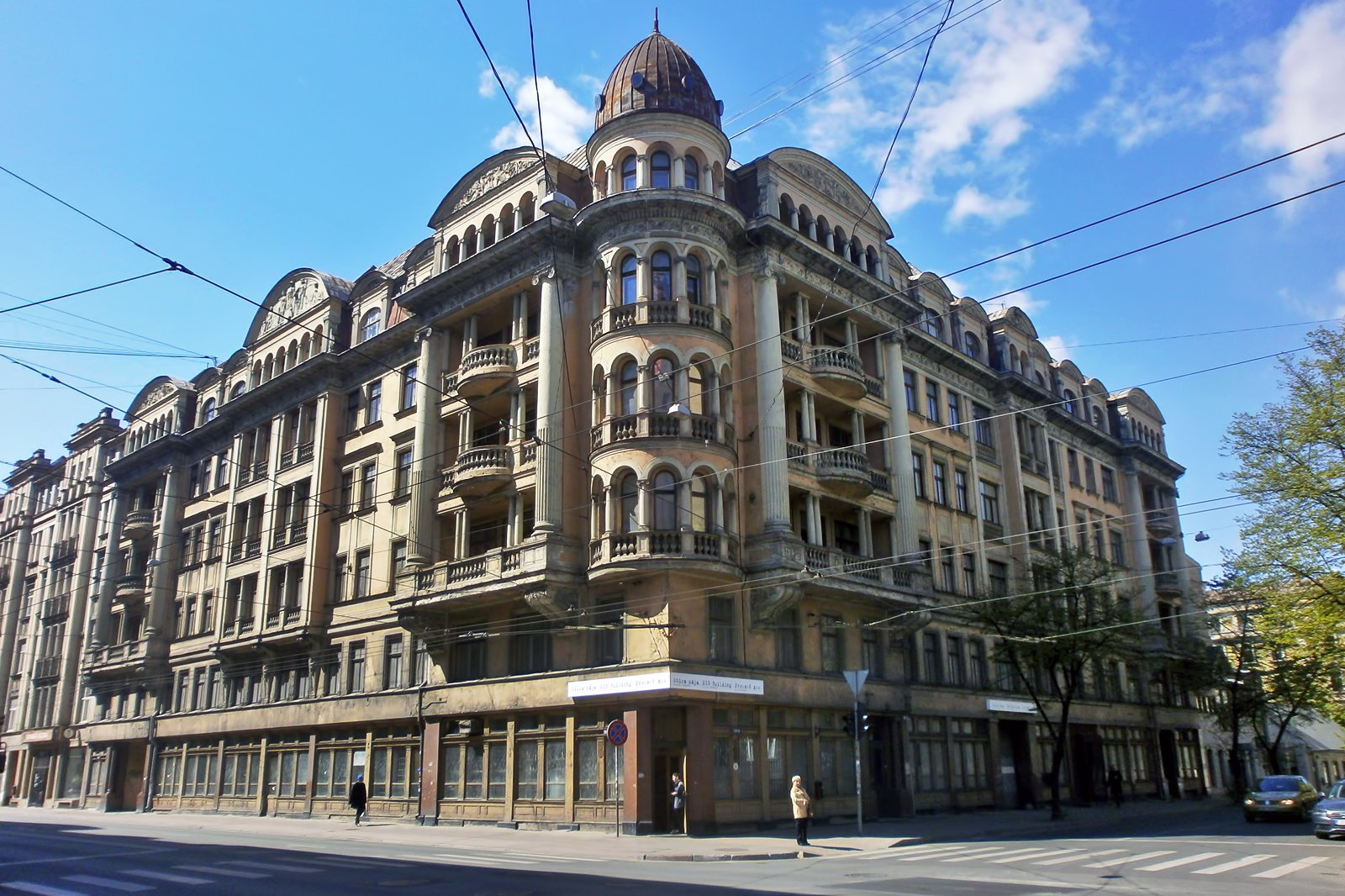 The occupation of Latvia by the Russians from 1940 onwards, giving rise to the Latvian Soviet Socialist Republic, remains a dark part of Latvian history. The Stura Maja (Corner House) museum is set in what was formerly the Latvian headquarters of Russia's KGB secret police, and serves as a sobering reminder of the atrocities that took place during this period of Latvia's past.
The Corner House is another example of Riga's awe-inspiring Art Nouveau architecture, but it hides tales and memories of political torture and killings that took place here at the hands of the Soviets. It's a macabre place to visit, but a must if you want to understand Riga's ghosts.
Location: Brīvības iela 61, Centra rajons, Riga, LV-1010, Latvia
Open: Monday-Tuesday from 10 am to 5.30 pm. Wednesday from 12 pm to 7 pm. Thursday-Friday from 10 am to 5.30 pm. Saturday-Sunday from 10 am to 4 pm.
Phone: +371 27 875 692
photo by Edgars Košovojs (CC BY-SA 3.0) modified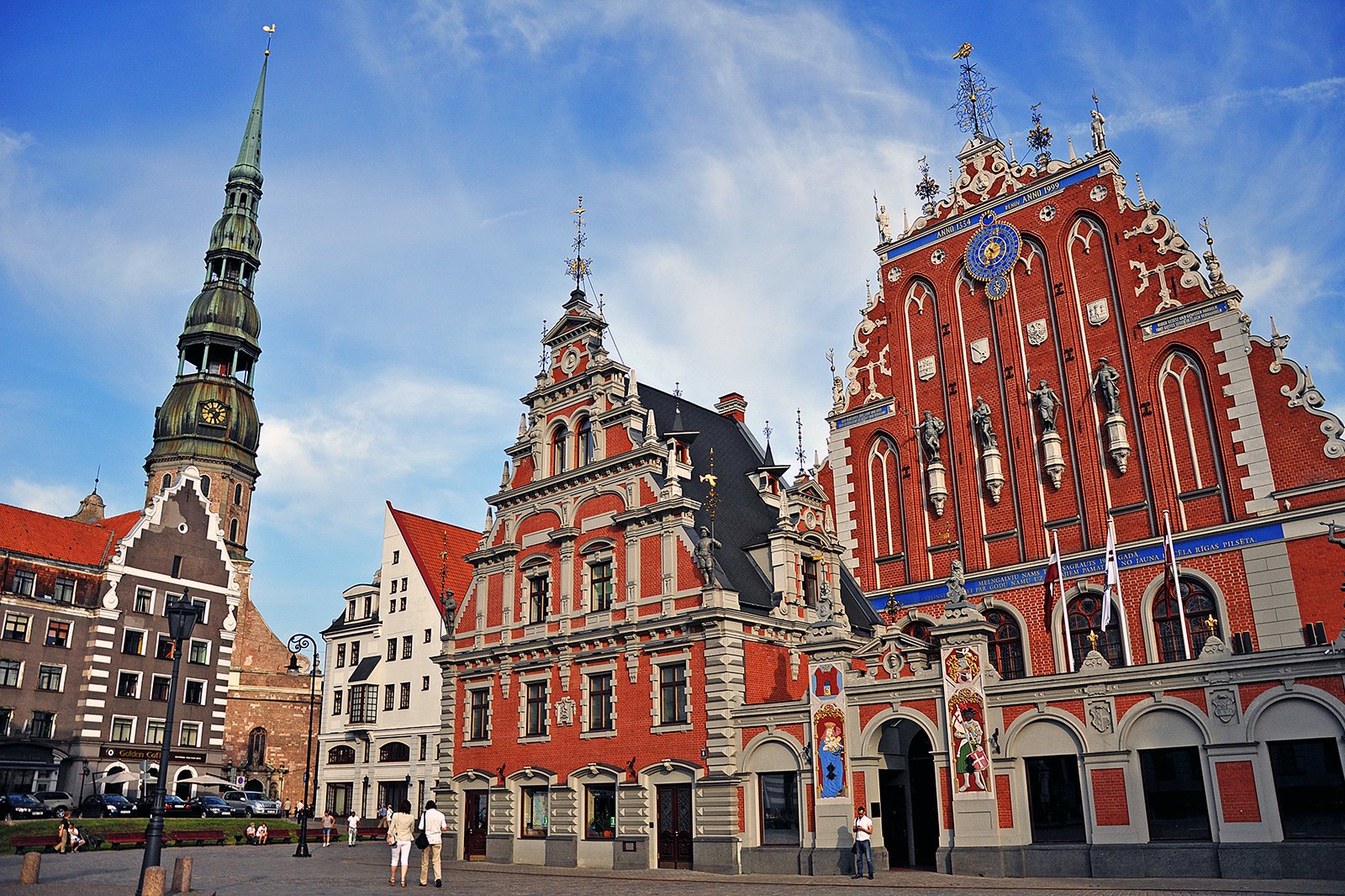 The elaborate Melngalvju Nams (House of the Blackheads) is the visual highlight of a visit to Riga's Rātslaukums (Town Hall Square). And yet while it might be difficult to believe, it's actually a recent reconstruction of the real thing, which was destroyed by WW2 bombing (although the original basement vaults remain).
The original building is said to have dated back to at least 1334, serving first as a public meeting place and later as home to the Melngalvju Brālības (Brotherhood of Blackheads), a foreign merchants' association that ultimately gave it its name. Now feeling almost prophetic, an inscription that once adorned the main gate read 'should I ever crumble to dust, rebuild my walls you must'.
Location: Rātslaukums 7, Centra rajons, Riga, LV-1050, Latvia
Open: Tuesday-Sunday from 11 am to 6 pm (closed on Mondays)
Phone: +371 67 043 678
5
Jūrmala
Head to the beach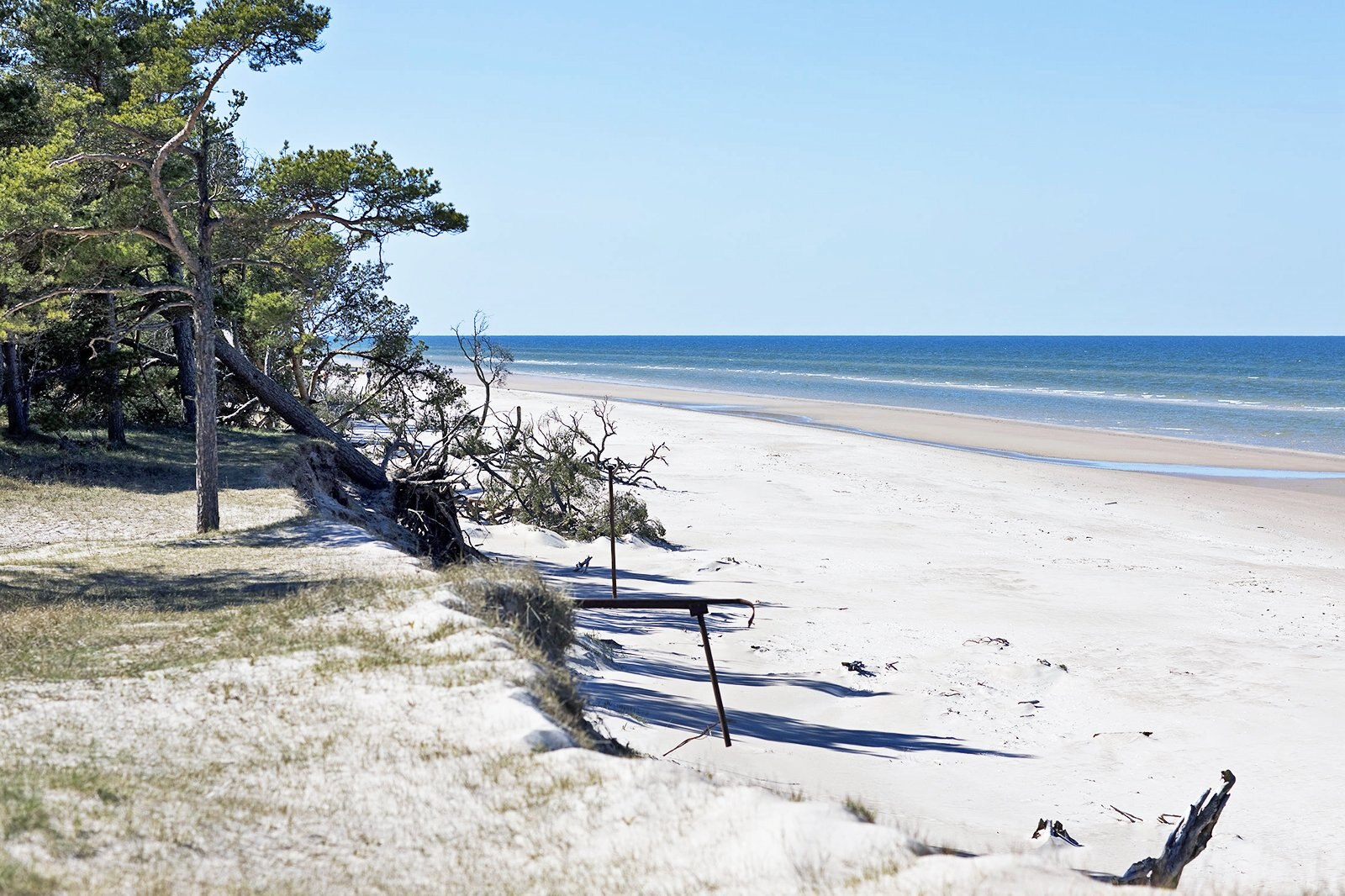 Couples
Families
Adventure
Group
Riga pulls hard with its cultural draws, but it's more than just an intellectual city break destination – this is somewhere beach bums can just as easily feel at home. In fact, just a 30-minute train ride out of the city's downtown core you'll reach the jaw-dropping Jūrmala.
Say hello to more than 30 km of golden sandy, pine-fringed beach, lapped by clean waters and topped off with – you guessed it, because it's Latvia – the odd hint of Art Nouveau architecture. Jūrmala is worth a visit whatever the season, since the area still makes for a rewarding, fresh-air-aplenty beach walk even when the temperatures drop.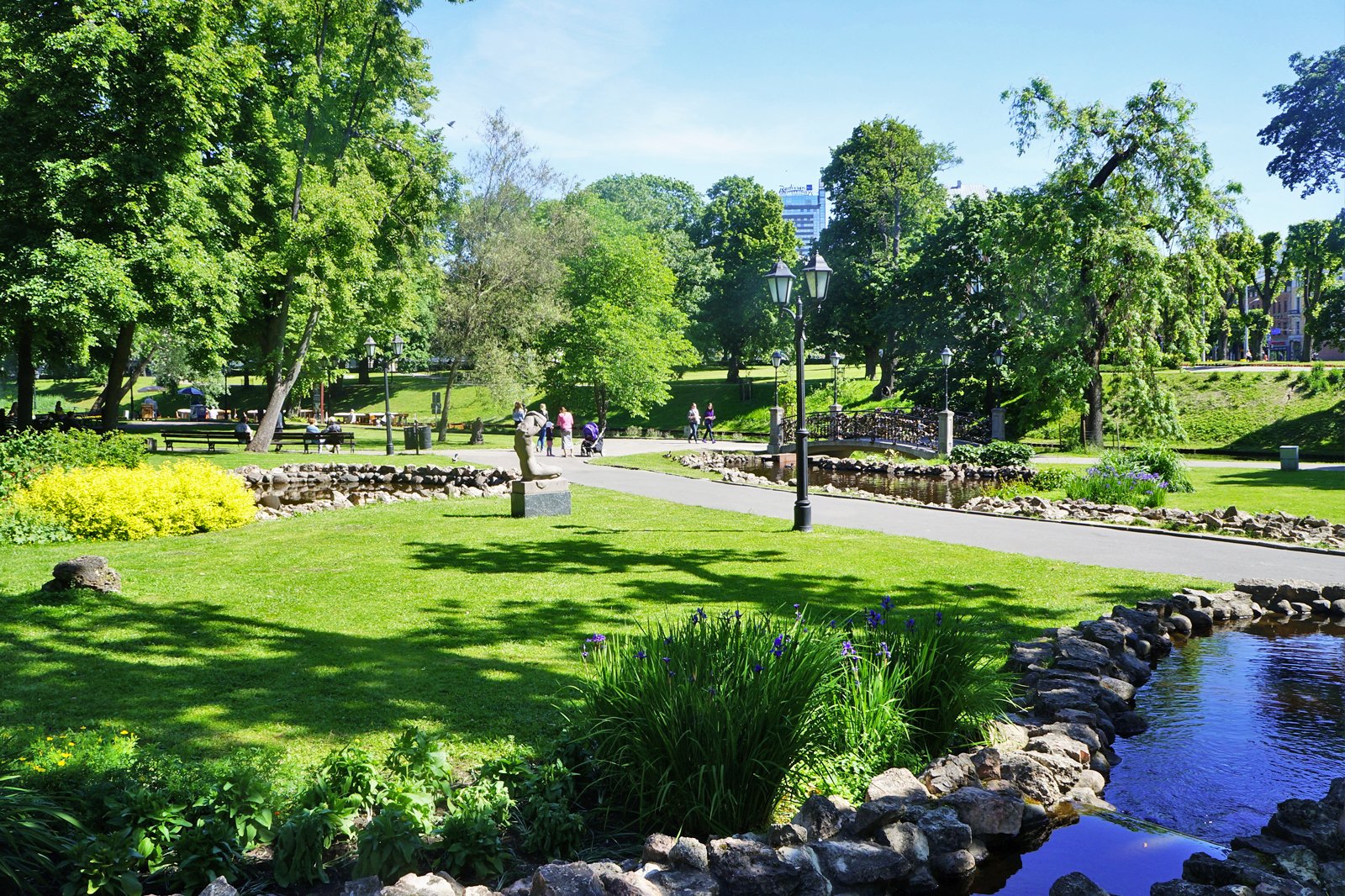 No city break is complete without somewhere to watch what's arguably one of Mother Nature's most magnificent shows, and fortunately Riga doesn't disappoint when it comes to sunsets. One of the most deservedly popular spots to catch a sunset view over Riga is from the highest point of Bastejkalna Parks (Bastion Hill Park), beside the Brīvības Piemineklis (Freedom Monument) in the central district. The city's canal runs right through the colourful, winding park, adding to its overall romantic feel.
photo by PIERRE ANDRE LECLERCQ (CC BY-SA 4.0) modified
7
Latvian National Opera and Ballet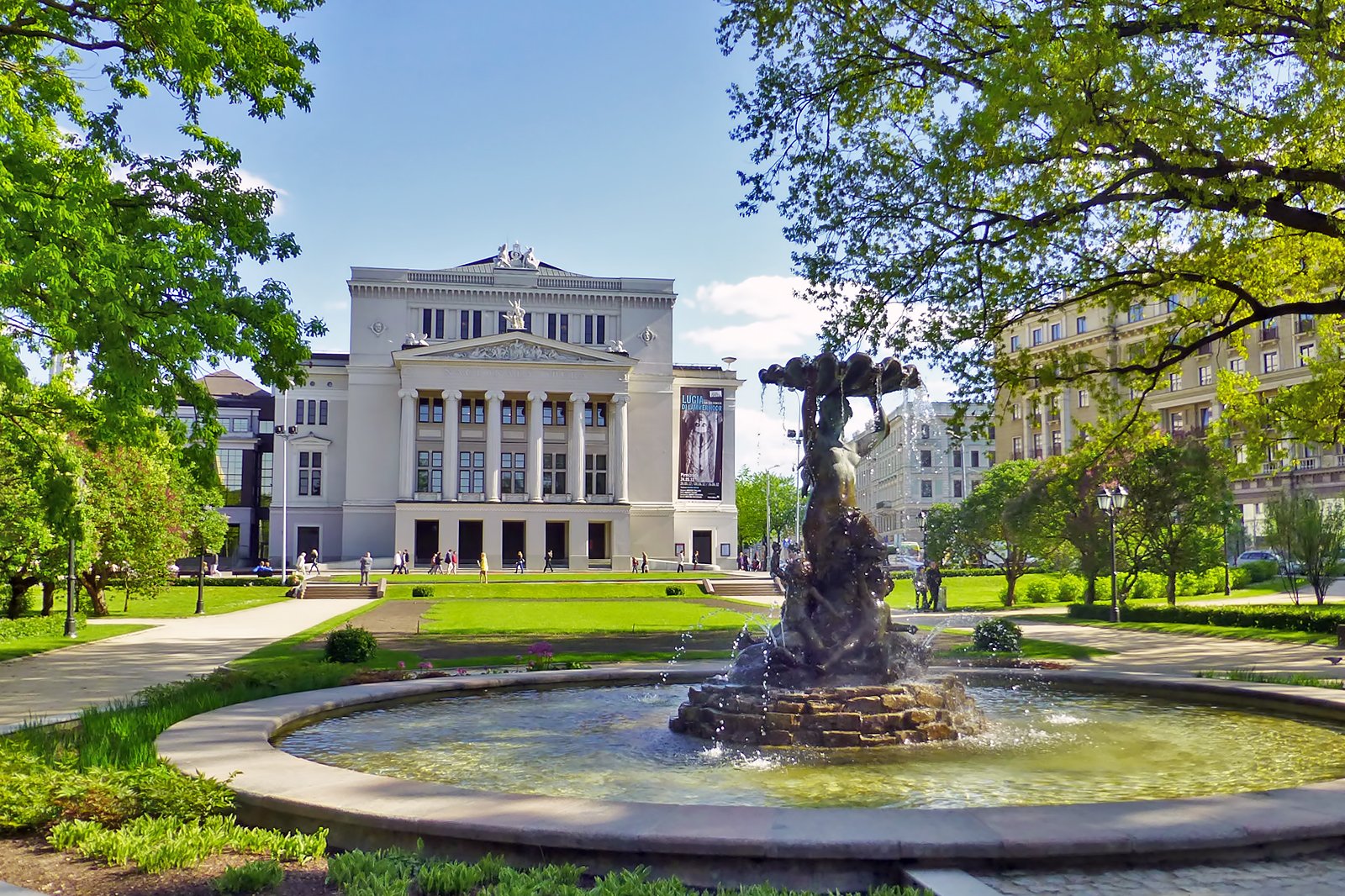 Culture pops up everywhere in Riga, far beyond just the Art Nouveau beauties that first lure visitors. Another way to get your fix of the city's arts scene is with a visit to the Latvijas Nacionālā Opera un Balets (Latvian National Opera and Ballet).
Fronted by immaculate gardens, this imposing Neoclassical structure dates right back to the 1860s; today it still sees a regular rotation of new productions and hundreds of captivating Latvian and international performances each year. That means there's sure to be something showing that will let you join Riga's high-flying set for a stylish slice of mid-evening entertainment.
Location: Aspazijas bulvāris 3, Centra rajons, Riga, LV-1050, Latvia
Phone: +371 67 073 777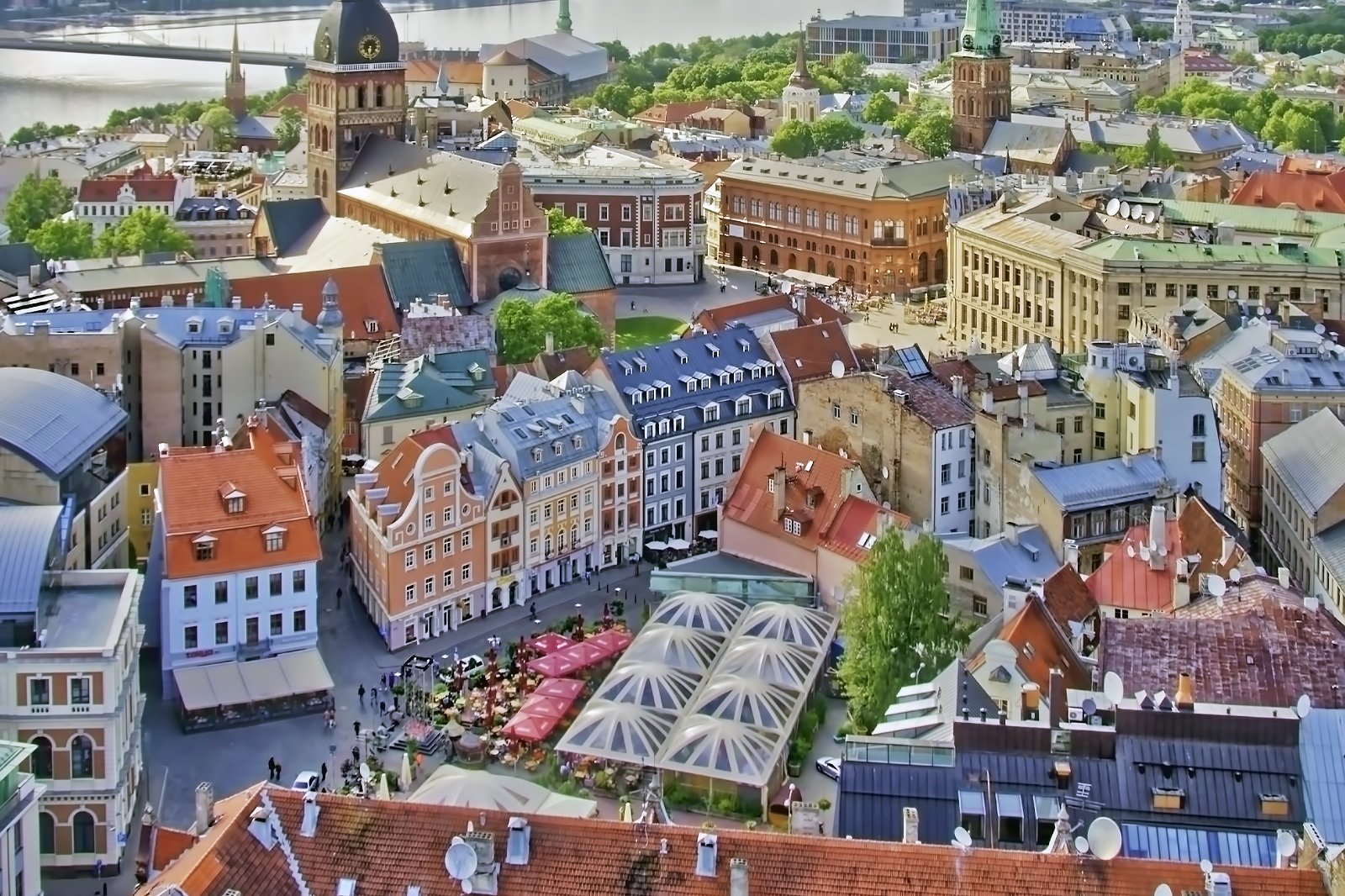 The UNESCO World Heritage site of old-town Vecrīga is the jewel in Riga's crown. It might be a tad touristy in parts, but the narrow cobbled streets are atmospheric enough to excuse that. Some of the city's earliest structures can be found here, but the neighbourhood also houses countless charming restaurants.
Elegant Salve, right on Rātslaukums (Town Hall Square), offers an introduction to traditional local cuisine, including a 6-course Latvian tasting menu. More modern but no less authentic, Domini Canes on Skārņu iela blends innovative new takes on Latvian recipes with a particular focus on locally sourced produce.
Location: Ratslaukums 5, Riga, LV-1050, Latvia
Open: Daily from 12 pm to 11 pm
Phone: +371 67 044 317
9
Riga Black Balsam
Drink the national spirit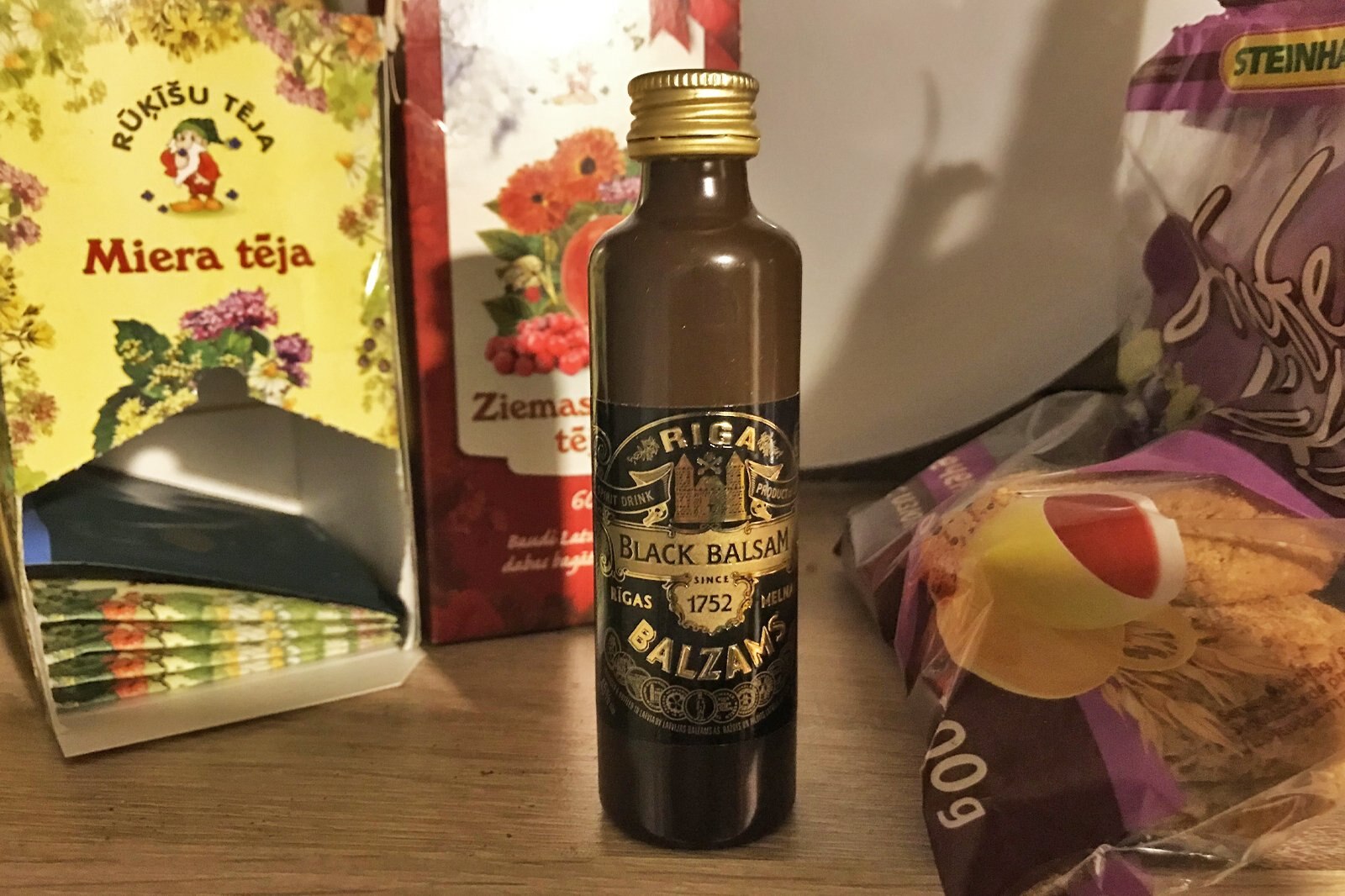 Not for everyone, must-try local institution Rīgas Melnais Balzams (Riga Black Balsam) liqueur is nevertheless inextricable from Latvian culture. Latvians consider this tar-coloured, pungently herbaceous spirit – made from 24 natural herbs, roots and spices – a cure-all medicine as much as a winter warmer.
Its secretive history is equally rich: the original 1752 recipe was lost during the Nazi occupation, but later painstakingly recovered. No-one has tinkered with it since, but only the master distiller and his apprentice know its intricate details. Marketed as a 'herbal bitter', it's indeed bitter, but it's likewise sweet and – at 45% ABV (90 proof) – strong. Sip it neat, or add mixers for a more forgiving drink; innovative bars, like Balzambārs on Torņa iela 4, have curated entire Black Balsam cocktail lists. Also grab a souvenir bottle of the original or a creamy or fruity variation for folks back home.
photo by Iscream icecream (CC BY-SA 4.0) modified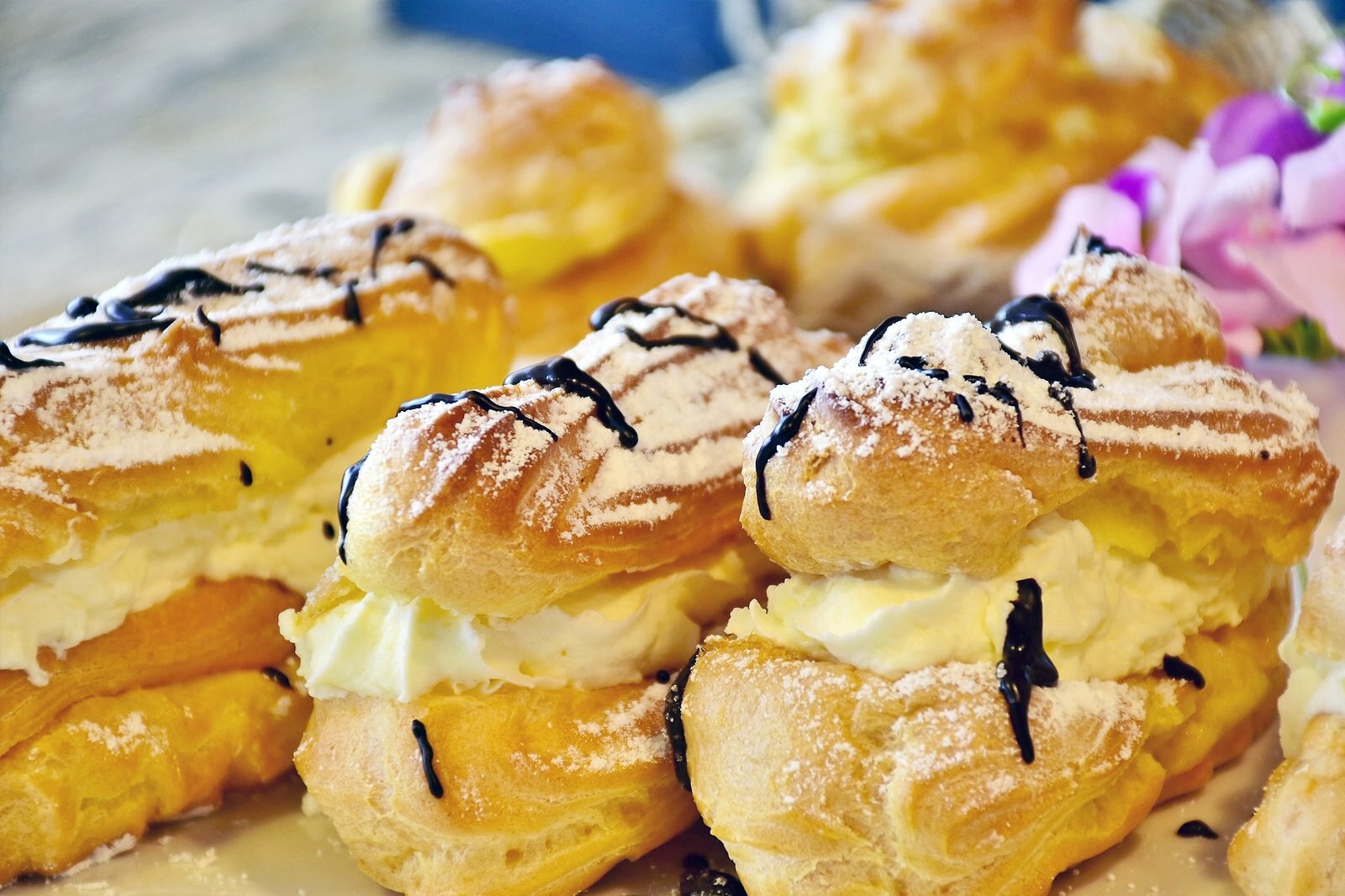 The Latvian capital's old central district of Vecrīga, literally meaning 'old Riga', also gives its name to a traditional local éclair-like dessert. After dinner and perhaps a trip to the opera, chowing down on this choux pastry dessert is an agreeable way to round out the night.
The pastry is filled with rich and delicious vanilla cream, and then – as if it wasn't already sweet enough – dusted with icing sugar. As you'd expect, cafés in the Vecrīga neighbourhood serve up this eponymous dish; trendy BakeBerry on Audēju iela is a solid choice, and its fairly late closing time also allows for a touch of people-watching.
Location: Audēju iela 11, Centra rajons, Rīga, LV-1050, Latvia
Open: Daily from 8 am to 9 pm (weekends from 9 am)
Phone: +371 67 130 667
Back to top