10 Free and Cheap Things to Do in Cancun
Cancun for Budget Travellers
A trip to Cancun can be a rather costly experience as its many unique museums, natural parks, and Mayan sites often require hefty admission fees. However, even if you're on a tight budget, this coastal paradise has plenty to see and do. Go for a stroll around Cancun's city centre and you'll see the thriving arts community, with quirky street murals and street performances throughout the day.
The beaches that line Cancun's coastline are free, so pack your own blanket and umbrella if renting a sun lounger will put a huge dent in your wallet. Playa Delfines, at the southern end of the main strip, is a great choice if you're looking for somewhere a little quieter. For some more ideas of how to save a few pesos while vacationing on the Yucatan peninsula, check out our guide of Cancun for budget travellers.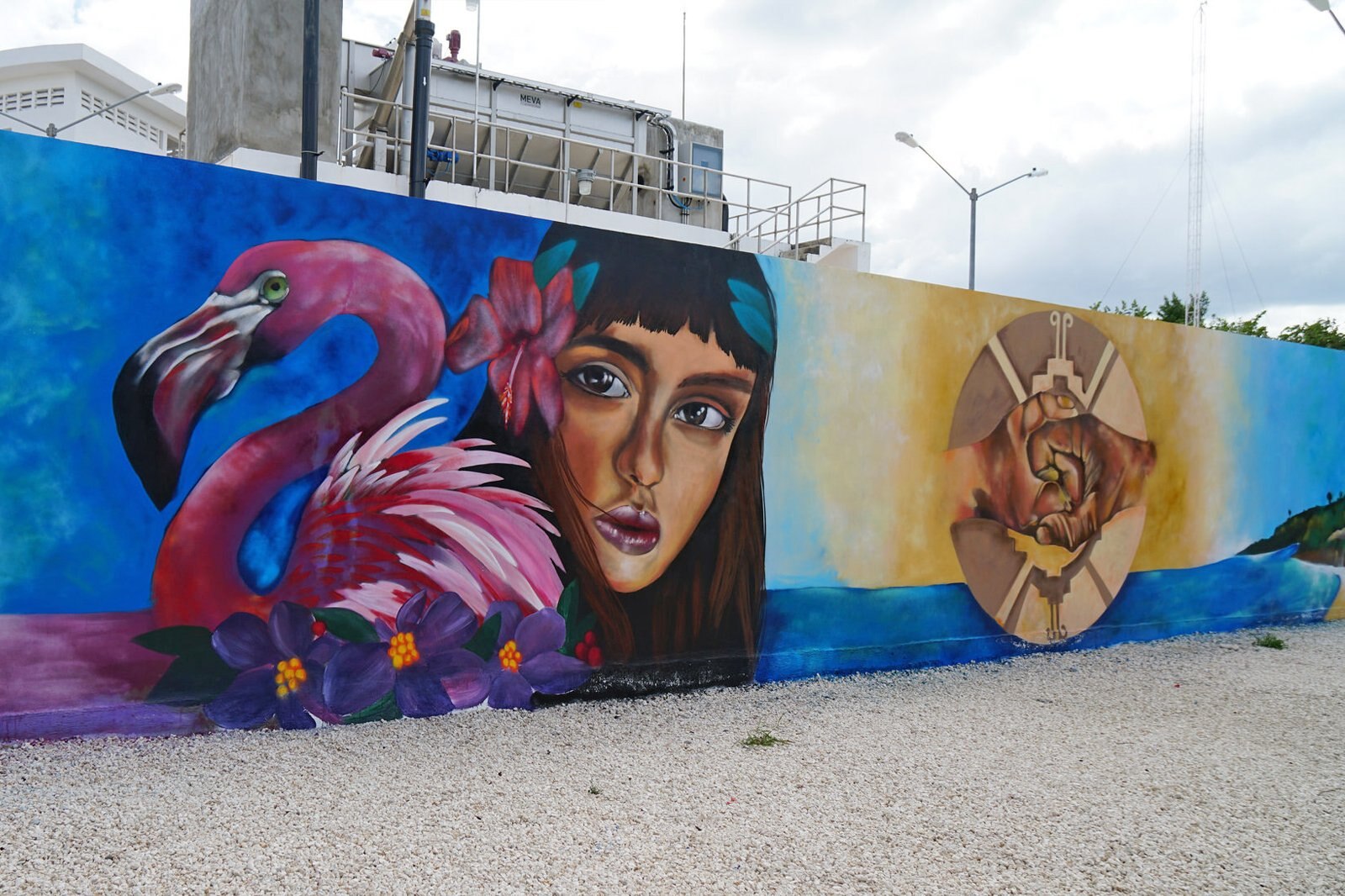 Mural art in downtown Cancun
Cancun's local community is actively involved in street art that pays homage to its Mayan and Mexican heritage. Take a walk around downtown Cancun's northern end to see colourful wall murals by notable Brazilian and Mexican street artists. One of the most popular artworks is the Boy, Jaguar, and Eagle mural, located 1 km south of Playa El Nino Beach. Many murals are also inspired by global maritime issues, showing dolphins swimming inside a gumball machine and a transparent whale shark.
Open: Downtown Cancún, Quintana Roo, Mexico
photo by Miguel Discart Photos Vrac 2 (CC BY-SA 2.0) modified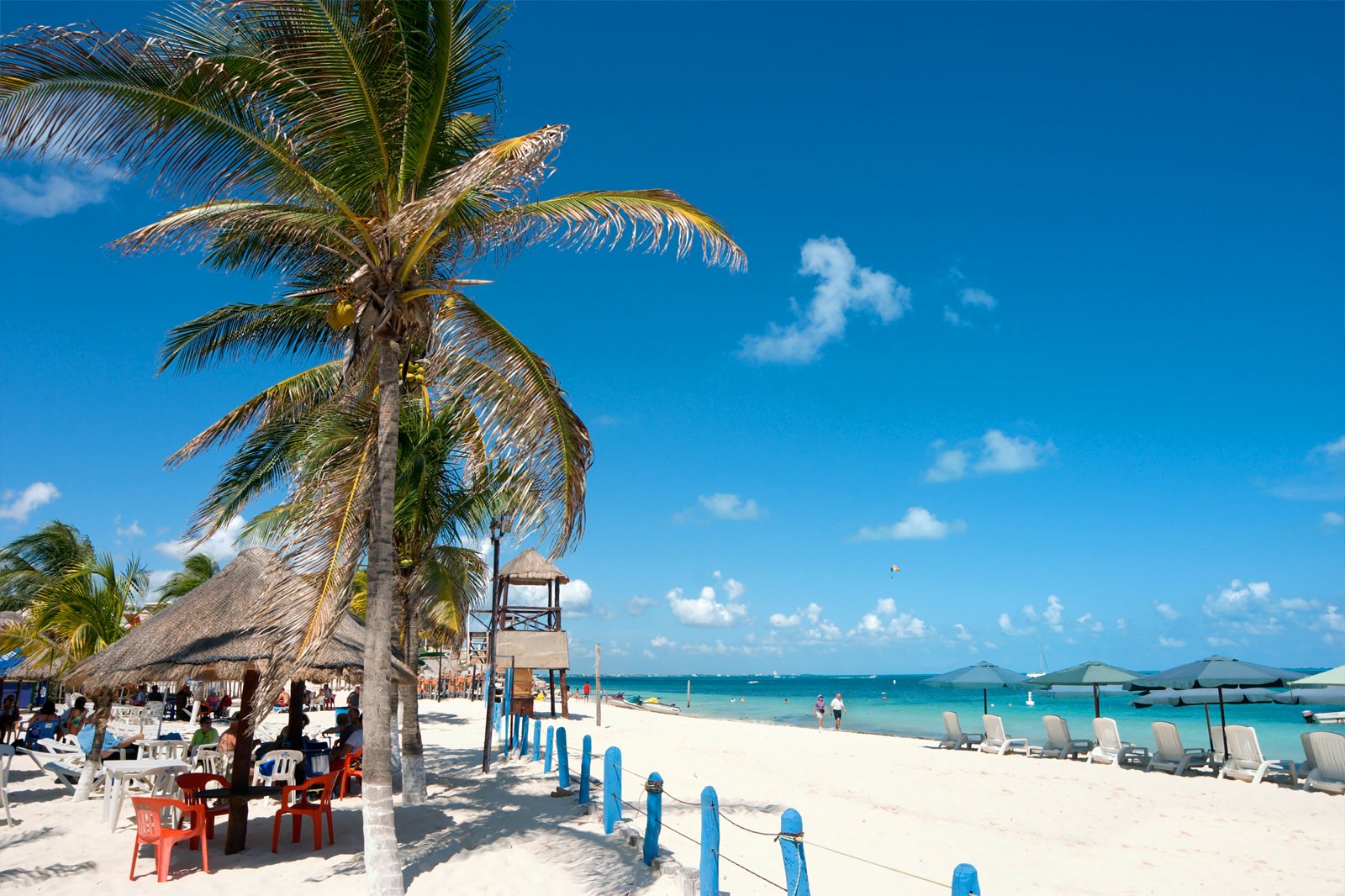 Playa Tortugas Beach
Bungee jump off the pier tower
Playa Tortugas is a relatively small stretch of sand about 6 km northeast of Cancun's Zona Hotelera. The beach is free to enjoy all year round, and its shores are shallow enough for children to swim in. Be sure to check out the pier, where thrill-seekers get to enjoy bungee jumping from the top of a 25-metre-tall tower. There are ferries departing for Isla Mujeres from Playa Tortugas every day.
Location: Playa Tortugas, Zona Hotelera, Cancún, Quintana Roo, Mexico
Couples
Families
Budget
Adventure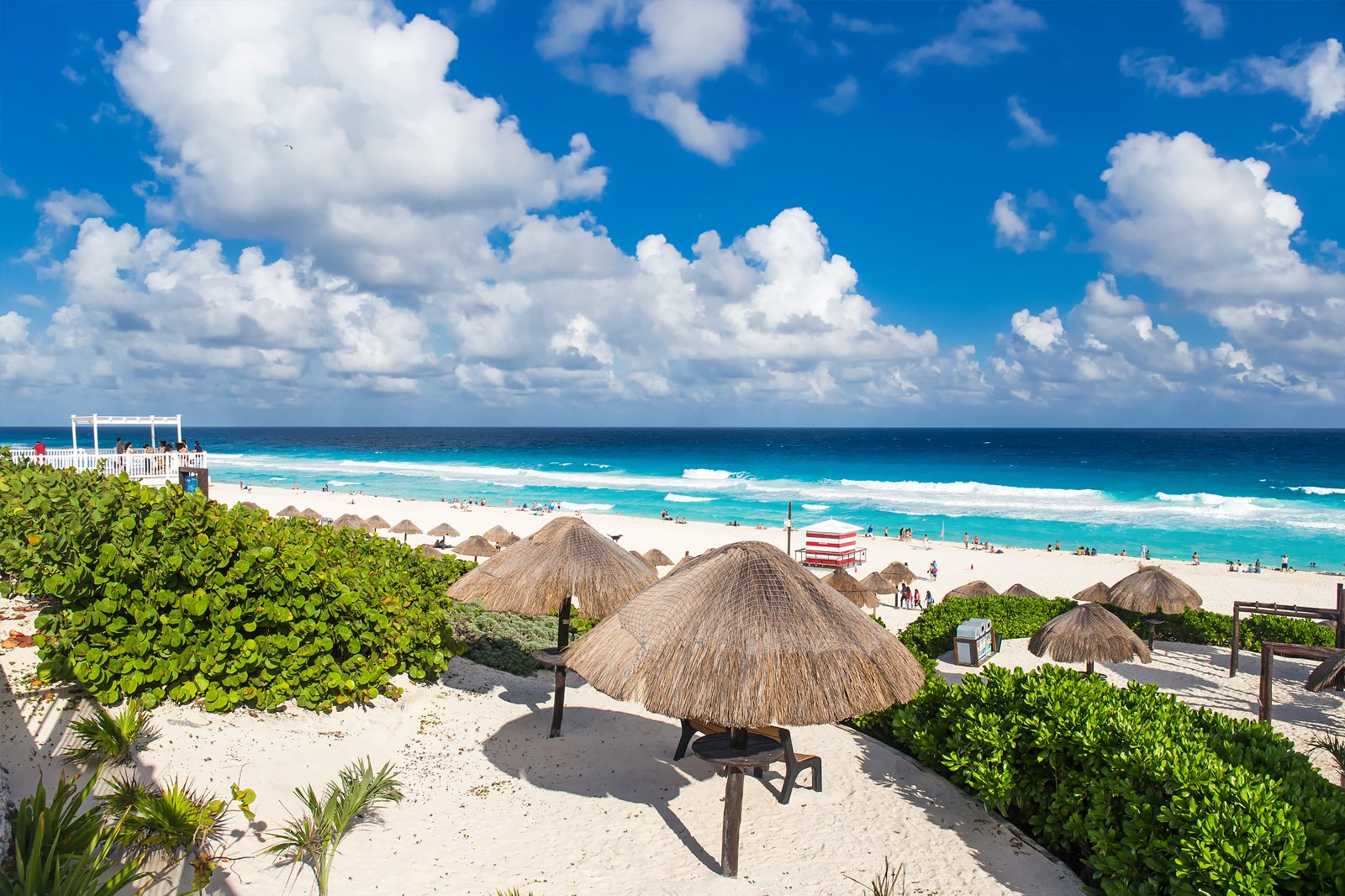 Playa Delfines Beach
Escape the tourist crowds on this quiet shore
Playa Delfines is a quiet stretch of beach at the southern end of Cancun's Zona Hotelera. You may not find tourist amenities like public showers or restaurants, but there are many thatch umbrellas along the coastline. There are lifeguards patrolling the beach during the day, but stay close to the shore if you're planning on swimming. Playa Delfines often attracts surfers as the waves here are rougher than they are on most beaches in Cancun.
Location: Punta Nizuc - Cancún 335, Zona Hotelera, 77500 Cancún, Q.R., Mexico
Parque Las Palapas
Enjoy cultural fairs at the main stage
Cancun has a vibrant performing arts community and is a popular stop for national and international musicians on tour. Parque Las Palapas is a sprawling park in downtown Cancun, which has a large central stage and plaza hosting cultural fairs, concerts, and plays. On weekend evenings, you can often catch live theatre and street performances. When there's no show, the park is still usually packed, but with joggers and cyclists, as well as locals enjoying outdoor games and picnics during the day.
Location: 77509, Ciruela 27, 25, 77500 Cancún, Q.R., Mexico
photo by Autharite (CC BY-SA 2.0) modified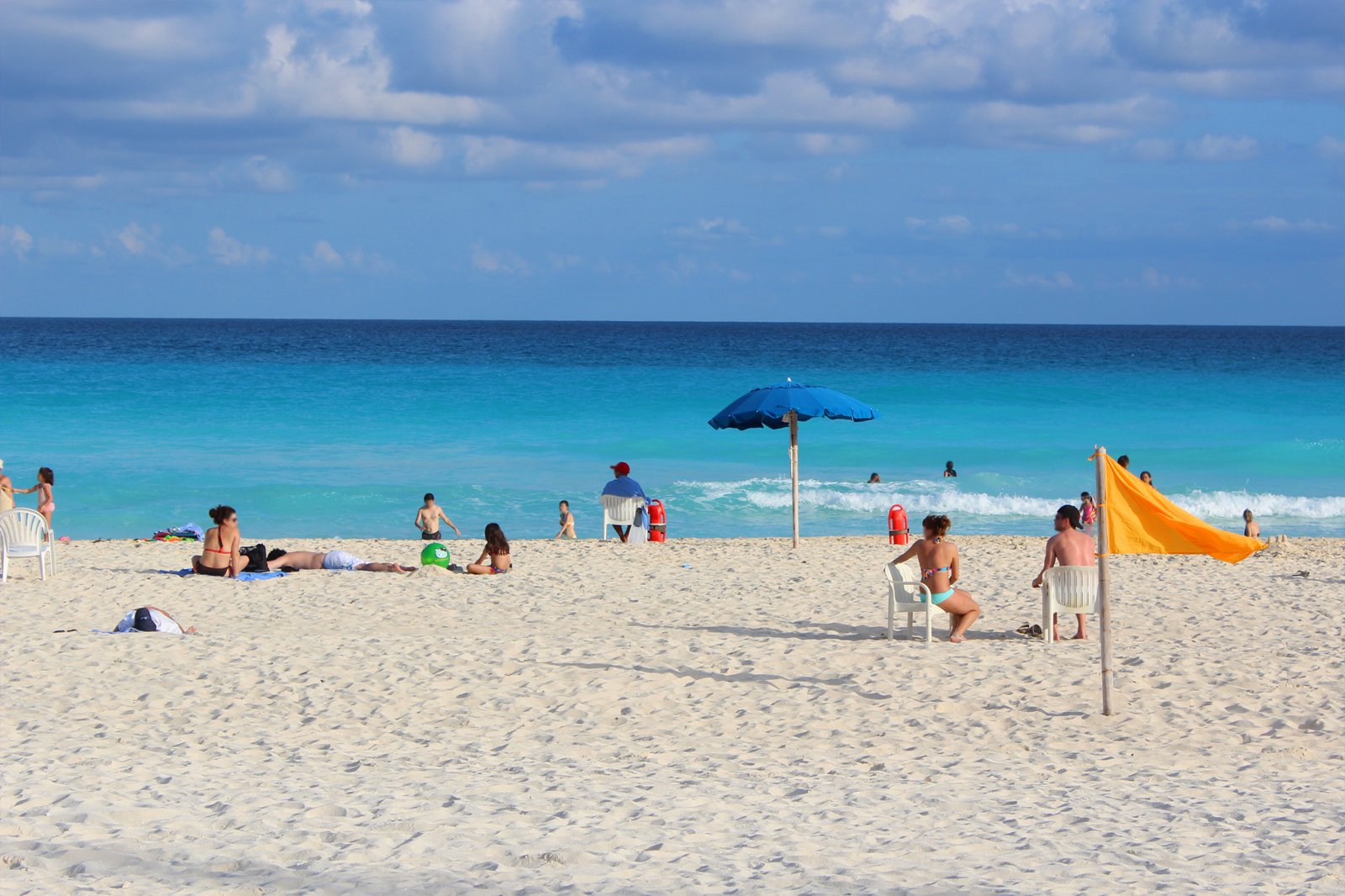 Playa Langosta
Take a photo with the Cancun sign
Playa Langosta, located 6 km south of downtown Cancun, is a local beach that runs along Cancun's Nichupté Lagoon. You'll find outdoor showers, kayaks and paddleboards for rent here, as well as street vendors during the day. When you're here, be sure to take a photo in front of the 'Cancun' sign, which is spelled out in vibrant letters. Families may enjoy Playa Langosta's outdoor playground and football field. Couples get to explore Jardín del Arte, a beautiful garden decorated with sculptures by local artists.
Location: Zona Hotelera, 77500 Cancún, Quintana Roo, Mexico
Couples
Families
Photo
Budget
photo by Shinya Suzuki (CC BY 2.0) modified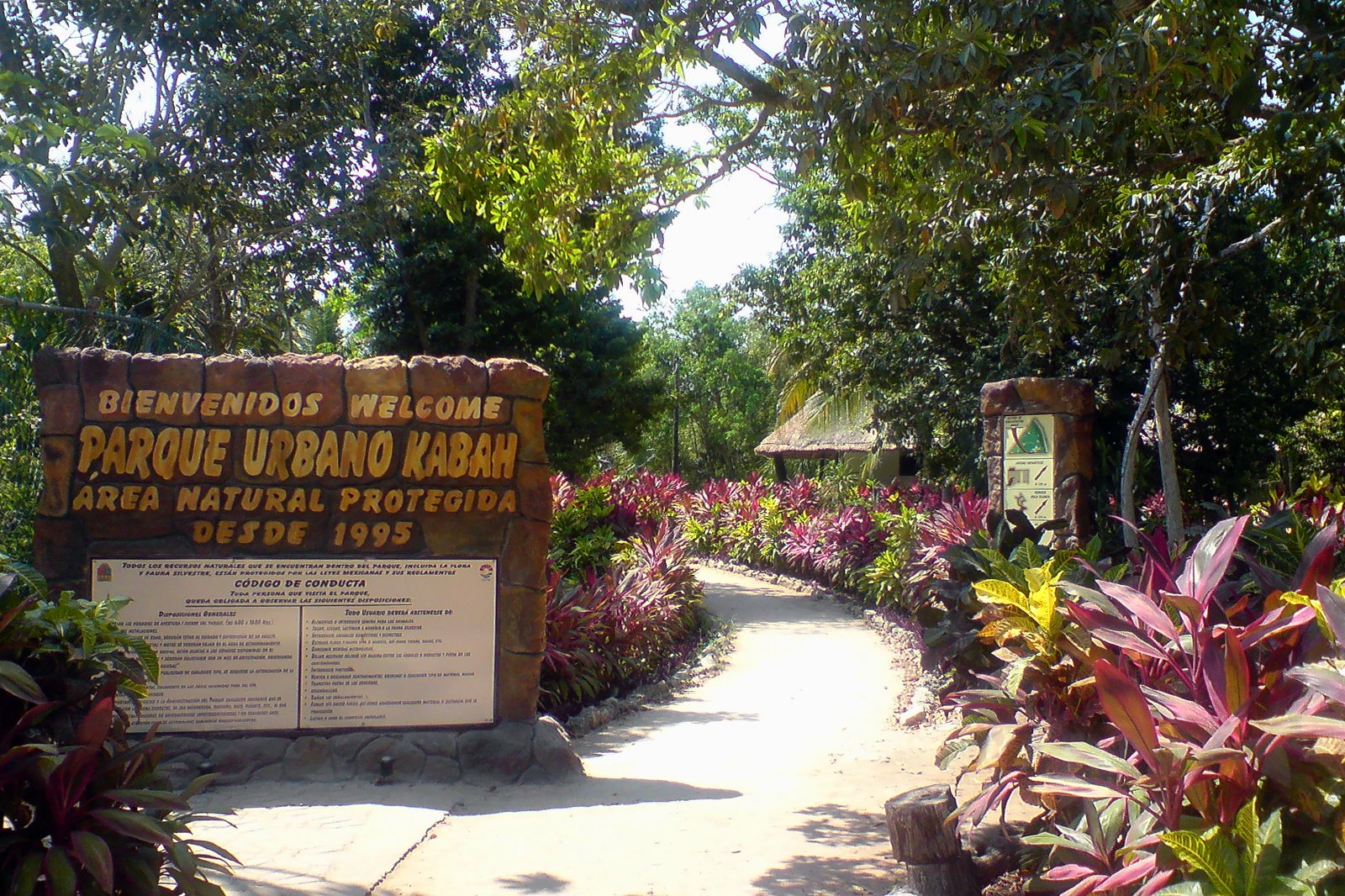 Kabah Urban Park
Spot wild birds and iguanas at this forest park
Kabah Urban Park often attracts joggers with its downtown location and a running trail that runs through a 410,000 sq m forest reserve. The local park is home to native wildlife such as birds, spider monkeys, iguanas, and coatis, which you may be able to spot during your visit. There are also many playgrounds and recreational areas for picnics. Kabah Urban Park is free to enter all year round, and its lush jungles are popular among tourists looking to escape Cancun's crowded beaches.
Location: Av. Nichupté 13, Benito Juárez, 77534 Cancún, Q.R., Mexico
Open: Daily from 6am to 6pm
photo by Mauro I. Barea G. (CC BY-SA 3.0) modified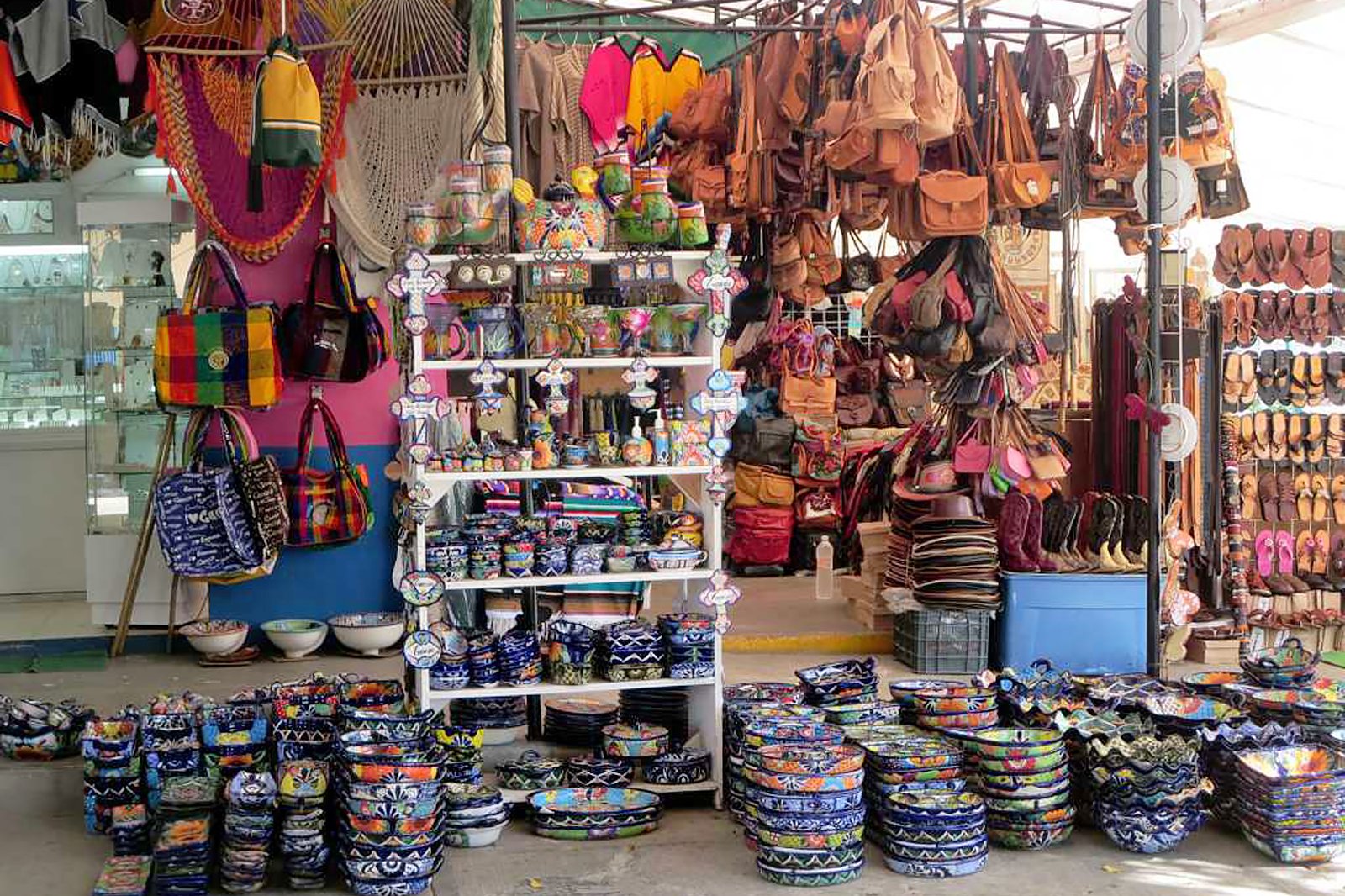 Mercado 28
Get a henna tattoo from a local vendor
Mercado 28 (Market 28) is a local crafts market with over 100 stalls set along Avenida Sunyaxchen in downtown Cancun. You get to browse through beautiful handicrafts made from leather, silver and glass, as well as sunglasses and kitschy T-shirts for tourists. Henna tattoo and hair braiding services are available for a few pesos. Head to the middle of the market to find restaurants serving authentic Mexican dishes. Must-tries include cochinita pibil (slow-roasted pork), Panuchos Yucatecos (tostadas with refried beans) and papadzules (Mayan-style enchiladas).
Location: Xel-ha M 2 13 SMZ 28, 28, 77501 Cancún, Q.R., Mexico
Open: Daily from 8am to 7pm
photo by David Stanley (CC BY 2.0) modified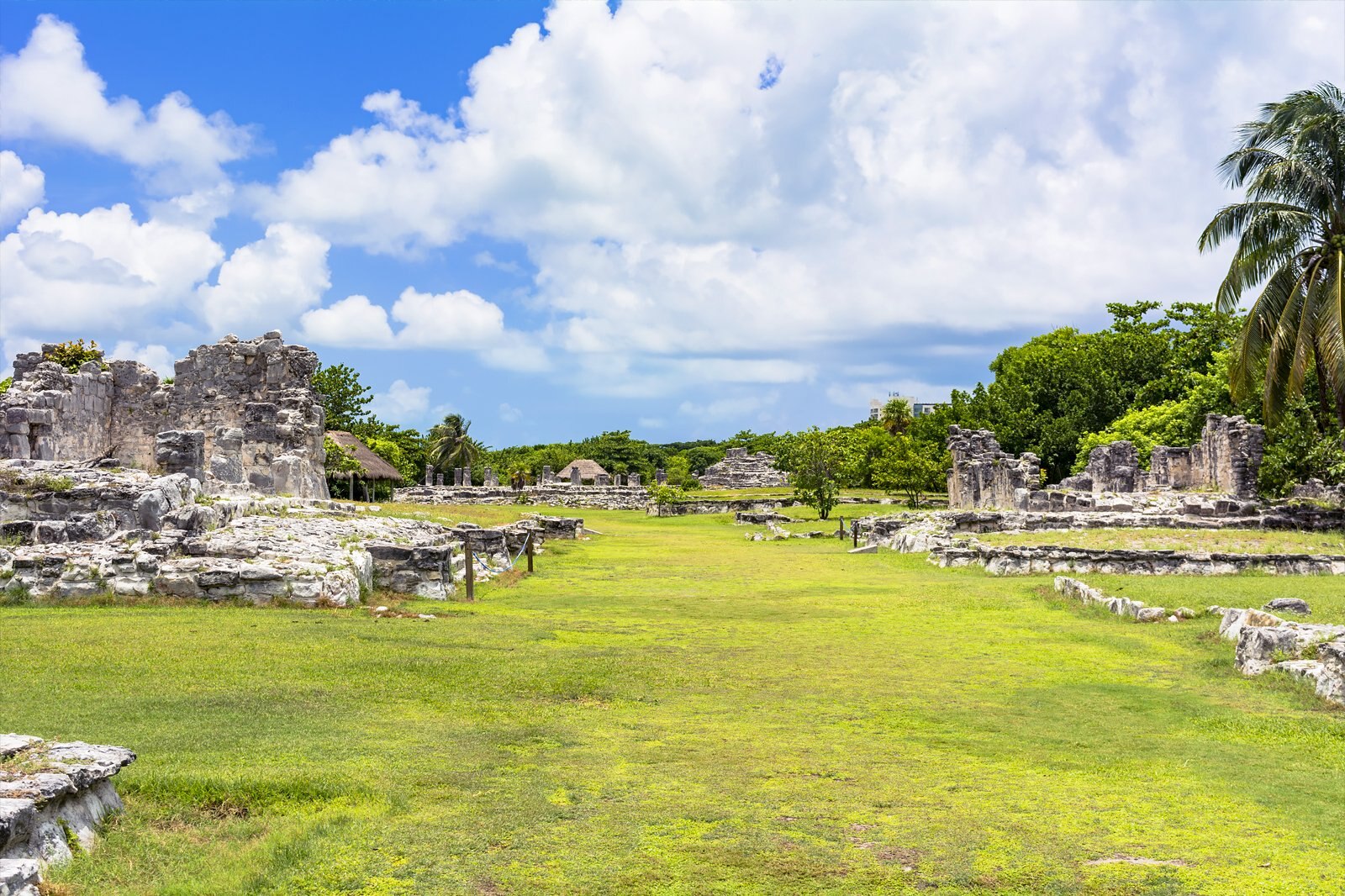 El Rey Archaeological Zone
See over 45 stone structures from the Mayan civilization
The El Rey Archaeological Zone is an ancient Mayan site in the southern end of Zona Hotelera. The Mayan ruins reveal a civilization that was dedicated to fishing and maritime trade. After paying a $2.50 admission fee at the entrance, you get to explore more than 45 stone structures, including a temple and the burial site of an important figure. If you want to learn about the history of this ancient civilization, the Mayan Museum of Cancun is a just a few minutes away on foot.
Location: El Rey Zona Arqueológica, Zona Hotelera, 77500 Cancún, Quintana Roo, Mexico
Open: Daily from 8am to 5pm
Phone: +52 983 837 2411
El Meco Archaeological Site
See one of the tallest Mayan pyramids in Cancun
The El Meco Archaeological Site is a complex of Mayan ruins located about 8 km northeast of Cancun City. The site was once a port for Isla Mujeres, and features many stone structures built between the 13th and 16th centuries. Its centrepiece is El Castillo, one of Cancun's tallest Mayan pyramids. Entrance to the El Meco Archaeological Site cost around $3.30, which is a steal compared to most Mayan archaeological sites in Cancun.
Location: Carretera Puerto Juarez, López Portillo, 77520 Cancún, QROO, Mexico
Open: Daily from 8am to 5pm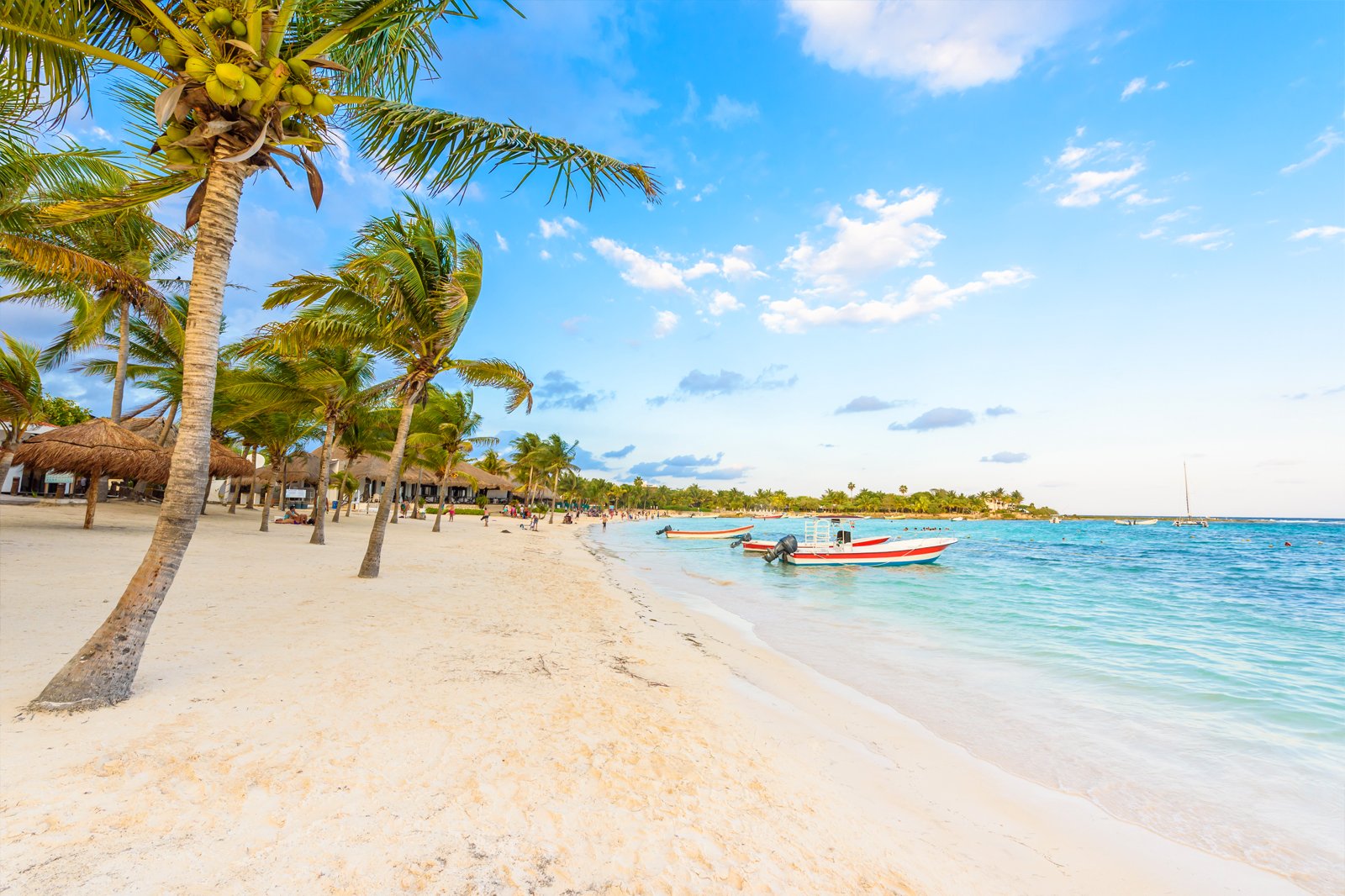 Akumal Beach
Snorkel with sea turtles
Akumal is located 110 km south of Zona Hotelera, yet still attracts beachgoers looking for a remarkable experience away from the crowded shores of Cancun. The pristine beaches alone are well worth the 2-hour drive, but it's the opportunity to go snorkelling and diving in a protected cove that makes the difference. The main village has several restaurants and dive shops where you can rent equipment. Akumal Beach is a popular nesting spot for sea turtles between May and November. If you're lucky, you get to swim among these endangered creatures, but be sure not to touch them.
Location: Carretera Tulum, Cancún, Q.R., Mexico