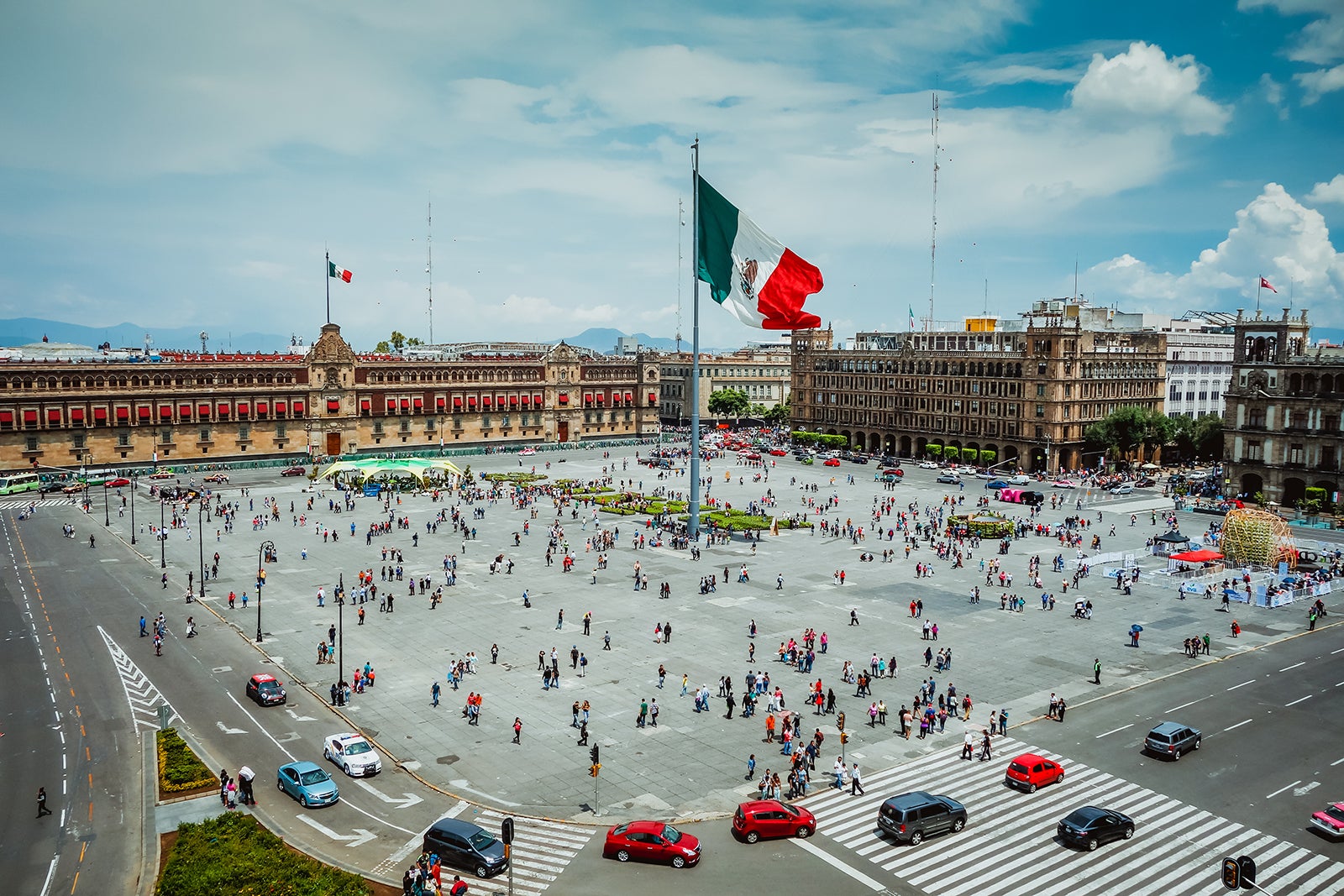 The Zócalo in Mexico City, from Aztec times through today, has been a bustling public plaza that continues to be a popular gathering place for locals and visitors alike. It is formally known as the Plaza de la Constitución, and is set in the historic centre of the capital of Mexico.
A primary starting point for discovery, the Zócalo in Mexico City features a massive flagpole bearing the Mexican flag, which is hard to miss when it is raised and lowered daily. There is so much to see and experience here, including folk dancers, artists selling their handmade wares, street food vendors, and more.
Zócalo in Mexico City - one of the highlights of 10 Best Free Things to Do in Mexico City and 11 Best Things to Do in Mexico City (Read all about Mexico City here)
What are the highlights of the Zócalo in Mexico City?
The main highlights of the Zócalo in Mexico City are the surrounding sites as well as a fascinating history, as the plaza served as a ceremonial centre of Tenochtitlan. Popular points of interest nearby include the Catedral Metropolitan de la Asunción de la Santísima Virgen María a Los Cielos to the north and the National Palace to the east.
Festivals, concerts, and cultural events take place at the Zócalo in Mexico City throughout the year with notable moments such as the massive art exhibition "Ashes and Snow" by Gregory Colbert, headline concerts by Justin Beiber and Shakira, and the annual Festival de México and Mexico City Alebrije Parade.
What else is good to know about the Zócalo in Mexico City?
Travellers to Zócalo in Mexico City will find that the popular public plaza is accessible via public transport with the Zócalo/Tenochtitlan Metro Station on the northeast corner, although there is no sign to indicate that it is there.
For anyone visiting the Distrito Federal, the Zócalo in Mexico City is a must-see with a short stroll leading to striking architecture,including the Old Portal de Mercaderes to the west, home to trendy restaurants, upscale hotels, and shops. Also nearby is the Museo del Templo Mayor, which offers insight into the ancient Aztec civilisation.
Zócalo in Mexico City
Location: Centro Histórico de la Cdad. de México, Centro, Ciudad de México, CDMX, Mexico
Back to top