10 Best Things to Do in Podgorica
What is Podgorica Most Famous For?
Podgorica is a city for those looking for something different; something undiscovered. While the hoards pile into the coastal resorts you can discover the true Montenegro. With the smell of barbecuing meats wafting through the air and birds flitting along its tree-lined streets, there is a real personality to Montenegro's capital.
Similar to Croatia, its neighbour along the Adriatic coast, Montenegro has a buzzing café culture and excellent food influenced primarily by Italy and Turkey. Montenegro, however, is much cheaper. And Podgorica, despite being its capital, is much cheaper than the nearby coastal towns. You can enjoy local food for pocket change here and beers are usually around €1.50 or less. Podgorica offers European discovery at incredible value.
1
Njegošev Park
Enjoy your mornings the Balkan way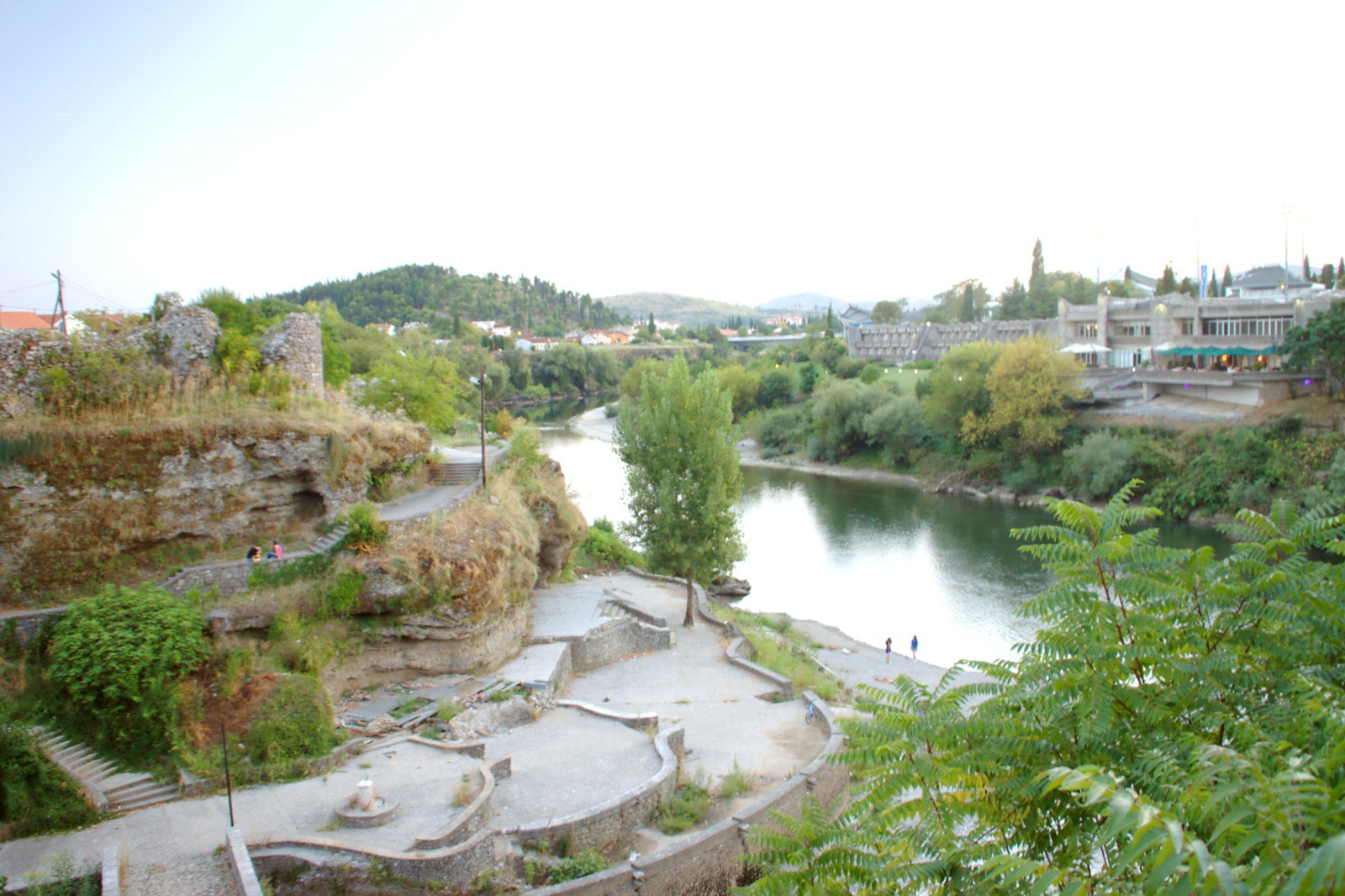 Take in the early morning tranquillity from Njegošev Park overlooking the Moraca River. The peaceful park sits in between Podgorica's 3 main river crossings so provides a good starting point for exploring the city.
Take a stroll between the pine trees to the café in the middle of the park where you'll find locals ordering strong coffee; it'll give you the boost you need to explore the rest of the city.
2
Ribnica River pedestrian pathway
A beautiful way to take in the local landmarks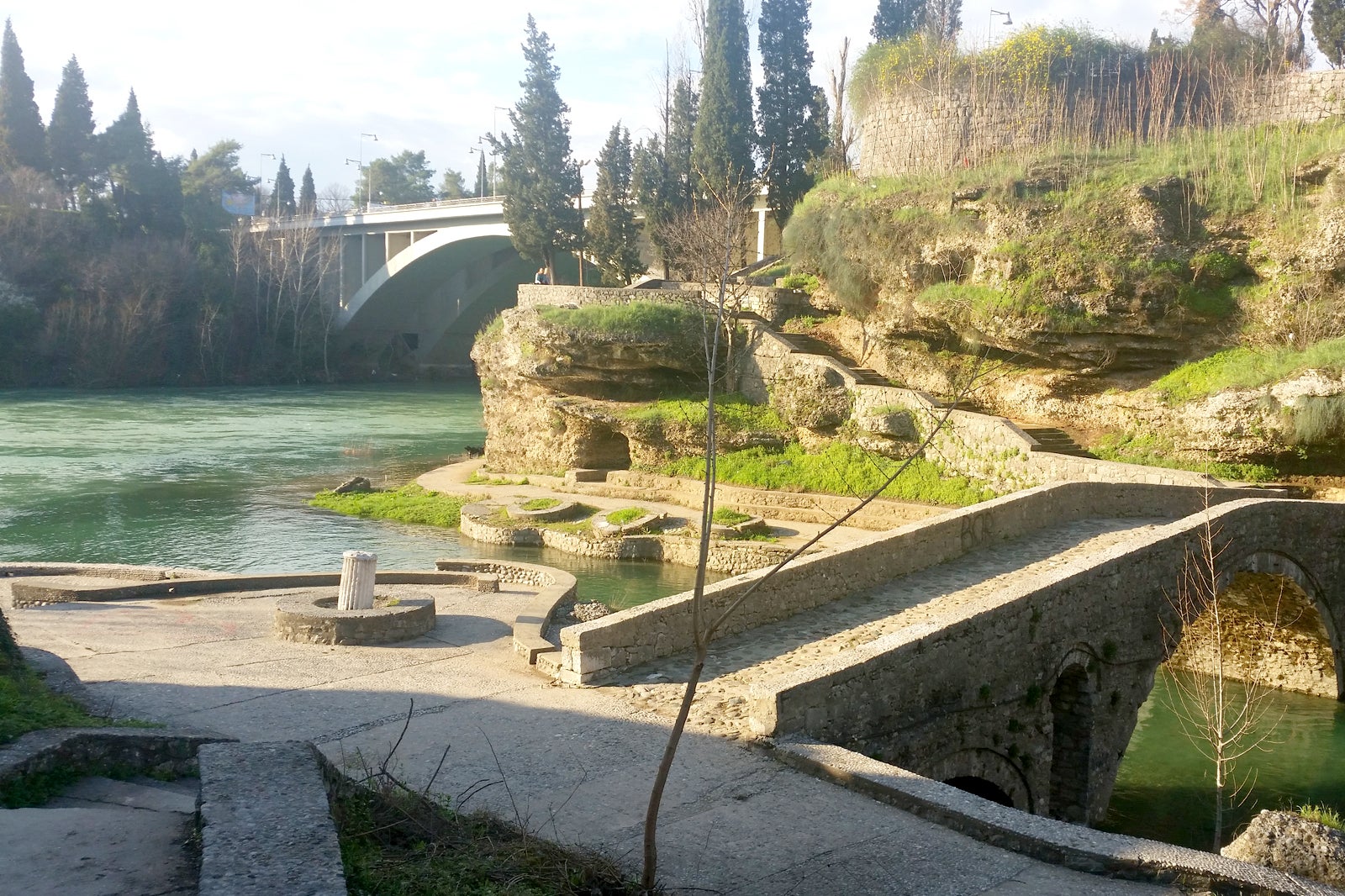 The Ribnica River winds its way gently through the leafier northern part of the old town. It's well worth a stroll from Park Forest Gorica, the largest park in the city, down to the Ribnica and along its tree-lined banks. You'll twist your way through King's Park and hear the birds tweeting before reaching the monument to King Nikola.
Eventually, you'll arrive at arguably Podgorica's crown jewel – the Old Ribnica Bridge. The ancient Roman bridge crosses the Ribnica at its mouth to its bigger brother, the Moraca. The meeting of the 2 rivers and ancient blocky stones that form the structure make for some great photo opportunities.
photo by ines lukic (CC BY 3.0) modified
3
Podgorica clock tower
A centuries-old timekeeper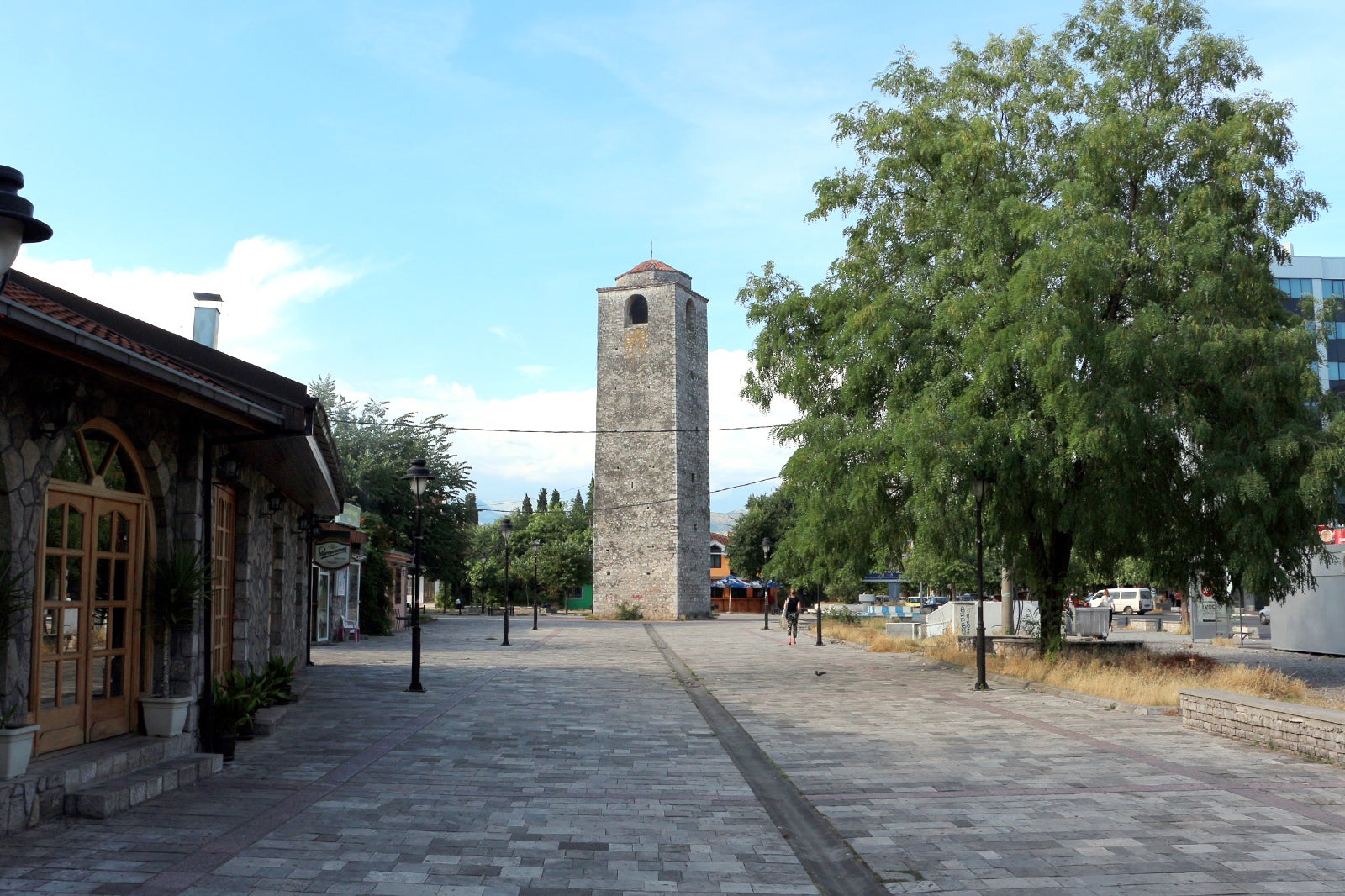 The clock tower stands tall to this day in spite of the rigorous bombing that pounded Podgorica in the Second World War. It's one of the only remaining relics from the times of the Ottoman Empire so provides an interesting contrast to the modern architecture of the city. Standing at 16 metres tall it also provides a good meeting point for an afternoon drink.
The iconic monument and testament to Islamic architecture can be found in the hub of the bustling Old Town. Don't be mad if it's not keeping perfect time, it's over 300 years old!
Location: Podgorica, Montenegro
4
Lake Skadar
The largest lake in Southern Europe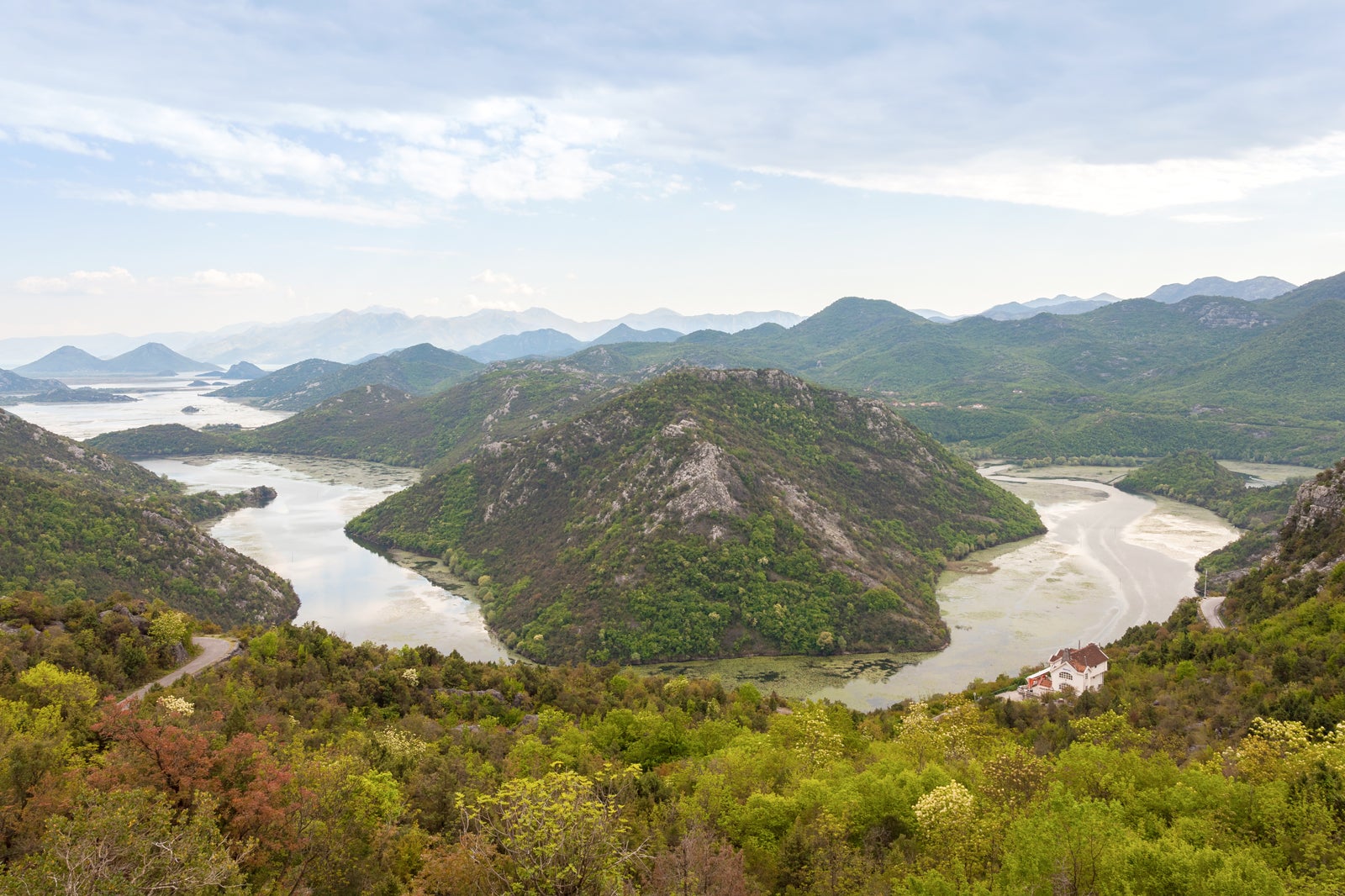 Legend has it that dolphin-shaped Lake Skadar was created from the tears of a crying pixie – a magical description well earned by its enchanting beauty. The lake is part of a national park that's teeming with wildlife and stunning, photo-worthy vistas.
The lake is about 25 km to the south of Podgorica and is well connected to the city centre by the highway. Your best bet is to get a cab down there, enjoy the sights and sounds of the wildlife, treat yourself to a locally sourced seafood lunch and get back to Podgorica before sundown.
Location: Podgorica, Montenegro
photo by Diego Delso (CC BY-SA 3.0) modified
5
The Cathedral of the Resurrection of Christ
Podgorica's answer to the Sistine Chapel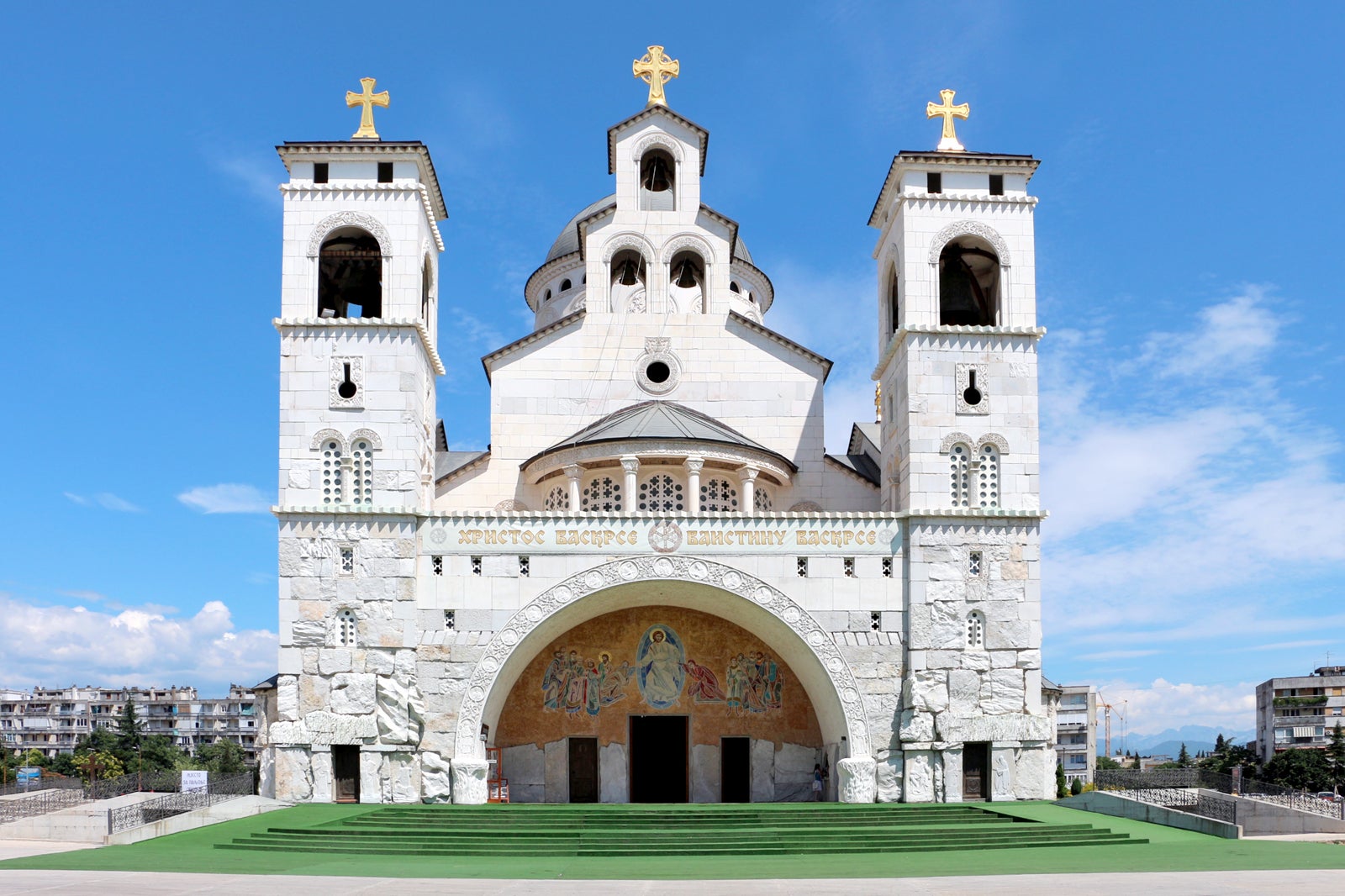 The Cathedral of the Resurrection of Christ is a Serbian Orthodox cathedral that took around 20 years to build. It's striking and unusual inside and out. While the towers and higher levels are intricately carved marble, the ground level is more akin to an ancient city stone wall.
The inside brings more intrigue, every surface adorned with colourful, provocative imagery including one painting showing Karl Marx burning in hell!
Location: Dzordza Vasingtona 3, Podgorica, Podgorica Municipality, Montenegro
Open: Monday–Friday from 8 am to 8 pm, Saturday from 8 am to 9 pm, Sunday from 7 am to 9 pm
Phone: +382 20 219 310
photo by Sailko (CC BY-SA 3.0) modified
6
Mall of Montenegro
Visit the mall and wet market under one roof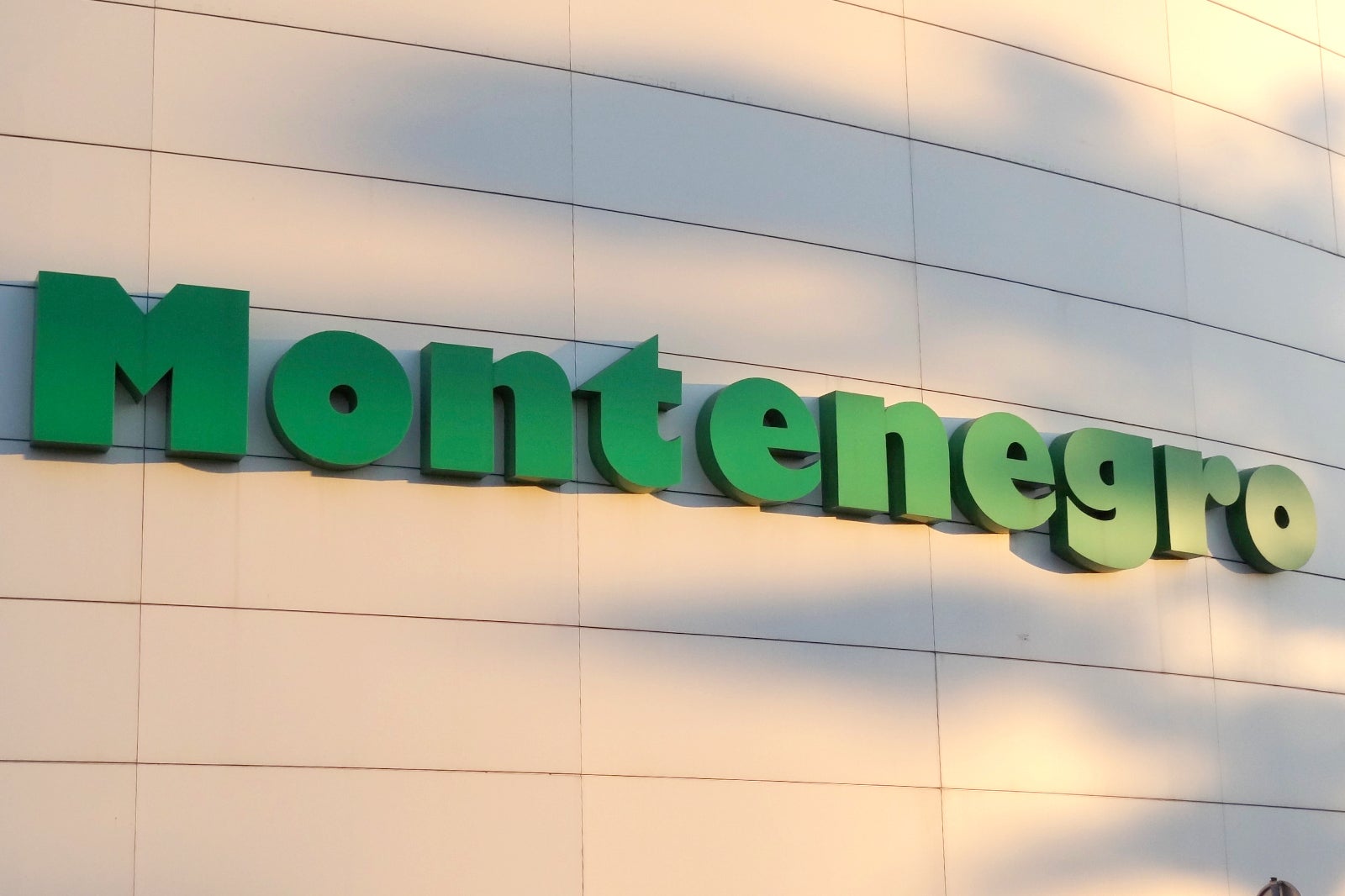 The smallest of Podgorica's 3 malls, the Mall of Montenegro, combines brand-name shopping with fresh produce. It's an interesting place for those looking to soak up the real, local culture. Inside the striking circular building, you'll find all the local and international brands you could ask for as well as a pool hall and bustling fresh produce market.
Visit the mall in the early afternoon on a weekday to avoid crowds or on a Saturday morning to see Mall of Montenegro at its busiest.
Location: Mall of Montenegro, 74 Bulevar Save Kovačevića, Podgorica, Montenegro
Open: Monday–Saturday from 8 am to 10 pm, Sunday from 8 am to 8 pm
Phone: +382 20 671 357
photo by Adam Jones, Ph.D. (CC BY-SA 3.0) modified
7
Centre of Contemporary Art
A great local gallery in beautiful surrounds
You'd be forgiven for missing this beautiful art gallery, as large as it is, as it's hidden on the ground floor of an old mansion in Park Petrovica. Where previously it housed royalty, the palace now holds a small but regularly changing collection of artwork. You'll find pieces from local artists as well as long term displays from Africa, Asia, Latin America and Europe.
The park is just a short walk over the Union Bridge from the Old Town and is free to enter. It can be a little hard to pinpoint on maps but find Park Petrovica and you'll find it soon enough.
Location: Krusevac bb, 81000 Podgorica
Open: Monday-Friday from 8 am to 8 pm, Saturdays from 10 am to 2 pm
Phone: +382 20 243 914
8
Pod Volat
Feast on huge plates of traditional Balkan cuisine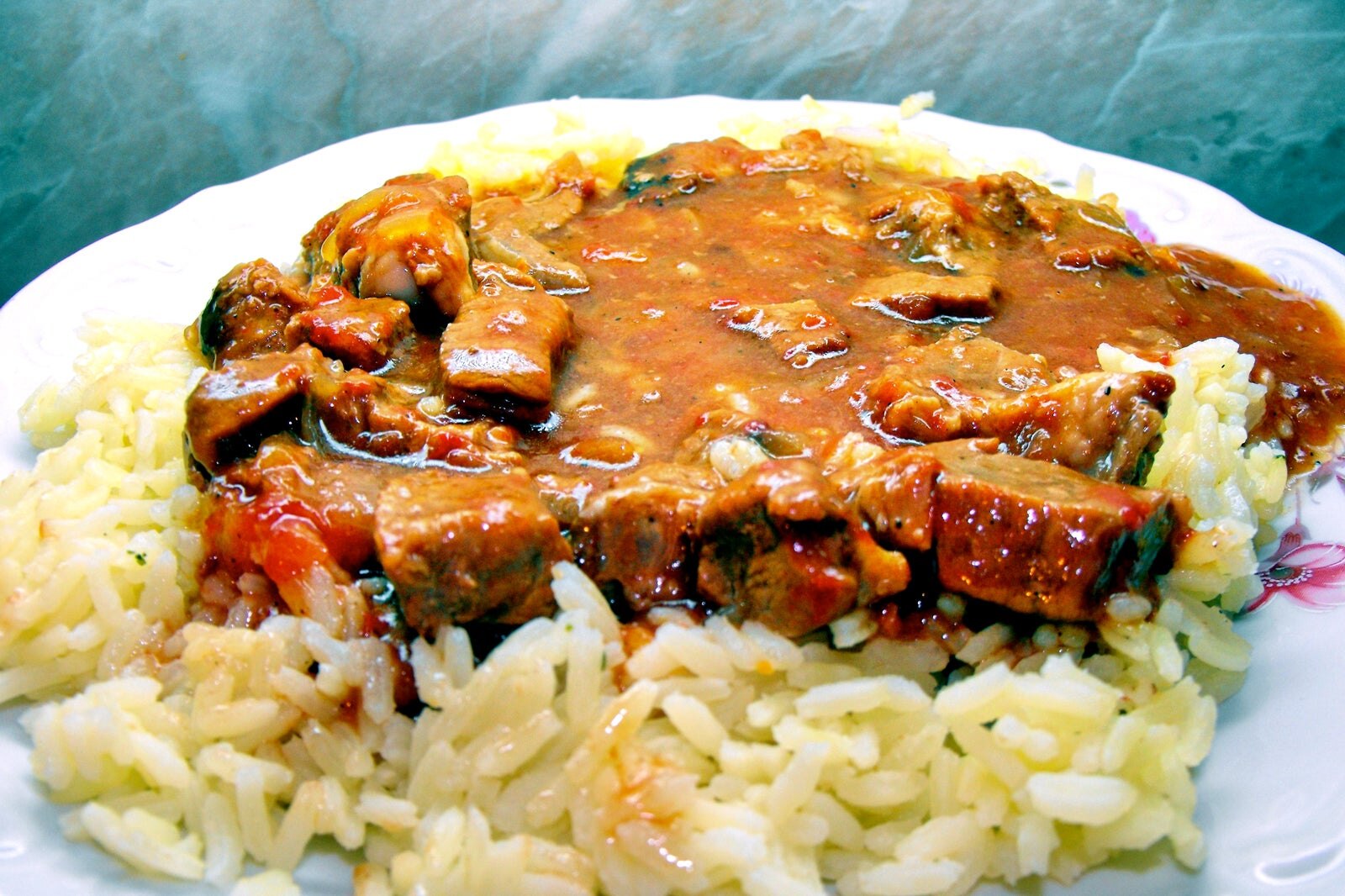 Ask anyone in Podgorica where to eat and they'll likely point you in the direction of Pod Volat. Here you can enjoy a giant portion of criminally cheap, delicious, Balkan food at one of the city's most highly-rated restaurants. It sits in the shadow of the famous clock tower and is considered an institution by locals.
The meat is especially good here as one of the brothers who owns the restaurant also runs the local butchers! Be warned, the portions are often more than generous. Modest eaters could easily share one main portion.
Location: Pod Volat, 1 Trg vojvode Becir bega Osmanagica, Podgorica, Podgorica Municipality 81000, Montenegro
Open: Daily from 7 am to 12 pm
Phone: +382 69 618 633
9
Montenegrin burek
The traditional Balkan bite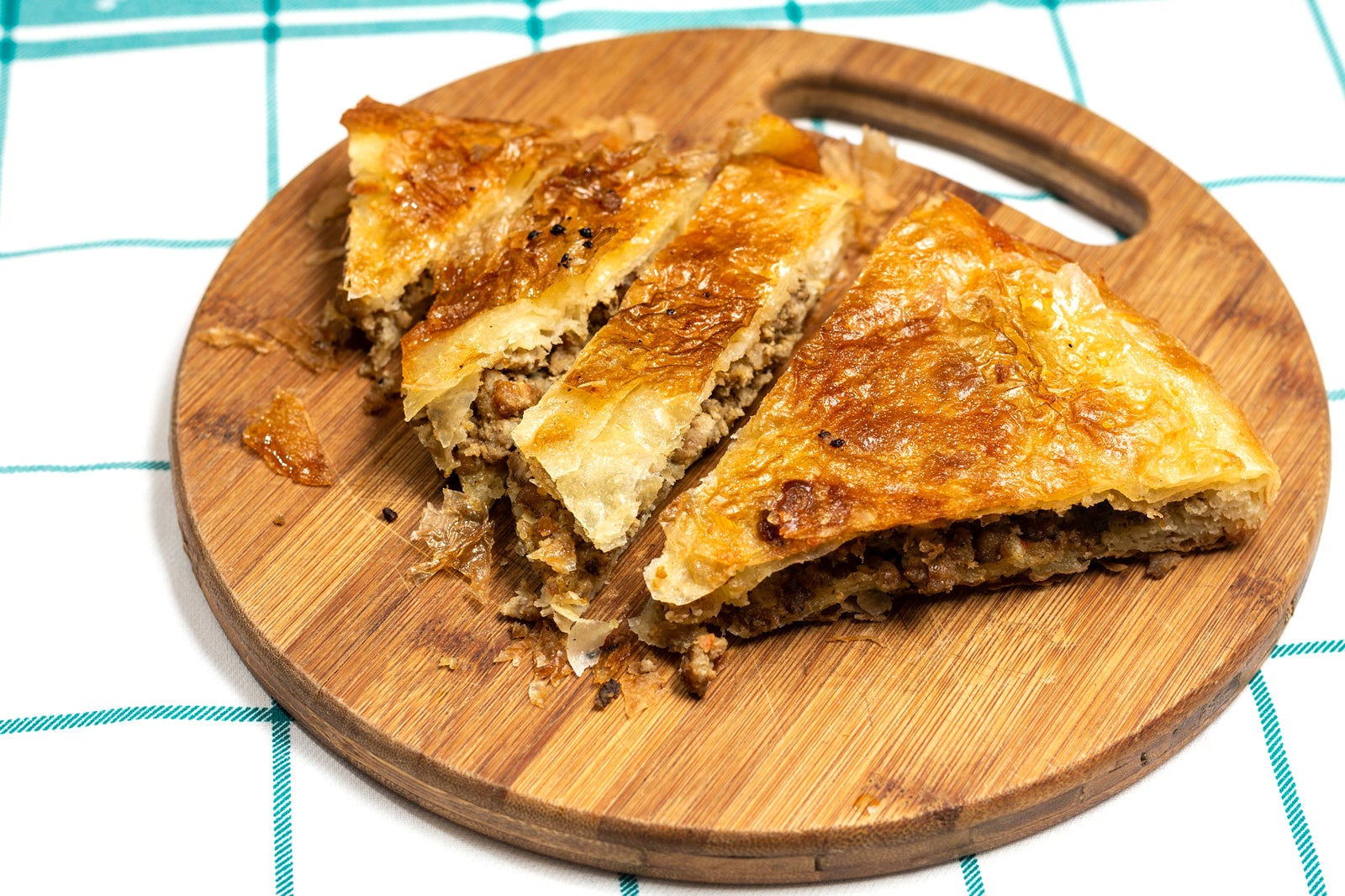 Burek is a delightful little snack commonly found in Turkey and the Balkans. They're crispy rolls of flaky pastry usually encasing mincemeat or spinach and cheese. They make for a delicious light meal on-the-go or a snack at any time of day.
Podgorica is teeming with bakeries and stalls which will serve these little nuggets of pleasure for about the price of a coffee. Start your day off like a local and grab a couple of these and set about your merry way.
photo by Marco Verch (CC BY 2.0) modified
10
Rakija
Imbibe the local spirit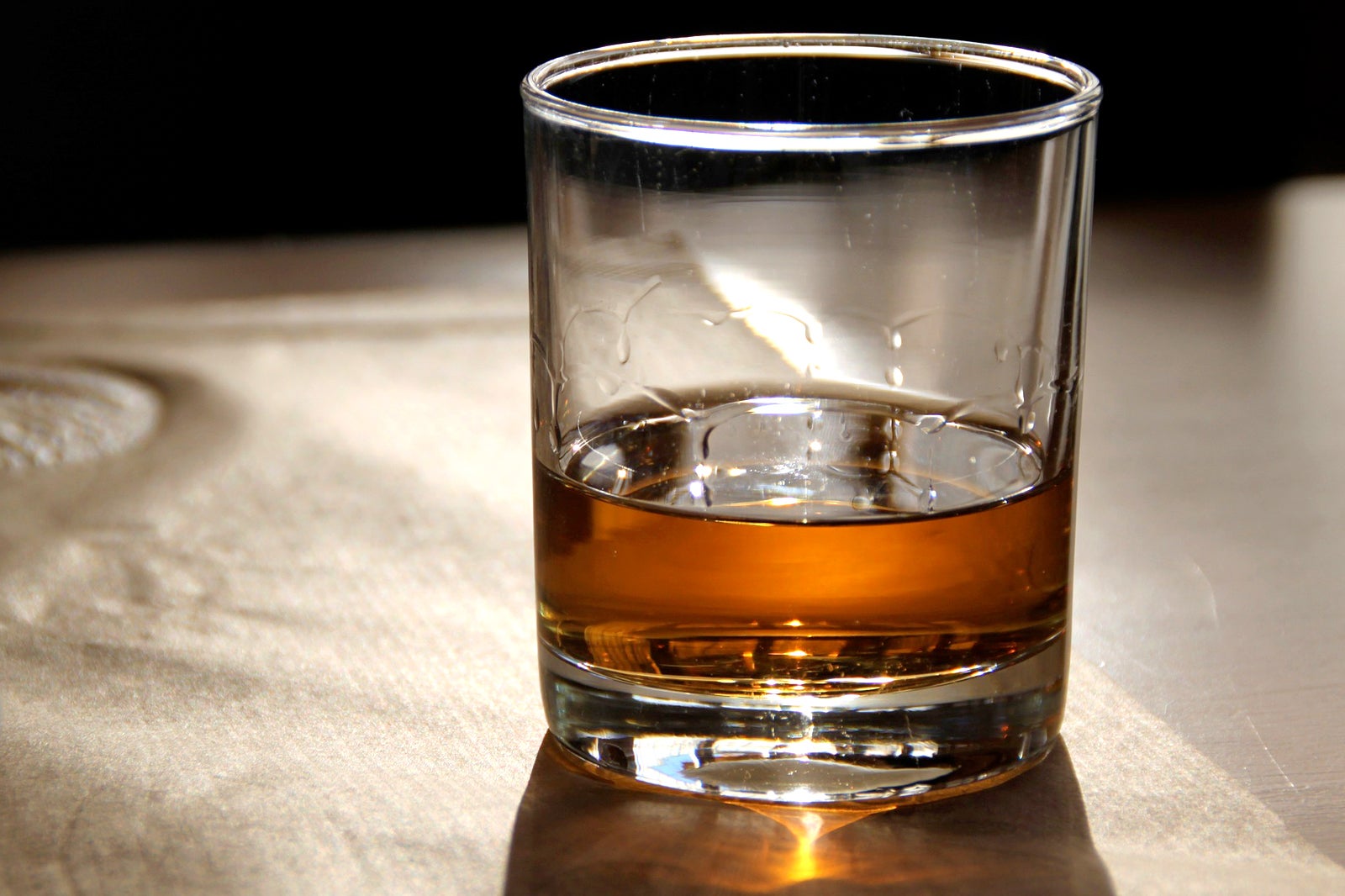 Rakija, Montenegro's national drink, is not for the faint-hearted. The lowest alcohol content you'll find in rakija is 40% and many varieties, typically homegrown, will push into the 80s. It's absolute rocket fuel. Don't miss out on such a fun Montenegrin tradition.
Who knows, maybe it's just the digestif you'll need after a hearty plate of Balkan meats. After 2 of these, you'll be sure to be clinking glasses and exclaiming "zivjeli" (cheers) with the locals.
Back to top