10 Best Things to Do in Auckland
What is Auckland Most Famous For?
Some of the best things to do in Auckland highlight its vibrant Maori community, waterfront seafood restaurants and bars, as well as a dazzling skyline. Nestled in a bay on the North Island, the city faces the Pacific Ocean on one side and the Tasman Sea.
What Auckland lacks in natural wonder tourist attractions — no small feat in nature-rich New Zealand — it more than makes up for with manmade sightseeing attractions and a truly vibrant sense of life that illuminates many of the city's interesting spaces. From catching a rugby match at Eden Park to taking a tour of the famous Town Hall building, we've gathered some of the many things Auckland is most famous for in this convenient list.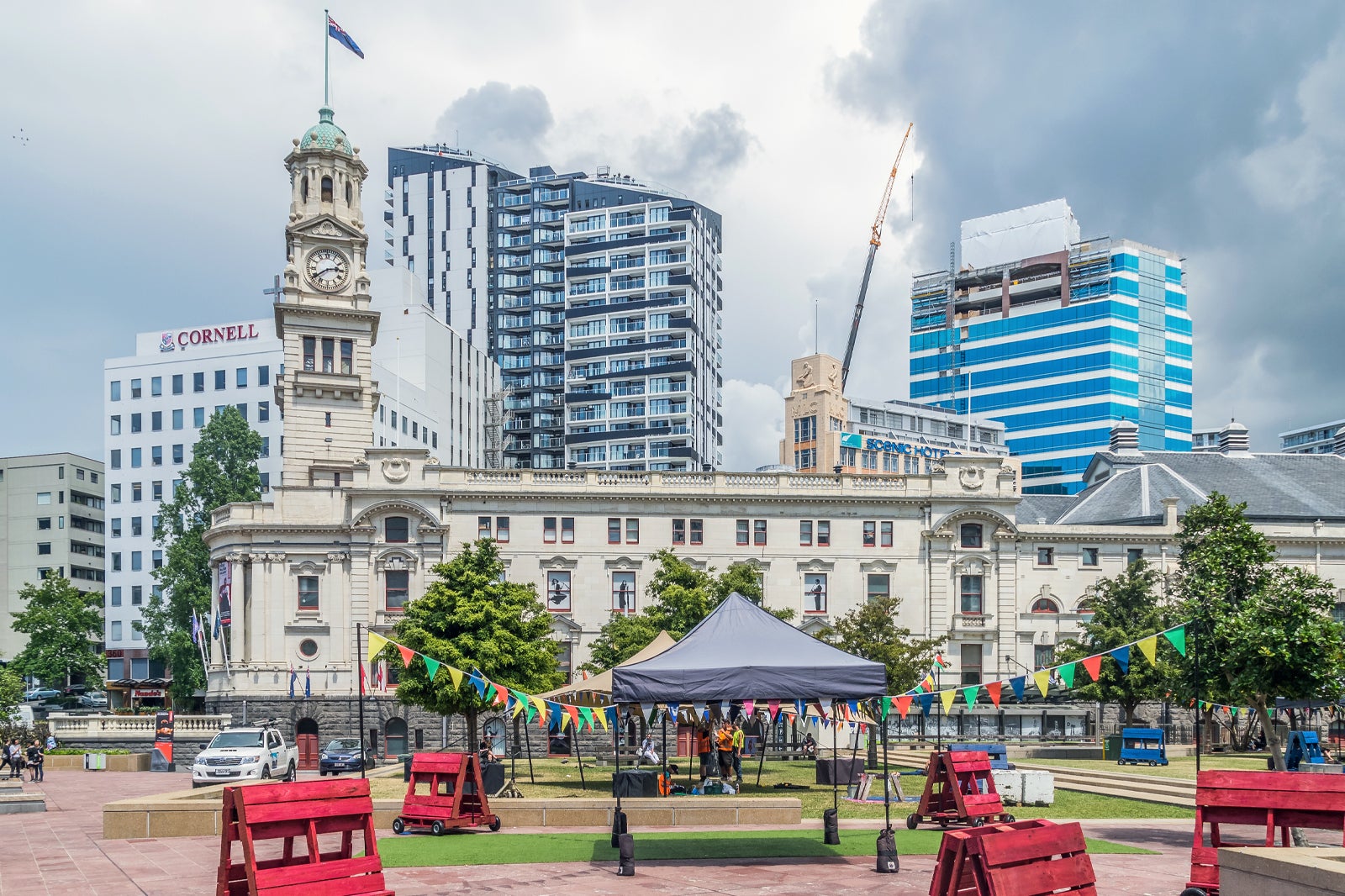 Start the day at Aotea Square
Enjoy an outdoor festival or shop at the weekly farmer's market
Aotea Square is located in the very centre of downtown Auckland, and is used for political rallies, outdoor festivals, concerts and other public events. Numerous artworks and sculptures dot the square, which is popular with just about everyone, from musicians and buskers to office workers at lunch.
Aotea Square's spacious and open-air space allows for weekly farmer's markets to take place here as well, where you'll be able to find plenty of fresh fruit, unique clothing, and local art.
Location: 50 Mayoral Dr, Auckland, 1010, New Zealand
Couples
Families
Photo
Budget
photo by Krzysztof Golik (CC BY-SA 4.0) modified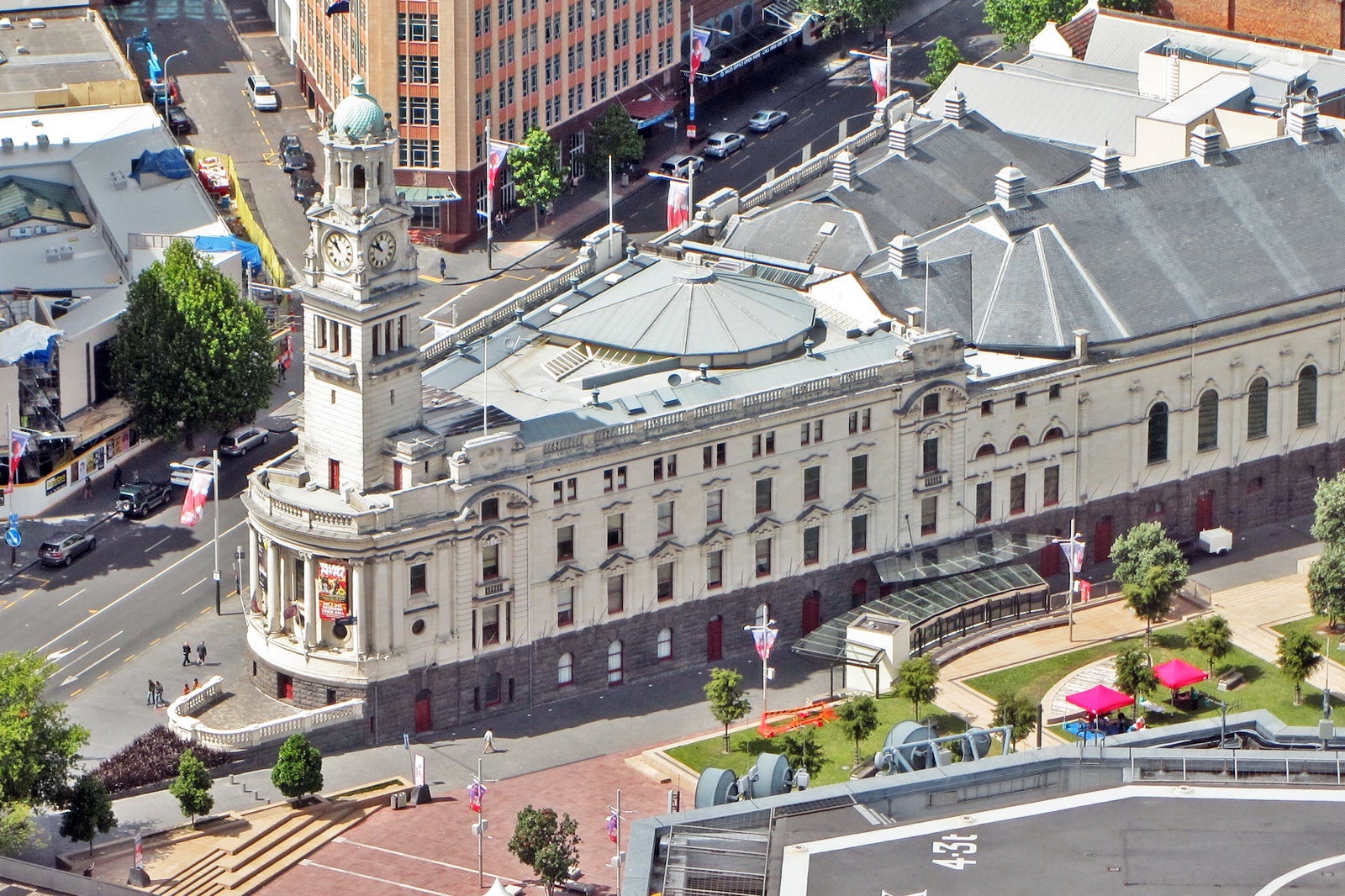 Must-See: Auckland Town Hall
Catch a show by the famous Auckland Philharmonia Orchestra
The Auckland Town Hall is known for neo-Renaissance façade crowned by a working clock tower. Take a picture of its impressive stained-glass windows and spectacular chandeliers. Featuring superb acoustics, the building is also the principal concert venue for the Auckland Philharmonia Orchestra.
The theatre-style Great Hall can accommodate over 1500 people, and hosts New Zealand's largest pipe organs. Guided tours are available 5 days a week, and tickets can be purchased online. The Auckland Town Hall is about 750 metres southwest of Albert Park in downtown Auckland.
Location: Queen St, Auckland, 1010, New Zealand
Open: Daily from 7.30am to 6pm (closed on weekends)
Couples
History
Photo
Luxury
photo by Bob Linsdell (CC BY 3.0) modified
Shop at Queen Street
Retail therapy has never been so satisfying
Queen Street runs the length of Auckland from Queens Wharf, where it meets the sparkling Auckland waterfront, and covers several miles uphill to the residential suburbs of the city.
Spend the day shopping here, where you'll find all of the major retailers and options for just about every budget. At night, Queen Street lights up thanks to colour-changing, LED-powered trees at every corner. Hotels and transport interchanges, including ferries, are located on or near Queen Street as well.
Location: Queen Street, Auckland, 1010, New Zealand
photo by Krzysztof Golik (CC BY-SA 4.0) modified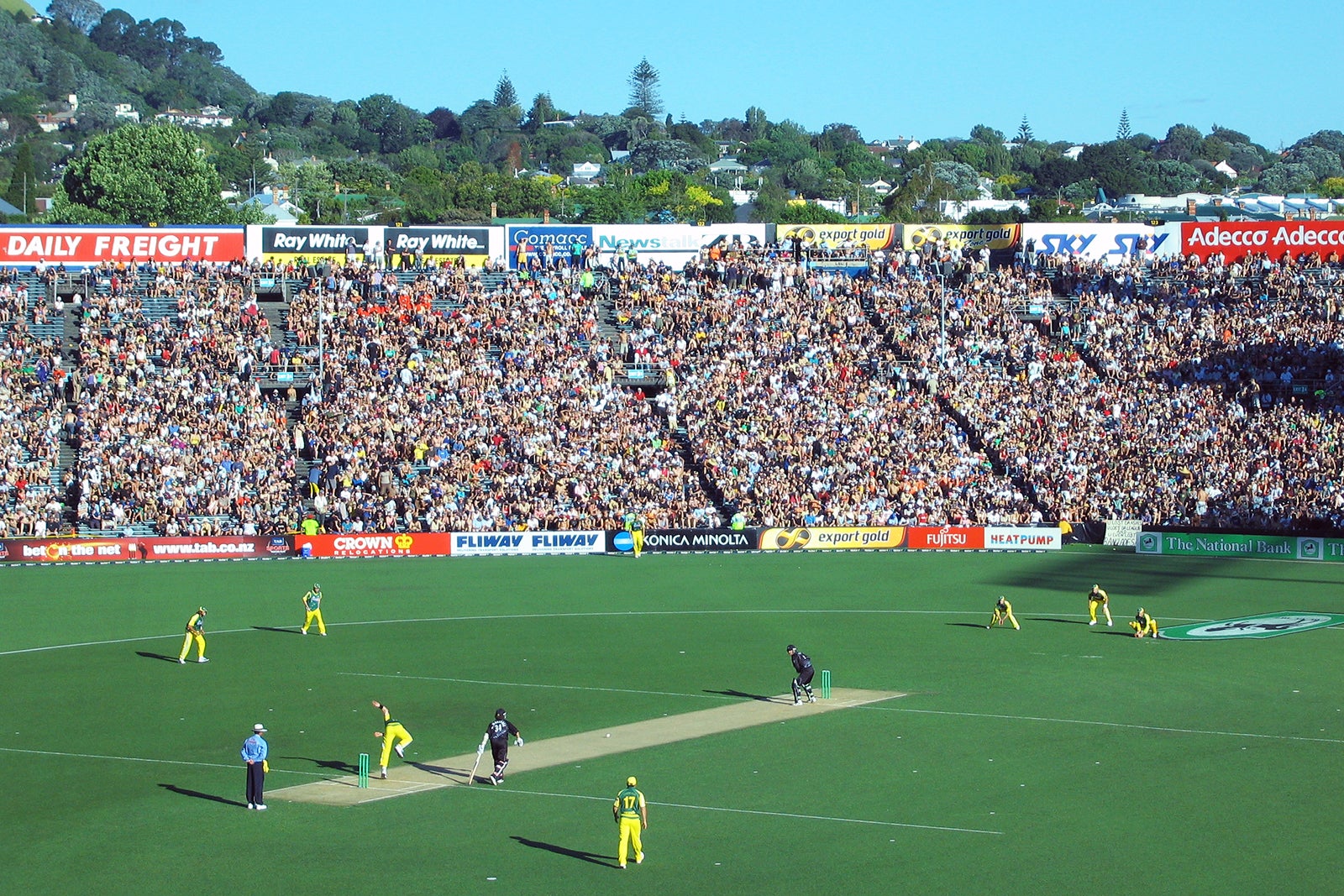 Attend a sporting event at Eden Park
Watch a rugby match at a world-famous stadium
No visit to Auckland would be complete without a thumping rugby match or a quieter but no less competitive game of international cricket. The vaults of the arena rise in the south-western suburbs of Auckland and roars from the crowds during game nights can be heard for miles around.
Eden Park is most notably remembered for hosting the 2011 Rugby World Cup Final, and welcomes thousands of international fans per year. Tickets are available for purchase both online and at the door.
Location: Reimers Ave, Kingsland, Auckland 1024, New Zealand
Families
Budget
Single
Group
photo by Simon Lieschke (CC BY 2.0) modified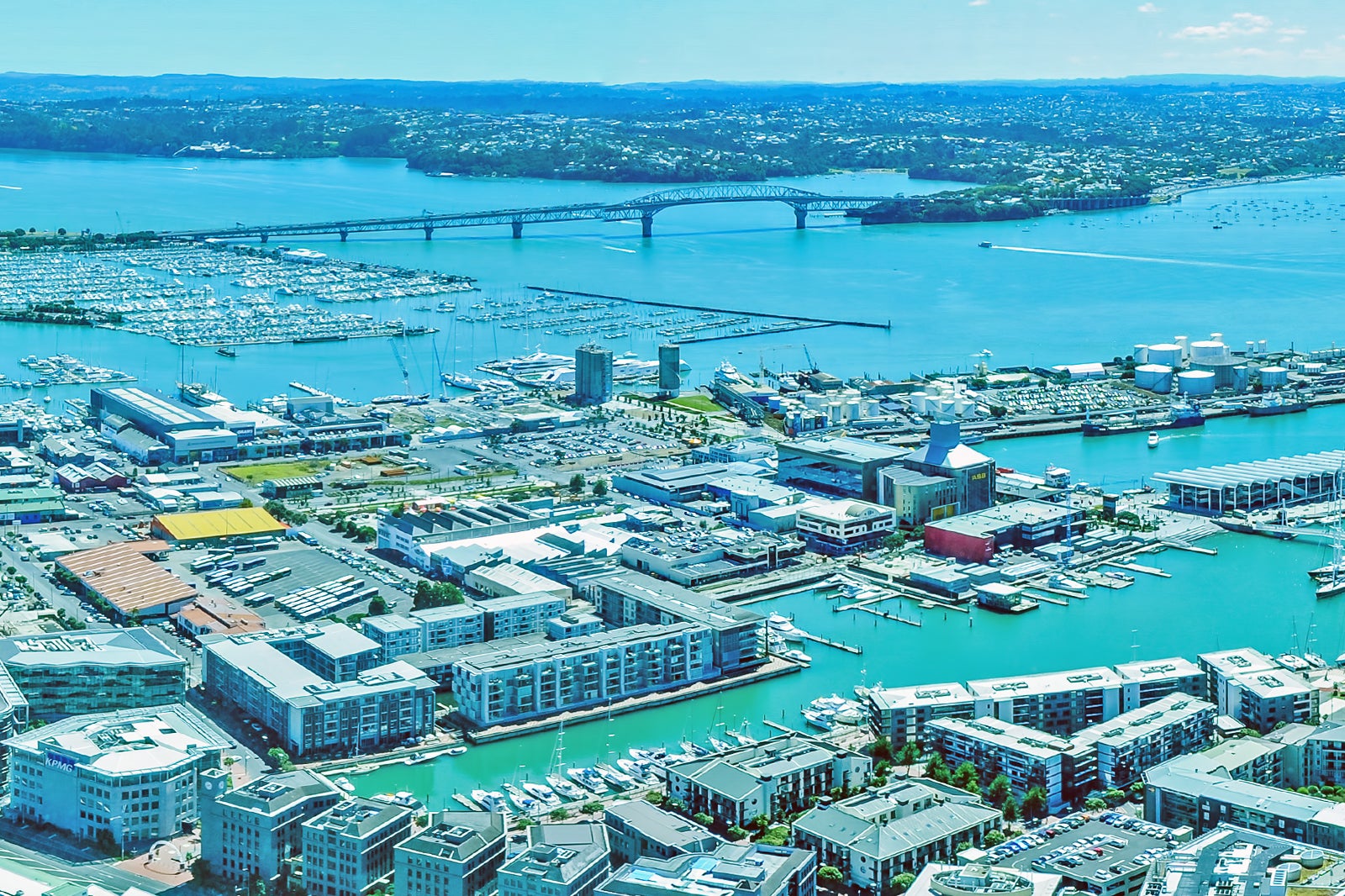 Must-See: Waitemata Harbour
Enjoy a meal with a view
Stunning sunset views across the water to Mount Victoria are one of the many appeals of the Auckland waterfront, which is loaded with scores of seafood restaurants, lookout points and promenades. Waitemata Harbour is known for its killer sushi spots, as well as Asian-inspired eateries.
If you're a fan of hiking, the Chelsea Estate Heritage Park is less than 1 km away from Waitemata Harbour. There are plenty of trails to suit any fitness level – you might even be able to spot exotic and native birds, such as the New Zealand wood pigeon, piwakawaka, harrier, and blackbird.
Location: Victoria St W, Auckland, 1010, New Zealand
photo by Harveychl (CC BY-SA 4.0) modified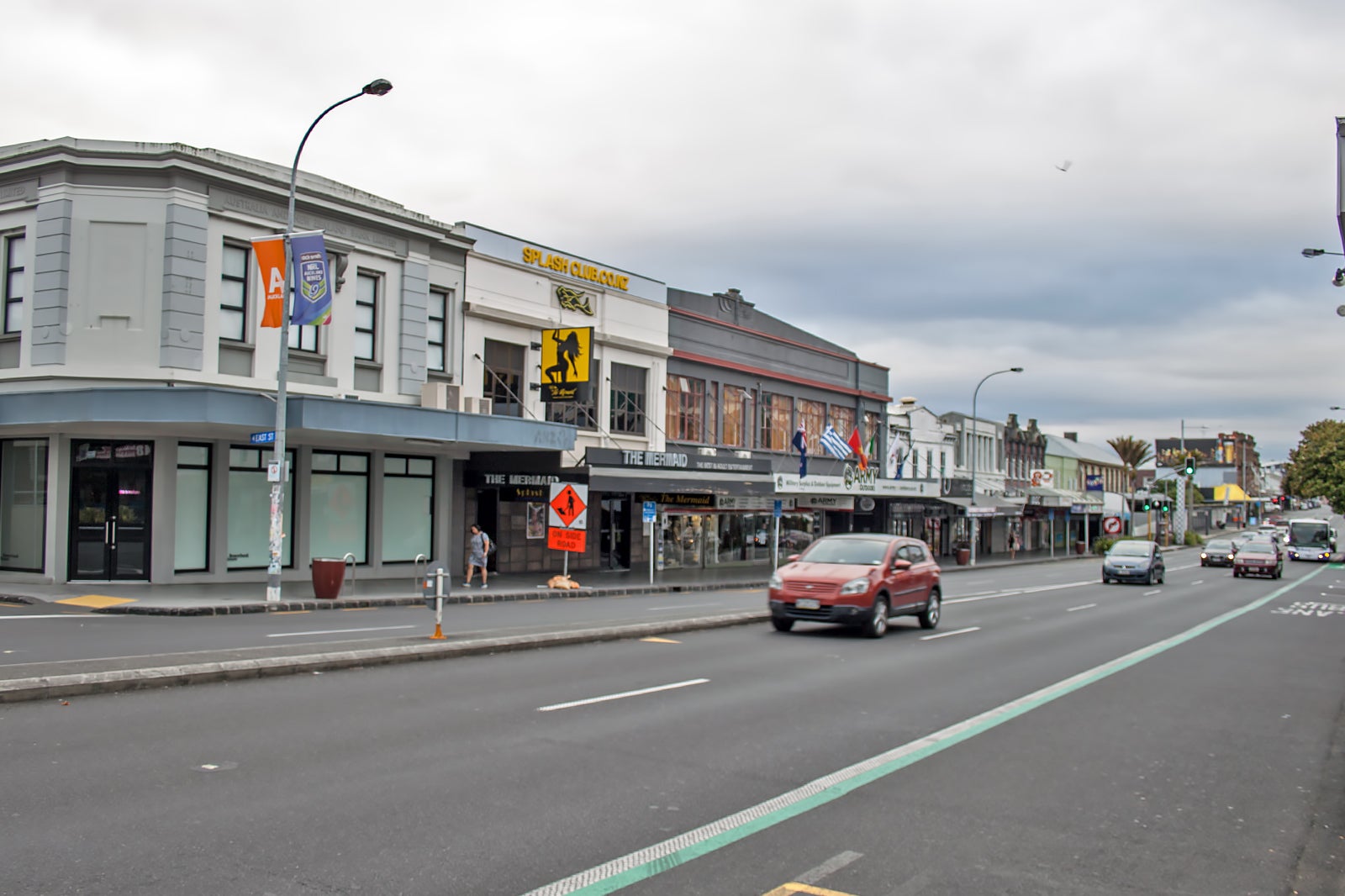 Walk down Karangahape Road
Check out Auckland's nightlife and café street
Karangahape Road, invariably known as K-Road, is the heart of Auckland's nightlife and café scene. Spend one of your first days here to get a feel for what the city is all about, or find budget hotels in the side streets off K-Road, which enjoys friendly competition with Ponsonby as the key nightlife district of Auckland.
This popular road is dotted with contemporary art galleries, high fashion and vintage clothing, over 100 eateries offering world cuisine, and a lively nightlife scene.
Location: Karangahape Road, Auckland, New Zealand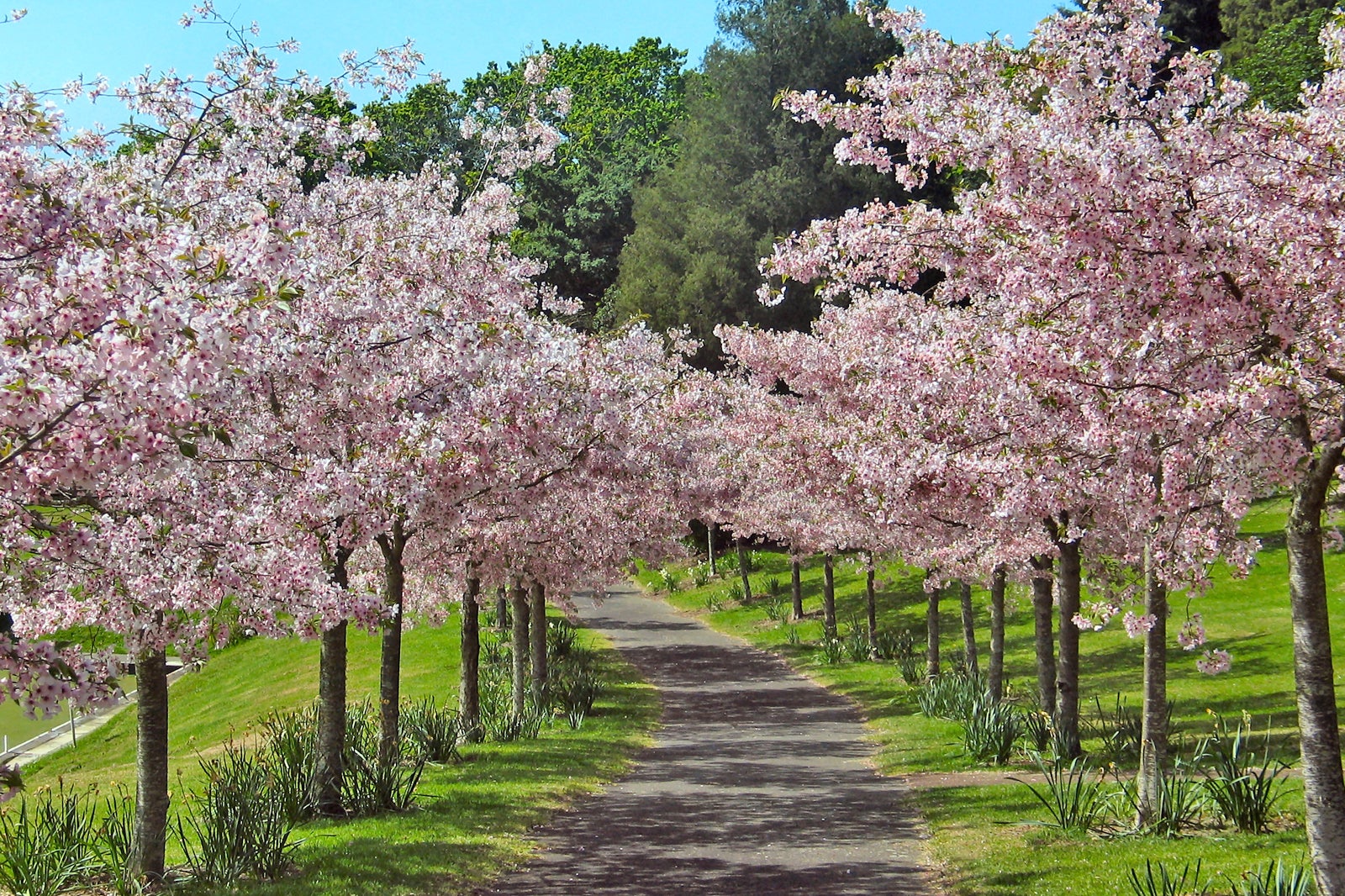 Enjoy a picnic at Auckland Domain
Find a beautiful photo-op in the city's oldest park
Auckland Domain is one of the city's most popular municipal parks. Resting in an ancient volcano crater, this enamours park is home to a variety of walking trails, shady resting points, and beautiful photo-ops.
Many of the city's outdoor events take place here, such as Christmas Carols and performances by the New Zealand Symphony. The Domain is an ideal place for summer picnics and leisurely strolls.
Location: Park Rd, Grafton, Auckland 1010, New Zealand
Couples
Families
Photo
Group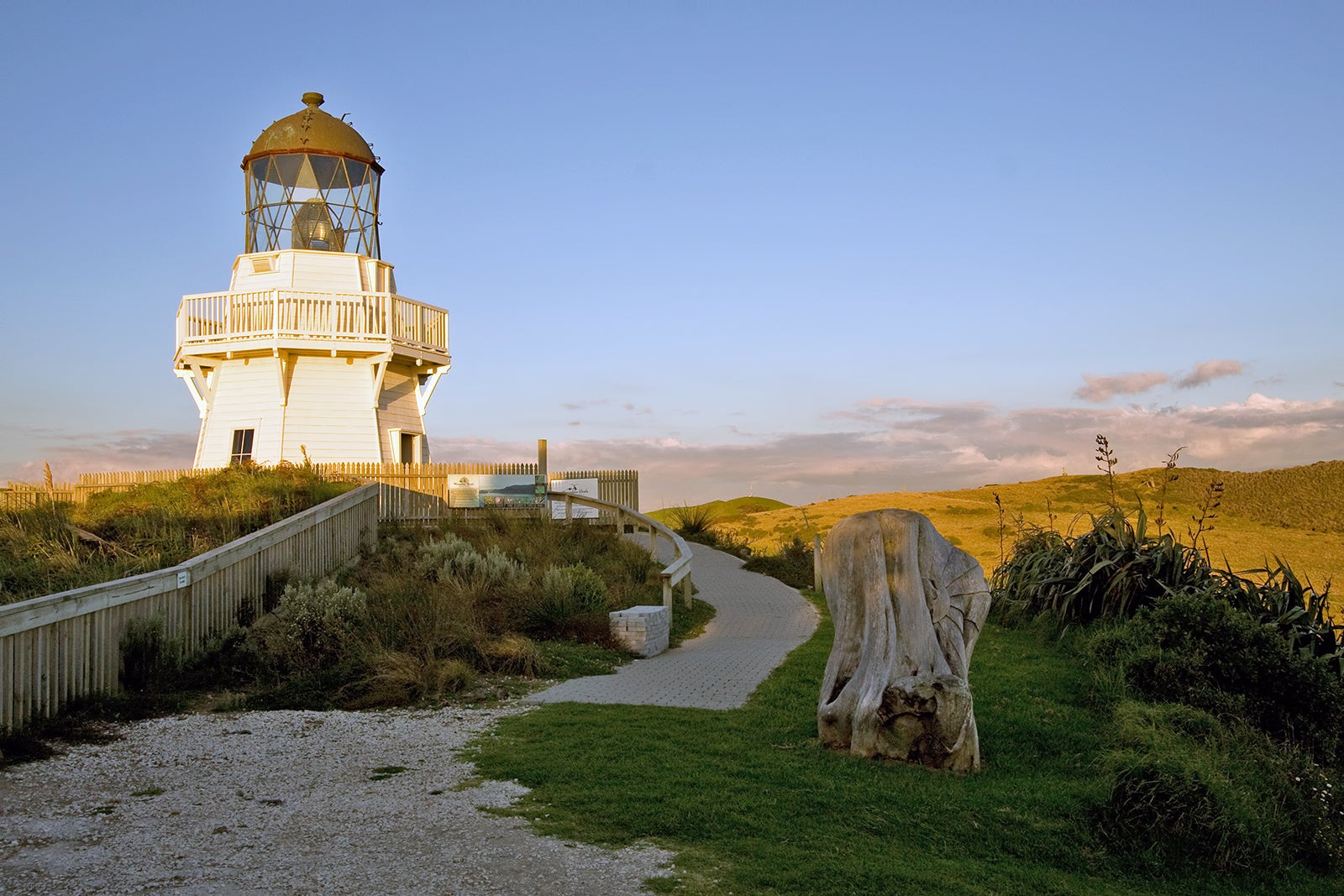 Watch the sunset at Awhitu Lighthouse
A picture-perfect lighthouse overlooking the Tasman Sea
At Awhitu Lighthouse, you can enjoy a stunning sunset in the Awhitu Peninsula, just a short drive away from Auckland proper. The historic lighthouse looks out to the Tasman Sea, which is often frequented by dolphins and old ships making their way out of New Zealand. Visiting the lighthouse is free, but donations are welcomed. You can find the donation box inside the lighthouse, below the stairs.
Location: 759 Manukau Heads Rd, Huia, Manukau Heads 2684, New Zealand
Open: Daily from 9am to 5pm
Phone: +64 9-235 1458
photo by russellstreet (CC BY-SA 2.0) modified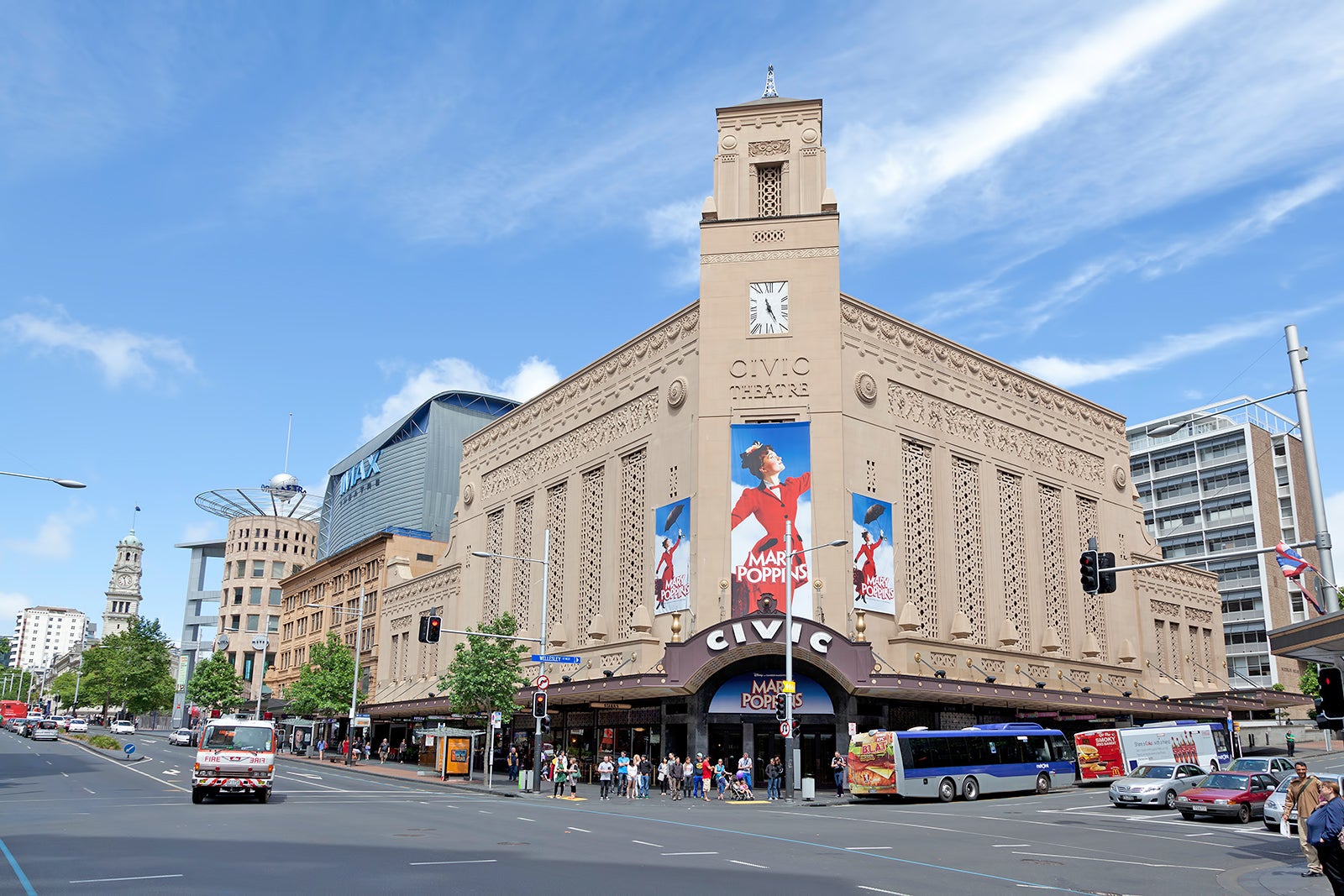 Catch a play at The Civic
This theatre was featured in Peter Jackson's film, King Kong
The Civic is a luxurious atmospheric hall that gives the illusion of being an outdoor amphitheatre. Built in 1929 and reopened at the turn of the millennium, the concert venue features a royal blue roof dotted with twinkling stars (a recreation of the southern celestial hemisphere), as well as an Indian-themed foyer and opulent bars.
This 1920s theatre showcases just about everything, from plays and symphonies, to modern music concerts and movies. There are also plenty of eating and drinking options at The Civic, so get there early if you'd like to enjoy a drink before the show.
Location: 269–287 Queen Street, Corner Queen Street & Wellesley Street, Auckland, New Zealand
Open: Box office: 90 minutes prior to a performance
Phone: +64 9-309 2677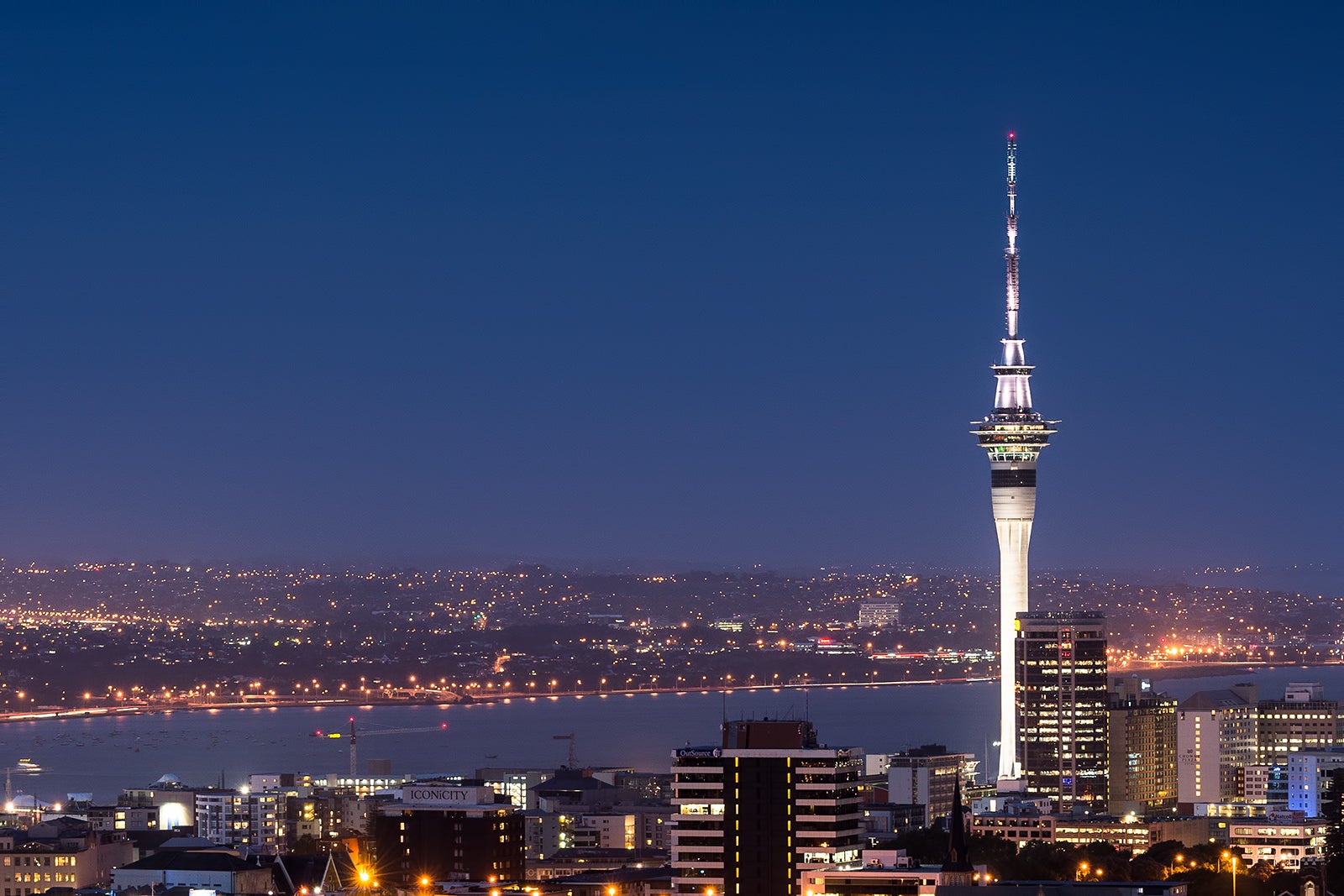 End the day at Sky City
Finish off your trip with a game of blackjack and dinner in a rotating restaurant
Sky City is a casino, restaurant, and hotel combination located in the heart of downtown Auckland. The Sky City Auckland Casino stays open year-round, meaning you can enjoy non-stop fun and excitement.
Wrapped up in 1 luxurious venue, you'll find some of the world's most popular casino games, fantastic live entertainment, and great bars. The soaring Sky Tower is located here as well, where you can enjoy a meal in the rotating restaurant with the sparkling city lights as your backdrop.
Location: Victoria Street &, Federal St, Auckland, 1010, New Zealand
Open: 24/7
Phone: +64 9-363 6000