10 Best Nightlife Experiences in Belfast
Where to Go in Belfast at Night
Belfast is renowned for its love of a good time, what locals refer to as 'the craic', and you'll find a rich and varied nightlife to keep you entertained during your stay.
This compact city is known for its lively pub scene – you'll find everything from historical alehouses serving pints of stout to the lilting melodies of traditional Irish music to gastropubs serving up crocodile steaks washed down with delicious craft beers. There are also trendy rooftop cocktail bars serving up stunning city views along with their cocktails, as well as a kitschy club that harkens back to a Soviet-style chic. There are plays and shows galore too. When it comes to nightlife, Belfast isn't found wanting. Check out the best nightlife experiences in Belfast below.
1
Limelight
Check out this decadent haunt on trendy Ormeau Avenue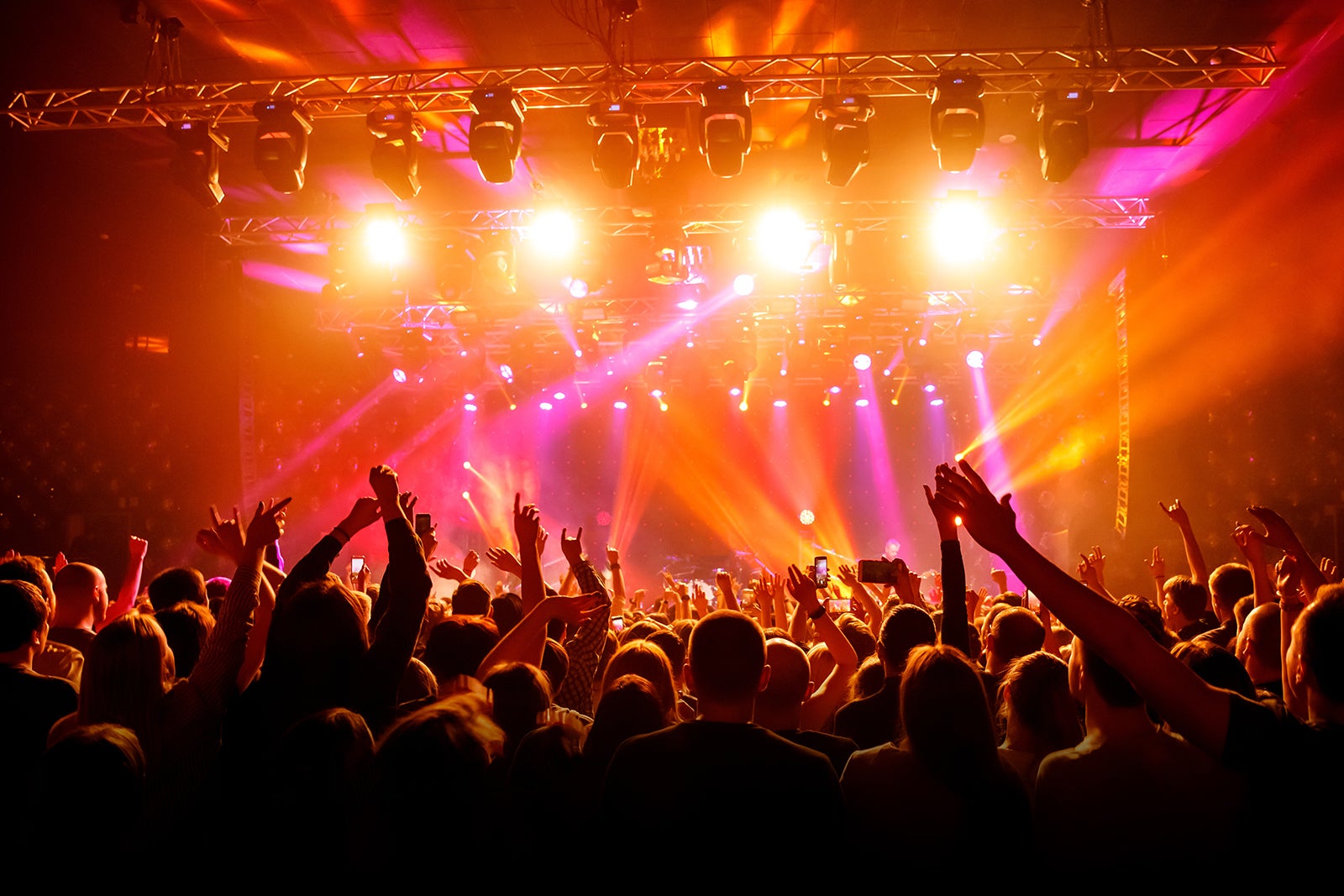 The Limelight is a nightlife entertainment complex in Belfast home to several cool venues. It consists of a dance club (Limelight 1), a live music venue (Limelight 2), a traditional bar (Katy's bar), and a rooftop terrace bar (The Rock Garden). This spot attracts large crowds at the weekends and is especially popular with the city's large student population. The venue caters to the city's students on weekdays too, hosting regular student nights throughout the week with discounts and special drink offers available.
The Limelight is located on Belfast's trendy Ormeau Avenue, not far from the bustle of the city centre. Some of the great rock and alternative bands have played here over the years, including Manic Street Preachers, Primal Scream, and Oasis. Be sure to check ahead to see what's on while you're in town.
Location: 17 Ormeau Ave, Belfast BT2 8HD, UK
Open: Hours vary by venue
Phone: +44 (0)2890 327007
2
Kremlin
Party on at Belfast's longest-running gay club
Kremlin was Northern Ireland's first gay club and remains a centrepiece of the local LGBT scene. This Soviet kitsch-themed club contains a sophisticated cocktail lounge, a 2-floor disco bar, and a nightclub. Open 5 nights a week, entertainment includes everything from club nights, special guest DJs, and drag acts.
The party begins at 10 pm with last orders at 1 am, though things don't usually grind to a halt until around 3 am. Located on Donegall Street in Belfast's hip Cathedral Area, there are several other gay clubs nearby, including Boombox and Maverick on Union Street.
Location: 96 Donegall St, Belfast BT1 2GW, UK
Open: Sunday–Tuesday and Thursday–Saturday from 10 pm to 3 am (closed on Mondays and Wednesdays)
Phone: +44 (0)2890 316060
photo by William Murphy (CC BY-SA 2.0) modified
3
Belfast Pub Crawl
Bar hopping around Belfast's vibrant pub scene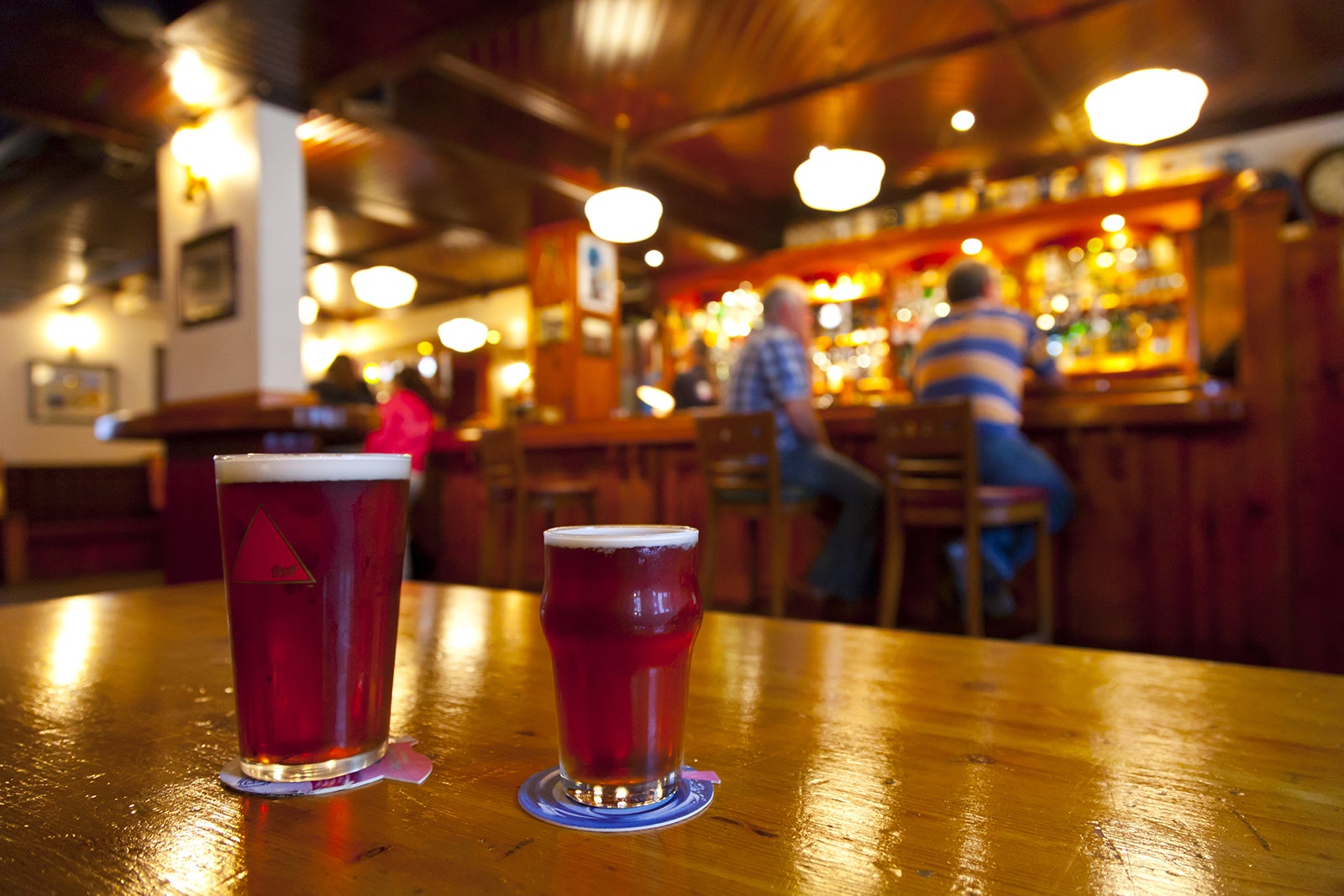 Belfast Pub Crawl organises weekend guided tours of Belfast's lively pub scene. For a night on the tiles, a few drinks, and lots of traditional Irish music and craic, this is a great way to see the city and meet some new people in the process.
The Belfast Pub Crawl runs every Friday and Saturday night from 8 pm, or 7 pm if you want dinner included. Revellers meet at the historic Albert Clock, before heading to the first of 4 bars: McHugh's, followed by Bittles Bar, White Tavern, and Kelly's Cellars. Booking ahead is essential and can be done online.
Location: Albert Memorial Clock, 17 Queens Square, Belfast BT1 3FF, UK
Open: Friday and Saturday from 8 pm to 11.30 pm
Phone: +44 (0)77 1260 3764
4
The Crown Liquor Saloon
Drink in the architectural delights of this local landmark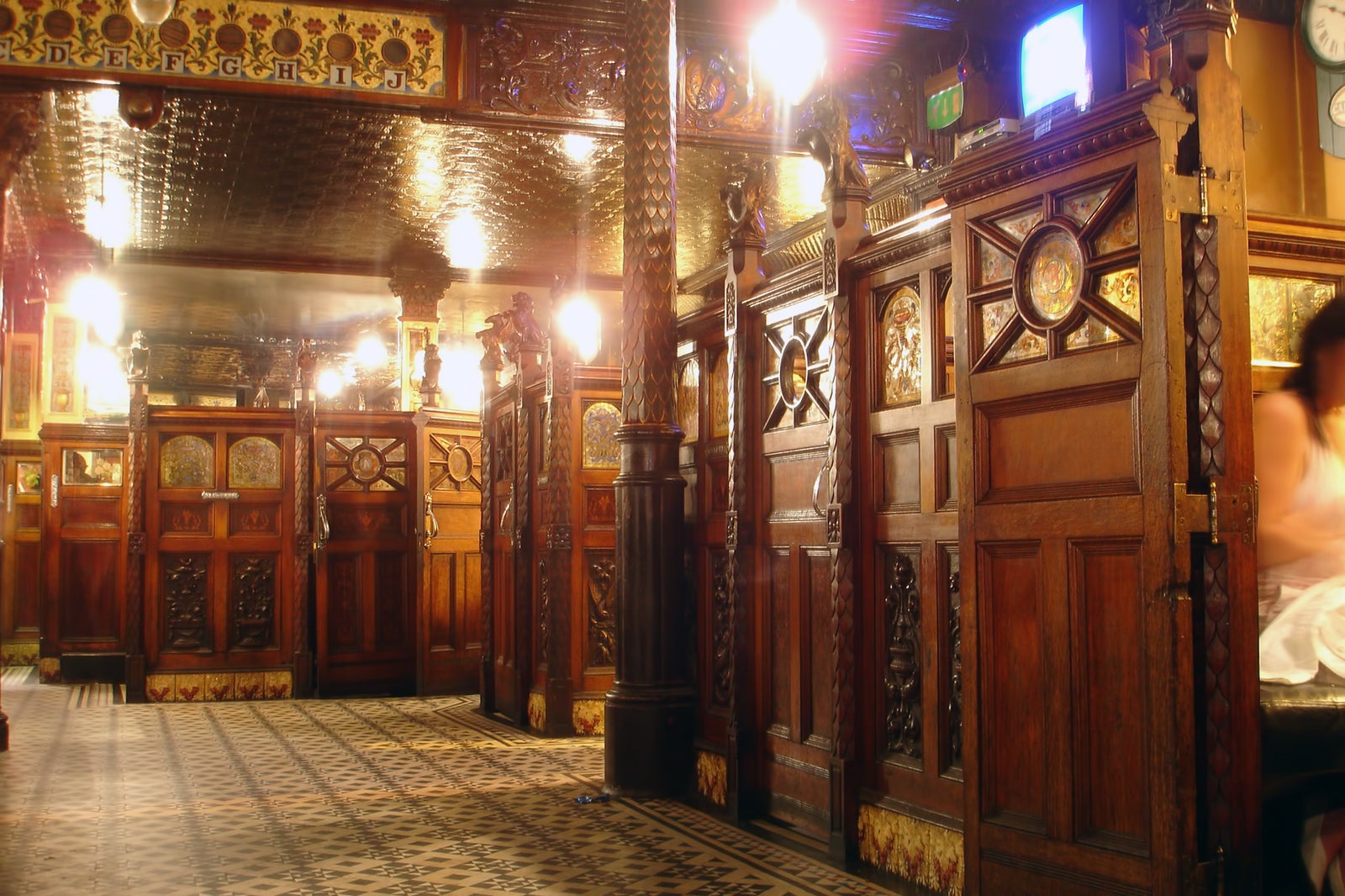 The Crown Liquor Saloon, known locally simply as 'The Crown', is one of Belfast's most beautiful and distinctive bars. The exterior is decorated in ornate 19th-century tiles, a legacy of Italian craftsmen who worked locally. Inside you'll find 10 carved mahogany booths, or snugs, where drinkers can have a little privacy while sharing a drink. The stained-glass windows inside are worth a look too.
The Crown is a Belfast landmark and features in many walking tours as well as pub crawls. You may even recognise it from movies such as Divorcing Jack and the classic 1947 movie Odd Man Out. You'll find lots of craft beers on offer here, as well as the ubiquitous Guinness.
Location: 46 Great Victoria St, Belfast BT2 7BA, UK
Open: Monday–Saturday from 11.30 am to midnight, Sunday from 12.30 pm to 11 pm
Phone: +44 (0)28 9024 3187
photo by Neil Rickards (CC BY 2.0) modified
5
Kelly's Cellars
Step back in time in one of Belfast's oldest alehouses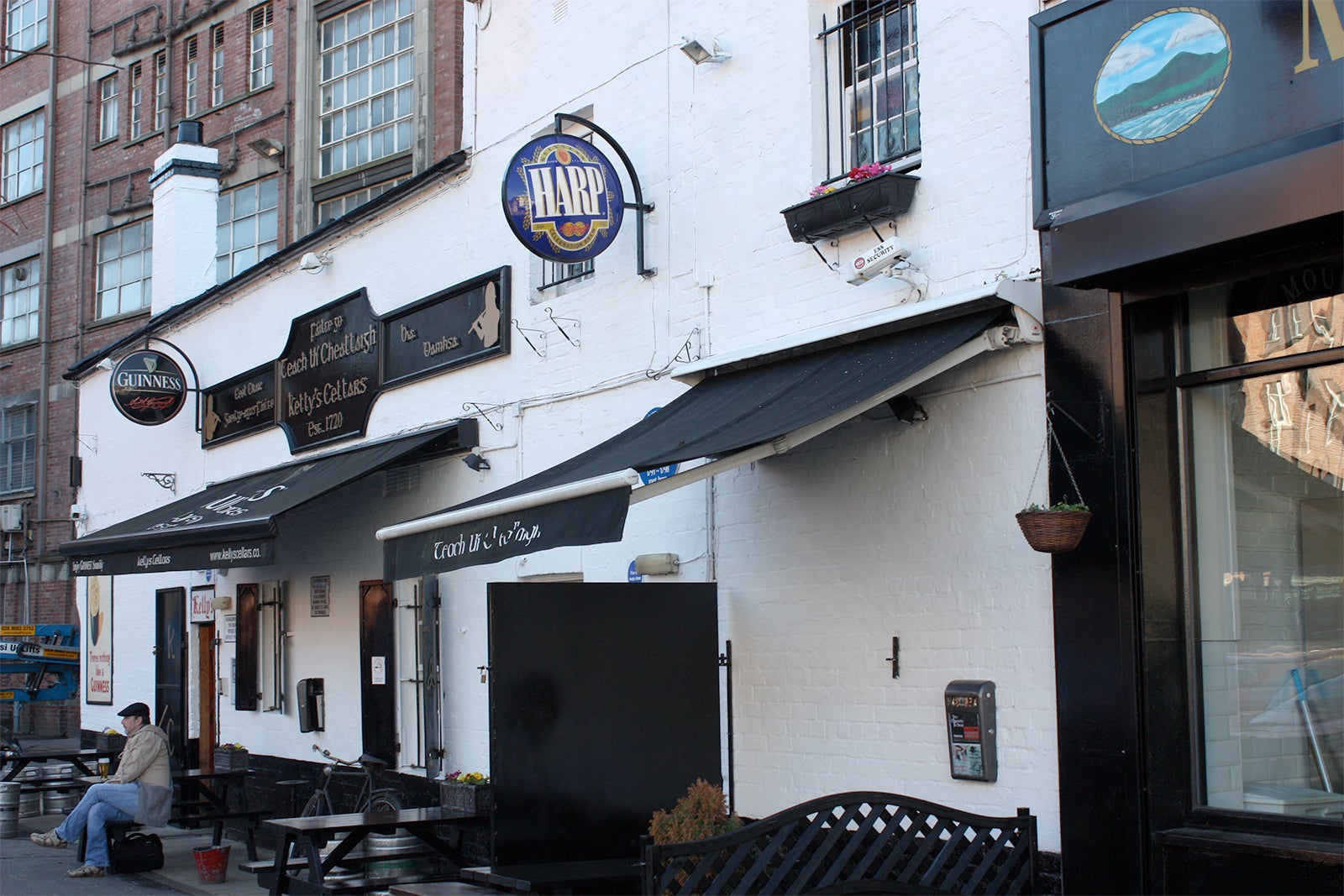 Dating back to 1720, Kelly's Cellars is one of Belfast's oldest pubs and tradition plays a big role here. With a wide selection of craft beers and whiskeys to choose from, you can enjoy your drink with some traditional Irish music as Kelly's hosts traditional Irish music sessions 4 times a week. This pub is steeped in local history, it was once a meeting point for the United Irishman while they planned the 1798 Rebellion. Many of the staff here are Irish speaking, so it's a great opportunity to practise a few words of one of Europe's oldest living languages too.
Located in Belfast city centre, Kelly attracts a lively mix of local and tourist drinkers. They serve a mean pint of Guinness and their Irish stew is hearty fare. Kelly's is a well-known stop-off point for some of Ireland's travelling musicians, so chances are good you'll hear some of the best music the trad scene has to offer.
Location: 30-32 Bank St, Belfast BT1 1HL, UK
Open: Monday from 11:30 am to midnight, Tuesday to Saturday from 11:30 am to 1 am, Sunday from 1 pm to midnight
Phone: +44 (0)28 9024 6058
photo by Ardfern (CC BY-SA 3.0) modified
6
The Morning Star
Fill your belly at this award-winning gastropub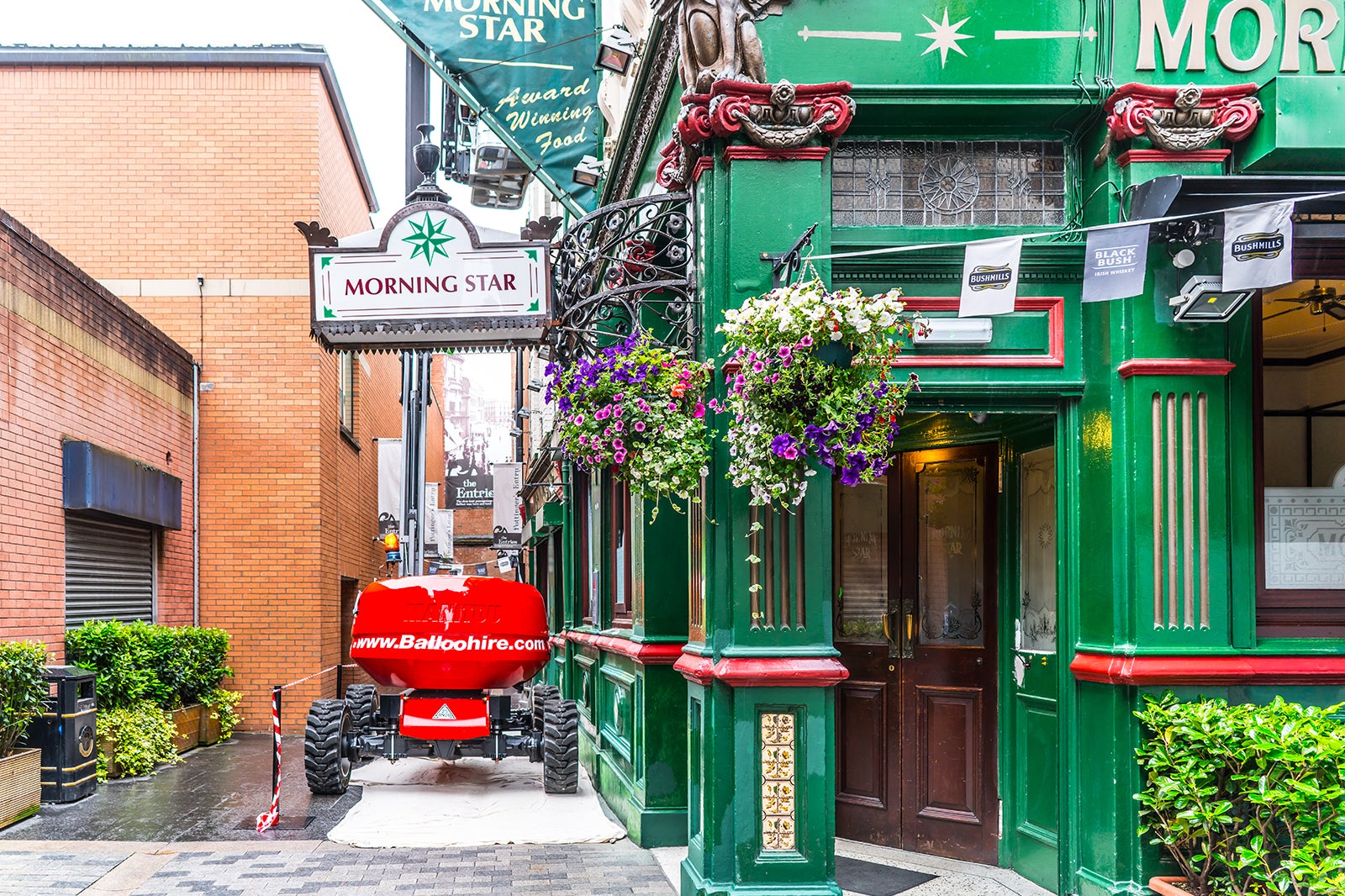 The Morning Star is one of Belfast's most charming pubs with a history stretching back to 1810. Located in a Victorian Grade 2-listed building, the interior still contains the original mahogany counter and old terrazzo floor. The Morning Star is actually 2 bars. While the downstairs bar offers traditional pub fare and a daily buffet, upstairs you'll find a 120-seat restaurant. The food here is excellent. In fact, it's so good the place once won the Restaurant Association of Ireland's award as Best Gastropub. You'll find everything from handmade burgers and sausages to pan-fried kangaroo and crocodile making an appearance on the menu.
The Morning Star is located down an entry between Ann Street and High Street near the city centre. The place is marked by an impressive and prominent Victorian sign jutting from the corner of the building.
Location: 17-19 Pottingers Entry, Belfast BT1 4DT, UK
Open: Monday–Saturday from 10.30 am to 1 am, Sunday from 12 pm to 11 pm
Phone: +44 (0)28 9023 5986
photo by William Murphy (CC BY-SA 2.0) modified
7
The Perch Rooftop Bar
Make this the highpoint of your night on the town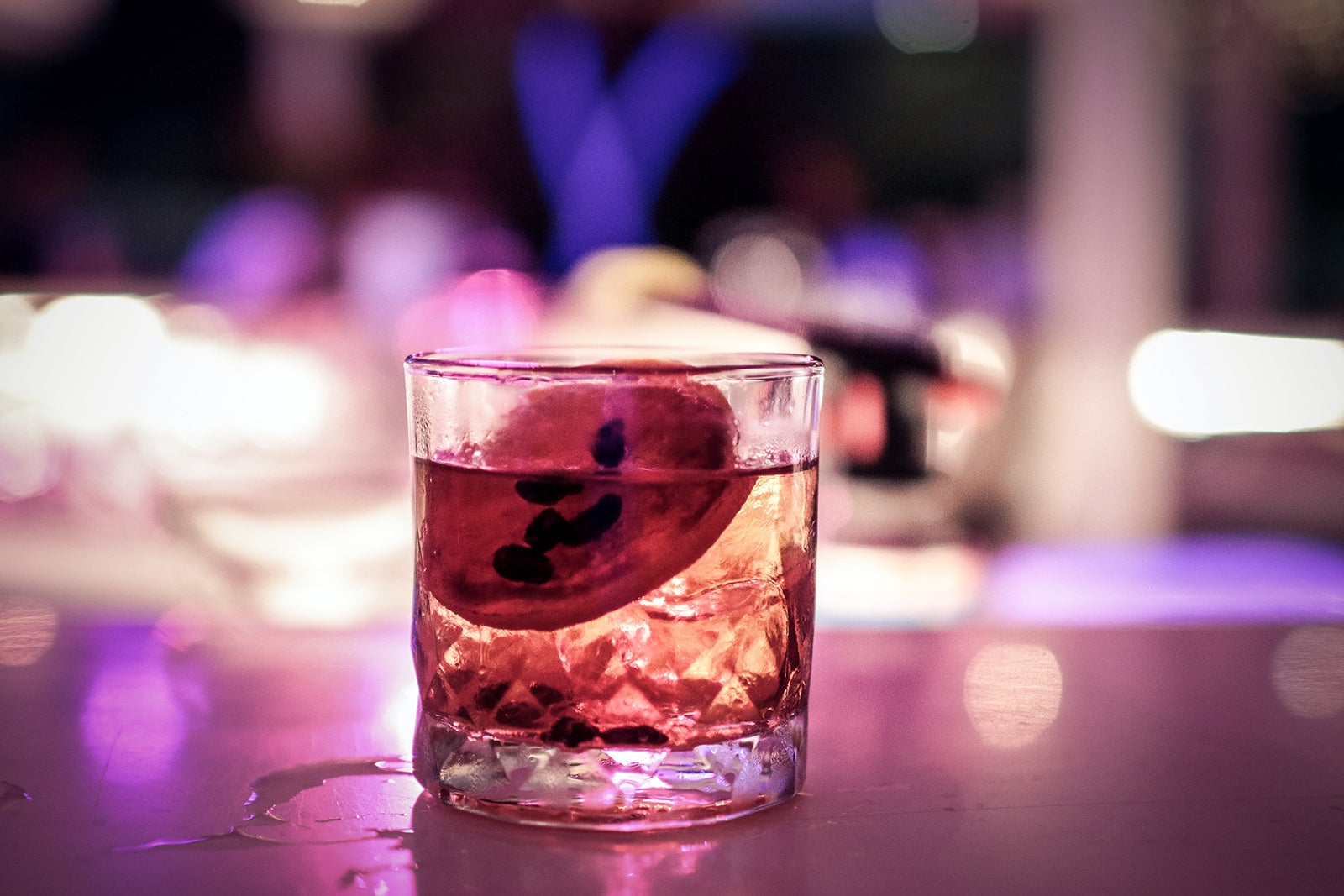 The well-named The Perch Rooftop Bar sits 5 storeys above the city's historic Linen Quarter, offering a relaxed spot to enjoy a cocktail or 2 along with a slice of their delicious pizza.
Located in a converted Victorian-era warehouse, The Perch is the highest bar in this low-rise city. Funkily decorated, seating is arranged around a central rectangular bar here and, if cocktails aren't your thing, there are a good selection of craft beers and whiskeys to choose from too. This is a great spot to chill, especially in summer. If you want to carry on the party, there's a nightclub downstairs to continue your night.
Location: 42 Franklin St, Belfast BT2 7GE, UK
Open: Monday–Sunday from 5 pm to 1 am
Phone: +44 (0)28 9024 8000
8
Lyric Theatre
Enjoy a play or a guided tour at this dramatic location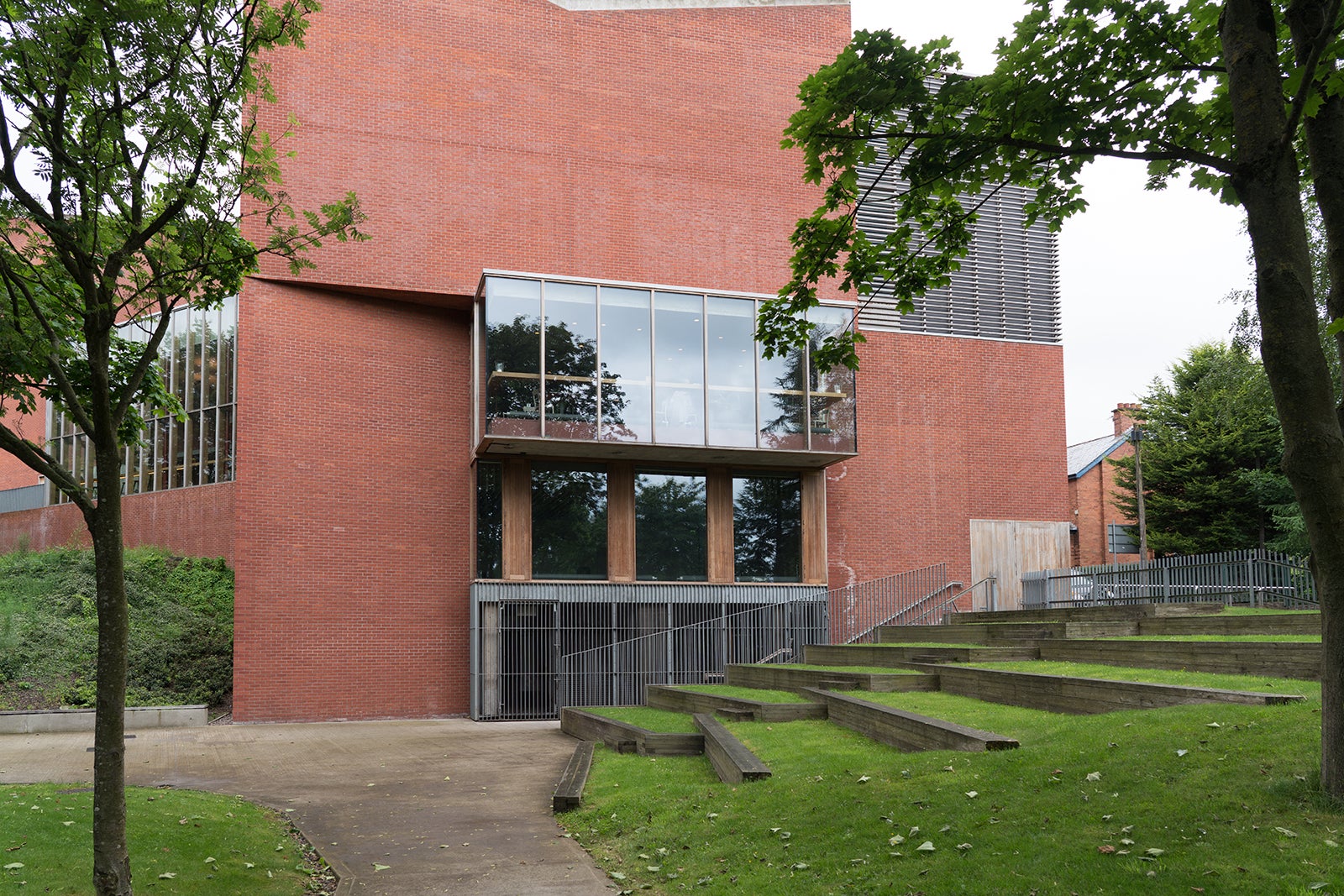 The Lyric Theatre is Northern Ireland's only theatre with an all-year-round programme. The award-winning red brick, glass, and wood building also houses a cafe bar with beautiful views over the River Lagan. As well as dramatic performances, The Lyric also offers free guided tours, regular art exhibitions, and runs a theatre school programme too.
Open 7 days a week, the theatre usually holds evening performances from Tuesday through to Saturday, with matinees on Saturdays and Sundays. The coffee bar is open daily serving coffee and tea and a selection of light lunches. Wi-Fi is also available.
Location: 55 Ridgeway St, Belfast BT9 5FB, UK
Open: Tuesday–Saturday from 9 am to 11 pm, Sunday–Monday from 9 am to 5 pm
Phone: +44 (0)28 9038 1081
photo by William Murphy (CC BY-SA 2.0) modified
9
Waterfront Hall
Catch a show while in town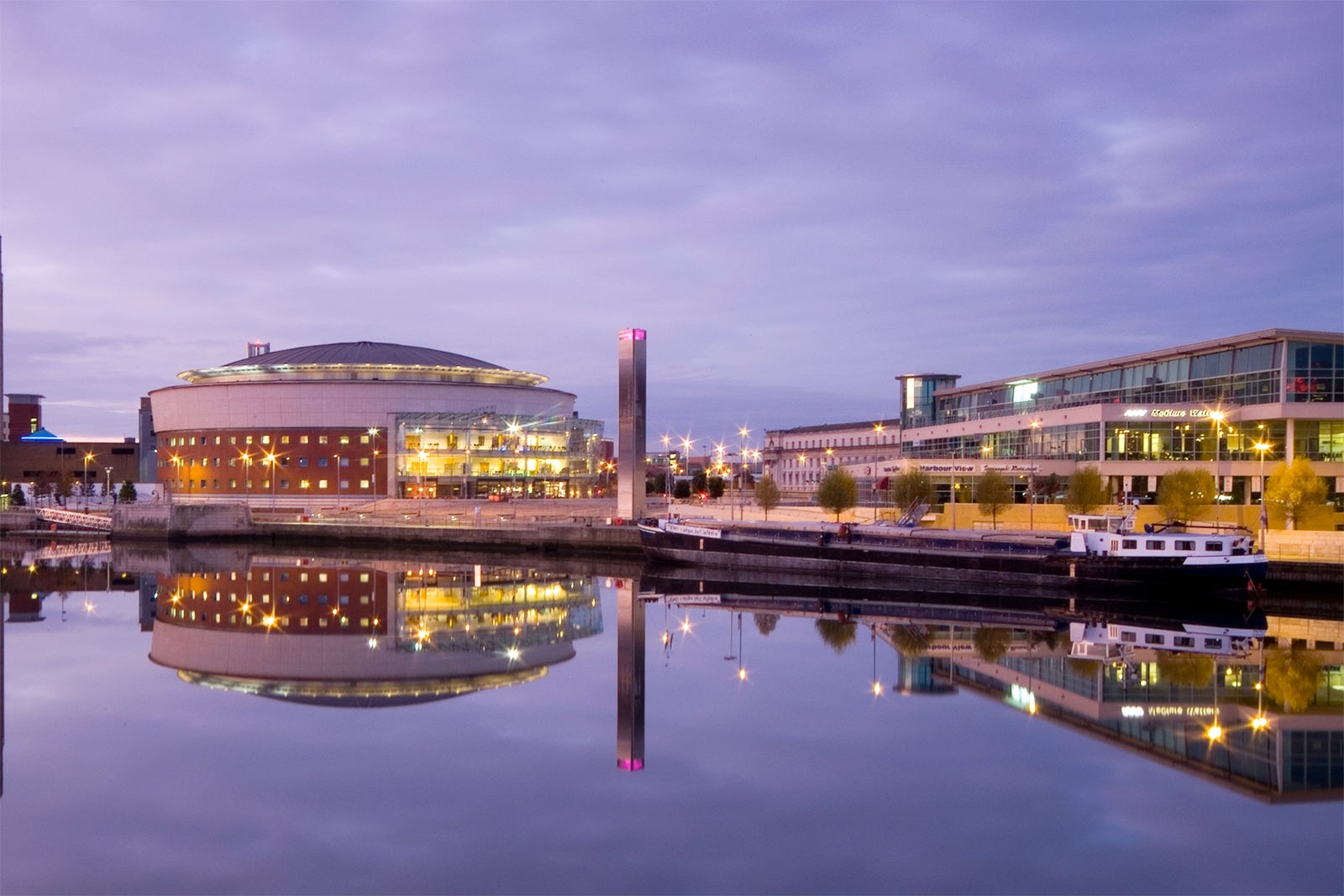 Waterfront Hall is an entertainment venue and conference hall that has played host to some of the best-known entertainers and speakers from around the world. From U2 to Jimmy Carr, you'll find the biggest names from the entertainment world here – be sure to check ahead to see what's on while you're in town. There's also a well-stocked bar for some pre-show drinks.
The Hall is just a 10-minute walk from the city centre and 5 minutes from Lanyon Place train station. There is some on-street parking available, as well as several nearby car parks.
Location: 2 Lanyon Pl, Belfast BT1 3WH, UK
Open: Showtimes vary
Phone: +44 (0)28 9033 4400
photo by EHRENBERG Kommunikation (CC BY-SA 2.0) modified
10
Comedy nights in Belfast
Get your funny bone tickled at one of the city's comedy nights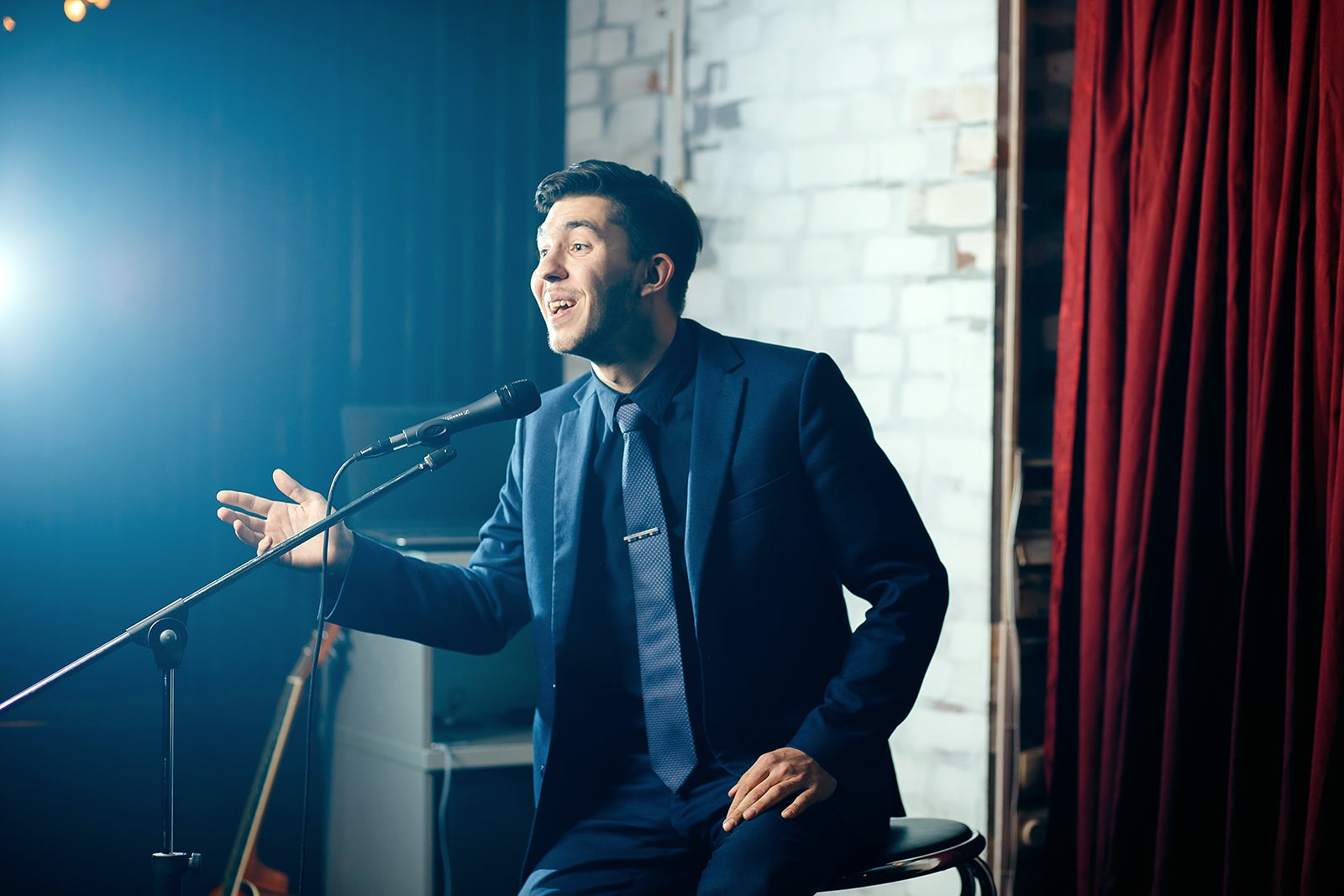 For a city famous for its love of the craic, it's no surprise that there's a lively local stand-up comedy scene in Belfast. While the city doesn't yet have a dedicated comedy club, several local pubs and clubs play host to regular comedy nights offering visitors a potent sprinkle of seasoned veterans amid a sea of eager open-mike performers.
You'll find plenty to tickle your funny bone on a night out in Belfast, some of the best comedy nights include the longstanding The Empire Laughs Back at The Empire and Queen's Comedy Club run by the Queen's University Students' Union. If you're brave enough to grab the mic yourself, try the Monday Night Comedy Club held at the Pavilion Bar on Ormeau Road.
Back to top