10 Best Things to Do in Bergen
What is Bergen Most Famous For?
Bergen is a fascinating historical city, nestled in beautiful surroundings. The second-largest city in Norway, it retains its small-town charm and welcoming atmosphere. It's a cultural hub, with outstanding museums, galleries, historical areas and special events. It also has a modern and youthful vibe, thanks to the fact that students make up about 10% of the local population.
When it comes to things to do in Bergen, it's not all about urban attractions. Natural escapes are just minutes away. The port at the heart of Bergen is the gateway to the amazing fjords which make up the Norwegian coastline, and the city itself is ringed by 7 mountains, several of which are very easily reached and climbed.
What are the best things to do in Bergen?
1
Bryggen
Traditional shops and restaurants in a historical setting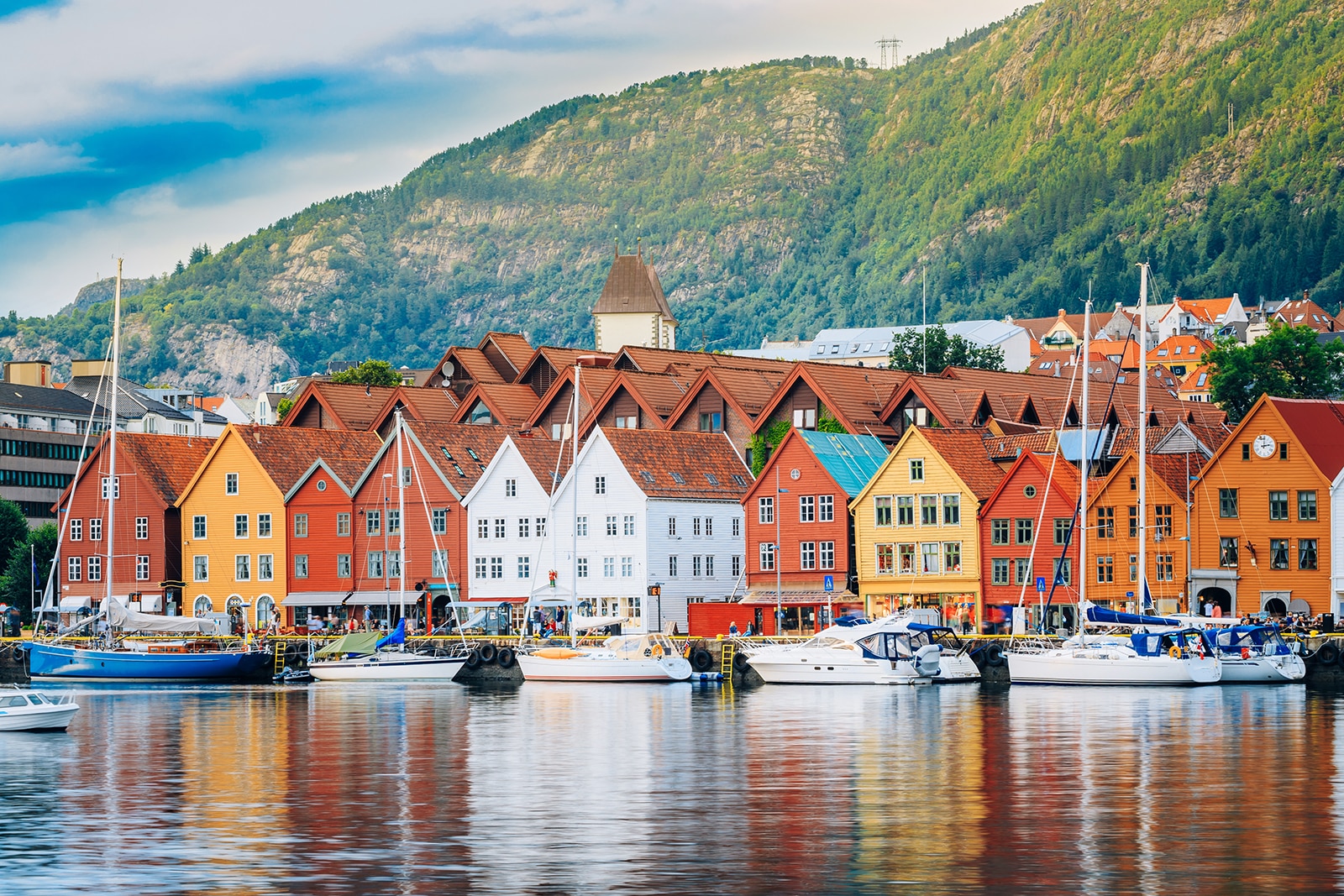 Couples
Families
Budget
History
Bryggen is the really old part of the modern city of Bergen. It was built in its current form after a major fire in 1702, but has existed since the 12th century. The area flourished in its role as a major North Sea trading port and economic hub. The narrow, cobbled alleys and colourful wooden buildings north of the harbour are now a cultural hub and a UNESCO World Heritage site.
In your exploration of this fascinating area, you'll find plenty of shops selling traditional crafts, as well as a great choice of local restaurants and cafés. If you want to learn more about the history of the city, check out Bryggens Museum, Theta Museum and the Hanseatic Museum.
Read more
2
Fjord cruises
Explore Norway's uniquely beautiful coastline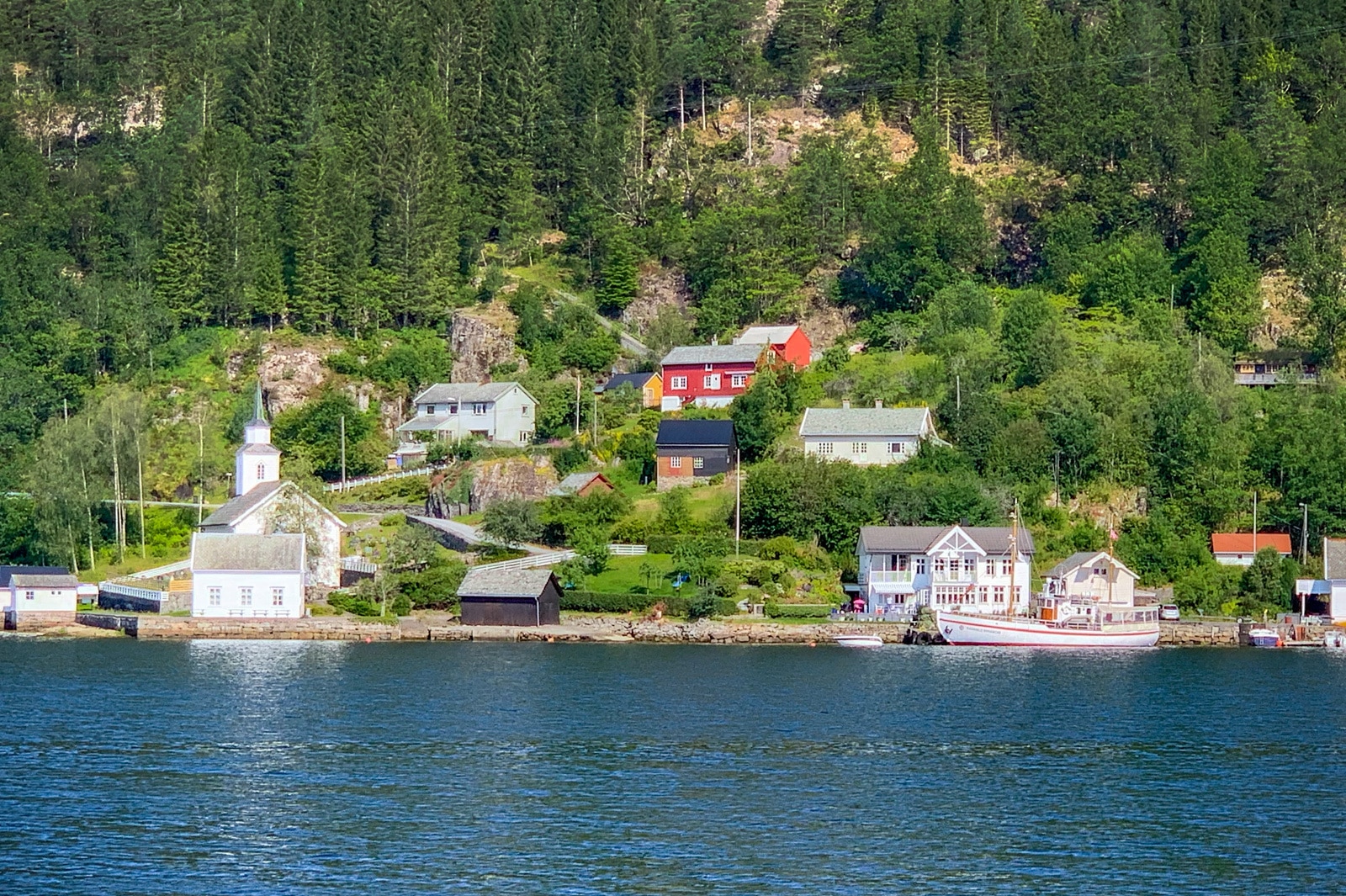 Norway is famous for its beautiful fjords, so you should definitely not miss the chance to explore a couple while you're in Bergen. The city itself is in a fjord and is a fantastic starting point for further exploring. Several companies offer cruises through the stunning landscape, with perhaps the most popular being a half-day tour to the Mostraumen strait. The Sognefjorden – the 'King of the Fjords' is also near to Bergen, and is the largest and deepest fjord in Norway. For a longer adventure, the Hurtigruten coastal ferry service sails from Bergen, right up the Norwegian coastline, to Kirkenes.
3
Eat fiskesuppe at the fish market
See Bergen's maritime heritage in action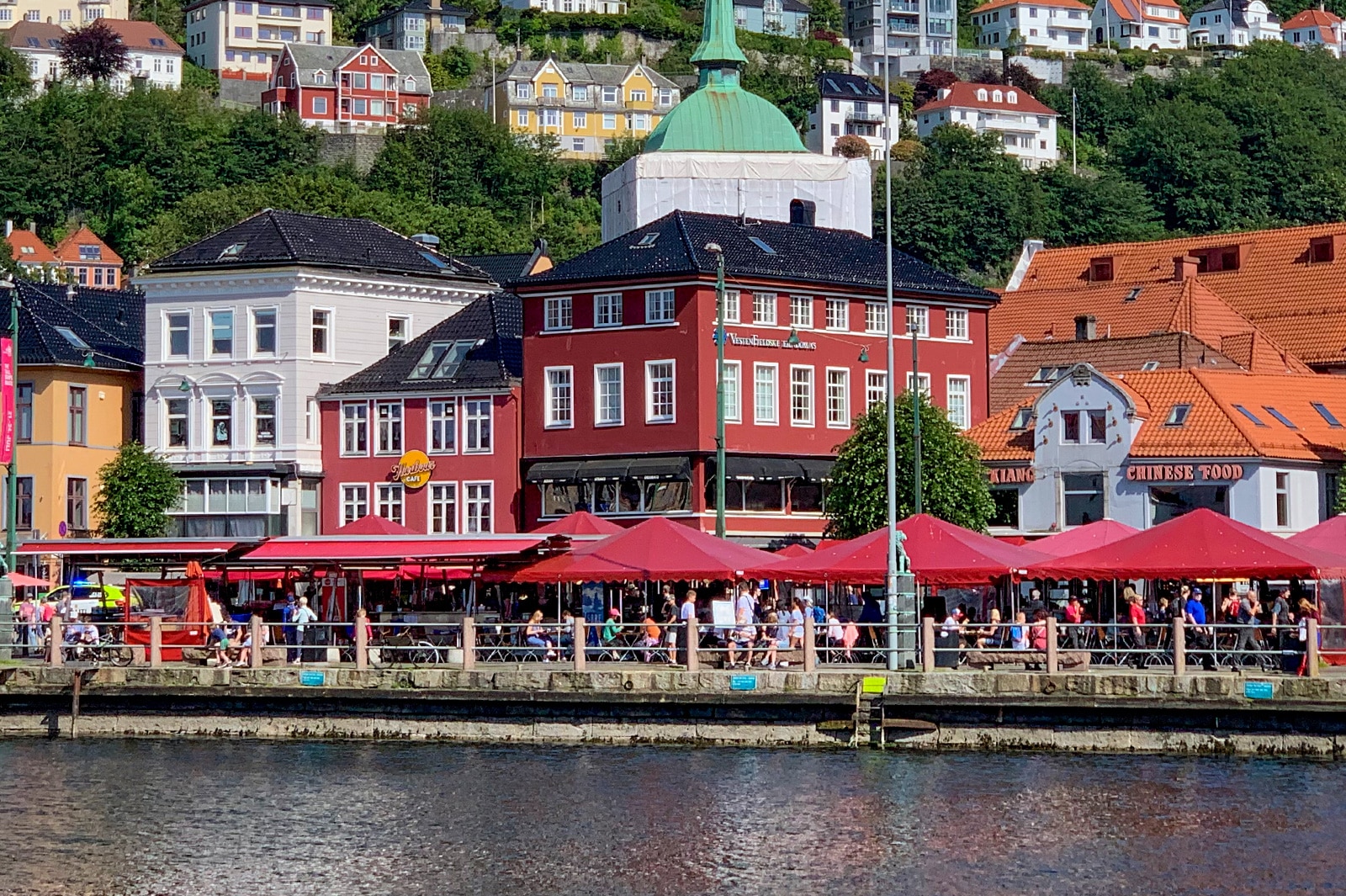 Bergen has a very long and proud association with the sea, and especially with the fishing industry. As a result, it's not that surprising that the main fish market is as much a tourist attraction as it is a busy shopping hub for locals. You can actually see the boats that brought the seafood in to Torget Fish Market just a few metres away, so you know it's fresh! Expect to see some impressive catches on the stalls, including king crabs, dried cod and lobsters. While you're there, be sure to try some fiskesuppe. It's a traditional local soup made with fish dumplings, prawns, mussels and vegetables, and it's available all over the city.
Location: Torget 5, 5014 Bergen, Norway
Open: Daily from 8 am to 11 pm (open until 9 pm in winter)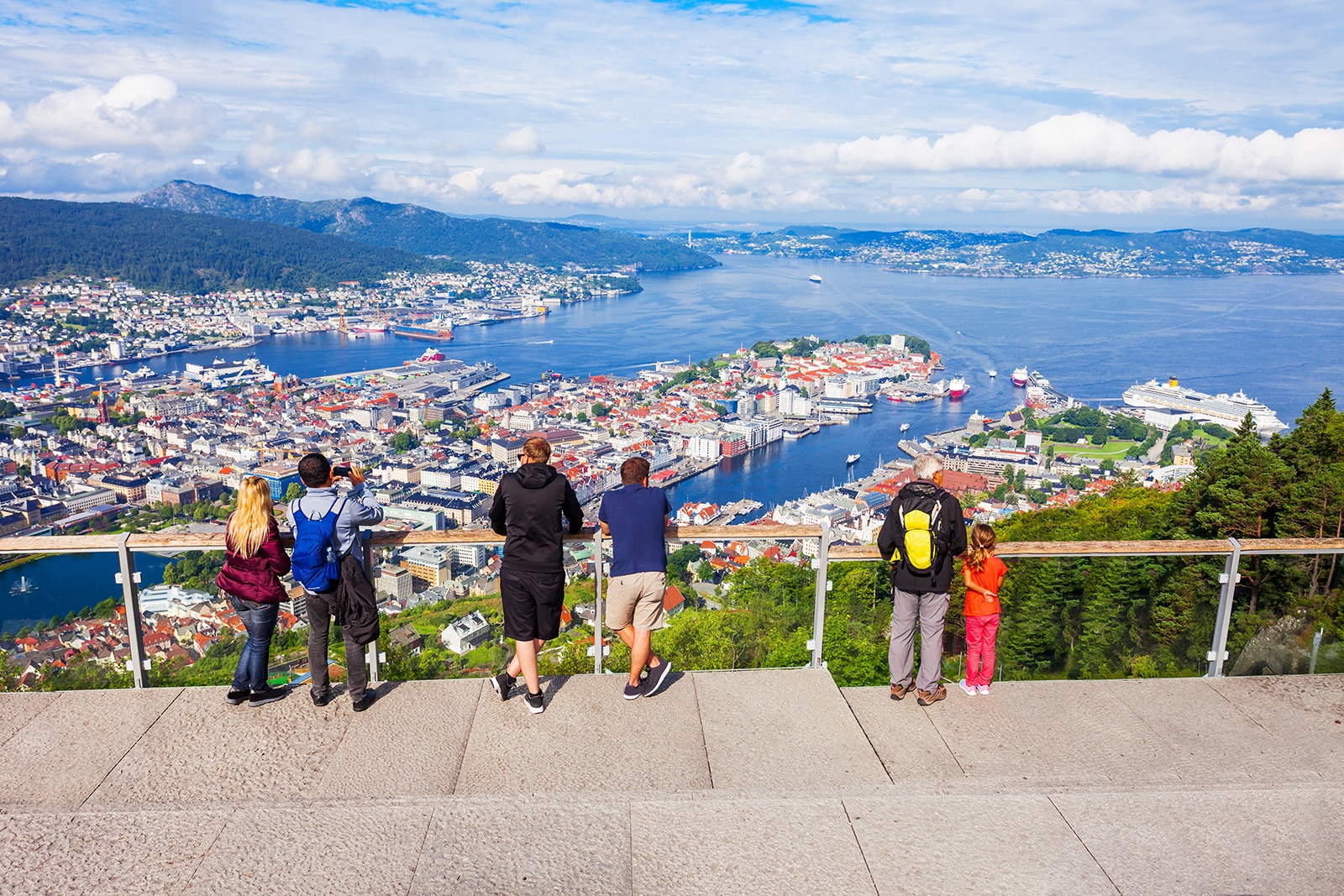 Of the 7 mountains surrounding Bergen, Fløyen is the most popular, mostly because it's the easiest to reach the top of. The Fløibanen funicular will take you to the top in about 8 minutes, giving you fantastic views to the south-east, across Bryggen and Bergen Harbour. There's a local restaurant at the summit, as well as a zipline park, plenty of hiking trails and a herd of friendly cashmere goats which keeps the greenery trimmed. The funicular departs from the station at the end of Vetrlidsallmenningen, near Bryggen.
Read more
Location: Vetrlidsallmenningen 21, 5014 Bergen, Norway
Open: Daily from 7.30 am to 11 pm
Phone: +47 55 33 68 00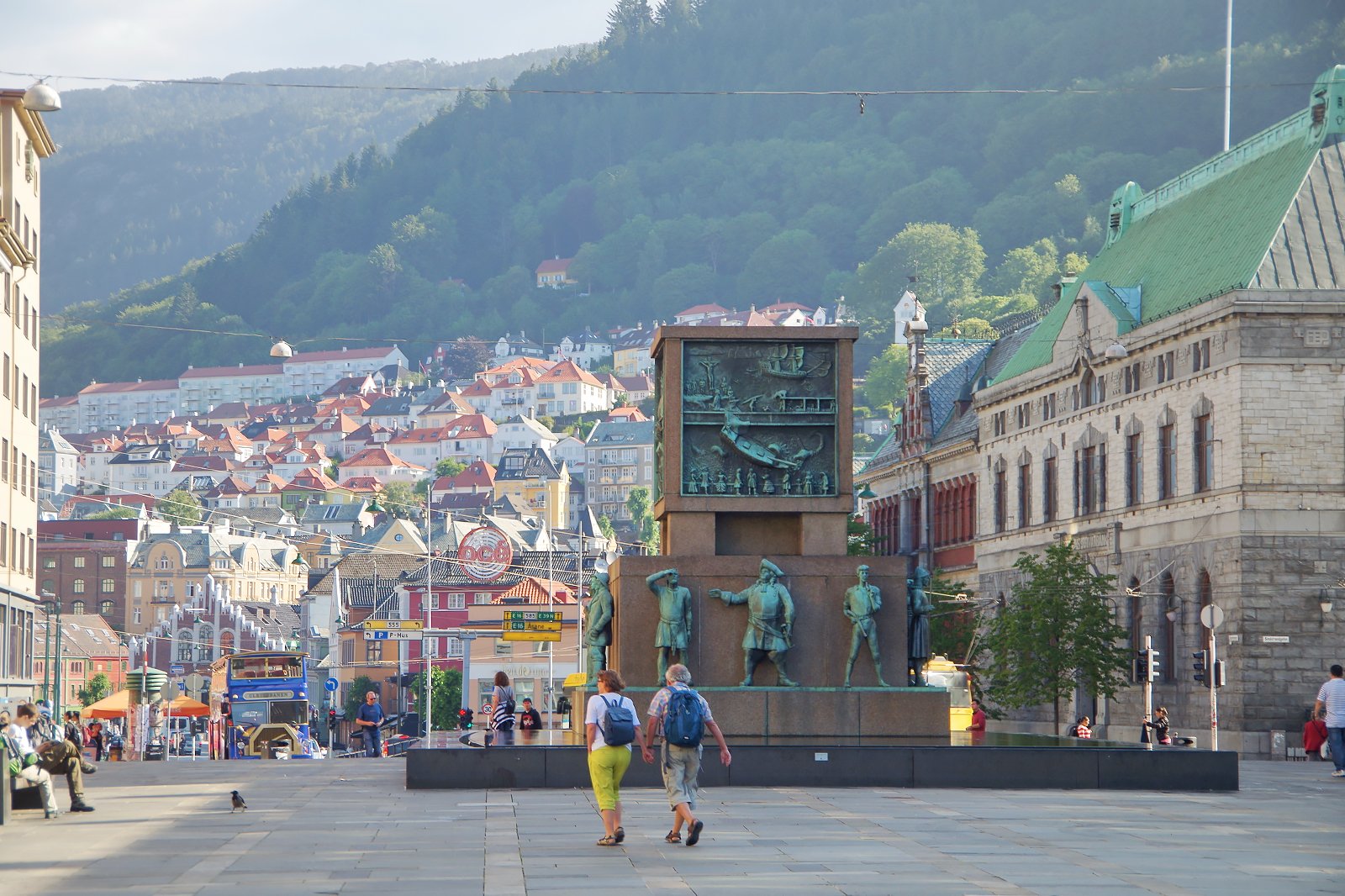 Torgalmenningen Square is right in the middle of Bergen's bustling city centre, a short walk away from the train station and close to the harbour. It was once the city's main market square, and it is still used for major events like the Bergen Game Festival. At the northern end of the square is the Sjømannsmonumentet or Sailor's Monument, which commemorates all of the many Norwegian contributions to seafaring since the Vikings. Not only is the square a generally popular place to meet up with friends, but it is surrounded by shops, restaurants and cafés.
Read more
photo by Balou46 (CC BY-SA 4.0) modified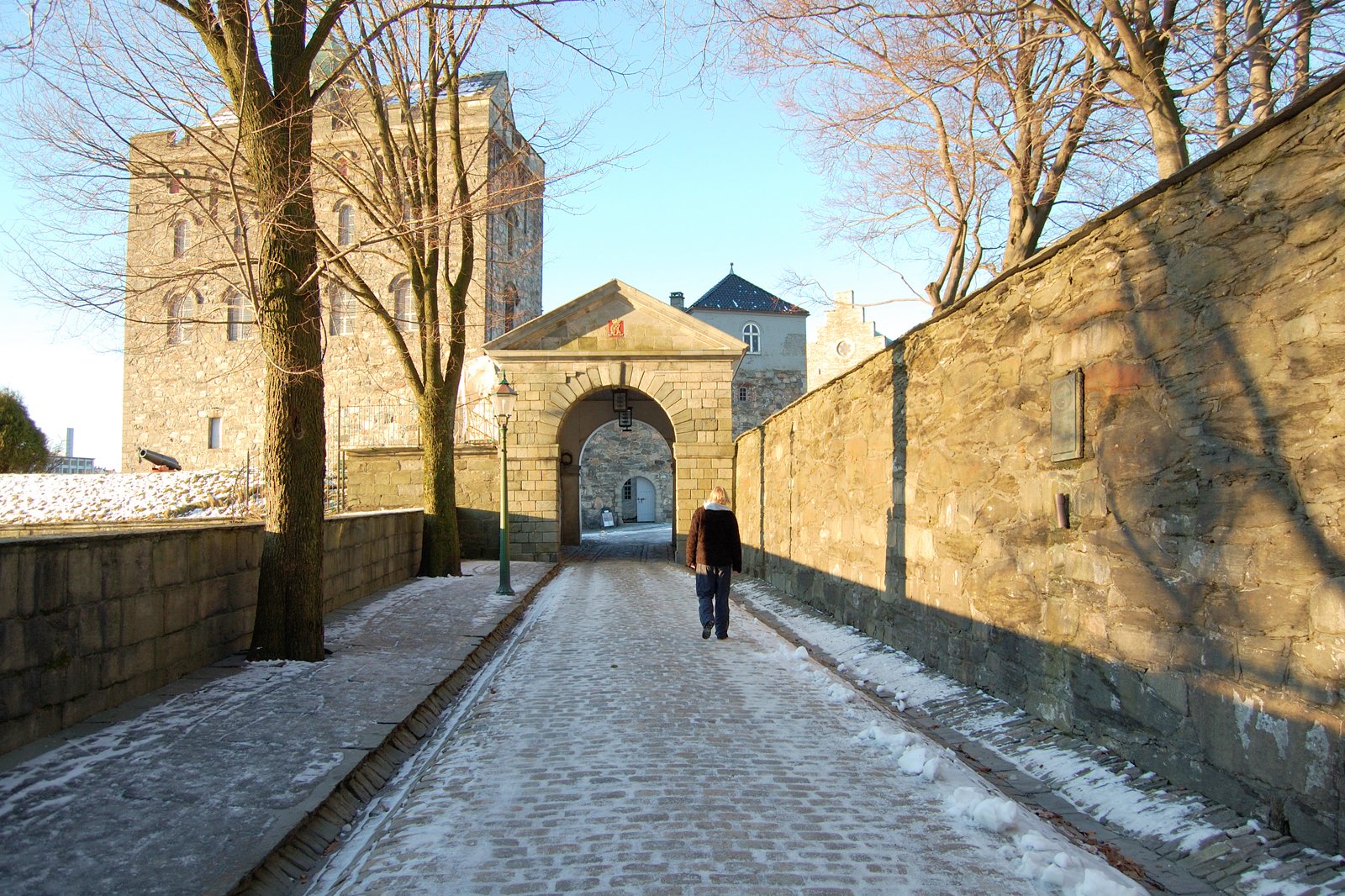 Bergenhus Fortress is one of the oldest fortifications in Norway, with some buildings dating back to the 1240s, while others were built as recently as the Second World War. As one of the main harbour defences in Bergen, it played a role in the Battle of Vågen in 1665 and continues to be an active military base to this day. It was also once a royal palace, when Bergen was the capital of Norway. It's now open to the public and is often used for exhibitions and live music concerts. Be sure to check out the Bergenhus Fortress Museum and walk the fortress trail for a look at the history and nature in the area. Visit on special national holidays to watch the dramatic gun salutes.
Read more
Location: Vågen, 5003 Bergen, Norway
Open: Daily from 6.30 am to 11 pm
Phone: +47 55 54 63 87
photo by Sveter (CC BY-SA 3.0) modified
7
KODE Art Museum
See works by Edvard Munch and JC Dahl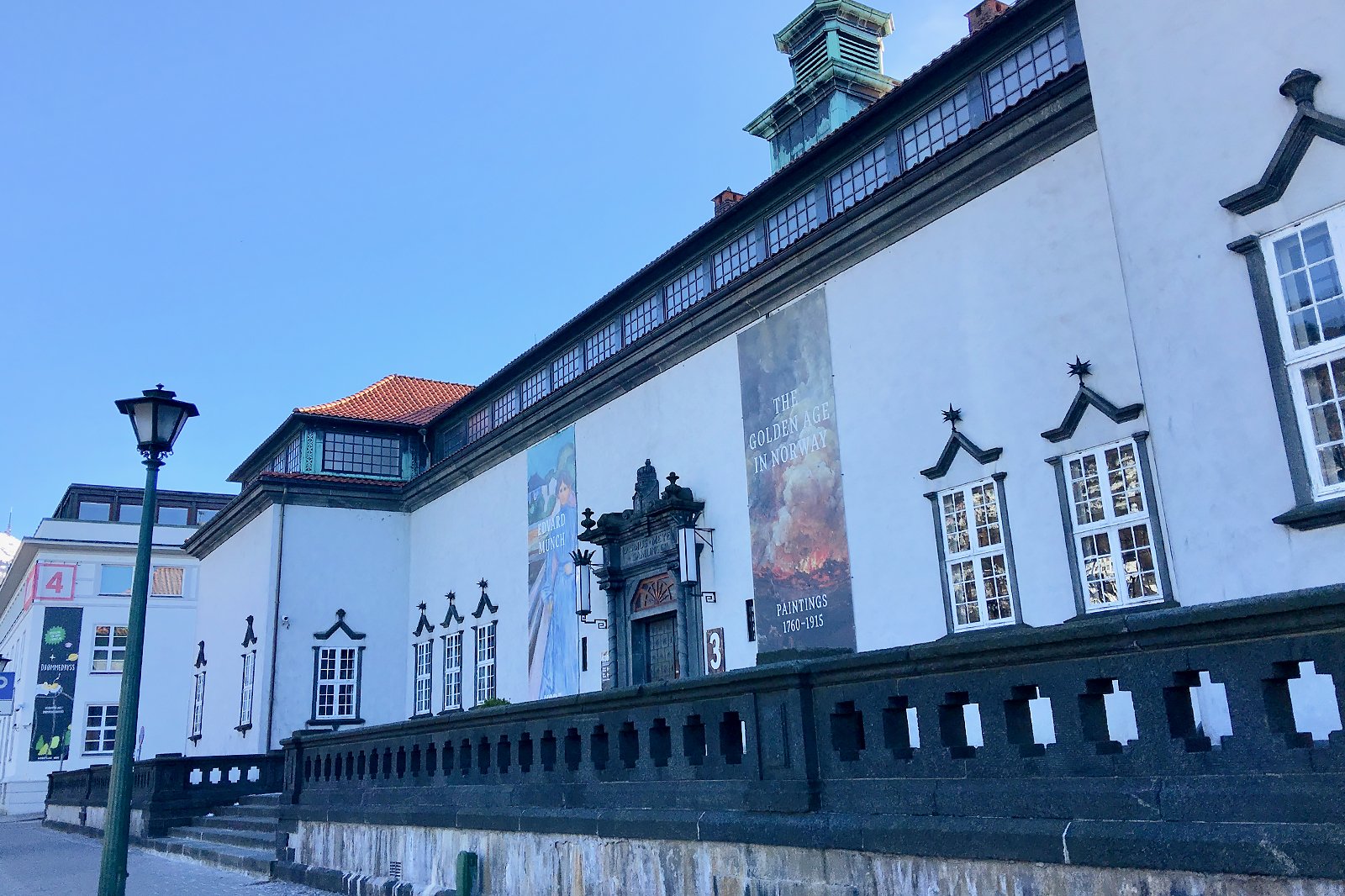 KODE is among Scandinavia's largest art museums, spanning across 4 main buildings near Bergen train station. They host a collection of about 50,000 items, including paintings, drawings, sculptures, installations, musical instruments, works of fine craft and more. You'll find famous works by JC Dahl in KODE 2, Edvard Munch's work in KODE 3, and Nikolai Astrup's in KODE 4, as well as a dedicated section for kids – the KunstLab. Entry costs around 120 kr for adults, but group discounts are available. Under 18s get in free.
Location: Rasmus Meyers Allé 9, 5015 Bergen, Norway
Open: Tuesday – Friday from 11 am to 4 pm, Saturday – Sunday from 11 am to 5 pm (closed on Mondays)
Phone: +47 53 00 97 04
photo by Wolfmann (CC BY-SA 4.0) modified
8
Shopping on Strandgaten
A fashion and design hub near Bergen Harbour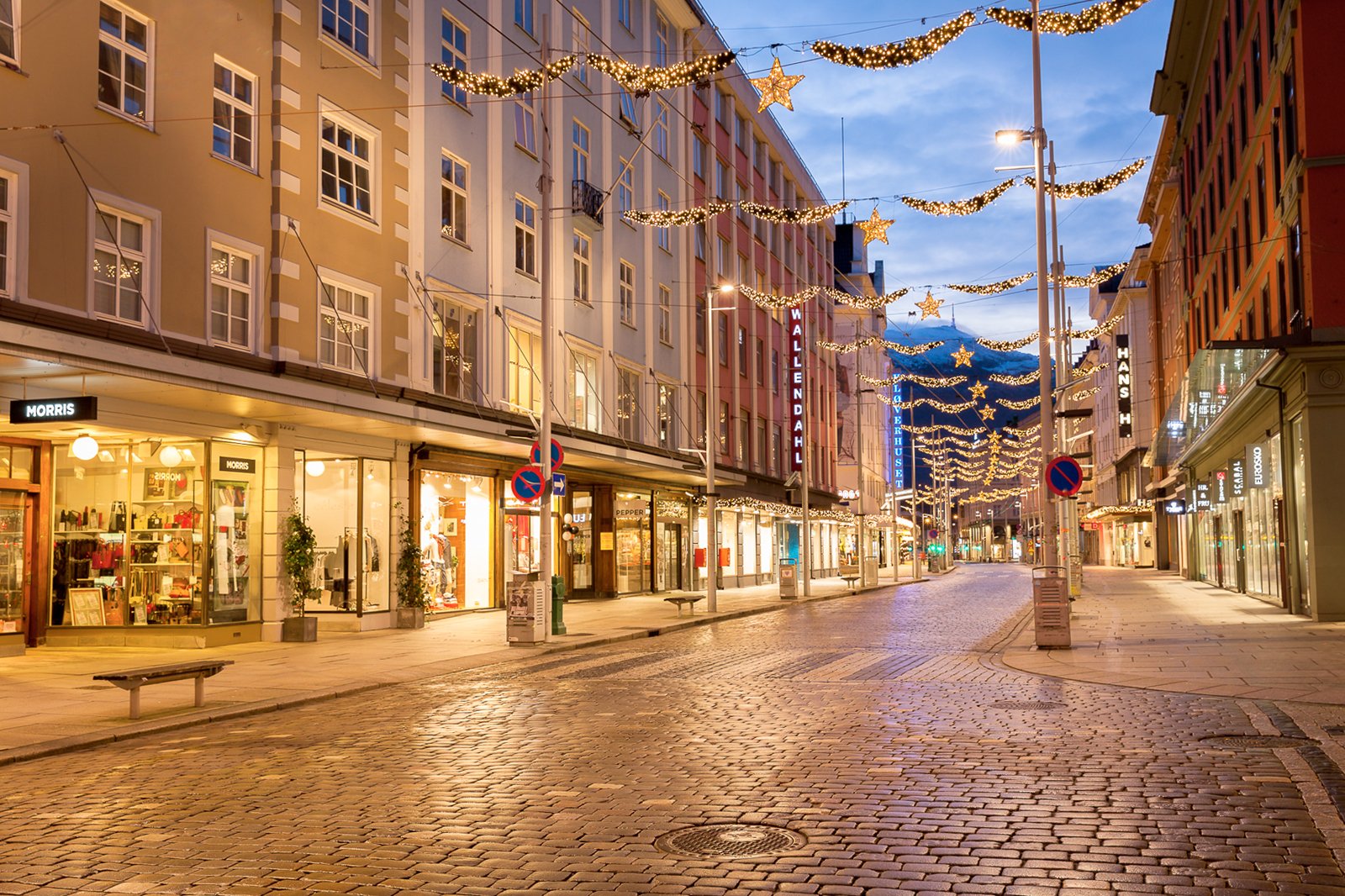 The cobbled Strandgaten street runs along the southern side of the harbour for about 1.4 km, with a great choice of shops along the way. The choice ranges from big department stores to little local boutiques. Expect to find great examples of typically Scandinavian minimalist fashion design, as well as some excellent restaurants, mostly housed in elegant historical buildings. Be sure to check out the Kløverhuset Shopping Centre, near the eastern end of the street.
photo by Svein-Magne Tunli (CC BY-SA 4.0) modified
9
Troldhaugen
Hear Grieg's music in the on-site concert hall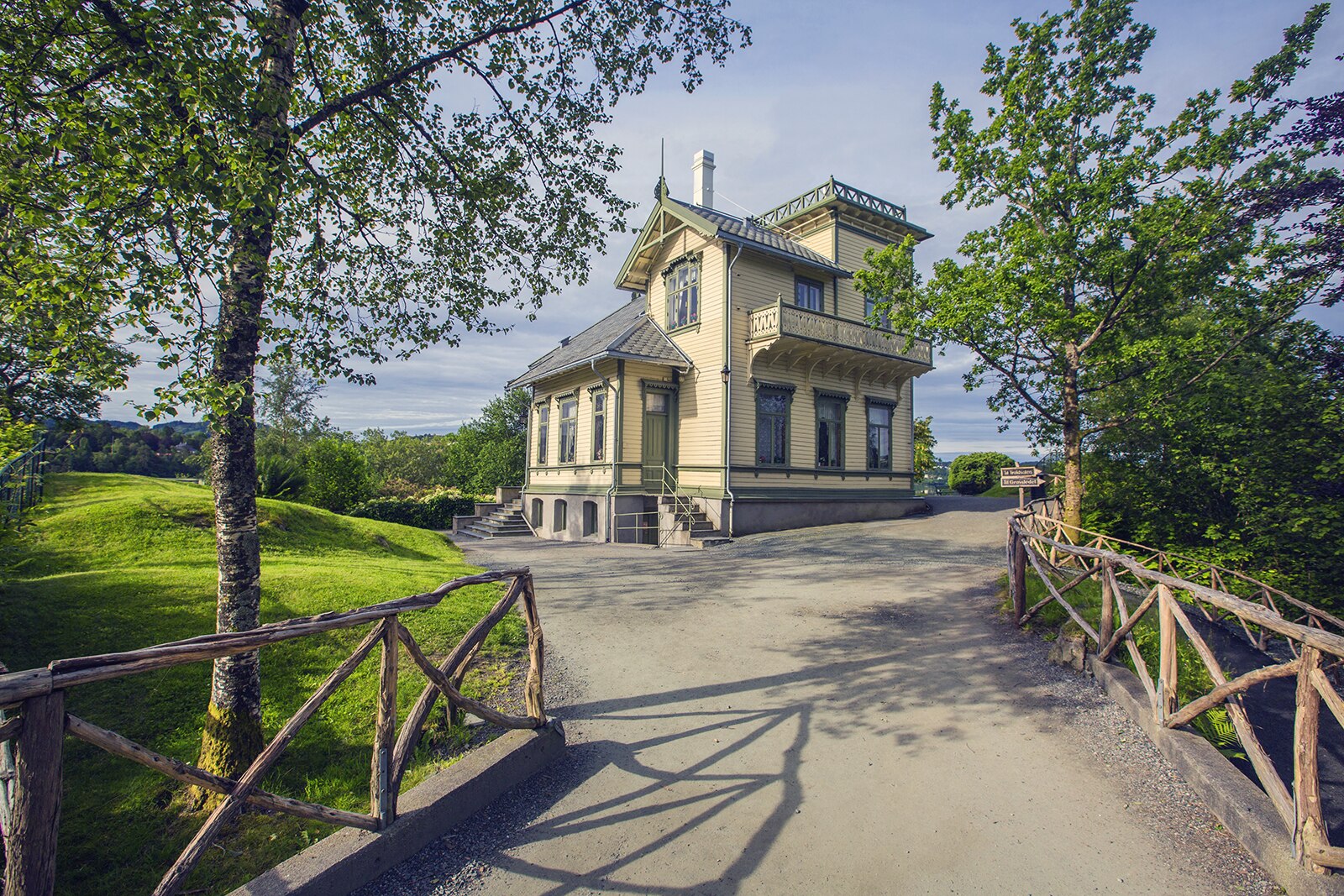 Troldhaugen was once the home of composer Edvard Grieg. The villa south of Bergen was built in 1885 and Grieg called it his "best opus so far". It's a justified boast as the buildings, their surroundings and the interiors all have an undeniable beauty and charm. Now a museum to the musician's life, you can explore most of the house, Edvard's mancave (called 'the composer's hut') and the tomb of the man himself, with his wife Nina at rest beside him. Regular performances are held on site, in the 200-seat concert hall. Admission costs 100 kr for adults and is free for under-16s.
Read more
Location: Troldhaugvegen 65, 5232 Paradis, Norway
Open: Summer: Daily from 9 am to 6 pm. Winter: Daily from 10 am to 4 pm
Phone: +47 55 92 29 92
10
End the day bar hopping in Vågsbunnen
Practise your shuffleboard skills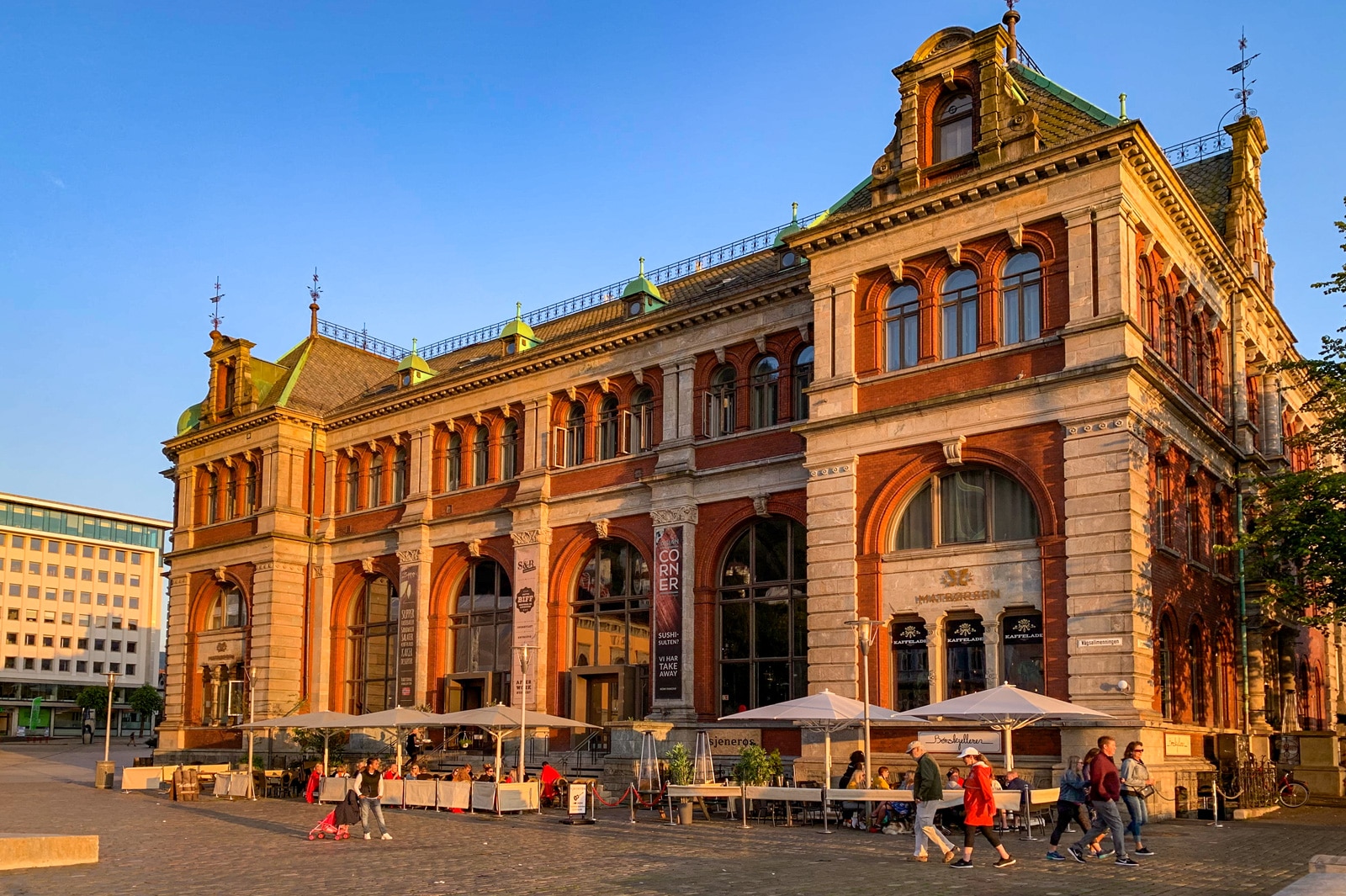 Bergen has excellent nightlife options, partially thanks to its large student population. Many of the best venues are clustered around the harbour, at the northern end of the city centre. Among them are No Stress, which was named the best bar in Norway in 2015, not least for its exceptional cocktail menu. BarKollektiv has a more upmarket feel, but still offers cheap beer and good times, particularly with the shuffleboard. For a bit of local flavour, head for Bergenhus Bryggeri and try some of the many microbrews available.
Back to top